Wondering where to find vegan and vegetarian in Lisbon, Portugal? We've got you covered with this comprehensive list of the BEST vegan restaurants in Lisbon!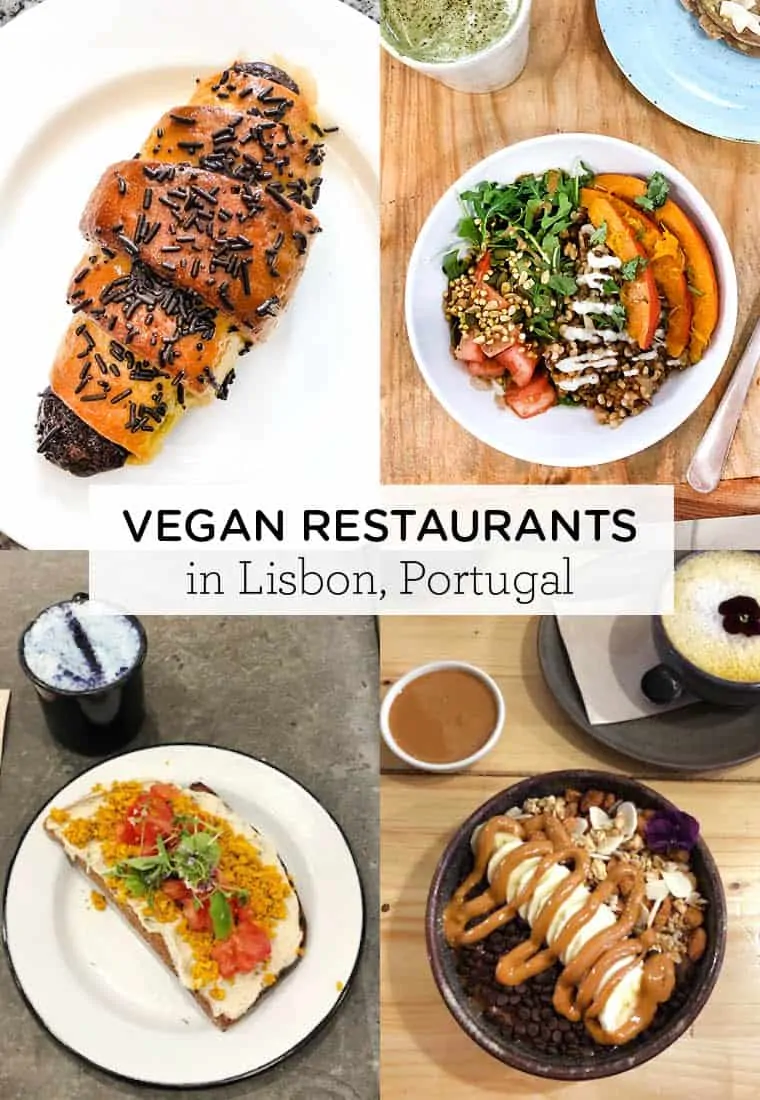 One of the things that has been so amazing about this trip is tapping into readers all over the world and getting recommendations on what to do and where to eat in their cities. By the end of this trip, we'll have visited 16 countries, 30+ cities and I've been able to find vegan restaurants in pretty much every place we've been!
The place that we had the most recommendations (by a landslide) was Portugal. And specifically Lisbon.
I'm not sure if it's because we have so many readers in Portugal, it's been a popular destination for American travel, or that there are tons of options, but either way, the vegan food did NOT disappoint!
Since I got 15+ vegan restaurant recommendations in Lisbon, I thought it would be helpful to put them all together for you. I'll start with the ones that we personally tried and add the remaining ones towards the end.
So…without further ado let's talk food!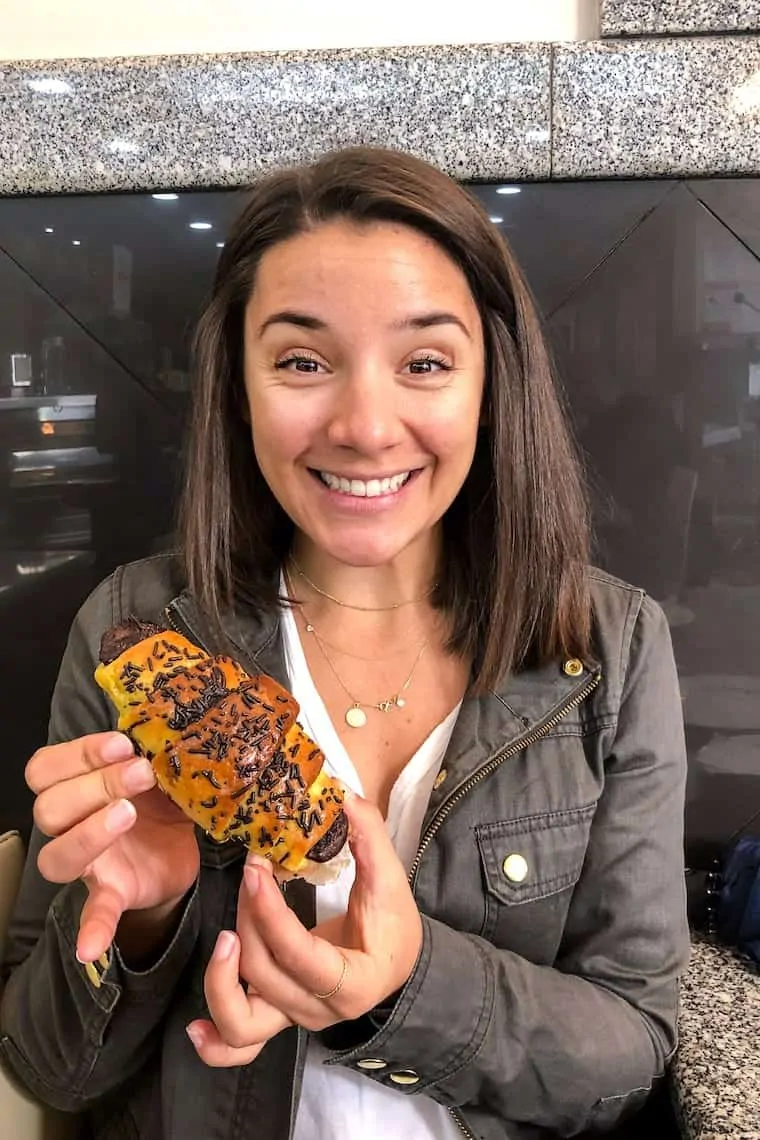 The Best Vegan Restaurants in Lisbon
1. Ao 26 Food Project: this was by far the most recommended vegan restaurant in Lisbon. I think I had at least 5 people me to come here. And it was definitely tasty! I wouldn't say it was blow-me-away good, but they have a solid menu. What I think is great is they've veganized a lot of the Portuguese classics. So if you're wanting to try some of the traditional meat dishes, they've remade them to be vegan. Also, get the croquettes – they're awesome!
2. arkhe: if you want something a little classier, but also delicious, Arkhe is where you should go. It's got a minimalist vibe that reminds me of Scandinavia and the menu is really unique. It changes regularly and the chef/owner actually cooked in two different Michelin rated vegetarian restaurants. Basically, he knows his stuff. This was our first meal in Lisbon and it's still one of the most memorable.
3. Da Terra: I actually didn't eat at this restaurant in Lisbon, but did eat at the Porto location twice. It's an all-you-can-eat buffet-style restaurant with a fully vegan menu. The dishes change daily and the food is really good. Everything is fresh, healthy and includes lots of gluten-free options as well. They also use a ton of veggies which I really love finding!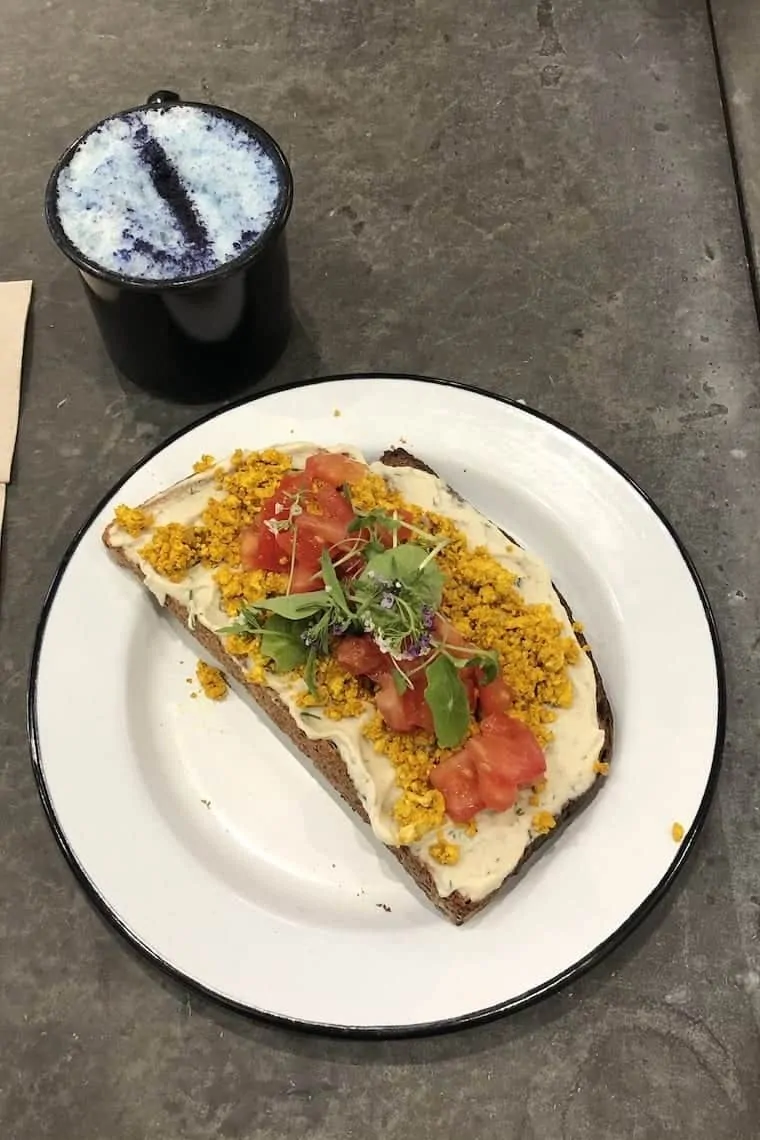 4. Eight the Health Lounge: I stumbled across this little cafe while I was waiting for Matt to get a haircut and I instantly fell in love. It's basically got all the things I love on the menu in a casual, yet chic space. They have juices, smoothies, bowls, and toasts, along with superfood lattes and tasty desserts. I got the scrambled tofu toast and a blue vanilla latte and it was the perfect stop. I'd definitely recommend this for something quick and healthy!
5. Fauna & Flora: If you're looking for a good breakfast and lunch place that offers vegan, vegetarian and non-vegan eats, this place is for you. They have everything from smoothie bowls, oatmeal, pancakes, eggs, and even savory bowls. It also has a great vibe – really cute and cozy inside. I ordered the chocolate smoothie bowl and Matt got a tuna bowl. We both loved them!
6. The Therapist: one thing you must do while you're in Lisbon is head over to the LX Factory. It's a bit of a trek from downtown, but you can either take the tram or rent one of those electric scooters. Or you can walk if it's nice out! Once there, head to The Therapist for lunch. Again, it has both vegan and non-vegan options which is great for a group like me and Matt. I got one of the pancakes as well as a vegan tofu bowl. I also ordered a matcha which was just okay – next time I'd pass on that.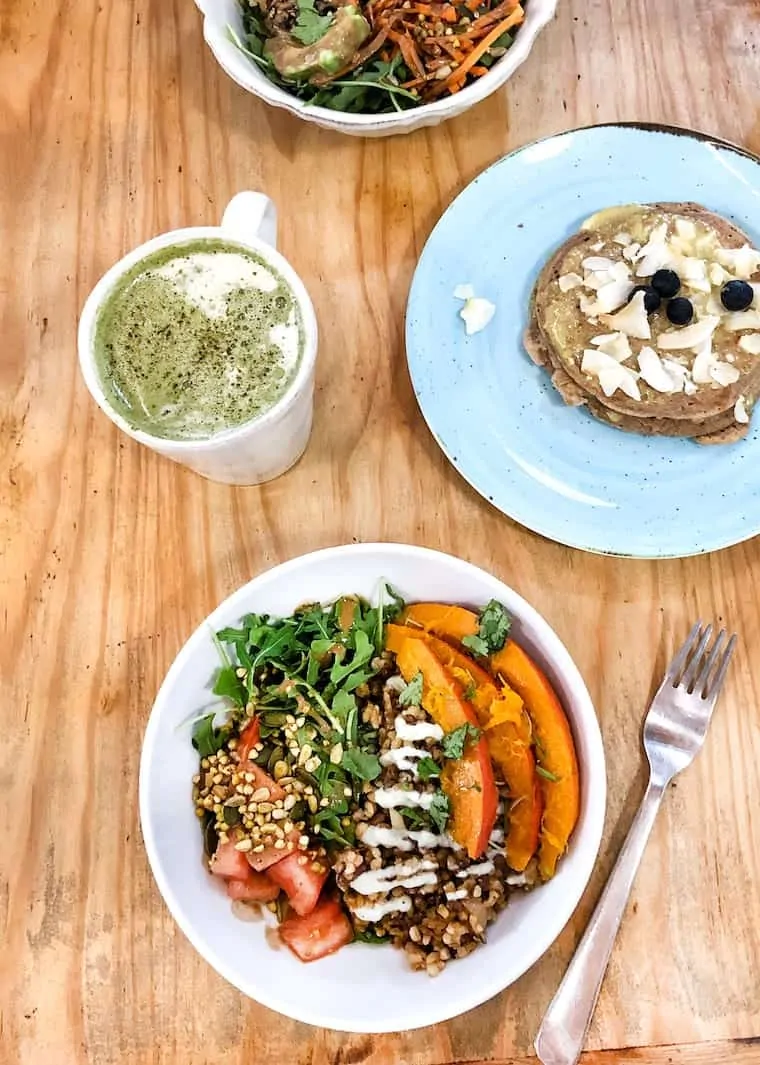 7. Zenith: another spot that we actually went to in Porto instead fo Lisbon, but I know the menu and vibe is the same. This one again isn't fully vegan, but it's mostly plant-based. They have eggs (and I believe maybe chicken) on the menu and it's fantastic for brunch! They have a pretty big variety and everything is fresh and healthy. Think smoothie bowls, pancakes, salads, shakshuka, and big buddha bowl type meals too. Definitely worth a stop for brunch or lunch!
8. Zarzuela: last but not least, if you're looking for some vegan and gluten-free pasteis de nata, check this place out! While they aren't exclusively vegan and gluten-free, they do have a ton of options! They've got the classic pasties de nata, but they also had vegan/gf croissants, rolls, donuts and more. Not the healthiest option, but nice for a little treat!
And that's pretty much everywhere that we ate while we were in Lisbon. I was so happy to find so many healthy options here! It seems like they've really embraced the plant-based concept and it was awesome to see all these restaurants were nearly full when we visited!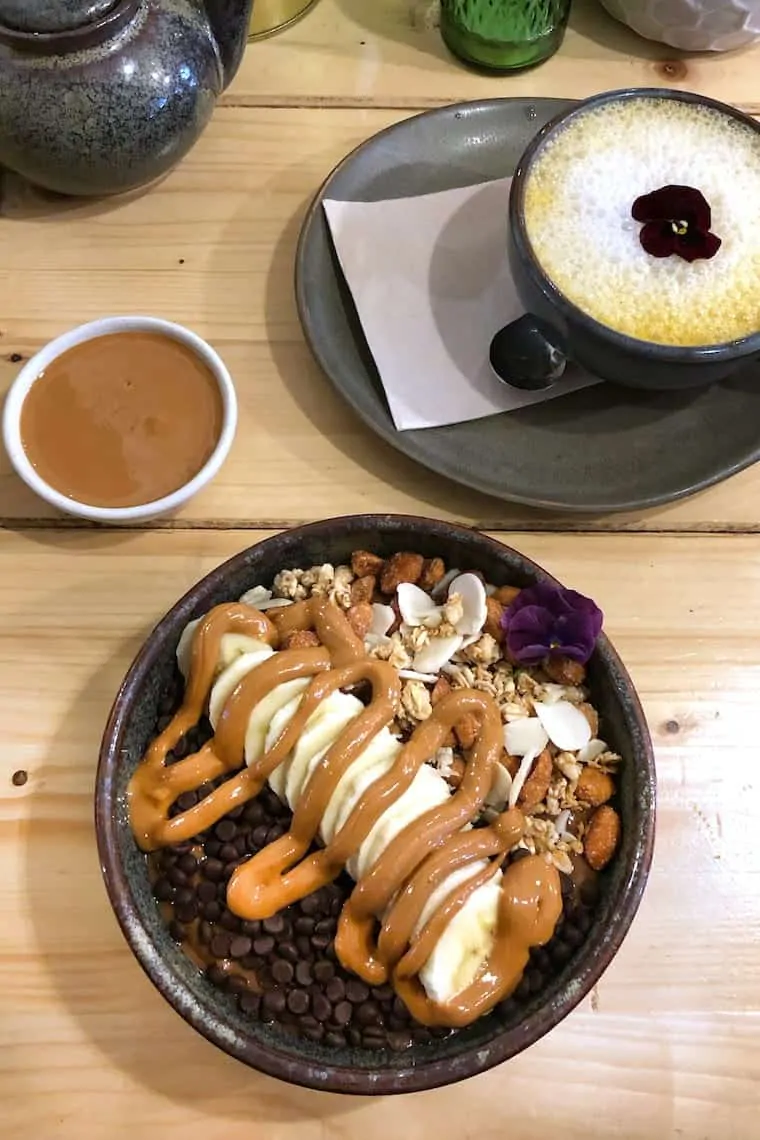 Your Recommendations for Other Vegan Restaurants in Lisbon
Since I got 30+ direct messages about Lisbon recommendations, I knew I had to include them all here. I haven't been to any of these, so I can't say whether or not they're good, but with a quick Google search, you can see the reviews. We're definitely planning to go back to Lisbon, so I'll for sure be checking some of these out!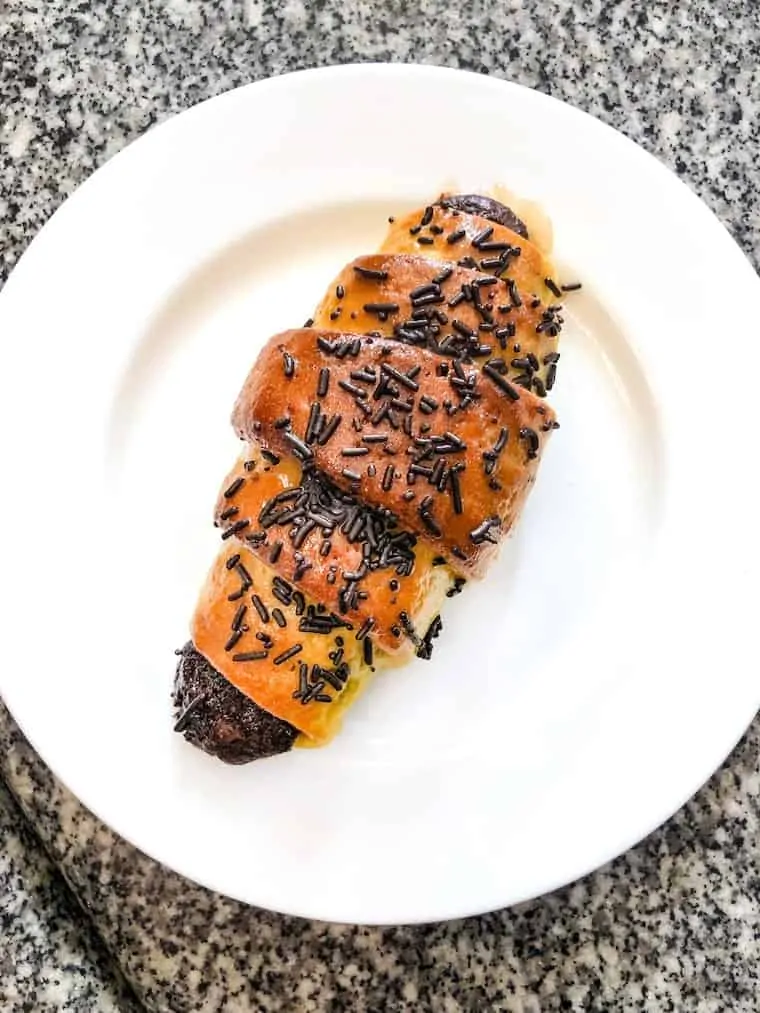 Any More Recommendations?
Do you have any more vegan restaurants in Lisbon that you love? I'd love to get your recommendations! If so, please drop them in the comments below so we can check them out!