This delicious arugula fig salad is the ultimate summer meal. With fresh juicy figs, crunchy pistachios, peppery arugula and a creamy balsamic vinaigrette!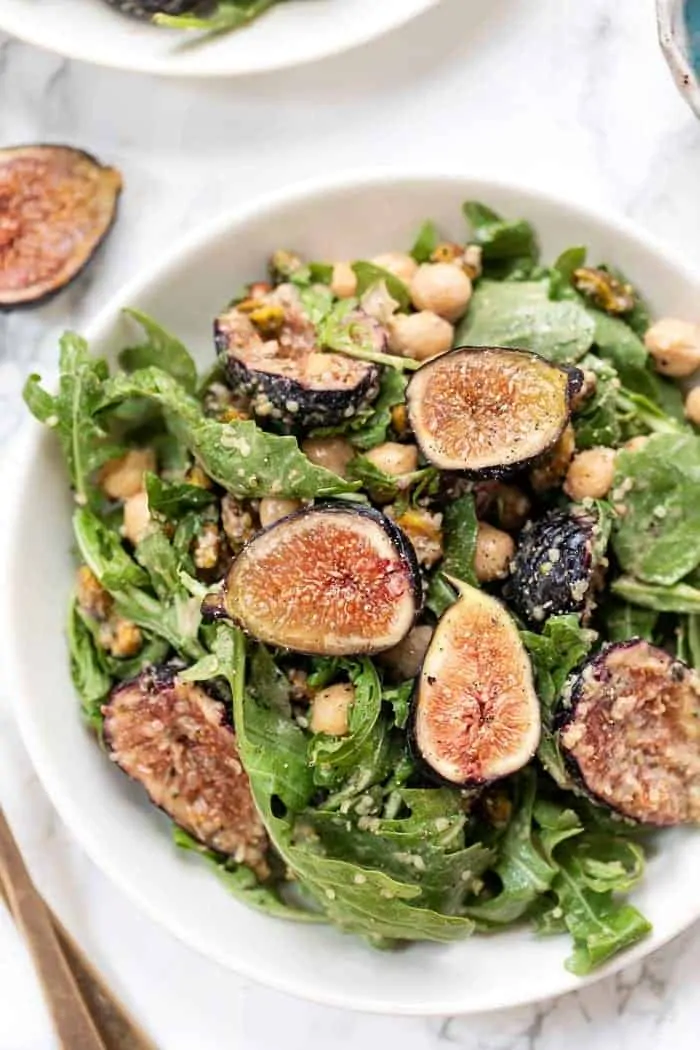 Last summer I discovered fresh figs and holy wow I am obsessed!
They're now one of my absolute favorite summer fruits and I was so excited for them to hit the shelves this year. Usually, I just eat my figs by themselves as a quick snack or sliced and put on top of peanut butter toast. But fresh figs can also be quite glamorous!
You'll see them on restaurant menus on top of a pizza, on a sexy crostini, or tossed in a salad. And almost always with a balsamic drizzle.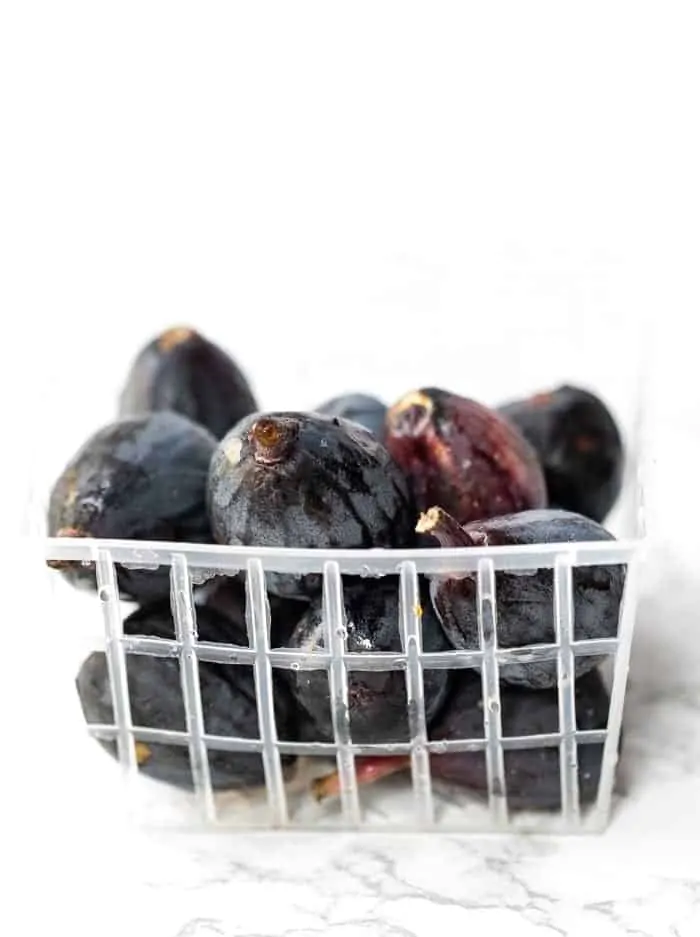 Why are Figs Healthy?
Most of us associate figs with fig newtons, which I just have to say I absolutely despised when I was a kid. The reason why they're in those cookies is that figs are amazingly sweet, but also healthy. Of course, those cookies aren't healthy, BUT figs on their own on superstars.
Figs are incredibly high in antioxidants, but also many nutrients that get depleted in many common diets. Nutrients like potassium, fiber, manganese and vitamin K.
Plus they're sweet as all get out and taste freaking amazing!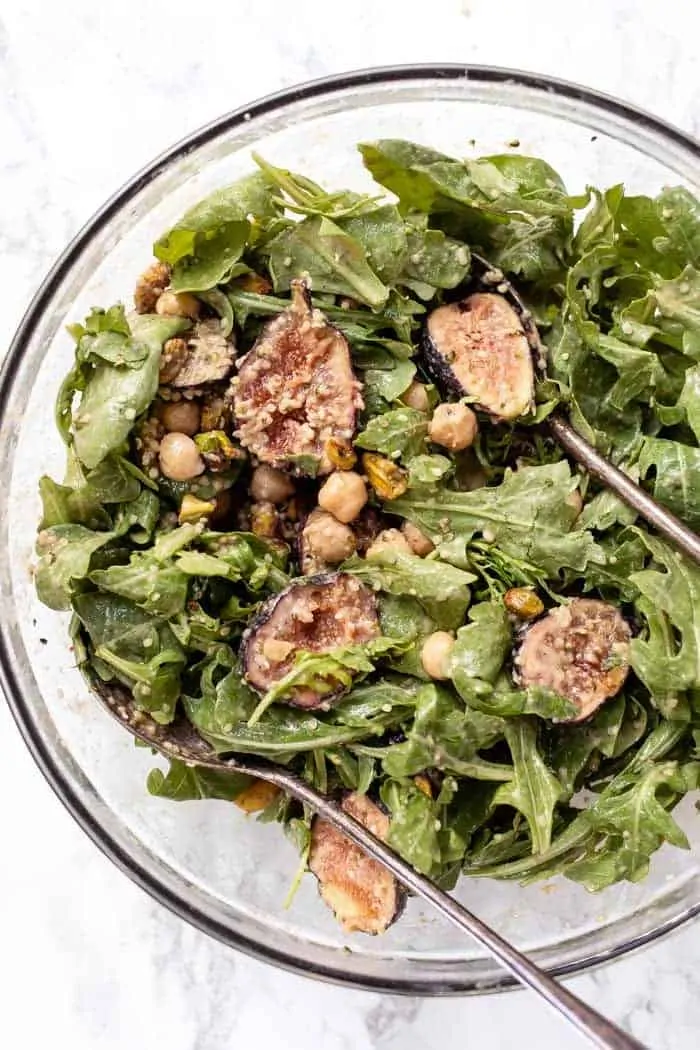 Figs + Balsamic = a Match in Heaven
Whoever first came up with this combo is a genius because it's almost as if they're were designed for each other. Balsamic, which of course has a natural sweetness to it but also a tang, is just the right balance to the sweet juiciness of the figs.
I decided to make my creamy balsamic vinaigrette for this salad and it was perfect. Since there is both lemon and mustard in that dressing, you get a brightness that you wouldn't have if you just used balsamic vinegar.
And the tahini makes the dressing nice and creamy to evenly coat all the salad ingredients!
The Ultimate Arugula Fig Salad
When it comes to salads, I'm looking for three things:
Taste
Texture
Nutrition
I want my salads to taste amazing (no boring salads around here!), I want them to have a balance of textures so they're not boring to eat and I want them to be nutritious (i.e. not loaded up with things like bacon and cheese).
This arugula fig salad checks all those boxes!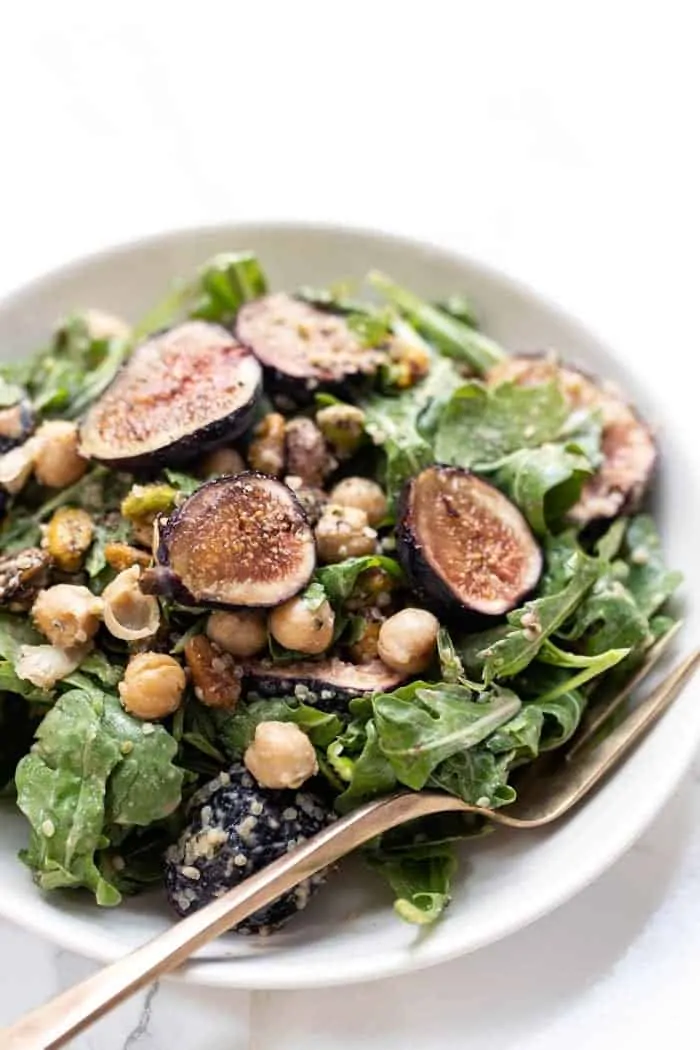 How to make this Arugula Fig Salad
We'll start with our base of arugula. I love using arugula in salads, especially when there's something sweet because it's slightly bitter, has a bright, peppery taste and a somewhat delicate texture. It's my go-to green for most salads!
For our textures in this salad, we've got it all. Crunch from the nuts and seeds, soft and juicy from the figs, delicate from the arugula.
And finally nutrition…
This salad is balanced with healthy carbohydrates, protein, healthy fats and fiber! We're using a mix of chickpeas and hempseeds for our protein, we're getting healthy fats from the pistachios and dressing and our carbohydrates and fiber from those luscious figs (and the chickpeas).
While it might seem like a fairly high-caloric salad, it's absolutely delicious and can definitely act as a meal. I have the serving size below as two large salads, but it can easily be served in smaller batches as an appetizer or side.
I can't wait to hear what you think of it! I'm planning on make this salad on a weekly basis until fig season is over ????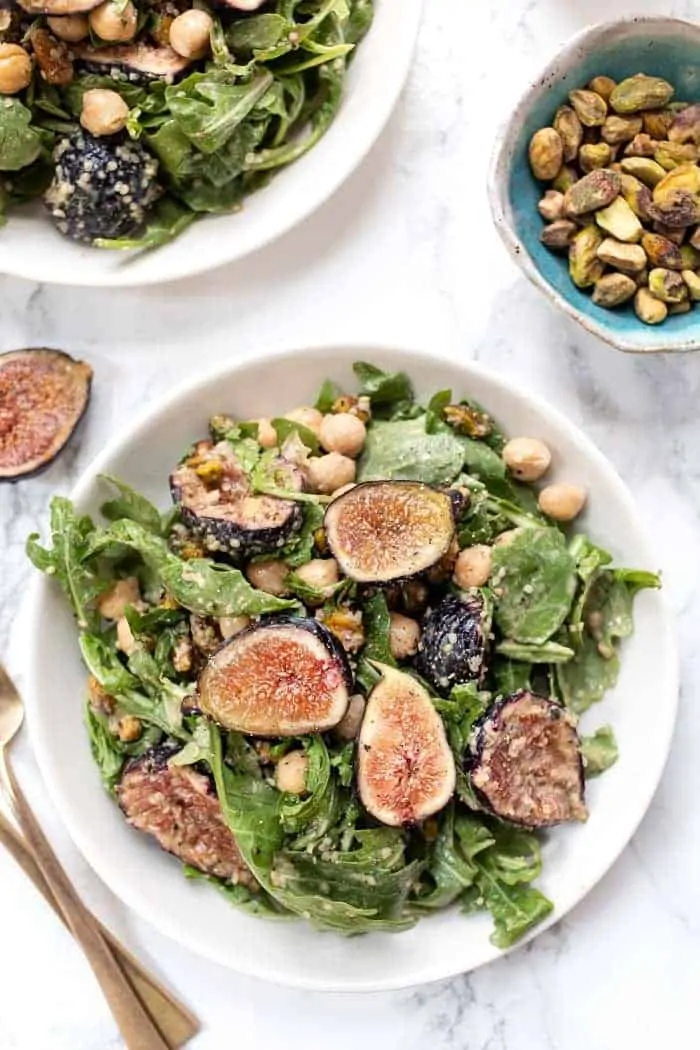 More Summer Salads to try:
Arugula & Fig Salad
This amazing arugula and fig salad is a perfect late summer or early fall dish. Sweet, high in protein and tossed with a delicious creamy balsamic dressing.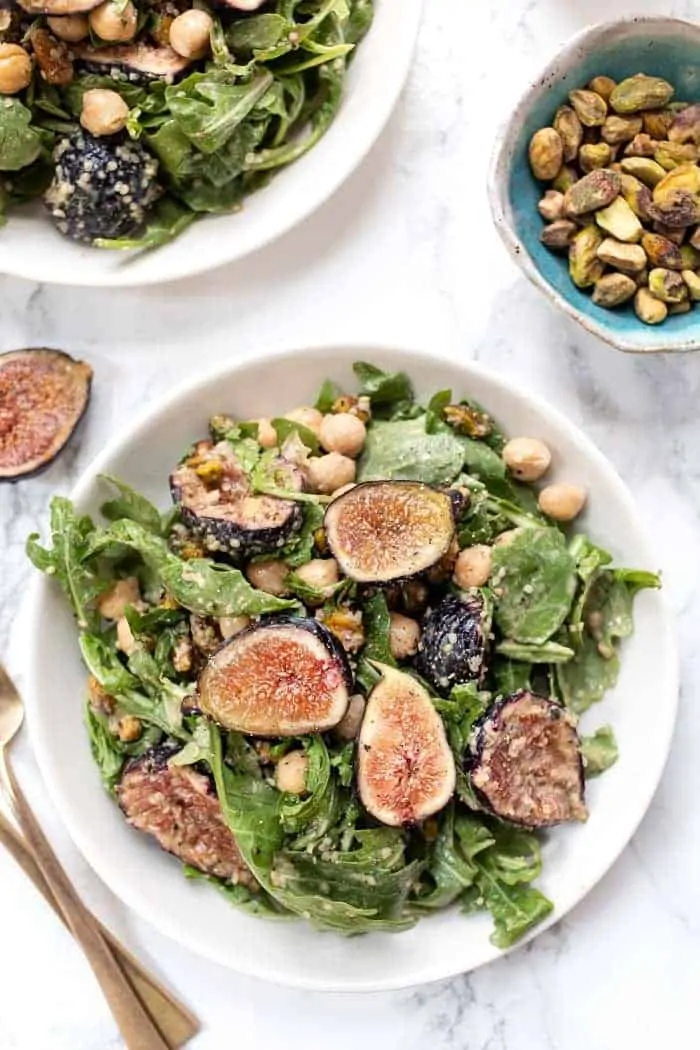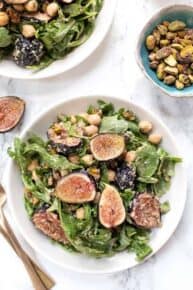 Instructions
Add the salad ingredients to a large bowl.

In a small bowl, whisk together all the dressing ingredients until smooth. Add a splash or two of water as needed to make it a pourable consistency.

Pour dressing over the salad and toss to combine.

Serve immediately and enjoy!
Nutrition
Calories:
693
kcal
|
Carbohydrates:
77
g
|
Protein:
25
g
|
Fat:
35
g
|
Saturated Fat:
3
g
|
Sodium:
279
mg
|
Potassium:
1247
mg
|
Fiber:
16
g
|
Sugar:
46
g
|
Vitamin A:
1560
IU
|
Vitamin C:
13.4
mg
|
Calcium:
268
mg
|
Iron:
8
mg
Filed Under: