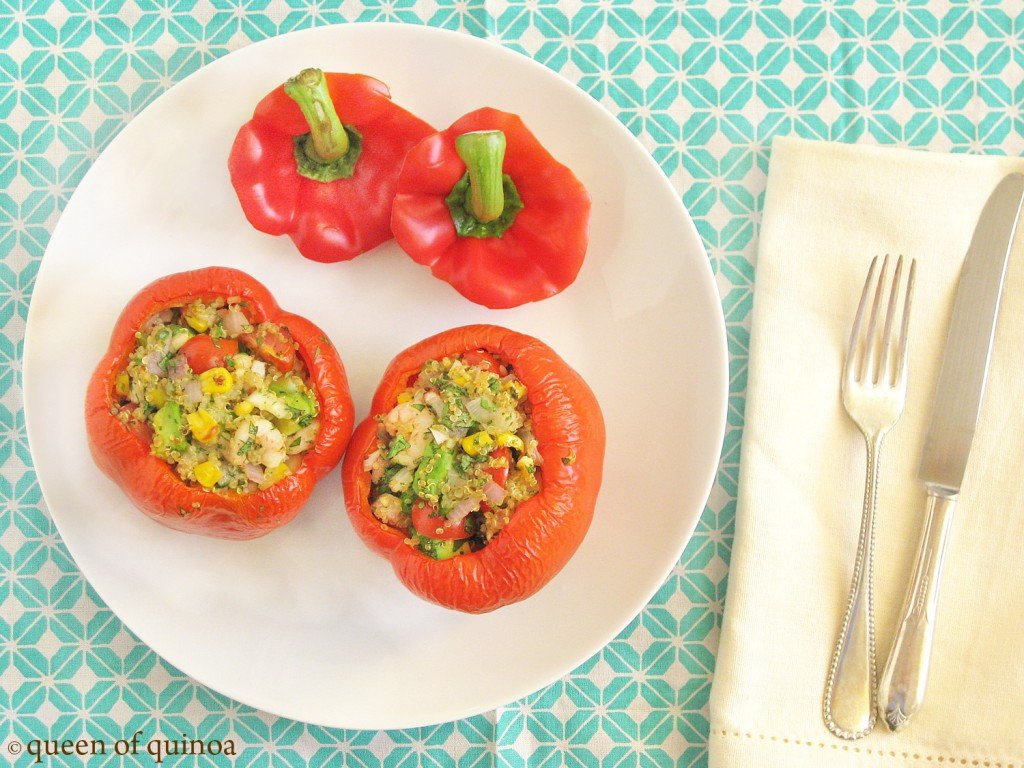 This is a recipe near and dear to my heart in more ways than one.
To start, quinoa stuffed red peppers will forever remind me of Colorado. On my first trip to visit Mr. Henderson and his fabulous family in Denver, his mom made us quinoa stuffed peppers. I was newly gluten-free, not wanting to make my special diet affect the rest of the family at all. But of course, they embraced my new lifestyle with open arms, and worked to make each meal gluten-free and safe for me to eat. I already said they're fabulous, right?
His mom knew I loved quinoa and she wanted to experiment with it, so she made quinoa stuffed peppers. And they were awesome!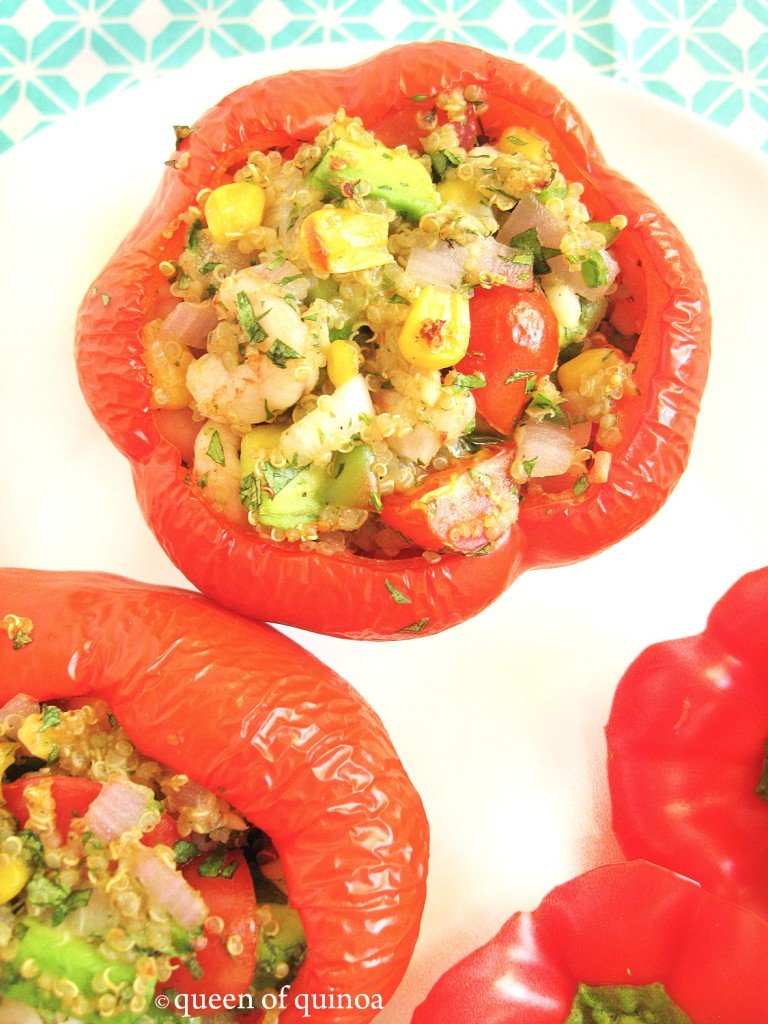 This time I made the recipe a little different. I added pretty much everything I love into this one dish. And if you follow Queen of Quinoa, then you know the following:
This recipe combines all those delightful ingredients into one yummy bite. Stuffed into a juicy red pepper. Packed with cilantro, sweetened with lime juice, bursting with ripe cherry tomatoes, and with the kick of fresh jalapenos. Hot and tasty!
But there's something even more special about this recipe. The quinoa. This quinoa is not the average kind you can just pick up in bulk. This is Feed Adam quinoa.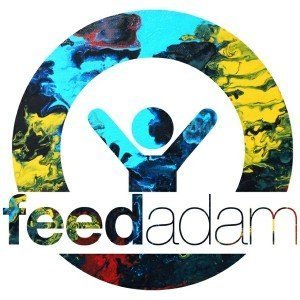 Feed Adam is an awesome company based in Orange City, Iowa, with a pretty amazing mission. Not only are all of their products certified gluten-free, organic, kosher and 100% grown in Ecuador, but the Feed Adam was created to help support the Ecuadorian communities that harvest and produce quinoa. Their goal is to "eat away at poverty" in a sustainable way.
How are they doing this? First, $1 of every pound of quinoa sold is donated back to the non-profit foundation, Randimpak, which formed by indigenous Ecuadorian women who plant, harvest and process all of Feed Adam's quinoa. Second, 50% of all profits from Feed Adam bulk sales are donated to two different holistic-development organizations, Hope International and New Vision Renewable Energy.
But it's not just the company that stands out here, it's also the quinoa itself. It's different than what you buy in bulk. When cooked, the seed is a rich, darker brown color and has a much deeper, nuttier flavor than what I'm used to eating. It's almost as if you can taste the love that is put into each quinoa plant. This quinoa is simply delicious.
And oh so perfect mixed with Mexican goodness and stuffed inside a red bell pepper.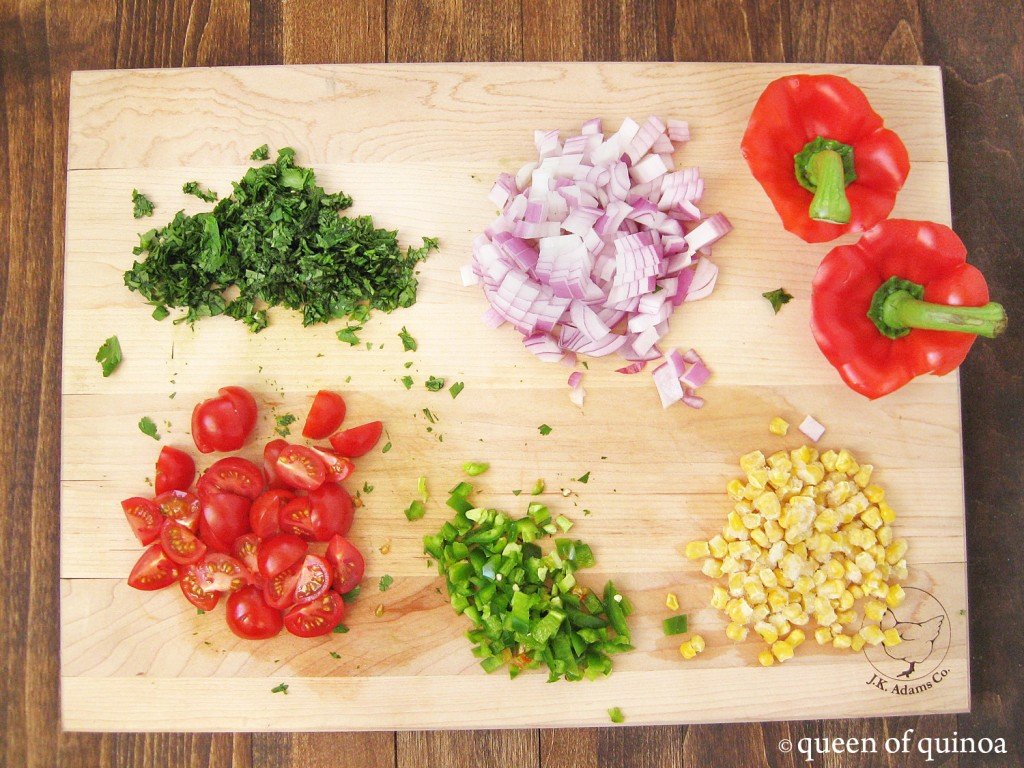 To make this dish classically Mexican, I combined all the staples:
Red onion
Avocado
Cherry tomatoes
Sweet corn
Jalapenos
Rock shrimp
Cilantro
Lime
Tossed with a little quinoa and stuffed into a sweet red bell pepper, and you've got a red-hot fiesta on your hands!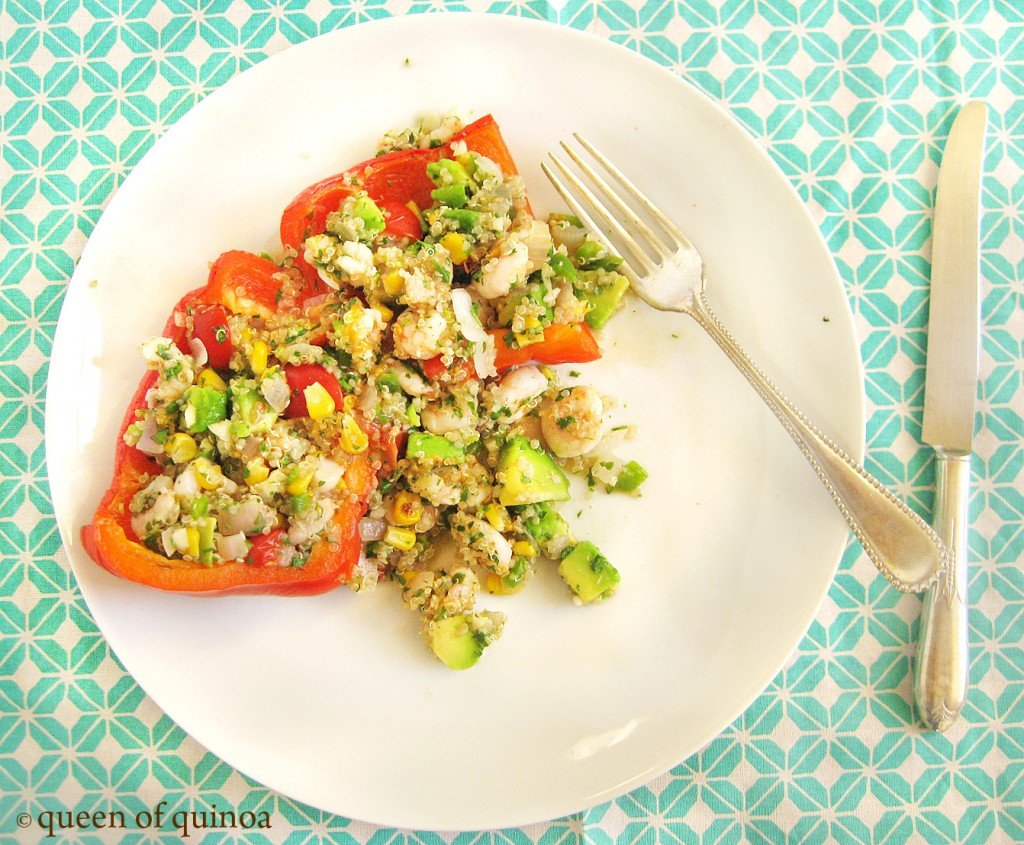 | | | |
| --- | --- | --- |
| Quinoa Stuffed Mexican Peppers | | |
Author:
gluten-free | dairy-free | refined sugar-free | soy-free | nut-free
Ingredients
2 red bell peppers (any color would work)
1/2 cup cooked quinoa
1 tablespoon olive oil
1/3 pound wild caught Maine Rock Shrimp*
1/2 red onion, finely chopped
1 jalapeno, seeds removed and finely chopped
2 garlic cloves, minced
1/4 cup sweet corn (fresh or frozen)
10 cherry tomatoes, quartered
1/2 avocado, chopped
1/4 cup cilantro, finely chopped
Juice of 1/2 lime
Salt & pepper to taste
Hot sauce to serve (optional)
Instructions
Preheat the oven to 400 degrees F and fill a small baking dish with 1/4″ of water.
Core and seed the peppers by cutting a circle around the top and pulling off the stem (most of the seeds should come with it).
With a small knife, carefully remove any remaining seeds and place the peppers (standing up) in the baking dish.
Bake for about 20 minutes until the peppers start to soften.
While the peppers are baking, prepare the filling by heating the oil over medium heat.
Add the garlic, onions and jalapenos, cooking until the garlic becomes fragrant and the onions are translucent, about 2 minutes.
Add the shrimp and corn and cook until the shrimp are cooked through, about 3 minutes.
Transfer these ingredients into a large mixing bowl and combine with quinoa, tomatoes, avocado, cilantro and lime juice.
Toss all ingredients together until fully combined.
Season with salt and pepper and set aside until the peppers are done.
When the peppers have softened slightly, remove them from the oven and carefully spoon the filling into each pepper until it's nice and full.
Transfer back to the baking dish and bake for another 20 minutes.
Garnish with a bit more cilantro and a touch of hot sauce (if you like the extra heat).
Enjoy!
Notes
Any type of shrimp would work in this recipe, but the Maine Rock Shrimp are teeny tiny, so you will want to cut your shrimp into bite sized pieces if you use larger ones.


Get your daily dose of the Queen of Quinoa!
Hangout with me on Google+
Like me on Facebook
Follow me on Twitter
Pin with me on Pinterest