This amazing vegan tortilla soup is simple to make, packed with flavor and you won't even miss the meat! There's also tons of plant-based protein inside.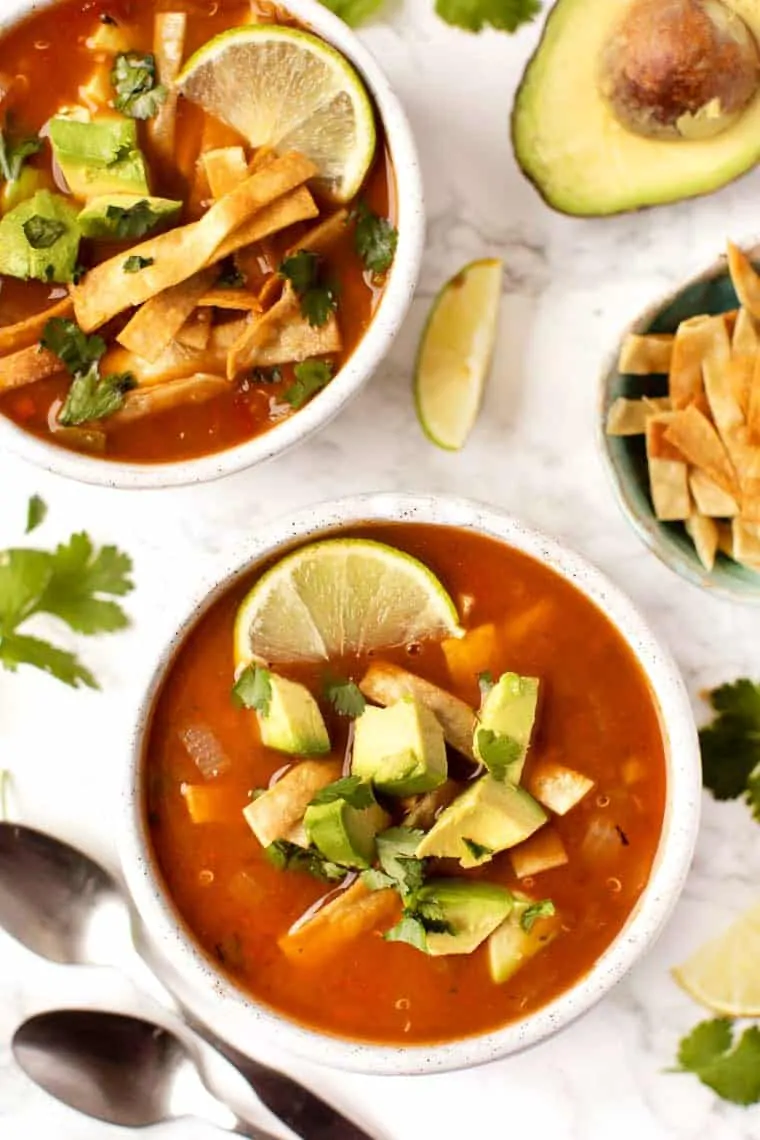 Whenever we go out to a Mexican restaurant, Matt always orders tortilla soup. It's one of his favorites and something I actually used to love too. But you almost never see a vegan tortilla soup on a menu.
Most tortilla soup recipes involve shredded chicken. Which is precisely why I wanted to create a plant-based version that still packed a punch in the flavor department, and was full of healthy protein.
This is my version. It's healthy, it's flavorful, it's easy to make and it's got all sorts of goodies inside!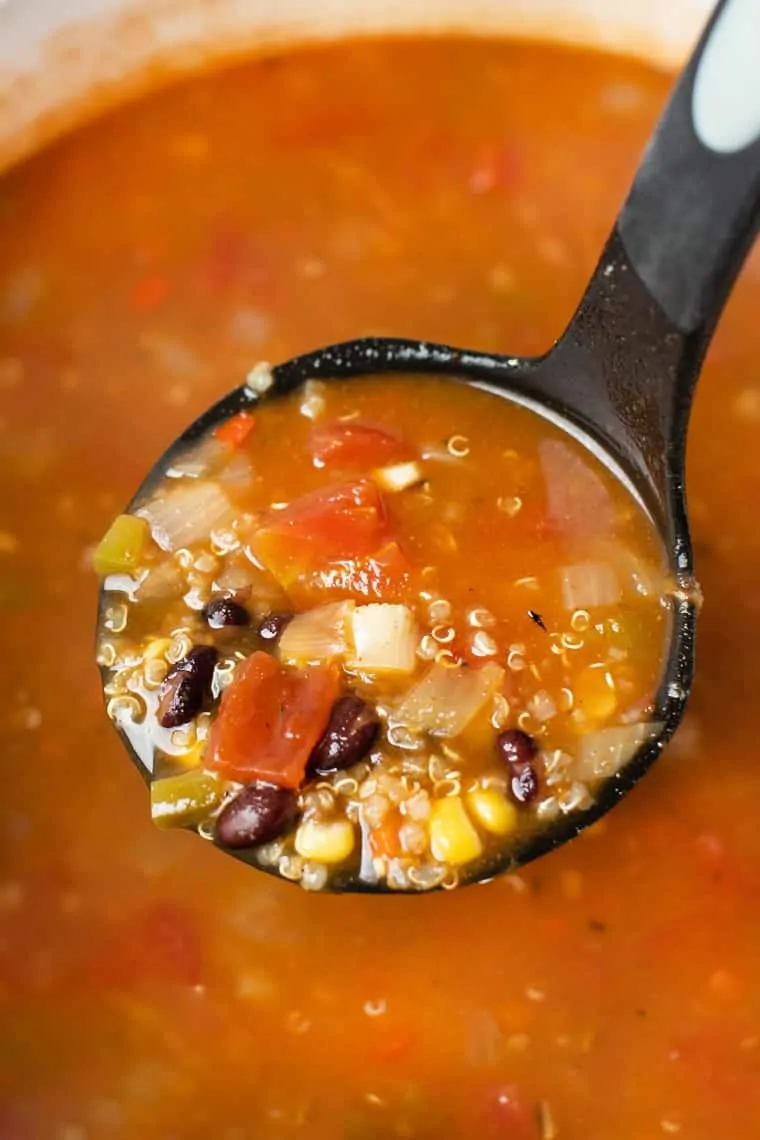 How to make Tortilla Soup
Traditional tortilla soup hails from the Mexico City area and is made using a simple base of chicken broth with tomatoes, onion, garlic, and fried tortilla strips. We're keeping things fairly authentic in our vegan version, but are using vegetable broth and swapping the shredded chicken for beans, quinoa, and corn.
We start by quickly sauteing the onions and garlic, then adding in some peppers and my fave combo of Mexican spices: cumin, chili, coriander, and paprika. Season it with a little salt and add everything else in.
It's quite simple and reminds me of a thinner chili-style soup. What makes it really shine though? Those crispy tortillas on top!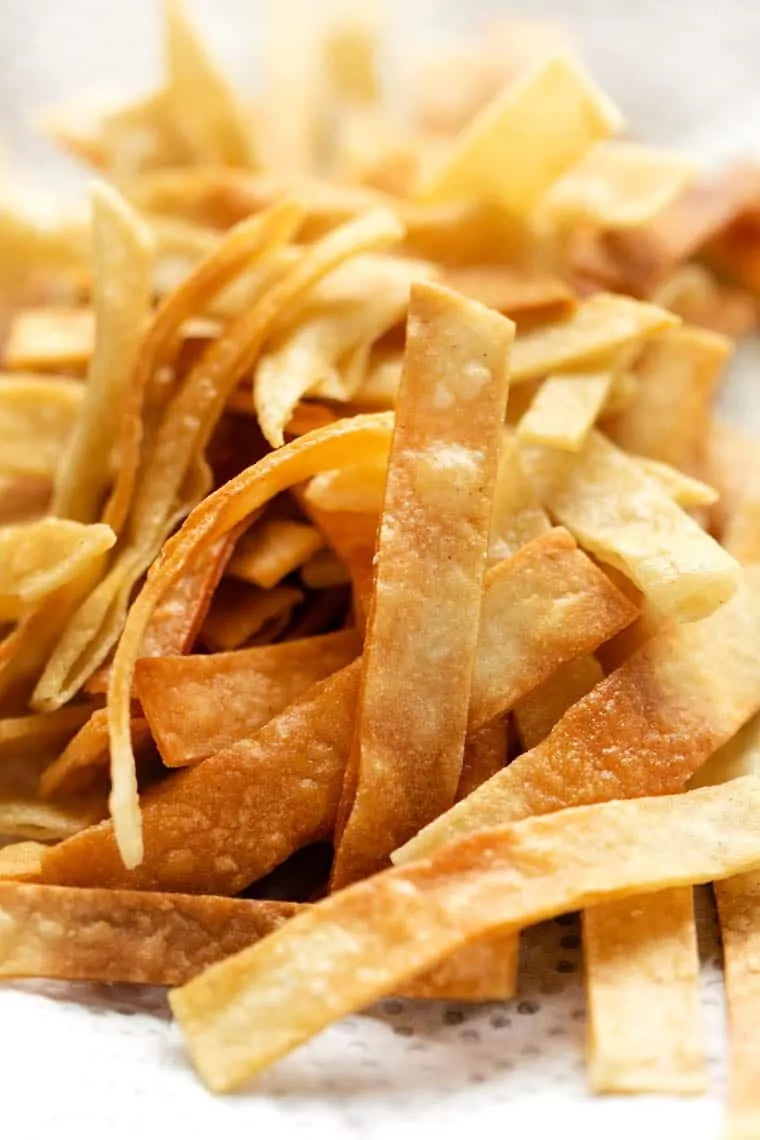 The Best Way to Make Crispy Tortilla Strips
I wanted to make this vegan tortilla soup as healthy as possible and to me, that meant no frying of the tortilla chips. My first attempt at making a healthier version was to bake them. Didn't work. They cooked unevenly, they burned and they didn't get crispy.
So…I went with the fry method.
Because you know what? Sometimes you just gotta go with the real thing! Especially since the rest of this soup is healthy and we just put a few fried strips on top. I'm 100% okay with it!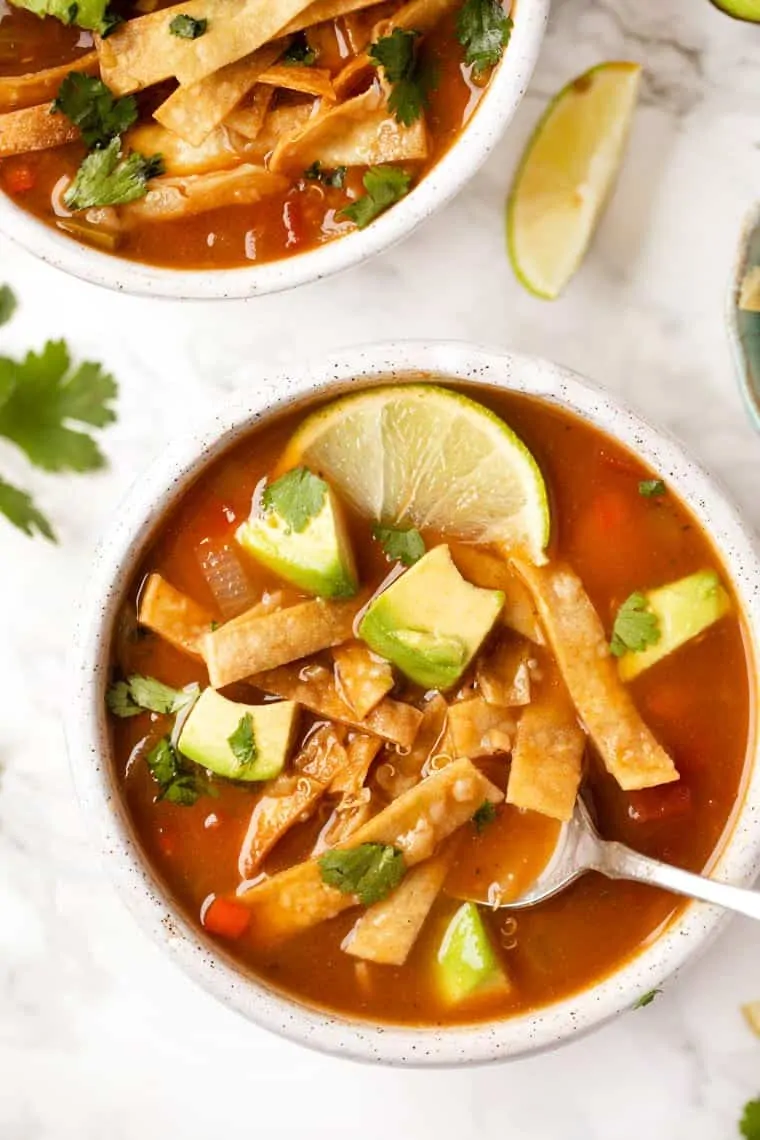 Why Do You Add Quinoa to Soup?
Before we dive into the recipe, let's just discuss one quick thing: why do I put quinoa in so many of my soup recipes?
The answer is two-fold:
Quinoa is high in protein so it bulks up my vegan soup recipes and helps make them more filling
Quinoa has a very meat-like texture in soups and can help the meat-eaters in your life feel like they're getting something more substantial and similar to ground beef
Plus, I just kinda love quinoa in case you couldn't tell ????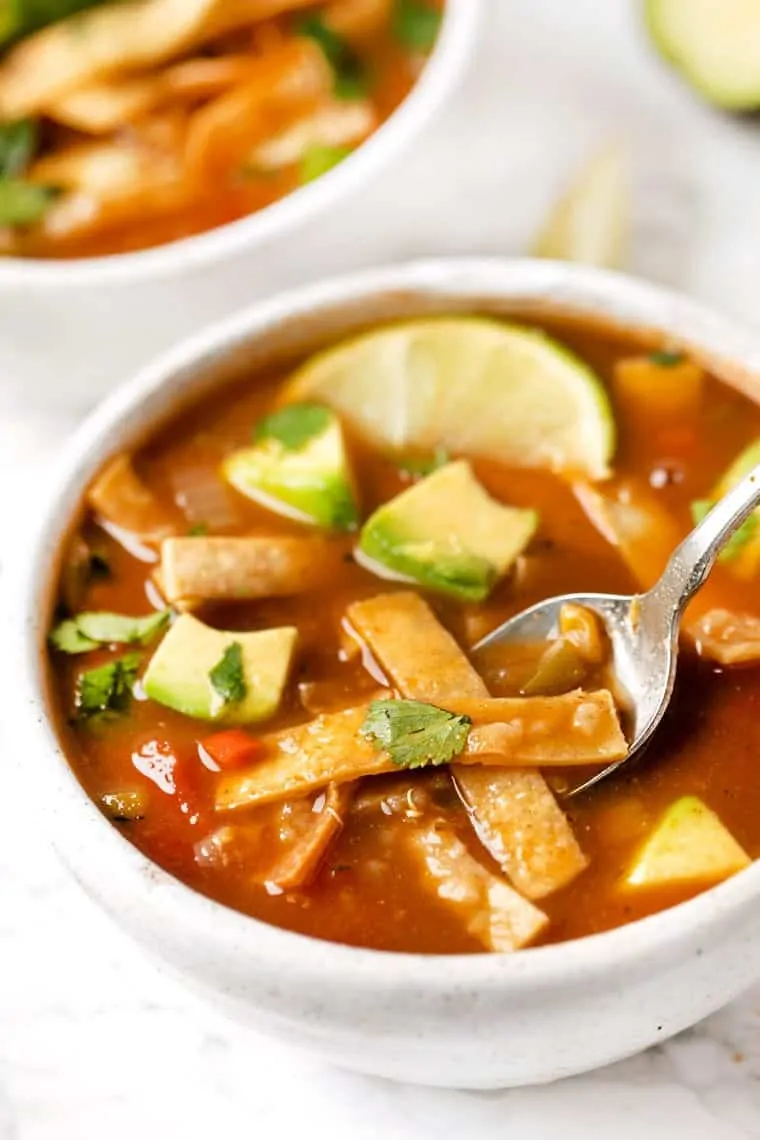 How We Serve Vegan Tortilla Soup
So the trick to making this soup a little healthier is to just use the crispy tortillas as a garnish. Rather than stirring them into the soup as they do traditionally, we just sprinkle them on top and as you eat the soup, they'll still soften up and give that authentic experience.
Our other favorite toppings:
Avocado
Cilantro
Hot sauce
Vegan sour cream
And if you're not vegan, it's also fabulous with some crumbled cotija cheese on top (that's how Matt likes his). All in all though, this soup is fabulous! And even though it's vegan, I promise, even the meat-lovers in your life will gobble it right up!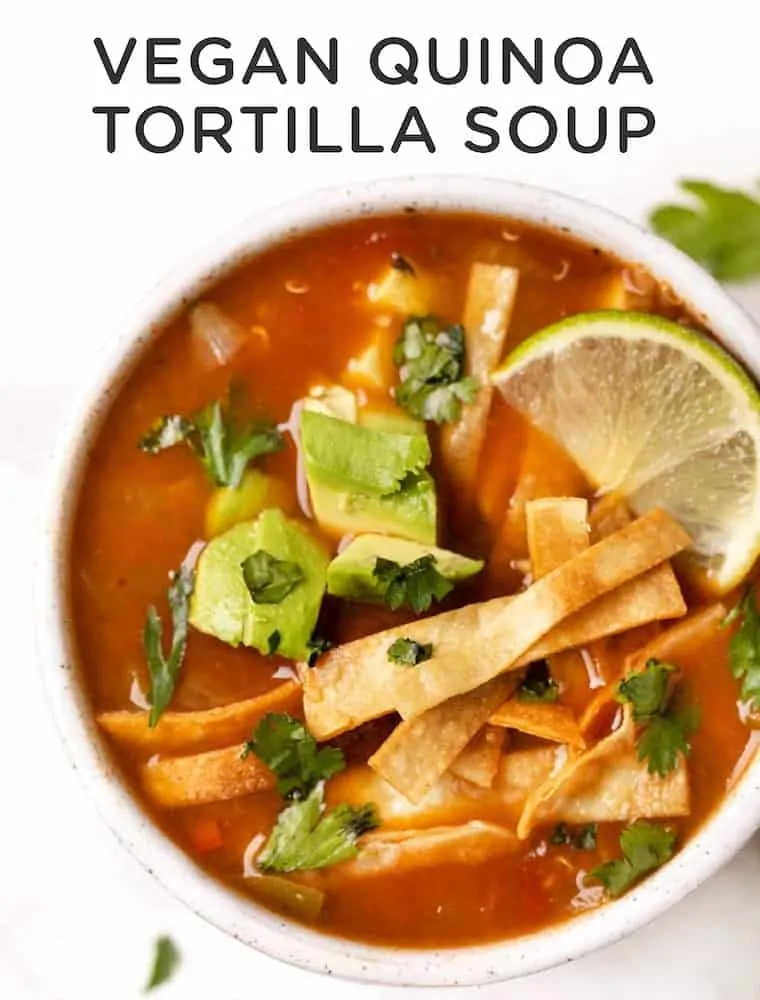 More Vegan Quinoa Soup Recipes to try:
Vegan Tortilla Soup with Quinoa
This amazing vegan tortilla soup is simple to make, packed with flavor and you won't even miss the meat! There's also tons of plant-based protein inside.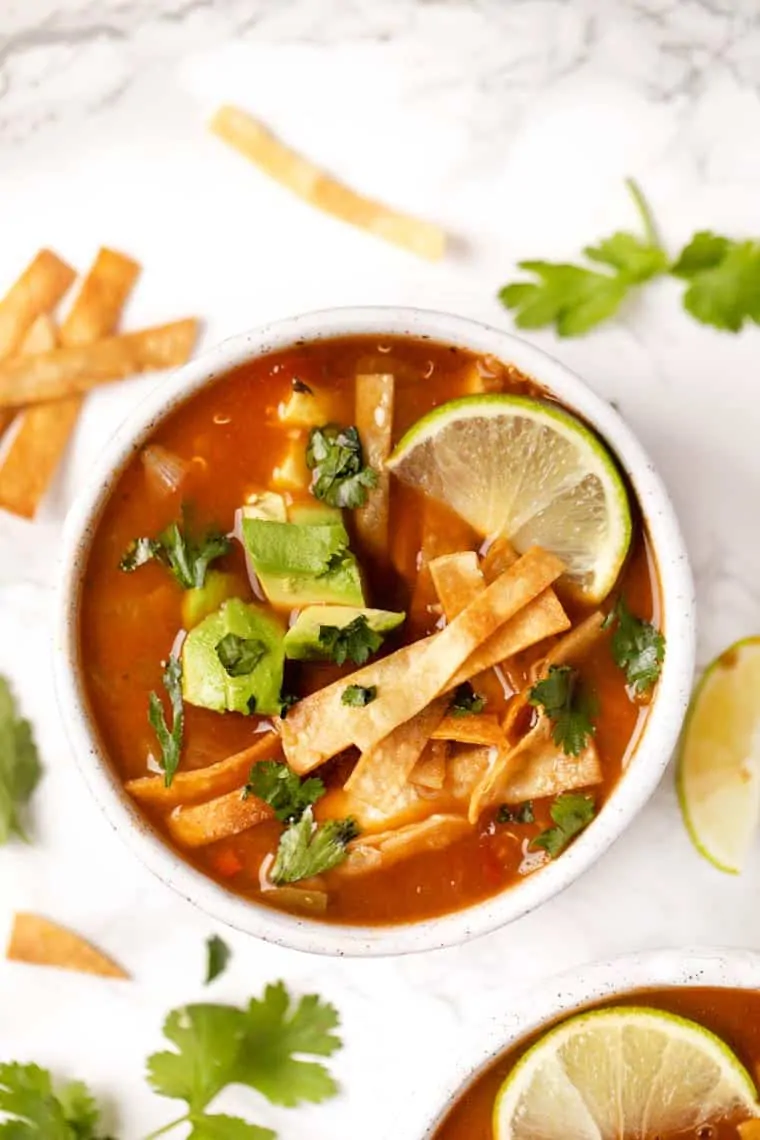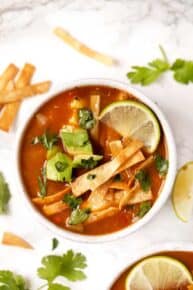 Instructions
Heat the oil in a large saucepan. Add the onion and garlic and saute until tender. Add the peppers, spices, salt, and pepper. Cook until the peppers are tender, about 2 - 3 minutes. Add the beans, tomatoes, tomato paste, and liquids and stir together.

Bring the soup to a boil, then reduce to simmer and cook for 15 minutes. Stir in the quinoa and frozen corn and cook another 15 minutes until the quinoa is cooked.

When ready to serve, fry the tortilla strips.

Heat some oil in a 12" frying pan. Once hot, add the tortilla strips. Fry for 1 minute, then flip and cook for another minute. Remove with a slotted spoon and place on a paper towel lined plate. Pat off any excess oil.

Scoop the soup into bowls and top with the crispy tortilla strips. Add additional toppings (like avocado and cilantro) and enjoy!
Nutrition
Serving:
1.5
cups
|
Calories:
237
kcal
|
Carbohydrates:
42
g
|
Protein:
9
g
|
Fat:
4
g
|
Sodium:
1092
mg
|
Potassium:
531
mg
|
Fiber:
9
g
|
Sugar:
5
g
|
Vitamin A:
1365
IU
|
Vitamin C:
25.7
mg
|
Calcium:
92
mg
|
Iron:
3.7
mg