Healthy quinoa nachos made with baked sweet potato rounds instead of tortilla chips, and then topped with black beans, salsa and fresh guacamole!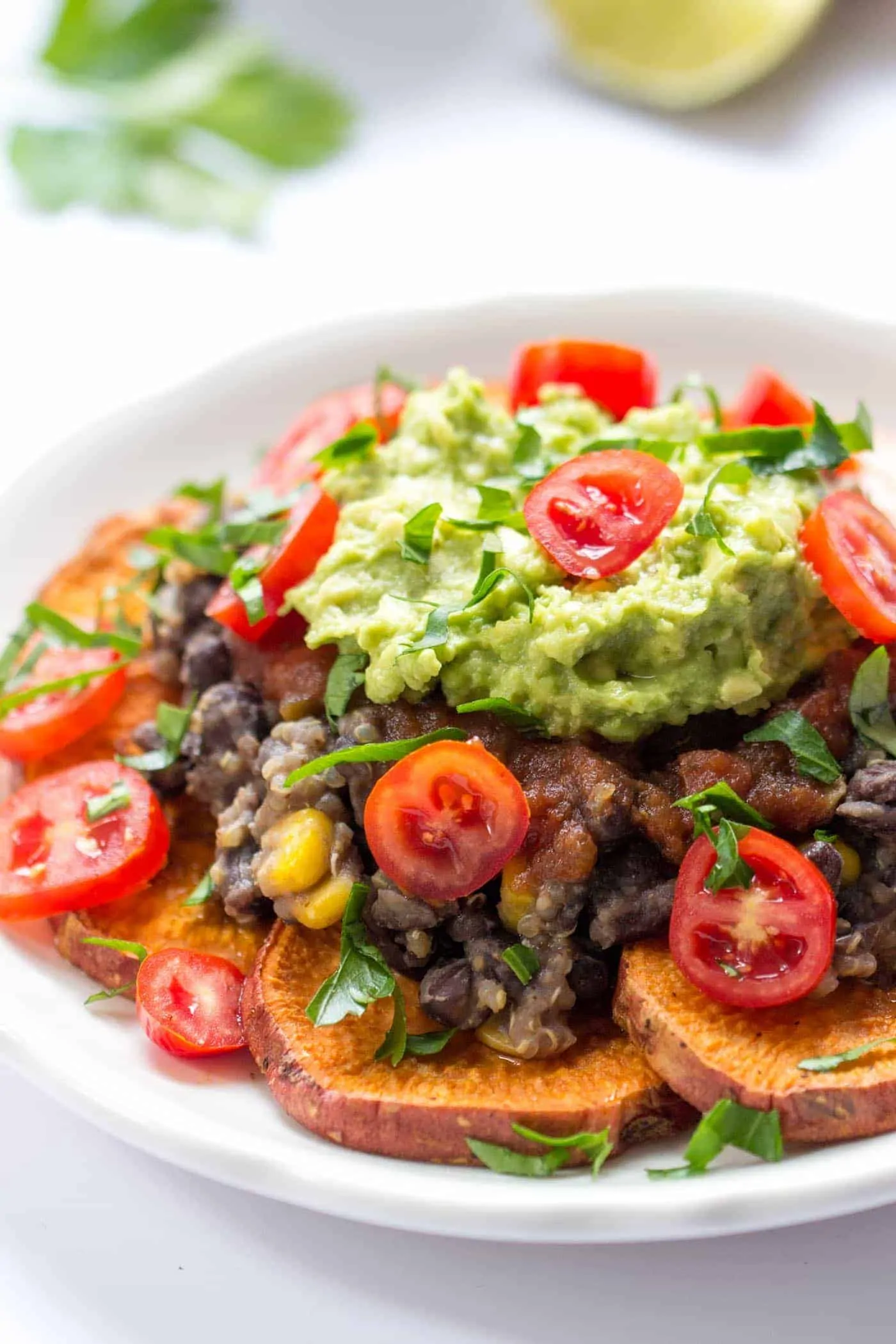 Classic foods remade with a healthy twist = probably one of my fave things ever.
We're all about the comforts foods — I mean who isn't, right? — just maybe not in the ways, they're traditionally made. You know…fried. floured. buttered. fried again. then dipped in sugar. Tasty sure, but pretty much disastrous to your health.
So when we can come up with ways to enjoy not-so-healthy meals in a totally healthy way, I'm all in.
This time….it's NACHOS.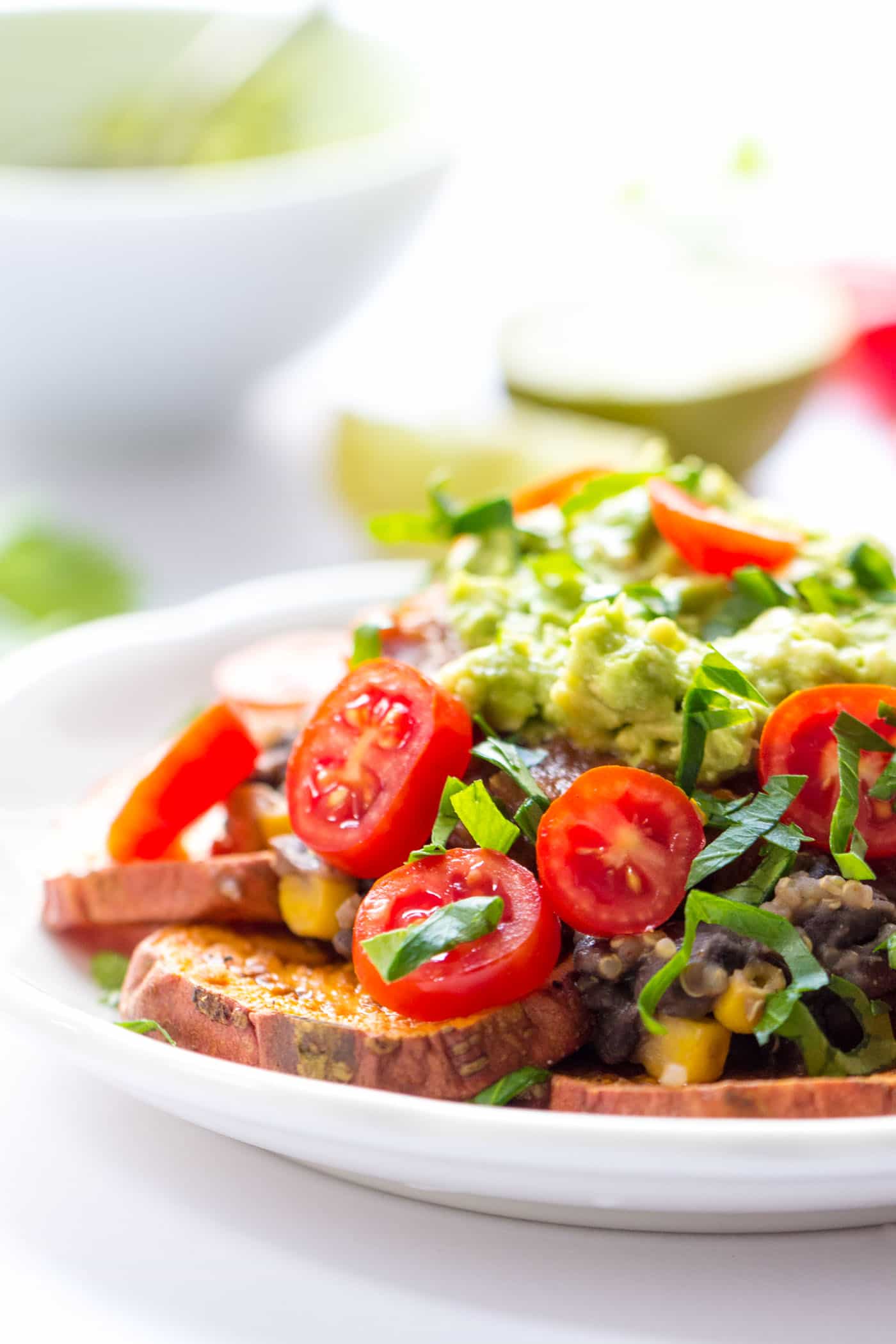 That's right. NACHOS. And it's nachos in all caps because hey, it's healthy nachos – hard to beat that!
You probably already know what traditional nachos are made with: fried corn tortillas, some sort of shredded meat, loads of cheese and sour cream, then *maybe* topped with some fresh salsa and guac if we're lucky. Not a whole lot of clean eating foods, but dang are they good.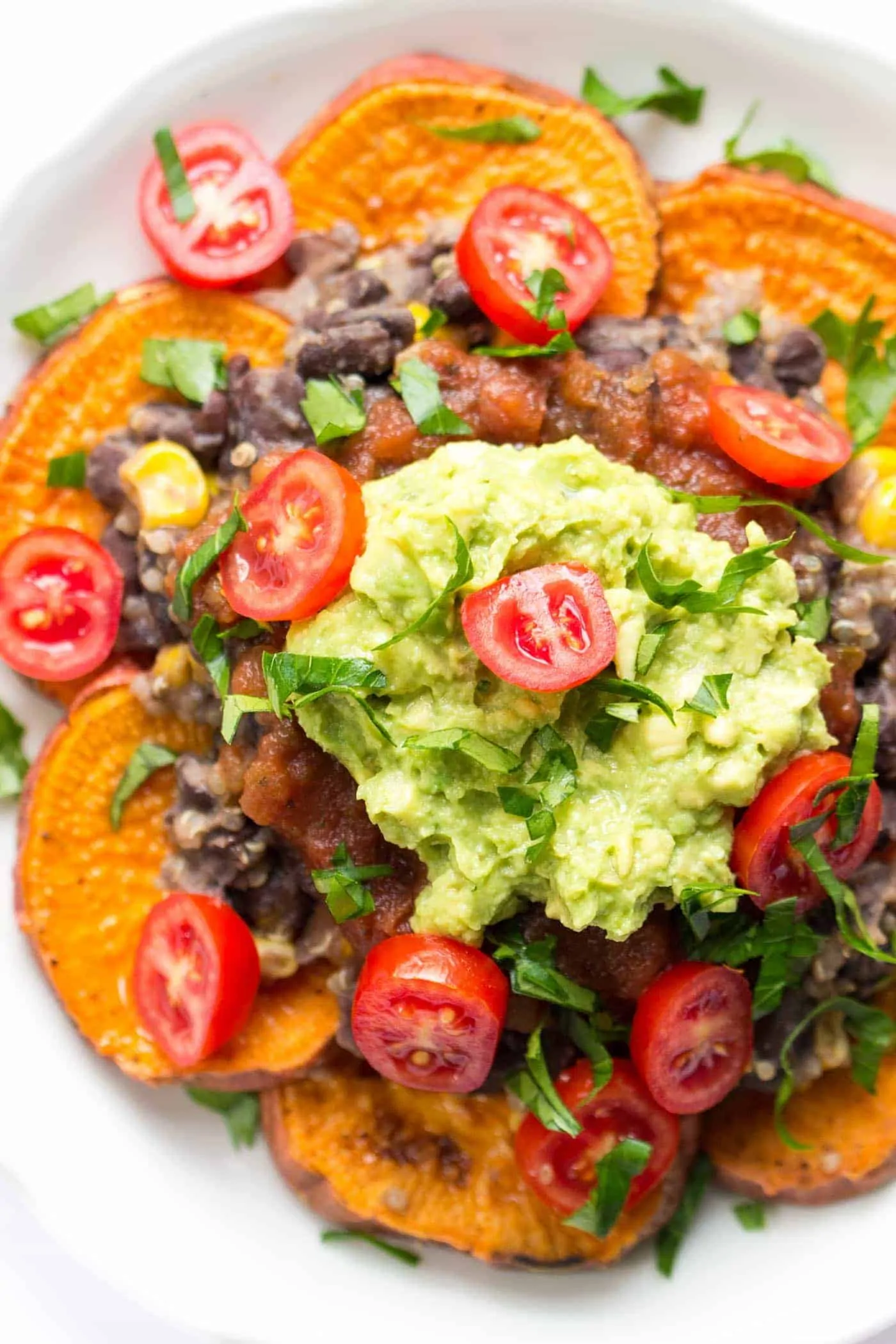 A few weeks ago Matt and I decided to stay in on a Friday night (which I'm not going to lie usually happens) and rather than ordering takeout like we normally do, we — and by that I mean I — decided to cook. He gave me a few stipulations:
easy
ability to add meat
fast (because he almost always comes home from work absolutely famished)
not salad
Challenge accepted Mr. Henderson.
So I looked at what I had…and somehow this concept for sweet potato quinoa nachos just popped into my head.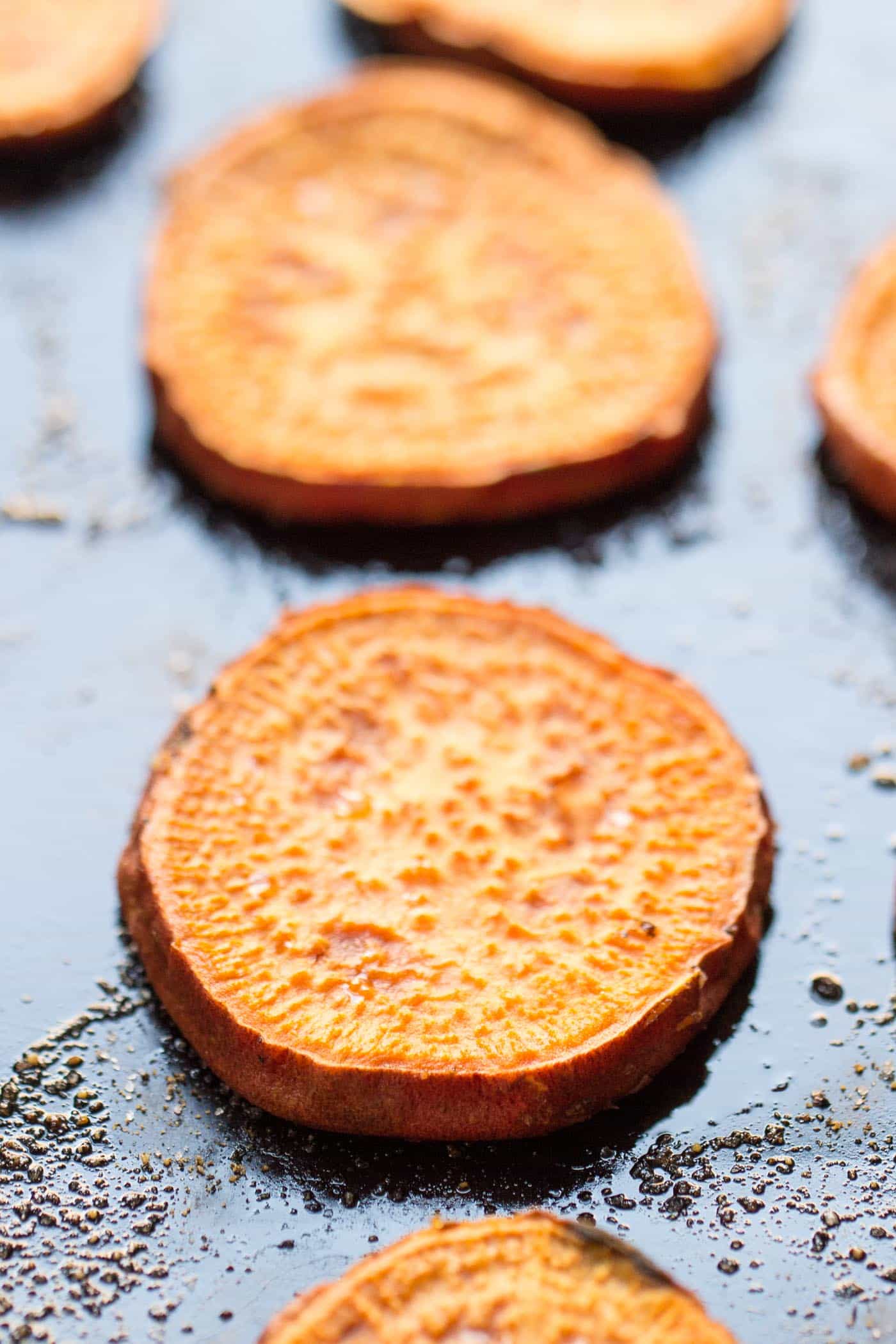 Honestly, it couldn't be a simpler meal to make.
We start with the base which is baked sweet potatoes. While I would have looooved to make these with corn tortilla chips, me and corn tortilla chips have quite the tumultuous relationship. I'll demolish a whole bag like it's nothing, so I try to steer clear as much as possible.
Plus, sweet potatoes are totally my jam — and Matt tolerates them — so that works out well for both of us 😉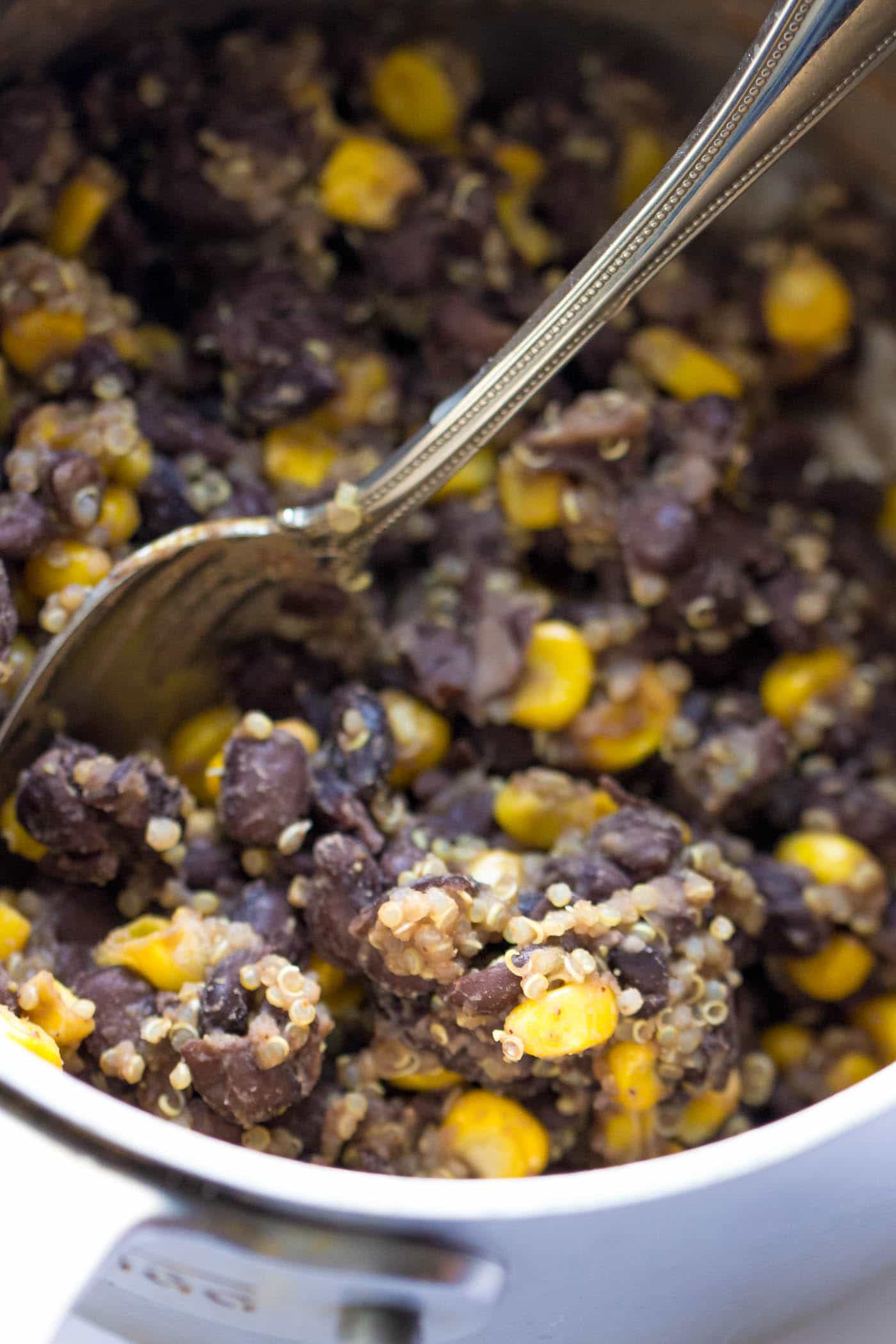 Then it's onto the toppings.
The next layer was black beans because I'm not really eating much meat right anymore, but rather than just throwing them onto the sweet potatoes and calling it a day, I gave them a little more pizzazz.
I just popped them into a pot with a little water, seasoned them with cumin, coriander, chili powder and a touch of salt, then let them simmer for about 10 – 15 minutes until they started to soften. Once soft, I tossed in some cooked quinoa and frozen corn and bam, that was that. <– here is where Matt added some shredded chicken (totally optional for you, but I think they're absolutely scrumptious sans meat)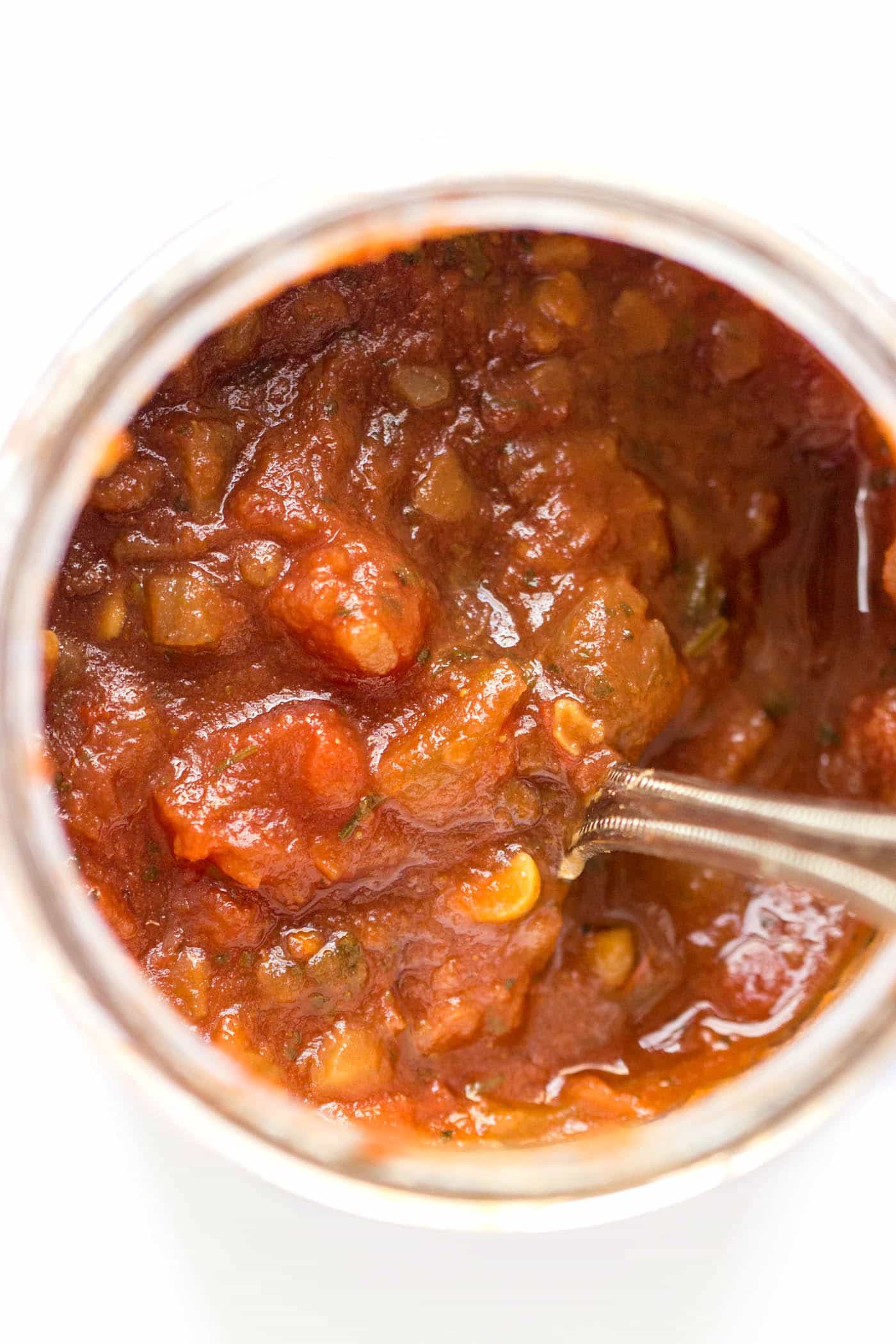 On top of the beans was a layer of organic jarred salsa — any variety you like will do — then some fresh guac, chopped cherry tomatoes, cilantro and a squeeze of lime.
(side note: if you want to add cheese like Matt did, do it on top of the salsa, then pop them back in the oven to melt the cheese, thennn move onto the guac)
And then….WE DIG IN.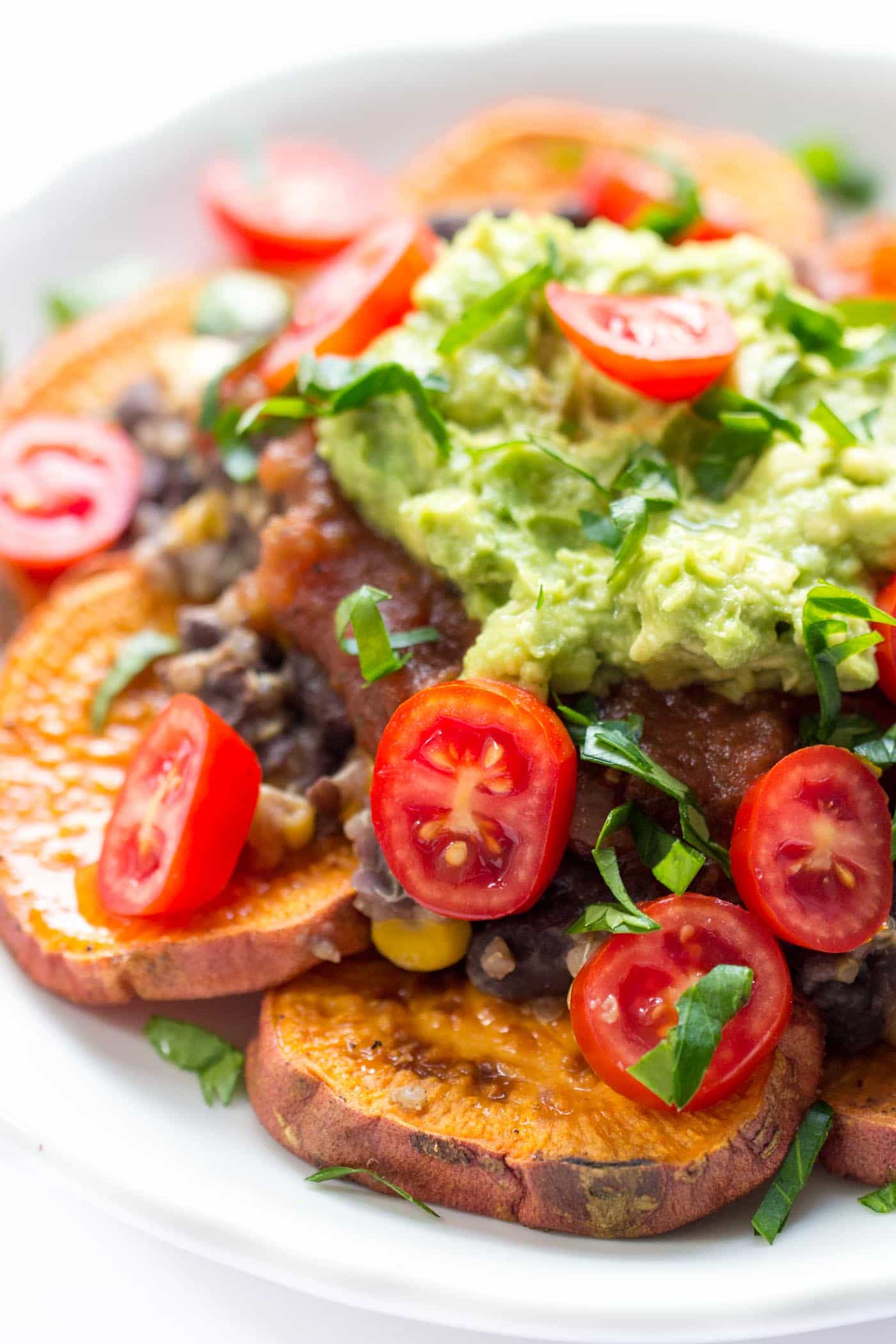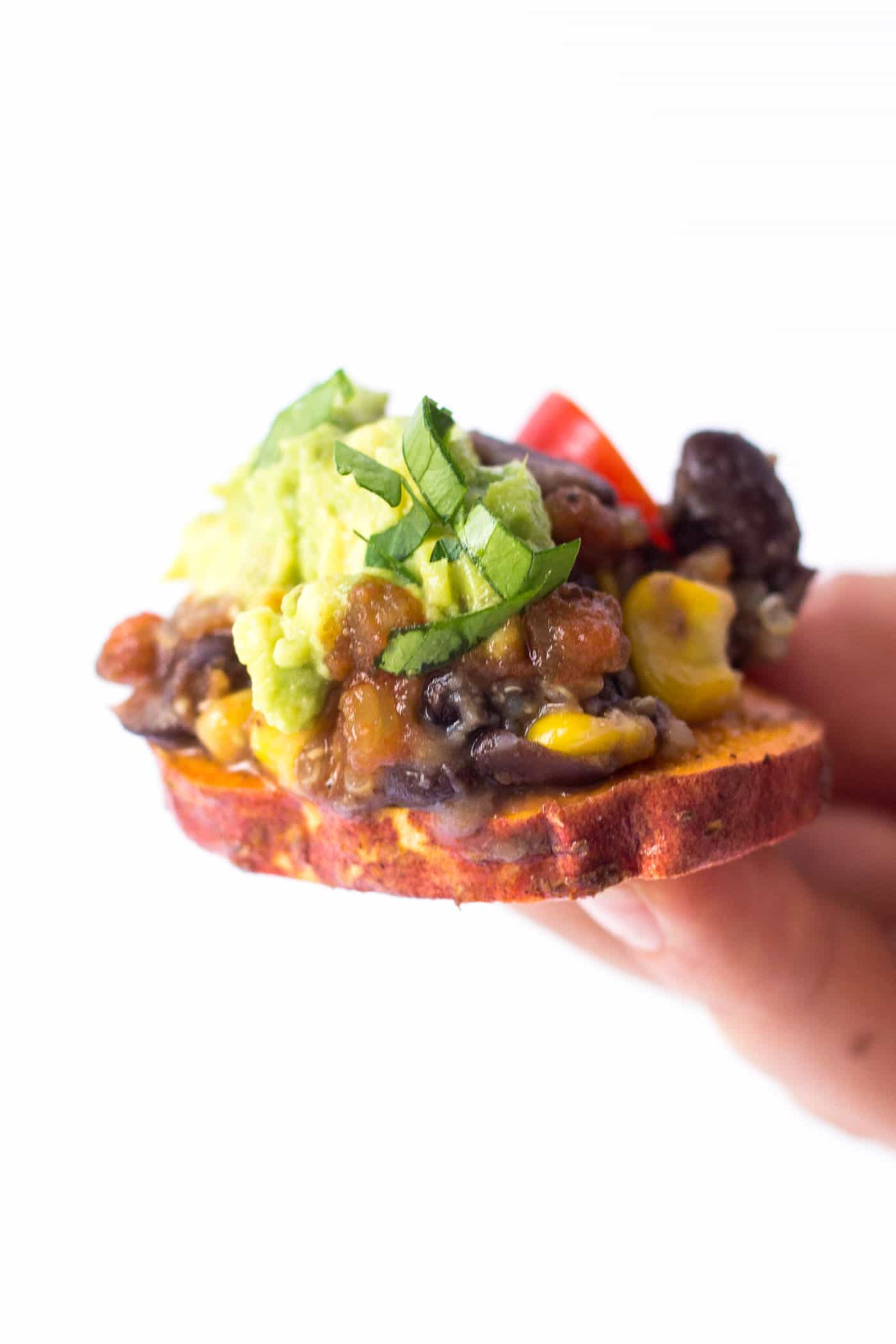 My friends, these are epic. They totally satisfying your Mexican comfort food cravings but in a healthy, non-tummy-ache sort of way. Plus, they're well balanced! We've got veggies, complex carbs, protein annnnd healthy fats!
Now when someone asks you to bring nachos to the party, you know what you're making, right?
Sweet potato quinoa nachos will win every time. YES!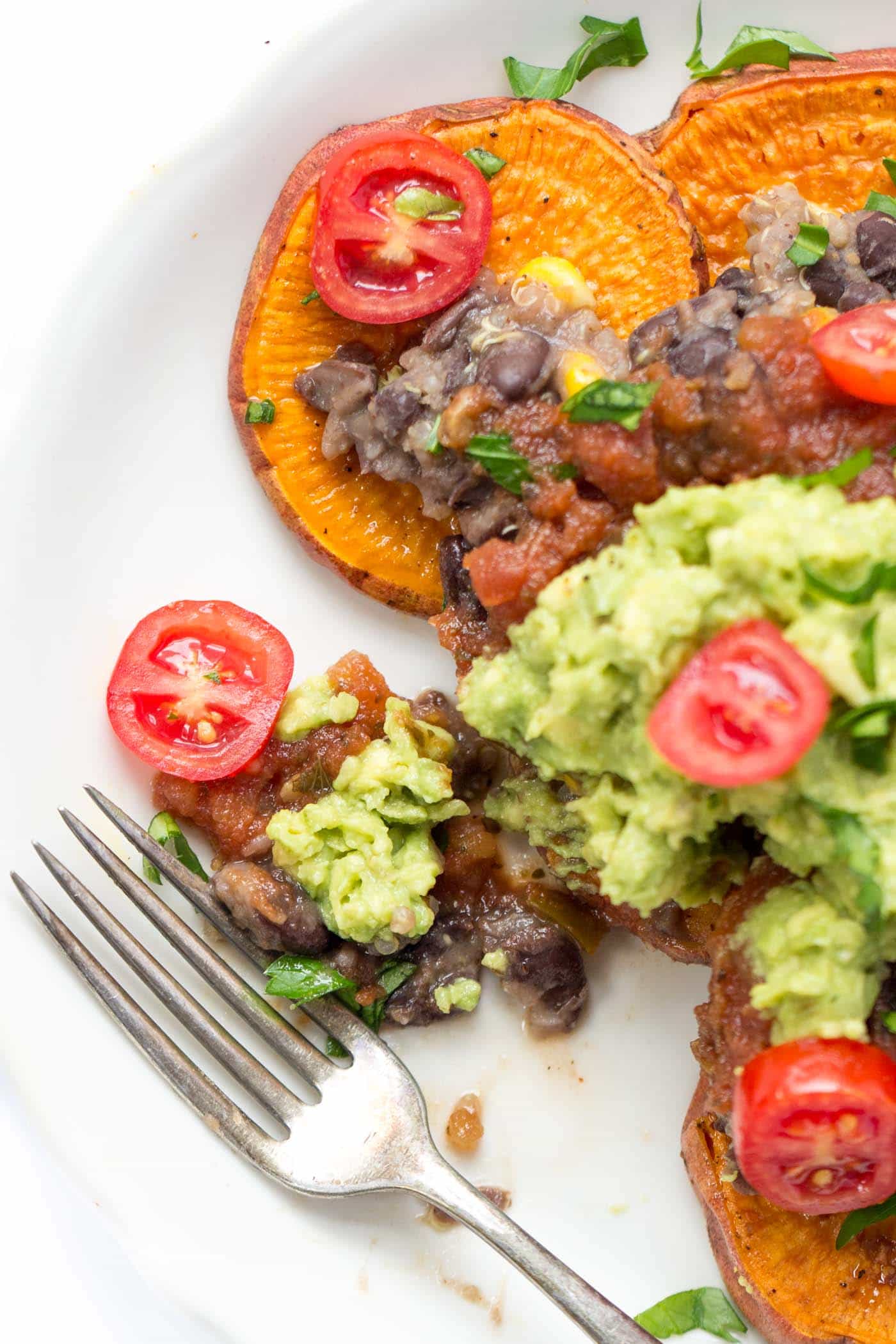 More Deliciously Healthy Comfort Food Recipes:
Sweet Potato Quinoa Nachos
My friends, these are epic. They totally satisfying your Mexican comfort food cravings, but in a healthy, non-tummy-ache sort of way. Plus, they're well balanced! We've got veggies, complex carbs, protein annnnd healthy fats!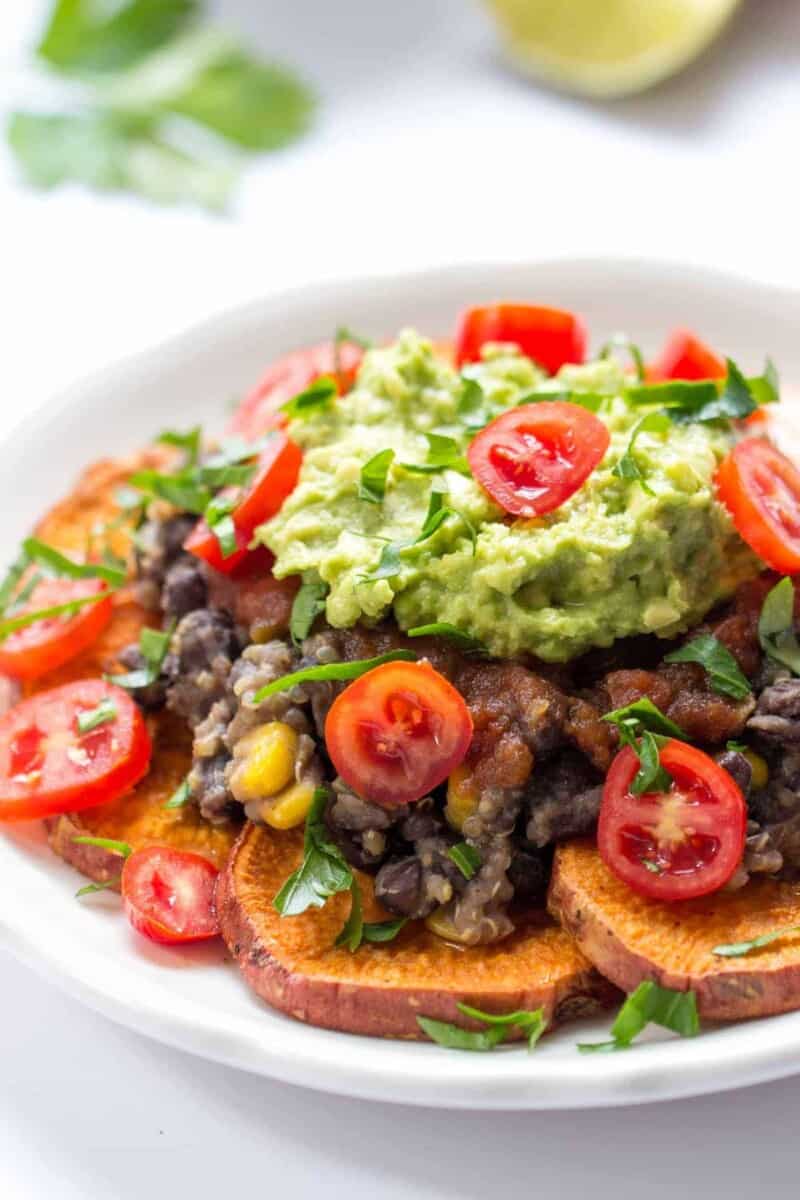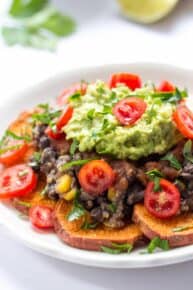 Ingredients
2

medium sweet potatoes

cut into 1/4" rounds

1

tablespoon

olive oil

1/4 - 1/3

cup

water

1/2

teaspoon

each of cumin

coriander, chili powder and salt

1/4

cup

cooked quinoa

1/4

cup

organic frozen corn kernels

1/4 - 1/2

cup

salsa

1

avocado

1

lime

1/4 - 1/2

cup

chopped cherry tomatoes

Cilantro to garnish
Instructions
Preheat the oven to 400ºF. Add sweet potato rounds to a large bowl and toss with oil. Place onto baking sheets and roast for 25 - 35 minutes until sweet potatoes are soft and starting to brown, making sure to flip them halfway through.

While sweet potatoes are cooking, add beans, water and spices to a small saucepan. Start with 1/4 cup and add more if needed. Bring to a boil then cover and reduce to simmer for 10 - 15 minutes. Once beans have softened, stir in quinoa and corn and then remove from the heat.

Remove sweet potatoes from the oven and arrange the rounds onto plates (or keep them directly on the pan if you're using cheese/chicken). Top the sweet potatoes with bean mixture and salsa.*

Mash the avocado with the juice of 1/2 the lime and add a dollop onto each helping. Top with cherry tomatoes, cilantro and a squeeze of lime juice. Enjoy!
Notes
If you use chicken or cheese, follow the instructions through Step 3 and top the salsa with chicken and cheese. Pop the pan back in the oven for 5 - 10 minutes until cheese has browned.
Nutrition
Calories:
298
kcal
|
Carbohydrates:
42
g
|
Protein:
9
g
|
Fat:
11
g
|
Saturated Fat:
1
g
|
Sodium:
583
mg
|
Potassium:
907
mg
|
Fiber:
14
g
|
Sugar:
4
g
|
Vitamin A:
9430
IU
|
Vitamin C:
16.7
mg
|
Calcium:
73
mg
|
Iron:
3.3
mg
Filed Under: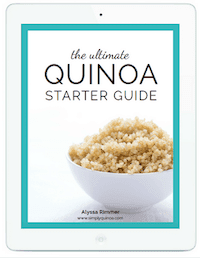 New to cooking quinoa? Grab your FREE Quinoa Starter Guide!
Become part of the Simply Quinoa community and receive weekly emails with exclusive content that I only share in email, as well as my in-depth guide to starting your quinoa journey.