Almond Butter Truffles, made with just four ingredients, are the perfect healthy treat to satisfy your sweet tooth. And they're naturally gluten-free, vegan and paleo!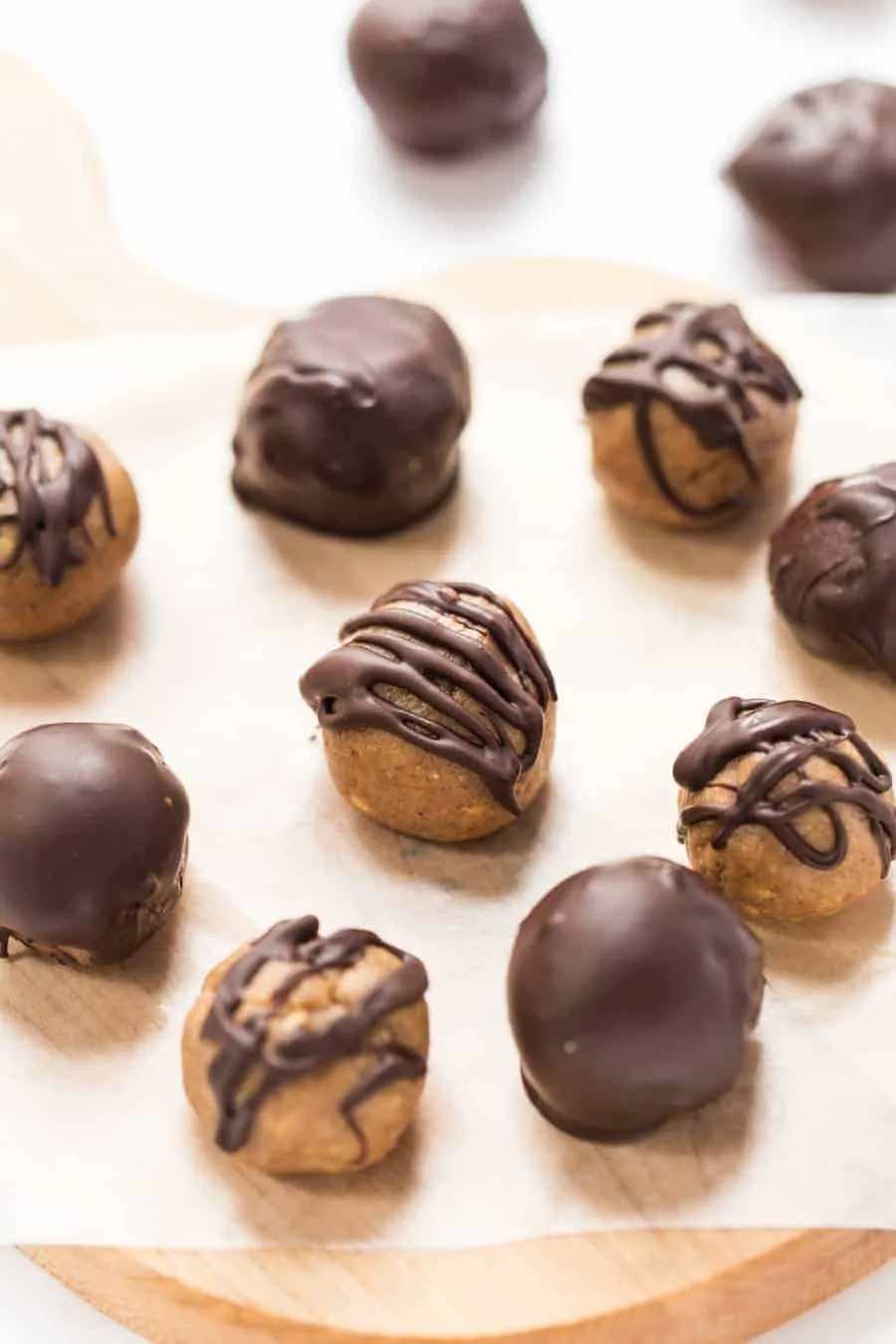 Step aside AB+J. Stand down almond butter toast. There's a new kid in town today. ALMOND. BUTTER. TRUFFLES.
Now we can turn this lovely, silky smooth nut butter into insanely amazing truffles. Using just four ingredients. Yes, four.
Snacking made easy. Dessert made healthy. Chocolate cravings cured.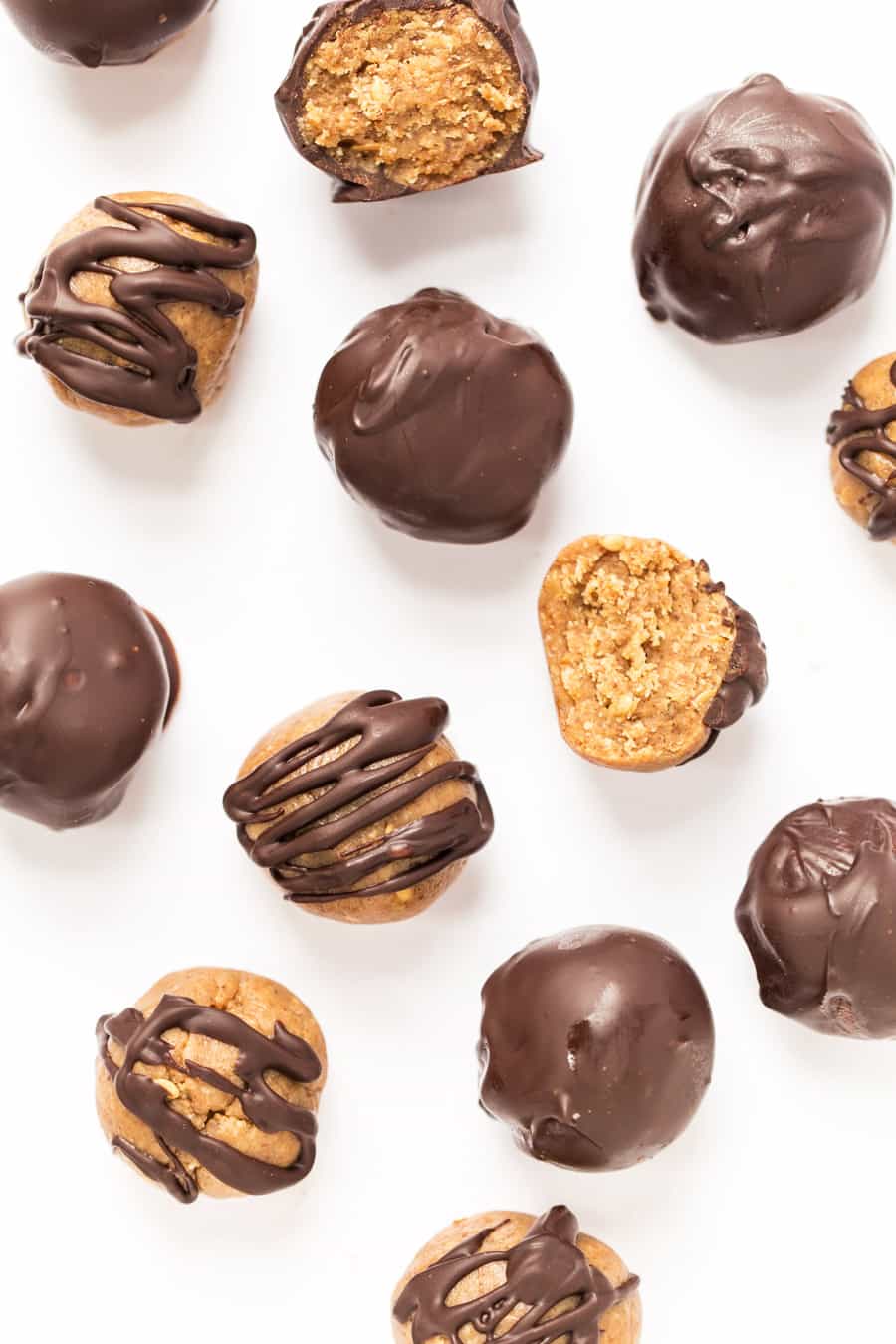 These truffles have it all. Each of these four ingredients brings a different superpower to the table…
We've got almond butter which is high in healthy fats and protein, which will not only help give you sustained energy, but will also help fill you up.
We've got coconut flour which is incredibly high in fiber.
Then there's the maple syrup which is a naturally derived sweetener, has tons of minerals, and will convert into carbohydrates to give your brain some fuel.
And finally, we've got dark chocolate. Luckily for all us chocolate lovers out there, dark chocolate not only tastes amazing, but it's also nutritious. A dark chocolate bar (we're talking like 70 – 85% cacao) is packed with antioxidants and minerals like magnesium, iron and manganese.
So these truffles? They're a sweet treat you can feel great about eating!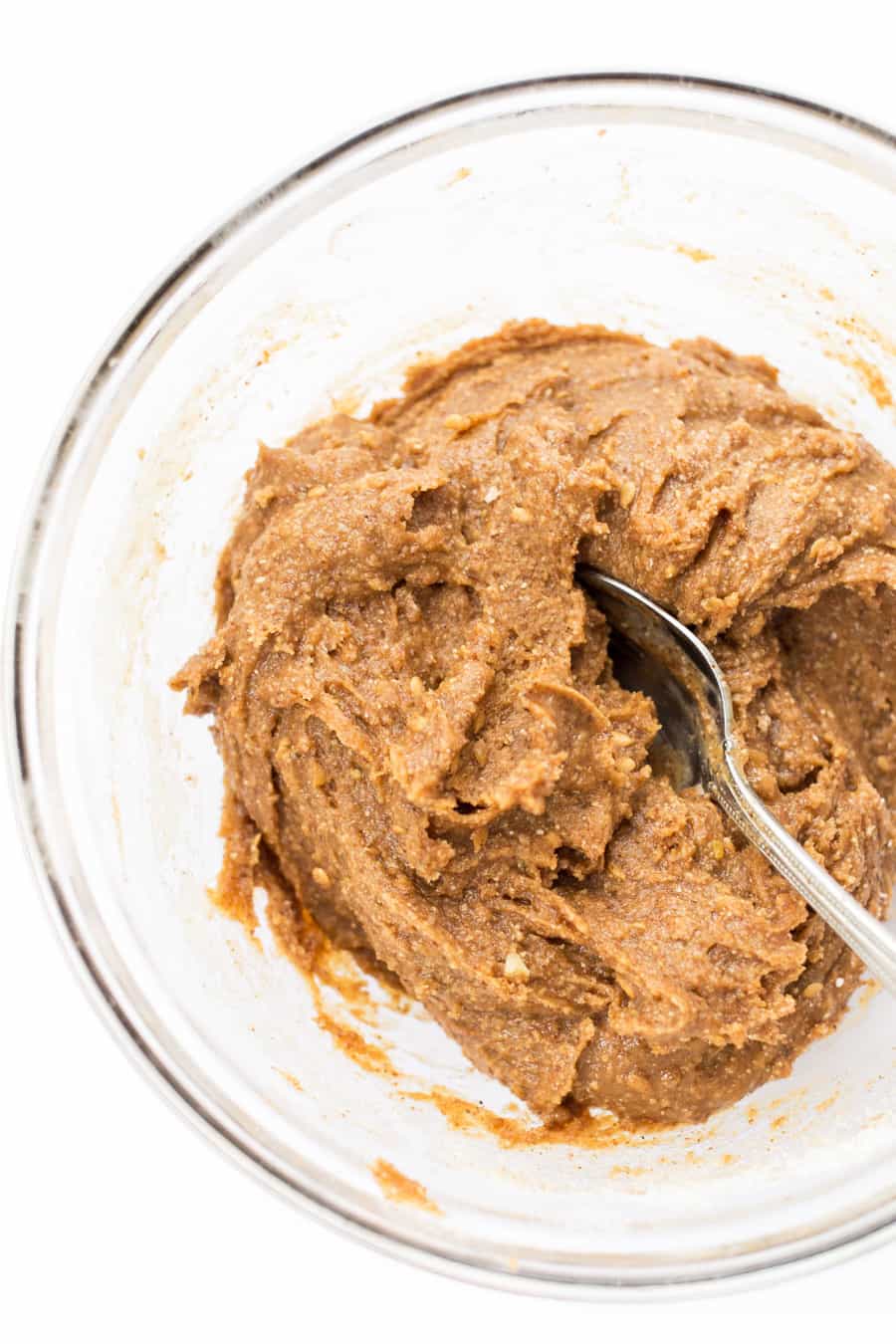 And making them? A total breeze.
We start by making our truffle base which is the almond butter and syrup mixed together. Then we stir in the coconut flour which helps absorb some of the liquid and turns the mixture into a dough. From there, we can just roll them into balls and then top them with our chocolate!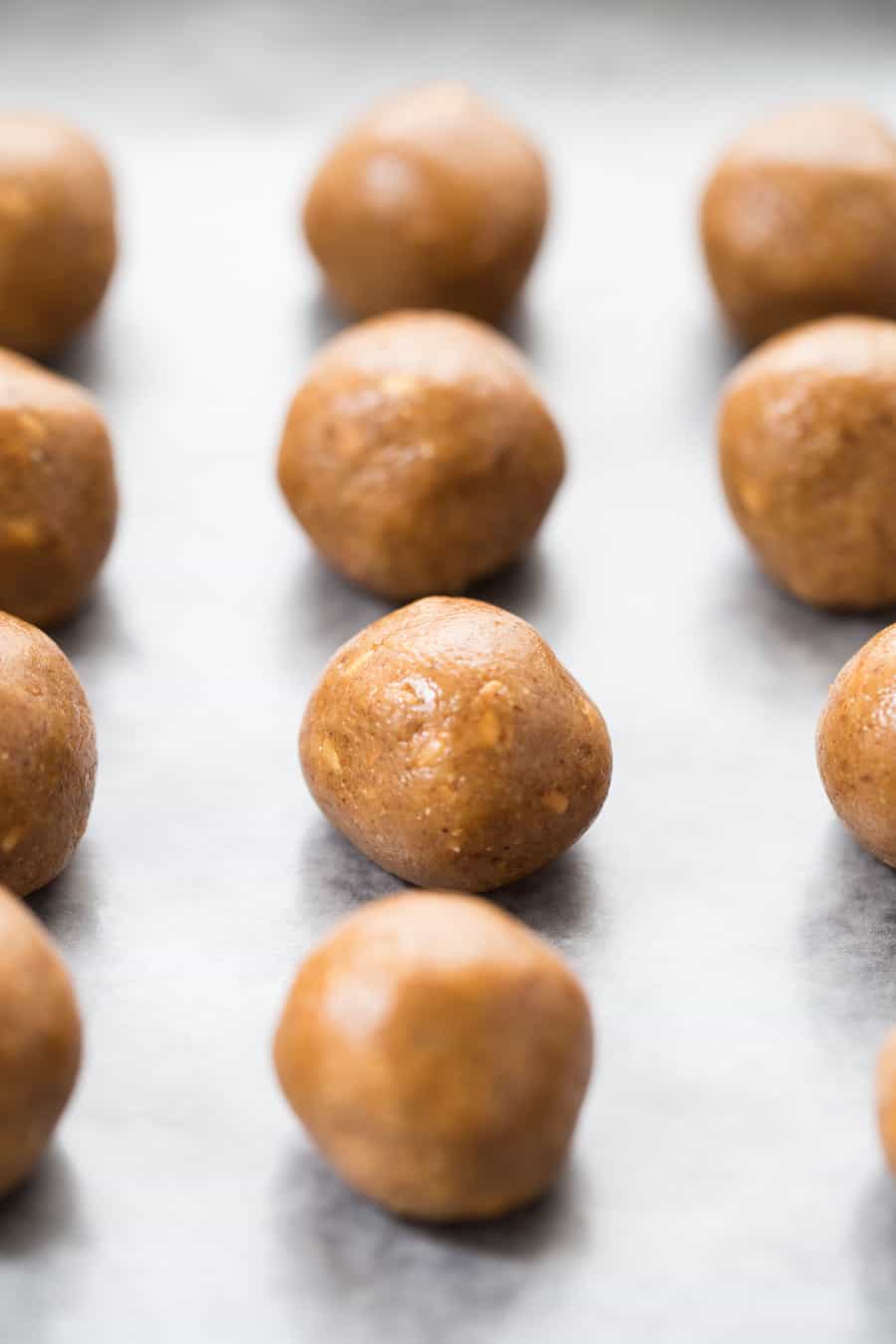 For the chocolate, we have a few options…
Option A is chocolate covered almond butter truffles. Option B is chocolate drizzled almond butter truffles. For either option all we need is melted dark chocolate (I recommend dark chocolate chips or a chocolate that is 70- 85% cacao) and a fork.
If you're going with covered, you're going to want about a cup of melted chocolate. You'll just dunk the chilled almond butter balls into the chocolate, roll it around until it's covered and then transfer it back to your baking sheet.
If you're going with drizzled, you'll only need about 1/2 a cup of the melted chocolate. You'll leave the truffles on the baking sheet and dip your fork in the chocolate, then just drizzle it over the balls in whatever design you'd like. (<– mine was pretty sloppy, and they still tasted great!)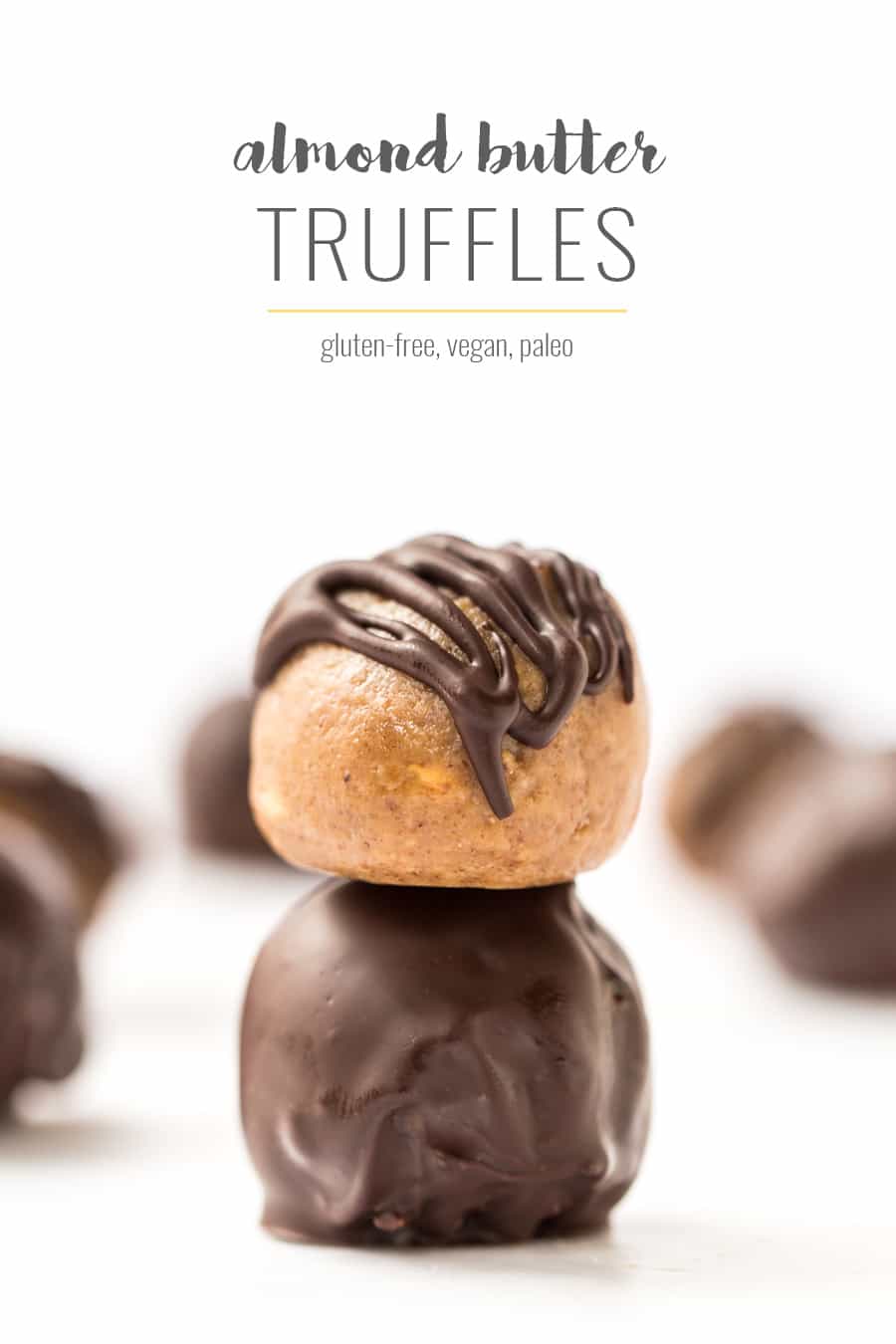 Basically, these are the easiest truffles you could ever make. And you're going to love them ????
I also want to give you a few substitution ideas if you want to try a different variation:
The almond butter can be changed for any nut/seed butter
The syrup can be changed for any other liquid sweetener
The coconut flour I think needs to stay as is
The chocolate can be left off or swapped for something else (like my coconut butter glaze perhaps?)
Feel free to add in spices or chopped nuts for added texture
Personally, I'm thinking my next ones will be a peanut butter honey variation!
Enjoy! xo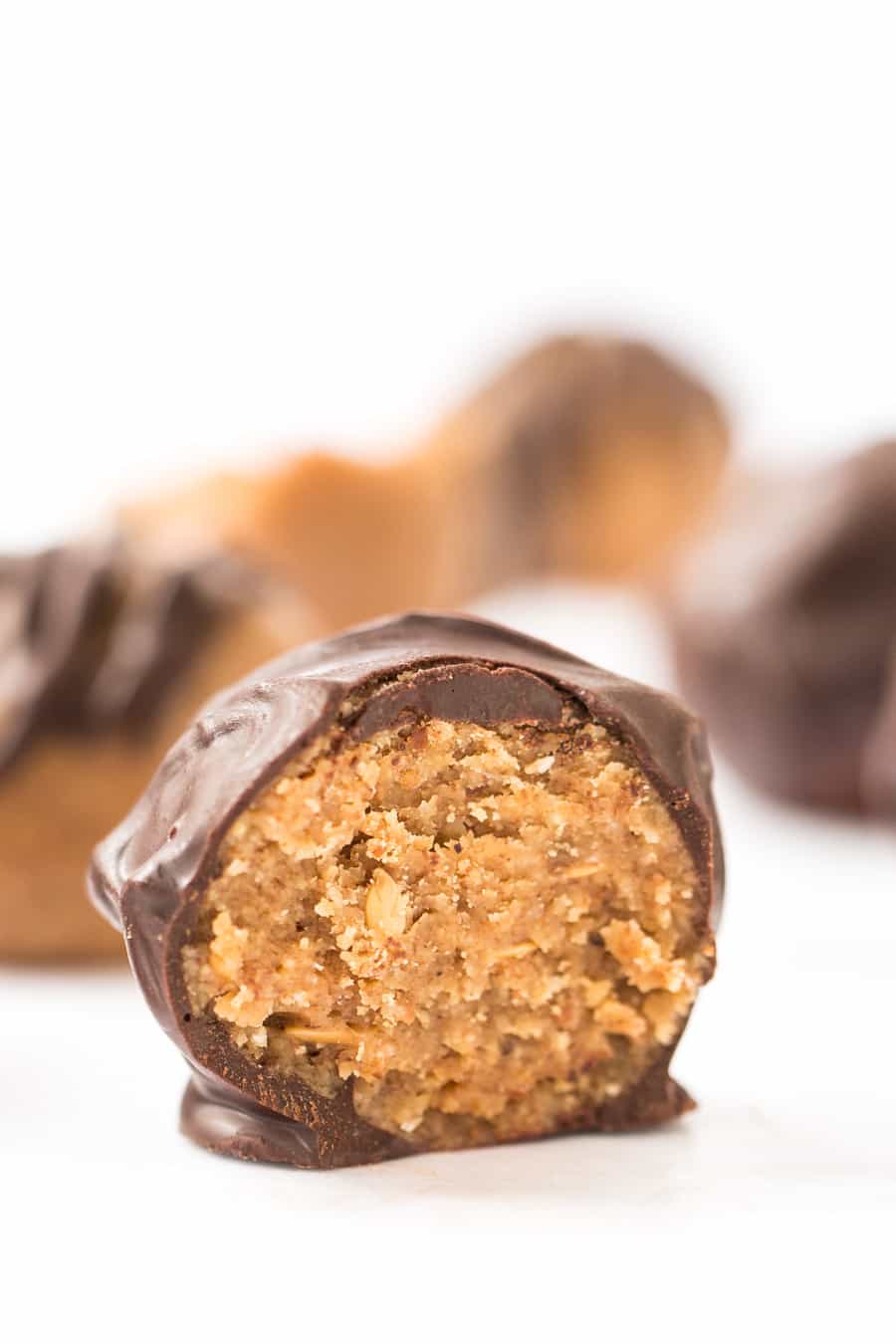 More Healthy Candy Recipe to Try:
4-Ingredient Almond Butter Truffles
These almond butter truffles are a quick and healthy sweet treat that only use 4 ingredients, are naturally gluten-free and vegan!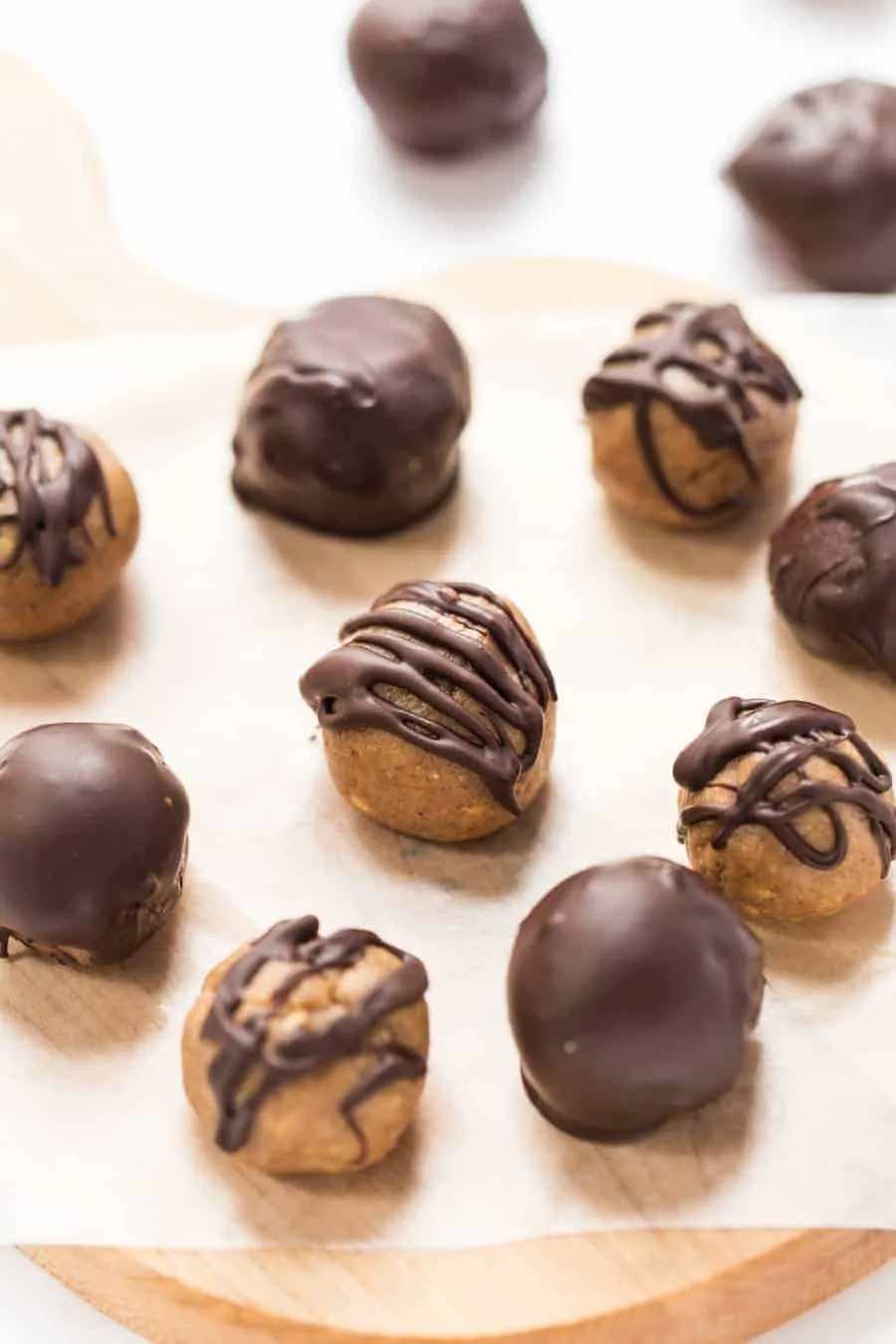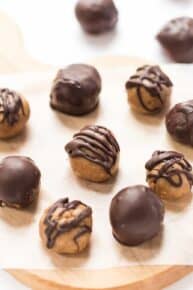 Instructions
Mix together almond butter and maple syrup until fully combined and smooth. Add coconut flour and stir until almond butter begins to thicken and turns into a dough.

Roll 1 tablespoon of dough into small balls and place on a parchment-lined baking sheet. Repeat until no dough remains. Set aside.

Melt the chocolate over a double boiler until completely smooth. Use 1 cup if you want chocolate covered truffles and use 1/2 cup if you want just a chocolate drizzle on top. If dipping, use a fork dip the almond butter balls into the chocolate and return them to the baking sheet. If drizzling, use a fork to drizzle the melted chocolate over the balls. Sprinkle with sea salt if desired.

Place in the fridge for 1 – 2 hours, until chocolate has hardened. And of course, enjoy!
Nutrition
Calories:
125
kcal
|
Carbohydrates:
9
g
|
Protein:
3
g
|
Fat:
8
g
|
Saturated Fat:
1
g
|
Sodium:
6
mg
|
Potassium:
113
mg
|
Fiber:
1
g
|
Sugar:
6
g
|
Vitamin A:
10
IU
|
Calcium:
59
mg
|
Iron:
0.6
mg
Filed Under: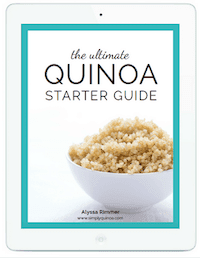 New to cooking quinoa? Grab your FREE Quinoa Starter Guide!
Become part of the Simply Quinoa community and receive weekly emails with exclusive content that I only share in email, as well as my in-depth guide to starting your quinoa journey.
Want more quinoa dinner recipes?
Follow my board on Pinterest!