These dark chocolate almond butter cups are a healthy version of Reese's. They're easy to make at home, are delicious and also gluten-free + vegan!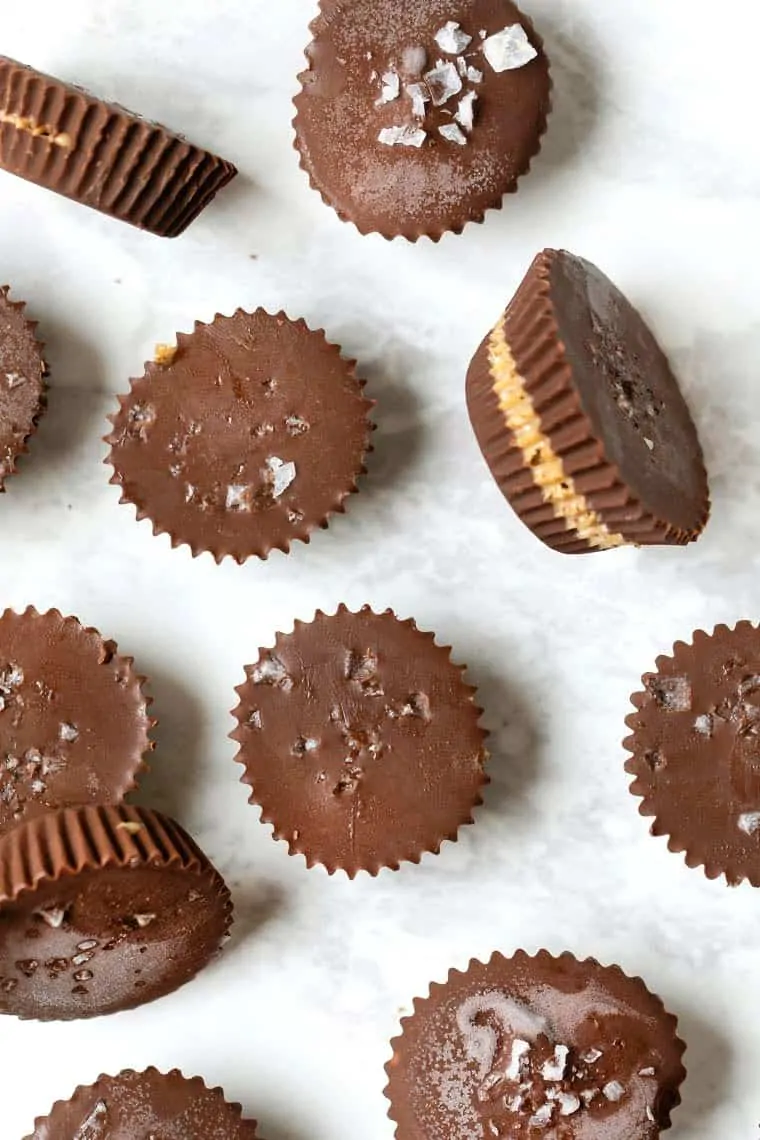 Are you a chocolate lover like me? I honestly have chocolate every single day. Whether it's in my morning smoothie bowls, maybe some chocolate covered almonds after lunch or one of these tasty numbers after dinner. It's a staple in my diet and I'm not mad about it!
One of my all-time favorite treats is a peanut butter cup. But I also realize they're not necessarily made with the best ingredients and the ones that are, tend to be pretty darn pricey. So I figured… let's make our own! It can't be that hard, right?
RIGHT! And that's what we're doing today. Making these most decadent dark chocolate almond butter cups that are going to be a staple in your dessert rotation from now until forever.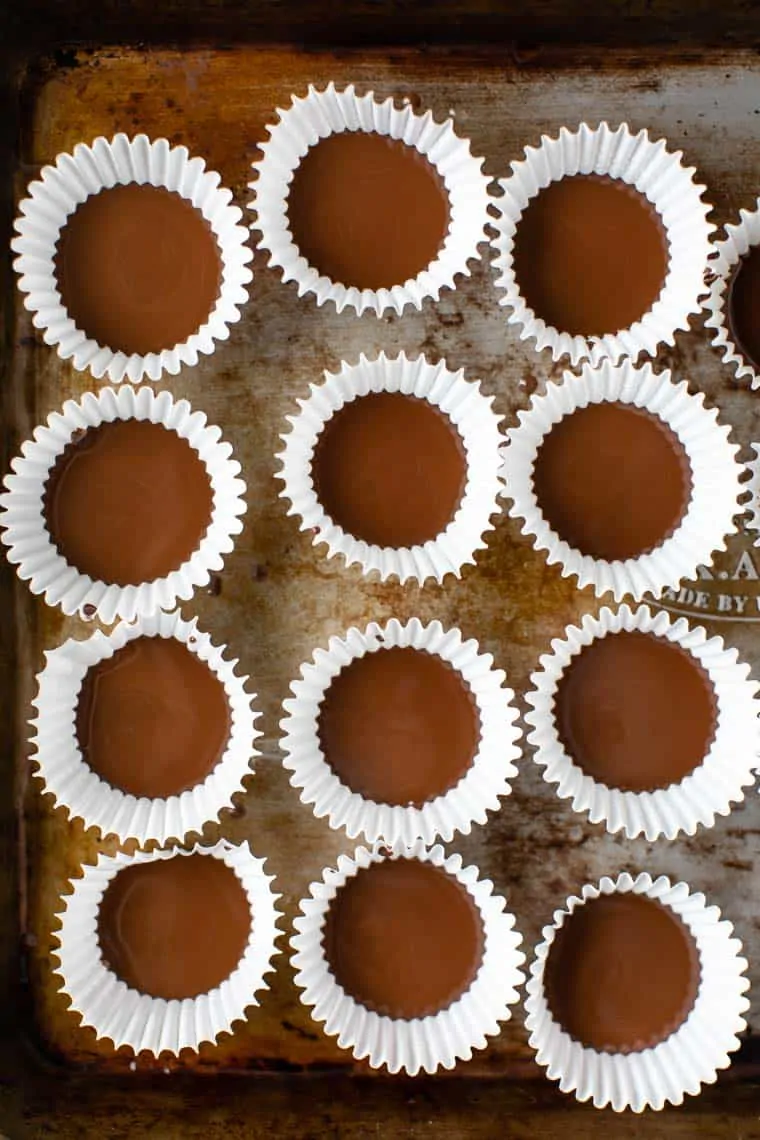 Dark Chocolate Almond Butter Cup Ingredients
If you look at the label for most of the peanut/almond butter cups out there, they aren't really that long. Which is precisely why I knew they would be easy to make at home.
Here's what you need to make your dark chocolate almond butter cups:
dark chocolate: I like using one that is at least 80% dark. you could also totally use a flavored one too if you like!
maple syrup: just for a little added sweetness (it's optional though!)
coconut oil: helps keep them firm in the fridge/freezer
almond butter: use creamy (like the creamiest you can find) – you'll love how gooey it is
And I typically just sprinkle some Maldon sea salt on top to finish everything off!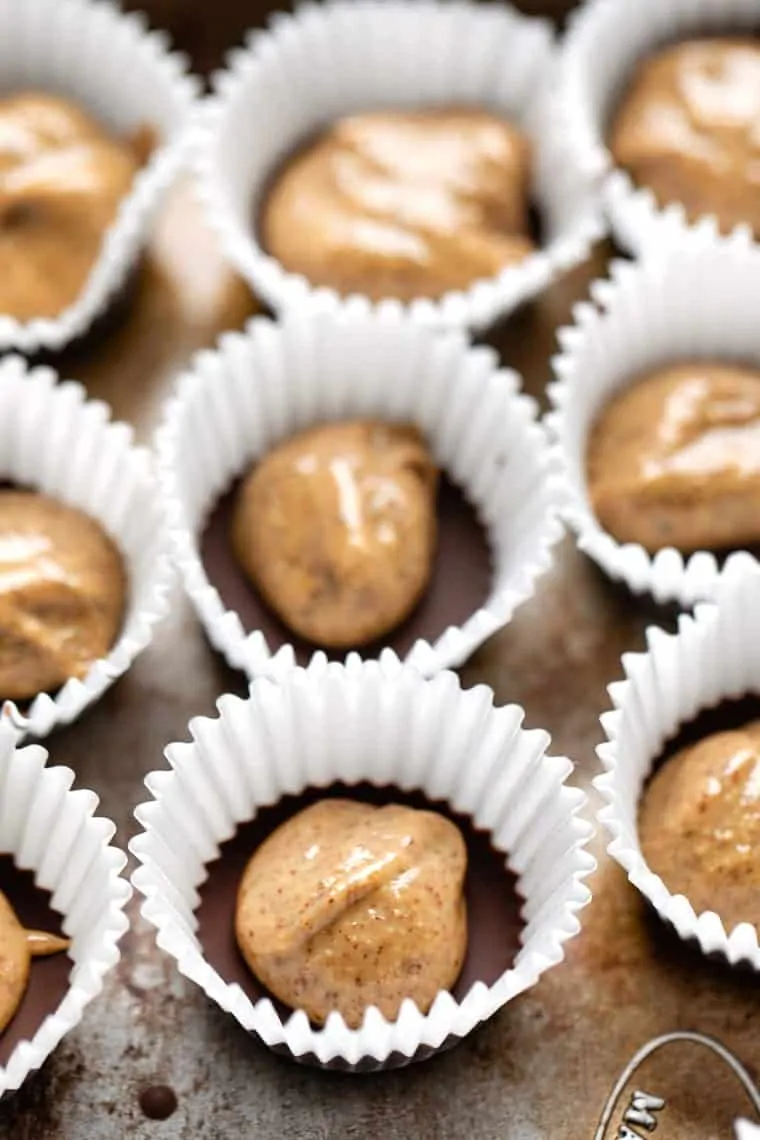 How to make Almond Butter Cups
While the process of making these little candies isn't difficult, it does take time and patience.
You have to start by melting your chocolate, syrup, and oil together. Then carefully drip it into your mold (or papers) filling it halfway up. Pop that in the freezer and let it firm up (about 30 minutes).
Next, you'll remove the frozen chocolate and working quickly add a dollop of almond butter. I use about 1/2 teaspoon per cup. Pop it back in the freezer to chill again.
The last step is to top each candy with the rest of the chocolate. Pop it back in the freezer one last time for at least another hour (but more is better).
Storage-wise, you'll want to keep these in the fridge or freezer. They'll stay nice and firm that way. You'll also want to eat them fairly quickly because they get a little melty!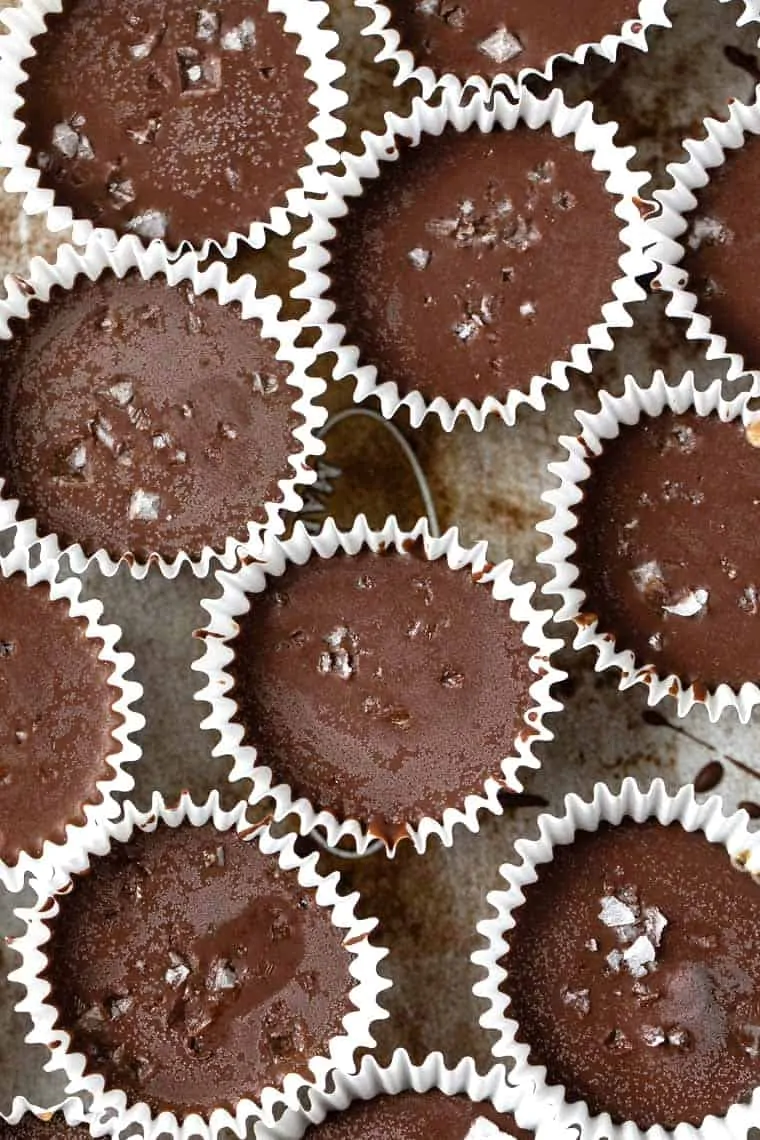 Useful Tools for Homemade Almond Butter Cups
If you want to get super technical about things, there are a few different ways you can make almond butter cups. I'll start with the jankiest (and cheapest) and work my way down:
mini muffin liners + baking pan: what I used here! It's cheap, but the downside is you won't have a uniform shape
silicone candy molds: uniform shapes and fairly inexpensive, but you might not want to invest unless you plan on making these a lot
mini muffin tin + mini muffin liners: I personally used to have a mini muffin tin but got rid of it because it was one of those things I never used. If you have one, awesome, if not, you could pick one up but I'm guessing you won't use it much!
All these items will be linked for you down below in the shop section!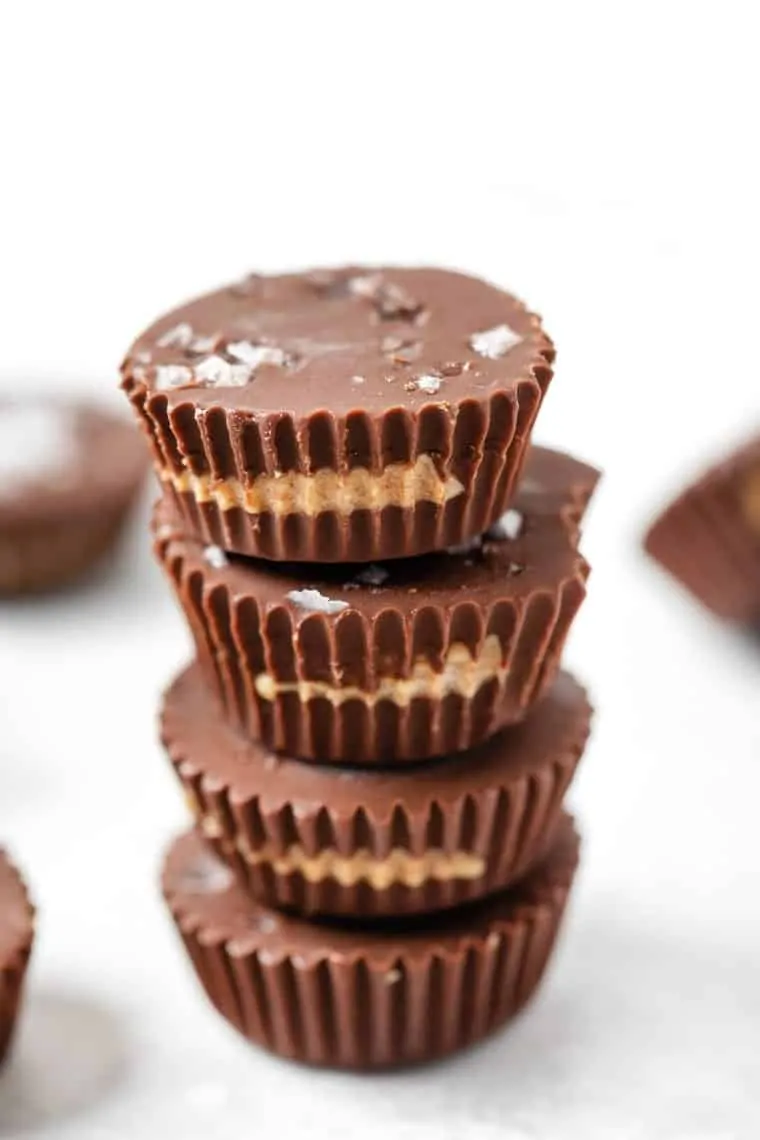 The Perfect No-Bake Vegan Dessert
What I personally love about making these dark chocolate almond butter cups is they don't require an oven, they make a pretty large batch, and I keep them in my freezer so they last me forever.
I know you guys love your no-bake desserts and this one is a must-try. Unlike most other no-bake vegan desserts, there's no soaking of nuts, no blending of crusts, just melting of chocolate and patience.
Also, one thing to mention before I let you scamper off and make these. The center is TOTALLY customizable! Don't have almond butter? Use peanut, cashew, or sunflower for nut allergies. Can't wait to see your recreations!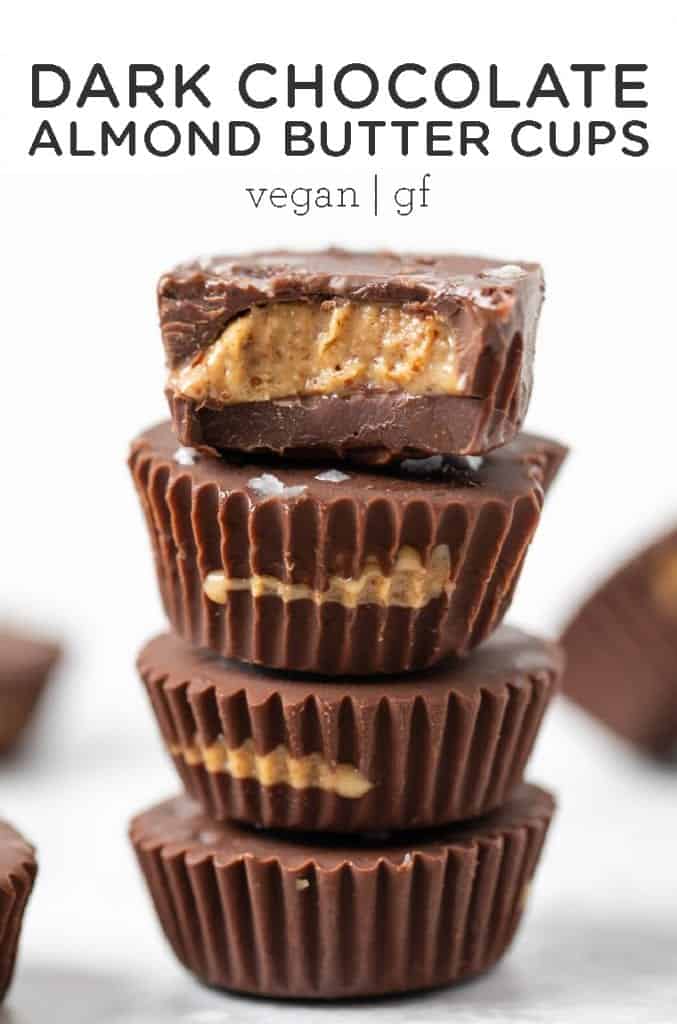 More Dark Chocolate Dessert Recipes:
Dark Chocolate Almond Butter Cups
These dark chocolate almond butter cups are a healthy version of Reese's. They're easy to make at home, are delicious and also gluten-free + vegan!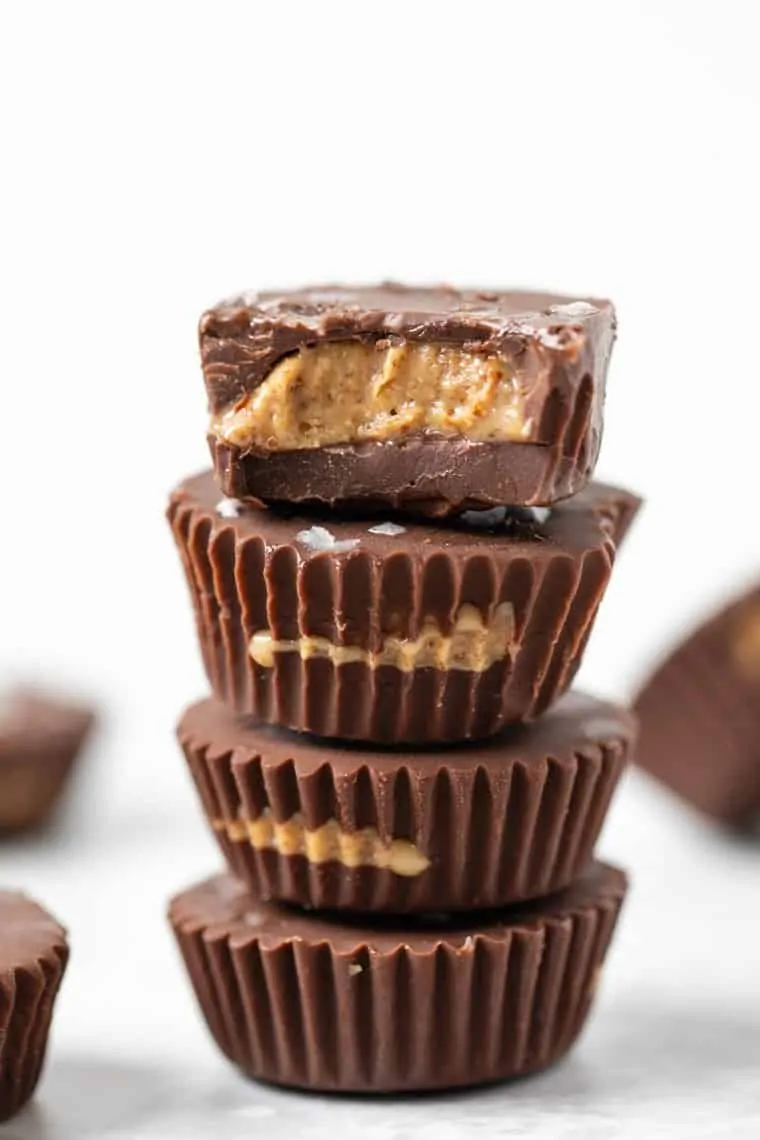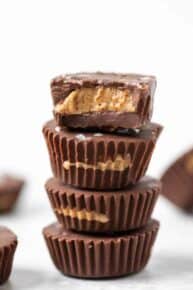 Instructions
Line a baking sheet with mini cupcake liners.

Melt the chocolate over a double boiler, adding the maple syrup and coconut oil. Once it has become a liquid, taste and add a sprinkle of stevia if you want it sweeter.

Spoon about 1 teaspoon of the melted chocolate into mini cupcake liners, using the back of the spoon to push it up the sides of the liners slightly.

Place pan in the freezer for 30 minutes.

Remove the tin from the freezer and scoop about ½ teaspoon of almond butter into the bottom of each chocolate cup. Place back in the freezer for another 10 minutes.

Once chilled, top each of the almond butter cups with the remaining chocolate and sprinkle with salt. Place the cupcake tin back in the freezer for at least 1 hour.

Store the almond butter cups in the freezer, removing 5 minutes prior to serving.

Enjoy!
Nutrition
Calories:
147
kcal
|
Carbohydrates:
9
g
|
Protein:
2
g
|
Fat:
11
g
|
Saturated Fat:
4
g
|
Sodium:
2
mg
|
Potassium:
139
mg
|
Fiber:
1
g
|
Sugar:
6
g
|
Vitamin A:
5
IU
|
Calcium:
39
mg
|
Iron:
1.5
mg
Filed Under: