These healthy blackberry muffins are made with a blend of rolled oats and almond flour, topped with a lime-coconut butter glaze and no refined sugar!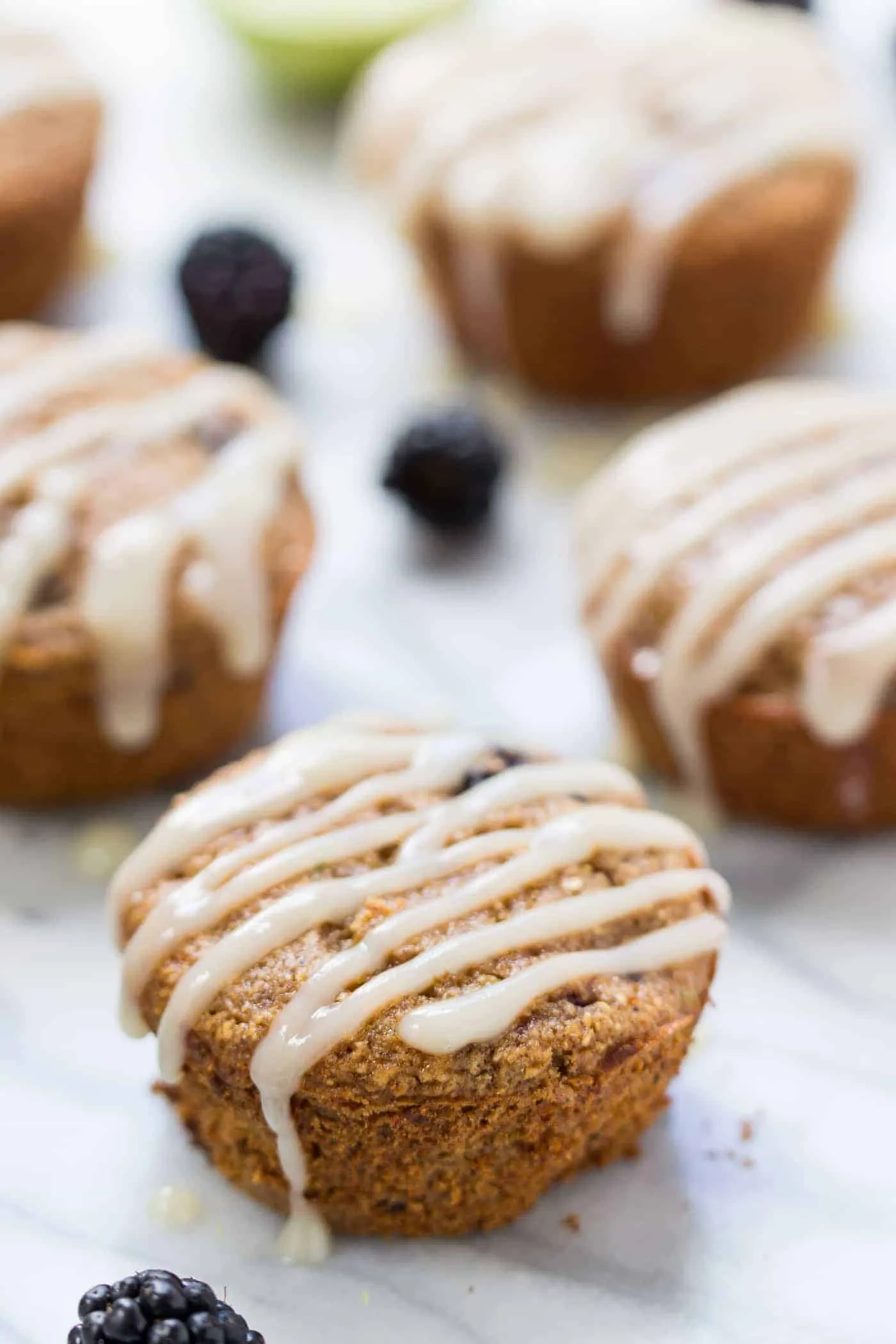 Last week on my grocery run, all the organic berries were on sale. And y'all know I can't pass up on a deal like that! So I picked up four cartons of berries – a giant blueberry one, a pint of strawberries and two small boxes of blackberries. My dilemma? Matt doesn't like berries so here I am, with tons of berries on my hands, forced to eat them all myself before they go bad. Woe is me, right?
The blackberries started to turn the quickest, so I wanted to use those up first. Initially, I was thinking some sort of jam recipe, but as I was cruising Pinterest, the idea of healthy quinoa muffins popped into my head. Blackberry muffins? Now we're getting somewhere.
But plain old blackberry muffins seemed kind of boring. So I kept brainstorming and finally landed on today's recipe: blackberry lime oatmeal muffins!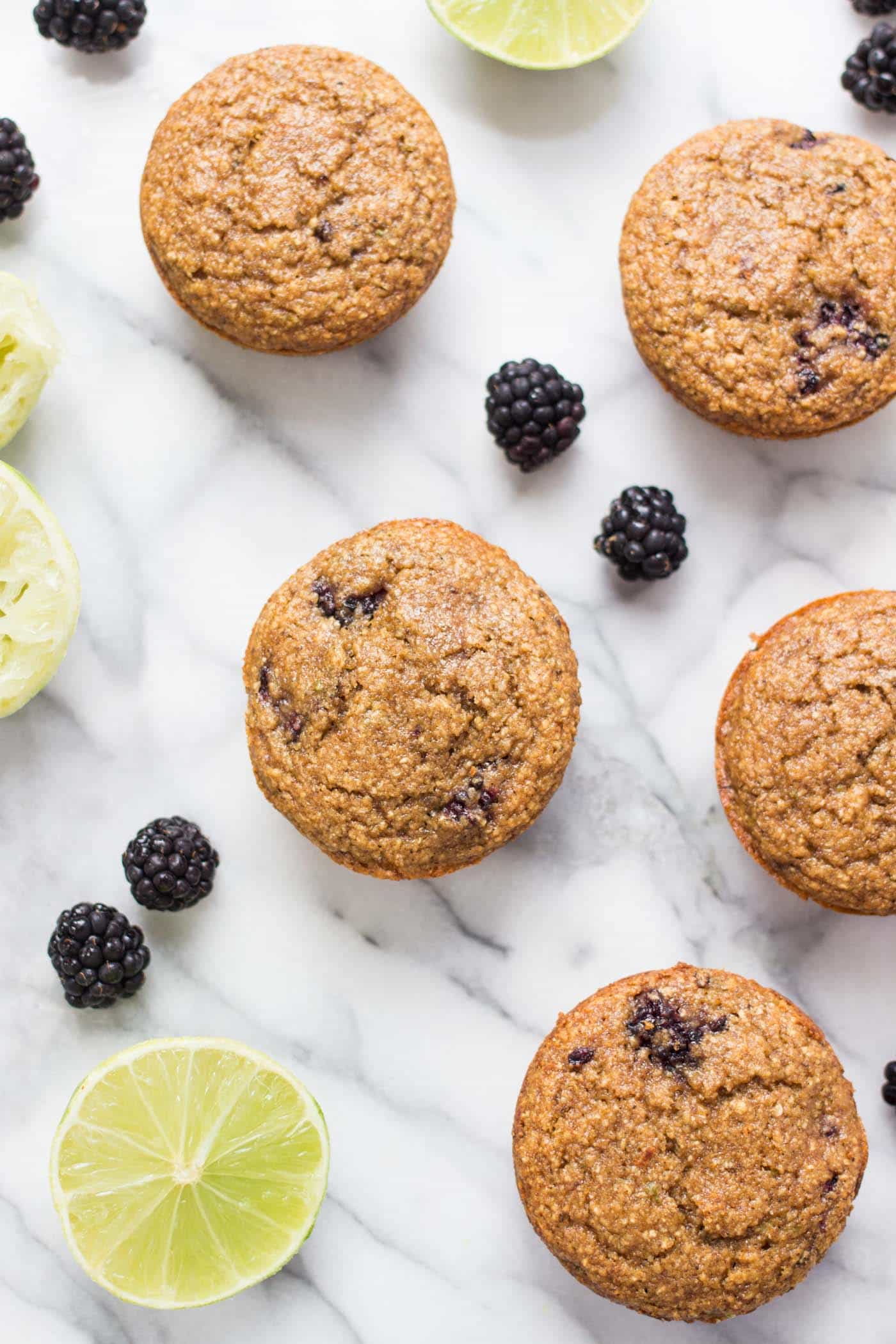 Now I'm calling them oatmeal muffins because the majority of the base is oats, but they do also have quinoa flakes and almond flour, so I guess technically they could be considered quinoa muffins or even almond flour muffins, but oatmeal is what we're going with. (like the recipe title actually matters all that much anyway…)
Anywhoo, these muffins are a spin off my Skinny Pumpkin Quinoa Muffins mixed with my Chocolate Chip Zucchini Quinoa Muffins, but we're actually making some of it in a blender to speed things up!
Rather than mashing the banana and mixing all the wet ingredients separately, then using the blender to grind the oats into a flour, I decided to just throw it all in the blender and see what happened. Result? Smooth, creamy with minimal clean up.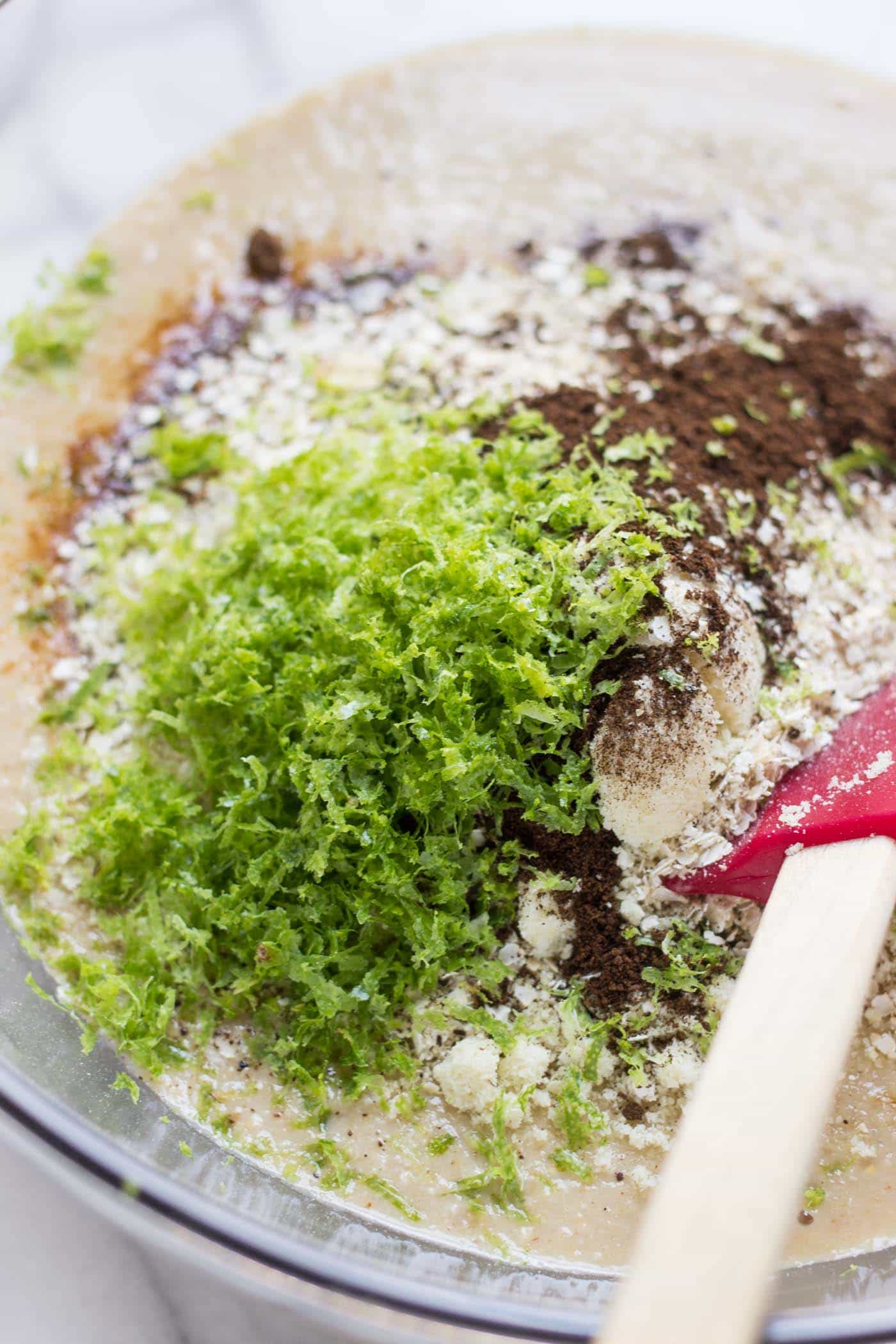 Sadly you can't make the entire recipe in your blender. (although perhaps you could, I just haven't tried it)
After you've got the wet ingredients and oats mixed together, transfer it to a large bowl and add in your dry ingredients.
See all that lime zest? That's the key to building the flavor in these muffins!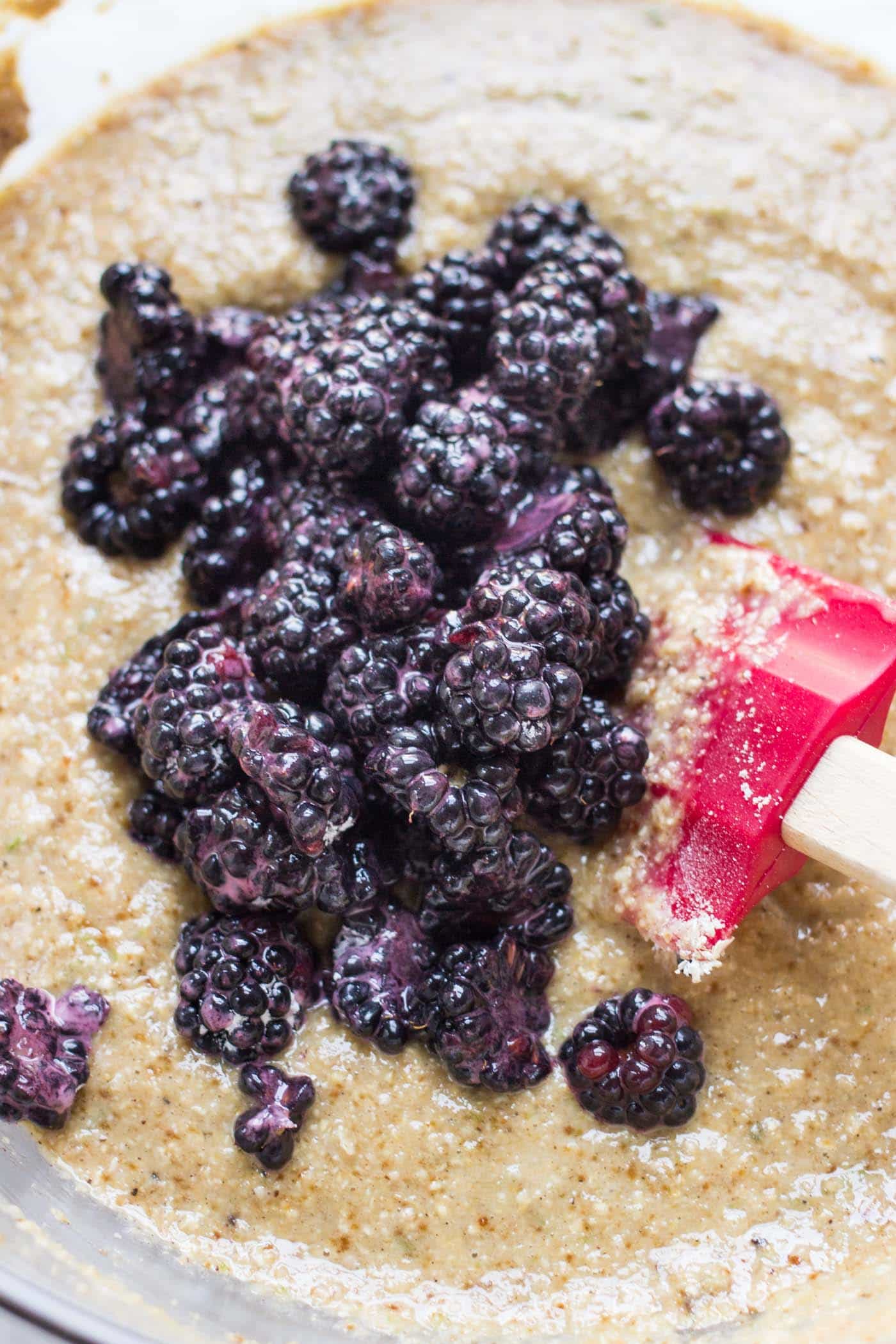 Once you've got all that mixed, just stir in your fresh blackberries and bake away!
A note with the blackberries: sometimes blackberries are MASSIVE, so if that's the case, I would suggest giving them a rough chop so that you can have an even amount of blackberries throughout all the muffins.
Oh and another thing: if you're worried about the blackberries running and turning your muffins purple, toss them in a bit of tapioca starch/arrowroot powder before adding them into the batter.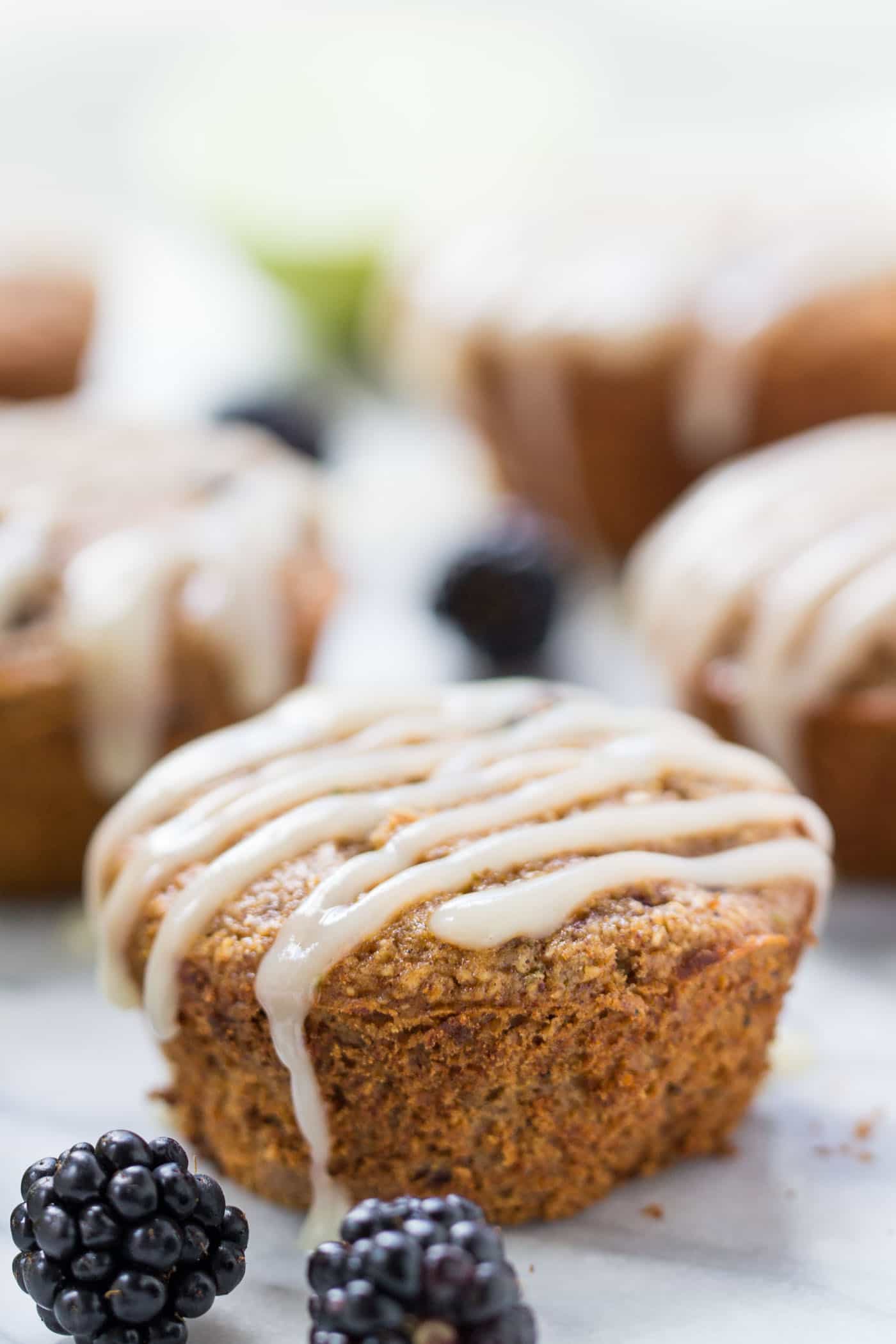 So these muffins. You guys are gonna love them I just know it!
In addition to them being sweet and flavorful, they don't require any oil, refined sugar or eggs. The berries could also be changed up if you wanted (raspberries and blueberries would also be delish).
Also, since I know not all of you are vegan, I did actually test this recipe using real eggs and honey. Works perfectly fine, so if that's you, have at it.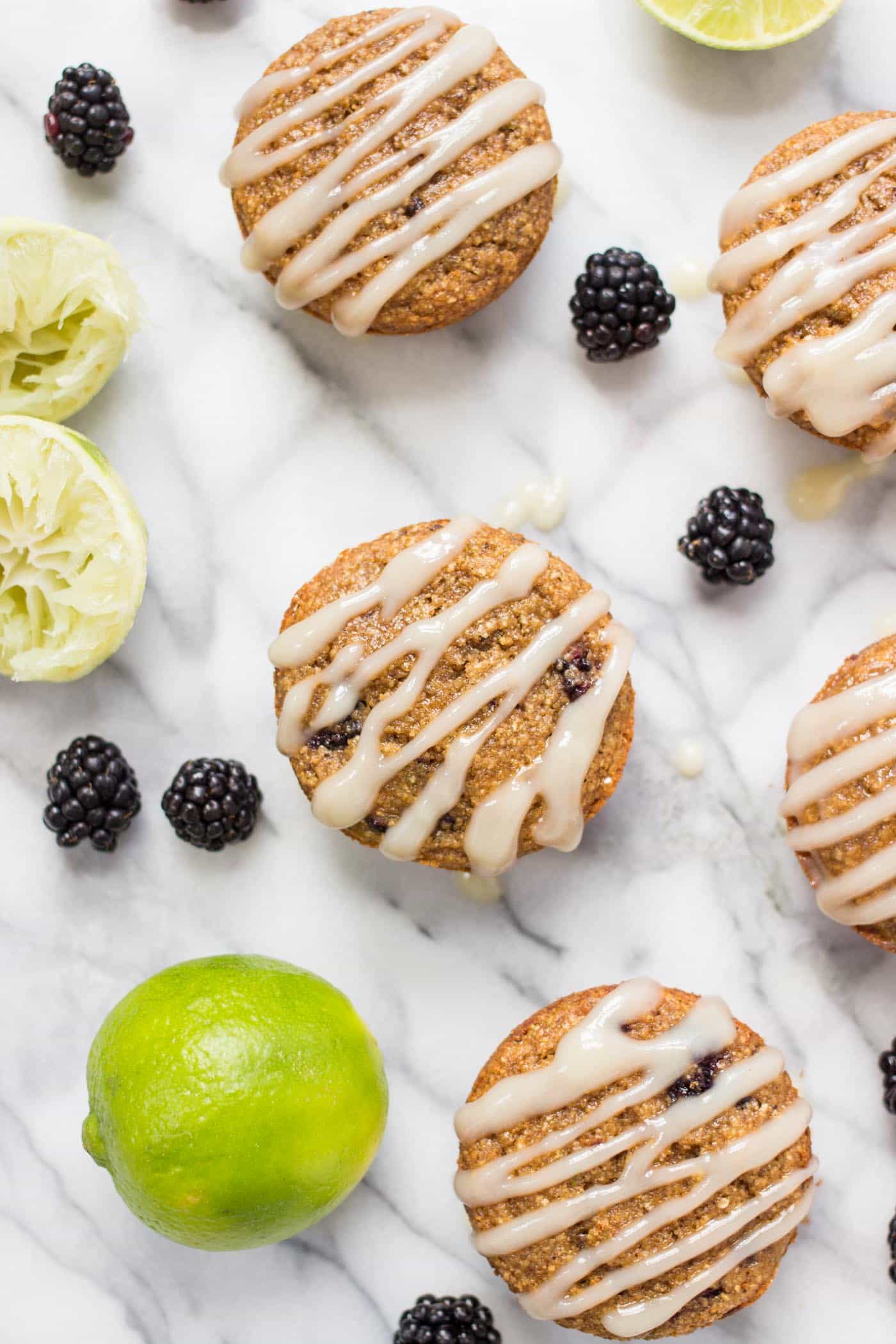 Finally, I felt like these muffins could use a bit more jazz, so I created a quick coconut butter glaze that again, doesn't use any butter or refined sugar. But guess what? Tastes just like a traditional sugar glaze, but it's healthy! hooray!
The ingredients? Coconut butter, coconut oil, lime juice, maple syrup (or liquid sweetener of your choice) and coconut milk. That's it! And it's thick, creamy and the absolute perfect topping for these blackberry lime oatmeal muffins.
I swear, this glaze needs to go on everything! (I'm thinking about using the leftovers on my vegan blueberry quinoa pancakes this weekend…yum!)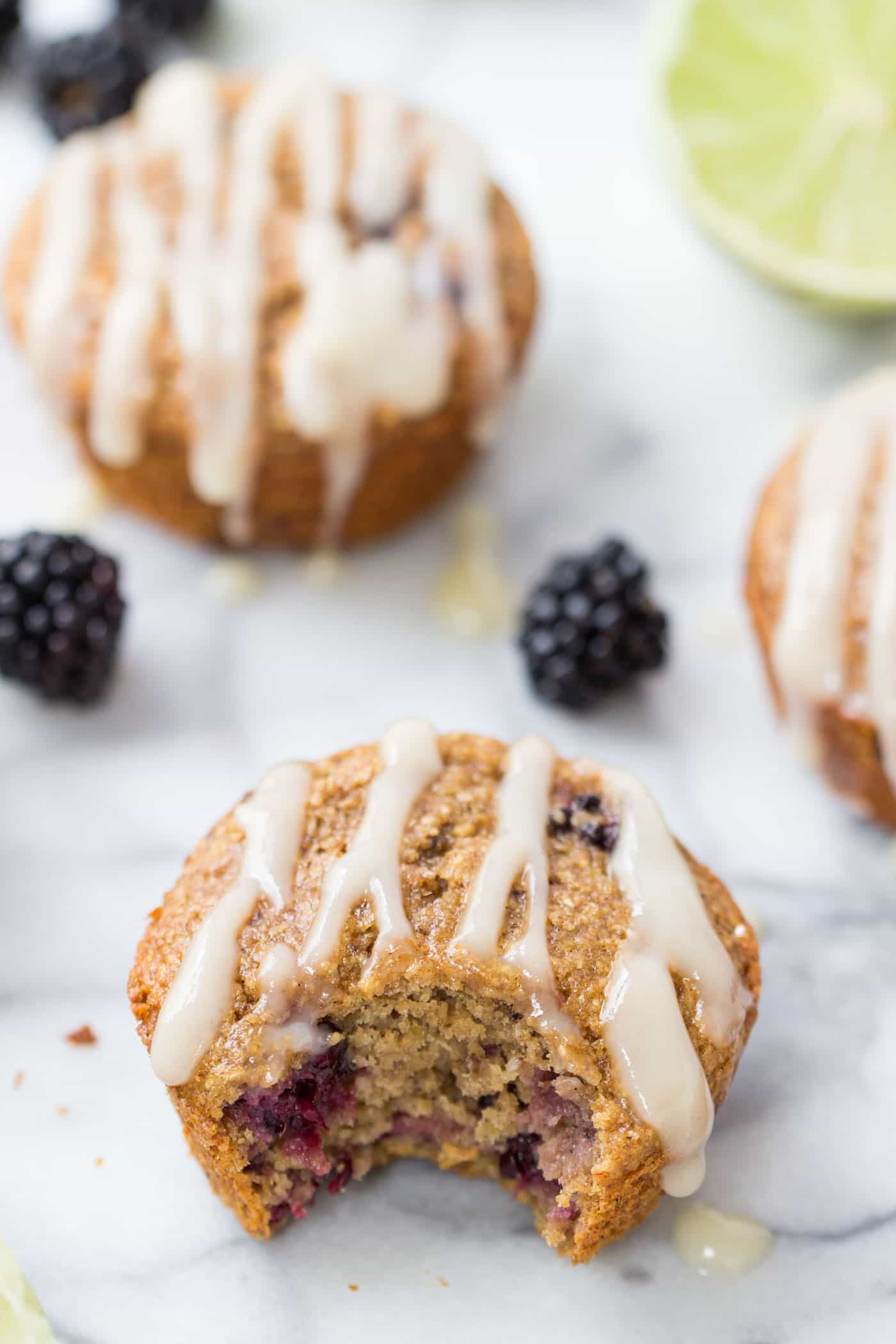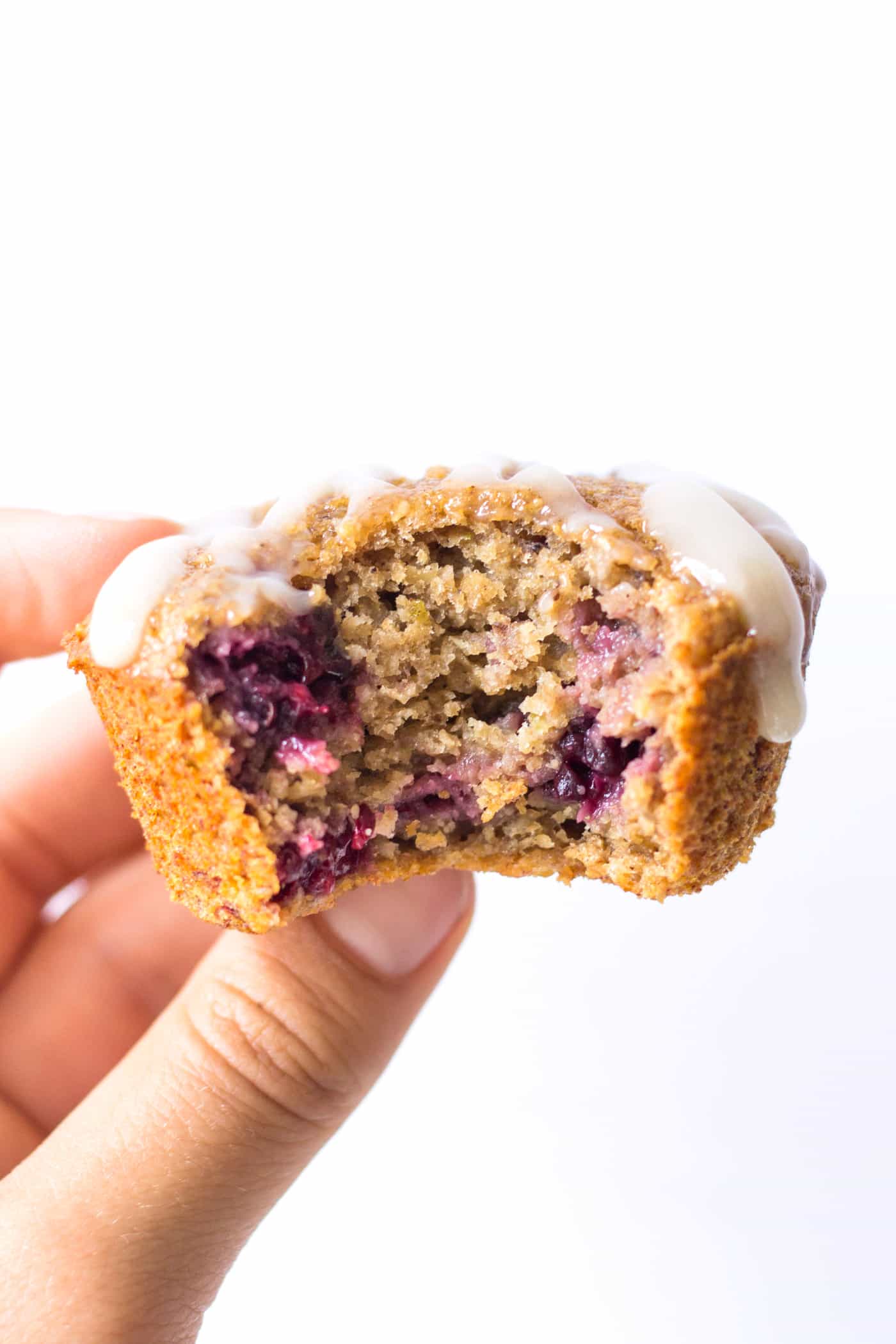 With the perfect muffin texture, these babies are soft, pillowy and packed with flavor. They don't have a ton of rise like traditional muffins, they're still tender and moist, just like a muffin should be.
They also keep for a few days on the counter or could be frozen for leftovers, so you can make a batch and have them for breakfast all week long. If you're not a muffin-for-breakfast kind of gal, they also make a great pre- or post-workout snack because they're high in fiber, complex carbohydrates and with a few healthy fats.
Overall, I think they're one of the tastiest muffins I've ever made and with that coconut-lime glaze on top? Straight up heavenly! Now, let's get our muffin on 🙂
xx Alyssa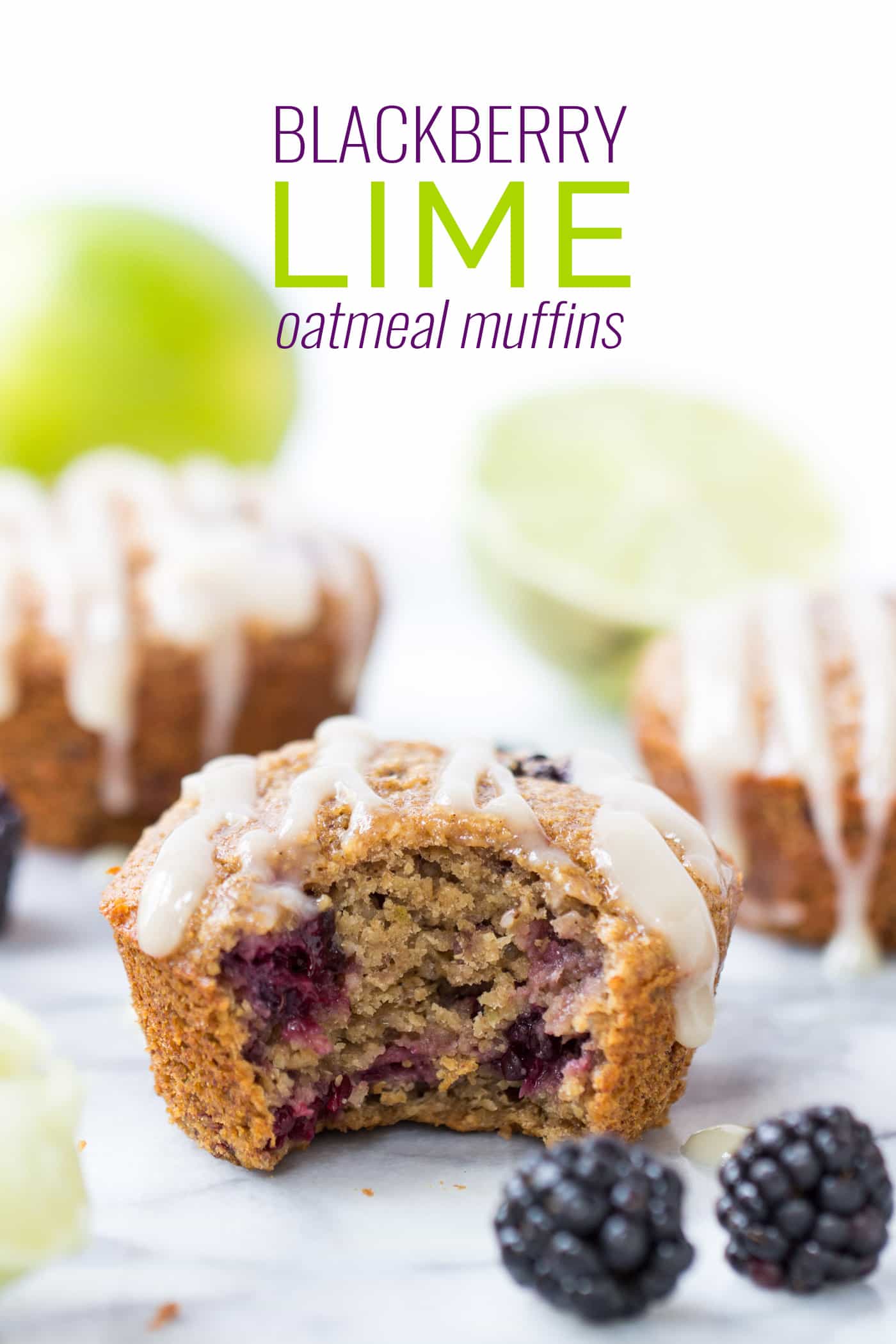 More Healthy Muffin Recipes To Try!
Blackberry Lime Oatmeal Muffins
Plain old blackberry muffins seemed kind of boring. So I kept brainstorming and finally landed on today's recipe: blackberry lime oatmeal muffins!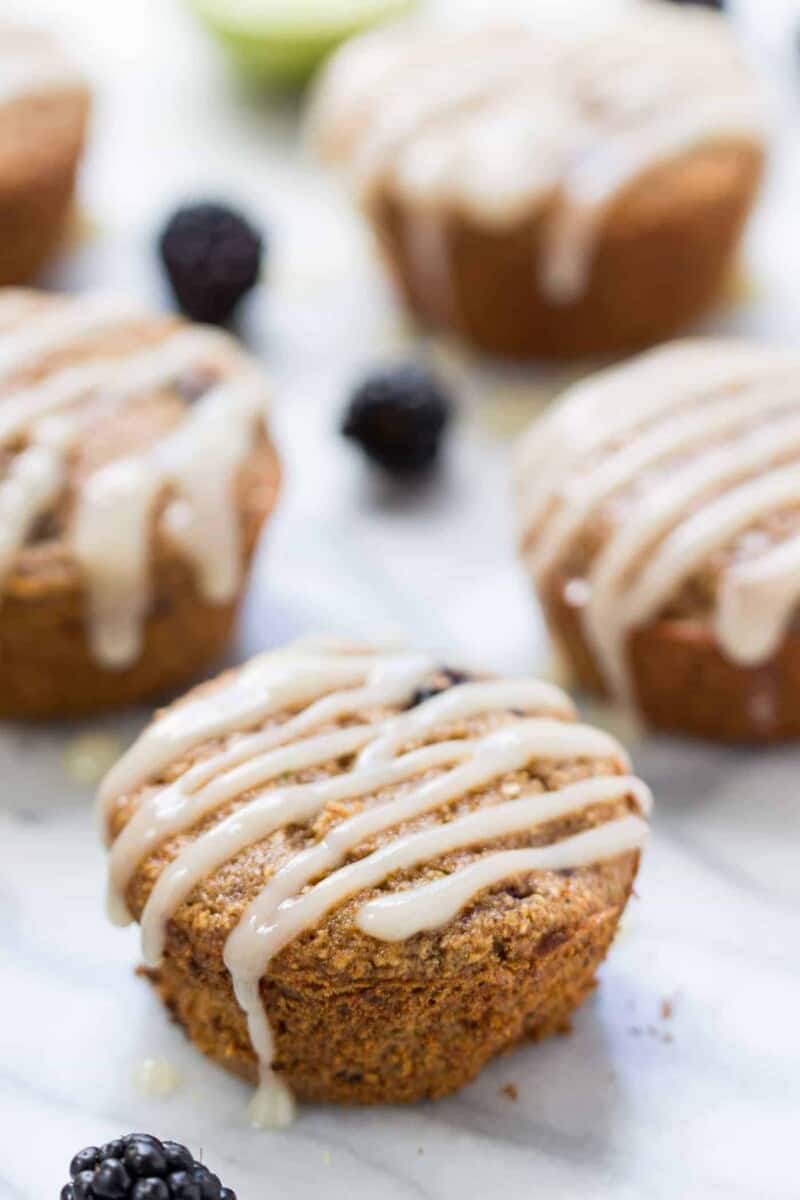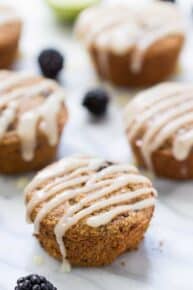 Instructions
Heat the oven to 350ºF. Grease a 12-cup muffin tin and set aside.

Add the egg, bananas, milk and syrup into a blender. Blend on high until smooth. Add the oats and blend again until smooth. Transfer to a large bowl.

To the bowl, add the remaining ingredients (minus the blackberries). Stir together until combined.

Fold in blackberries.

Fill each cup ¾ of the way full. Add water to the ones that are unused.

Bake on the center rack for 23 - 25 minutes until a cake tester inserted into the center comes out clean.

Cool in the pan for 5 minutes, then transfer to a wire rack and cool completely. If desired, reheat in the toaster oven or in the microwave.
Nutrition
Calories:
145
kcal
|
Carbohydrates:
26
g
|
Protein:
3
g
|
Fat:
3
g
|
Saturated Fat:
1
g
|
Sodium:
127
mg
|
Potassium:
265
mg
|
Fiber:
3
g
|
Sugar:
11
g
|
Vitamin A:
35
IU
|
Vitamin C:
7.4
mg
|
Calcium:
66
mg
|
Iron:
1.2
mg
Filed Under:
Lime Coconut Butter Glaze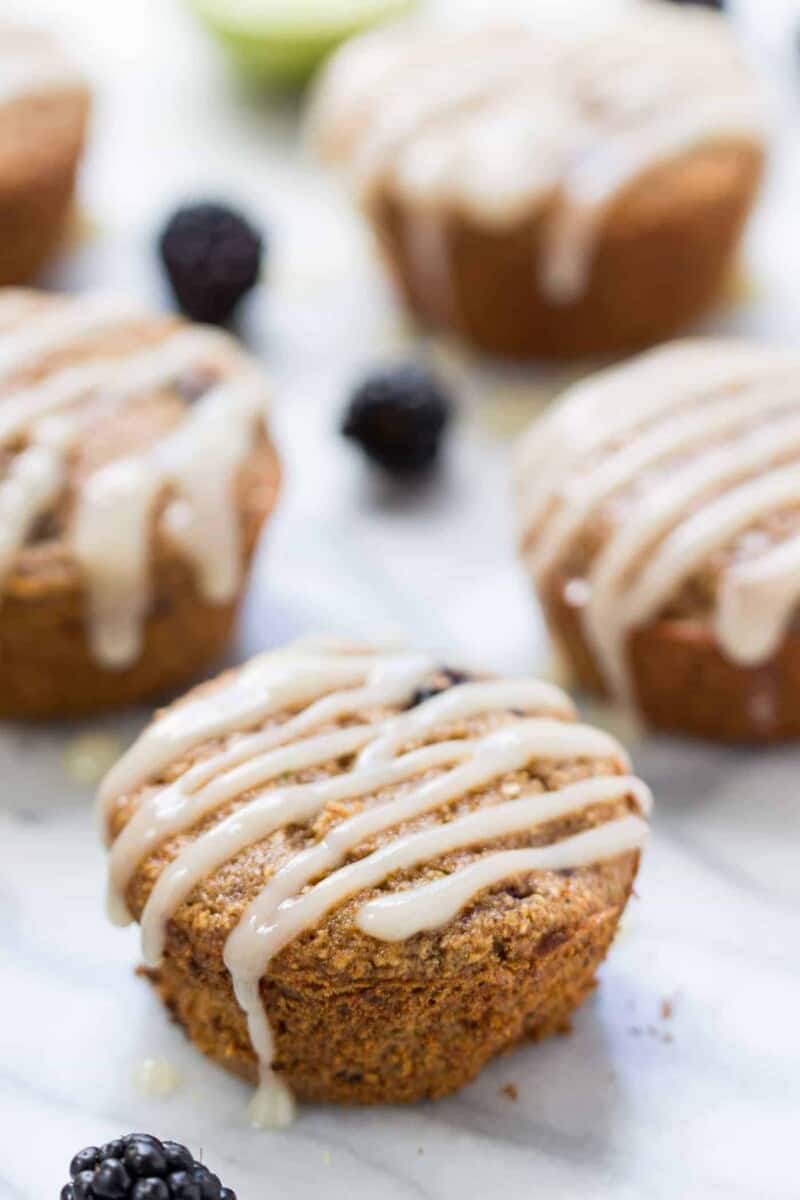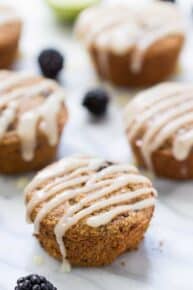 Instructions
Melt the coconut oil, syrup and lime juice in a small sauce pan. Whisk in coconut oil until completely combined.

Whisk in 1 tablespoon of coconut milk until smooth and if it's still too thick (you want it to be drizzleable), whisk in another tablespoon of milk.

Transfer the mixture to a squeeze bottle or drizzle over the muffins with a spoon/fork. Store leftovers in the fridge and reheat in a pan or microwave when ready to use.
Notes
serving size: 1 tablespoons
Nutritional value based on 1 cup
Nutrition
Calories:
996
kcal
|
Carbohydrates:
77
g
|
Protein:
5
g
|
Fat:
74
g
|
Saturated Fat:
42
g
|
Sodium:
37
mg
|
Potassium:
180
mg
|
Fiber:
12
g
|
Sugar:
53
g
|
Vitamin C:
18
mg
|
Calcium:
112
mg
|
Iron:
3.2
mg
Filed Under: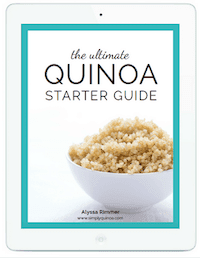 New to cooking quinoa? Grab your FREE Quinoa Starter Guide!
Become part of the Simply Quinoa community and receive weekly emails with exclusive content that I only share in email, as well as my in-depth guide to starting your quinoa journey.
Want more quinoa breakfast recipes?
Follow my board on Pinterest!