An amazing meal prep recipe, this buffalo cauliflower quinoa casserole uses just 5 ingredients, is a cinch to make and tastes awesome! It's also gluten-free, vegan and full of protein!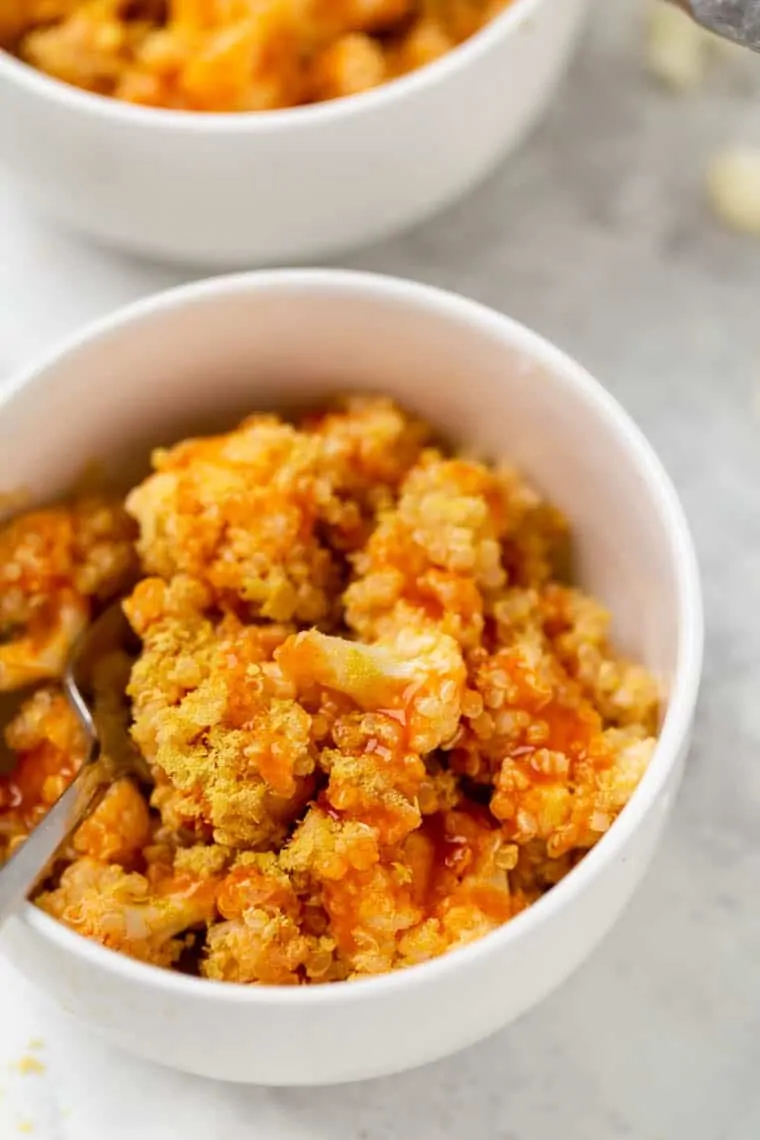 I recently took a poll on Instagram about what types of recipes you all wanted to see more of and it was overwhelmingly two things: quick and easy dinners and healthy office lunch ideas. So…that's exactly what I'm going to try and give you this year!
We're kicking things off with this super simple quinoa casserole recipe. It uses just 5 ingredients, is vegan and gluten-free and it's got a nice little kick thanks to the buffalo sauce. It's one of those recipes that can also be used for meal prep and enjoyed all week long!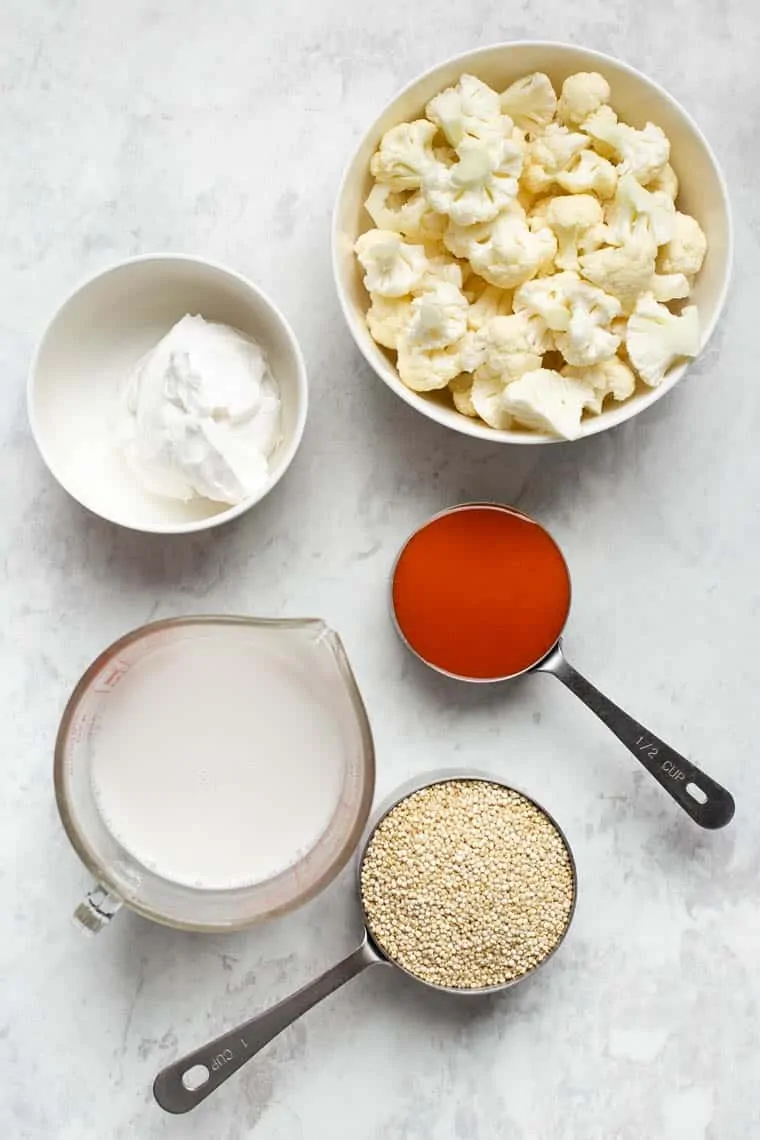 What You Need to Make This Quinoa Casserole
To me, easy recipes involve simple ingredients. And this one uses just five:
Uncooked quinoa: I prefer white quinoa in casseroles because it has a fluffier texture, but you could also use red or tri-color.
Cauliflower florets: I chose cauliflower for this recipe because it's not only healthy, but also has a pretty mild flavor so it won't compete with the buffalo sauce. You can oftentimes also buy pre-chopped cauliflower florets at the store!
Almond milk: always buy unsweetened original as it has the mildest taste. But if you can also swap the almond milk with any other kind of milk that you want.
Unsweetened vegan yogurt: my favorite brand is Coyo – it's coconut yogurt and has a really nice tang. You could also use almond, soy or another coconut yogurt, just make sure that you're buying unsweetened. Vegan sour cream would also work. Ans if dairy you eat dairy, I think Greek yogurt would be the best alternative.
Buffalo sauce: I finally found a clean buffalo sauce that I love! This one is paleo and it's absolutely awesome – great flavor, a nice kick and good ingredient list! If this one doesn't work, any buffalo sauce will do!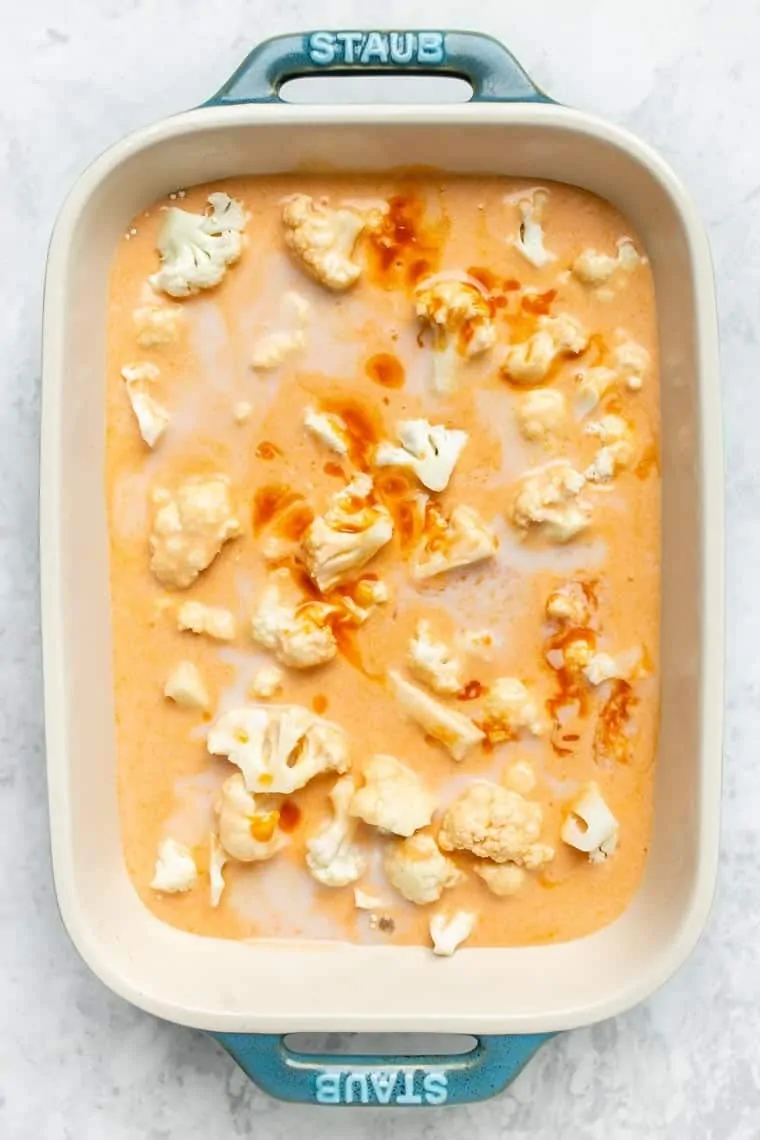 The Secret to a Good Quinoa Bake
I want to be sure that when you are making this recipe that it works well no matter what swaps you make. So there are a few things to keep in mind when you're making a quinoa bake or quinoa casserole.
Use enough liquid: since we're using uncooked quinoa, we need to be sure we have enough liquid for the quinoa to actually cook. The general rule of thumb is 1:2 for quinoa – so 1 cup of quinoa will need at least 2 cups of liquid.
Stir it around: before tossing the casserole in the oven, make sure to give the ingredients a good stir. You want to make sure that the quinoa gets all mixed around and there aren't any pockets where it's clumped together. This will ensure even cooking all the way through!
Bake just enough: I know that's doesn't sound super helpful, but basically what I mean here is that you're going to want to check it as it gets close to being done. You still want there to be some juiciness/sauciness to it, but you also need to make sure the quinoa is cooked. The easiest thing to do is just check it periodically to see how much liquid remains and if the quinoa has opened up.
And when in doubt, top it with some vegan cheese! You won't see that on this recipe because I wanted to keep it at 5 ingredients, but it definitely adds an extra flare.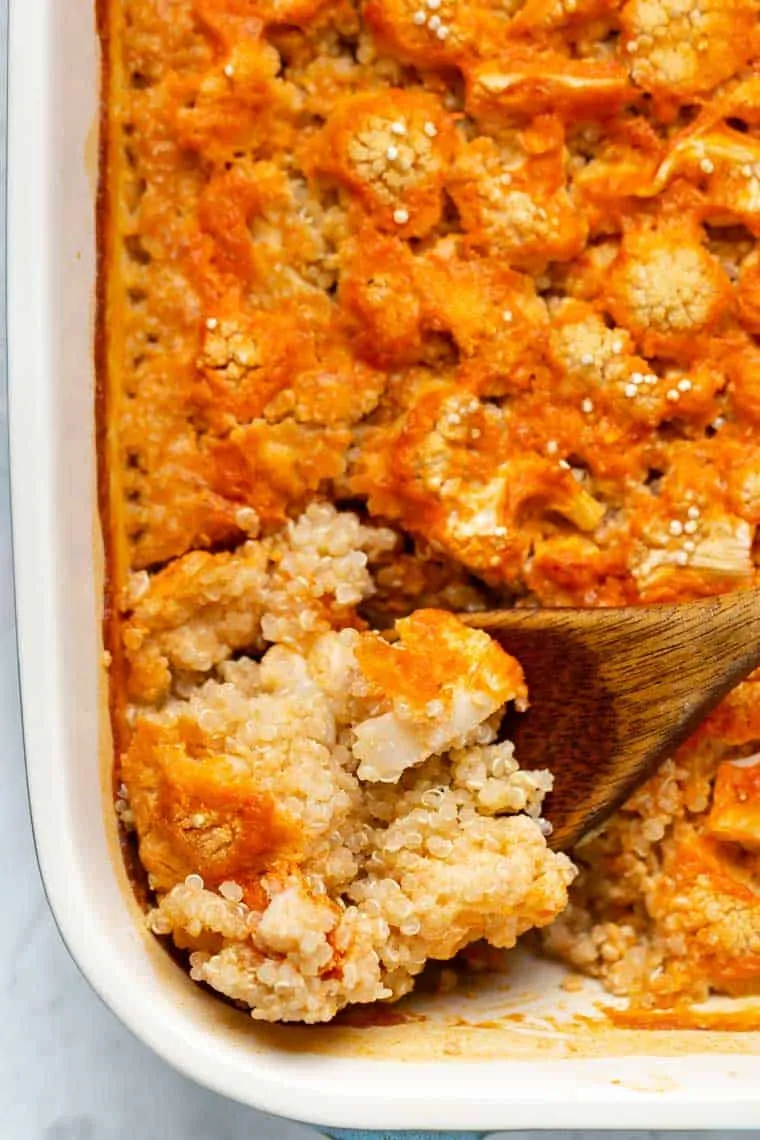 How to Store Quinoa Casserole
The best way to store this quinoa casserole is in the fridge, but I think it could also be frozen.
If you're using this recipe for meal prep, then I'd say just keep the whole casserole dish in the fridge and scoop out your individual portions as needed. It should last at least 4 – 5 days in your fridge.
To reheat it, simple pop it in the microwave for 45 seconds or heat it in the oven/toaster oven on 300ºF for about 15 minutes. You'll want to keep it covered if you're using the oven though as it can dry out!
Can Casseroles be Made Ahead?
Yes, casseroles can totally be made ahead and this quinoa casserole is no exception. You can either prep everything the night before/in the morning and bake it later that day OR you can bake the whole thing and reheat it when you're ready to serve it. If you do reheat, just add a piece of foil on top so it doesn't dry out.
Substitution Ideas for This Casserole
Last but not least, if any of these ingredients don't work for you, I want to share some ideas for making swaps:
Quinoa: you could try rice or another grain, but just remember that the cooking time might vary
Cauliflower: broccoli should work, but you could also really do any other veggie you want – just follow the same proportion of 3 cups
Milk: any milk will work for this recipe or you could use veggie/chicken broth
Yogurt: again, any unsweetened yogurt will work or you could use sour cream (vegan or non)
Buffalo sauce: if you can't find buffalo sauce, you could do marinara sauce or maybe bbq (?) – I haven't tried anything else, but if you do make this change, let me know what you try!
And that pretty much does it! Can't wait to hear what you think of this easy dinner recipe and I hope it makes its way into your rotation. Happy casserole eating!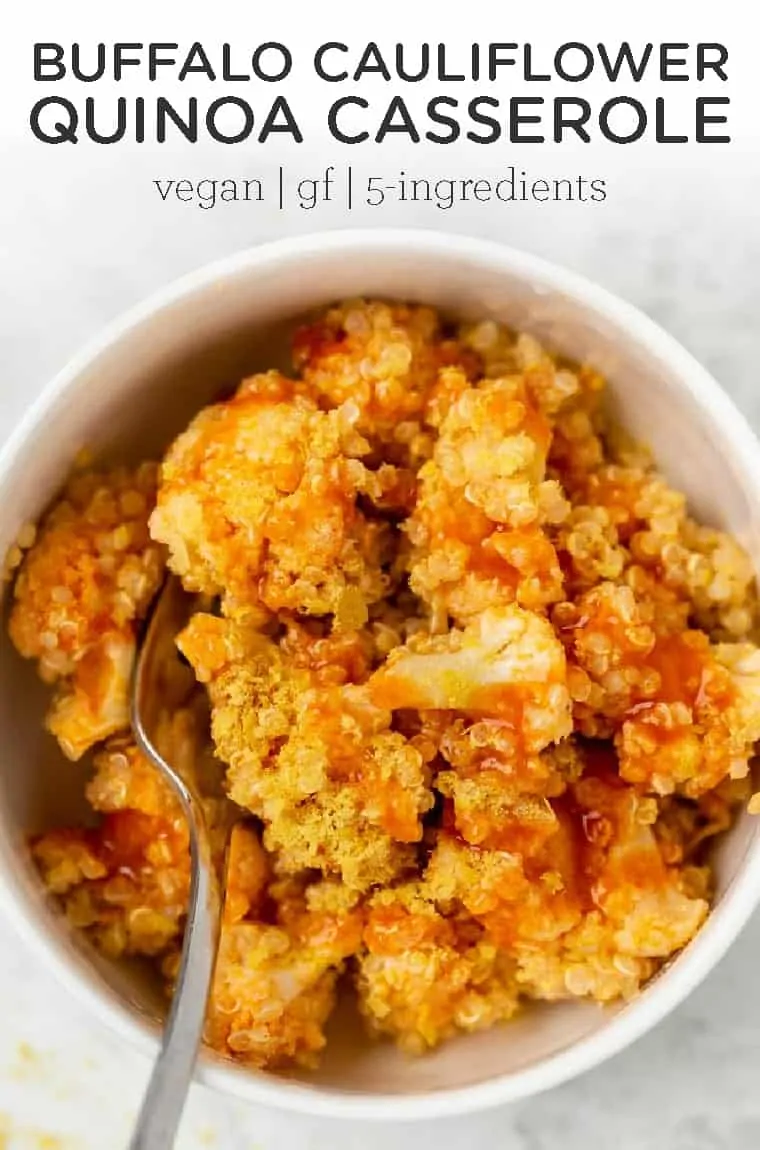 More Quinoa Bake Recipes you Might Enjoy:
Buffalo Cauliflower Quinoa Casserole
An amazing meal prep recipe, this buffalo cauliflower quinoa casserole uses just 5 ingredients, is a cinch to make and tastes awesome! It's also gluten-free, vegan and full of protein!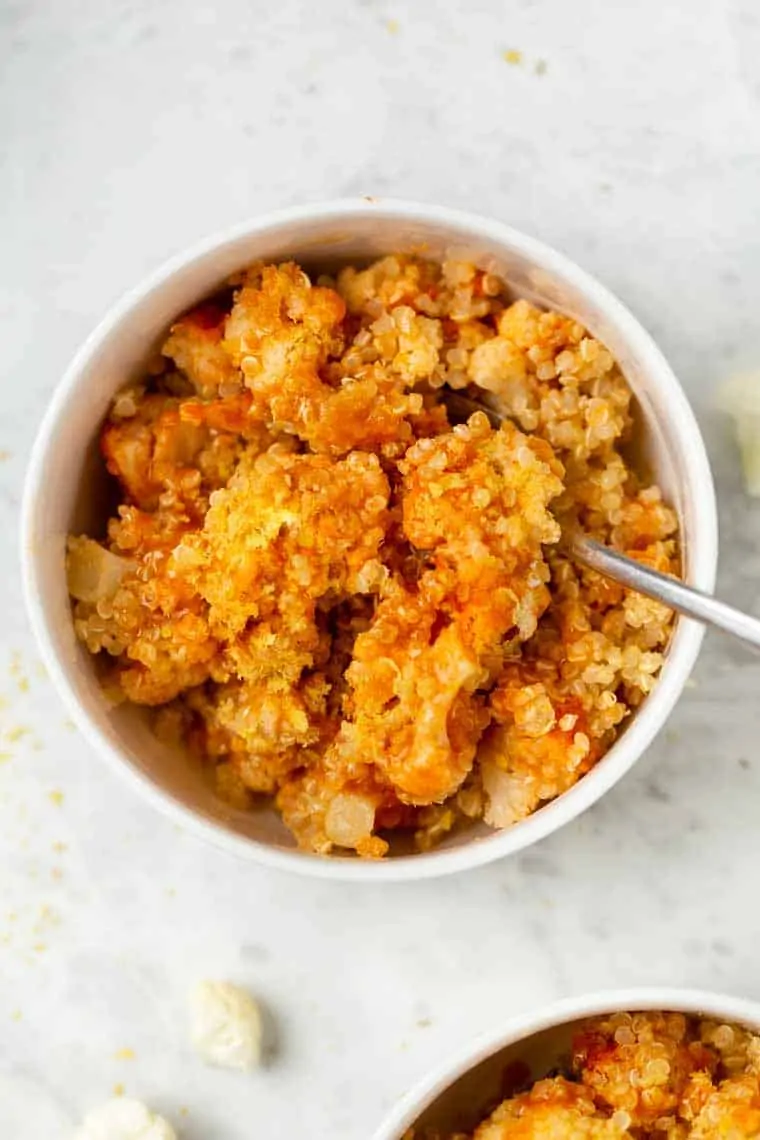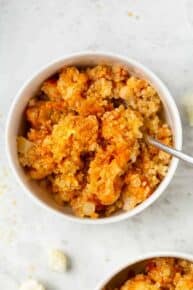 Ingredients
1

cup

quinoa

3

cups

cauliflower florets

1.5

cups

almond milk

½

cup

vegan unsweetened yogurt

(I like coconut)

½

cup

buffalo sauce

1

cup

vegan shredded cheese

(optional)
Instructions
Preheat the oven to 375ºF.

Add the quinoa and cauliflower to a 10.5 x 7.5 baking dish.*

In a separate bowl, beat together the wet ingredients. Pour the wet ingredients over the quinoa and cauliflower and stir to combine. If desired, top with vegan cheese.

Bake on the center rack for 45 minutes until the quinoa is cooked and most of the liquid has been absorbed. Serve immediately and top with your desired toppings (I like nutritional yeast and a touch more buffalo sauce).
Notes
* this recipe can also be baked in a square 9x9 pan.
** nutritional values are calculated without the cheese topping.
Nutrition
Serving:
1.5
cups
|
Calories:
138
kcal
|
Carbohydrates:
23
g
|
Protein:
6
g
|
Fat:
3
g
|
Saturated Fat:
1
g
|
Sodium:
713
mg
|
Potassium:
309
mg
|
Fiber:
3
g
|
Sugar:
2
g
|
Vitamin C:
27
mg
|
Calcium:
124
mg
|
Iron:
2
mg
Filed Under: