This quinoa casserole is creamy, rich, comforting and also a cinch to make. It's everything you want from a casserole, but it's vegan, gluten-free and healthy!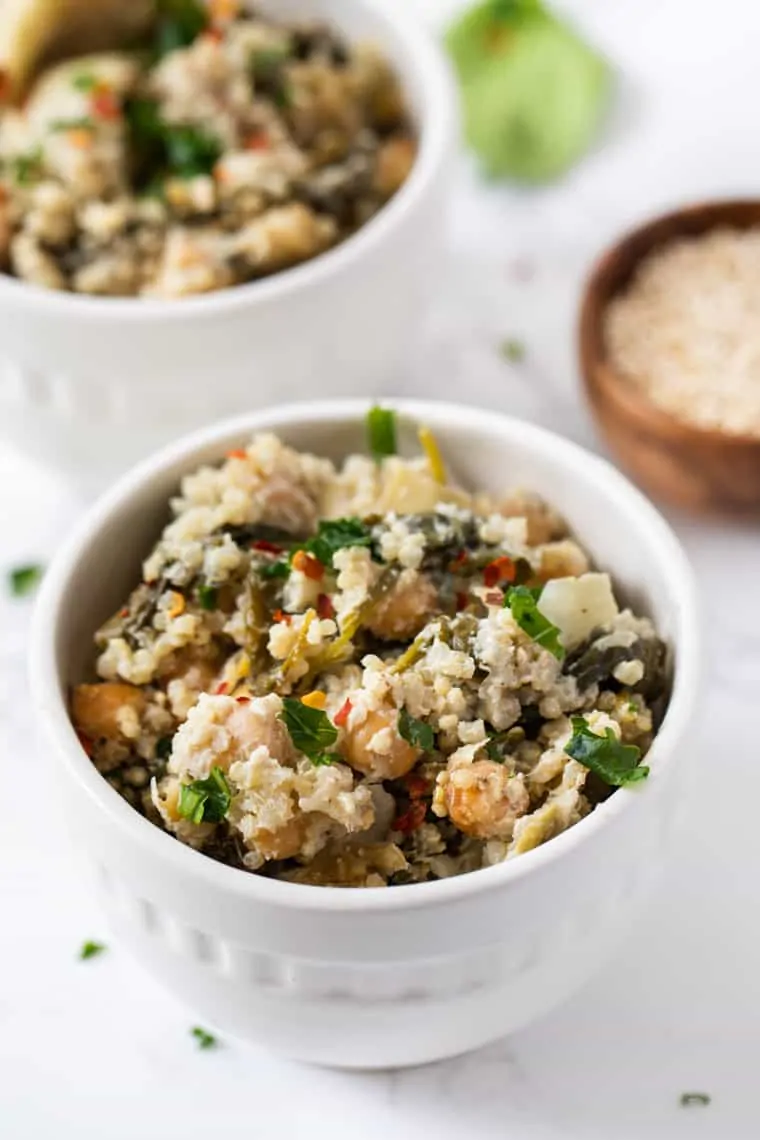 I have made a total of two casseroles in my life.
The first, I shared years ago on the blog – it was one of my very first recipes (thank goodness the photos got a refresh!). The second one, I'm sharing today!
And I gotta say, as much as I love that recipe, this quinoa casserole takes the cake. Meaning it's my new favorite. And like might be the only one I make from here on out. It's seriously SO delicious. You know, one of those recipes that we could not stop eating!
It's creamy, it's rich, it's comforting. It's everything that you want from a casserole. Except this time we're doing it a little bit differently. This one is vegan, gluten-free, healthy, high protein and a cinch to make!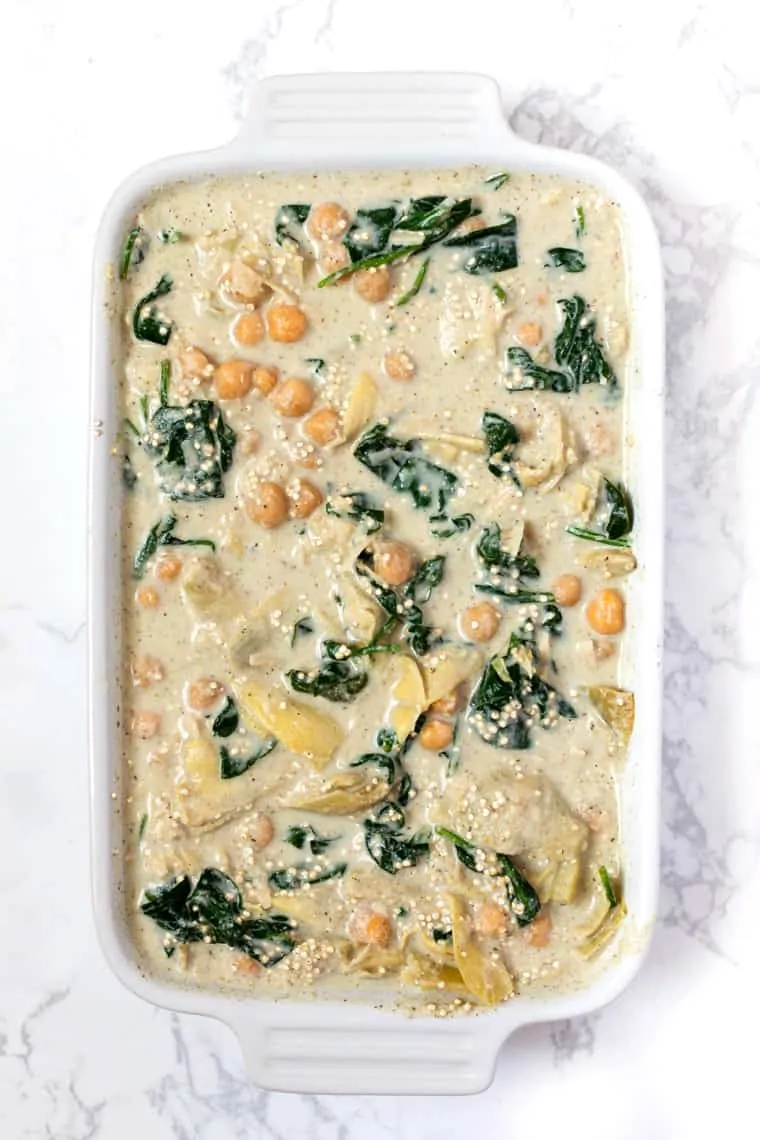 Ingredients for This Vegan Quinoa Casserole
What I love about casseroles is that they really don't need many ingredients. I made my own cream sauce (which you could totally skip), but otherwise, this recipe is just 5 simple ingredients.
Here's what you'll need:
Quinoa: I like white quinoa in my casseroles, but if you're out of it or want to use a different grain, I think brown rice, millet, or another type of quinoa would also work.
Chickpeas: I wanted to add a bit more protein, so I opted for chickpeas. If you're not vegan, you could add in some shredded chicken!
Artichokes: make sure to get the ones that are in water and not oil – they're much better and less slimy in this recipe.
Steamed spinach: my choice of green because spinach + artichoke, but you could totally swap for kale, chard, collards, etc.
Vegan parmesan: and lastly, to give it a little tang and oomph, I went with some vegan parm. You can leave this out, swap it with vegan cheese, or just use regular parm if you can handle dairy.
And then you mix it up with the vegan cream sauce and some water and you're good to go!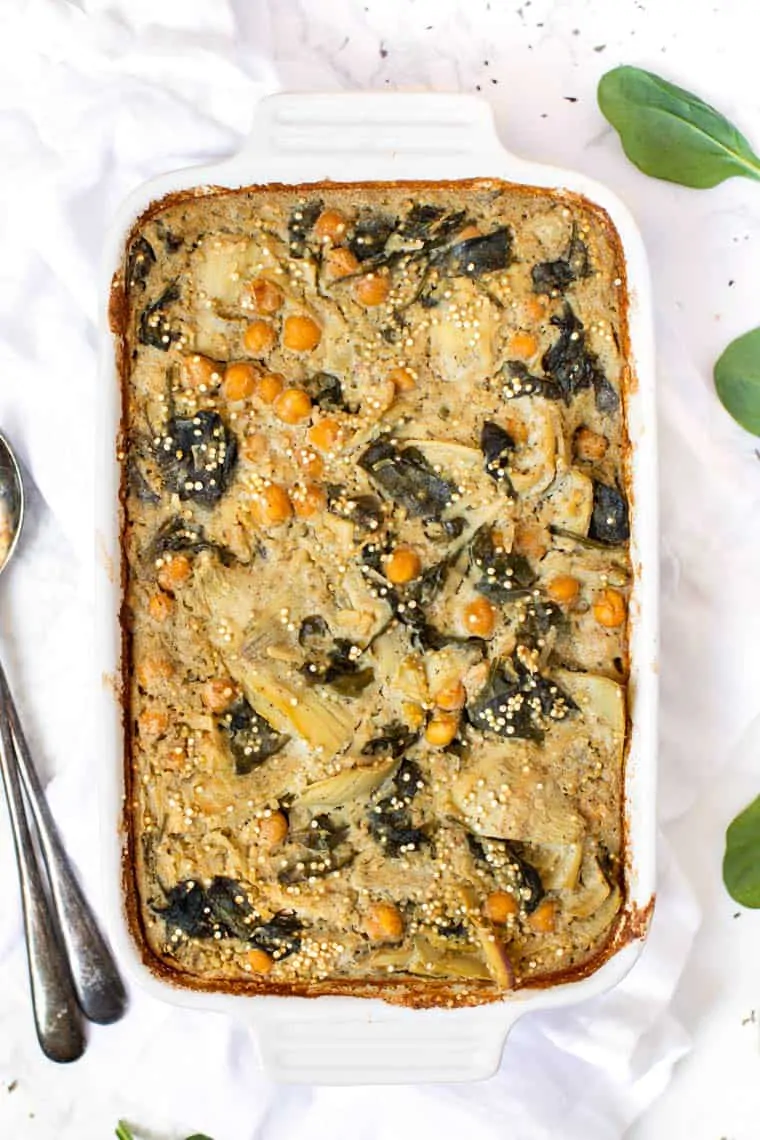 How to make Spinach Artichoke Vegan Casserole
If you've seen any of my other quinoa casserole recipes, they're basically a dump and stir type of meal. This one is similar, but I did decide to make my own cream sauce. The benefit of doing this is that you get a bit more flavor and it's creamier. Feel free to swap it with almond milk if you want though!
STEP ONE
Make your sauce! I used raw cashews as the base and blended them up with some other flavorings to give it the perfect balance of rich and healthy.
STEP TWO
Add everything into your casserole dish. Make sure to really stir your base ingredients together before adding in the liquids. You don't want any huge pockets of just quinoa because it'll end up being pretty dry.
STEP THREE
Add in your liquids/sauces! And again, make sure to give everything a big stir. You want the liquids to get as incorporated throughout as possible.
STEP FOUR
Finally, bake it up! You'll know it's done when it's bubbling and the quinoa has cooked.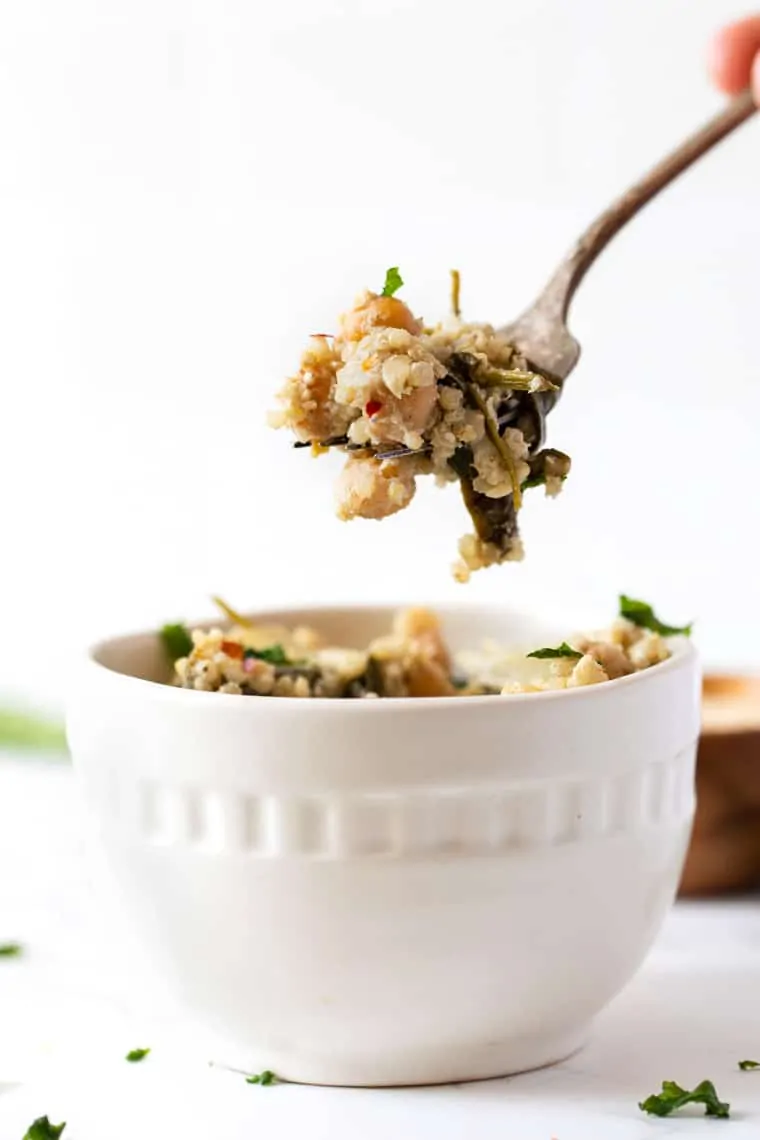 The BEST Vegan Casserole…IMO!
How delicious you might ask? Well, if getting the thumbs up from Matt means anything to you (which now I'm realizing it likely doesn't), then this dish was a home run. Not that he doesn't normally like the food I make, because he does, but when I get a, "Wow, this is realllly good!", I give myself a little pat on the back.
Job done. Mission complete. Nailed it!
And while the taste of this dish nearly knocked my socks off, I absolutely adore that it's also the easiest thing to make on the planet. You basically just have your dish and your blender to clean!
Easy clean up makes for the perfect weeknight meal AND makes awesome leftovers (I had it for lunch the next three days and it was still fantastic). Plus, it could even be transformed into a dip if you so choose.
But for now, we'll stick with this simple quinoa casserole that's got a boatload of veggies inside, chickpeas and quinoa for added protein and a sensational cashew sauce to round it all out. Yep, I'm ready to go make this again!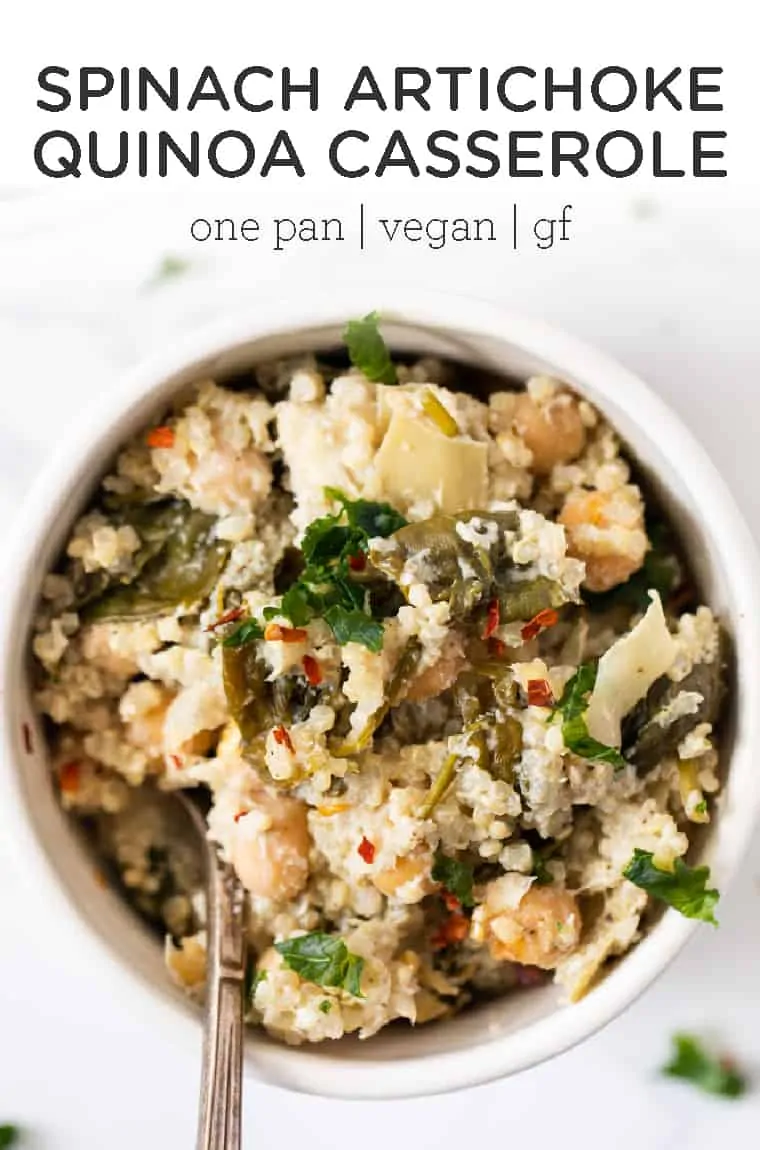 More Delicious Quinoa Casseroles & Bakes to try:
Spinach & Artichoke Quinoa Casserole
This quinoa casserole is creamy, rich, comforting and also a cinch to make. It's everything you want from a casserole, but it's vegan, gluten-free and healthy!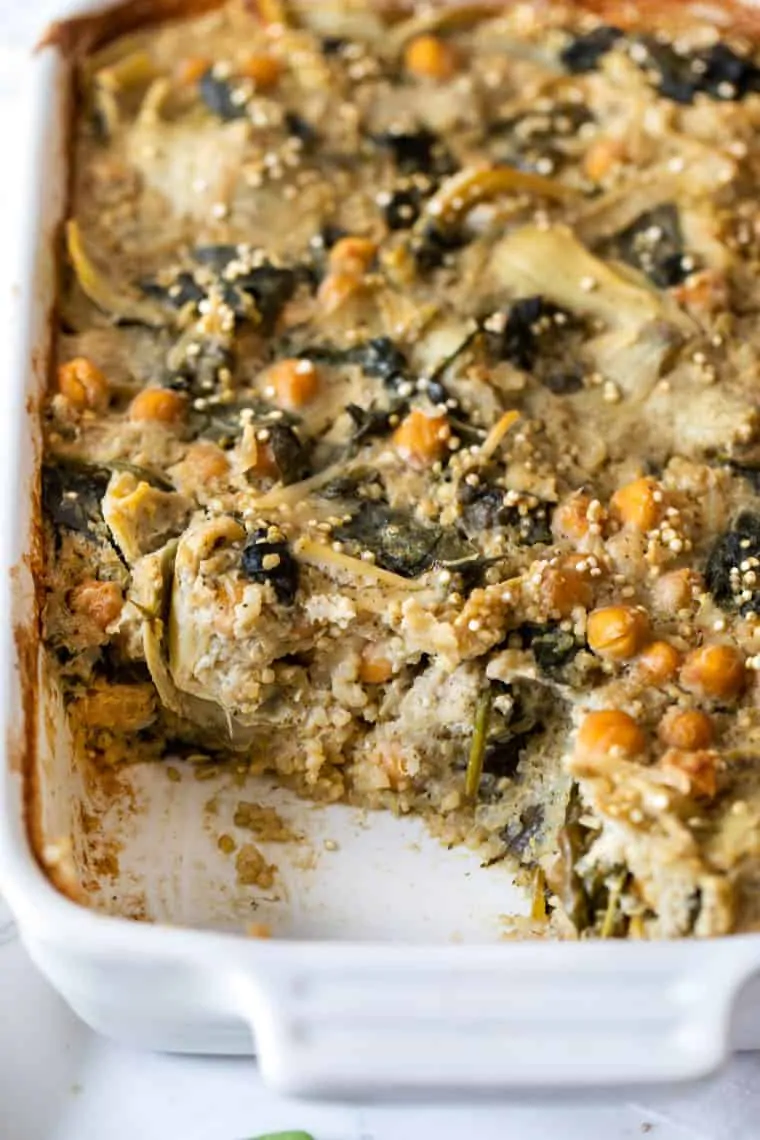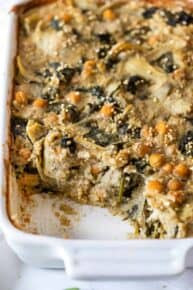 Ingredients
for the sauce
1/2

cup

raw cashews

1 1/2

cups

water

1

tablespoon

tamari (or miso paste)

1

garlic clove

1/2

a medium white onion

1

tablespoon

Italian seasoning

juice of 1 lemon

3/4

cups

water

(or veggie broth for additional flavor)
for the casserole
1

cup

uncooked white quinoa

1

15 oz can organic artichokes (in water, drained)

1

cup

steamed spinach

(3 - 4 cups fresh)

1/2

cup

vegan parmesan

(or cheese of choice)

1

batch sauce
Instructions
Preheat the oven to 375ºF.

Add the cashews to a bowl and cover with boiling water. Allow to sit for 15 minutes. Drain the cashews and add them, along with the rest of the ingredients, into a blender. Blend on high until smooth.

In a large, oven-safe baking dish (13x9 works well), add the quinoa, chickpeas, artichokes, spinach and cheese. Stir togetehr so they're evenly distributed throughout the pan.

Pour sauce over veggie-quinoa mixture. Stir with a wooden spoon until evenly incorporated in the pan and all ingredients have been submerged in sauce.

Bake on center rack for 35 - 40 minutes until casserole is bubbling and the quinoa is cooked. Remove and let cool for 5 minutes, then serve.

Garnish with a touch of cheese (or nutritional yeast) and enjoy!
Notes
Feel free to top your quinoa casserole with gluten-free breadcrumbs or vegan cheese for a little something extra!
Nutrition
Calories:
350
kcal
|
Carbohydrates:
40
g
|
Protein:
12
g
|
Fat:
16
g
|
Saturated Fat:
3
g
|
Sodium:
755
mg
|
Potassium:
453
mg
|
Fiber:
8
g
|
Sugar:
2
g
|
Vitamin A:
3782
IU
|
Vitamin C:
17
mg
|
Calcium:
114
mg
|
Iron:
4
mg
Filed Under: