Alyssa's Favorite Green Smoothie
This nutrient-packed green smoothie recipe is the perfect way to start your day, with plenty of fiber, healthy fat, and protein to keep you energized!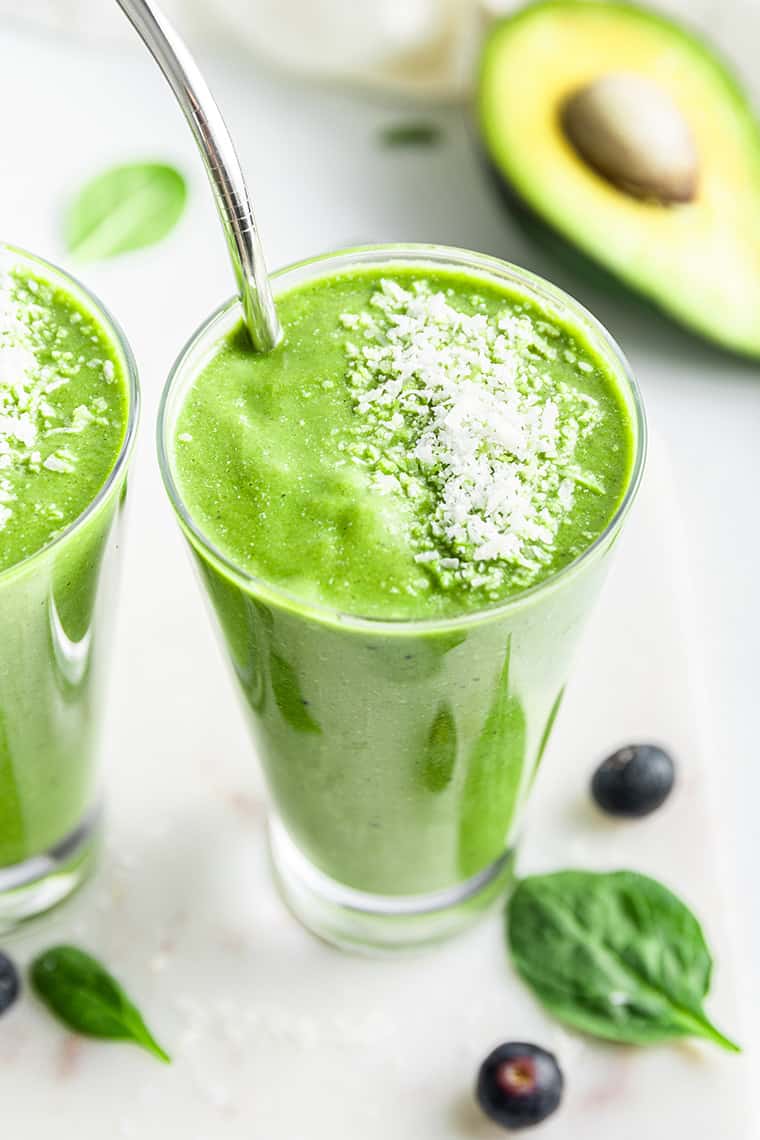 If you've ever wanted to try a green smoothie, I'm sure you've turned to Google to see what your options are, only to find out that there are tons (like literally millions) of green smoothie recipes out there. How could you choose? Everyone has their own twist on the healthy green smoothie and trust me, I've tried my share of them.
This smoothie recipe is my favorite because it's sweet, but not too sweet; it's chock full of greens, but it (actually!) tastes good.
For this recipe, the sweetness comes from berries and coconuts, and the amazing, creamy texture comes from avocados. I've combined these with my fave dark leafy friend, the almighty kale, which packs in loads of vitamins, minerals, and fiber. A blend of cozy spices takes the flavor to the next level!
Sipping this, you would almost never know you were drinking vegetables for breakfast, aside from the very green color!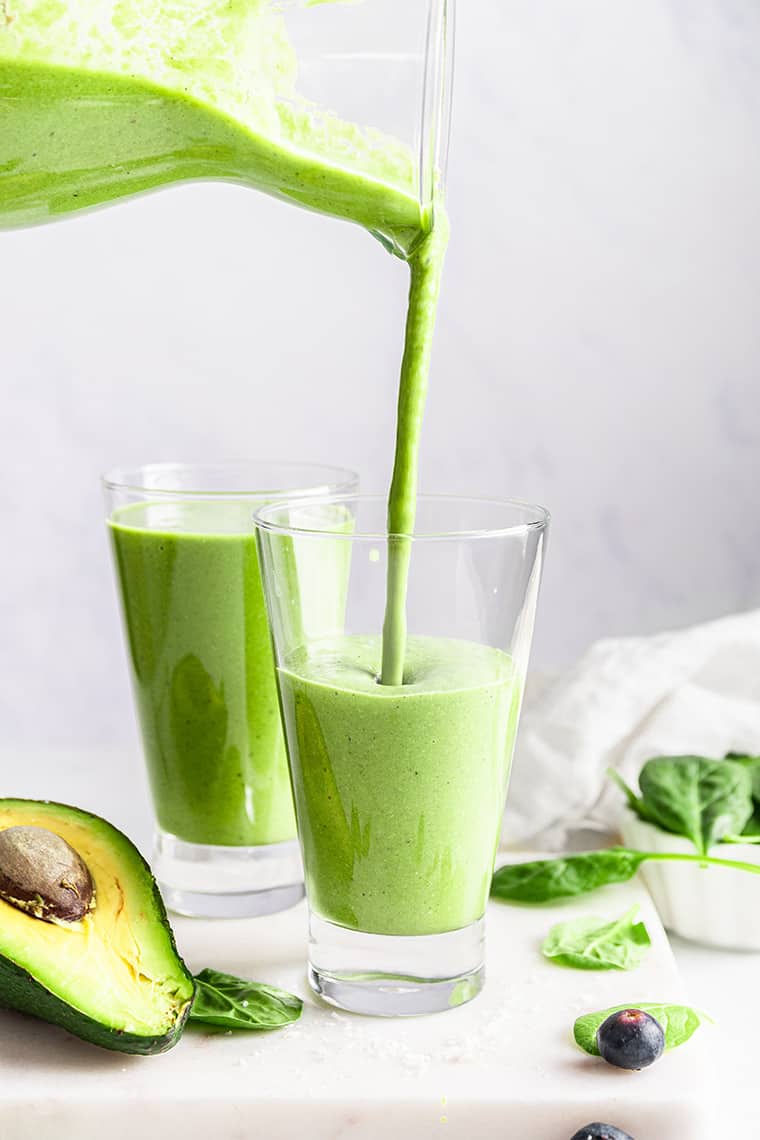 What Are the Benefits of Green Smoothies?
Green smoothies are the best way to get a big nutritional punch in a sippable package—it's basically like a salad you can drink!
If you have trouble eating all of the fruits, veggies, fiber, and protein you're supposed to get in a day, green smoothies are a great way to help you get that nutrition in. Depending on the ingredients you add, they're also full of antioxidants, vitamins, and minerals.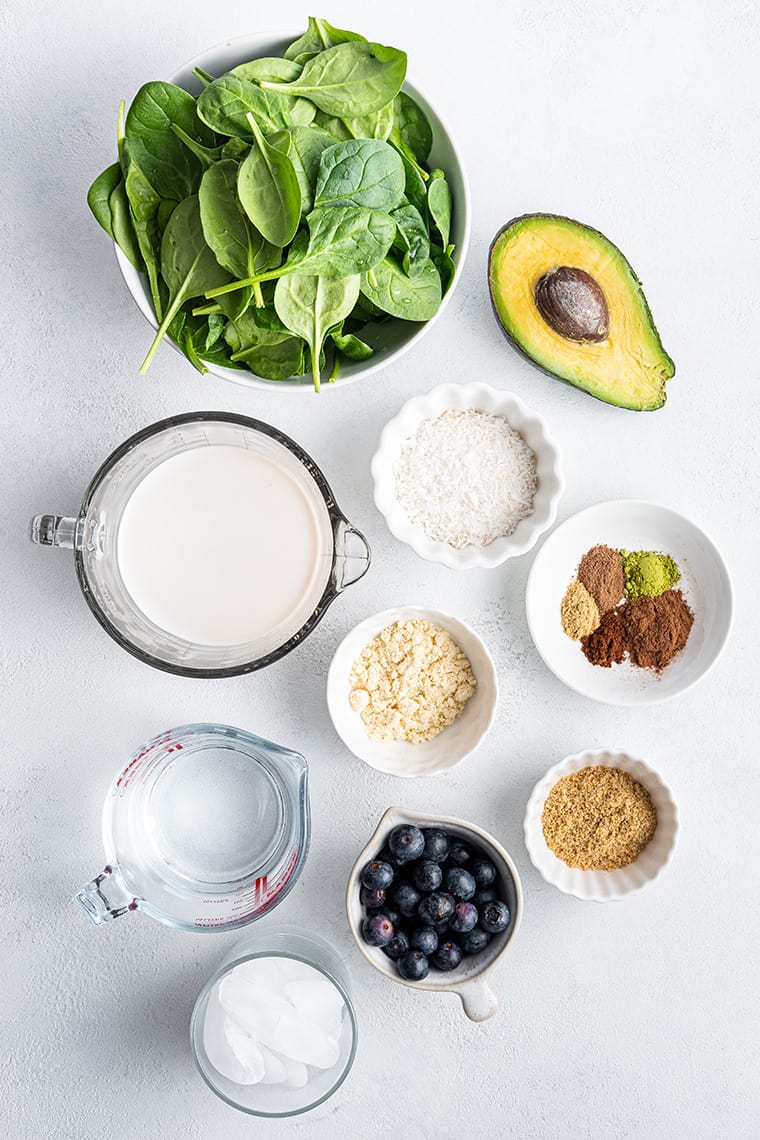 What You'll Need
Scroll down to the recipe card below this post for ingredient quantities and full instructions.
Avocado
Kale – For a milder flavor, you can substitute spinach.
Frozen blueberries
Unsweetened shredded coconut
Unsweetened almond milk – Or another plant-based milk.
Filtered water
Ice cubes
Flax meal
Rice protein – Or another protein powder you like or have on hand.
Green stevia powder – Another sweetener can be used instead, or you can omit it altogether.
Cinnamon
Nutmeg
Ginger
Cloves
Is Kale or Spinach Better for You?
The answer to this question depends on what you're looking for nutritionally. Each of these greens has different nutrients; kale has more vitamin C, but spinach has more iron, for example. Whichever one you choose, you'll be getting a lot of important nutrients, without a lot of calories.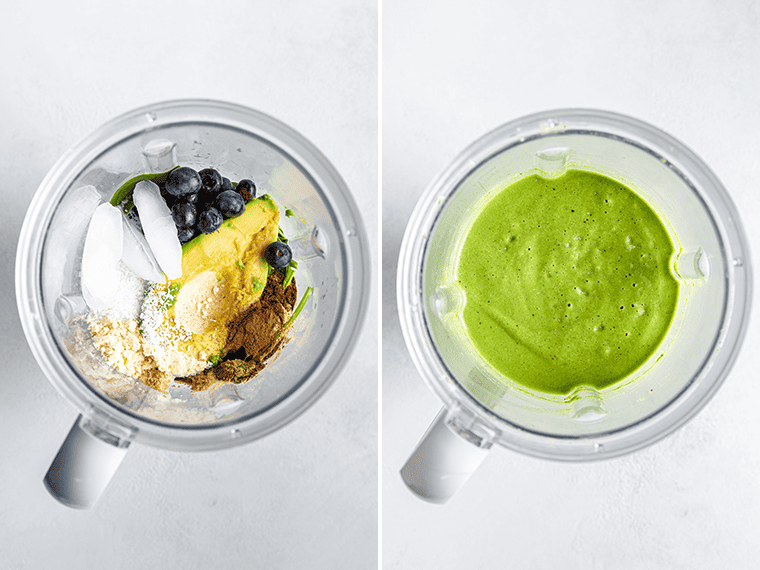 How to Make My Favorite Healthy Green Smoothie
As with most smoothie recipes, this one is a cinch to whip up! Here's what you'll need to do.
Add the ingredients to the blender. Layer the ingredients in the order they're listed on the recipe card for easy blending.
Blend. Blend until the liquid reaches a smooth, creamy texture, then pour into a glass and serve.
How Long Should I Blend a Smoothie?
A longer blending time isn't necessarily better when it comes to making smoothies! High-speed blenders will start to warm up foods as they blend them, so be sure to turn off the blender as soon as your smoothie is creamy and smooth.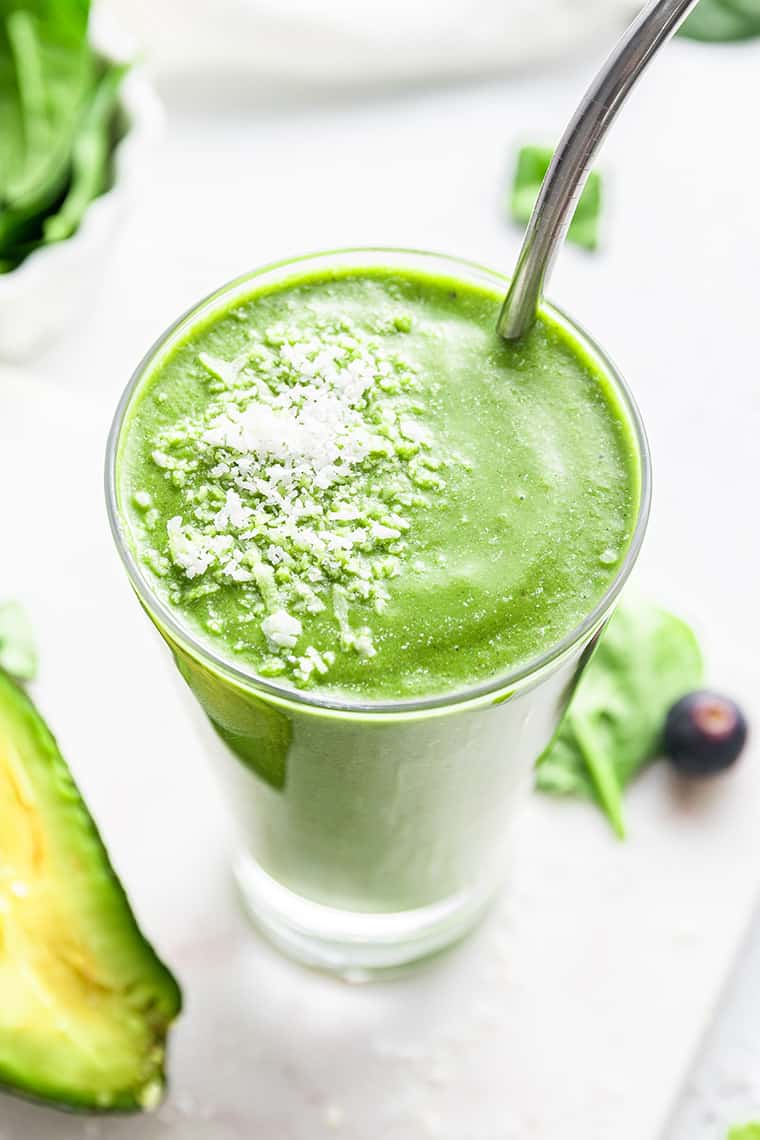 How to Store
Smoothies don't store well; the longer they sit, the more nutrients are lost. If you can't finish your green smoothie in one go, you can cover it and store it in the fridge for up to a day.
Can This Recipe Be Frozen?
Freezing is a better option for storage than the refrigerator because it preserves more of the nutrients in a green smoothie. Transfer it to a jar (be sure to leave enough head space for expansion!), airtight container, or freezer bag and freeze for up to 2 months. Let the smoothie thaw in the refrigerator before serving.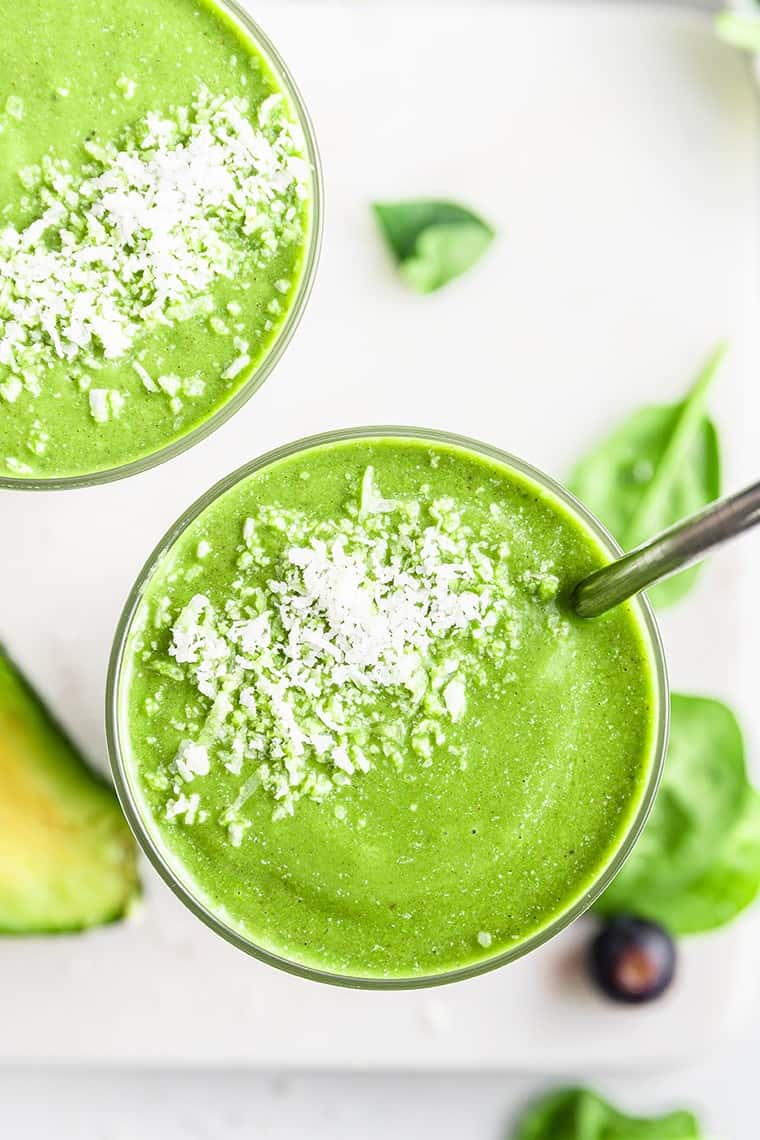 More Healthy Green Smoothie Recipes to Try:
Alyssa's Favorite Healthy Green Smoothie
I'm happy to report that I've finally found a recipe that has the perfect amount of sweet and green in a smoothie. It's so yummy!
Servings 1 serving
Calories 531kcal
Instructions
Add all the ingredients in the order they are listed to a strong blender. Blend until you have a smooth and creamy texture.

It's as simple as that! Your body will be so happy to start its day out this way.
Notes
How to store: If you can't finish your green smoothie in one go, you can cover it and store it in the fridge for up to a day. How to freeze: Transfer the smoothie to a jar (be sure to leave enough head space for expansion!), airtight container, or freezer bag and freeze for up to 2 months. Let it thaw in the refrigerator before serving.
Nutrition
Calories: 531kcal | Carbohydrates: 43g | Protein: 12g | Fat: 39g | Saturated Fat: 16g | Sodium: 485mg | Potassium: 1385mg | Fiber: 16g | Sugar: 10g | Vitamin A: 13535IU | Vitamin C: 178mg | Calcium: 551mg | Iron: 3.9mg
share what you make
Tag #simplyquinoa on Instagram with your creations! We love sharing what you make with the community. We can't wait to see!

follow on instagram