We've got a full guide of when to choose an Airbnb vs hotel. The benefits of each, when and where to choose them and criteria for selecting a great place!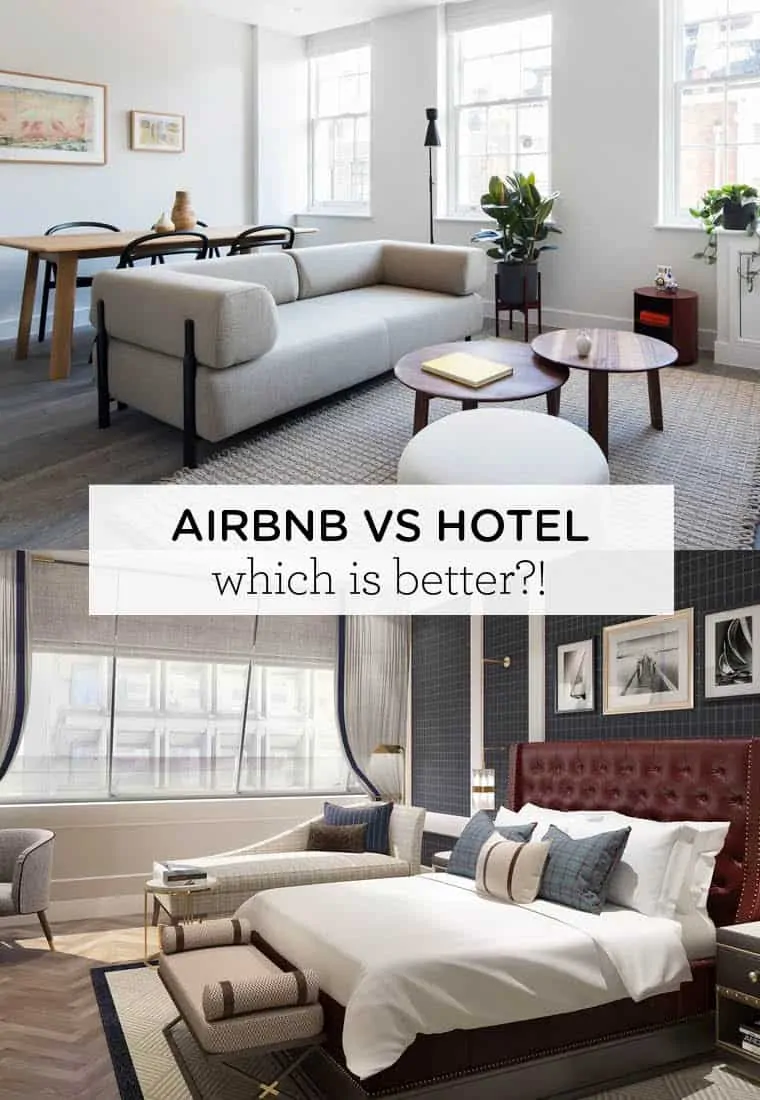 There's no shortage of accommodations available these days. And at all price points. You can opt for a budget hostel or a 5-star hotel. Or you could choose to share a room in someone's home or get your own massive villa.
The choices can seem overwhelming at times. And I get it. After recently traveling for 4+ months in Europe, the places we stayed in were a big part of the planning process.
While we were over there, I filmed a Q&A video and one of the questions asked about staying in an Airbnb vs hotel and which was better. And since we did a lot of testing throughout the trip, I thought it would be helpful to detail why we chose what.
What is Airbnb?
I'm sure since you clicked on this post you already know, but if you don't, Airbnb is essentially a place for short-term vacation/home rentals. You can rent a single room, or an entire place, in pretty much any corner of the world. It can also be described as a home-sharing site, where you rent people's homes while you're away.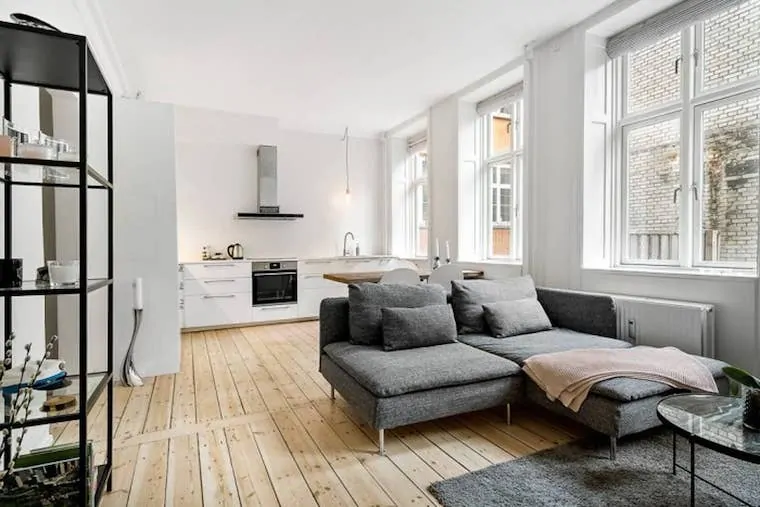 Benefit of Airbnb
If you're choosing between an Airbnb vs hotel, I think it would be helpful to talk about the benefits of each. First, we'll chat about Airbnb and then we'll chat hotels.
From my perspective, here are the benefits of Airbnb:
More space
Separate bedroom & living space
Full kitchen
Comforts of home
Easier to relax after a long day
Basically, it's like being in a mini home, which is great!
Benefit of Hotels
Now hotels on the flip side also have lots of benefits! Here's why we also love staying in hotels:
Service (you feel like you're taken care of)
Typically have larger beds and better bedding/pillows
More amenities
Fitness center (sometimes)
Bars/restaurants on-premise
Daily cleaning
Room service
But hotels can also feel a little stuffy. They can feel not super comfortable/sterile. And there's definitely not as much space to spread out and relax.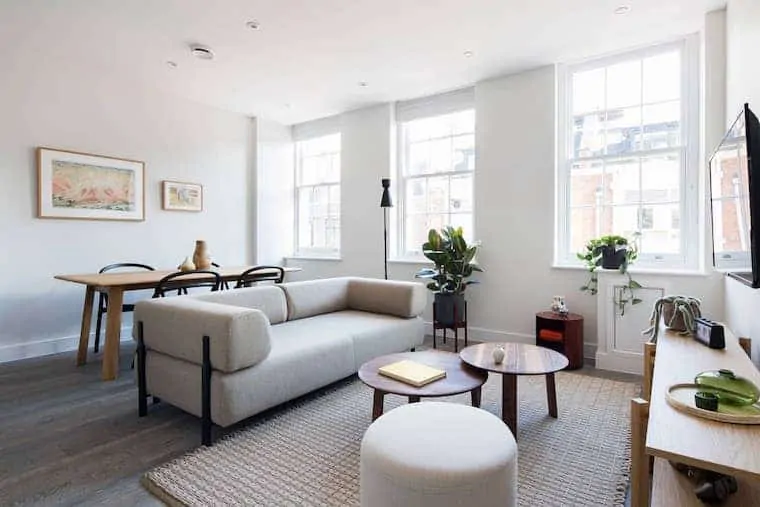 Airbnb vs. Hotel: Which is Better?
So…what's really better? Airbnb or a hotel? I can honestly say that at this point I think it's a preference thing. It used to be that Airbnb was much cheaper, but not so much anymore (at least from what we found). Often times we actually found hotels to be more cost-effective because Airbnb adds fees on top of the room price.
But, if I had to choose between the two, here's how I would break it down. I'd choose…
Airbnb: if I was staying somewhere for 3+ days, I wanted the comforts of home and wanted to be able to cook/do laundry
Hotel: short stay (3 days or less), and  I wanted full amenities and service (pool, gym, room service, etc.) and if I didn't plan on spending much time in the room
How we Planned our 4 Month Trip
For us, we did a big mix of Airbnbs and hotels. We decided based on a few factors:
Length of stay
Laundry needs
My work needs
Since we were traveling for so long, we needed to do laundry about 1x per week. We did carry handwashing soap with us, so the time that we needed to wash we could, but it was so much easier having laundry in our apartments. Especially since I was working out every day and got sweaty, I liked being able to have clean clothes.
We didn't have a hard and fast rule when we chose an Airbnb vs. hotel, but we mainly chose it on length of stay. If we were staying anywhere more than three nights, we wanted an Airbnb. Anything less and we could manage with a hotel.
It was also semi-dependent on the day of the week. While traveling, I still maintained my business and tried to work 1 – 2 hours every day Monday – Friday. It was helpful for us to have a separate bedroom in these cases because I would get up early, workout and work for a few hours and then he'd wake up and we'd go out exploring!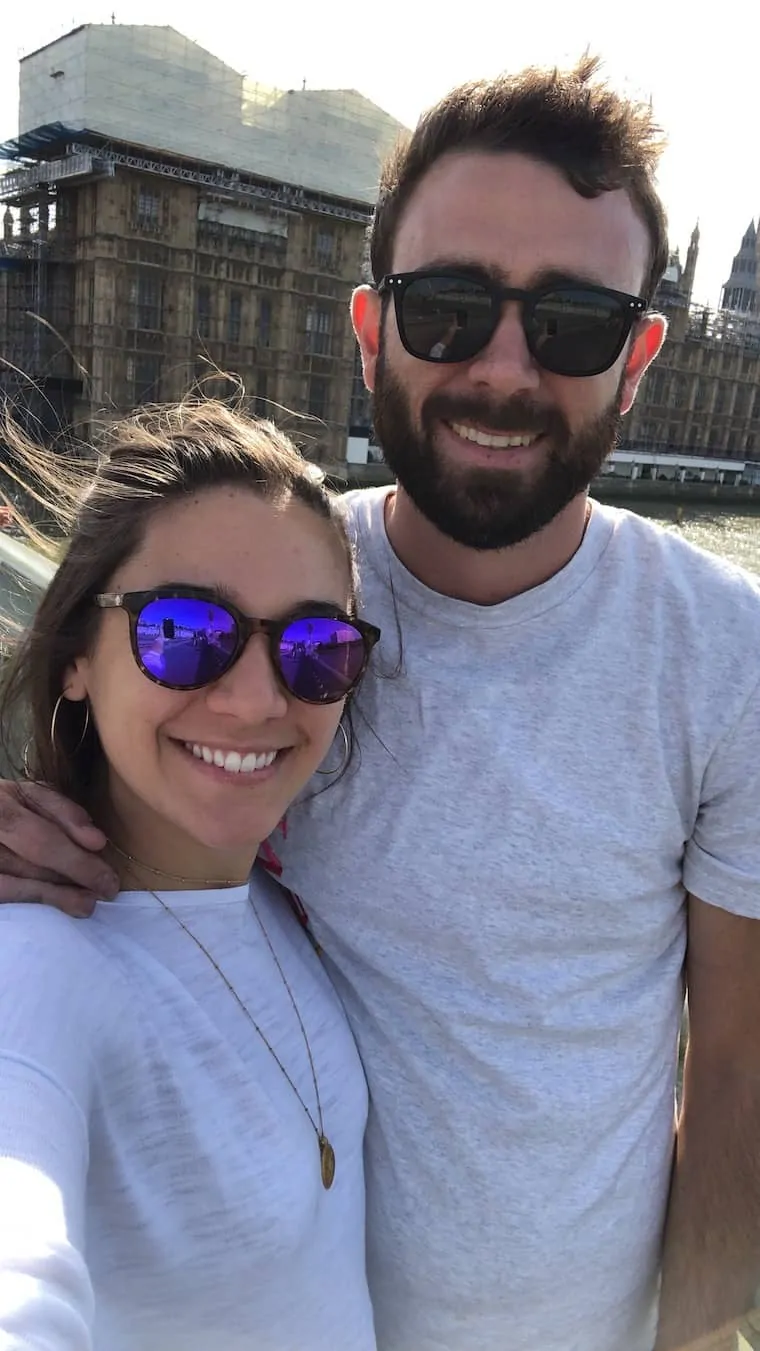 How We Filtered our Airbnbs
One of the great things about Airbnb is that you can get pretty granular in your filters. Since we used ours for longer stays, we were kind of particular in what we wanted it to have. Especially the washer/dryer piece. Here's how we filtered our searches:
Entire place
One+ bedrooms
2 guests
Washer/Dryer
City center
We basically just needed something that had a separate bedroom, a washer and dryer, and was easy walking distance to all the major sites we wanted to see and explore.
The Airbnbs We Stayed at in Europe
And since I shared many of these exact places on my Instagram, I thought it might be helpful for you to see the actual listings. We had great experiences in all of them (except for one – not included here), and I would definitely recommend each of these as a place to stay. (p.s. I'll star my favorites)
Videos from our Travels
What Would You Choose?
I know we have lots of travelers who read the blog, so I'm curious: if you had to choose an Airbnb vs hotel, which would you choose? Let me know in the comments! And if you have any favorite places that I should add to my travel bucket list, let me know!