A recap of our 4 month Europe trip! Including an overview of how the trip happened, how we planned and all the places we visited. I've also included a full itinerary that details the entire trip!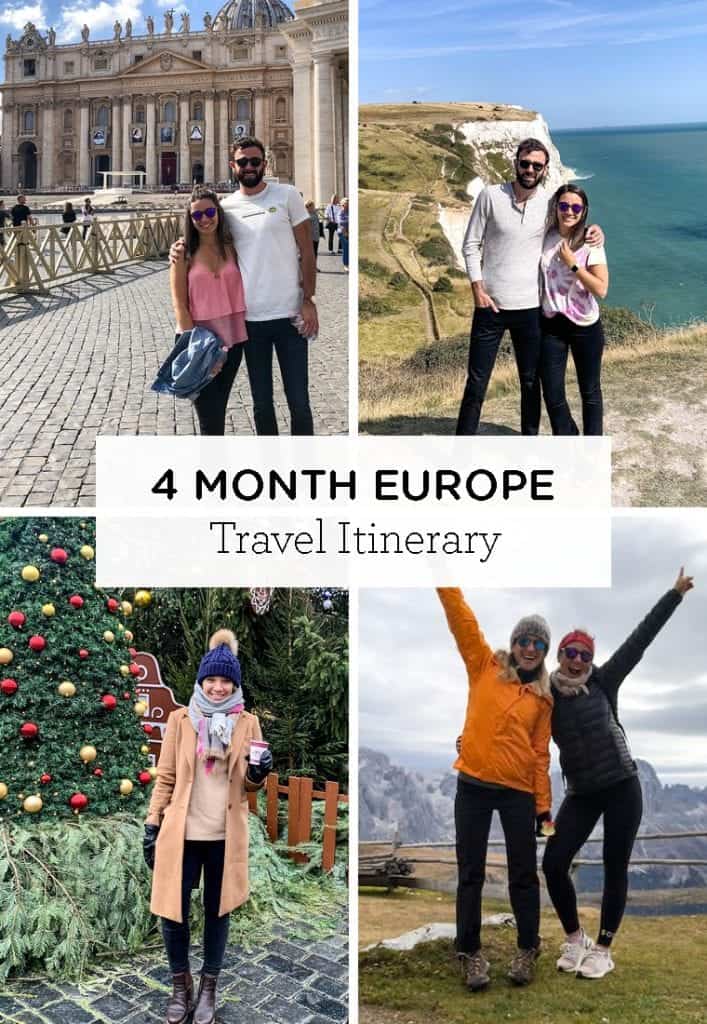 If you're new around here, let me start by explaining where this post is started.
About three years ago, my boyfriend Matt and I cooked up this dream to travel for an extended period of time. We've always loved traveling and felt like before we "settled down" we wanted to do it for real. Explore for at least a few months at a time.
And in August of 2019, we actually did it! We hit the road and traveled all around Europe for FOUR MONTHS!
How our 4 Month Europe Trip Came to Be
We're both in our early 30s at this point (he's 30, I had just turned 31), so it's not like we were fresh out of college. We both have/had jobs, we had a life in New York and we even had a dog. So the trip was fairly unlikely to happen, but that didn't stop us.
I would say everything kind of fell into place for us. The apartment we'd been living in for the last 6+ years in NYC was getting sold, Matt was ready to move on from his job and my business is completely mobile. Matt's mom also said she'd watch Trevi, so it was kind of a no brainer.
We settled on Europe for a few reasons:
We've both been there before and love

It's easy to get around and visit a lot in a short period of time

There's tons of different culture in a relatively small geographical area

Matt loves soccer and wanted to see a bunch of teams play
And without much planning, we put our stuff in storage, drove across the country to drop our dog off in Denver, then flew to London and set off!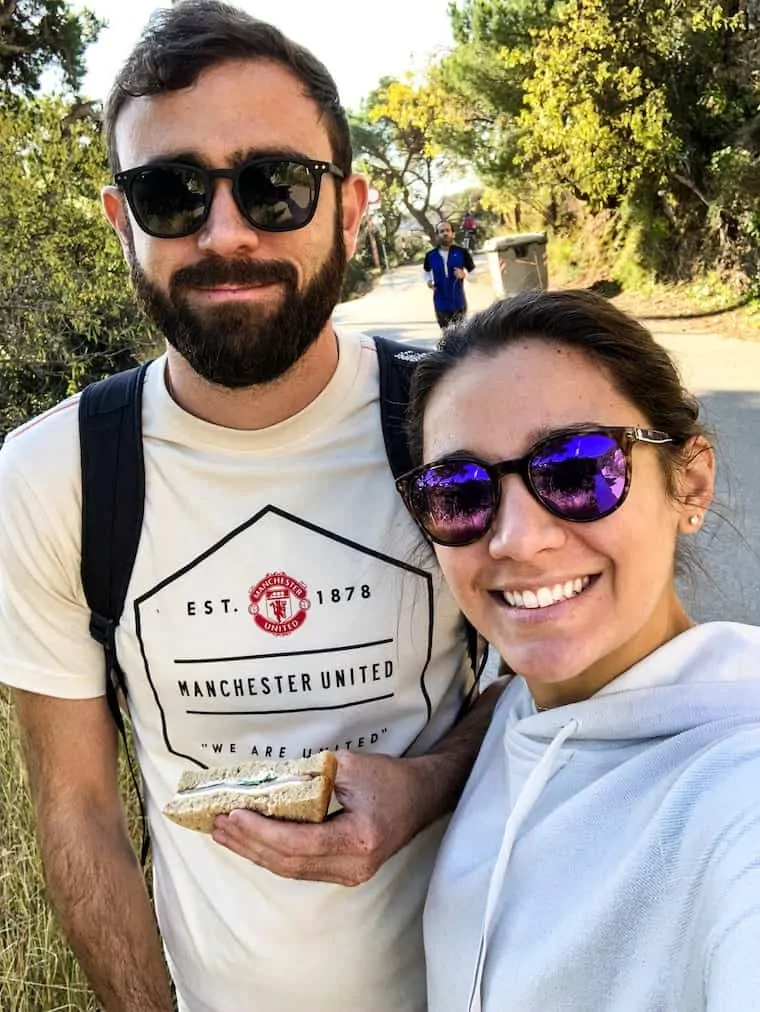 How We Planned Our 4 Month Europe Trip
Our plans for this trip evolved as we were going. When we first started planning this trip we thought about having "home bases" for each of the four months and take smaller trips from there. The idea was that we'd be able to leave most of our stuff in an apartment and then travel around. However, we quickly realized this was going to be way too expensive and we'd end up double-paying for housing most of the time. So we scratched that.
Our second plan was to travel north to south. Since we left in August it was still pretty warm so we thought we'd stay in the more northern countries while it was warm and work out way south from there. The goal was to be able to stay somewhat temperate most of the trip.
But here's what actually happened…
We totally winged it! Pretty much the whole time. And it was absolutely the BEST way to do it.
Basically, when we took off for Europe we had our first three weeks booked. From there, we went where we wanted! We followed the soccer schedule a bit, we went with what we were feeling, we watched the weather and we picked places based on what sounded fun.
I know that might not be right for some people, but it totally worked for us. We would book 1 – 2 weeks out at a time and it gave us SO MUCH flexibility. We weren't locked into anything and we were really able to follow our gut. It was the absolute best and I highly recommend it!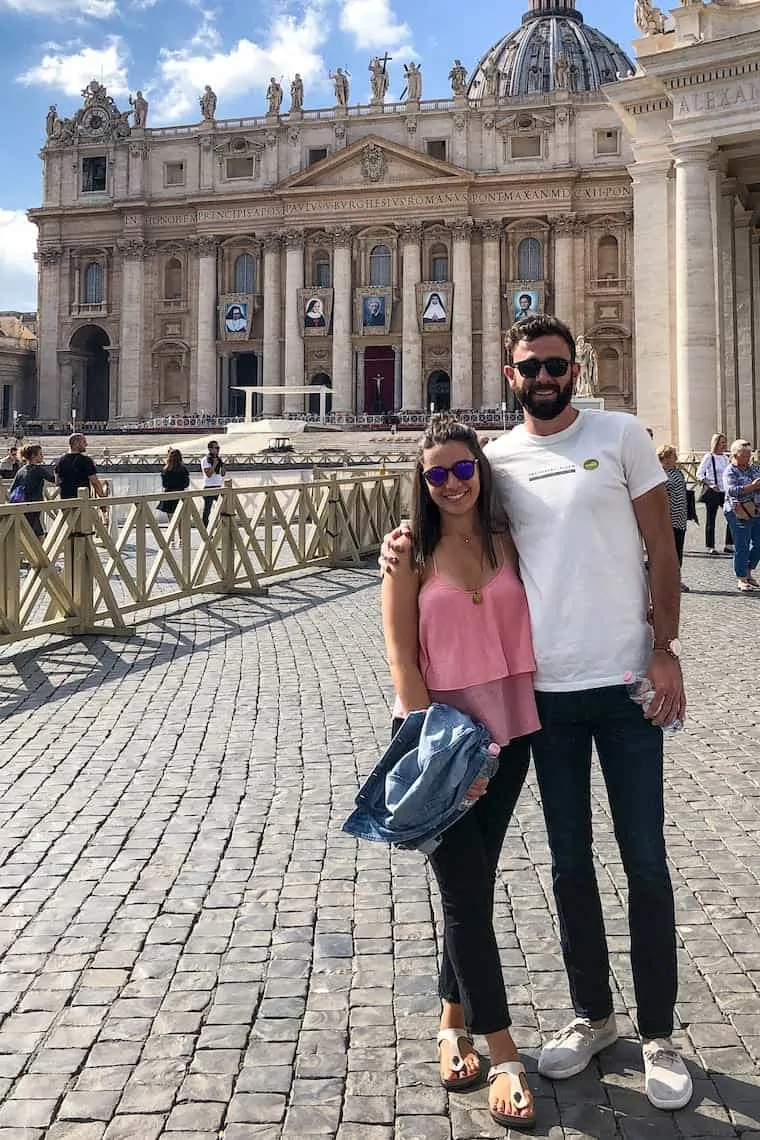 Our 4 Month Europe Trip Overview
Just to give you a sense of what we did while we were away, here's a quick overview of our trip in numbers:
117 days in Europe
15 countries visited
30 cities explored
17 flights taken
6 trains
9 football matches attended
4 groups of friends who visited
(only) 2 days of tears
and more laughs than I can count!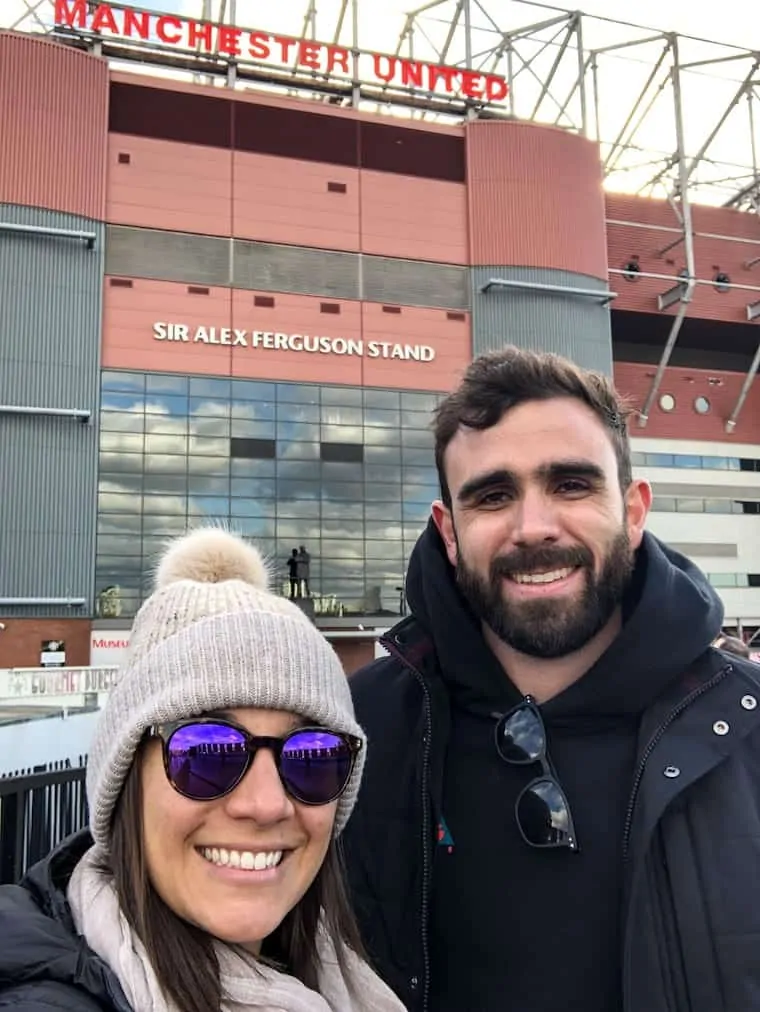 Our 4 Month Europe Trip Itinerary
Okay, now let's talk about the FULL itinerary. I think the easiest thing to do would be for me to basically just create the entire timeline for you. Starting with our takeoff and ending with our departure. Ready to find out what we did? Let's do this!
Aug 24: leave for London (BOS > LIS > LHR)
Aug 25 – Sept 9: London, England
September
In September we visited England, Ireland, the Netherlands, Germany and Greece!
Sept 9 – Sept 13: Lakes District (England)
Sept 14: Liverpool, England (for a soccer game)
Sept 15 – 19: Ireland (here's our Ireland Itinerary)
Sept 20 – 22: London, England
Sept 23 – 27: Netherlands (here's our Netherlands Itinerary)
Sept 28: Dortmund, Germany (for a soccer game)
Sept 29 – 30: Athens, Greece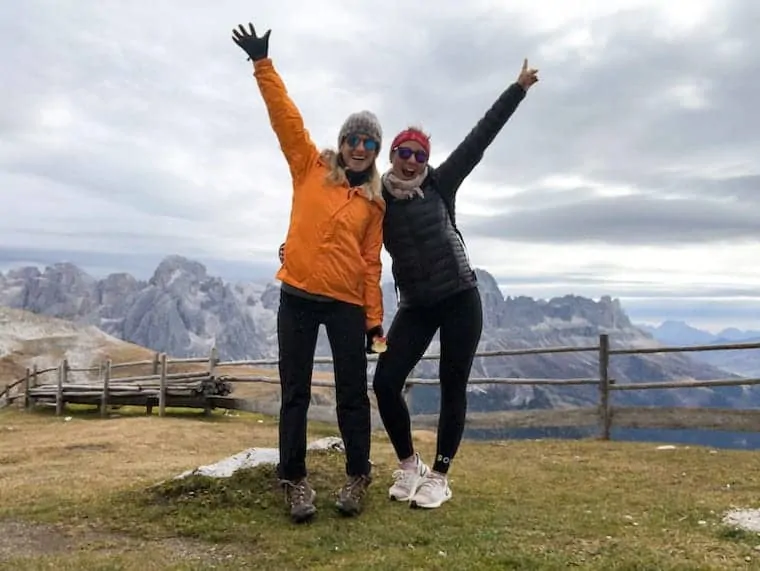 October
In October we visited Greece, Italy and Malta!
Oct 1 – 5: Mykonos, Greece
Oct 6 – 8: Milan, Italy (with a day trip to Lake Como)
Oct 9 – 13: Rome, Italy
Oct 14 – 17: Tuscany, Italy (here's our Tuscany road trip recap)
Oct 18 – 20: Florence, Italy
Oct 21: Milan, Italy (just as a stopover)
Oct 22 – 27: Dolomites, Italy (I met up with my cousin, Matt went to Vienna & Budapest with friends)
Oct 28 – Nov 1: Malta
November
In November we visited Italy, England, Portugal and Spain!
Nov 2 – 3: Naples, Italy
Nov 4 – 11: London, England
Nov 12 – 14: Porto, Portugal
Nov 15: Duoro Valley, Portugal
Nov 16 – 19: Lisbon, Portugal
Nov 20 – 22: The Algarve, Portugal
Nov 23: Sevilla, Spain
Nove 24: Granada, Spain
Nov 25 – 26: Madrid, Spain
Nove 27 – Dec 1: Barcelona, Spain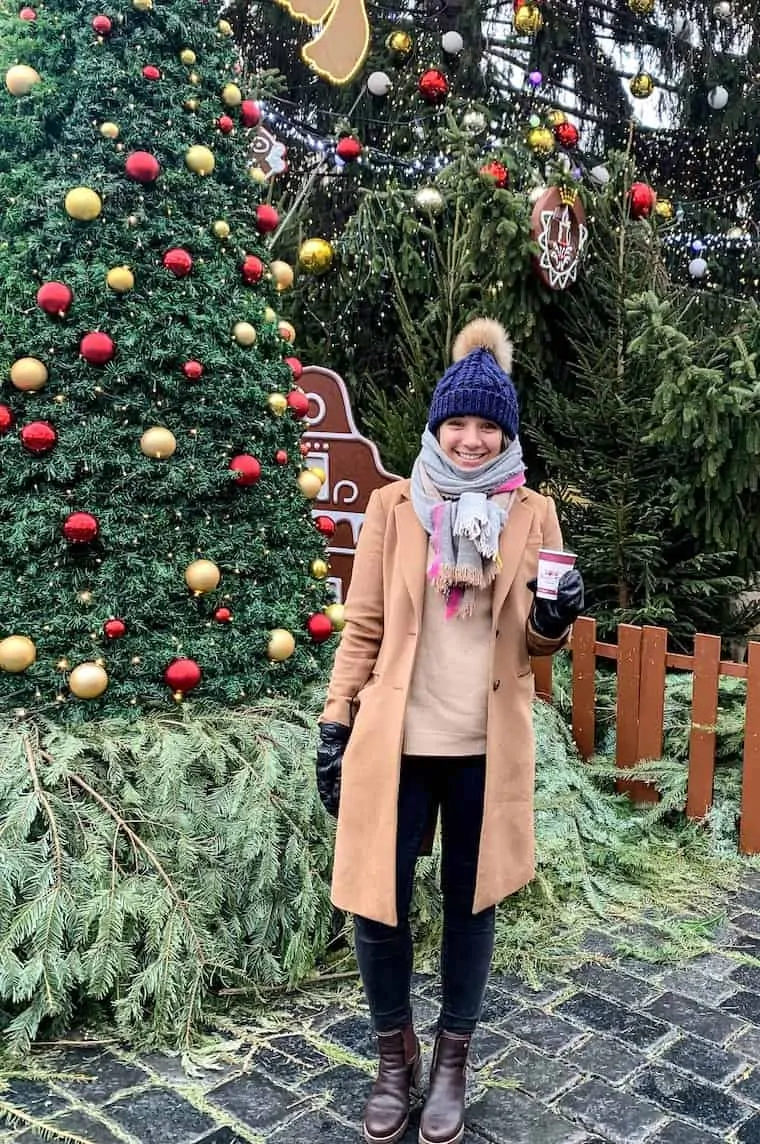 December
And finally, December. It was our busiest month – we visited Denmark, the Netherlands, France, Czech Republish, Germany, Austria and back to Portugal!
Dec 2 – 5: Copenhagen, Denmark
Dec 6 – 7: Amsterdam, Netherlands
Dec 8 – 10: Paris, France
Dec 11 – 12: Prague, Czech Republic
Dec 13 – 16: Munich, Germany (with day trip to Salzburg, Austria)
Dec 17 – 18: Lisbon, Portugal
Dec 19: HOME!! (LIS > BOS)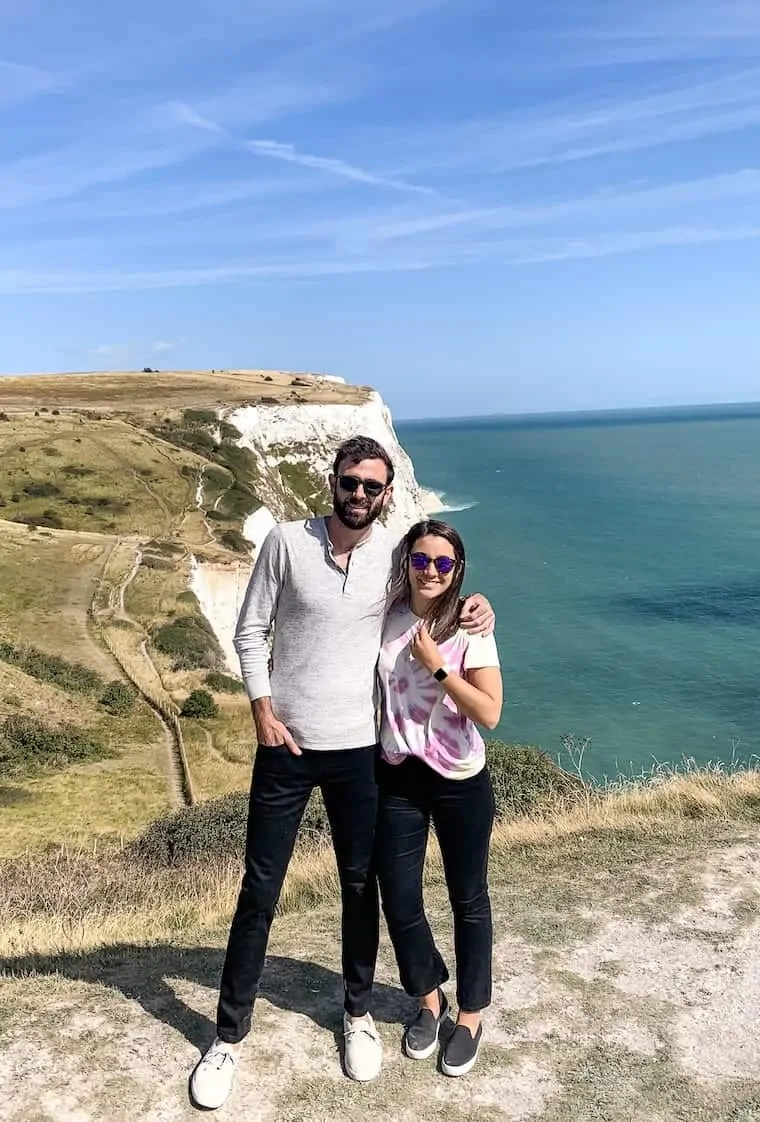 The Trip of a Lifetime!
All I can say is this honestly was a trip of a lifetime for both of us. We had the absolute BEST time and I'm going home with some amazing memories. I'll continue to share some recaps of our trip, but if there's anything specific you'd like to know, let me know in the comments! I hope you enjoyed following along as much as I enjoyed sharing ❤️
More Posts about our 4 Month Europe Trip