Chia Seeds are a commonly used ingredient in everything from puddings to jams. But what are they? And are chia seeds good for you? Read on to find the answers to all your questions, and some tasty, healthy recipes to make.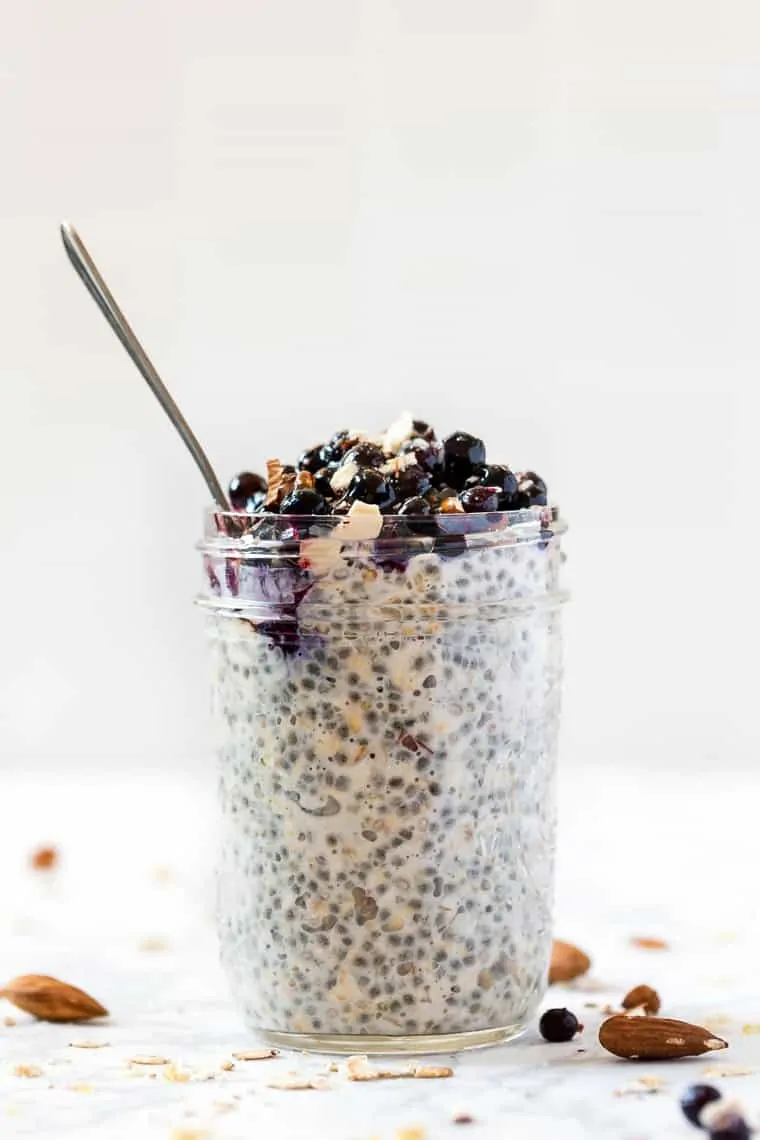 In the last few years, chia seeds have become immensely popular. And they've become one of my favorite ingredients to cook with. I always have some around the house, and I use them all the time. They're so affordable, have tons of health benefits, and they're super easy to use.
But even though they have become popular, they're still a mysterious ingredient to a lot of people. Many don't know if chia seeds are good for you, how to store them, and how to cook with them. So it seemed like a good idea for me to answer all your questions about this awesome ingredient that I love so much, and to give you some delicious and easy recipes to try making.
What Are Chia Seeds?
Chia seeds are small, round, and usually black or grey, and look very similar to poppy seeds, just a tiny bit bigger. They're the seeds of a type of mint plant that is native to Mexico. In addition to their many benefits, this healthy ingredient is notable because they can absorb up to 12 times their weight in liquid. So while they're very small when dry, they expand quite a bit when soaked.
What Are the Benefits of Chia Seeds?
There are so many different benefits to chia seeds. Here are the main ones.
Full of nutrients. Chia seeds are loaded with important vitamins and minerals. Among other things, they are full of iron, calcium, phosphorous, copper, and magnesium. And they have lots of alpha-linoleic acid, which is a very important omega-3 fatty acid.
Lots of antioxidants. They also have a ton of antioxidants, including caffeic acid, chlorogenic acid, kaempferol, and quercetin. If you're trying to get more antioxidants in your diet, chia seeds are a great ingredient to use.
Increased heart health. Chia seeds have been proven to be good for your heart health. They're also loaded with tons of fiber, which helps limit the chances of developing heart disease.
Affordable. So many healthy ingredients come with a big price tag, but not chia seeds. They're super affordable and also easy to find. You can purchase themat almost any grocery store, for just a few dollars.
Do Chia Seeds Help With Weight Loss?
Yes! This is an ingredient that is commonly associated with weight loss. The reasoning is quite simple. Because they can absorb so much liquid, they expand in your stomach. That makes you feel more full than you actually are. For people who are trying to cut back on their calorie intake, chia seeds are a great way to do it. A 1-ounce serving has 9.8 grams of fiber and 4.7 grams of protein, but only 138 calories.
Are Chia Seeds Keto?
Yes, chia seeds are definitely keto. Because they have so few carbs, they're an ingredient that's commonly used in keto diets. A 1-ounce serving only has 12 grams of carbs.
What Do They Taste Like?
Chia seeds have a very mild flavor. They're slightly nutty and a little bit bitter, and taste kind of like poppy seeds. They're also quite crunchy! Because they are so mild in flavor, you can use them in both sweet and savory foods.
How to Eat Chia Seeds
There are so many different ways that you can eat this healthy ingredient. They work well as a garnish, which you can sprinkle on everything from sandwiches to eggs to ice cream for a little nutritious crunch. You can add them directly to a dish like oatmeal, smoothies, and protein shakes, and they'll absorb the liquid and add a unique texture. And you can also cook with them by adding them to recipes, or by making one of my favorite foods: chia seed pudding!
Can Dogs Eat Chia Seeds?
Yes, it's safe for dogs to eat chia seeds. They provide pretty much the same nutrition to dogs that they provide to humans. They give dogs essential vitamins and minerals, are good for blood sugar levels, and help dogs maintain a healthy weight. They can even make a dog's coat shinier! However, because they are high in fatty acids, you shouldn't give your dog too many of them in one sitting.
How to Store Chia Seeds
Chia seeds have a very long shelf life as long as you store them in a dry airtight container. For best results, don't store them at room temperature for more than a year. However, if you store them in the fridge, they'll last for 5 years.
Easy and Healthy Recipes to Try
Here are 9 of my favorite recipes. They're delicious, easy to make, and most importantly, super healthy!
Need More Healthy Recipes?
If you're on the search for more healthy recipes to try, I've got you covered. Just head over to my recipe finder to search my whole catalog of easy, healthy, and delicious foods!