How to Make Chia Seed Jam: 4 Delicious Ways
Here's how to make chia seed jam in 4 delicious flavors! This healthy jam is easy to make and can use as few as two ingredients. Tastes just like real jam! Plus we're sharing our favorite flavor ideas: raspberry, blueberry, strawberry, and peach!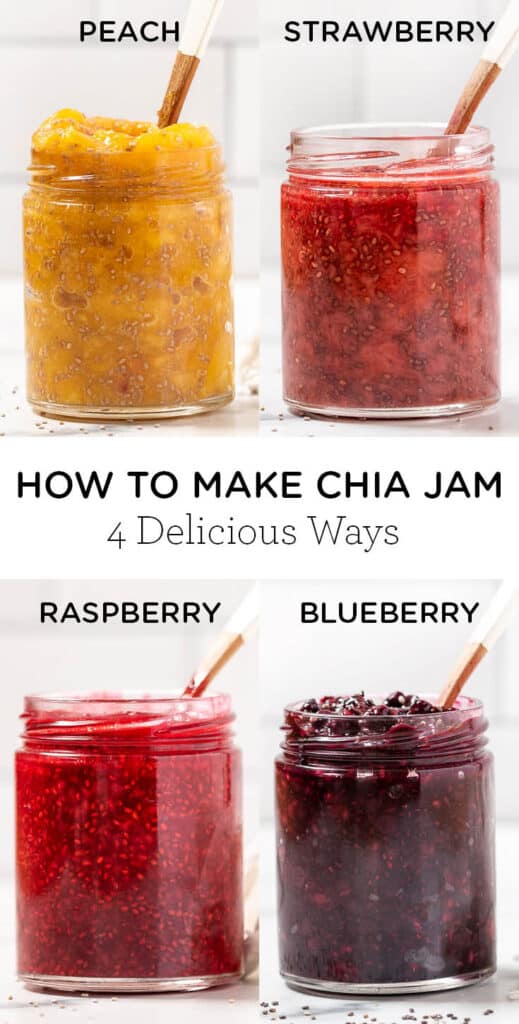 We're back with another ultimate guide post and I couldn't be more excited about this one. It's all about one of my favorite things to make: chia jam!
What's great about these recipes is they're a) super customizable and b) easy to make. Chia jam can be made with as little as two ingredients and you can use almost any fruit to make it.
Today we're talking all about how to make chia seed jam and everything else you need to know. We've got a lot of info in this post, but also have four amazing chia seed jam recipes!!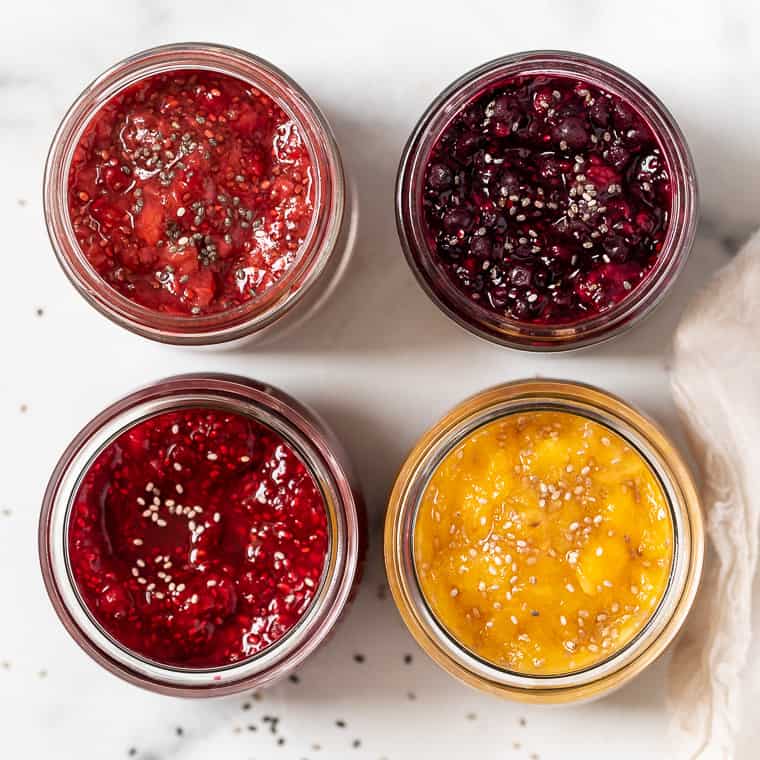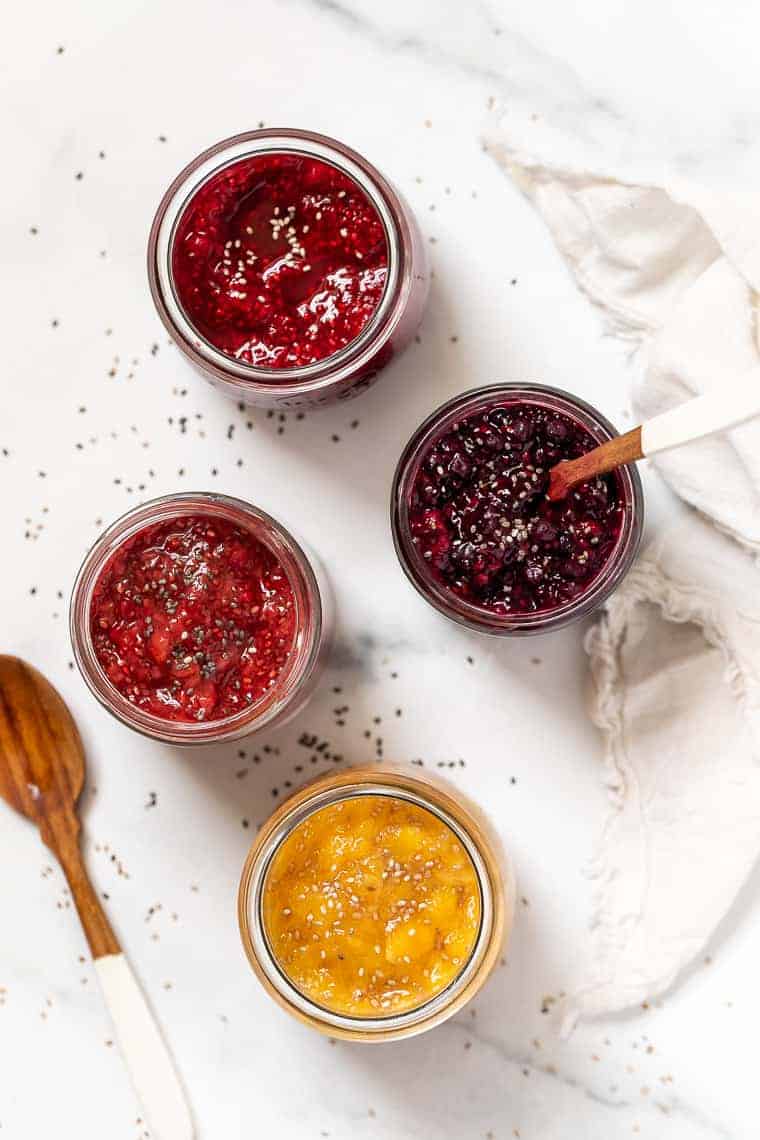 What is Chia Jam?
Okay, so let's kick things off talking about what chia jam is. Chia jam is a fruit jam that uses chia seeds as a thickening agent. It's essential a health(ier) version of traditional jam!
Why Making Jam with Chia Seeds Rocks
There are so many amazing reasons to love and make chia jam, but here are some of the reasons why I love it:
You only need a few ingredients – just fruit & chia seeds is all you need!
It's healthier – you get the health benefits of chia seeds in your jam (protein + healthy fats)
It doesn't require sweeteners – unlike other jams, you don't need added sugar to make these jams tasty!
You can use any type of fruit!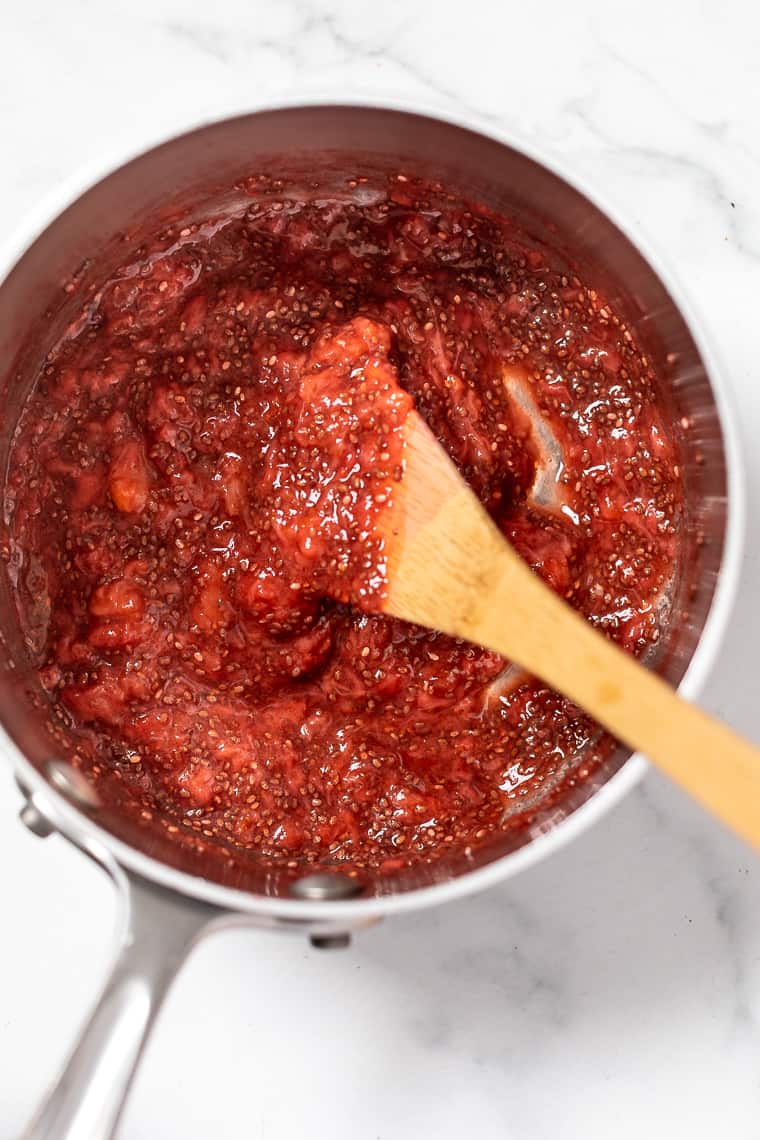 How to Make Chia Seed Jam
I've mentioned this already, but chia jam couldn't be easier to make!
STEP ONE
Add your fruit into a saucepan. Turn it on medium and begin to mash the fruit down.
STEP TWO
Once the fruit is soft and mostly mashed down, add the chia seeds (and any other flavors you want). Stir it together and remove from the heat.
STEP THREE
Transfer the jam into a heatproof jar. Allow the jam to cool completely and then enjoy!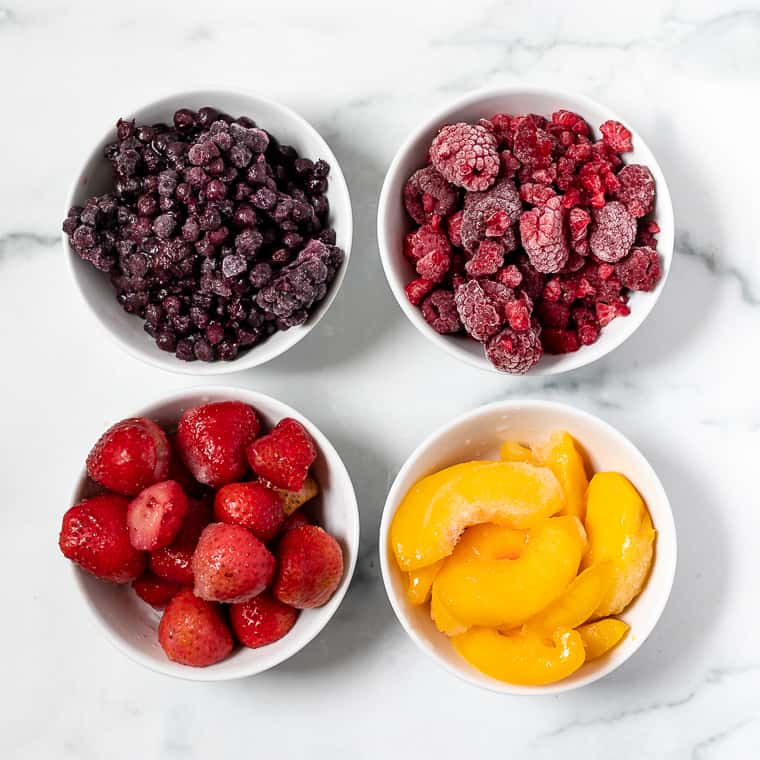 Best Fruits for Chia Seed Jam
You can honestly use any type of fruit you want for chia seed jam. I'm showing you four of my favorites, but feel free to use whatever you'd like. Everything from berries, stone fruits, apples, pears, even mango! If you have a specific fruit question, let me know in the comments.
Here are the chia jam flavors we're making today:
Strawberry Chia Jam (with vanilla)
Blueberry Chia Jam (with lemon)
Raspberry Chia Jam (with honey)
Peach Chia Jam (with honey + cinnamon)
All four are absolutely delicious and super easy to make! And yes, have fun with other flavors too – if you end up trying some new ones, let us know in the comments.
Vanilla Strawberry Chia Jam
---
The first jam we have on our list is a classic. This strawberry chia jam uses three ingredients – strawberries, chia seeds, and vanilla. It's sweet, it's flavorful and it's a healthier version of classic strawberry!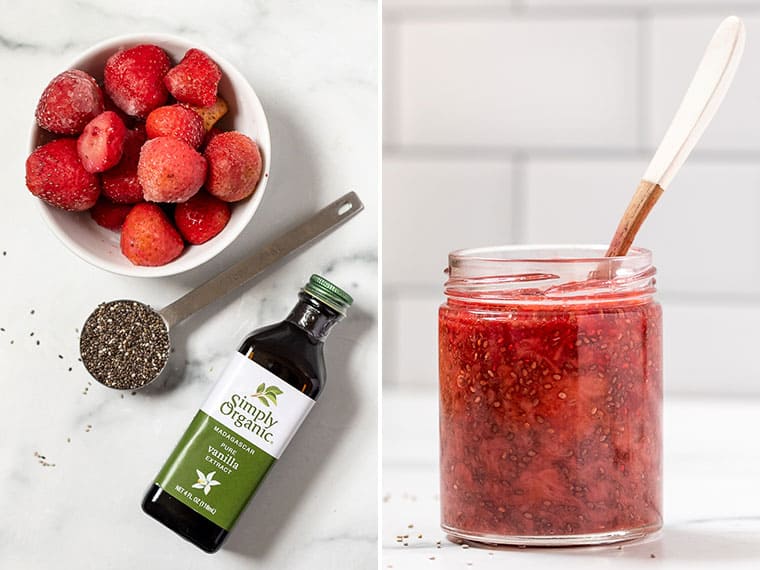 ---
Raspberry Chia Jam
---
Our favorite recipe for raspberry chia jam which uses just 3 simple ingredients – raspberry, chia, and honey! We love using this jam on top of toast, but also in baking! Swirl it into your favorite muffin or brownie recipe. It tastes incredible and couldn't be easier to make!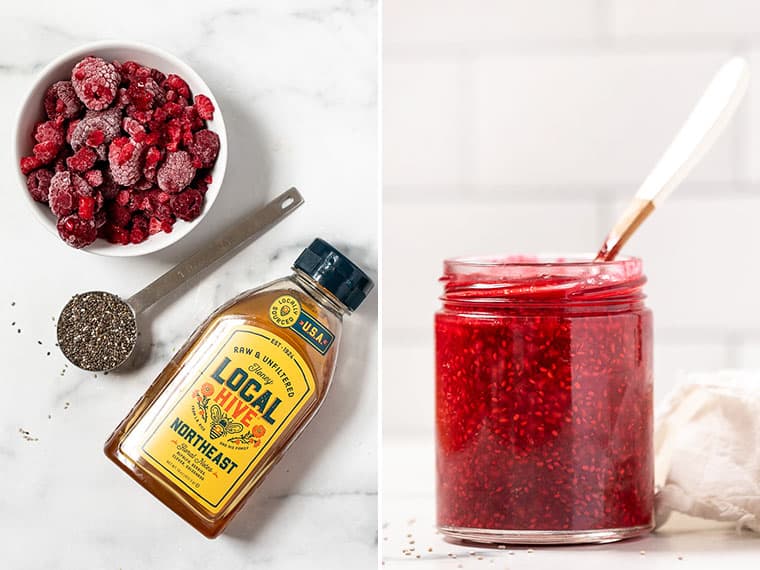 ---
Blueberry Chia Jam
---
If you love blueberry jam, you're going to LOVE this recipe! It uses just 3 simple ingredients – blueberry, chia, and lemon zest! The lemon adds just a touch of brightness and of course, the two are a perfect combination.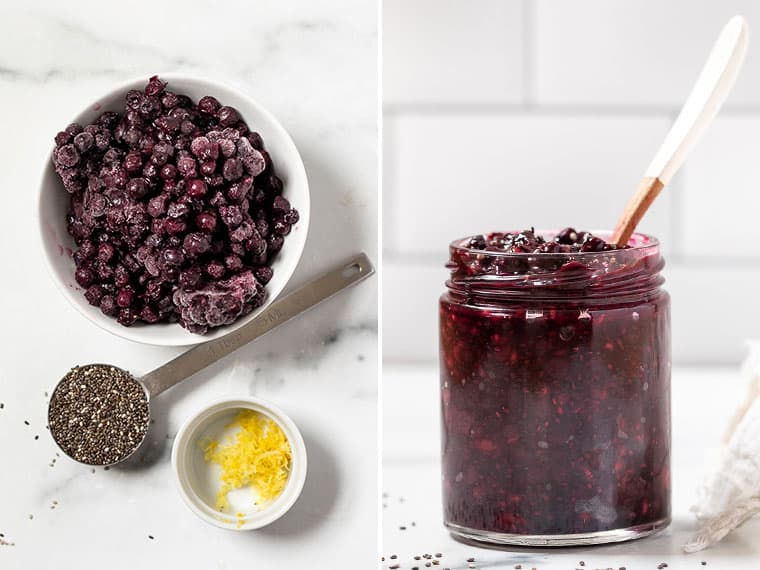 ---
Peach Chia Jam
---
Do you love peach chia jam? Our favorite recipe for peach chia jam which uses just 4 simple ingredients – peaches, chia seeds, cinnamon, and honey! This tastes absolutely incredible and pairs so well with oatmeal, muffins, and even chia seed pudding itself!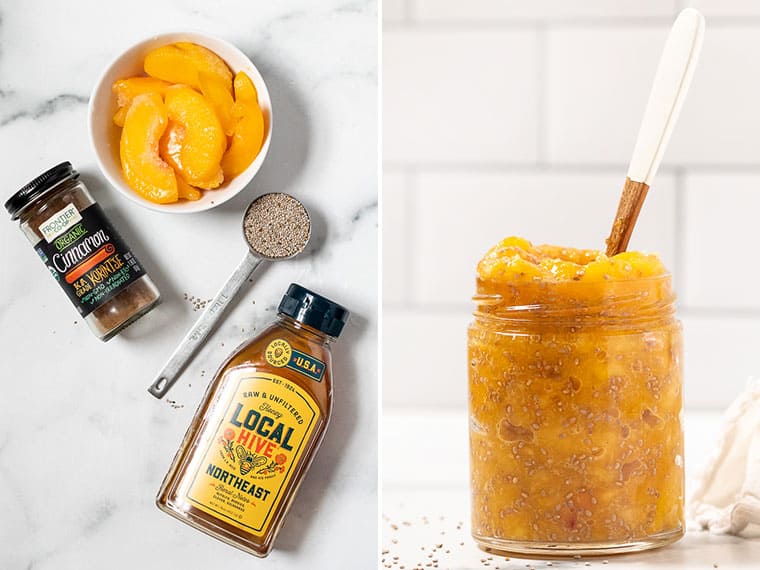 ---
Ready to Use These? Here's how to Use Chia Jam
share what you make
Tag #simplyquinoa on Instagram with your creations! We love sharing what you make with the community. We can't wait to see!

follow on instagram