A healthy, nutrient-packed salad, this Tropical Kale & Quinoa Power Salad is a perfect lunch or side dish recipe. It comes together in 10 minutes and stores well for leftovers!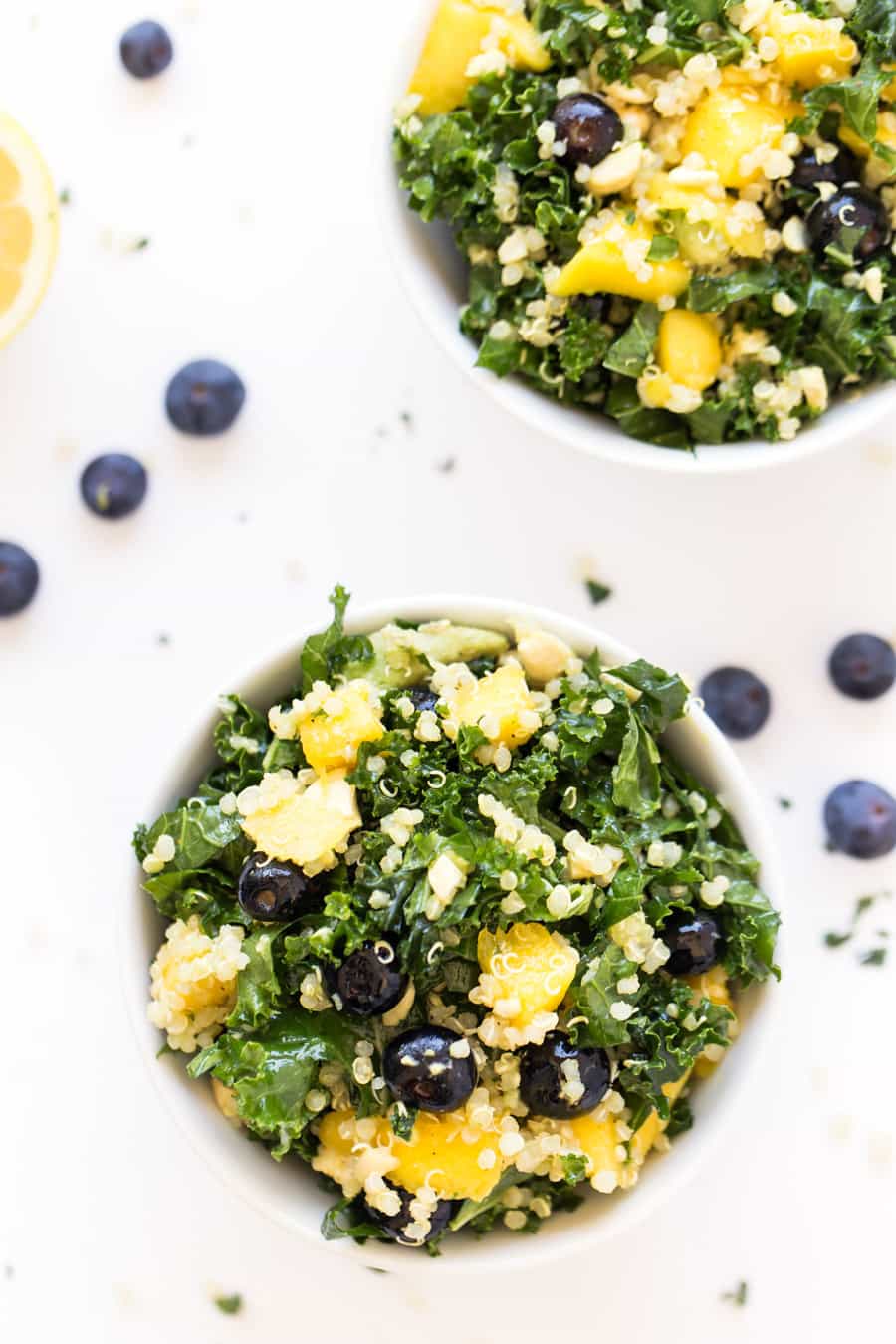 With all the sweetness that's been happening in the last few posts, I was craving something green. So I decided to whip up a simple kale salad and add in some of my favorite detoxifying ingredients.
What makes a salad a "power salad"? Partly I think that's up for interpretation, but for me, a salad turns into a power salad when you look at the ingredients. Sometimes we get caught up in thinking that because a meal is called a "salad" that must automatically mean it's healthy. Unfortunately, that's not always the case.
But in this case? Totally healthy.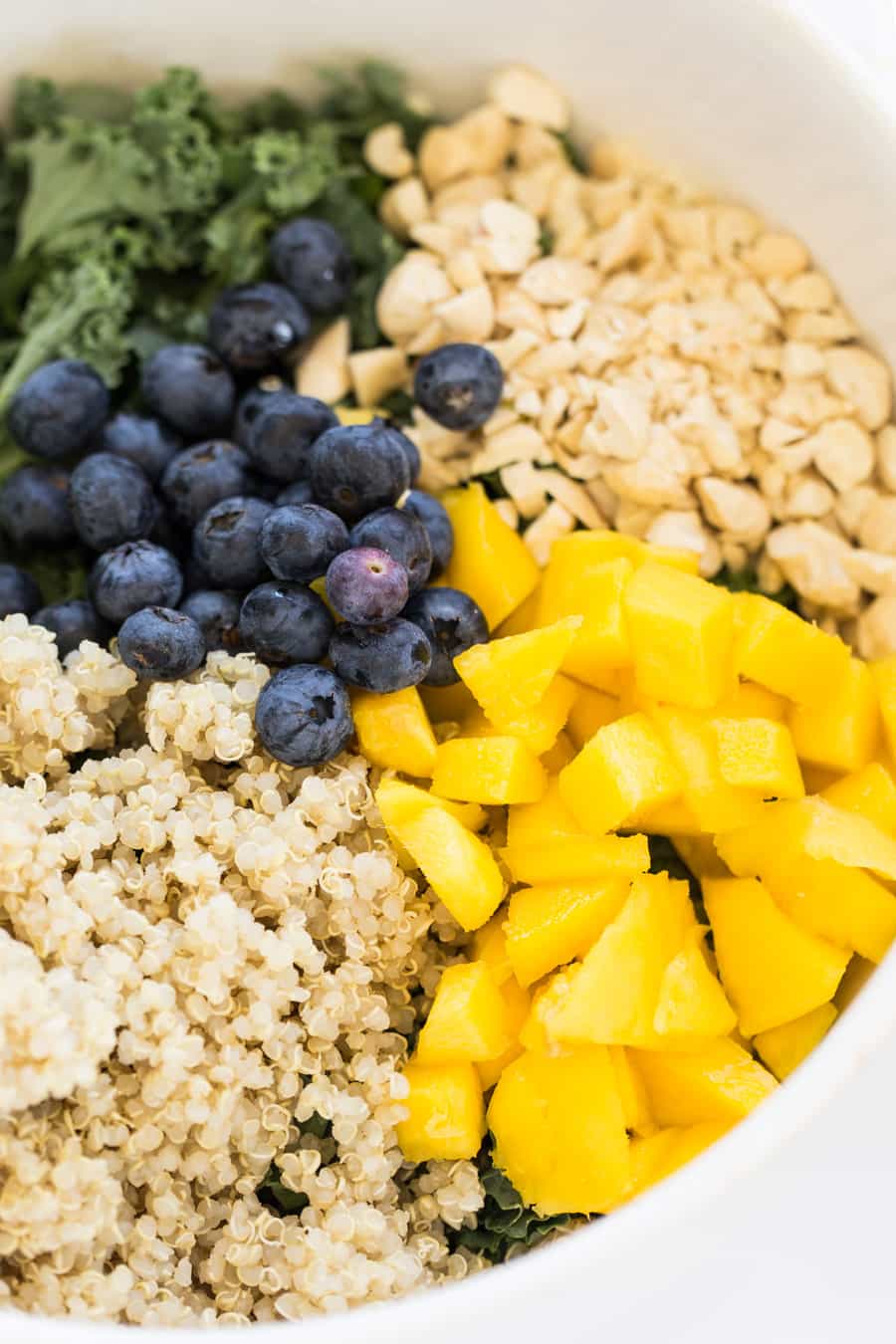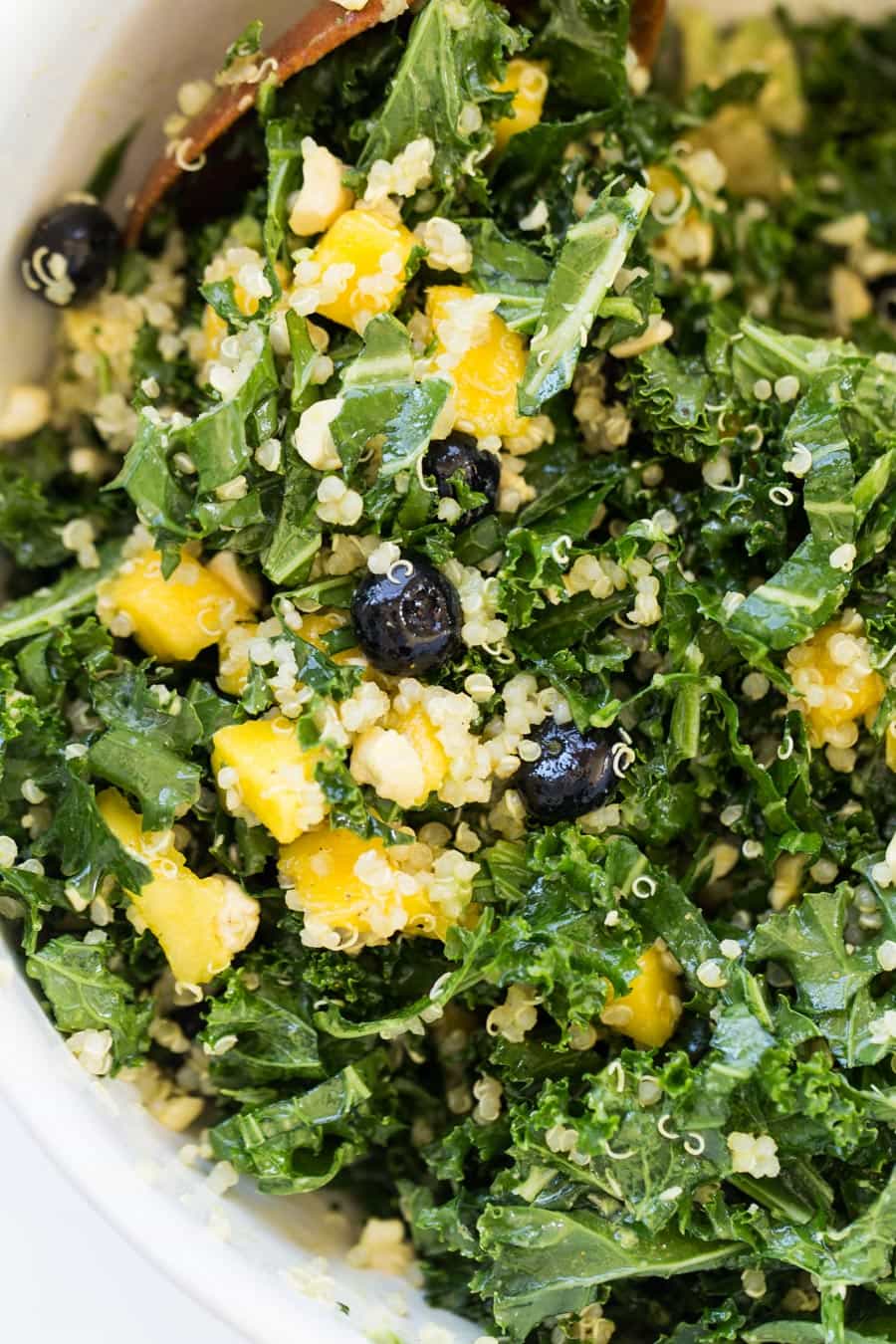 The base, of course, is kale, which we then layer on with quinoa, fresh mango, blueberries, avocado, and cashews. You've got everything you need: crunchy, sweet, tart and creamy. And you're also layering this baby up with all sorts of fabulous ingredients.
I don't normally run through the nutritional properties of ingredients, but today, since we are talking about a quinoa power salad and all, I feel like it will be helpful. So here it goes!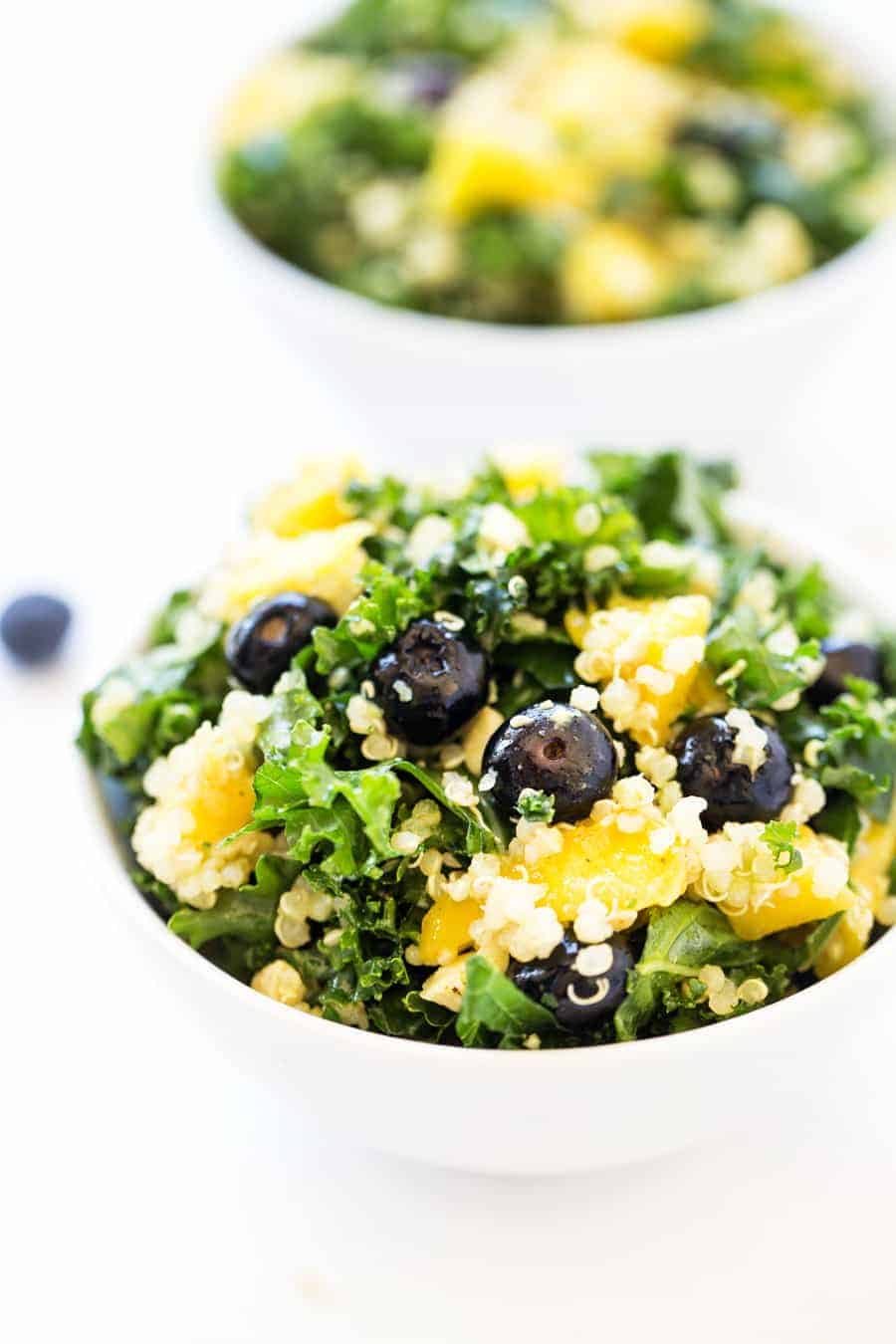 I purposely tried to blend a mixture of ingredients that all had different properties. Basically, my thought was by adding all these things together we could create one jam-packed, super-charged POWER salad!
Kale: kale is high in anti-cancer chemicals and antioxidants, both of which help cleanse the body of harmful toxins. Kale is also packed with tons of other vitamins and minerals that help promote detoxification.
Quinoa: by now you know all about quinoa, but to recap it's high in protein, fiber and is a complex carbohydrate meaning it digests more slowly and keeps you fuller for longer. Quinoa is also high in trace minerals like magnesium, manganese, copper, zinc and even iron.
Mango: in addition to being sweet and juicy, mangos are also filled with vitamins, minerals, and antioxidants. They also help to alkalize the body, are great for our skin (can help unclog pores), and boost our immune system. And did I mention they taste amazing?!
Blueberries: blueberries are very high in antioxidants and have antiviral properties to help prevent infections. Blueberries also help decrease inflammation in the body and are full of fiber and vitamin-C, while also being low in calories.
Cashews: cashews are one of my personal favorite nuts, not only for their versatility and flavor but also for their nutritional properties. Cashews are particularly high in vitamin K which helps with blood health, vitamin E which provides antioxidant protection and vitamin B6 which supports healthy skin, hair and nails.
Avocado: the superstar nutrient in avocados is glutathione; a nutrient that blocks different carcinogens while helping the liver detoxify synthetic chemicals. Avocados are also high in cancer-fighting antioxidants.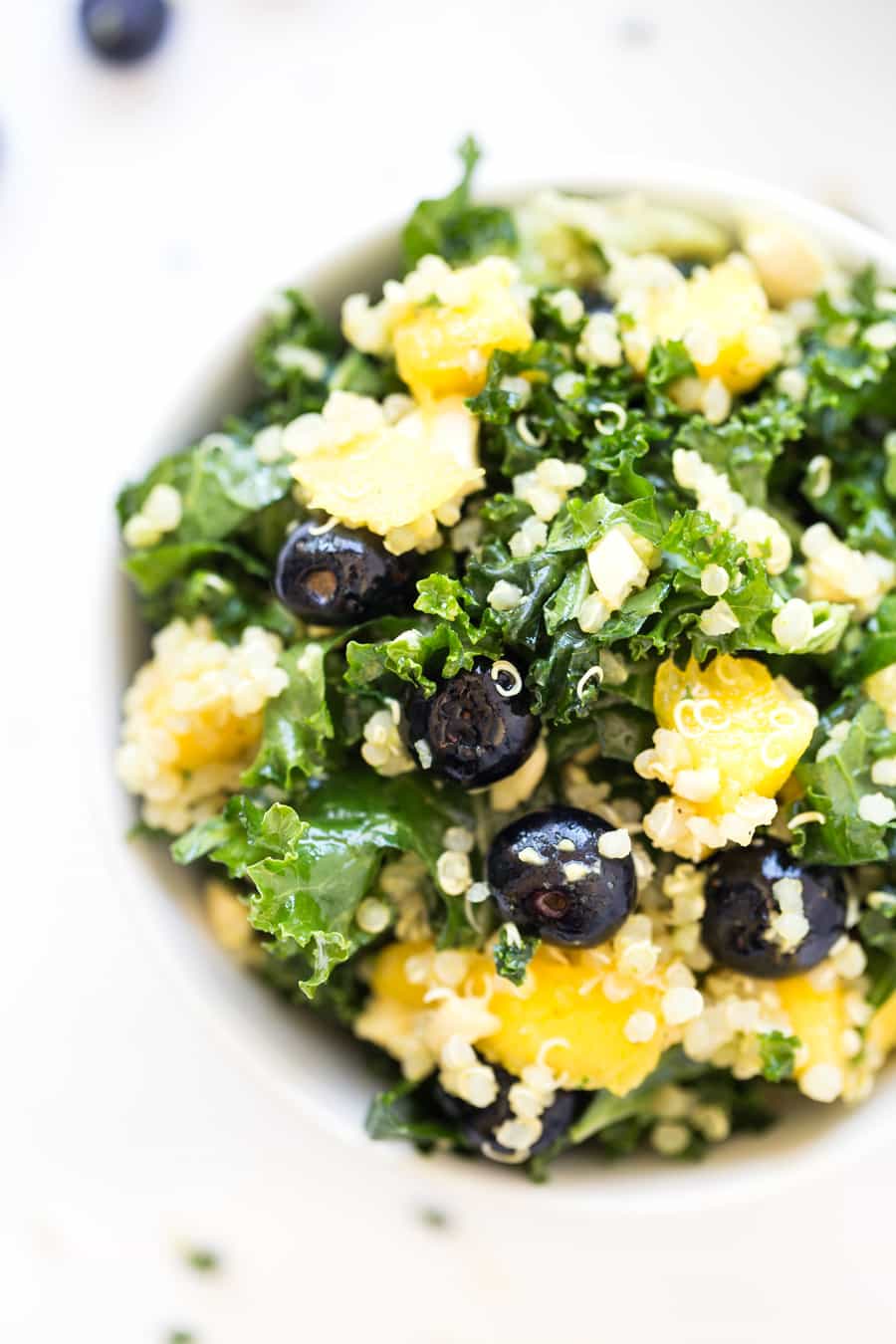 And then we have the dressing!
I'm not going to dive too deep into all the ingredients in the dressing, but each one packs an equally powerful punch as the salad ingredients.
I went with a version of my lemon Turmeric dressing from this Wild Rice Quinoa Salad but added some ground ginger to kick up the flavor intensity. I also find that ginger and mango go really well together!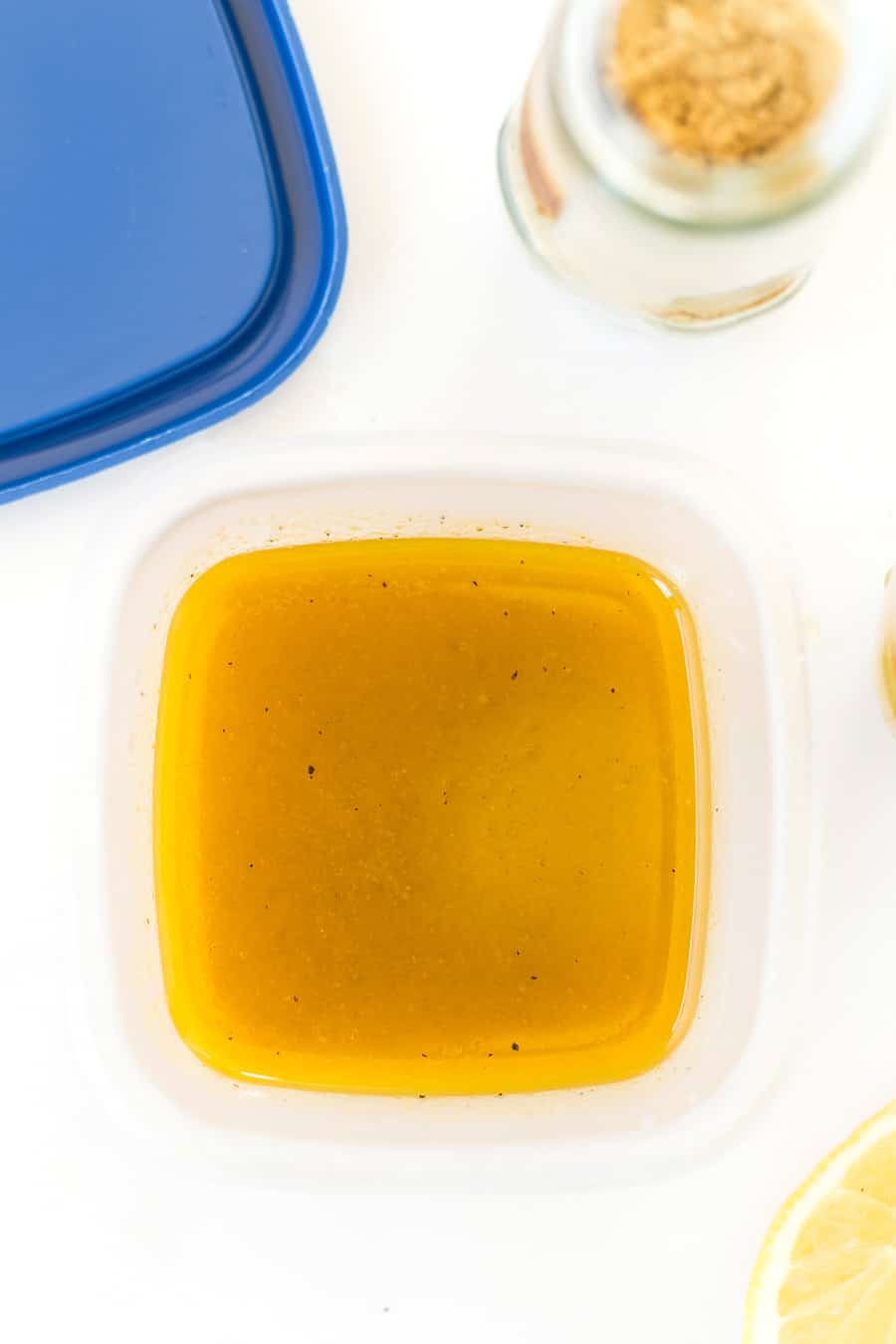 Inside this dressing, we've got: olive oil, apple cider vinegar, lemon, honey, ginger, and turmeric. It's by far one of my favorite salad dressings and I think it goes well with pretty much everything!
And putting it together couldn't be easier. You just whisk until emulsified and done!
This is certainly one of the simplest salads you can make. And it gets even better as it sits. The kale starts to soften and the flavors get all melded together, so it's great for meal prep. I'd definitely recommend making a big batch and keep it for lunch for the next few days!
More Incredible Salad Recipes to Try:
Tropical Kale & Quinoa Power Salad
A healthy, nutrient-packed salad, this Tropical Kale & Quinoa Power Salad is a perfect lunch or side dish recipe. Comes together in 10 minutes and stores well for leftovers!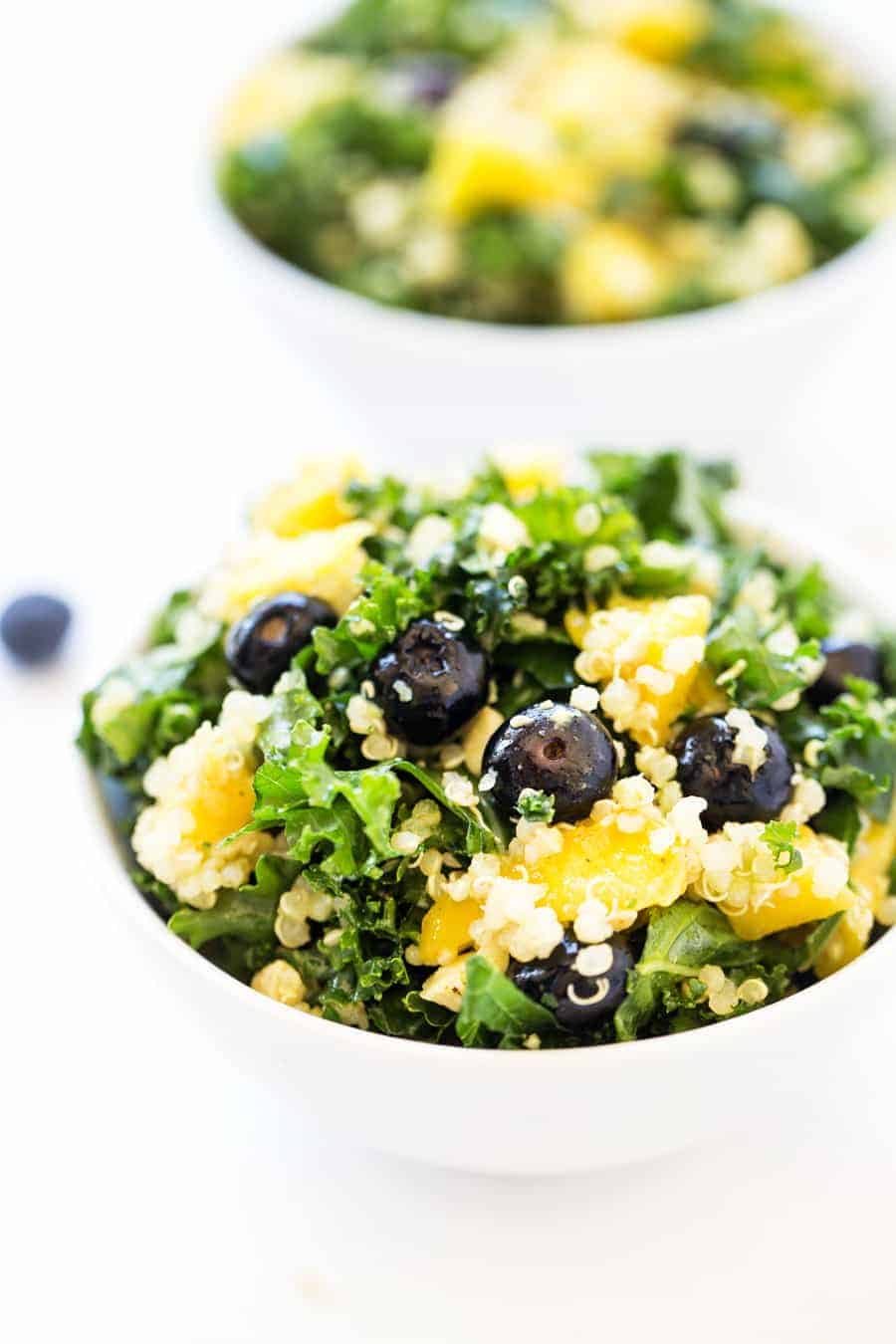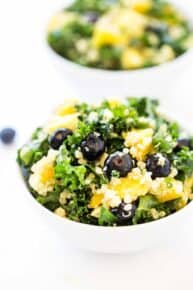 Ingredients
For the dressing
3

tablespoons

olive oil

1

tablespoon

apple cider vinegar

1

tablespoon

lemon juice

1/2

teaspoon

honey

1/4

teaspoon

each of ginger & turmeric

Salt & pepper to taste
Instructions
Remove the stems from the kale, then finely chop the leaves and add them to a large bowl. Top the kale with remaining salad ingredients and set aside.

For the dressing, whisk together all the ingredients until emulsified and smooth. Pour dressing over salad and toss to combine. For best flavor, allow the salad to sit for at least 30 minutes in the fridge.
Nutrition
Calories:
306
kcal
|
Carbohydrates:
23
g
|
Protein:
6
g
|
Fat:
22
g
|
Saturated Fat:
3
g
|
Sodium:
85
mg
|
Potassium:
412
mg
|
Fiber:
4
g
|
Sugar:
6
g
|
Vitamin A:
1685
IU
|
Vitamin C:
29.5
mg
|
Calcium:
38
mg
|
Iron:
2.2
mg
Filed Under: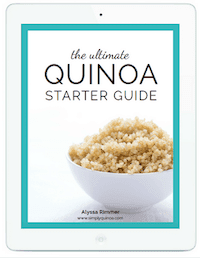 New to cooking quinoa? Grab your FREE Quinoa Starter Guide!
Become part of the Simply Quinoa community and receive weekly emails with exclusive content that I only share in email, as well as my in-depth guide to starting your quinoa journey.
Want more quinoa dinner recipes?
Follow my board on Pinterest!