This dreamy banana ice cream sundae may look like an overly decadent treat, but it's actually made from 100% healthy ingredients, no refined sugar or dairy!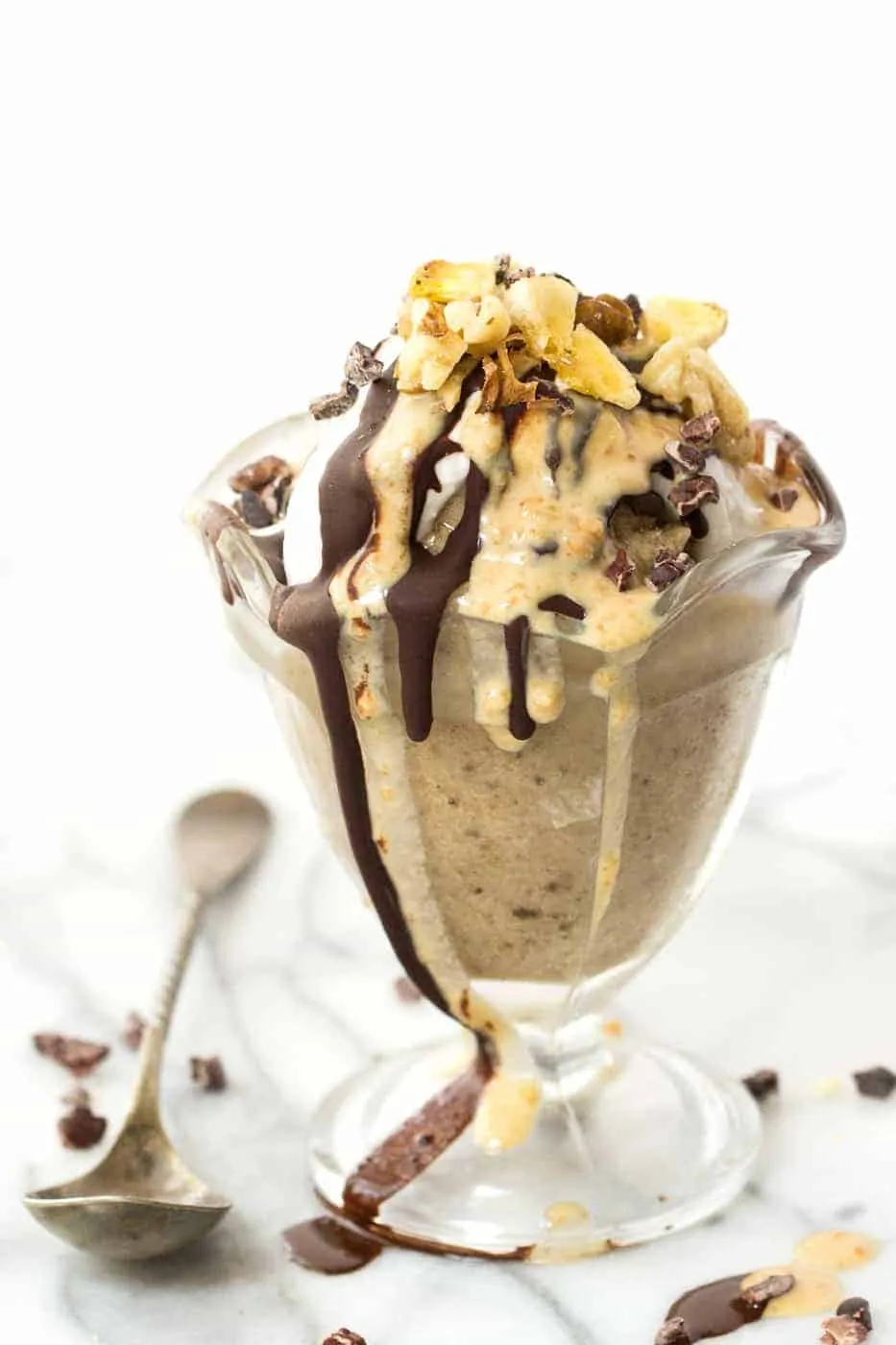 Sometimes, when it comes to dessert, I just want to go all out. Throw everything I know about healthy food out the window and dive into that hot fudge sundae without any care in the world. Knowing full well I could devour the entire thing in a matter of minutes.
But then the guilt kicks in and the voice inside your head starts telling you things like, "You're going to get fat if you eat that." "You don't deserve dessert because you didn't work out today." "You already had wine with dinner, you can't have both." "You're going to feel bad about yourself if you eat that whole thing to yourself."
And so you have two choices: either you go for it, regretting every bite and then beating yourself up afterward or you skip dessert completely.
I've been through this conversation with myself countless times. Often times, I do indulge and then I end up hating myself for it afterward. And you know what that type of mindset does? It makes food the enemy. It makes you think about food as something that you have to restrict. It makes you feel even worse about yourself and your body.
Is that really how we want to live our lives? Constantly worrying about what we're eating and feeling bad the moment we indulge in something that isn't "good for us"? I know I don't.
But it's a constant struggle and a daily practice. And the solution that I have come up with is to create indulgences that I can feel good about eating. They taste decadent, but I also know that they're filled with ingredients that are nourishing my body.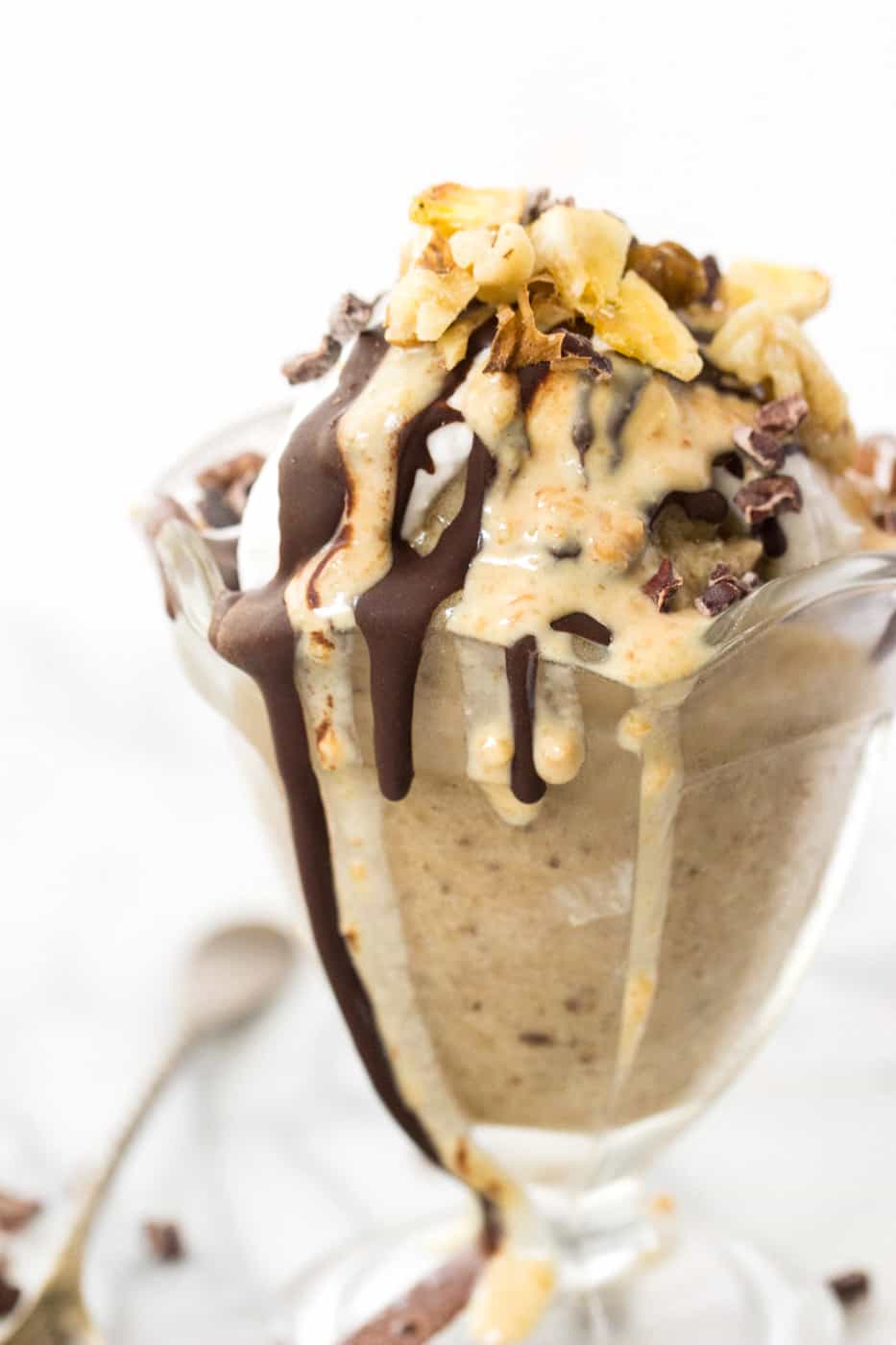 One of my favorites? This healthy banana ice cream sundae.
Everything that you love in a sundae without any of the junk. Really though, there's nothing bad in here!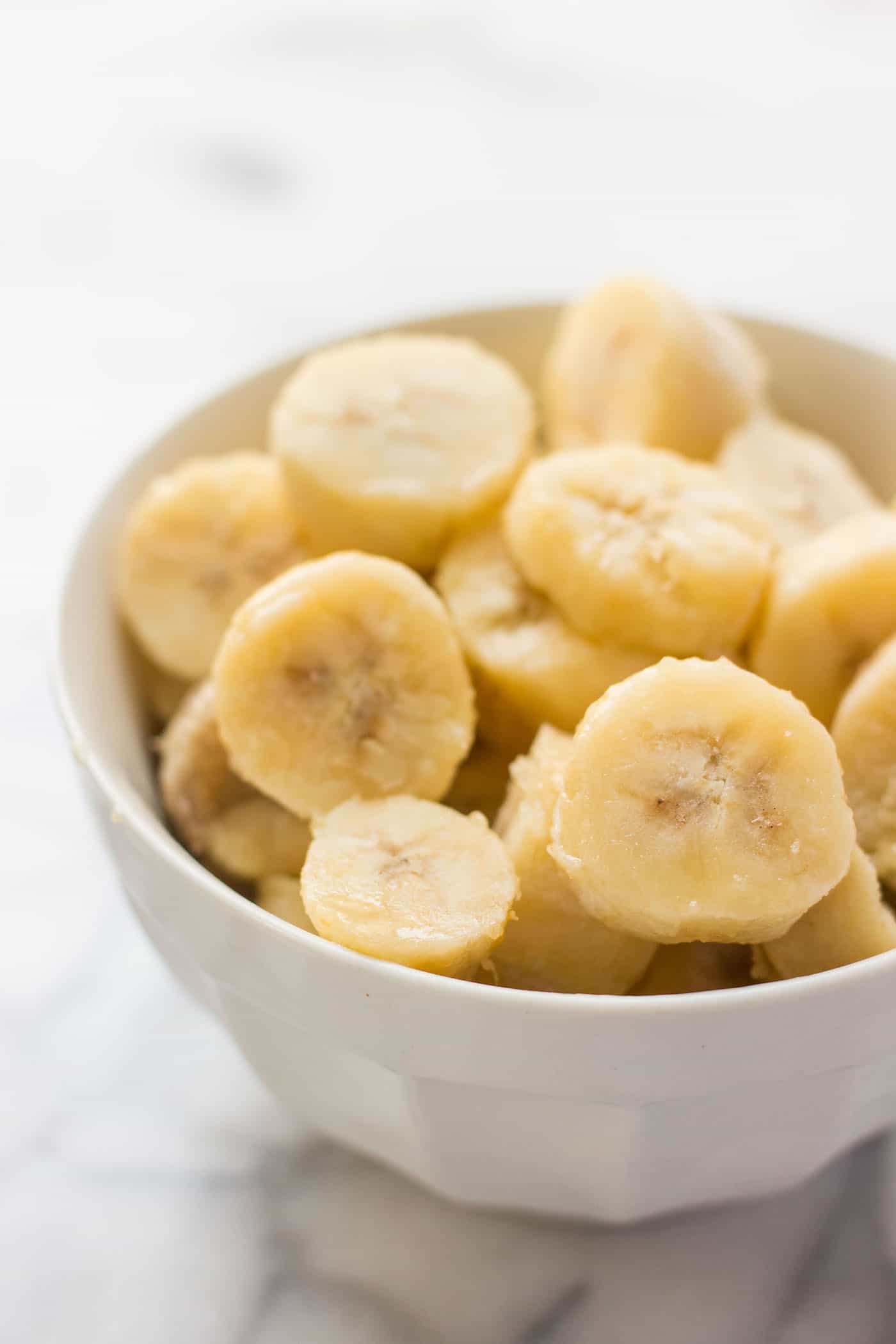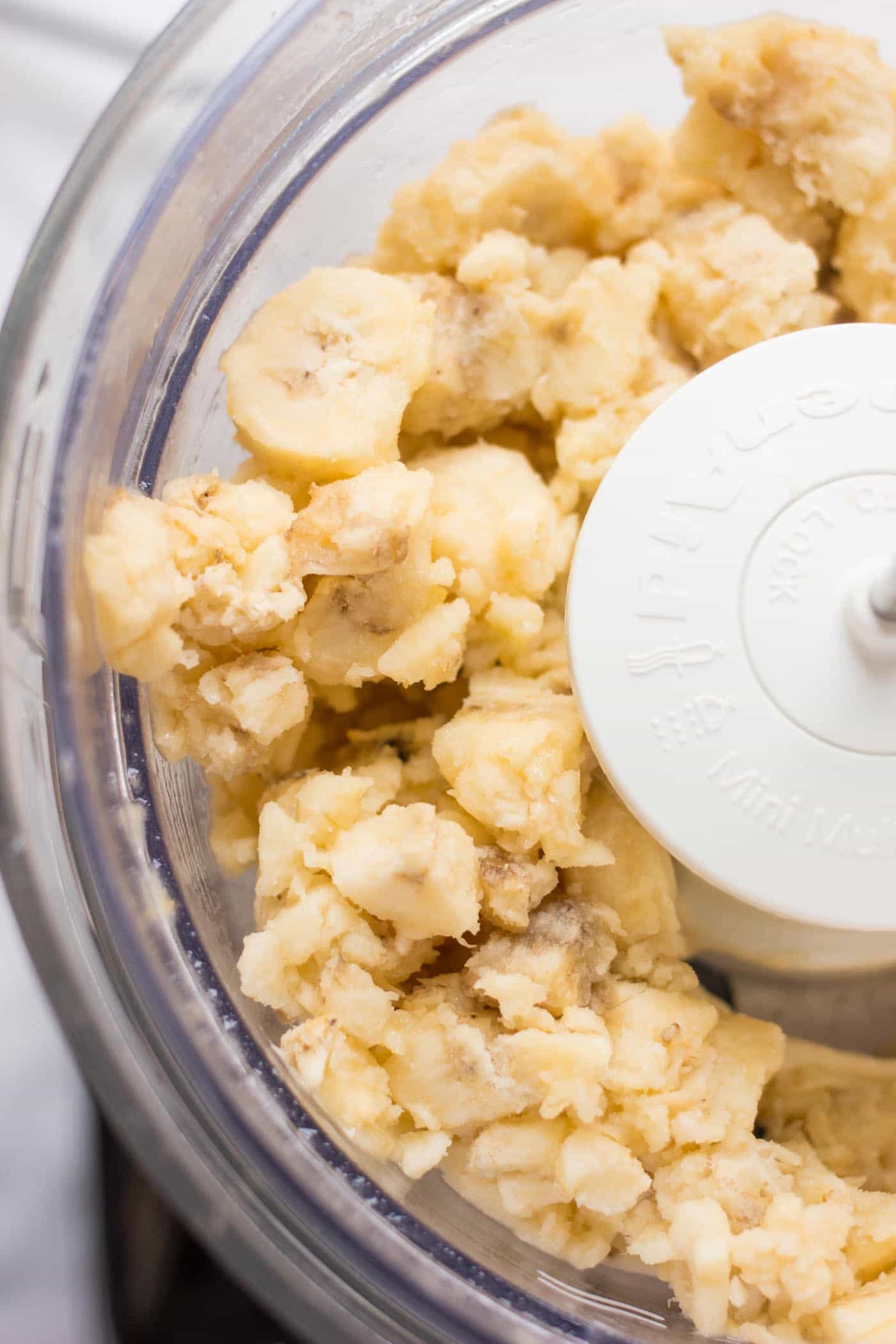 The base is a simple vanilla bean banana ice cream which is just frozen bananas blended up with some vanilla bean powder. It has the same texture as creamy ice cream, but it's 100% fruit. No sugar, no dairy, no fat. Nothing but goodness.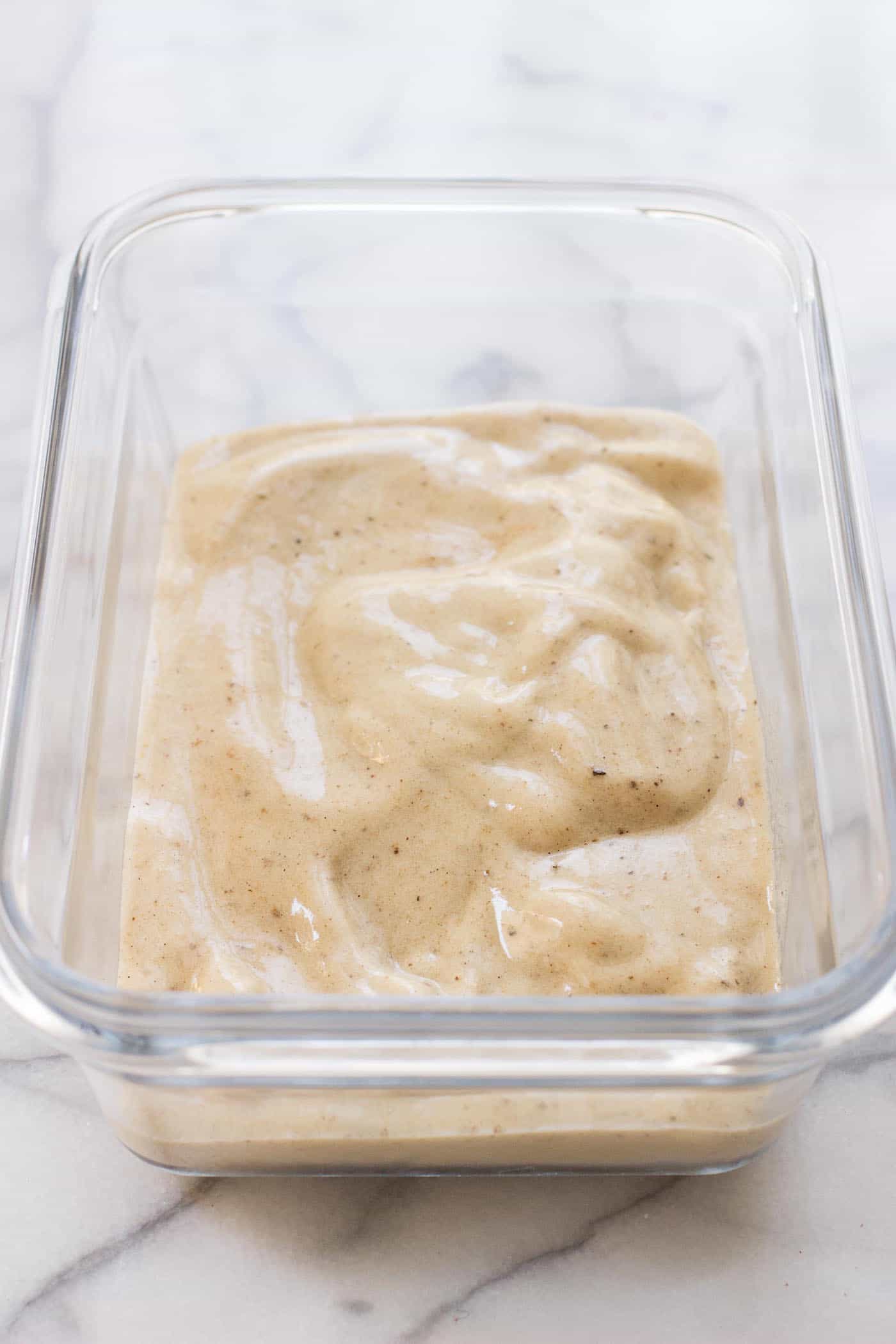 Then it's time for toppings.
I went all out with this one to show you that you can still enjoy some of your favorite treats without compromising your health in the process. Here we have a coconut whipped cream, a chocolate magic shell, and a creamy peanut butter sauce. Again without any sugar or dairy.
I like to think of these flavors as the ultimate combo: chunky monkey! (which you already know I love from my Chunky Monkey Quinoa Breakfast Cookies)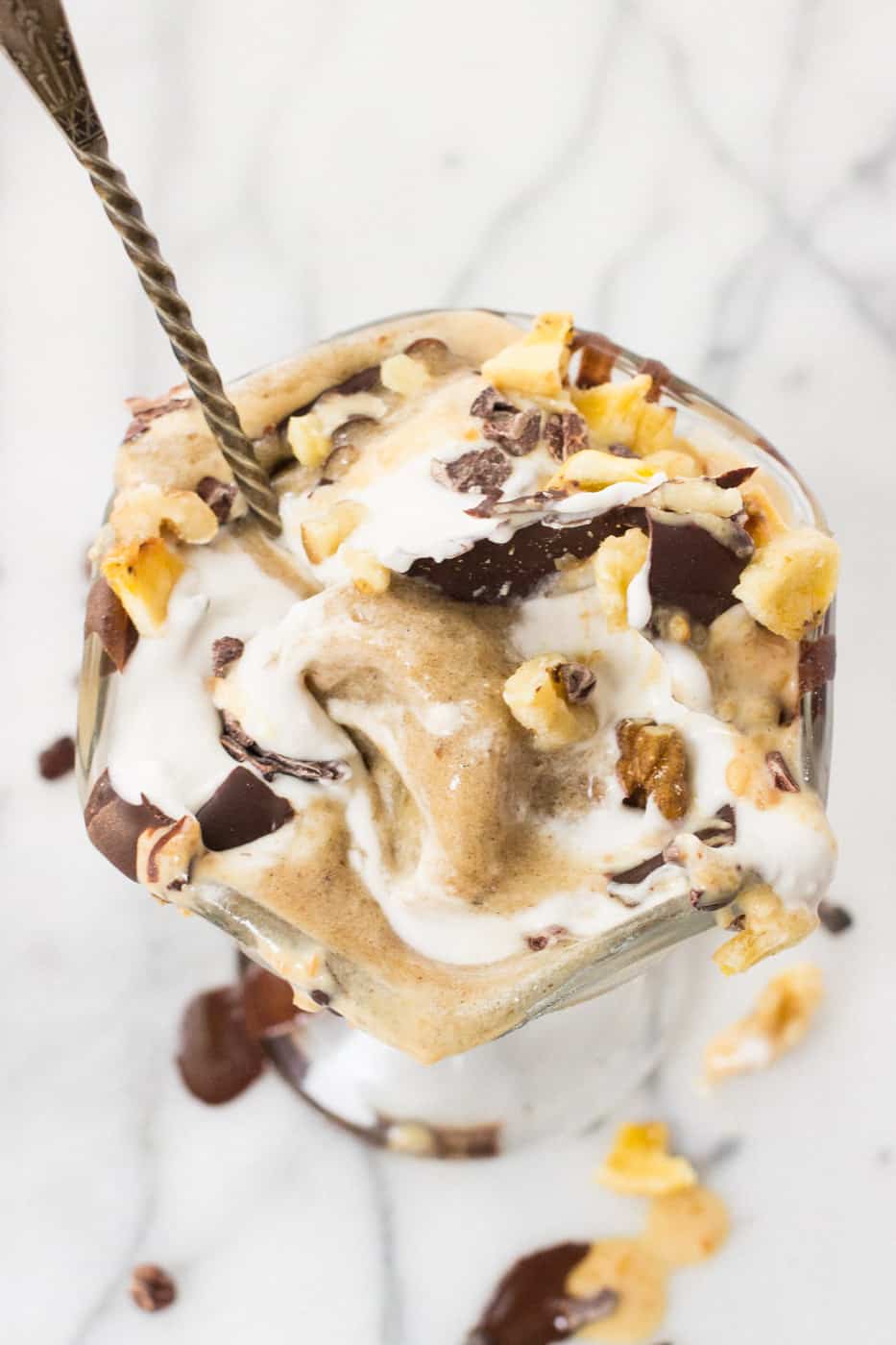 The whipped cream, which is made from full-fat coconut milk, is the most decadent part of this recipe as it's fairly high in fat and calorically dense. But a little goes a long way. You'll be able to save the extras for the next time you make this banana ice cream sundae 😉
The other two sauces are super simple. For the chocolate sauce, you'll just need raw cacao powder and coconut oil, and the peanut butter sauce is just peanut butter and water.
You could use maple syrup to make things a little sweeter, but I ended up using monk fruit extract which is a zero-calorie, all-natural sweetener (kind of like stevia but without the additives).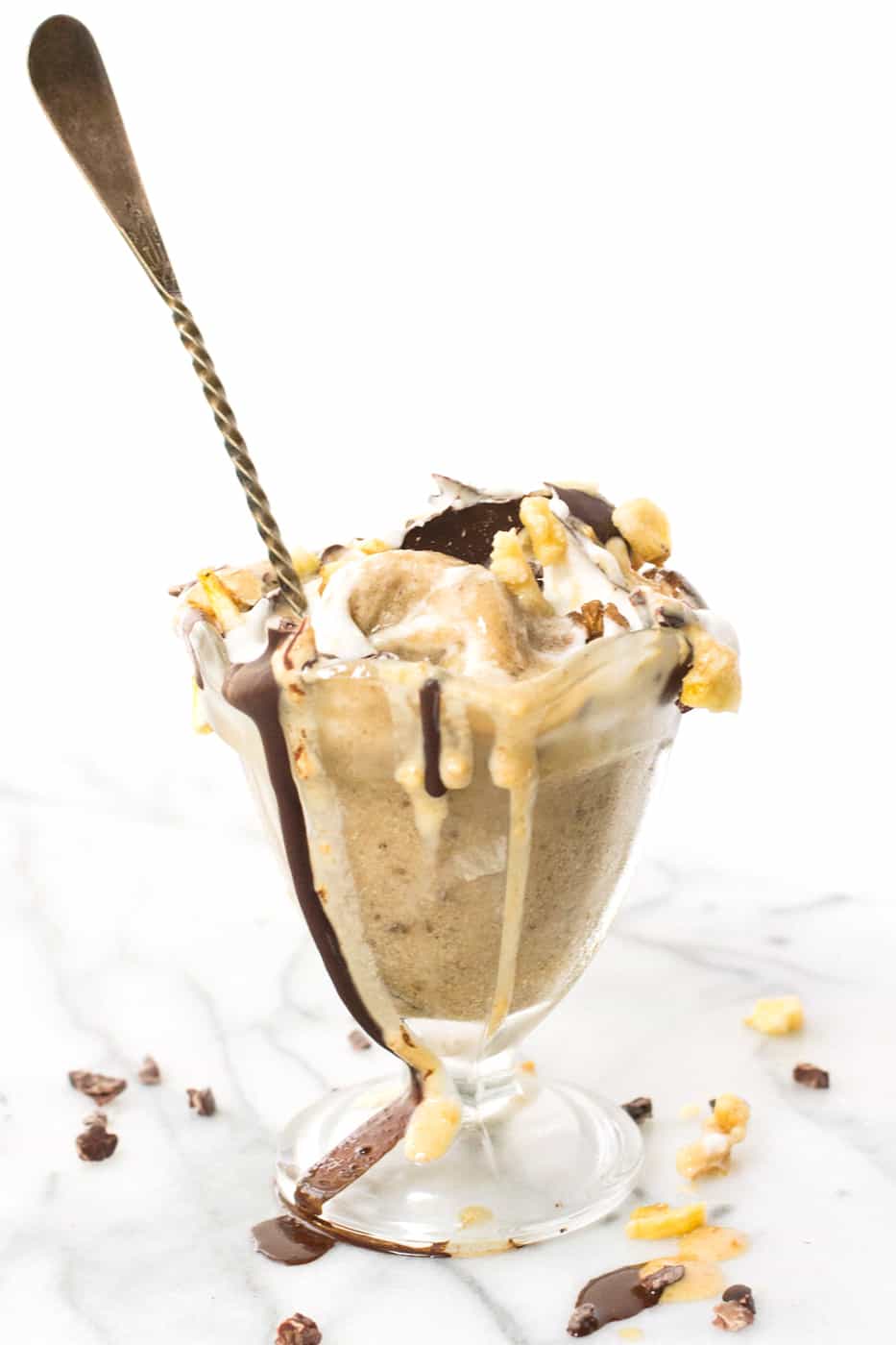 So there we go. A dreamy ice cream sundae that you can actually feel good about eating.
It's a step in the right direction; building a healthy relationship with food will, in turn, help you build a healthy relationship with your body and your mind. No need for deprivation or guilt, an indulgence that you know isn't going do anything except make you feel awesome.
Your turn…
Have you struggled with the idea of "guilt" around your eating habits? I'd love for you to share your thoughts below! I know that personally, it's a constant struggle and one that I'm still trying to manage. And if this is a topic that you would like me to write more about, let me know. I think we could all benefit to talk more openly about it!
xo Alyssa
More Homemade Healthy Dessert Recipes:
Banana Ice Cream Sundae
A healthy take on a favorite dessert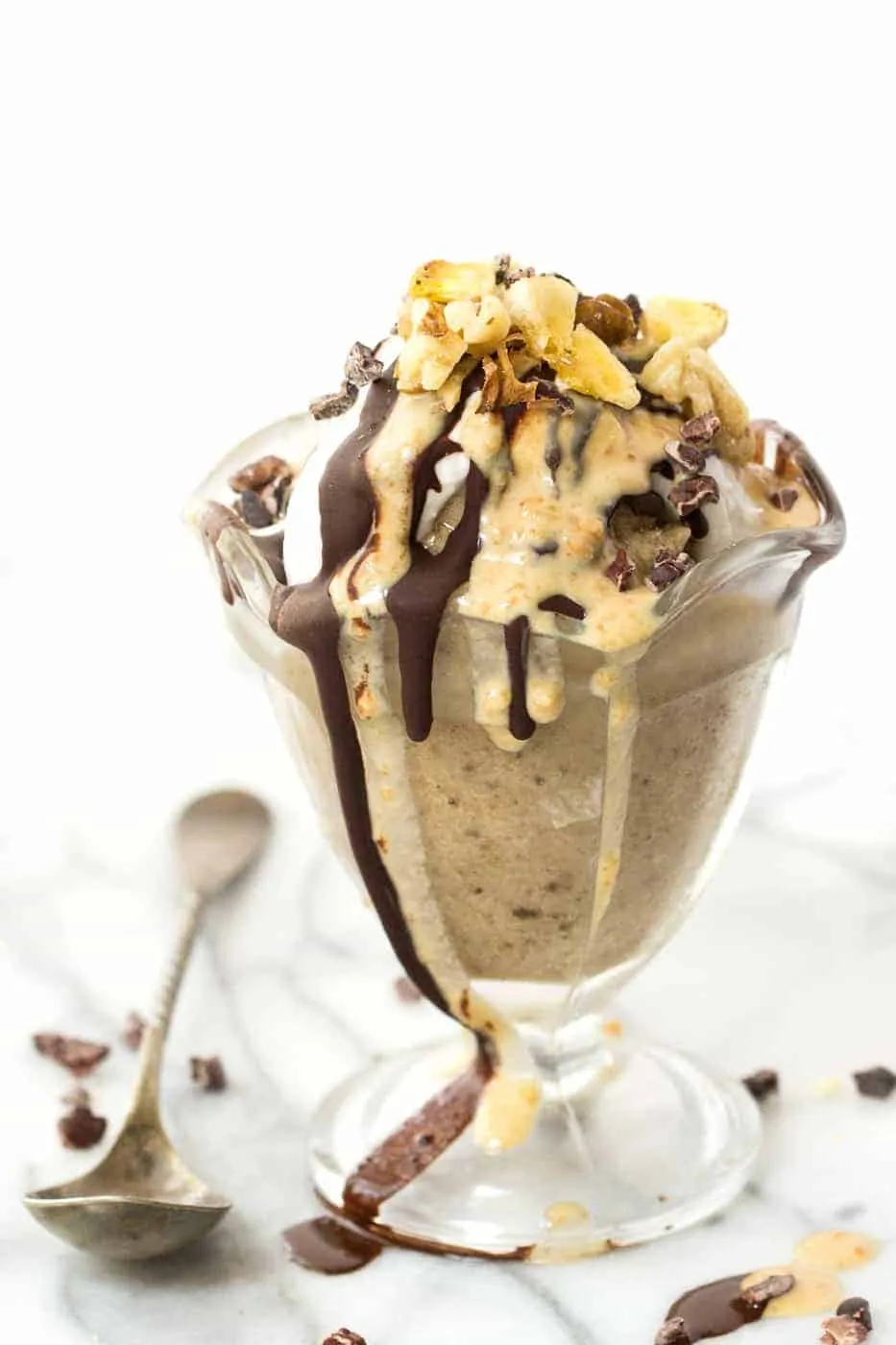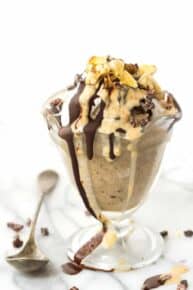 Instructions
For the ice cream: add the frozen banana to a food processor. Process on high until smooth and creamy, scraping down the sides as needed. Add vanilla and process until combined. Transfer to a freezer-safe container and freeze for at least 30 - 60 minutes.

For the coconut cream: remove the lid from the can then carefully scoop out the solid bit from the top into a bowl, leaving the coconut "water" in the bottom of the can. Using an electric mixer, beat the coconut cream until fluffy. Whip in the monk fruit extract (or syrup), taste and adjust sweetness if needed. Place in the fridge until ready to assemble the sundaes.

For the chocolate sauce: whisk together all the ingredients until smooth. Leave at room temperature so the coconut oil doesn't harden.

For the peanut butter sauce: stir together peanut butter and water until you get a "pourable" consistency. Again, store at room temperature until ready to serve.

To serve: Divide the banana ice cream among two sundae dishes. Top with a large dollop of whipped cream (you'll have leftover), a drizzle of both the chocolate and peanut butter sauce, and top with your desired toppings.

Dig in and enjoy!
Nutrition
Calories:
640
kcal
|
Carbohydrates:
78
g
|
Protein:
11
g
|
Fat:
61
g
|
Saturated Fat:
47
g
|
Sodium:
104
mg
|
Potassium:
1467
mg
|
Fiber:
8
g
|
Sugar:
42
g
|
Vitamin A:
145
IU
|
Vitamin C:
21.5
mg
|
Calcium:
82
mg
|
Iron:
8.1
mg
Filed Under:
Want more healthy dessert recipes?
Follow my board on Pinterest!