This delicious berry protein smoothie is the perfect way to start your day. Packed with vegetables, low sugar berries, healthy fats, and vegan plant protein milk!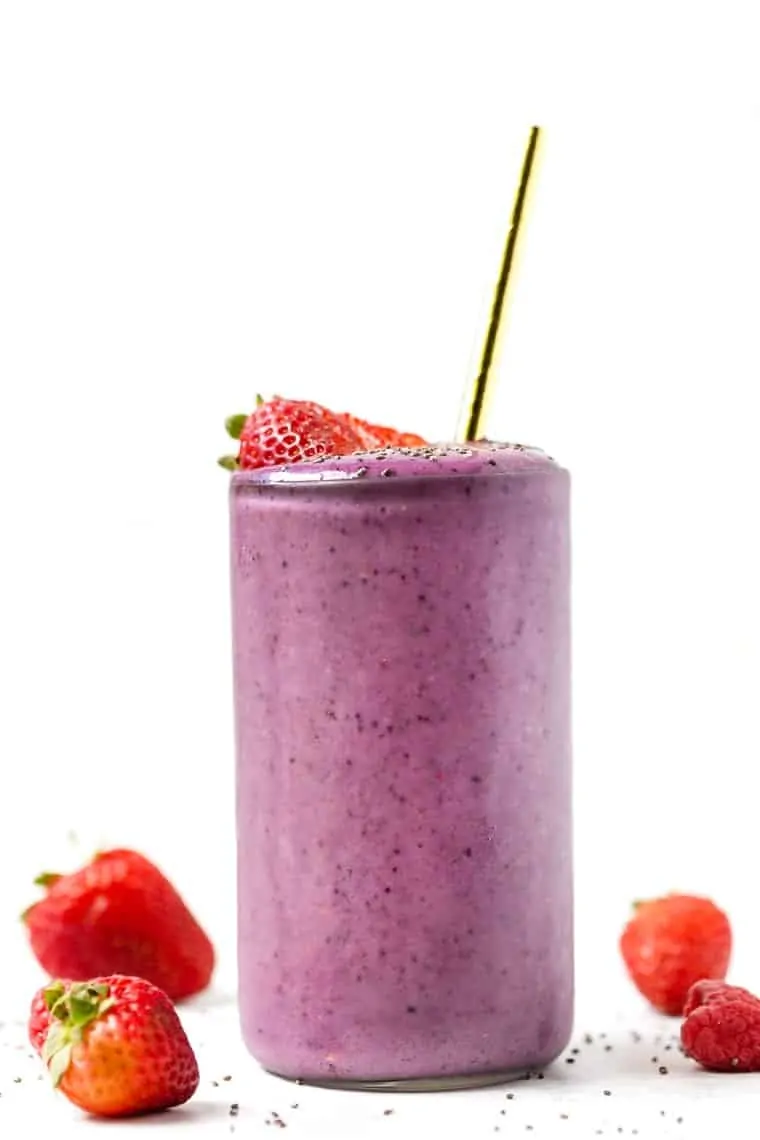 One of my favorite parts of my morning routine is my daily smoothie. Smoothies are such an easy way to pack in tons of nutrients right out of the gate.
When I make a smoothie I try to keep things balanced: high protein, low sugar, and some healthy fats. That way the smoothie becomes a real meal and I don't find myself reaching for a snack mid-morning.
This has been my latest obsession: a berry protein smoothie with tons of antioxidants made without any high sugar fruits.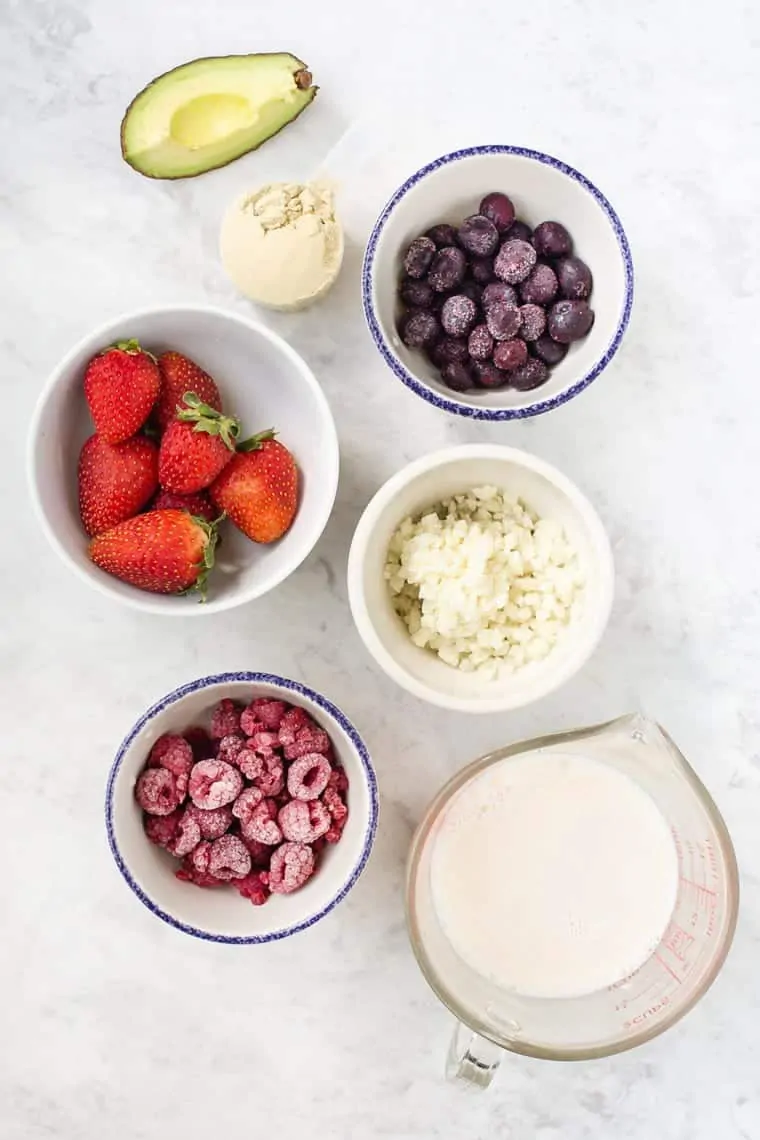 My Vegan Protein Smoothie Ingredients
If you've been following along for a while then you know I typically have greens in my smoothies. This one is the rare exception where I don't need greens because I'm getting in so many amazing vitamins and minerals from the ingredients we're using.
Here's what you'll find inside:
Frozen berries: we're using a blend of strawberries, raspberries & blueberries to add fiber, sweetness, antioxidants and add as many minerals as possible (each one has a different mix of vitamins)
Cauliflower rice: I love sneaking veggies into my diet wherever possible and frozen cauliflower is my (not so new) obsession. It makes smoothies so creamy without the need for banana. And you can't taste it at all!
Avocado: an amazing source of fiber and healthy fat, avocado is a great way to make your smoothie a lot more filling. Plus it makes it thick and creamy (which I love)
Vegan protein powder: I do supplement with protein powder in my morning shakes, but you could totally leave this one if you use the next ingredient ????
Bolthouse Farms® Plant Protein Milk: a new to me discovery, this unsweetened plant protein milk has 10g of protein per 8oz serving and is an awesome way to really amp up the protein content of your smoothie. It tastes awesome too and has a slightly thicker texture than other non-dairy milk so again, you get that creamy texture!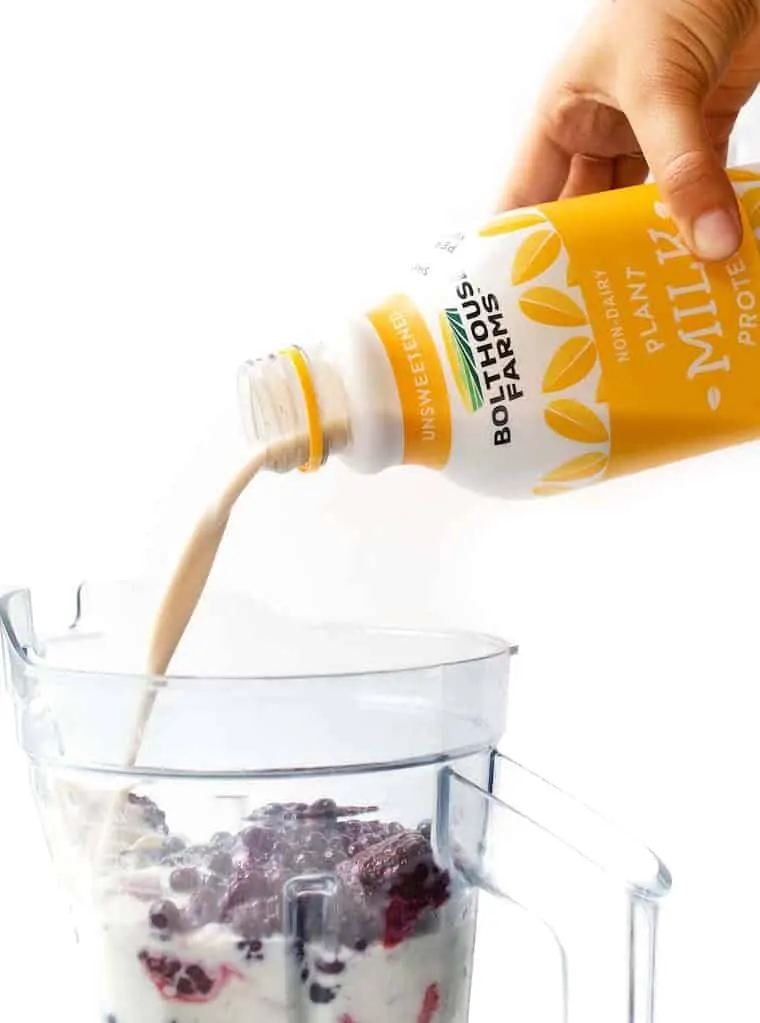 How To Add More Protein To Your Smoothie
Do you ever find that you have a smoothie in the morning and then a few hours later you're hungry again? This is likely due to the fact that your smoothie isn't balanced.
Most smoothies are fruit-based so they're high in sugar and full of carbs. Our body burns through carbohydrates the quickest and if we don't balance our meals out with healthy fats, fiber, and protein, we end up getting hungry.
My favorite way to bulk up my smoothies is to add protein. Protein keeps us full, is great if you're using your smoothie as a pre- or post-workout shake, but can also be a little tricky if you're plant-based.
Here are my favorite ways to add vegan protein to my smoothies:
hemp seeds: 3T = 10g
nut butter (especially peanut & almond): 1T = 4g
protein powder: 1 scoop = 10 – 20g
plant protein milk: 1 cup = 10g
I highly recommend finding Bolthouse Farms'® Plant Protein Milk at your local grocery store. Their unsweetened variety is made with pea protein, they're all non-GMO, vegan, gluten-free and delicious. They also have some flavored ones if you want to try!
And just for reference, I aim to get at least 15g of protein in each of my smoothies. So adding this milk is key! And guess what? They last me all morning long!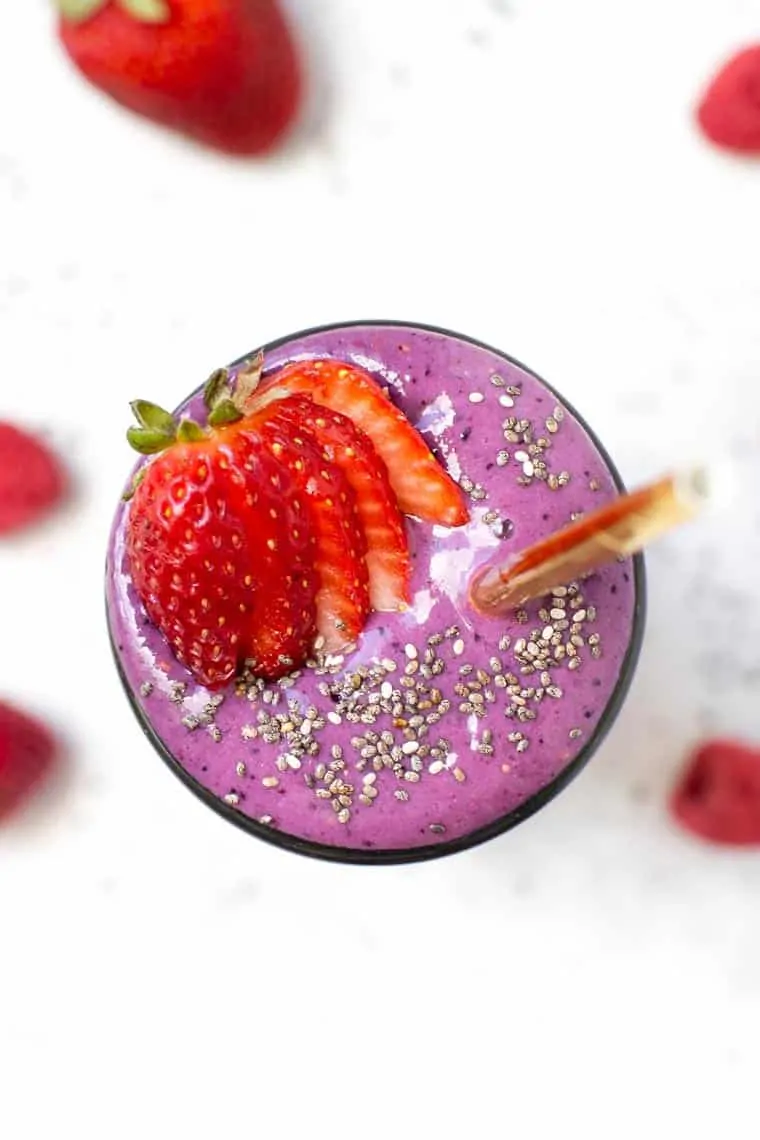 Quick & Easy Berry Protein Smoothie
I'm sure you know how to make a smoothie, but in case you find that your blender doesn't make it quite as smooth as you'd like, I do have some tips.
Start with your greens on the bottom, then do your frozen, then your powders, then any nuts/seeds/nut butter. Finish with the milk (or liquid). The frozen fruit will help push the greens towards the blades which will help them get more blended up. I also recommend giving the contents inside your blender a stir or two if it's not blending up. Just be careful to have it turned off!
And one final thing to leave you with: you can totally make smoothies ahead of time! Either make this the night before and keep it in a sealed mason jar in the fridge, or you can freeze it for later. Smoothies are 100% meal prep friendly! And again, they're an absolutely amazing way to pack your diet with nutrients and start your day on the right foot!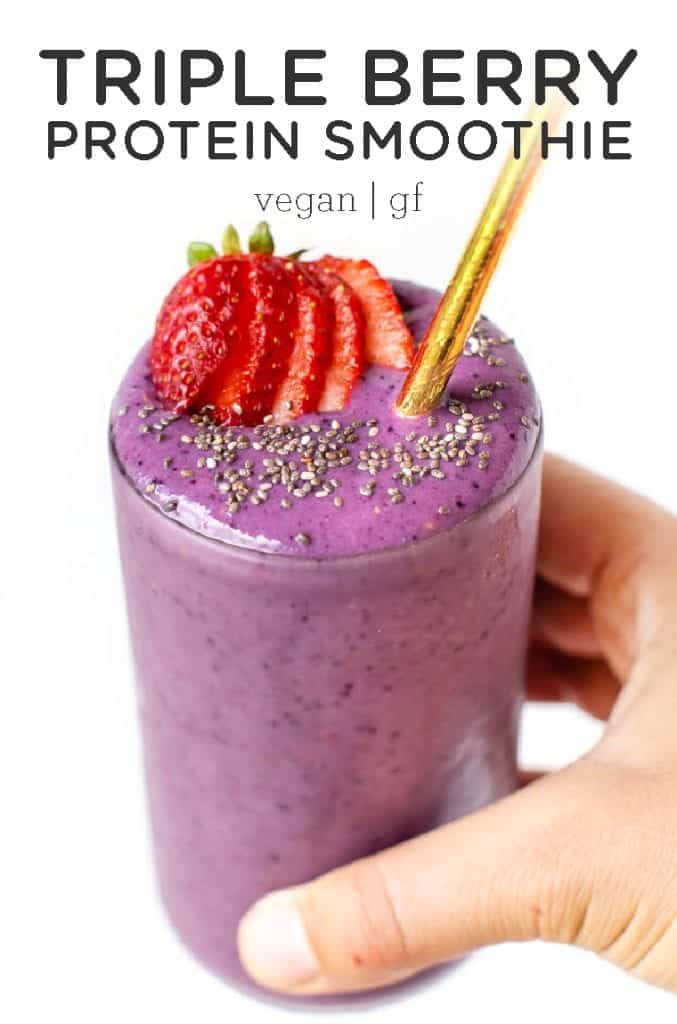 More Healthy Vegan Smoothies to try:
Vegan Triple Berry Protein Smoothie
This delicious berry protein smoothie is the perfect way to start your day. Packed with vegetables, low sugar berries, healthy fats, and vegan protein!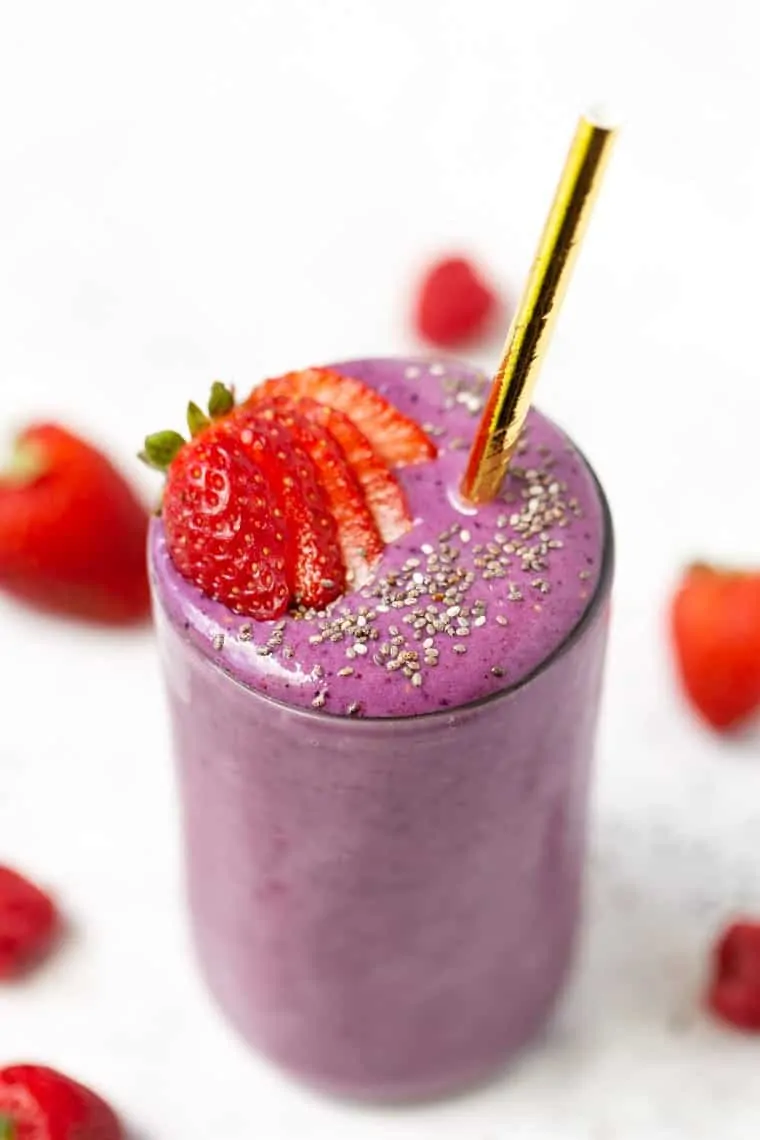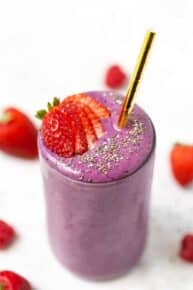 Ingredients
1/2

cup

frozen cauliflower rice

1/2

cup

frozen strawberries

1/4

cup

frozen raspberries

1/4

cup

frozen blueberries

1/4

of an avocado
Instructions
Add all the ingredients into a blender and blend on high until smooth and creamy.

Pour the smoothie into a glass and enjoy! (optional: sprinkle with some hemp seeds and granola for extra protein!)
Nutrition
Calories:
346
kcal
|
Carbohydrates:
30
g
|
Protein:
18
g
|
Fat:
21
g
|
Saturated Fat:
4
g
|
Cholesterol:
1
mg
|
Sodium:
315
mg
|
Potassium:
744
mg
|
Fiber:
11
g
|
Sugar:
12
g
|
Vitamin A:
790
IU
|
Vitamin C:
38.9
mg
|
Calcium:
281
mg
|
Iron:
7.1
mg
Filed Under: