Start your day with this refreshing raspberry smoothie. It's packed full of nutritious ingredients like fiber, protein, fat and is naturally sweetened too.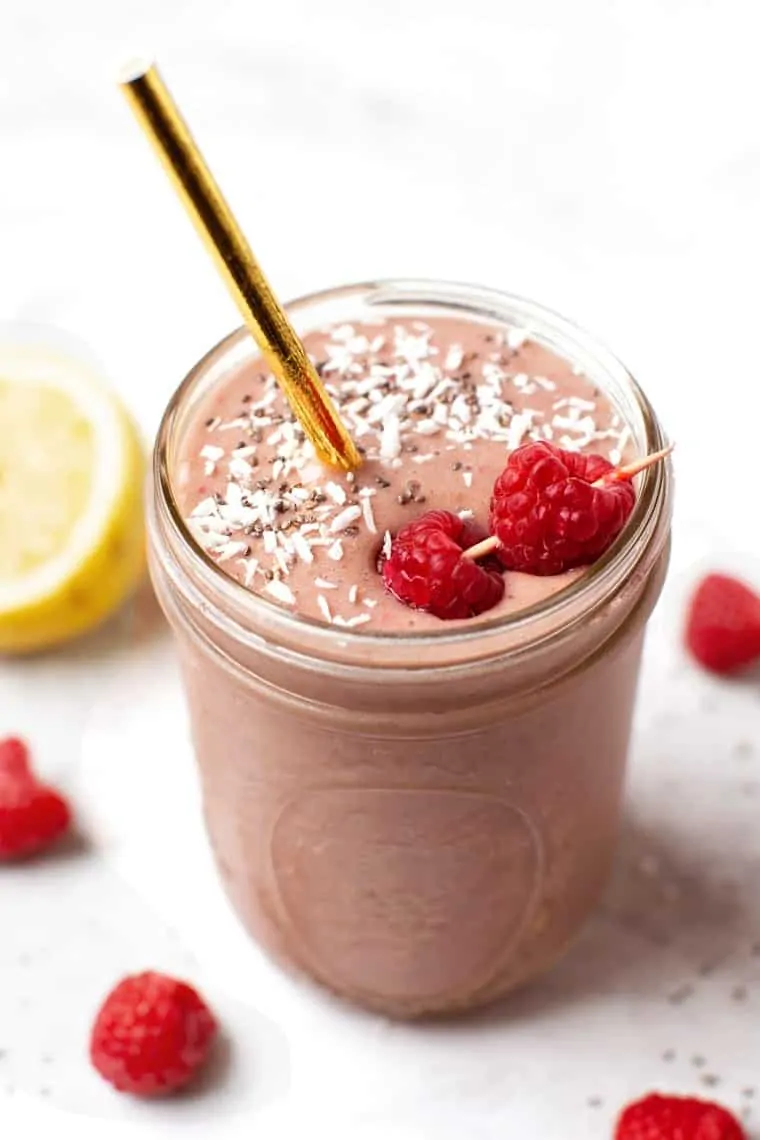 This refreshing raspberry smoothie has become a staple in my morning smoothie rotation.
It's funny because I used to be all about green smoothies – packing as many vegetables as I could into that blender and basically telling myself I was eating a salad for breakfast. While I still love my green smoothies, lately I've been finding myself making smoothies with a fruity base and little (to no…) greens.
And you know what? That's okay!
Instead of forcing myself to drink the same green smoothie every single day, I'd rather change things up and mix in this raspberry smoothie – or even a mango smoothie – from time to time to keep my taste buds guessing and my mornings interesting.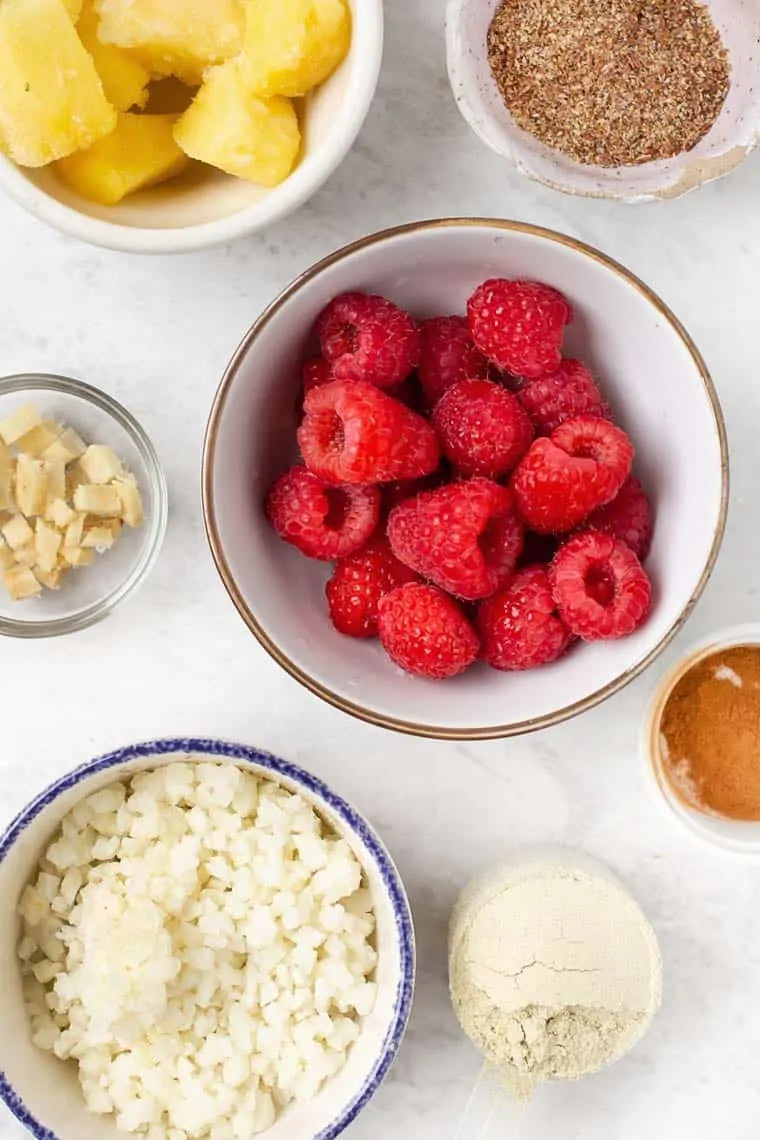 Healthy Raspberry Smoothie Ingredients
Let's talk about this smoothie for a second. It's seriously delicious and it's seriously simple.
We're starting with frozen cauliflower rice which helps us reduce the sugar and adds an incredibly creamy texture to the smoothie. Then raspberries which are packed with fiber and antioxidants (and are an amazing color!). Our final fruit is pineapple which adds brightness and sweetness at the same time.
For our add-ins, we're using vegan vanilla protein powder, fresh ginger for some zing and a little cinnamon to round it all out.
It's sweet, it's creamy, it's filling and it's refreshing. It's the kind of smoothie that I can picture drinking next to a pool or on the beach on a tropical island somewhere. And it's hydrating, healthy and oh-so summery!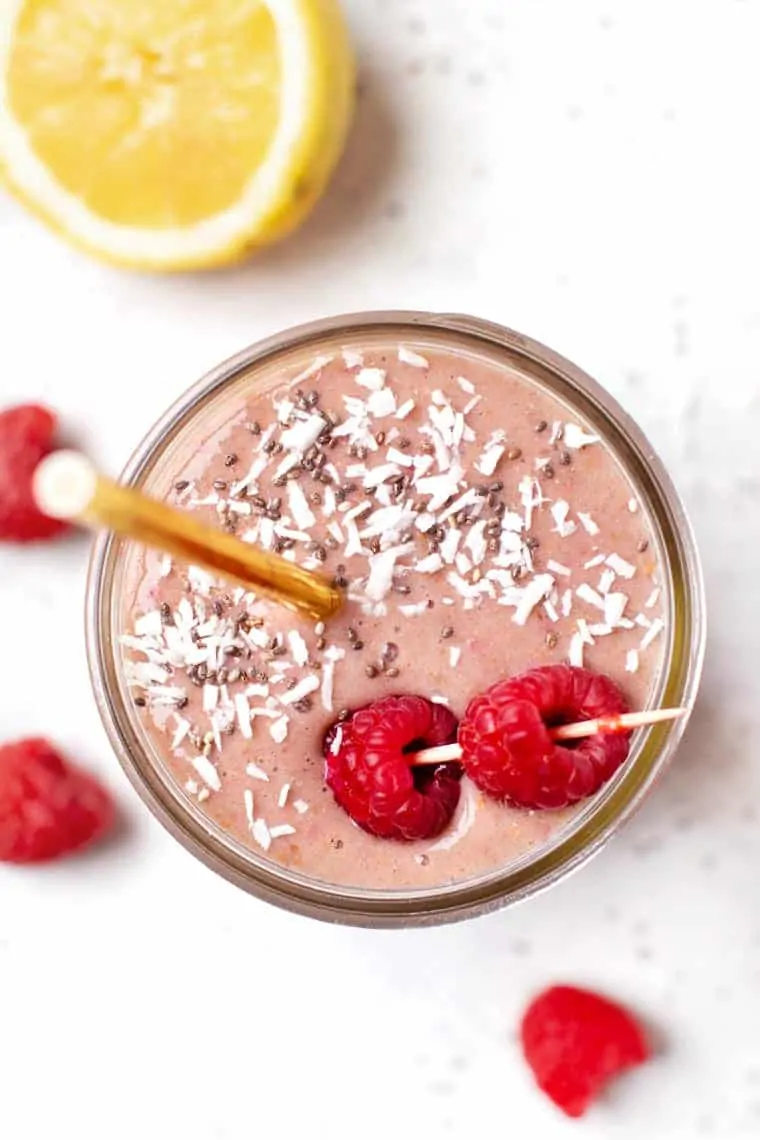 How to Make this Raspberry Smoothie
All you need to make this refreshing raspberry smoothie is a high powered blender. I know they are a big investment, but I honestly think a blender is the best investment you can make in your kitchen.
I started my high powered blender journey with a BlendTec (which I loved), but I have since upgraded to a Vitamix and I love it even more. So sleek, so powerful and I literally use mine at least twice per day. I just love it!
So to make this smoothie, we're going to just add all our ingredients directly into the blender. I start with the frozen stuff (cauliflower, raspberry, pineapple), then add my add-ins, finish with the liquid and call it a day. It blends up super quickly, has the most glorious texture and tastes like sunshine in a glass!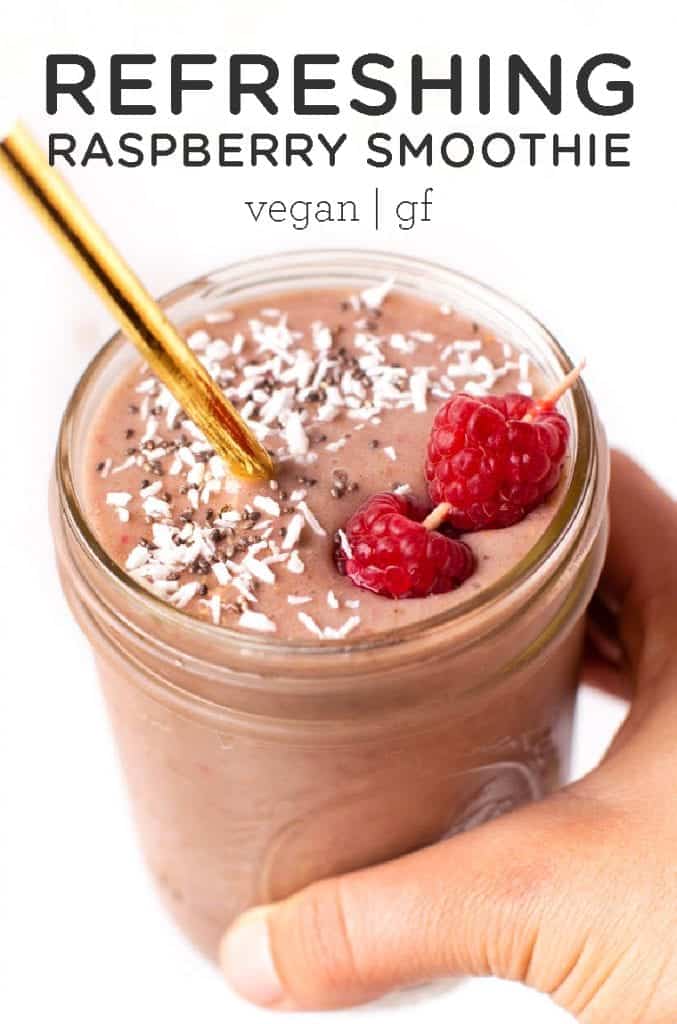 More Healthy Smoothie Recipes To Try:
Refreshing Raspberry Smoothie
This Refreshing Raspberry Smoothie recipe is packed with nutrients and tastes like summer. It's loaded with fiber, protein, and antioxidants and is the perfect easy vegan breakfast! Great for kids too.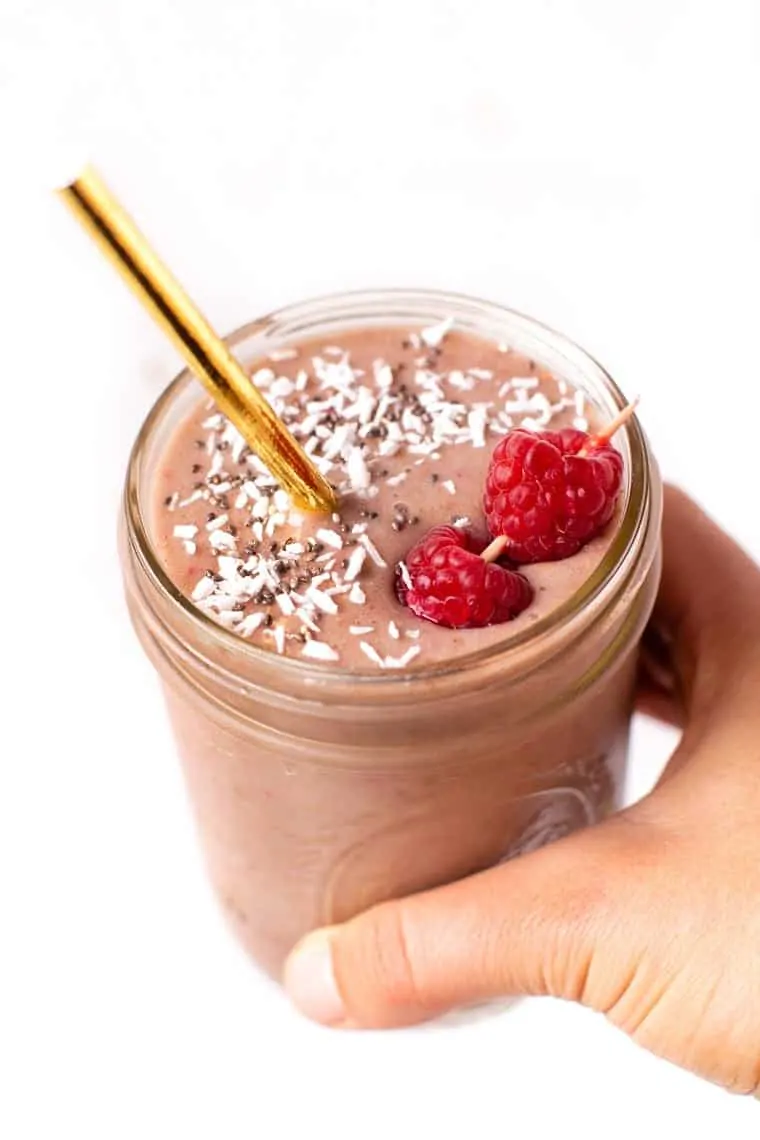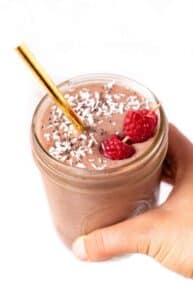 Instructions
Add all the ingredients to a blender in the order listed. Blend on high until smooth and creamy.

If a thicker consistency is desired, add a few ice cubes and blend again until smooth. Pour into glasses and serve immediately.
Nutrition
Serving:
1
g
|
Calories:
167
kcal
|
Carbohydrates:
21
g
|
Protein:
13
g
|
Fat:
5
g
|
Saturated Fat:
1
g
|
Cholesterol:
31
mg
|
Sodium:
227
mg
|
Potassium:
465
mg
|
Fiber:
7
g
|
Sugar:
9
g
|
Vitamin C:
74
mg
|
Calcium:
274
mg
|
Iron:
1
mg
Filed Under: