This is the best post workout smoothie for recovery, filled with energy boosting fruit, berries, vegan protein, and maca powder, to help you recover faster!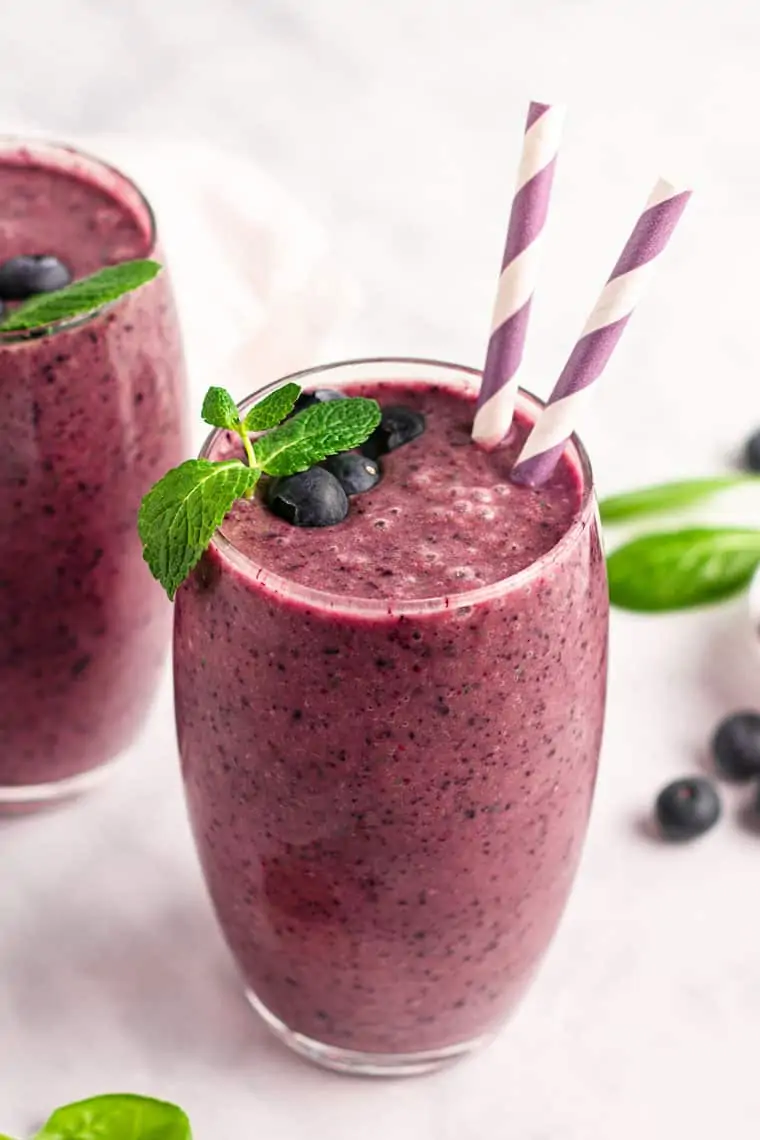 The importance of movement is something I talk about frequently on my platforms. I'm someone that tries to move my body every single day and find that when I do, my mind is more clear, I have more energy, and I just generally feel happier.
Sometimes that movement is just walking my pup. Other times, it's a more intense workout. On the days that I do have a more intense training session – maybe a spin class, at home strength workout, or a pvolve class – I make it a priority to help my body properly recover.
That can mean rest, but it also means fueling. Fueling properly post-workout to ensure you recover and don't feel wiped out. My favorite post-workout meal? This amazing post workout smoothie!! It's high in protein, energizing, delicious, packed with fiber and couldn't be easier to make.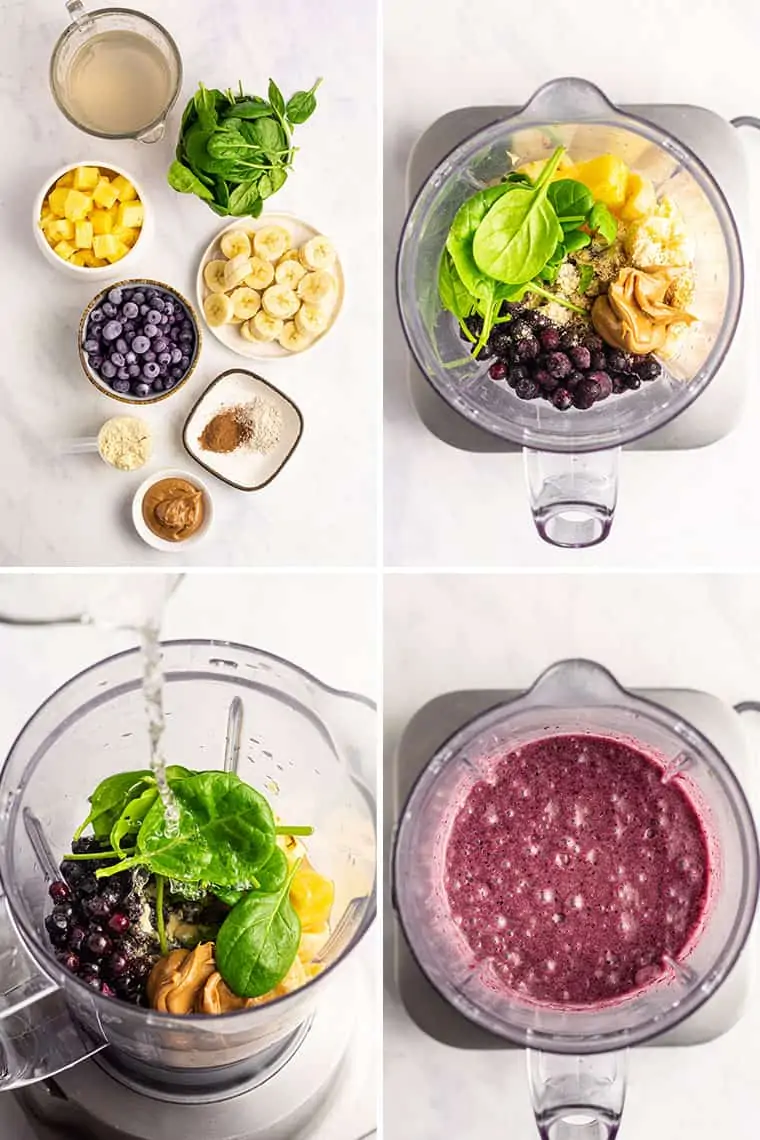 How to Make the Best Post Workout Smoothie
This smoothie is PACKED with ingredients that your body needs after a hard workout. And just like any smoothie, all you need to do is dump your ingredients in your blender and blend until smooth!
But what really makes this the best post workout smoothie is the ingredients. I curated them to give you as much nutrition as possible for your body after a hard workout.
1. Raw Coconut Water
Rather than using a nut-milk or water as the base for this smoothie, I opted for raw coconut water. Coconut water has lots of electrolytes as well as being high in potassium, so it's a great drink for after your workout. One word of caution: you've got to buy raw. Most coconut waters have been "pasteurized" or cooked a really high temperature which basically just kills any of the good nutrients that are inside. My favorite brand is Harmless Harvest – it tastes like you're drinking it straight from a coconut!
2. Banana + Pineapple
Both of these fruits are fairly high in "good" carbs, and also give your body a good dose of potassium. They not only help give the smoothie some sweetness, but they also help you recover from your workout.
3. Blueberries
We all know that blueberries are high in antioxidants which can really help speed up your recovery after your workout.
4. Raw, Vegan Protein
I know that protein powders can be a sticky subject for a lot of people and this is completely optional in this smoothie. When I'm looking at a protein powder, there are few things I make sure it has. It needs to be raw, vegan, organic and without added sugars. The one I used today is from Garden of Life, but I also like hemp protein as an alternative.
5. Spinach
It wouldn't be an SQ smoothie without some spinach! Spinach is packed with nutrients like fiber, protein, iron, zinc and more. It's also pretty much tasteless, so throwing a handful will go unnoticed! Plus this post workout smoothie is a glorious purple color, so it's just a sneaky way to add more greens into your diet without even knowing it's there!
6. Maca
The last ingredient I want to highlight is maca. Maca is an ancient superfood from Peru that has been used for hundreds (if not thousands) of years to provide energy. It also has a naturally sweet and caramel flavor which goes perfectly with our smoothie.
This smoothie really does have it all!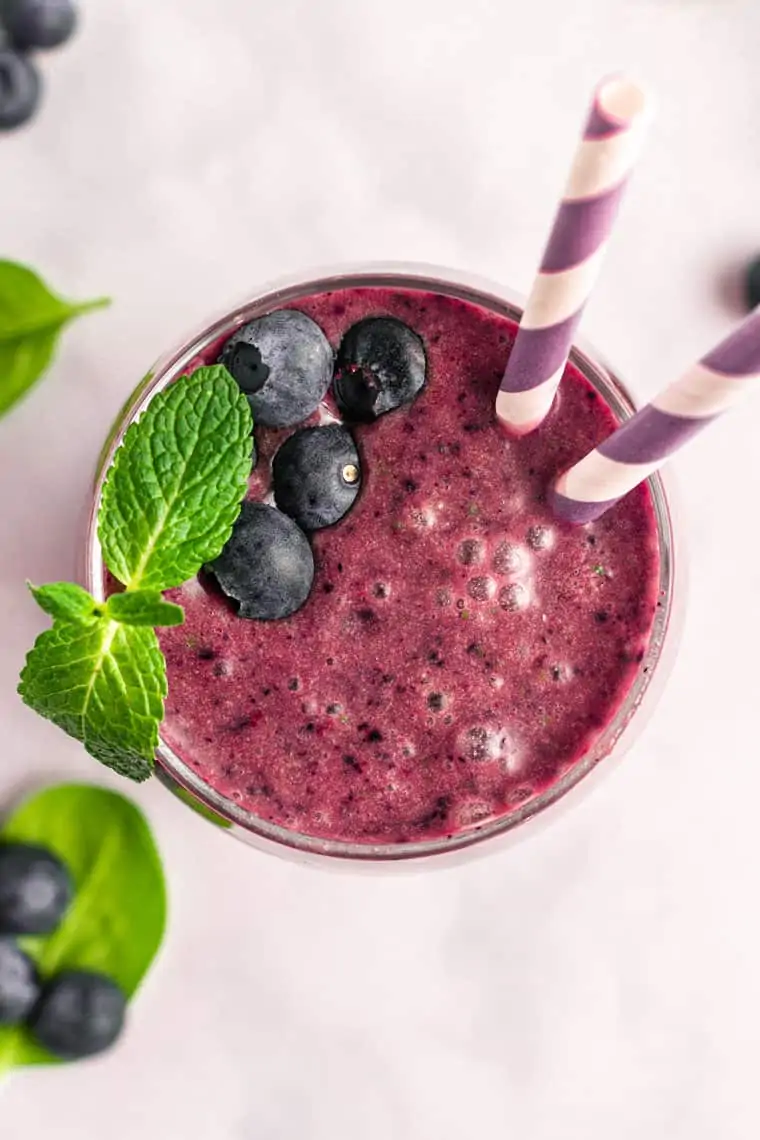 What is Maca?
Maca is a plant found in the high altitudes of Peru and Bolivia, used by indigenous Andean societies for its superfood qualities. It's a powder is made from the root of the plant and is known to nourish the body's endocrine system and help us cope with stress. Maca also energizes naturally, without the side effects that you get from caffeine, as well as supporting hormone balance in women and reproductive health.
I like using maca for the flavor, and I love that I feel more alert and energized after consuming it. So adding it to your smoothie? A simple way to boost your smoothie and energy at the same time!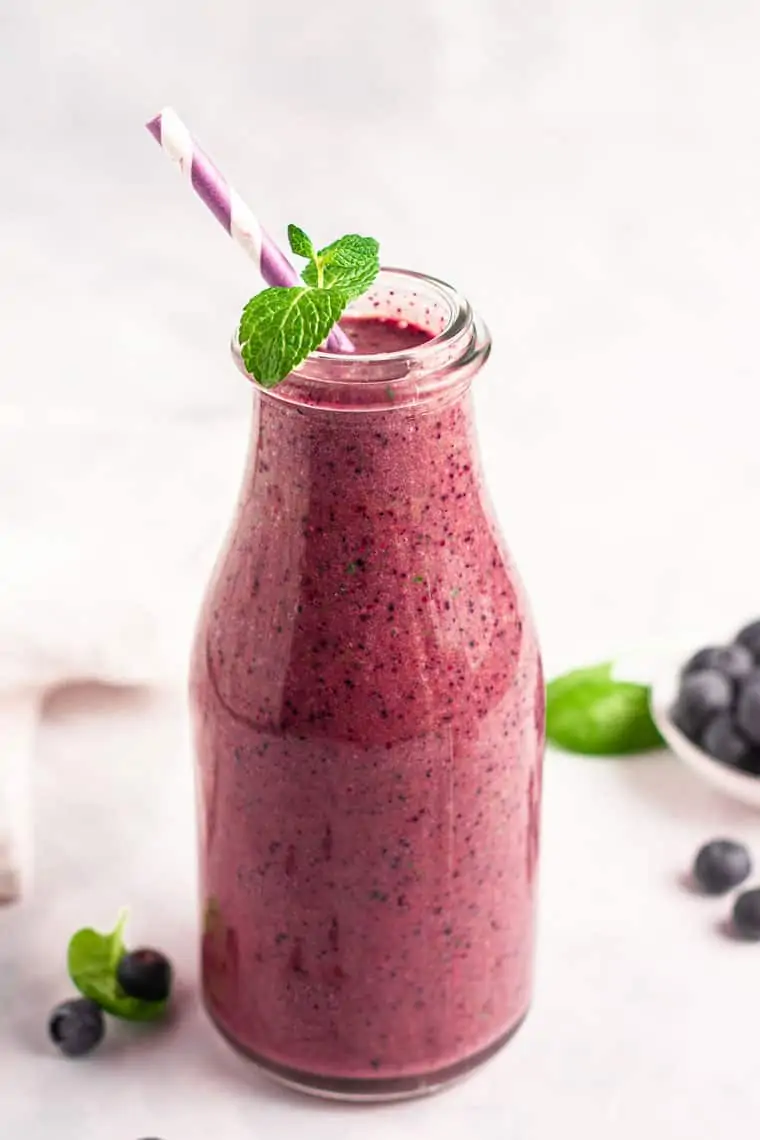 Ingredient Substitutions & Swaps
I know there might be some ingredients you want to change, so if you do want to make some swaps, here's what I would suggest:
Coconut water: you can use whichever liquid you want, just know this will reduce the post-workout benefits of it!
Banana: mango or more pineapple will work!
Pineapple: mango or banana can be used instead
Blueberries: any type of berry works well
Protein: either swap with another powder or use 3 tablespoons of hemp seeds instead
Maca: you can leave it out if you don't have access or try a little bit of matcha powder!
And that's pretty much it! This is honestly my go-to post workout smoothie recipe and I can't wait for you to try it. Happy sweating and happy recovering!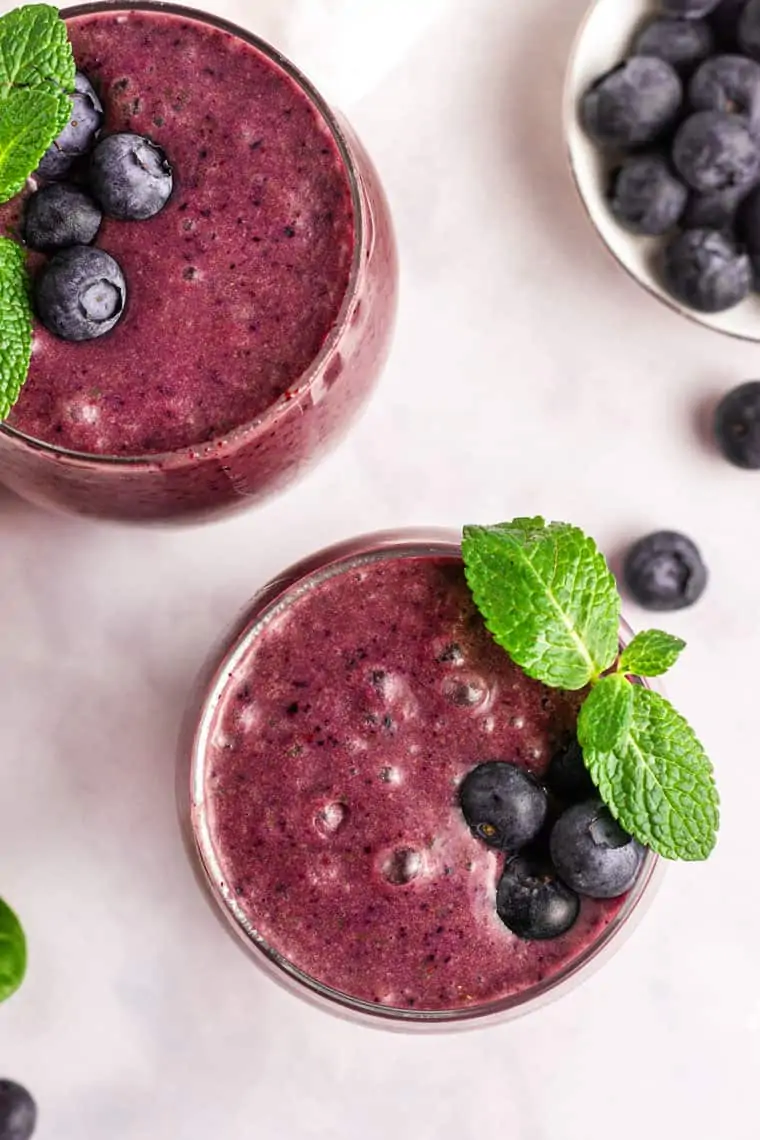 More Healthy Vegan Smoothie Recipes:
The Ultimate Post-Workout Smoothie
This is the best post workout smoothie for recovery, filled with energy boosting fruit, berries, vegan protein, and maca powder, to help you recover faster!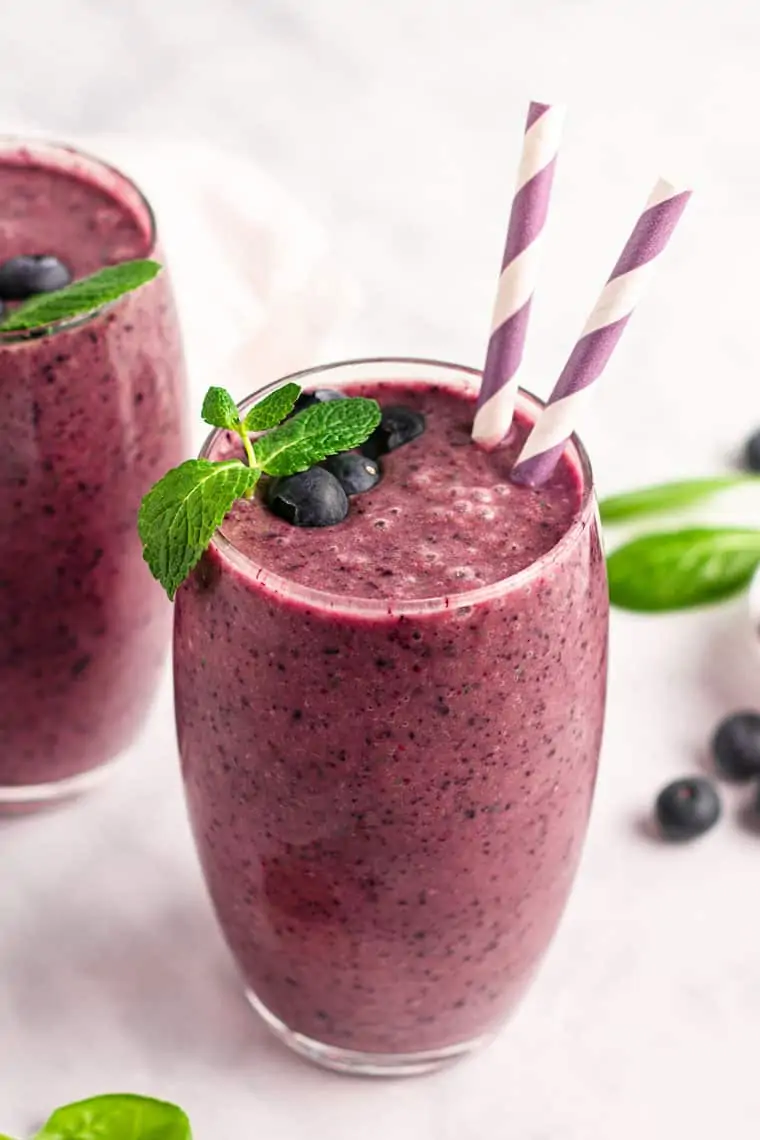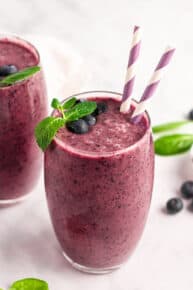 Instructions
Add all ingredients to a blender in the order listed. Blend on high until smooth and creamy.

Pour into a glass and enjoy!
Nutrition
Calories:
284
kcal
|
Carbohydrates:
66
g
|
Protein:
6
g
|
Fat:
2
g
|
Sodium:
206
mg
|
Potassium:
1182
mg
|
Fiber:
10
g
|
Sugar:
35
g
|
Vitamin A:
1480
IU
|
Vitamin C:
65.4
mg
|
Calcium:
69
mg
|
Iron:
2.4
mg
Filed Under: