This delicious triple berry smoothie bowl is the ultimate way to start your day. Vegan, low in sugar, banana-free and packed with protein and healthy fats!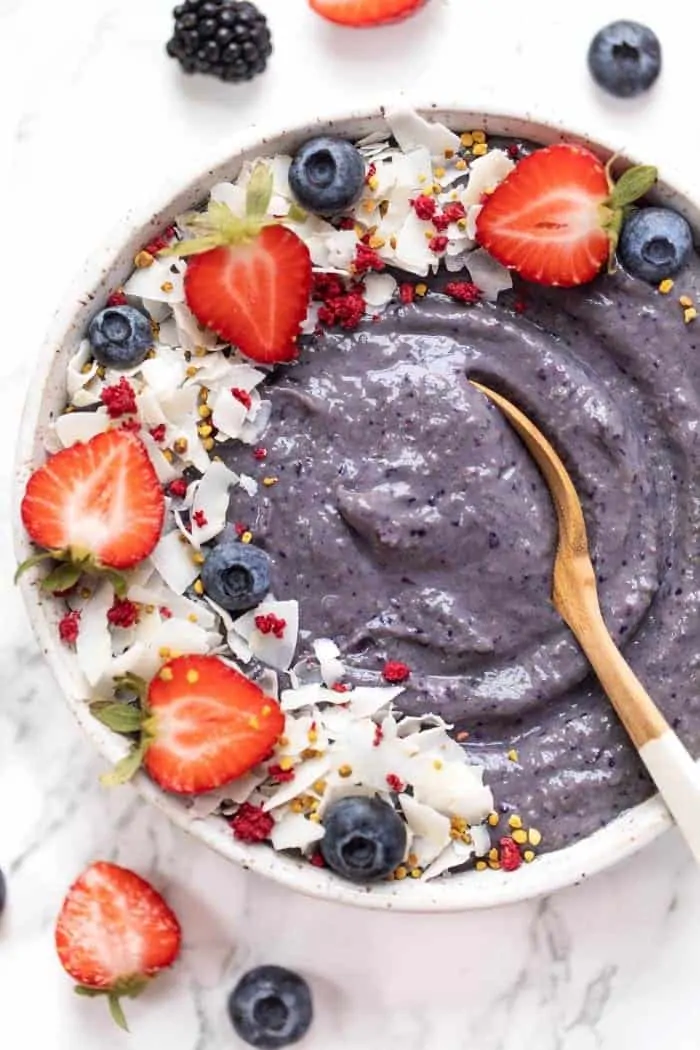 My love for smoothie bowls is nothing new. I've been raving about them for years and I pretty much have one every single day.
But in the last few months, I've found my favorite combination. A combination that I come back to over and over again. A combination that is nourishing, simple, just sweet enough and with the most velvety smooth texture.
This triple berry smoothie bowl is truly the best way to start your day!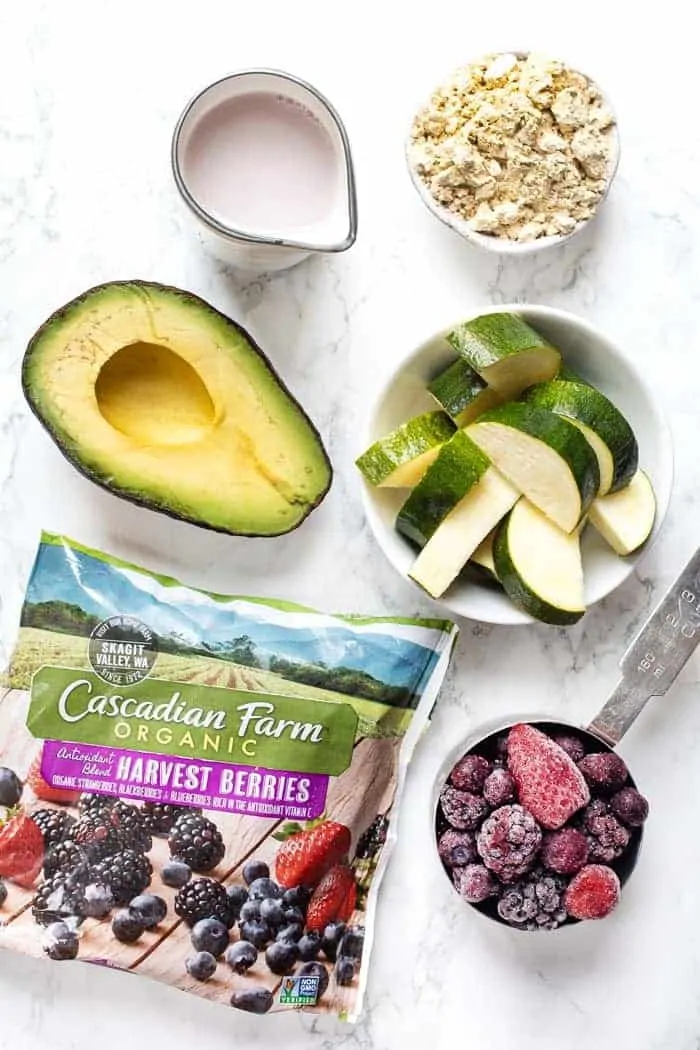 Inside our Our Triple Berry Smoothie Bowl
The first thing we need to talk about is the ingredients. I've personally been making low sugar smoothie for the past few months and I'm obsessed. I used to think you needed to add tons of banana to get that ice cream like texture, but I've figured out you can still have a delicious smoothie bowl without using ANY high sugar fruits!
Here's what's inside our bowl:
Fresh zucchini
Avocado
Protein (either powder or hemp seeds)
and coconut water/almond milk
It's truly that simple and it's seriously the BEST combination!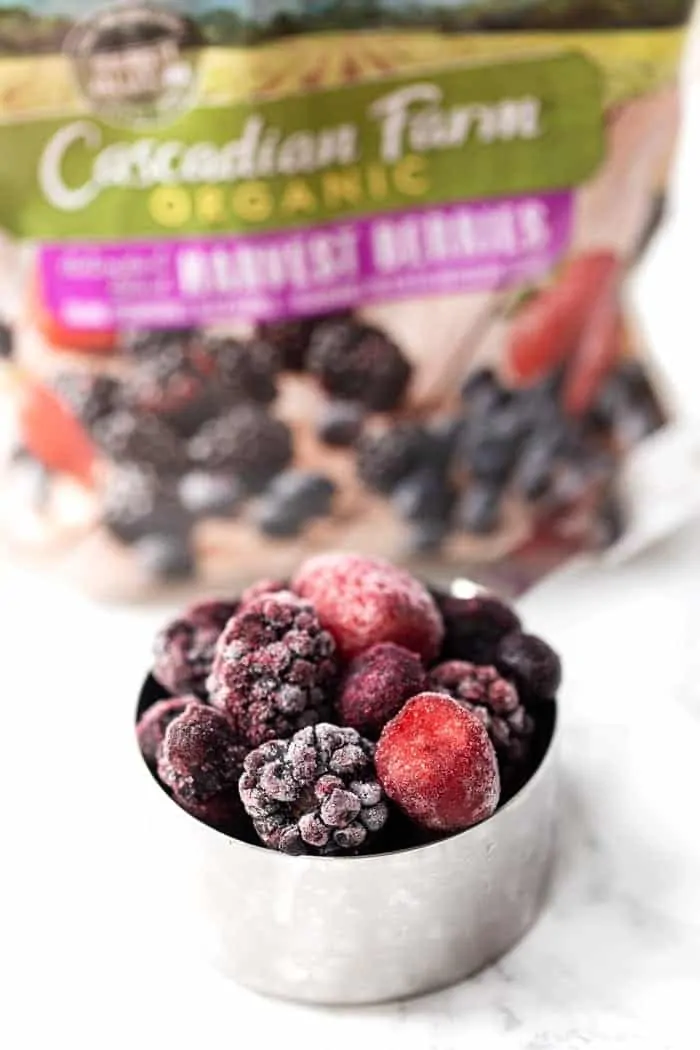 How to make the Perfect Smoothie Bowl
There trick to a perfect smoothie bowl is getting a texture that's thick enough to hold your toppings and that you can eat it with a spoon. I don't know where eating your smoothie with a spoon started, but I am so down!
The key things you need to have when you're making a smoothie bowl are:
Something frozen
Something creamy
Just a touch of liquid
For our something frozen, we're using Cascadian Farm's Harvest Berries, which is a blend of organic strawberries, blackberries and blueberries. I love this blend of berries because it not only has the best color when they're all blended together, but each berry has their own flavor and bring an amazing natural sweetness to the bowl.
Cascadian Farm has long been my one of favorite frozen fruit companies. Their products are all organic (they've been an organic farm since 1972!) and they have a ton of amazing options that you often have trouble finding organic. And guess what? Cascadian Farm is actually a real place in Washington State AND I get to go there in a few short weeks The Feedfeed!!
Make sure you're following me on Instagram to see a behind the scenes!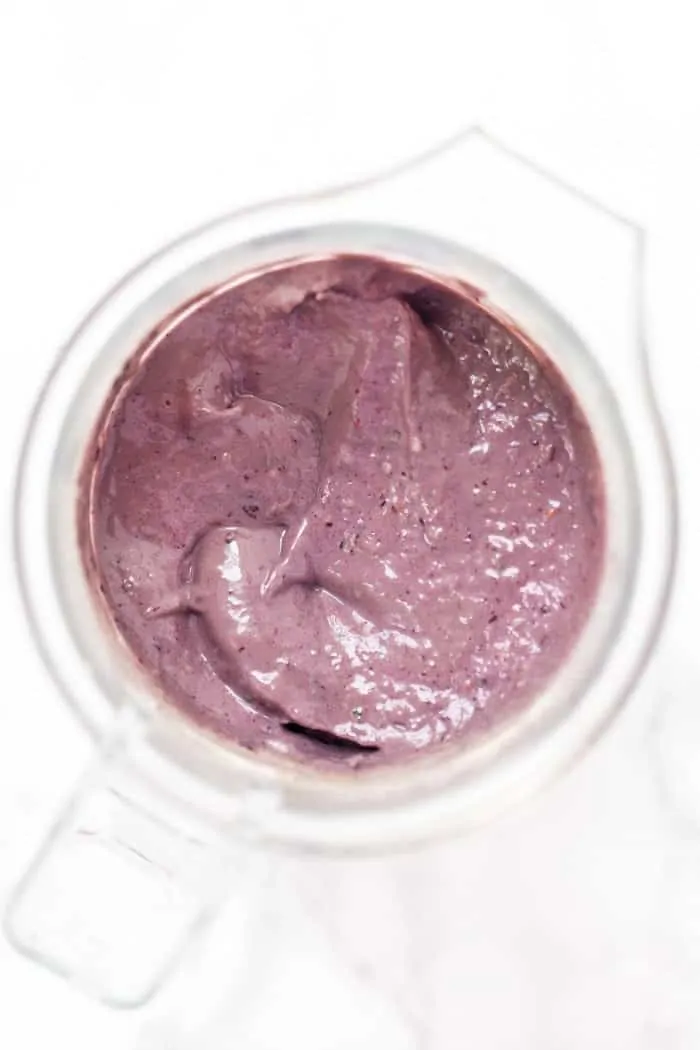 Getting a Smooth Texture Everytime
For our something creamy, we're using a blend of fresh zucchini (you could also use frozen) and avocado.
Zucchini might seem a little strange, but trust me, it's one of the best-kept secrets for making low sugar smoothies. When blended, it yields an amazingly creamy texture, it has zero taste and it's another way to boost fiber in your smoothie, therefore making it more filling!
And avocado? I'm sure you already know how amazingly creamy and healthy avocado is! The avocado really helps make the texture of this triple berry smoothie bowl ultra velvety!
For the liquid, you can use whatever you like, but don't add too much. That's how you'll get a nice thick texture  – I usually go with ¼ to ½ cup of liquid.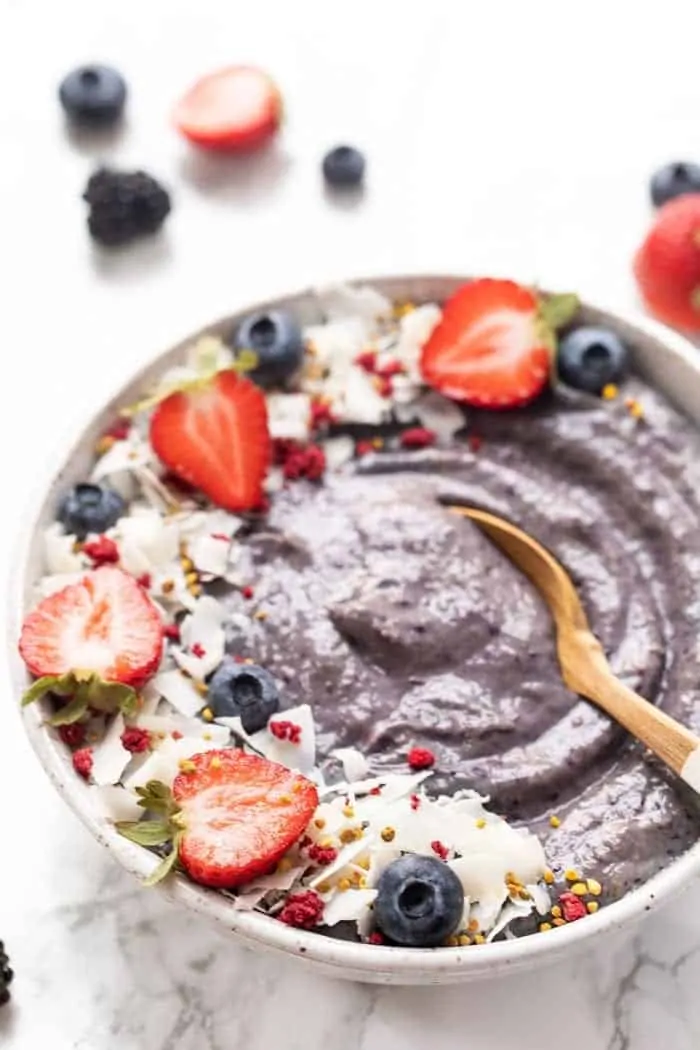 Topping Our Triple Berry Smoothie Bowl
I'll be honest and tell you, most of the time my smoothie bowls do NOT look like this! Usually, I just throw everything on top and immediately start devouring it, buuuut it's actually really easy to make a smoothie bowl pretty.
All you need to do is:
Make sure the top of your smoothie bowl is totally smooth.
Pick an area of your smoothie bowl you want to decorate! I usually do the side like this or a small strip of toppings on the left or right (kind of on a third of the bowl if you were to divide into three sections)
Choose your toppings! Go with contrasting colors, use fresh ingredients that are in your smoothie already and always add some crunch.
And that's pretty much it!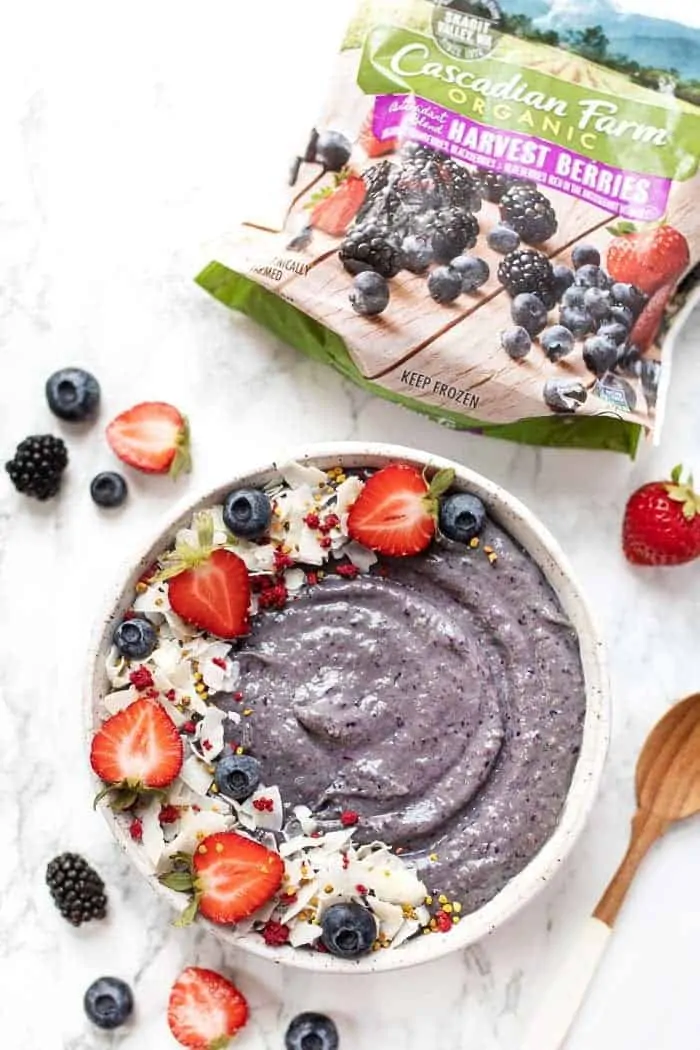 An Awesome Post-Workout Smoothie
Not only is this smoothie fantastic for breakfast, but it also makes an amazing post-workout meal. We have healthy fats, complex carbohydrates, fiber, and protein.
I like to add in vegan vanilla protein powder to give my smoothies a little nutritional boost, but you could totally do a few tablespoons of hemp seeds, a scoop of peanut butter or some other form of protein.
Because we've packed this bowl so full of nutrients, it's going to fill you up, keep you satisfied and fuel you for the day ahead!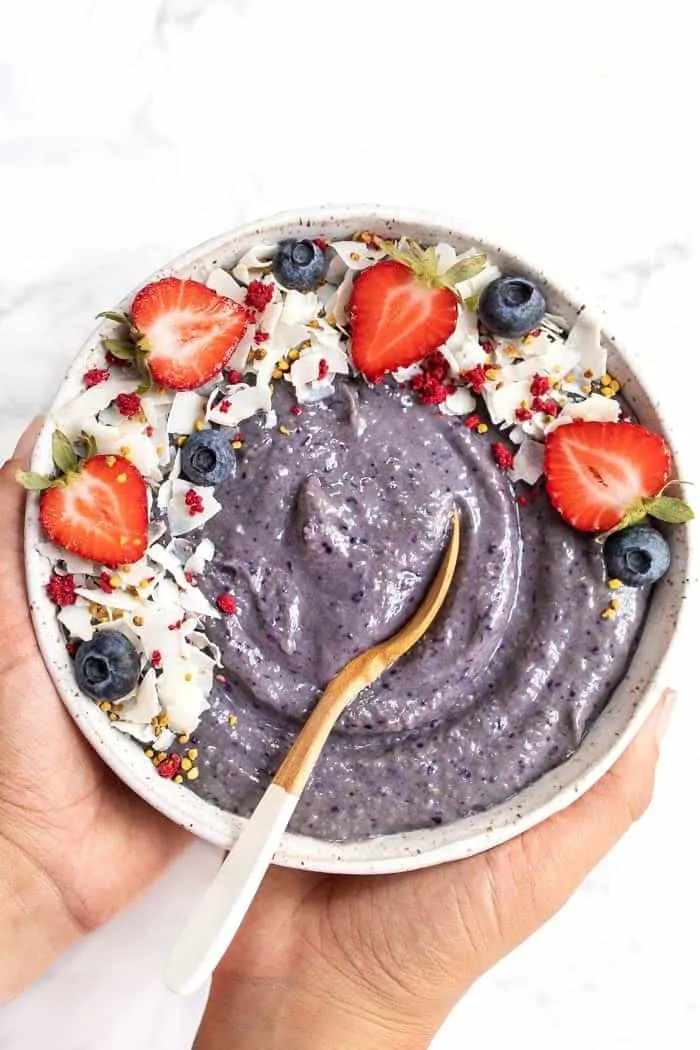 p.s. don't forget to follow along as we tour the Cascadian Farm in Washington! I'll be sharing everything on my Instagram, so head over to my profile and make sure you're following me!
More Vegan Smoothie Recipes to try:
Triple Berry Smoothie Bowl
This delicious triple berry smoothie bowl is the ultimate way to start your day. Low in sugar, banana-free and packed with protein and healthy fats!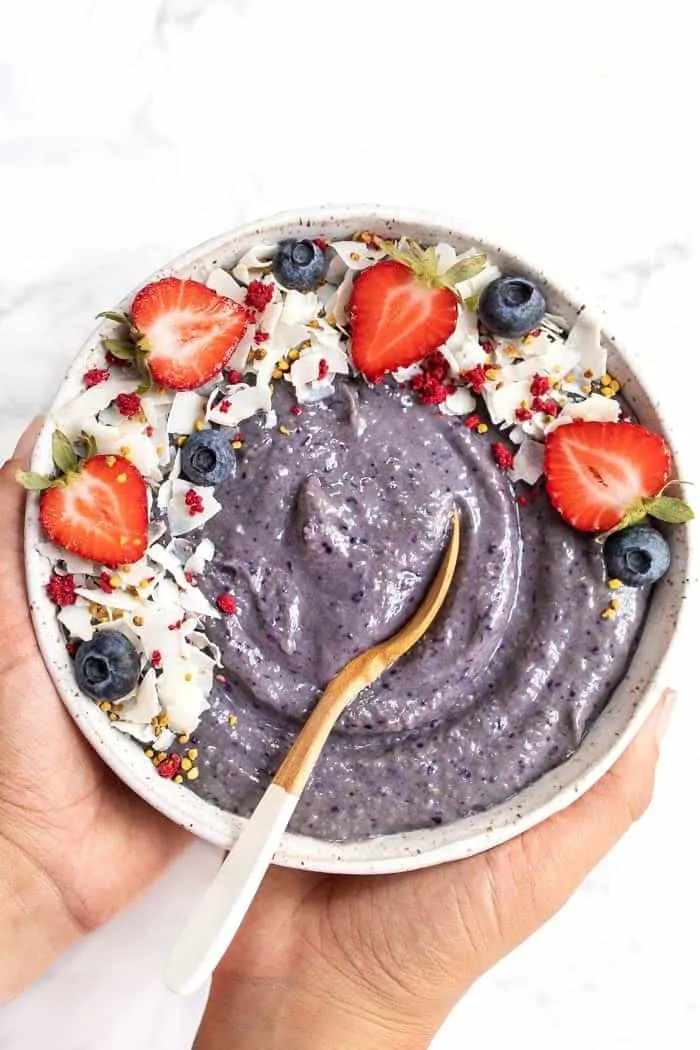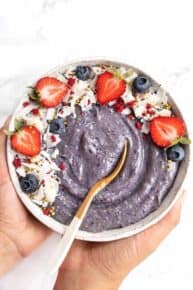 Ingredients
1

cup

chopped zucchini

or cucumber

1/2

of an avocado

2/3

cup

Cascadian Farms Harvest Berries

1

scoop vanilla protein powder

or 3 tablespoons hemp seeds

1/2

cup

unsweetened almond milk

or liquid of choice

Desired toppings

I used coconut & fresh berries
Instructions
Desired toppings (I used coconut & fresh berries)

Add all the ingredients into your blender in the order listed. Blend on high until smooth and creamy.

Transfer berry mixture into a bowl. Smooth with your spoon and top with your desired toppings!
Nutrition
Calories:
367
kcal
|
Carbohydrates:
32
g
|
Protein:
24
g
|
Fat:
19
g
|
Saturated Fat:
3
g
|
Cholesterol:
62
mg
|
Sodium:
257
mg
|
Potassium:
990
mg
|
Fiber:
11
g
|
Sugar:
14
g
|
Vitamin A:
395
IU
|
Vitamin C:
35
mg
|
Calcium:
336
mg
|
Iron:
1
mg
Filed Under:
This recipe is brought to you in partnership with Cascadian Farm & The Feedfeed. As always, all opinions are my own. I only share companies I love and trust, so thank you for continuing to support Simply Quinoa!