These amazing and fluffy blueberry protein pancakes are a cinch to make and so delicious! They're gluten-free, high protein and the perfect breakfast treat.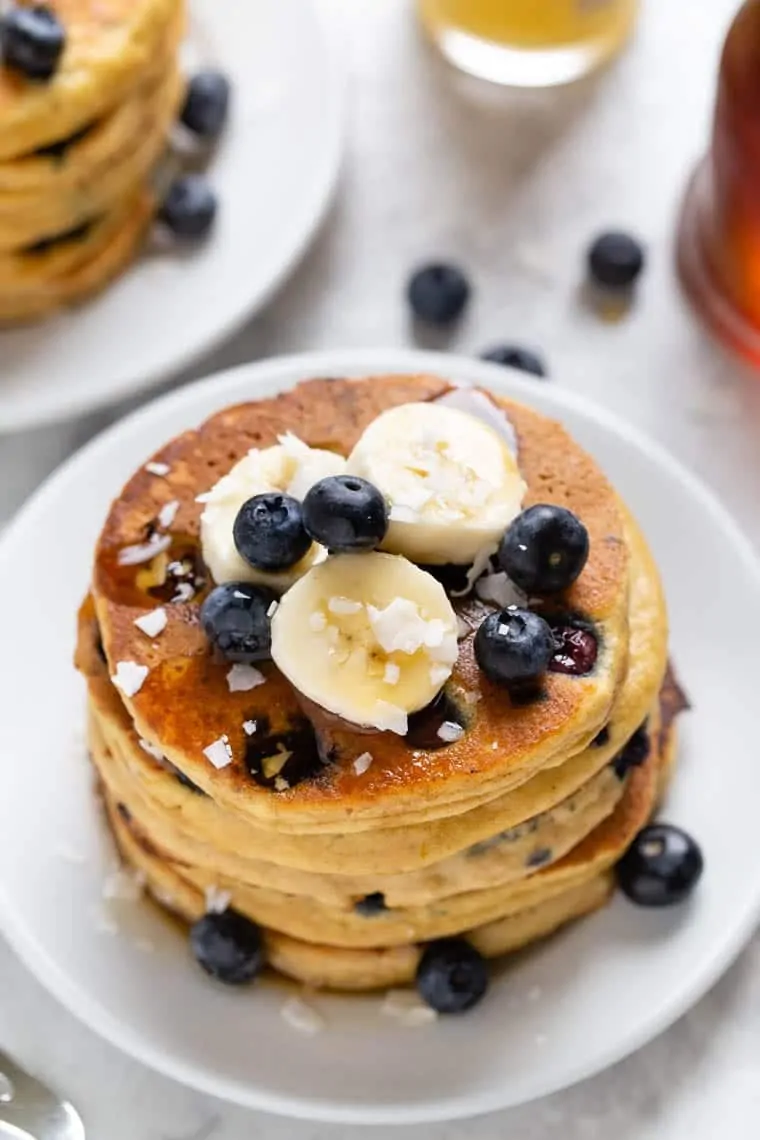 Over the years I've shared countless gluten-free pancake recipes! And I've talked about my family's weekend tradition that instilled the love of pancakes in me from a young age. But I have yet to share a recipe for protein pancakes. Mainly because most of the recipes I've tried have just been awful and don't really even taste like pancakes.
That is until I nailed this recipe! The BEST blueberry protein pancakes I've ever tasted. They're fluffy, they're healthy, they're made with just 7 ingredients, and a serving of 2 has 10g of protein! These pancakes are the ultimate morning treat and because they're full of nutrients, they'll also stick with you all day long.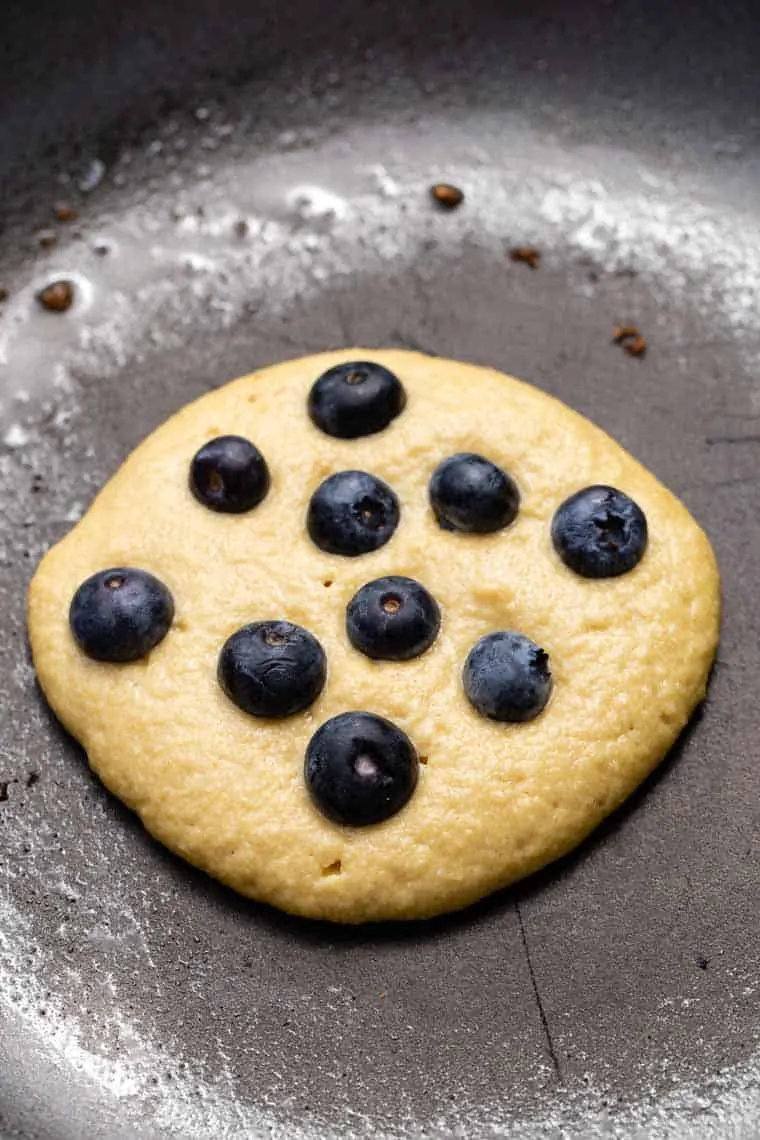 Ingredients for Blueberry Protein Pancakes
Typically my gluten-free pancakes have a blend of all sorts of ingredients. We've got multiple flours, a few different wet ingredients and the ingredient list tends to extend quite long. Not this time around!
With these protein pancakes, we're using just 7 simple ingredients. And still, they are light, fluffy and so delicious!
Almond flour: I love using almond flour in my pancakes because it has a soft texture and almost sweet flavor. But it's also high in protein, which helps amp the protein content of these pancakes nicely!
Protein powder: you can use any protein powder you'd like here! I like this one, but you could do another flavor, another variety, etc. Just note that the nutritional values might change slightly based on whichever one you use.
Baking powder: one of the keys to making fluffy pancakes!
Cinnamon: totally optional, but I love the flavor it adds. Just a small sprinkle can go a long way!
Eggs: nope, this recipe is not vegan, but the eggs play an important role. They're helping to make the pancakes fluffy, but they're also high in protein as well!
Almond milk: you can use whatever milk/plant milk you'd like in this recipe, I'd just recommend going with one that is unsweetened!
Blueberries: the key to making blueberry protein pancakes, but these can be swapped for another add-in if you'd like. Chocolate chips, other fresh fruit, etc., would be delicious!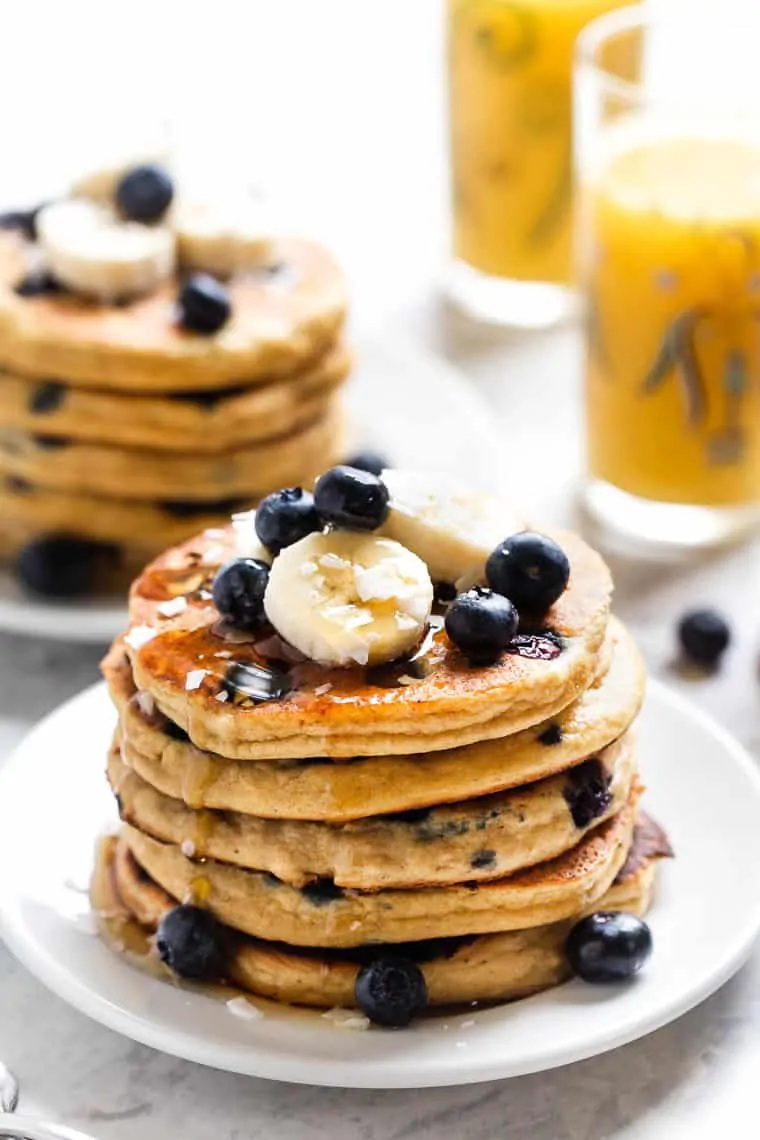 How to Make Blueberry Protein Pancakes
One of the reasons why I love making pancakes in the morning is how easy they are. Especially when they only just 7 ingredients like these ones! Here's how to make my protein pancakes:
STEP 1
Mix together the dry ingredients in a large bowl – almond flour, protein powder, baking powder, cinnamon – and set aside.
STEP 2
In a separate bowl, beat together the eggs and almond milk.
STEP 3
Pour the wet ingredients into the bowl with the dry ingredients and stir together to form a smooth batter. Don't worry about overmixing since these pancakes don't have gluten! Fold in the blueberries.
STEP 4
Heat a griddle over medium-low. Once hot, scoop 1/4 cup of batter onto the pan and cook until bubbles begin to form on the surface, about 2 minutes. Flip and continue cooking for another minute or so. Repeat until you've used up all the batter!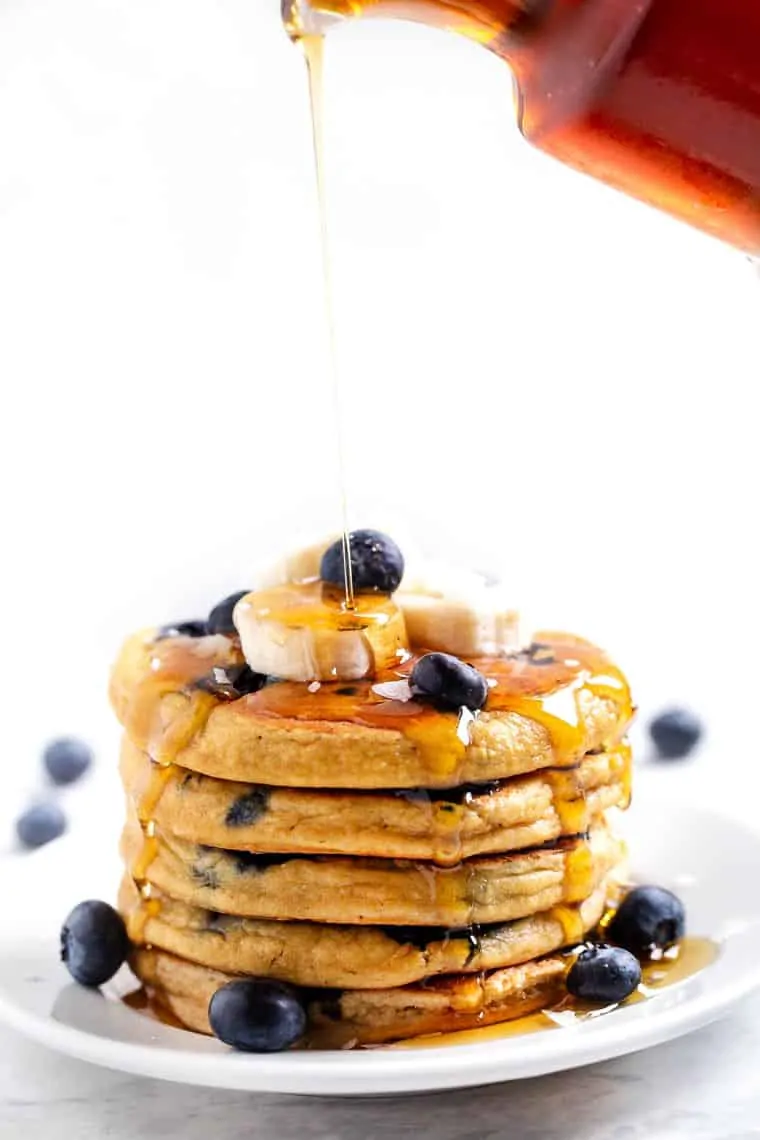 DIY Protein Pancake Mix
A few years ago I turned my favorite gluten-free pancakes into a DIY mix and I'm thinking you can do the same thing here. There are lots of protein pancake mixes out there but none of them seem to be gluten-free. So…let's use the base of these blueberry protein pancakes and turn them into a mix!
Here's what I would do:
Double or triple the dry ingredients
Store them in a jar or container
Scoop out what you need based on the following proportions
For a small batch (4 pancakes):
2/3 cup of dry mix
1 egg
3.5 tablespoons almond milk
For a large batch (12 pancakes):
2 cups of dry mix
3 eggs
2/3 cup almond milk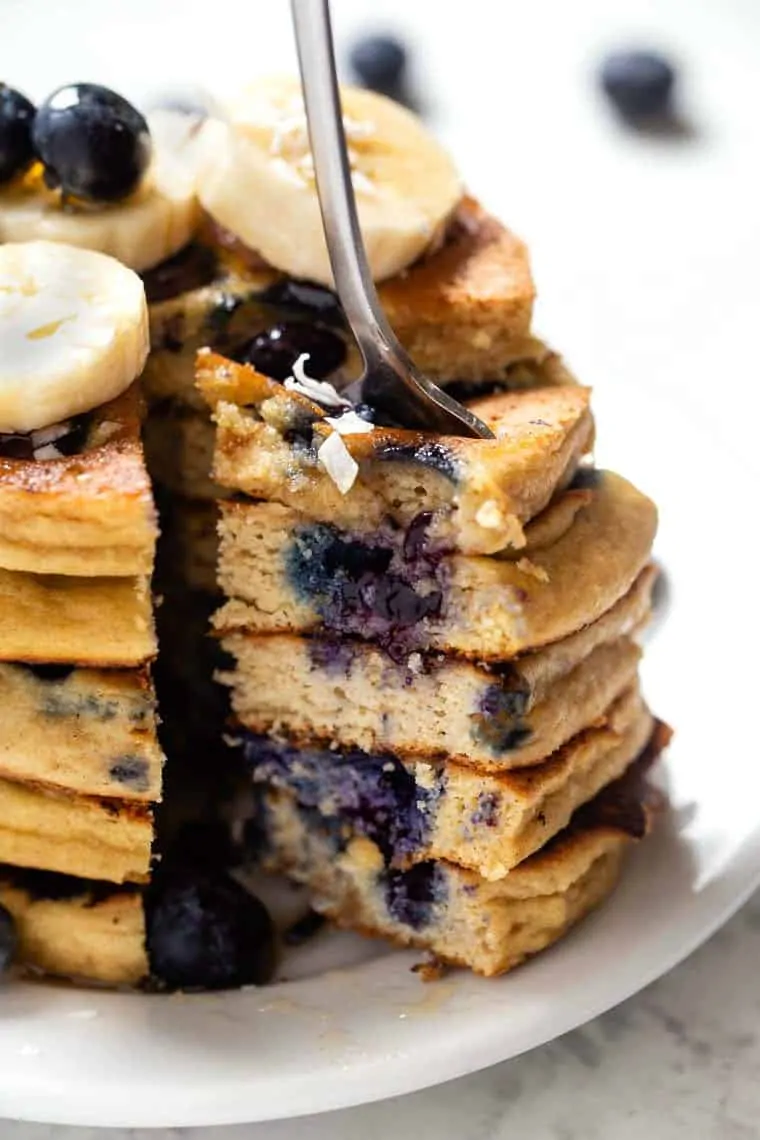 Your Questions Answered…
There are some common questions that get asked about protein pancakes (and pancakes in general), so I wanted to include a little Q&A in this post. Here are your questions answered!
What is the best protein pancake mix?
As I said in the last section, I believe the best protein pancake mix is one you make at home. Lots of protein pancake mixes out there contain ingredients that you might not want to eat all that frequently – starches, sugars, flavorings, etc. Also, from what I can tell there isn't a good/healthy gluten-free protein pancake mix on the market! Plus, when you make your mix at home, you're controlling the ingredients and you know you're getting something that's healthy.
Is eating pancakes for breakfast healthy?
I would say yes, eating pancakes for breakfast is healthy, but you might not want to do it every single day. Pancakes are often fairly high in carbohydrates and don't contain much protein or fat, so they really won't keep you full for very long. Plus, it's also important that you keep your diet varied and include lots of fresh fruit and vegetables in your breakfast some days as well.
Can protein pancakes help you lose weight?
Yes and no. Protein pancakes can help you lose weight in the sense that they're a fairly filling and low-calorie breakfast, but you don't want to rely on those as you're only breakfast option. Make sure to include other balanced meals including things like smoothies, oatmeal, eggs, etc!
How many calories are in protein pancakes?
The calories in protein pancakes vary based on the recipe/mix used, the size and the toppings. In general, I would say protein pancakes are anywhere from 100 – 150 calories per pancake.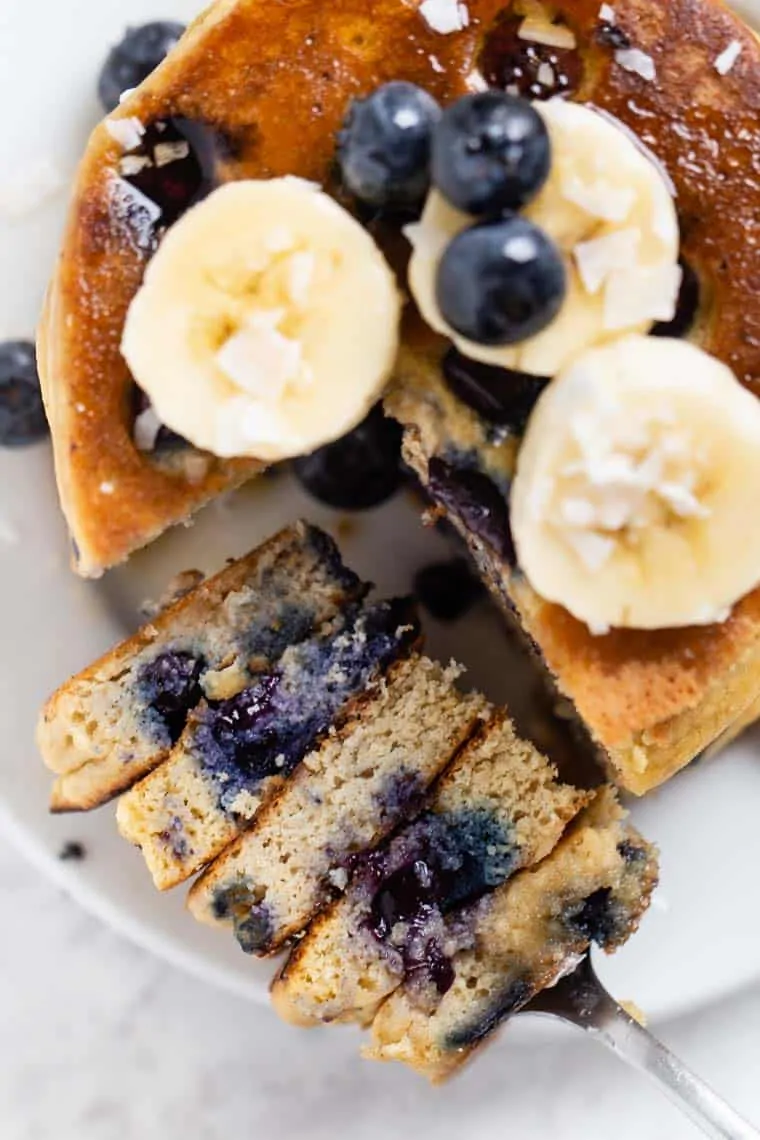 Ways to Serve Blueberry Protein Pancakes
A great way to make pancakes even healthier and more filling is to jazz them up with some healthy toppings. I like to add a mixture of healthy fats, fruit and something that's high protein.
Here are the healthiest pancake toppings (in my opinion):
Coconut yogurt or coconut cream (healthy fat)
Nut butter (healthy fat + protein)
Fresh berries (fiber, antioxidants + natural sweetness)
Sliced banana (fiber, potassium + natural sweetness)
Chia seeds (healthy fat + protein)
And of course, you can never go wrong with a drizzle of pure maple syrup at the end! I hope you enjoy these fluffy protein pancakes and I can't wait to see them as part of your morning routine. They're honestly the best ????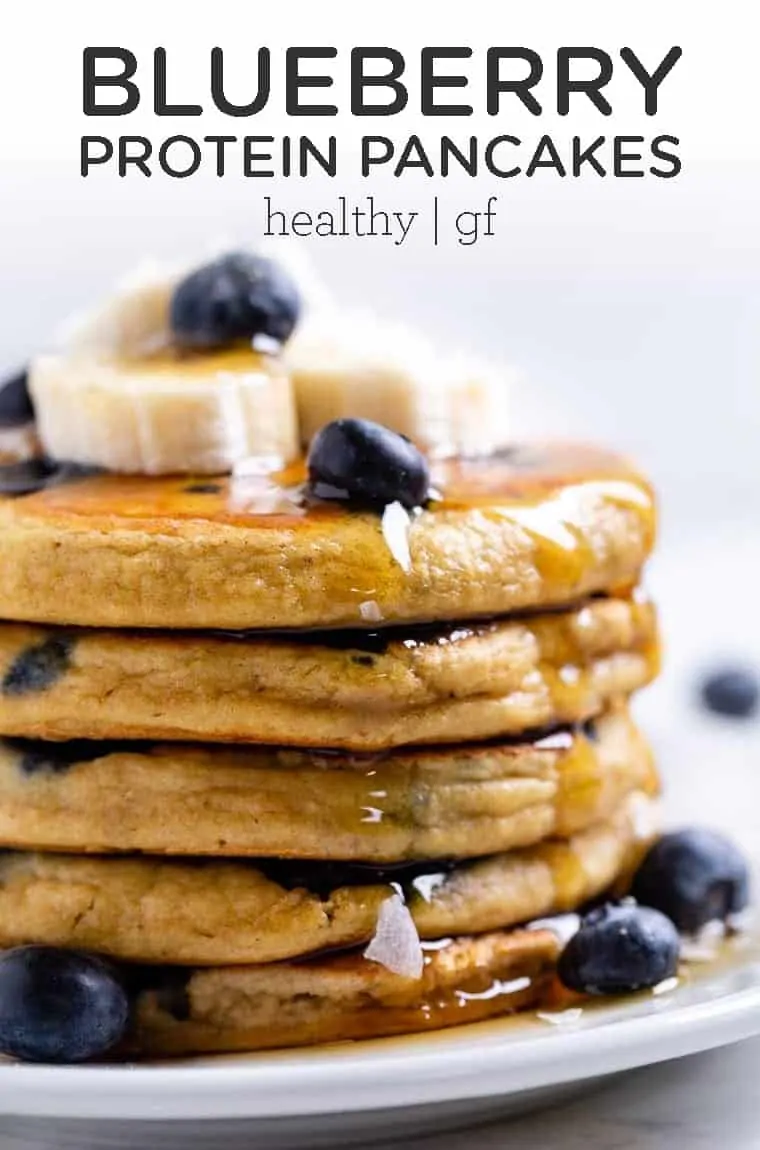 More Gluten-Free Pancake Recipes to try:
The Best Blueberry Protein Pancakes
These amazing and fluffy blueberry protein pancakes are a cinch to make and so delicious! They're gluten-free, high protein and the perfect breakfast treat.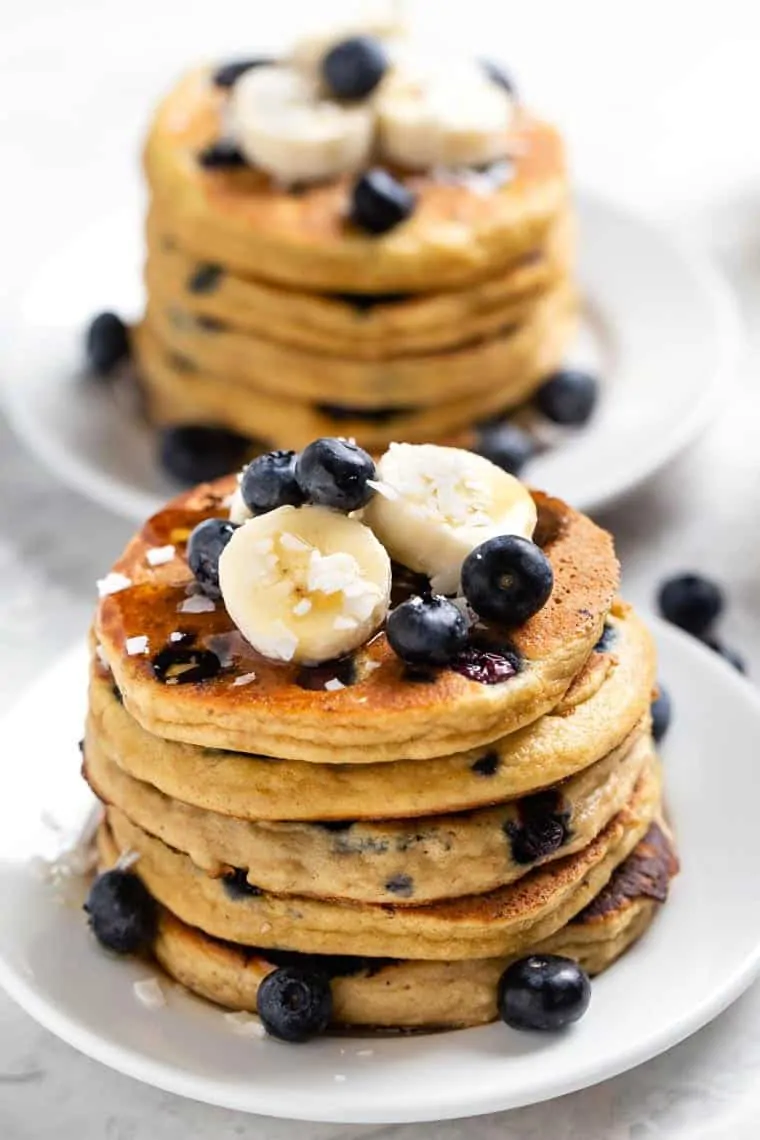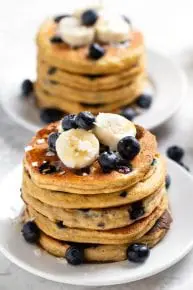 Instructions
Whisk together the dry ingredients and set aside.

In a separate bowl, beat together the eggs and almond milk. Add a splash of vanilla if you want a teeny boost of flavor.

Pour the egg and milk mixture into the flour mixture and stir to combine. Fold in the blueberries.

Heat a skillet over medium low and spray it with cooking spray (or use oil). Drop about a 1/4 cup of batter onto the skillet and cook for 2 - 3 minutes per side. Repeat with the rest of your batter.

Serve your pancakes warm with a dollop of vegan yogurt and pure maple syrup.
Nutrition
Serving:
1
pancake
|
Calories:
104
kcal
|
Carbohydrates:
5
g
|
Protein:
5
g
|
Fat:
8
g
|
Saturated Fat:
1
g
|
Cholesterol:
41
mg
|
Sodium:
34
mg
|
Potassium:
75
mg
|
Fiber:
2
g
|
Sugar:
2
g
|
Vitamin A:
66
IU
|
Vitamin C:
1
mg
|
Calcium:
74
mg
|
Iron:
1
mg
Filed Under: