These healthy apple cider pancakes are light, fluffy and perfect for fall! They're also vegan, gluten-free and delicious topped with apples and maple syrup!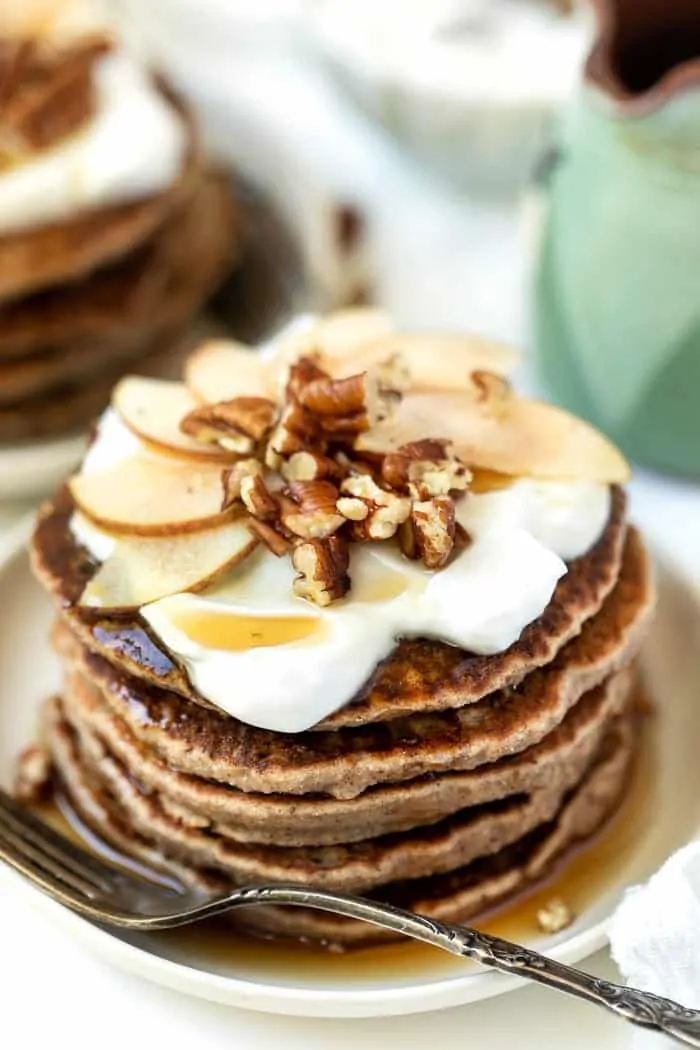 Now that it's officially Fall, we're kicking up our breakfast game with a luscious stack of autumn-inspired pancakes. Pancakes that are light and fluffy, and flavored with one of the most Fall things ever: apple cider!
That's right, we're making our pancakes out of apple cider and then we're topping them with sliced apples and maple syrup and they are everything. So good, so cozy and just these apple cider pancakes are just the absolute best way to start the day!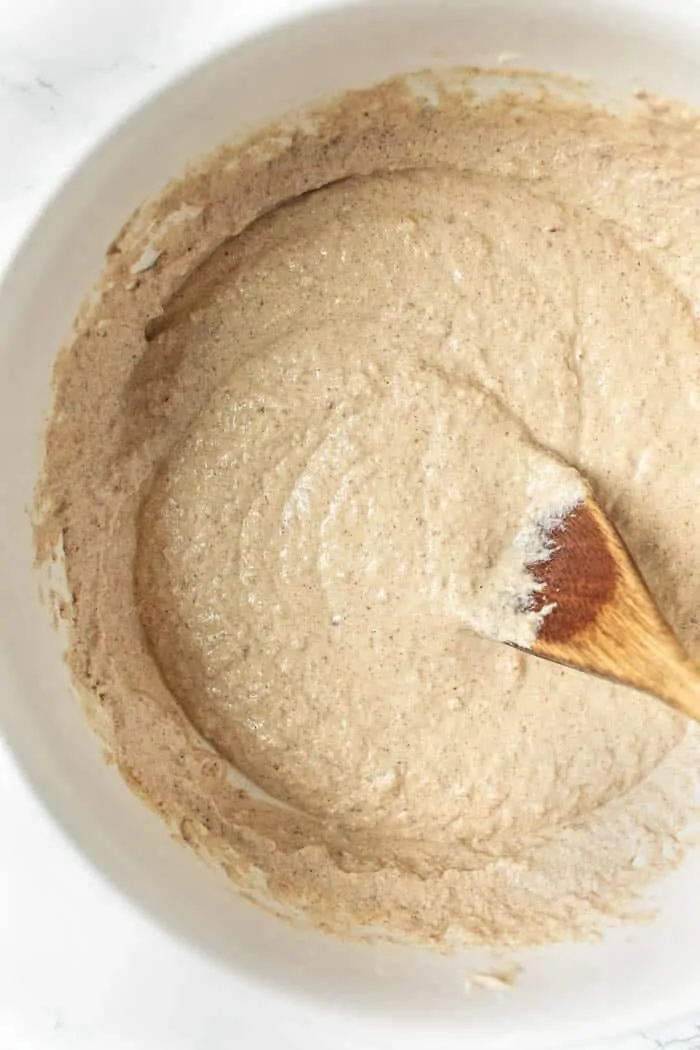 Gluten-Free Flours for Apple Cider Pancakes
I've probably made at least 10 different pancake recipes here and I feel like I've finally gotten the base down pact. It's a blend of flours that works every single time, whether I'm stirring in zucchini and chocolate chips or I'm making carrot cake.
My go-to flour combo for epic vegan and gluten-free pancakes is:
quinoa flour
almond flour
coconut flour
The quinoa flour acts as a "whole grain" flour which makes them a little heartier. Then I like to add almond flour which makes them a little light and almost cakey. And then finally some coconut flour which adds just a teeny bit of sweetness and makes them fluffier.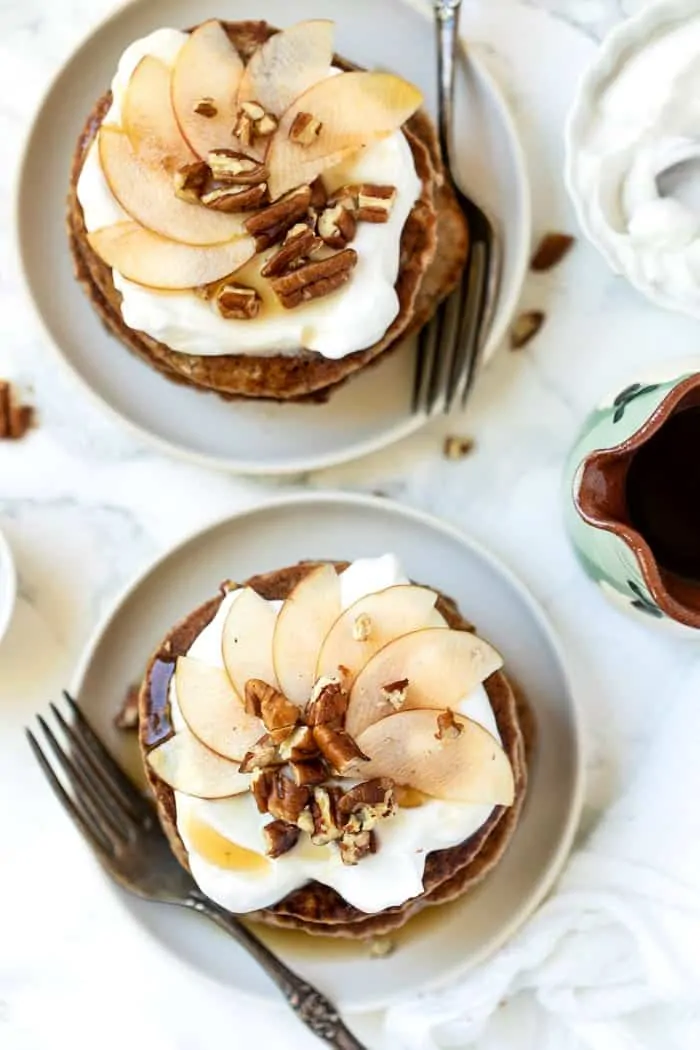 How to Make Vegan Pancakes
Once we sort out the gluten-free flours we're using, it's time to make our vegan tweaks to these pancakes. Making vegan pancakes is actually quite simple: you just have to replace the milk and the eggs.
I've found that any non-dairy milk will work to replace traditional milk. If you're looking to replace buttermilk, the trick is to add a splash of lemon juice or apple cider vinegar to your plant milk and let it "curdle". The acid will also help make your pancakes even fluffier.
For the eggs, I just use my standard vegan egg replacement: flax eggs. If you've never made a flax egg before, it's so easy. Check out my tutorial on how to make a flax egg so you can see! And if you want more ideas for replacing eggs, I have an entire guide on vegan egg substitutes for you ????
And that's basically it for making vegan gluten free pancakes! Replace your flours, replace your milk, replace your eggs and you're golden!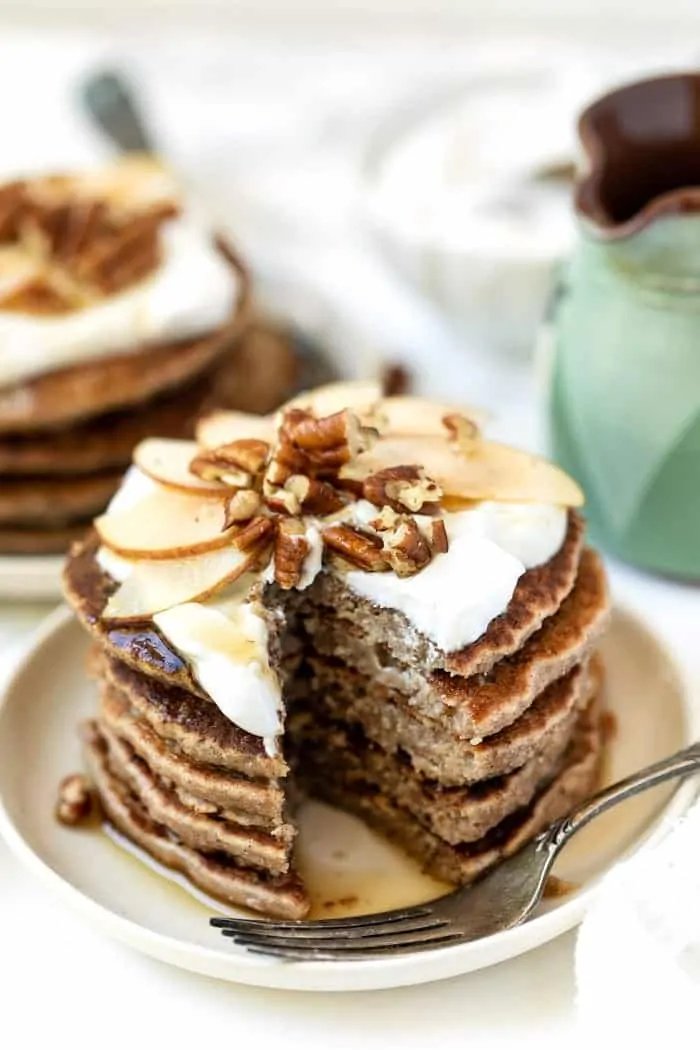 Fluffy Gluten-Free Pancakes for Fall
Now let's talk these apple cider pancakes! I've been thinking about remaking my applesauce pancakes for a while, but I wanted something that was a little different. I'll update those eventually, but as soon as I saw local apple cider grace my grocery store shelves I knew that was it.
We're not actually using just apple cider for our liquid – we're mixing it with some almond milk – but the apple flavor is perfect. It's not overpowering; it's subtle, it's a tad bit sweet and they're just the ultimate cozy fall breakfast. Something you can make on a lazy weekend morning or freeze and reheat for a quick weekday meal.
And to finish everything off, pancakes are all about the toppings. I've been straight-up obsessed with adding coconut yogurt onto my pancakes (as evidence of the last 5+ pancake recipes I've shared – oops!), so we're doing that as our base layer. Then we're keeping things autumnal with sliced apples on top, chopped pecans and the true star of the show: maple syrup.
Just an epic stack of healthy pancakes that I know you are going to LOVE! ????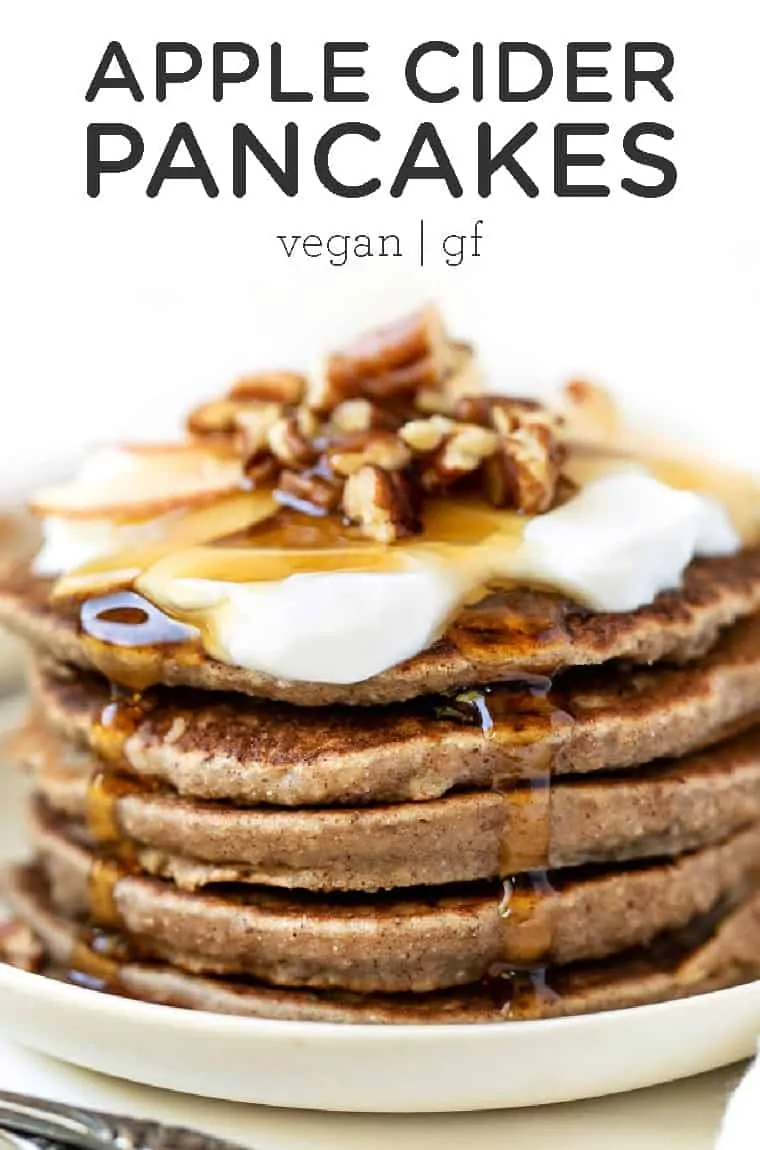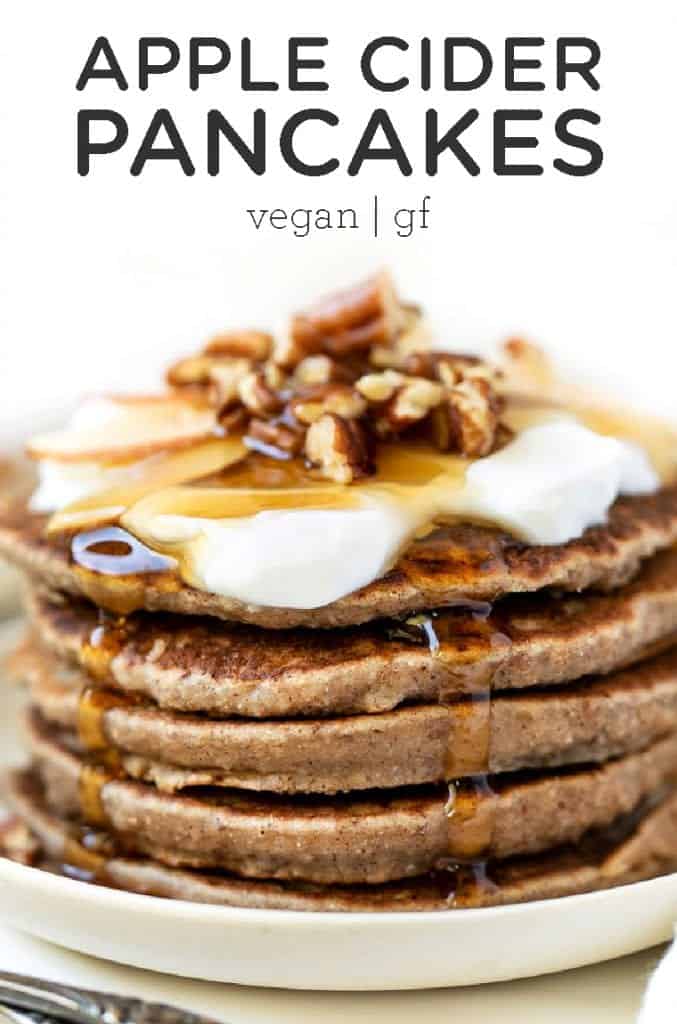 More Vegan Gluten-Free Pancakes:
Vegan Apple Cider Pancakes
These healthy apple cider pancakes are light, fluffy and perfect for fall! They're also vegan, gluten-free and delicious topped with apples and maple syrup!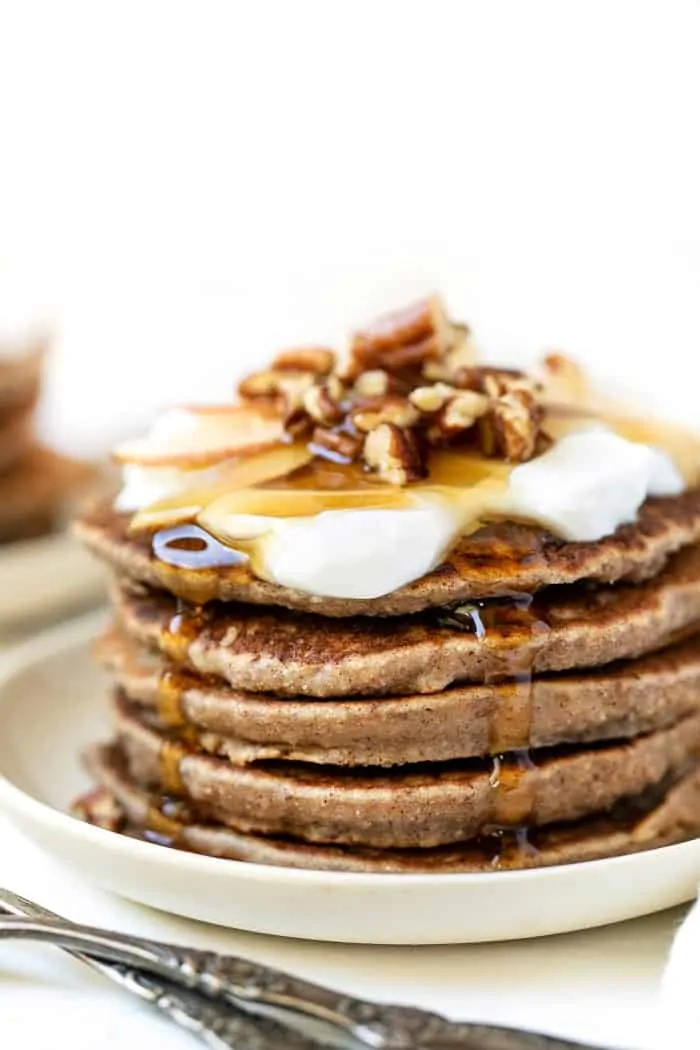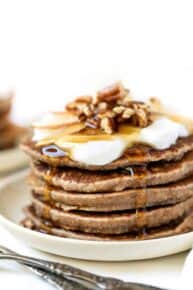 Instructions
Preheat a griddle over medium heat.

Whisk together the flax and water and set aside to gel.

In a large mixing bowl, whisk together the flours, baking powder, cinnamon, and salt.

Add the flax eggs, cider, milk, oil, and syrup into the bowl with the dry ingredients and mix until a smooth batter forms. Fold in add-ins if you're using them.

Lightly grease your griddle with nonstick cooking spray or coconut oil. Ladle ¼ cup of batter onto the griddle and repeat until you have filled your pan. Cook the pancakes until small bubbles begin to form around the edges, about 2 - 3 minutes. Flip and cook for another 1 - 2 minutes longer until the other sides are golden brown. Repeat until no batter remains.

Serve warm with sliced apple, coconut yogurt, chopped nuts, and pure maple syrup. The combo is delicious – promise!
Notes
* nutrition facts do not include toppings or add-ins
Nutrition
Serving:
3
pancakes
|
Calories:
288
kcal
|
Carbohydrates:
31
g
|
Protein:
8
g
|
Fat:
15
g
|
Saturated Fat:
1
g
|
Sodium:
348
mg
|
Potassium:
284
mg
|
Fiber:
6
g
|
Sugar:
7
g
|
Vitamin C:
1
mg
|
Calcium:
188
mg
|
Iron:
2
mg
Filed Under: