These vegan Vanilla Coconut Pancakes are light, fluffy and delicious. They're also gluten-free and packed with flavor. Perfect for a lazy weekend brunch!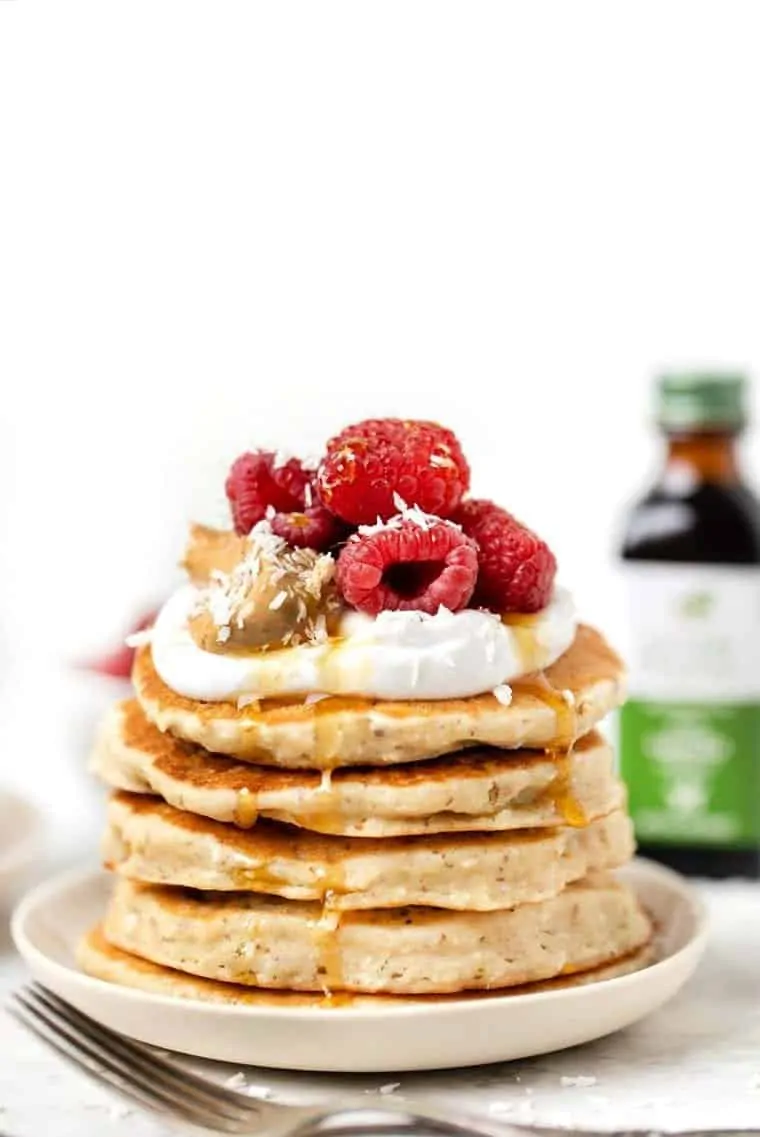 It seems to be pancake season around here and I'm so happy about it. I feel like every time I think about creating a new breakfast recipe, my mind immediately jumps to pancakes.
Because let's be honest, pancakes are the best. They're easy to make, they're fun to jazz up, they're delicious and they're easy to make gluten-free and vegan. So it's kind of a no-brainer if you ask me!
Today we're making my new fave flavor: vanilla coconut pancakes. And they check all my pancake boxes!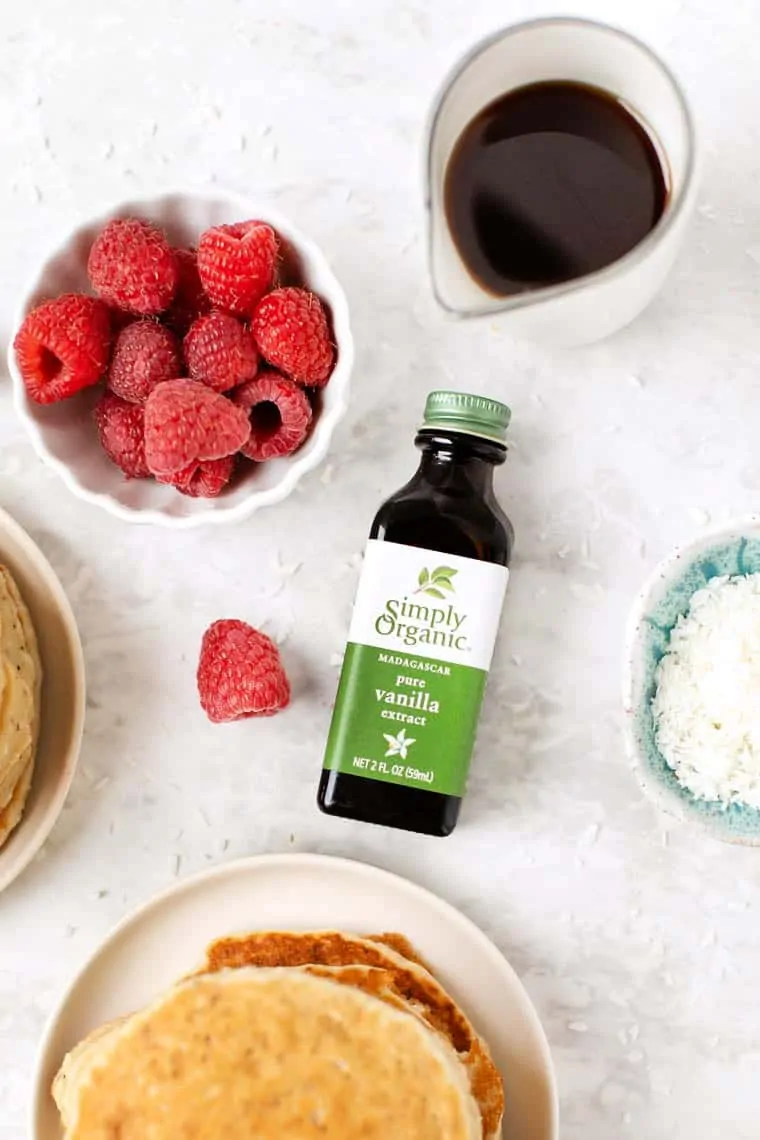 Pure Vanilla Extract vs. Essence
Vanilla is one of my absolute favorite flavors, but it can be tricky to get right. The most common way to get that lovely vanilla flavor is by using an extract or an essence, but the two are not synonymous.
Vanilla extract: a natural product made by soaking vanilla pods in alcohol
Vanilla essence: is also called imitation vanilla is a synthetic product made to taste like vanilla
My vote? 100% pure vanilla extract all the way! And my favorite is the 100% pure Madagascar Vanilla Extract from Simply Organic. There's zero hint of any alcohol aftertaste, it's super potent and it honestly tastes incredible. It makes these pancakes have the most amazing flavor!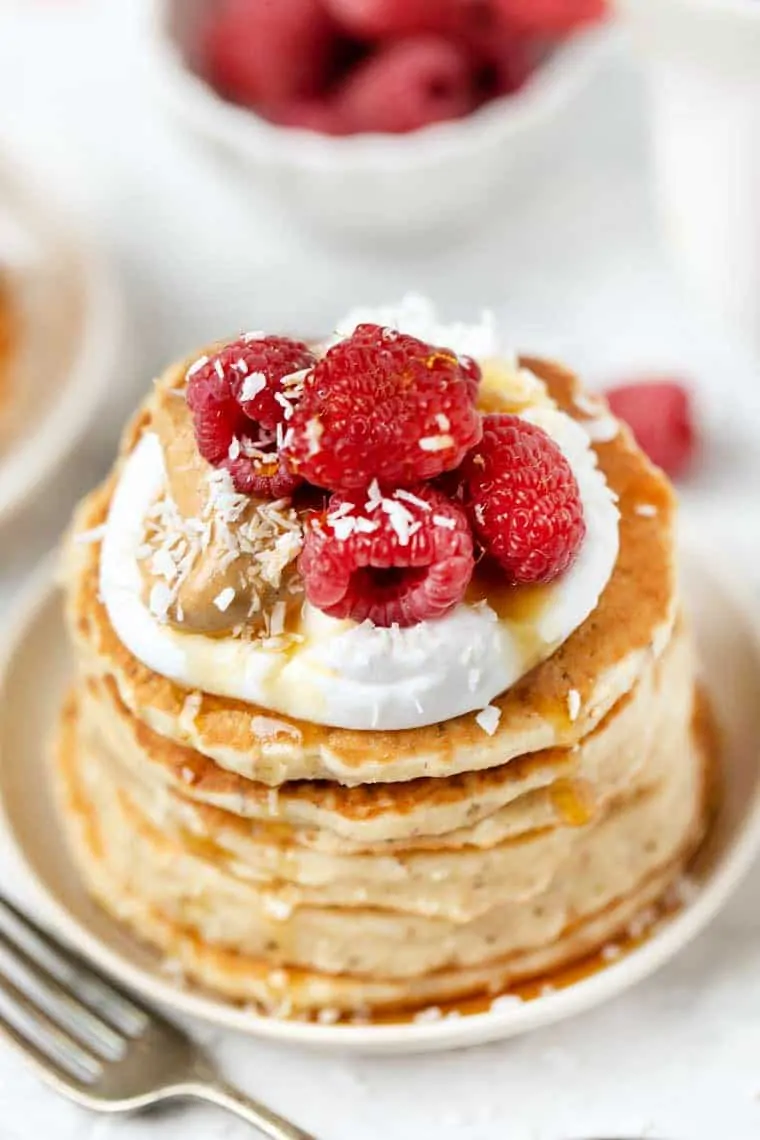 How to make Fluffy Vegan Pancakes
At this point, I feel like we have a million different vegan pancake options on the blog and each one is light and fluffy. So what's the secret to making those fluffy vegan pancakes?
I have a few tricks up my sleeve! Here's how I make light and fluffy gluten-free vegan pancakes:
baking powder: I usually add at least 1 1/2 teaspoons
baking soda + an acid: baking soda is activated by acid, so add just a touch (about 1/4 tsp) along with an acid like lemon or apple cider vinegar
the right blend of flours: I like using a blend of lighter flours (like almond) which don't weigh the pancakes down and allow there to be more air bubbles and lightness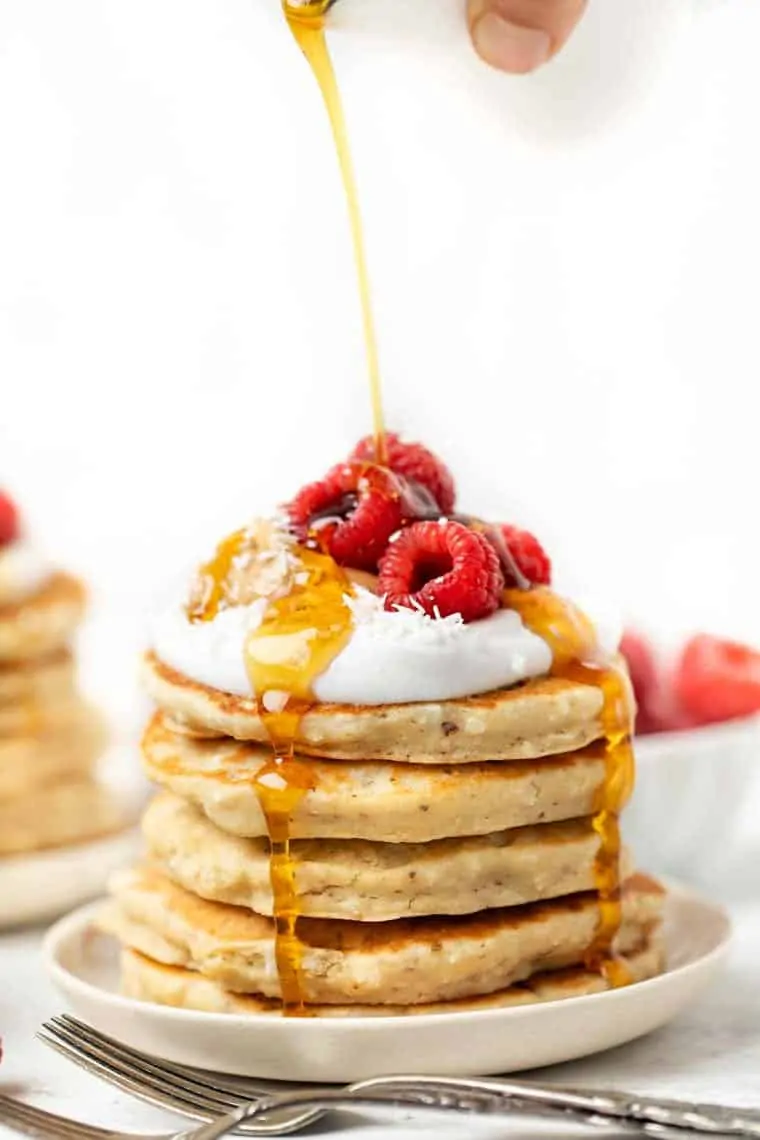 Perfect Gluten-Free Coconut Pancakes
One of the things I'm trying to focus on is reducing the number of flours I used in my pancakes. Our most recent pancake recipe was this amazing batch of Quinoa Flour Pancakes.
Today we're using a blend of two flours to make the flavor a little more subtle and really let that vanilla and coconut shine. We're blending up almond flour and quinoa flour, which together are pure magic!
We've got the vanilla extract from Simply Organic which brings a nice little pop of flavor. For the coconut, we're using two things: lite coconut milk and shredded coconut. Both are subtle to really let vanilla shine, but also taste delicious.
Plus the shredded coconut adds this nice little texture surprise!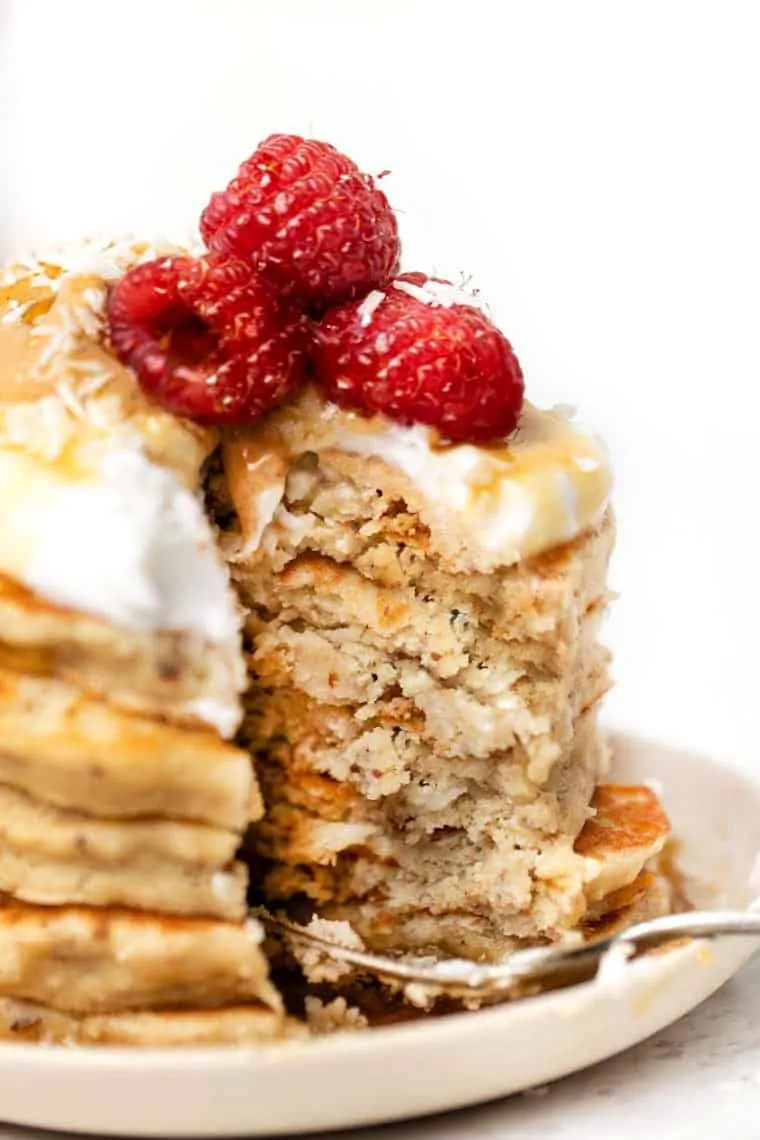 My Favorite Pancake Topping Ideas
Fluffy pancakes aside, we all need to admit that pancake toppings are almost as important as pancake toppings. Am I right?
The beauty of pancakes is that they're truly a blank canvas. You can enjoy them plain, or you can dress them up to your heart's content. I like to make combine a blend of flavors and texture on top of my pancakes, always making sure to overpower the pancake itself. It's a delicate balance my friends, a very delicate balance.
Here's what I like to top my pancakes with:
non-dairy yogurt
fresh fruit (berries or bananas usually)
something crunchy (in this case coconut)
something drippy (usually a nut butter)
And I always (and I mean always!) finish my pancakes off with some maple syrup. You just can't not! How do you like to top your pancakes? Let us know in the comments!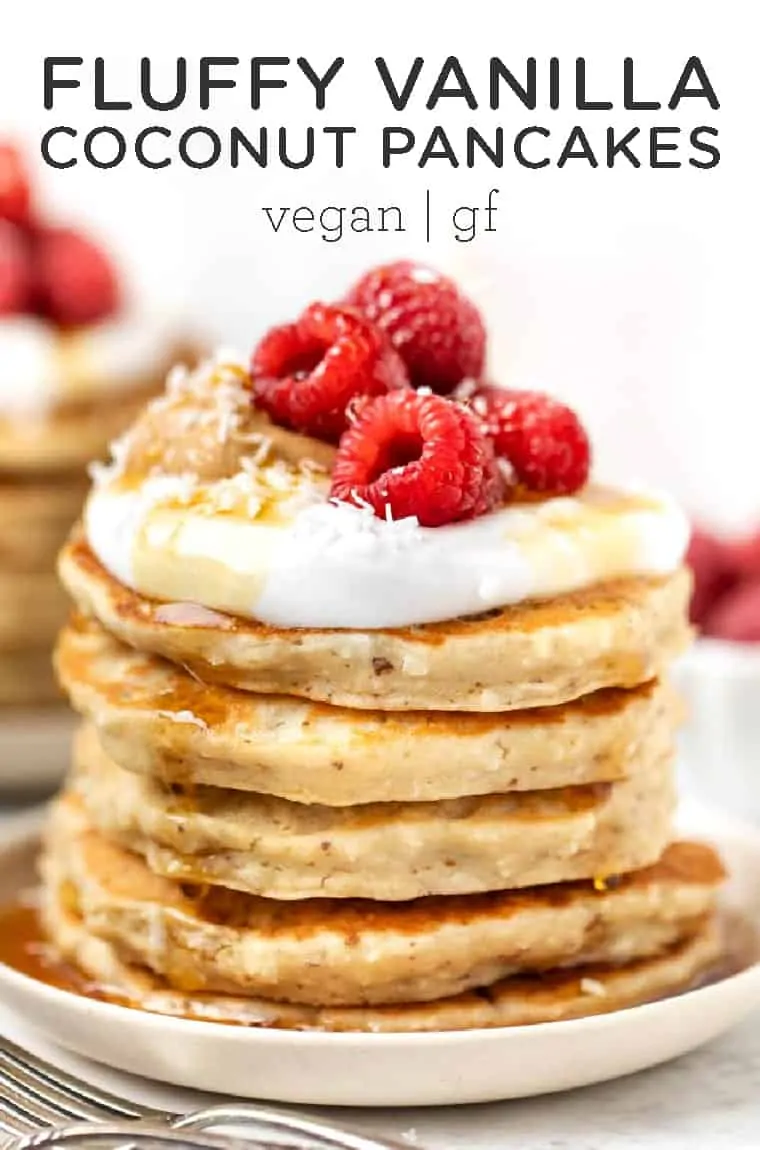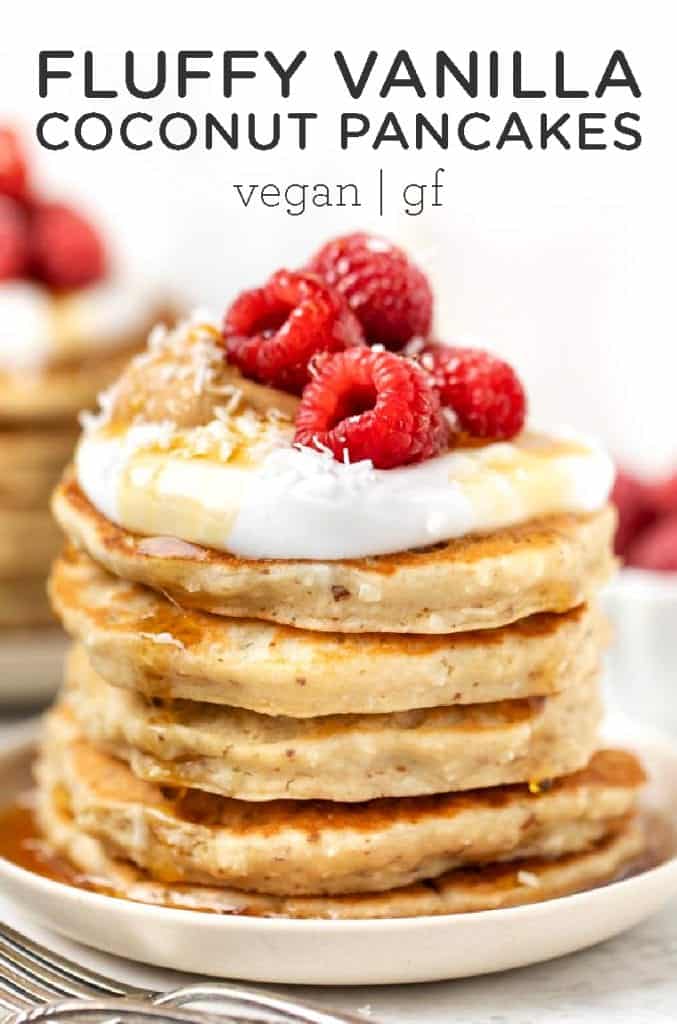 More Gluten-Free Vegan Pancakes:
Fluffy Vanilla Coconut Pancakes
These vegan Vanilla Coconut Pancakes are light, fluffy and delicious. They're also gluten-free and packed with flavor. Perfect for a lazy weekend brunch!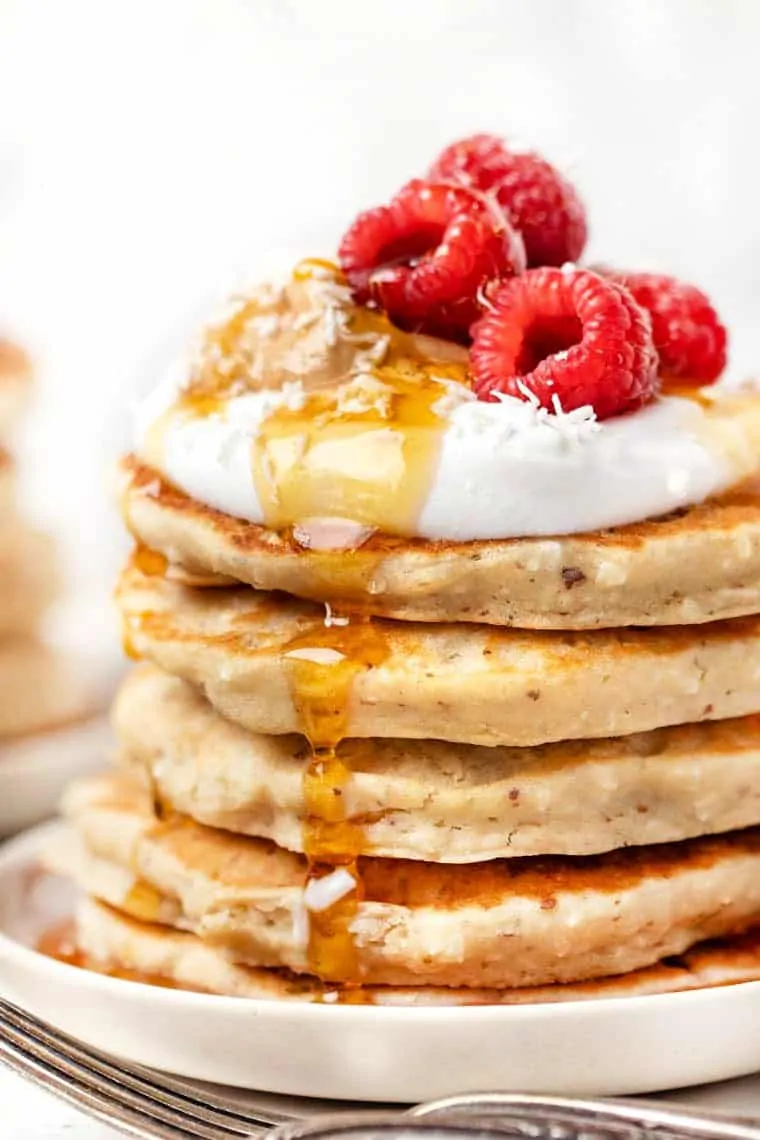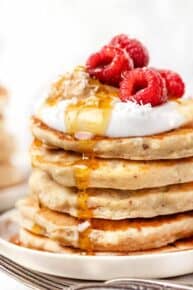 Instructions
Preheat a griddle over medium heat.

Whisk together the flax and water and set aside to gel.

In a large mixing bowl, whisk together the flours, baking powder and salt.

Beat together the flax eggs, milk, oil, syrup and vanilla then pour into the dry and mix until a smooth batter forms. Fold in the coconut.

Lightly grease your griddle with nonstick cooking spray or coconut oil. Ladle a ¼ cup of batter onto the griddle and repeat until you have filled your pan. Cook the pancakes until small bubbles begin to form around the edges, about 2 - 3 minutes. Flip and cook for another 1 - 2 minutes longer until the other sides are golden brown. Repeat until no batter remains.

Serve warm with fresh berries (or fruit of choice), a sprinkle of coconut and pure maple syrup.
Nutrition
Serving:
1
pancake
|
Calories:
128
kcal
|
Carbohydrates:
10
g
|
Protein:
3
g
|
Fat:
8
g
|
Saturated Fat:
2
g
|
Sodium:
112
mg
|
Potassium:
77
mg
|
Fiber:
1
g
|
Sugar:
2
g
|
Calcium:
48
mg
|
Iron:
0.8
mg
Filed Under:
This post is brought to you in partnership with Simply Organic Foods. As always, all opinions are my own!