These fluffy quinoa flour pancakes are the best gluten-free and vegan pancakes you'll ever taste! They've got the perfect texture and are high protein too!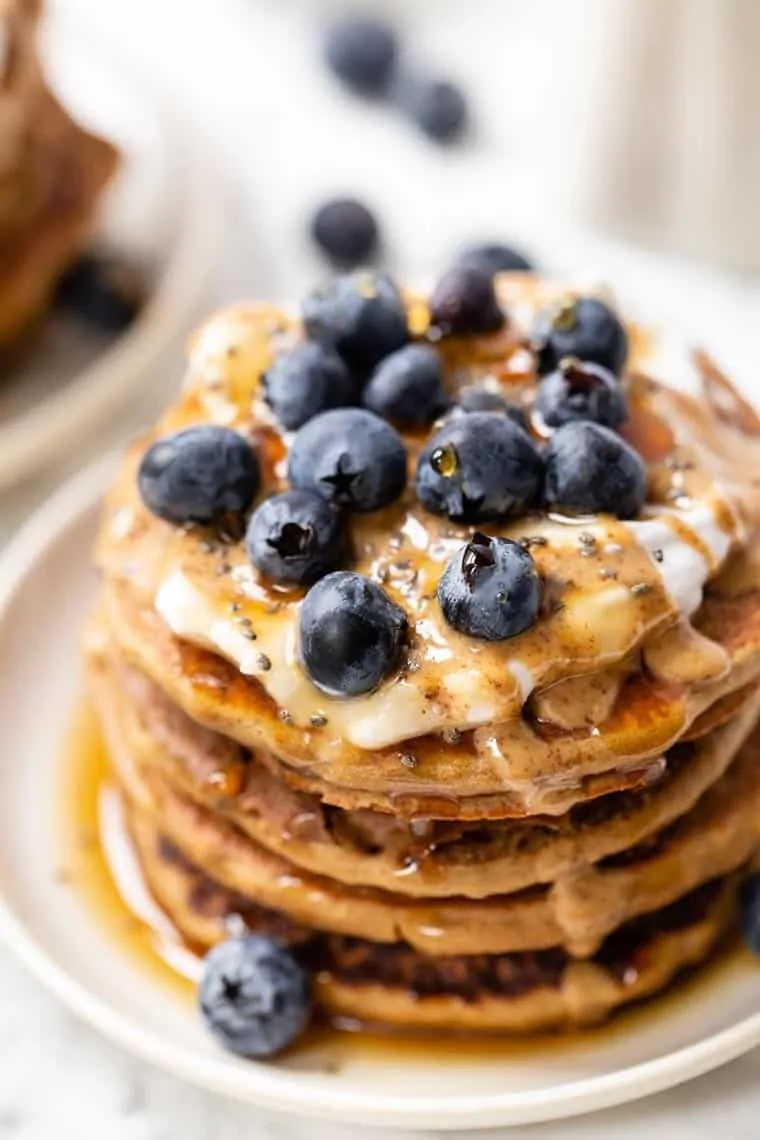 Another day, another pancake recipe! In case you can't tell I'm seriously obsessed with pancakes and I just can't seem to stop myself from creating new recipes for you.
Pancakes are just the ultimate weekend breakfast for me. They're easy to make, they're decadent, but they're also easy to make healthy. Today we're making a batch of super fluffy pancakes that are gluten-free, vegan, nut-free and high protein.
It's like the ultimate combination. And I really think these new quinoa flour pancakes might just be your new favorite. Especially when you trash them up with all the toppings!
The Perfect Gluten-Free Pancake Batter
You know how traditional pancake recipes tell you to leave your pancake batter clumpy and not overmix? The reason for that is gluten. When you're using gluten-based flours and you mix too much the pancakes will get tough. Hence, no overmixing.
But gluten-free pancakes are completely different! No wondering if they're going to be tough due to mixing!
However, to make light and fluffy gluten-free pancakes, you want to make sure you use some leavening (like baking soda or powder) and/or a good blend of gluten-free flour. In our recipe today we're relying on the leavening agents to make these pancakes oh so fluffy and perfect!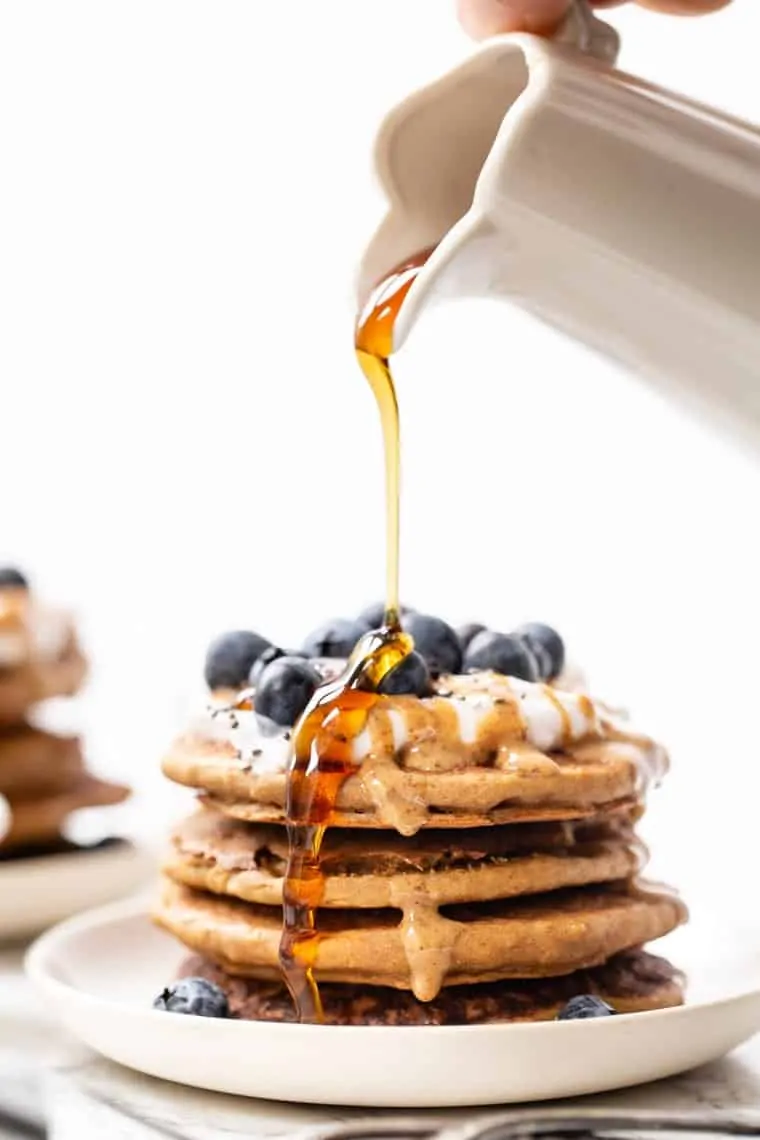 Perfect & Fluffy Gluten-Free Pancakes
I've made lots of gluten-free pancakes over the years. Like lots! And most of the time I end up using a bunch of different flour combinations. I use quinoa, almond, coconut and more just to make a fluffy pancake.
And in that time I've gotten questions about making a fluffy pancake without all the different flours. And I totally get it. Gluten-free flours can be expensive and it can sometimes be a pain to combine all these different flours.
One solution is to make my DIY gluten-free pancake mix and just keep that on hand. The other option? These quinoa flour pancakes!
It was my goal with this recipe to use just one flour. And still, I wanted that classic light and fluffy texture. It took a few tries, but this recipe is perfect!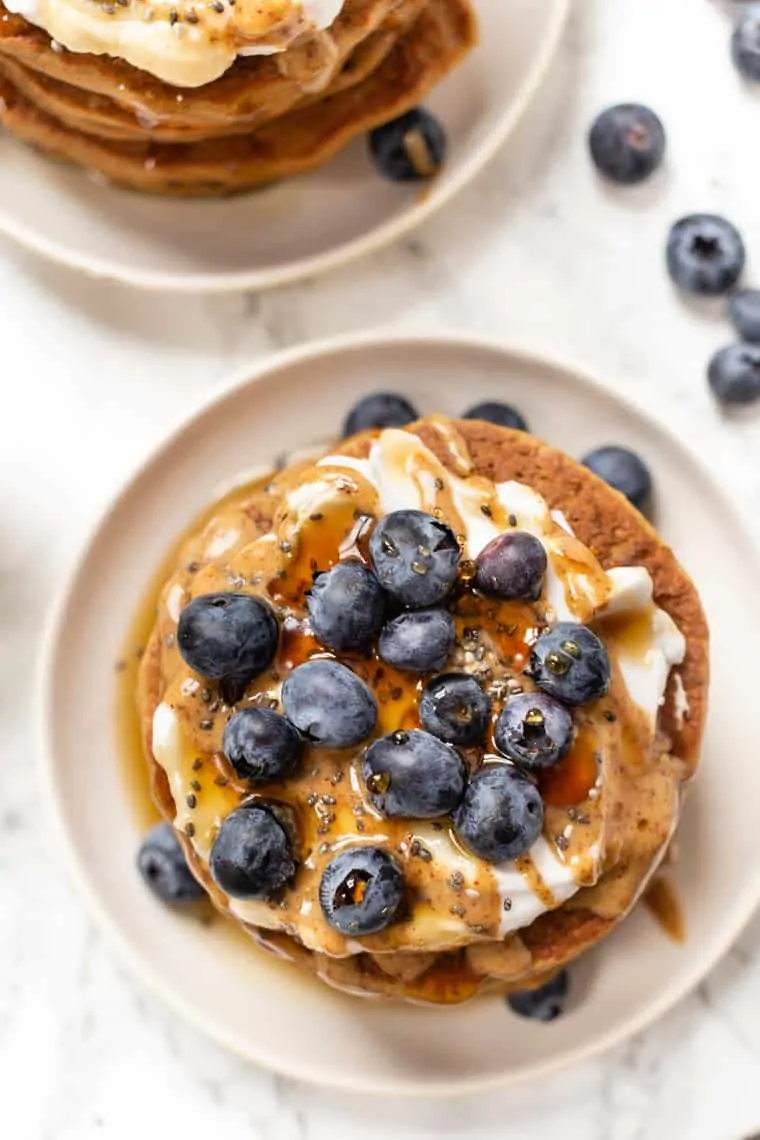 Easy & Healthy Quinoa Flour Pancakes
So how did we achieve the perfect texture for these quinoa flour pancakes? We're relying on baking powder, baking soda, and apple cider vinegar.
I know it sounds crazy, but the addition of acid (ACV) activates the baking soda and creates bubbles inside the batter which helps make them super light. And I promise you can't taste it at all. If you're super sensitive to the flavor of ACV, you could also use lemon juice!
And then we have the quinoa flour. If you're new to quinoa flour, check out our tutorial on how to use quinoa flour. For this recipe, I definitely recommend you toast it for the best flavor. The toasting helps remove any bitterness and gives the flour a nutty flavor which is just lovely. Here's how to toast quinoa flour if you haven't tried before!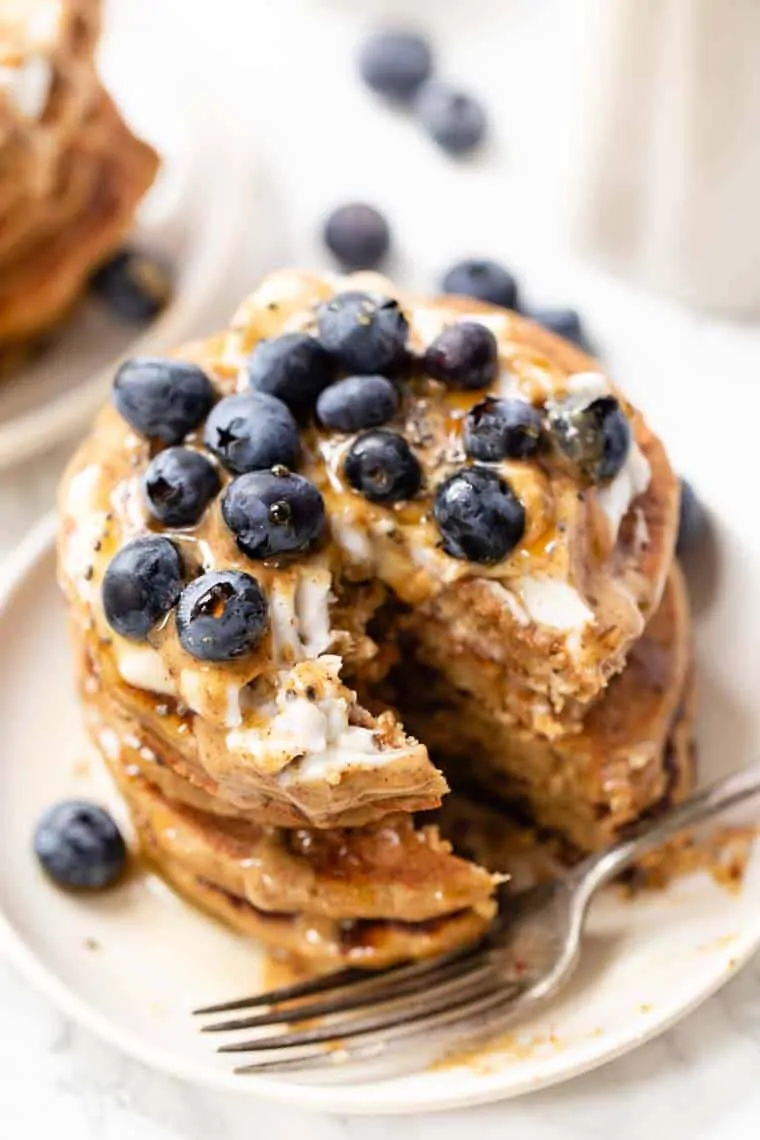 How to Serve Your Quinoa Pancakes
Okay, so let's talk about serving these gorgeous little pancakes. You know I'm a fan of pure maple syrup…always.
But aside from that, the world is your oyster, my friend. I'm a fan of adding something creamy and some sort of fruit usually. What's also great about these pancakes is that the batter itself is plain, so you can also totally stir in add-ins like berries, chocolate chips, nuts, etc.
So for this recipe, here's what I use:
coconut yogurt (I like Coyo)
creamy almond butter (I like Once Again)
fresh blueberries
pure maple syrup
It's a little over the top, but damn it's good. Let me know your favorite toppings in the comments below! And I can't wait to hear what you think of these quinoa flour pancakes. They might just become your new go-to!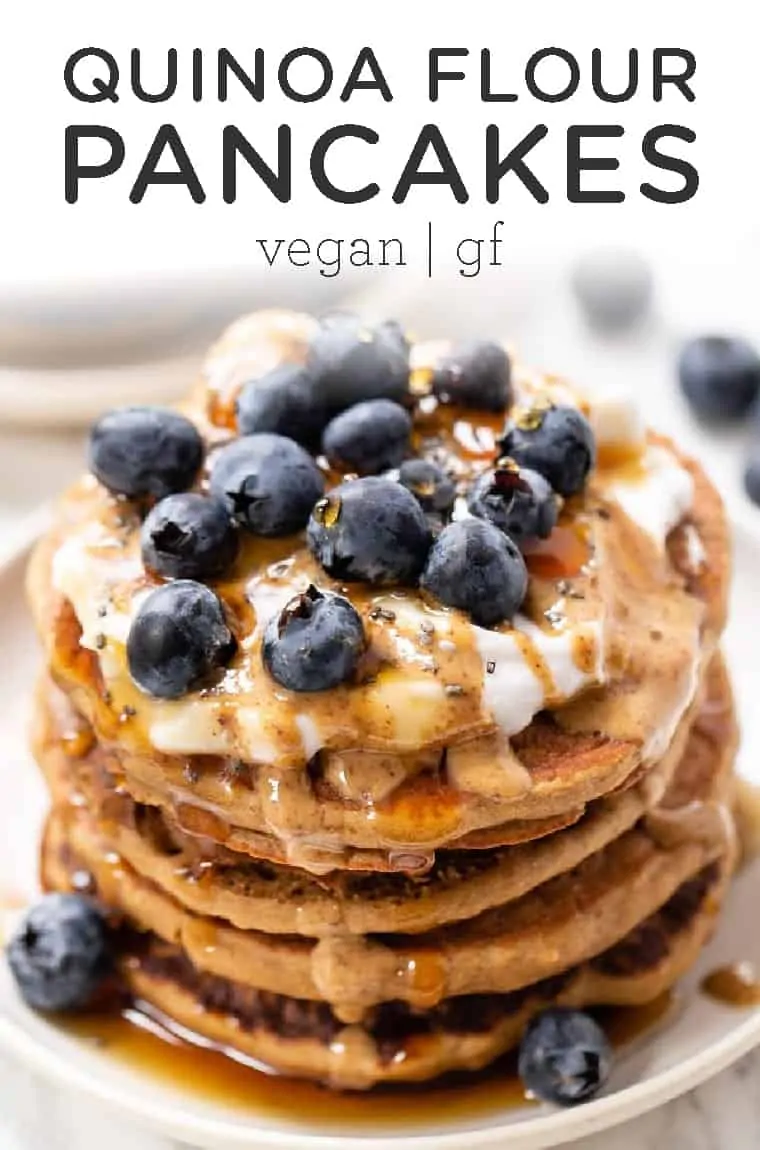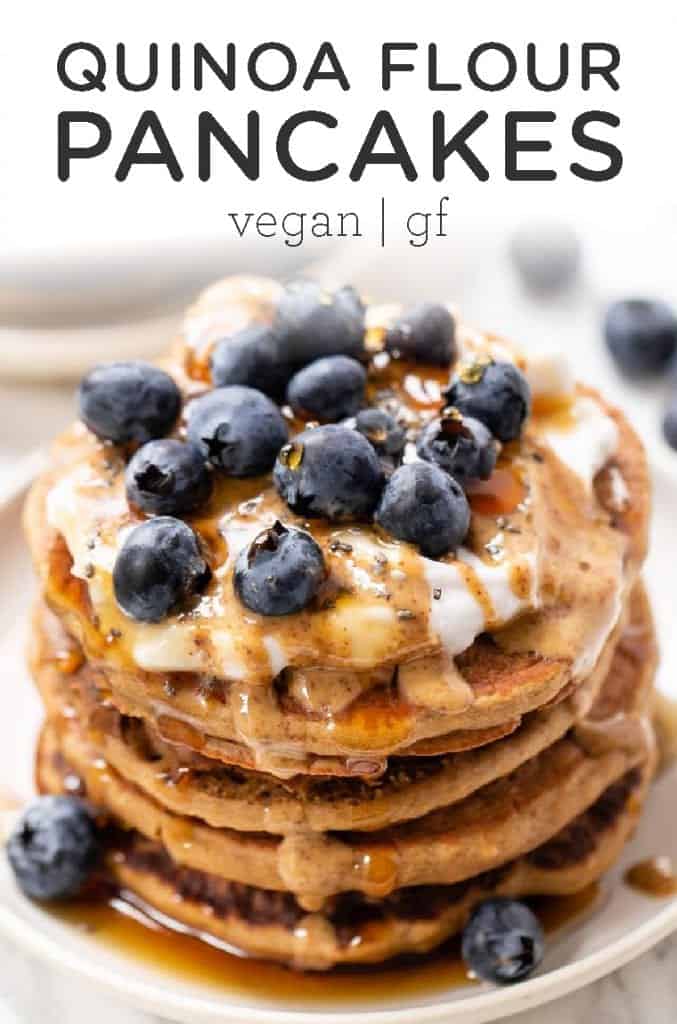 More Quinoa Pancake Recipes to try:
The Best Quinoa Flour Pancakes
These fluffy quinoa flour pancakes are the best gluten-free and vegan pancakes you'll ever taste! They've got the perfect texture, are high in protein and are easy too!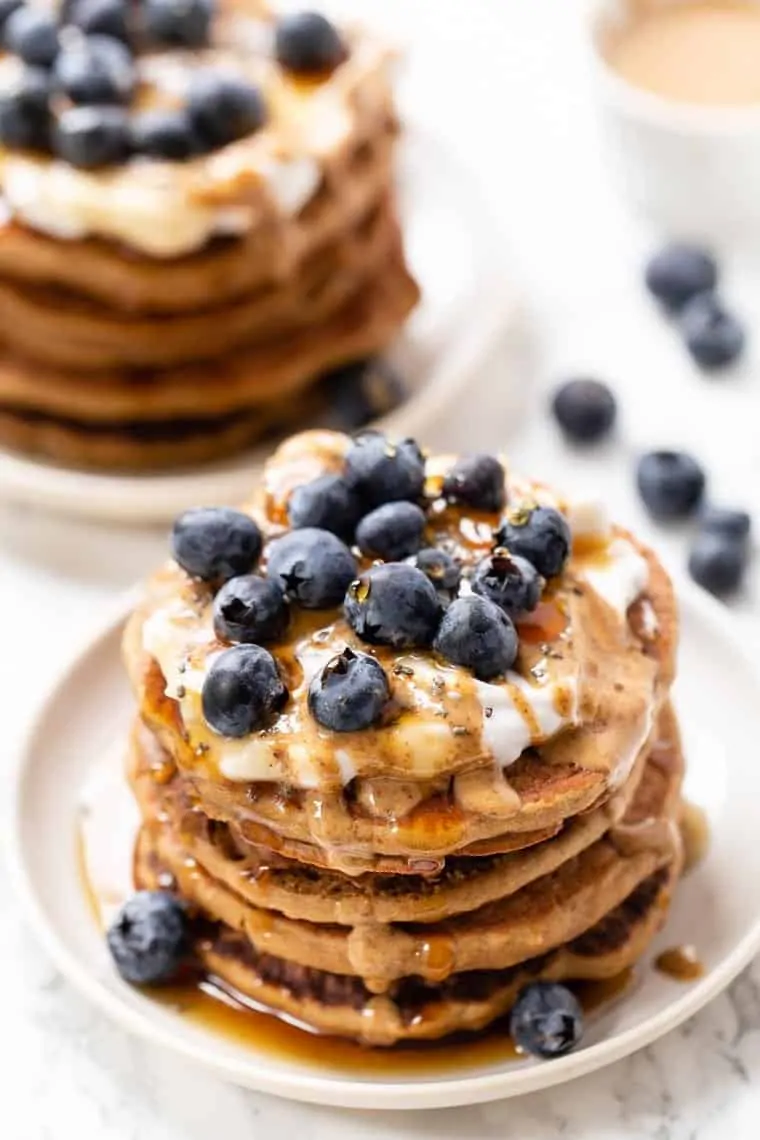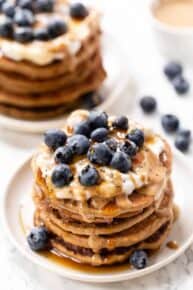 Instructions
Whisk together the dry ingredients.

In a separate bowl, whisk together the wet ingredients. Allow to sit for 3 minutes.

Pour the wet ingredients into the dry and stir to combine. Once you have a smooth batter, it's time to cook!

Preheat a pan over medium-low heat. Use a little cooking spray to grease it. Spoon 1/4 cup of batter onto the pan and gently spread it out with the back of a spoon. Cook the pancakes until bubbles begin to form, about 1 minute, then flip and cook another 1 - 2 minutes. Repeat until all the batter has been used.

Serve the pancakes immediately with your favorite toppings. You can also freeze these pancakes and reheat them in the toaster oven.
Nutrition
Serving:
1
pancake
|
Calories:
82
kcal
|
Carbohydrates:
11
g
|
Protein:
2
g
|
Fat:
2
g
|
Sodium:
73
mg
|
Potassium:
61
mg
|
Fiber:
1
g
|
Sugar:
1
g
|
Calcium:
58
mg
|
Iron:
0.7
mg
Filed Under: