These Vegan Cinnamon Swirl Pancakes are super delicious! They taste like cinnamon buns but are easier to make. They're gluten-free, dairy-free and really healthy too!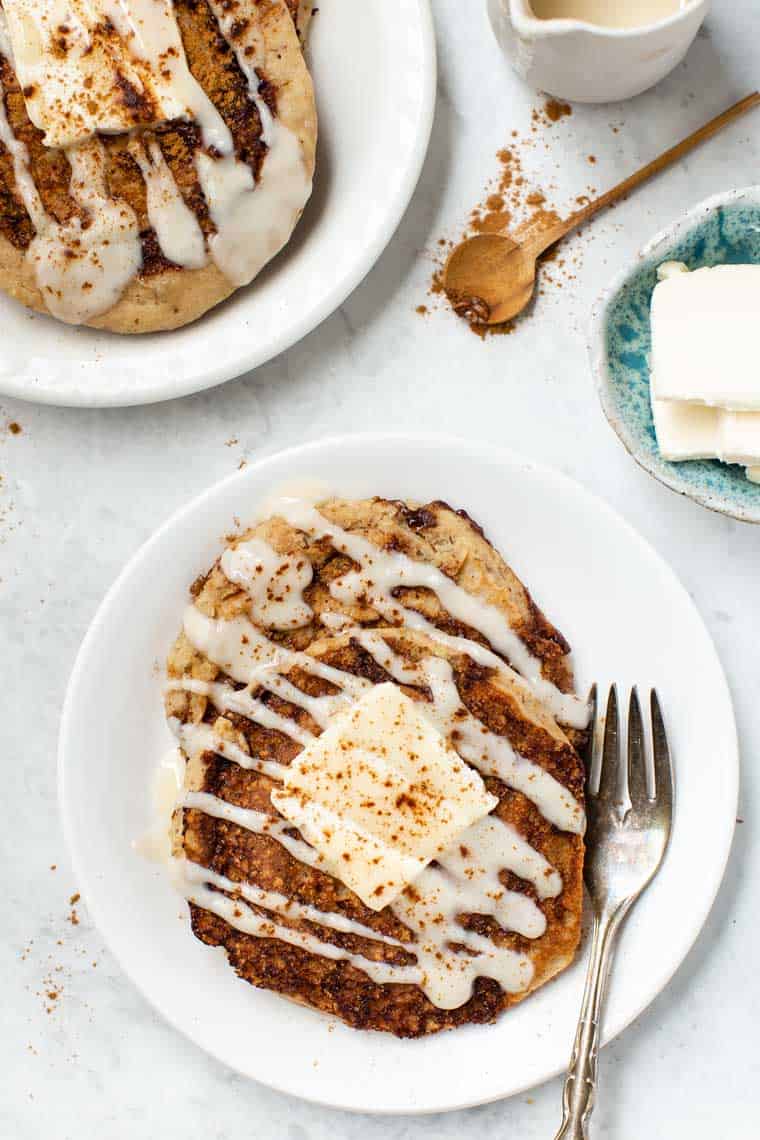 Looky what we have here today, my friends: Vegan Cinnamon Swirl Pancakes.
Cinnamon. Swirl. Pancakes. I'm going to just let that sink in for a moment.
Just picture it with me for a moment…
The warm aroma of cinnamon buns wafting through your house. A fluffy stack of gluten-free pancakes sitting on the table ready to be drenched in pure maple syrup. You have a hot steaming green tea latte and glass of fresh-squeezed orange juice just waiting for you to enjoy. Well… maybe not the orange juice part because heck knows I'm not that patient, but you get the idea.
We're setting the stage for the ultimate breakfast.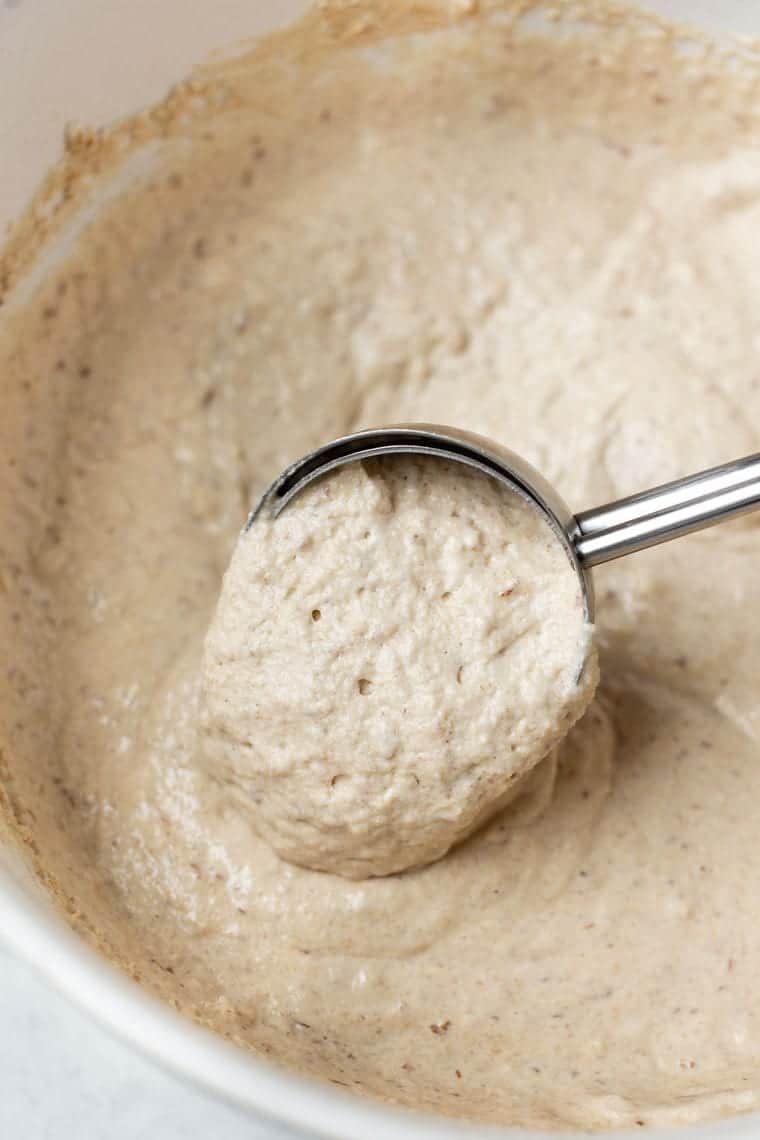 The Perfect Gluten-Free Vegan Pancakes
So far I've shared at least 10 pancake recipes on the website and today is no different! The base for these gluten-free vegan pancakes are my favorite combination:
quinoa flour
almond flour
baking powder
cinnamon
It's the perfect base for pancakes! The quinoa flour and almond flour together are fluffy, but also hold together well and are packed with protein. The baking powder helps them fluff even more and then the cinnamon. I always add cinnamon to my pancake batter for a little extra flavor!
And then we mix that blend with almond milk, coconut yogurt, flax eggs, some oil and a touch of maple syrup. So simple and the absolute BEST texture!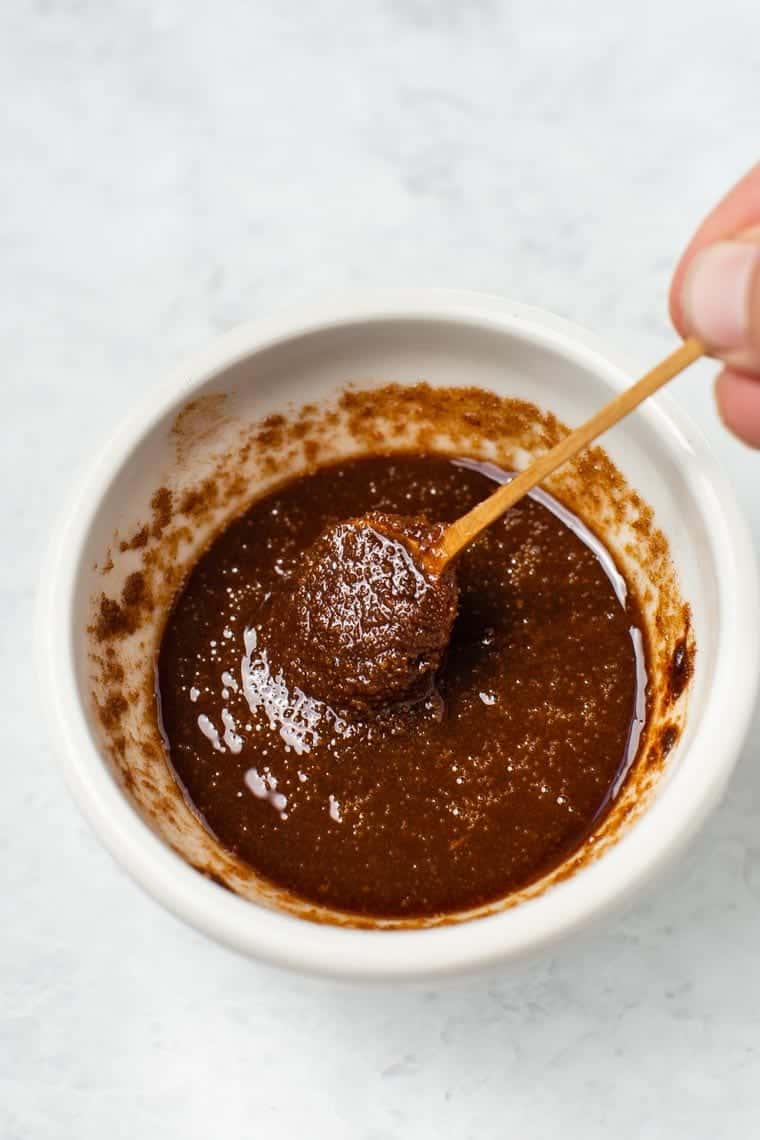 Easy Vegan Cinnamon Swirl Filling
Traditional cinnamon swirl filling is made with three things: butter, sugar, and cinnamon. You start with melted butter, then mix in sugar and cinnamon and you've got your filling.
So how do you veganize that? Simple! By using vegan butter ????
We follow the exact same method and it works wonderfully. Melt some vegan butter, stir in your sugar of choice (I like coconut), add some cinnamon and then pour it all into a squeeze bottle. And if you don't want to use vegan butter, you can also replace that with coconut oil!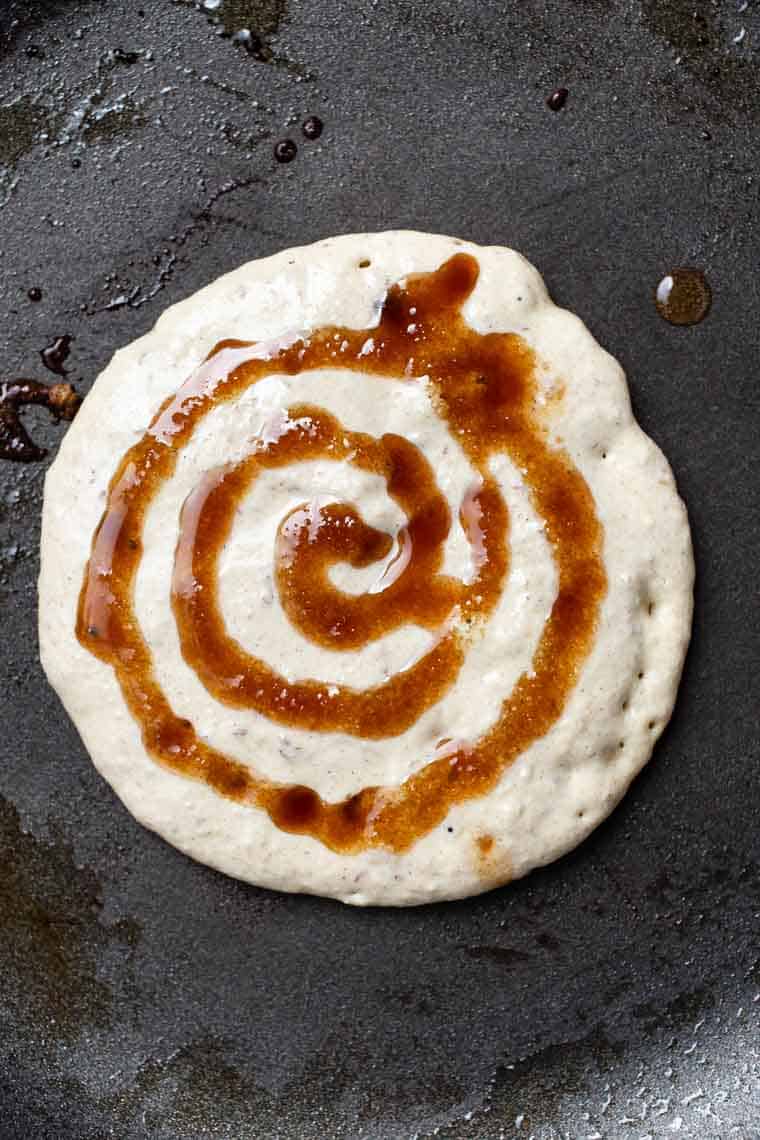 How to Make Vegan Cinnamon Swirl Pancakes
These might look like a tall order to tackle, but trust me, they are actually so simple. All you have to do is mix together a little melted vegan butter (or coconut oil), some sugar and cinnamon, then put it into a squeeze bottle. Bam, got your filling!
Next up is making the pancakes. Just mix everything together in your bowl and make your pancakes as you normally would. Scoop some batter onto the pan, then you just swirl on the filling using your squeeze bottle. Watch for the bubbles to appear and flip.
And you've got vegan cinnamon swirl pancakes on the table!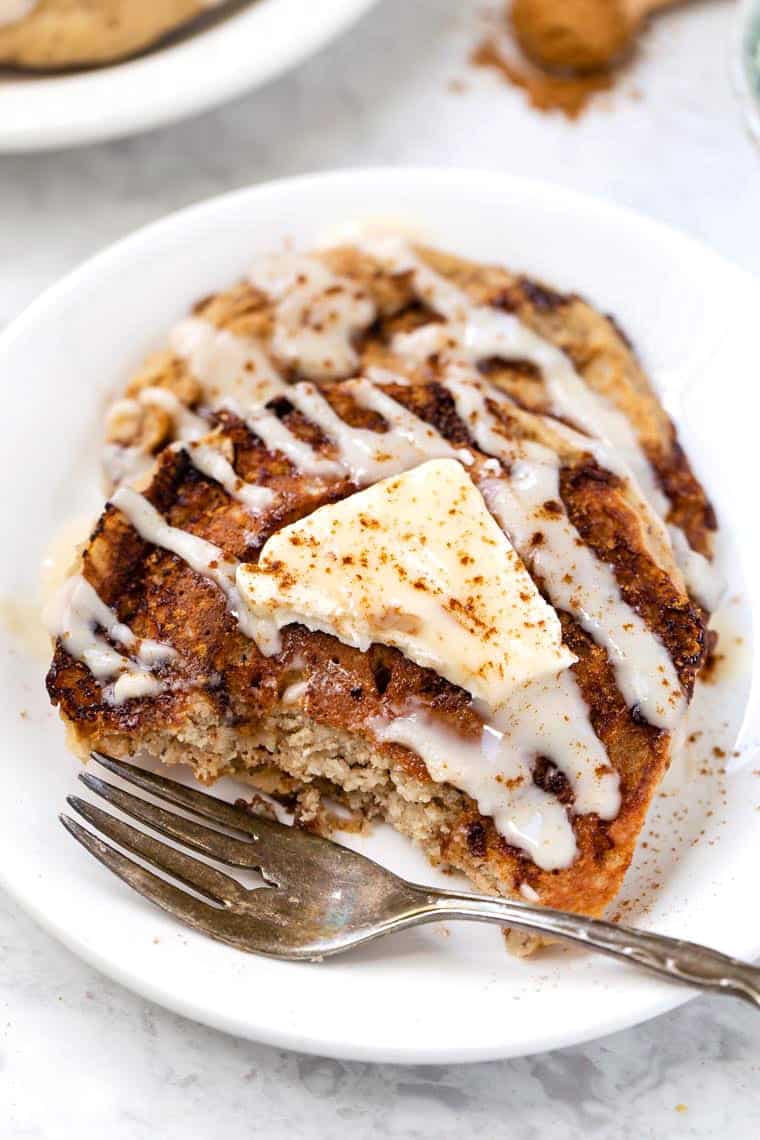 A Perfect Vegan Holiday Breakfast Idea
So while these pancakes might look a little fancy, you can see how easy they actually are to make. Which also makes them PERFECT for the holidays!
Why? I like to think that many of us are likely going to have friends or family visiting during this time of year – or perhaps we'll be the ones doing the visiting – and the food dilemma will inevitably arise. Breakfast is often one of those meals that gets overlooked. You pick up baked goods, maybe a fruit platter, maybe scramble some eggs and call it a day.
And I get it! You're busy, you're over-worked, and you don't want to worry about making something extravagant. The grab-and-go-and-reheat method is so much easier.
Butttt…that's precisely where I think these pancakes come into play. They're practically grab-go-ready-to-eat and taste like a fluffy cinnamon bun, without all the work!
And everyone loves cinnamon buns! I mean honestly, how can you not?!
So why not whip up a batch of these healthy, gluten-free, vegan cinnamon swirl pancakes! They're special, they look amazing, they taste delicious and they're pretty darn simple to make. They sound like the ultimate holiday treat if you ask me!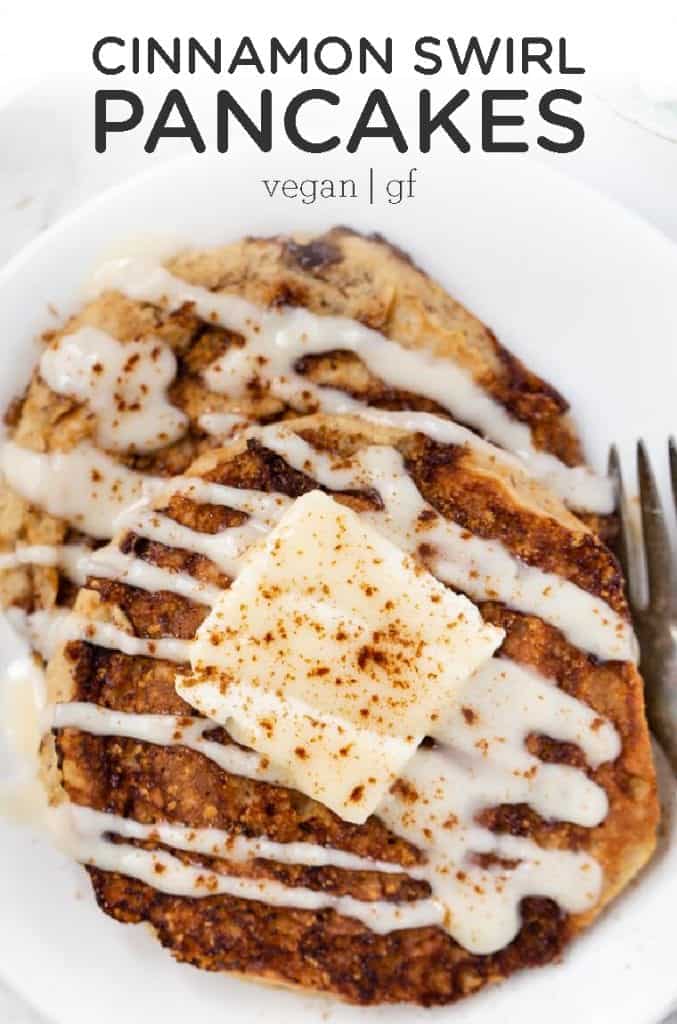 More Healthy Vegan Pancake Recipes:
Vegan Cinnamon Swirl Pancakes
These Vegan Cinnamon Swirl Pancakes are super delicious! They taste like cinnamon buns, but are easier to make. Also gluten-free, dairy-free and healthy.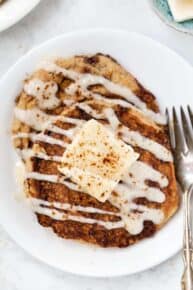 Instructions
Preheat a skillet over medium-low heat.

Beat together pancake ingredients.

Grease skillet with cooking spray. Scoop 1/4 cup of batter onto skillet and using the squeeze bottle create a spiral with the cinnamon swirl filling on top of each pancake.

Cook until bubbles begin to form, about 2 - 3 minutes. Flip and cook for another 1 - 2 minutes. Transfer to a wire rack and repeat previous step until no batter remains.

Serve warm with a pad of vegan butter, a drizzle of melted coconut butter and some maple syrup if you'd like. And of course, enjoy!
Notes
I had extra filling left over to I filled the swirls I had created on my pancakes with the additional filling. This is optional, but delicious!
Nutrition
Serving:
1
pancake
|
Calories:
144
kcal
|
Carbohydrates:
13
g
|
Protein:
4
g
|
Fat:
9
g
|
Saturated Fat:
3
g
|
Sodium:
51
mg
|
Potassium:
85
mg
|
Fiber:
3
g
|
Sugar:
3
g
|
Vitamin A:
89
IU
|
Calcium:
88
mg
|
Iron:
1
mg
Filed Under: