This is hands down the BEST shallot dressing recipe you'll ever make! It uses just a few simple ingredients, tastes amazing and goes well with all types of salads!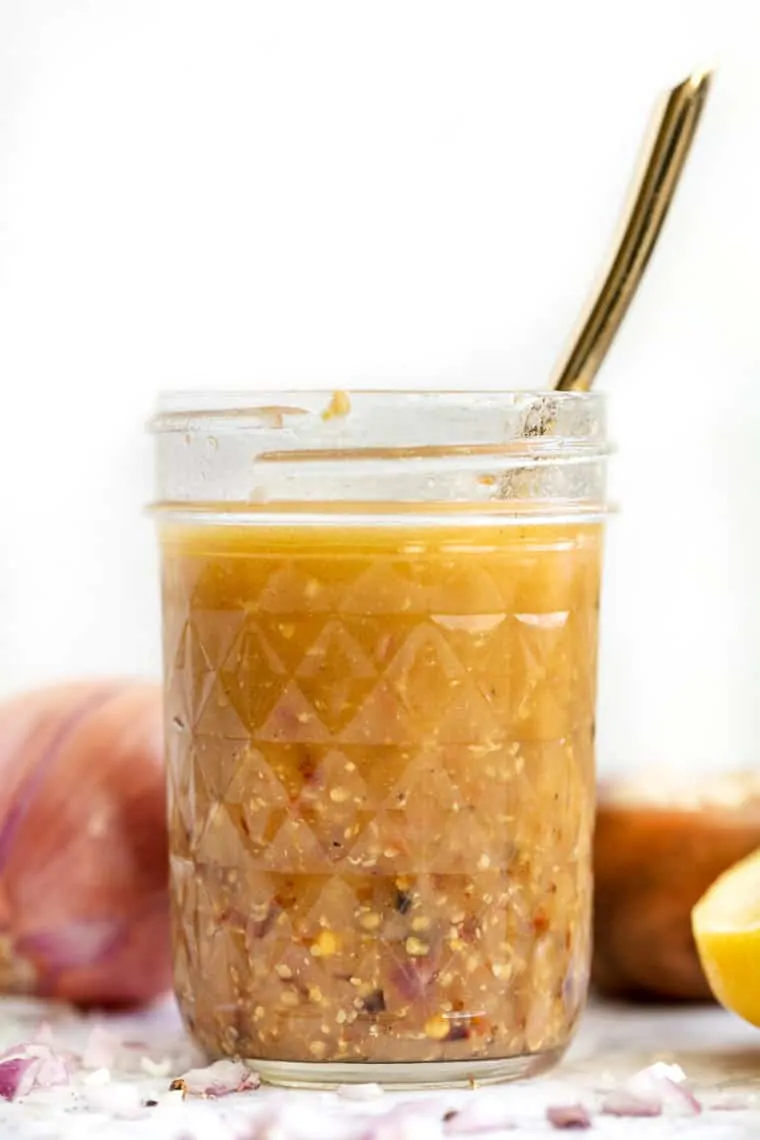 We love salads at our house. We make them almost daily, but we also find they can get a little boring after a while. So rather than changing up our salad recipe every day, we've decided to focus on our dressings.
If you've followed along for a while then you know I love tahini dressings. I have a go-to recipe that is absolutely delicious, and while I love it, Matt's not a fan of creamy dressings all the time. He usually makes his Spicy Lemon Vinaigrette recipe that we shared in our salad dressing post, BUT… he's come up with a new one that is absolutely DELISH!
It's this amazing shallot dressing recipe and it couldn't be easier to make. It uses just a few simple ingredients, takes about 3 minutes to make and goes well with pretty much everything. And I've got some ideas linked down at the end for you to try if you're ready to make it right now!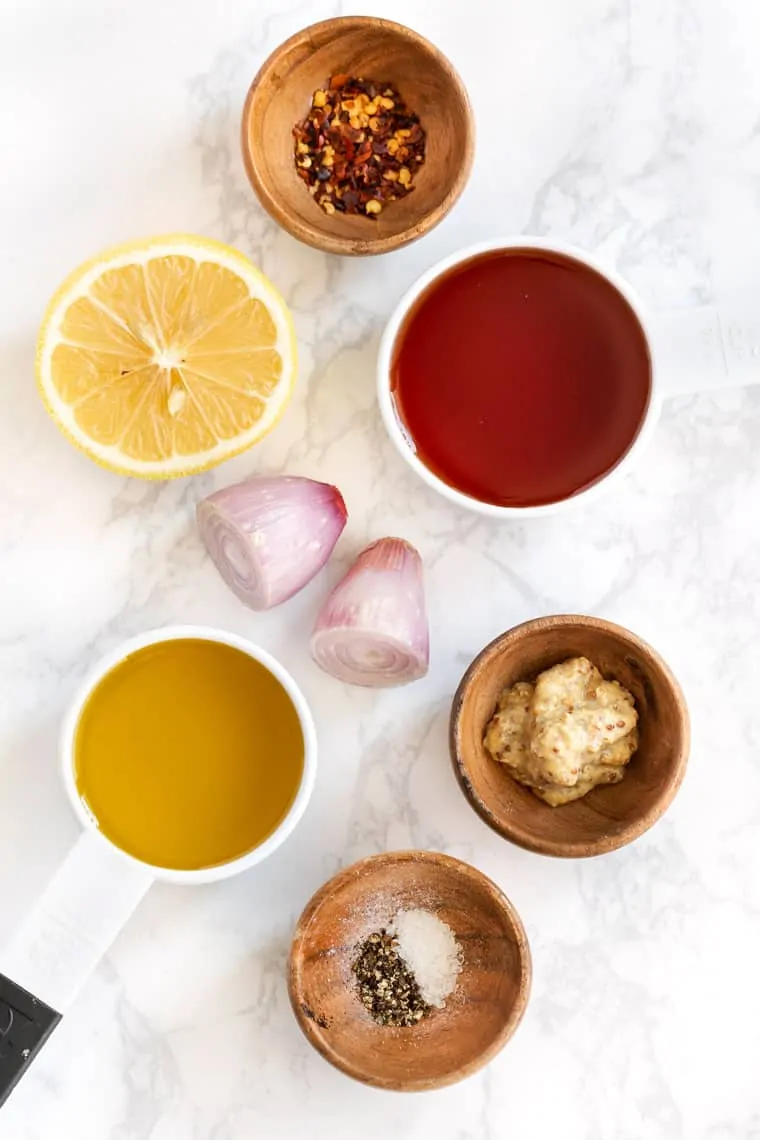 Ingredients for Shallot Salad Dressing
One of the reasons why I love this salad dressing is how simple it is to make. The only "strange" ingredient is the shallot, but if you clicked on this recipe then you likely already have one on hand. Everything else I bet is already on hand!
Here's what you'll find inside this shallot vinaigrette:
Olive oil: I use extra virgin since it has the best flavor
Red wine vinegar: we love the depth of flavor with red wine vinegar, but you could also use apple cider or white wine. All three work and taste delish!
Diced shallot: the key to the perfect shallot dressing is finely chopped shallot. You only need a small one!
Mustard: another secret to his dressing is mustard because it adds a little zing and depth of flavor.
Lemon juice: we almost always use lemon in our recipes and while you don't technically need it, it really helps elevate the flavor.
Red pepper flakes: for those of you who love a little kick, add this in. If not, skip it!
And to finish everything off, we add salt and pepper to round out the recipe!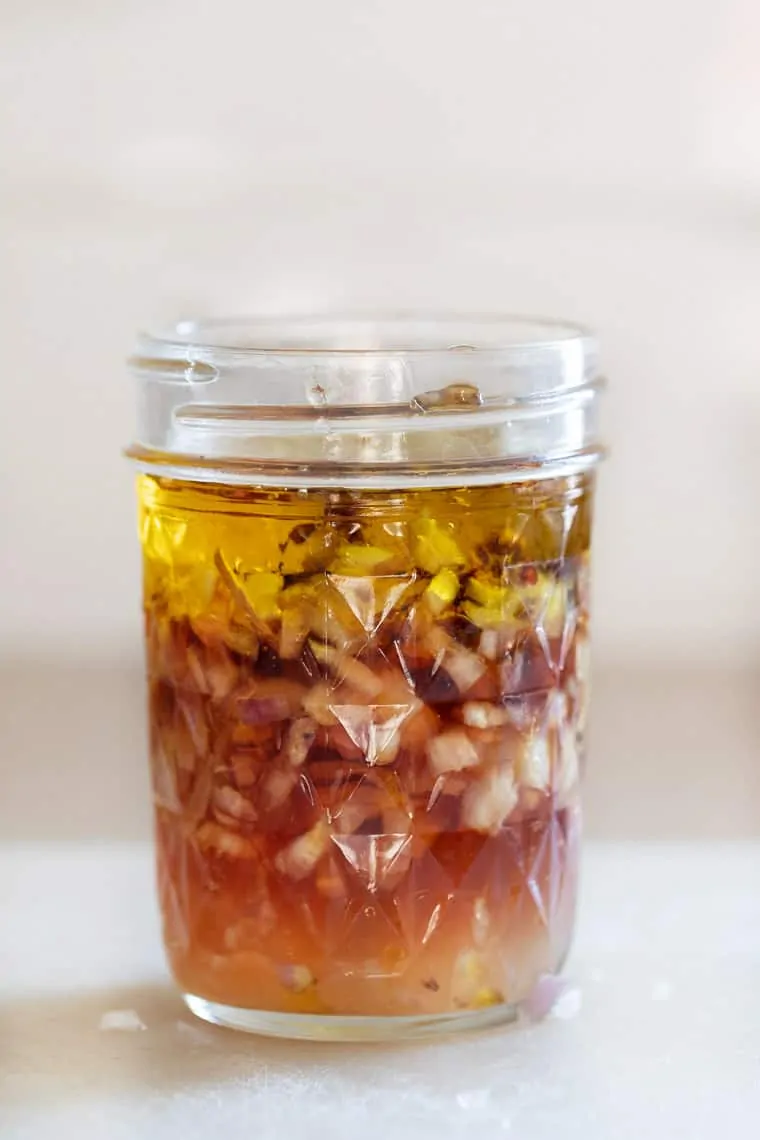 How to make this Shallot Dressing Recipe
One of the things I love about this recipe is that it only takes a few minutes to make. The only "tricky" part is cutting up your shallot, and even that won't take you much time.
STEP ONE
You'll start by dicing up your shallot. If you're not sure how to dice a shallot, check out this video!
STEP TWO
Add everything into a jar. We love using mason jars for our dressings because you can shake mix them and store them in the same place. This recipe is made in an 8oz jelly jar and it fits perfectly.
STEP THREE
Shake it up! Once you've added everything into the jar, screw on the lid and shake it all up. Then you're ready to dress your salads!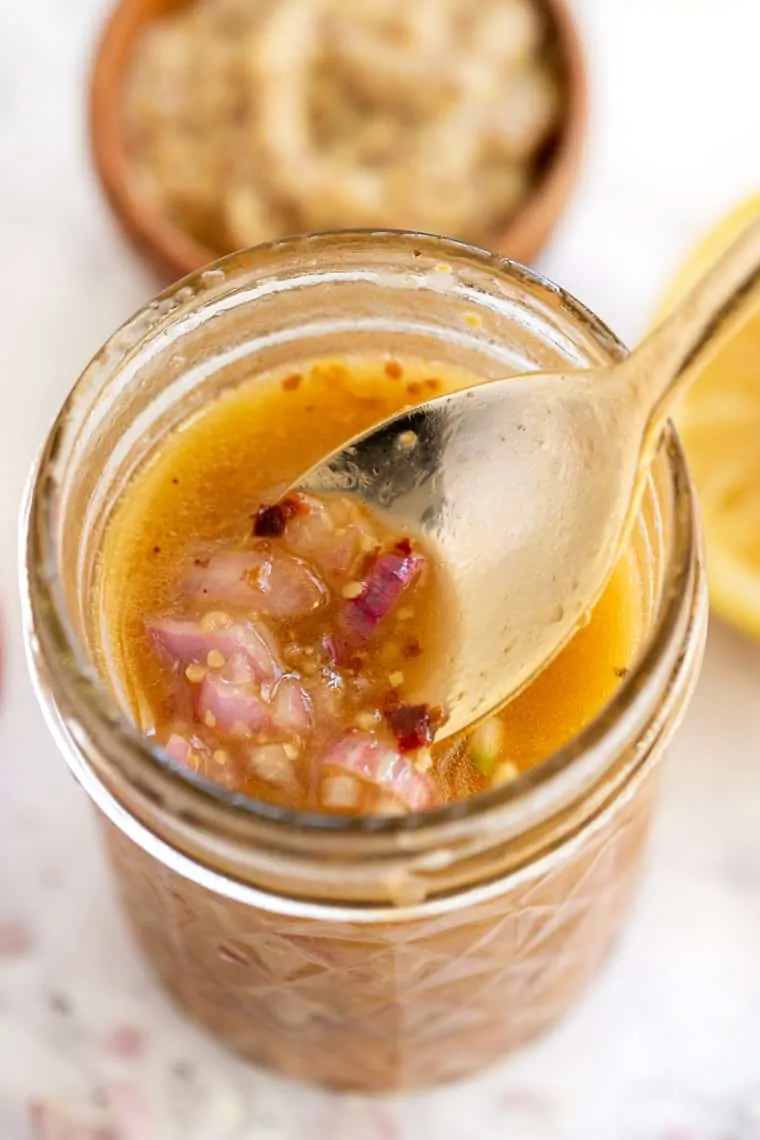 Vinaigrette vs. Dressing: What's the Difference?
Most people online are searching for shallot vinaigrette, but I really only associate that word with balsamic. Everything else I call a dressing.
So what technically is the difference between a vinaigrette and dressing? A vinaigrette is something that is made with oil, vinegar, and other flavorings. A dressing is more encompassing and can include things like ranch, caesar, etc. So technically a vinaigrette is a dressing, but a dressing doesn't necessarily mean vinaigrette. Does that make sense?
Now it's time for you to stop by store-bought dressings and start making them at home. They're SO easy, they're way healthier and they keep for quite a while. So I hope you try our best shallot salad dressing and props to Matt for creating it. I guess technically we should be calling this Matt's Shallot Salad Dressing ?
Let me know if you want to see more of his recipes!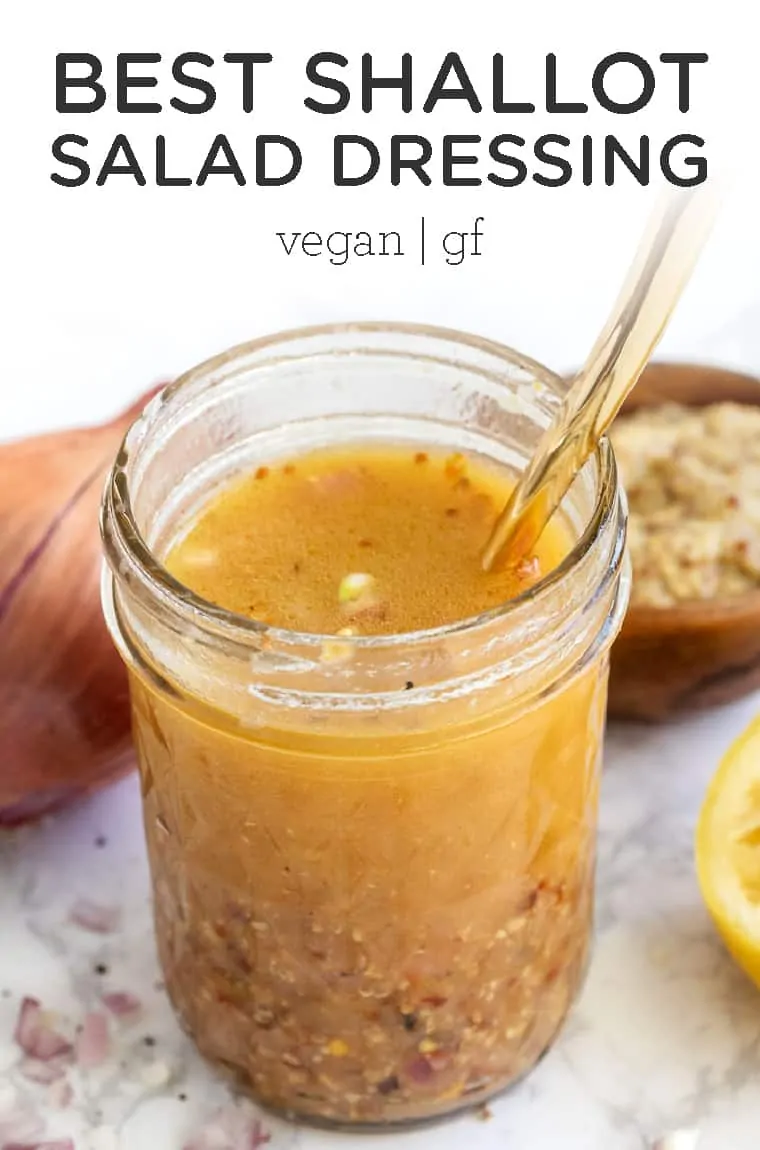 Ways to use Our Best Shallot Dressing Recipe
Best Shallot Dressing Recipe
This is hands down the BEST shallot dressing recipe you'll ever make! It uses just a few simple ingredients, tastes amazing and goes well with all types of salads!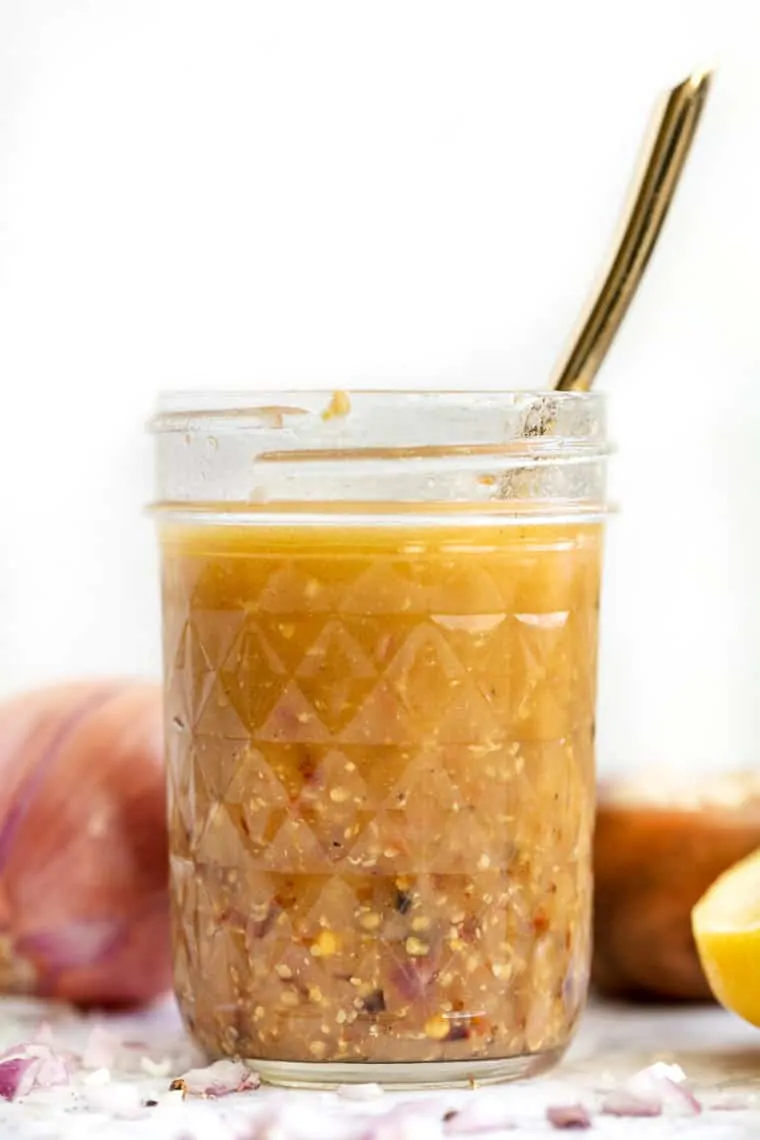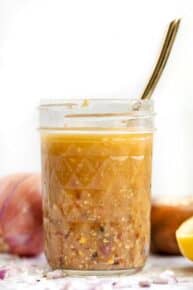 Instructions
Start by dicing the shallot into small pieces.

Add all the ingredients into a glass mason jar or small bowl, and whisk everything together.

Allow to sit for at least 5 minutes, then use it as you'd like!

Store in a fridge for 2 - 3 weeks.
Nutrition
Serving:
2
tablespoons
|
Calories:
52
kcal
|
Carbohydrates:
1
g
|
Protein:
1
g
|
Fat:
5
g
|
Saturated Fat:
1
g
|
Sodium:
20
mg
|
Potassium:
8
mg
|
Fiber:
1
g
|
Sugar:
1
g
|
Vitamin A:
30
IU
|
Vitamin C:
1
mg
|
Iron:
1
mg
Filed Under: