This shaved brussels sprout salad is easy and tasty! A great side, but can also be topped with your favorite protein for a heartier meal. Vegan and GF too!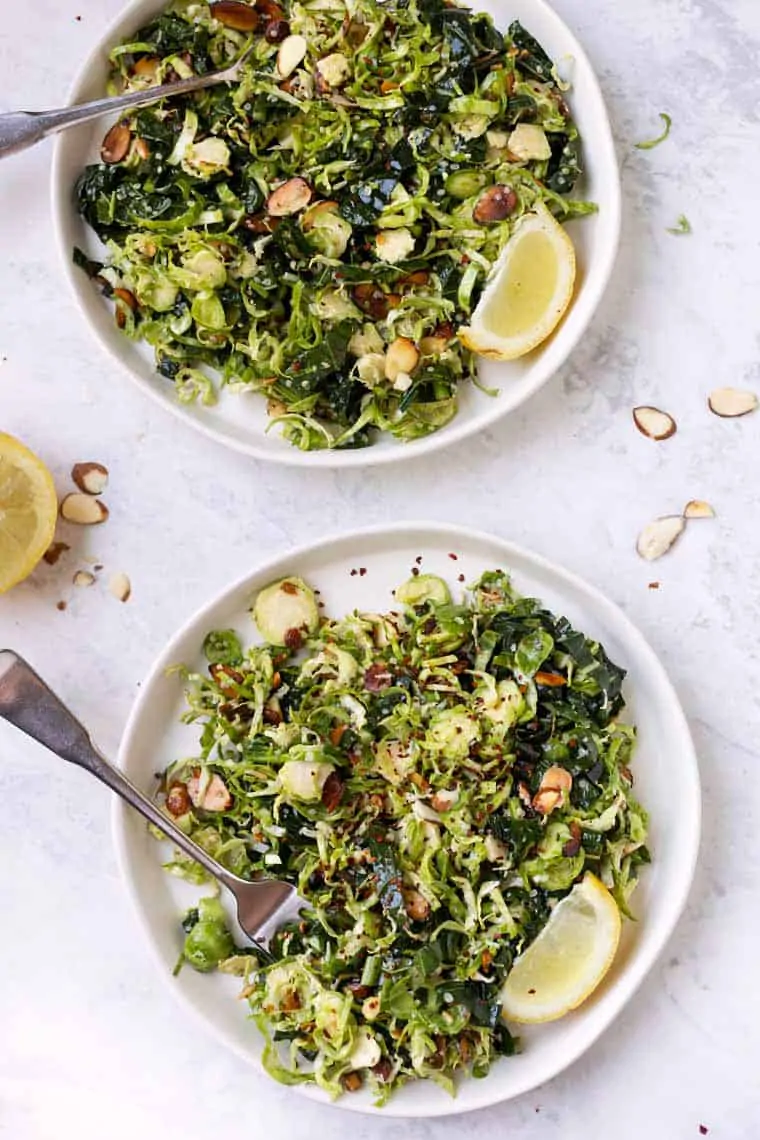 Finally some greens! For the last few months and all the traveling that we've been doing, I've really been missing my greens. And now that we're back I'm honestly feeling so great!
We're making salads almost daily and this shaved brussels sprout salad is pretty much in constant rotation. It makes an awesome lunch option (maybe with some crispy chickpeas on top), but we also love having it on the side at dinner. It's just one of those salads that goes with everything.
And best of all? This recipe uses just 10 ingredients, it can be ready in about 15 minutes, and keeps for a few days in the fridge – which means it's awesome for meal prep!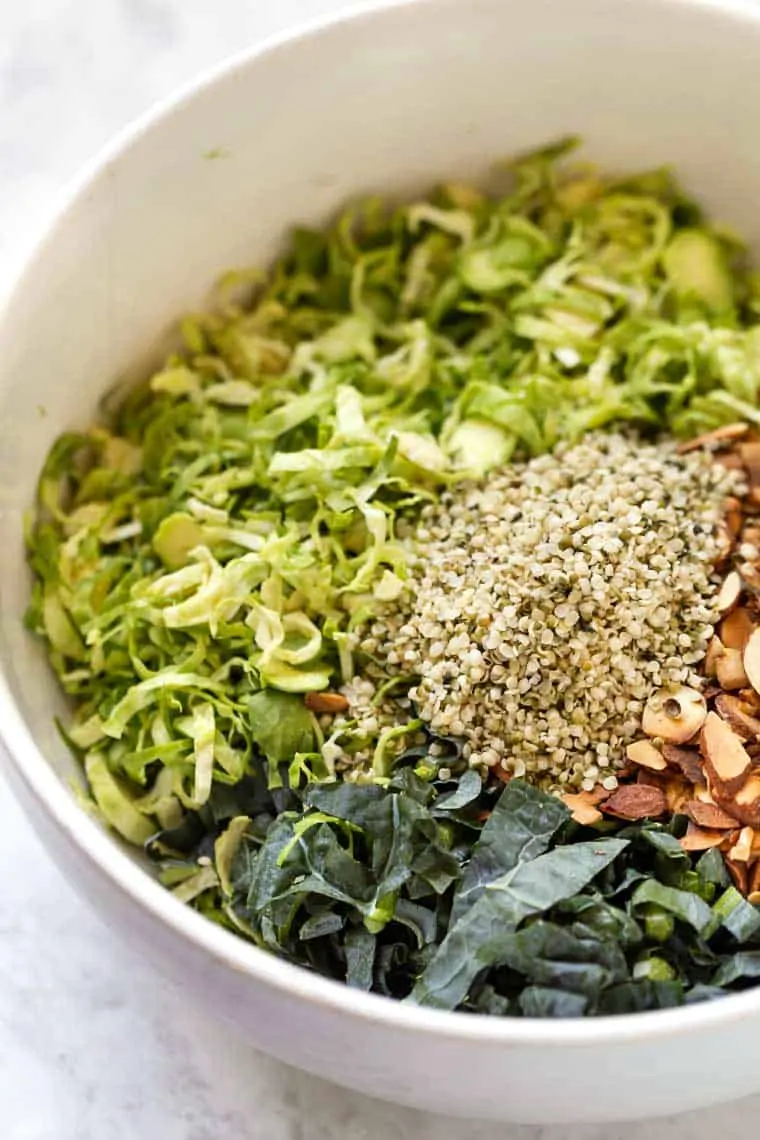 How to Shave Brussels Sprouts: 4 Ways
Shaving brussels sprouts can be a bit of a pain, but it's also one of my favorite ways to eat them. Over the years – of yes, shaving brussels sprouts  – I've found four ways to do it. And I'm going to list them from easiest to hardest for you.
Food Processor: most food processors nowadays come with a few different blades. They have the regular S-blade, but then they have a grate and a slicer. I have this 11-cup Cuisinart food processor and use the slicer "attachment". You just wash them and add them right in. It's super quick and easy!
Mandolin Slicer: I love my mandolin slicer and this is my second favorite way to shave brussels sprouts. I hold them (very carefully) by the stem and then run them over the blade. It's a bit dangerous and definitely takes more time, but you can get even, consistent slices which I like.
Box Grater: similar to a mandolin, you can also use your box grater. You've got to be careful about holding it down while also using it to cut your brussels sprouts. It's my least favorite option, but definitely doable!
Knife: the slowest and most annoying way to cut brussels sprouts is with a knife. Basically you just gotta be patient and cut them as thin as possible. The downside of this method: it's slow and you can't get consistent sizes. But it's also safer than the previous two.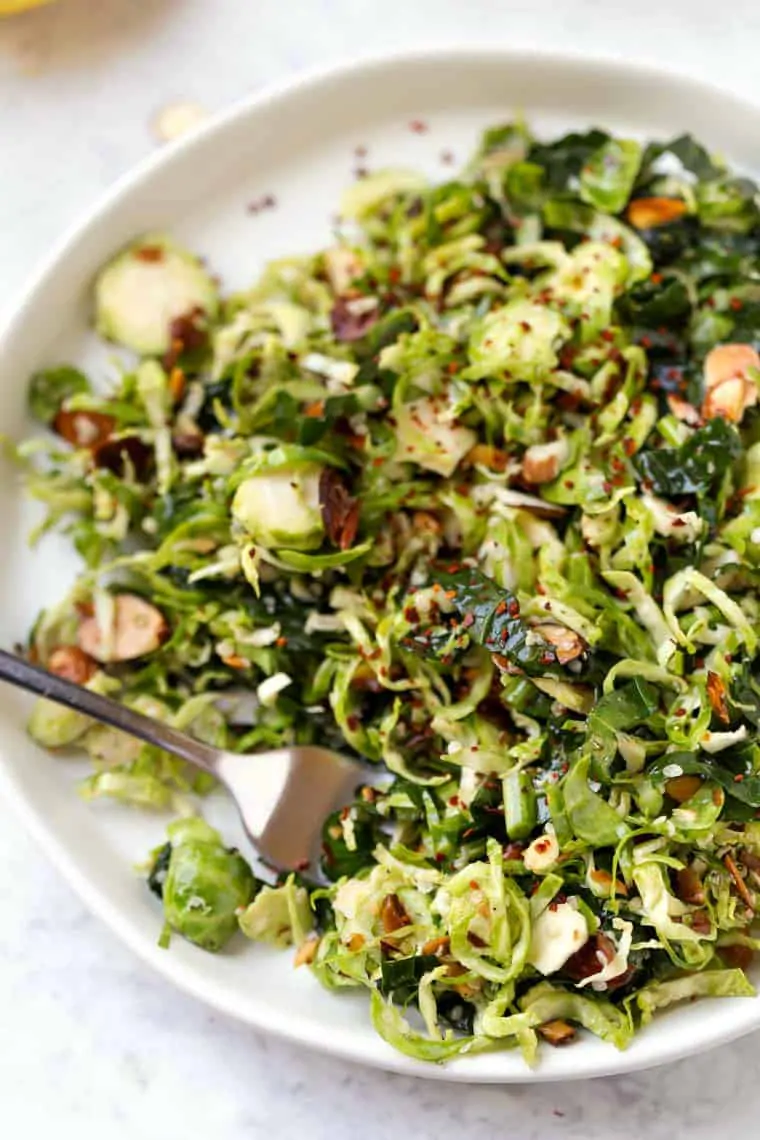 Shaved Brussels Sprout Salad Ingredients
This is probably one of the simplest salads you can make. The base we're only using four ingredients:
Shaved brussels sprouts
Thinly sliced kale
Toasted almonds
Hemp seeds
You get the health benefits of cruciferous veggies, as well as the benefits of dark leafy greens. Tons of antioxidants, vitamins, and minerals. Then we add in the almonds and hemp seeds and we not only get a nice crunchy texture, but also healthy fats and hemp seeds.
Easiest Salad Dressing Recipe EVER
If you've seen any of my salad dressing posts, then you know I'm a big fan of anything lemon-based. I'm using my super simple, staple salad dressing with this salad and it pairs perfectly.
Here's what you'll need to make it:
Olive oil
Lemon juice
Honey
Garlic powder
Salt
Pepper flakes
The lemon brightens everything up, while the honey (or maple syrup) is there to round everything out. The sweetness helps mellow out the earthiness of the veggies. And then for just a hint of flavor, we've got the garlic powder. Salt to raise it all up. And something spicy for that little zing at the end!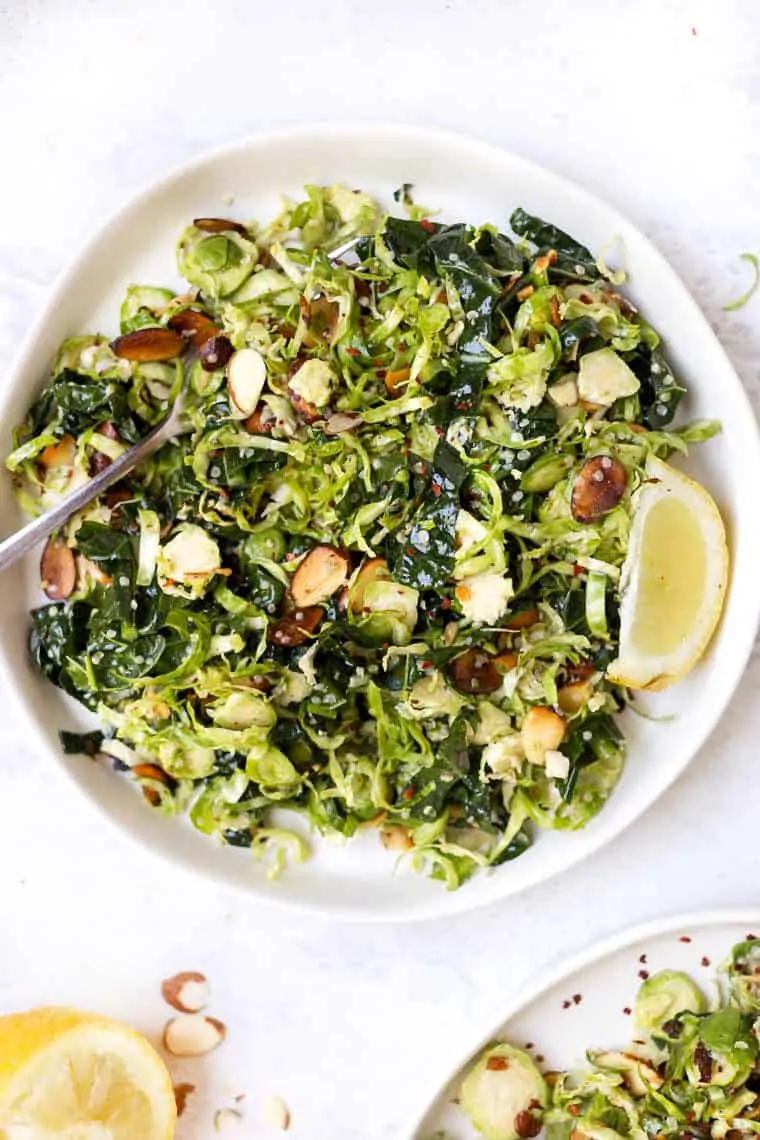 How to Make Salad More Filling
This salad is definitely more of a side dish. It's delicious, but until you eat the whole thing, it's not going to fill you up. BUT it's also a great base, so it's easy to jazz it up a bit more to help it be more filling. My favorite ways to make a salad more filling are:
Protein: grilled chicken, tofu, salmon, or even just crispy chickpeas is a great way to amp up the protein content of your salad and make it more filling and satisfying.
Complex carbohydrates: I love adding a bit of roasted sweet potato, butternut squash, or even some quinoa/grain to my salads to make them more filling.
Healthy fats: and my final tip is to add more healthy fats. My favorite ingredient is avocado because it also adds more fiber which is another ingredient that makes you feel fuller for longer.
Best Ways to Store Salad
Storing salads can be tricky. If you're making a mixed green salad, you can mix all the veggies together, but store your dressing separately. Then just dress the salad the day you're going to eat it. This will keep your greens nice and fresh.
For this shaved brussels sprout salad, you can actually just store it all together! Since we're using some tough veggies, you don't have to worry about things getting super soggy. I actually like this salad a day or two later better!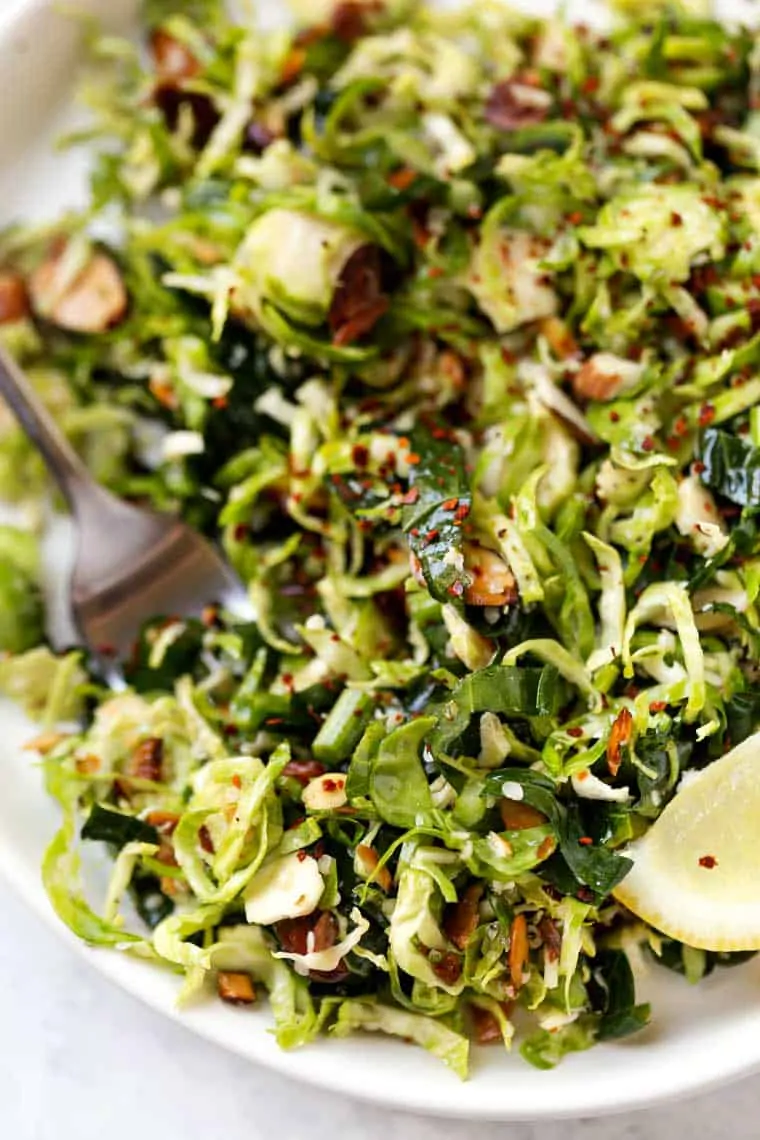 Substitutions for Shaved Brussels Sprout Salad
Last but not least, let's talk about substitutions! If you want to make some swaps in this salad, here's what I'd recommend:
Kale: you can use another dark leafy greens like chard, curly kale or collards. You could also do spinach but it won't last as long in the fridge.
Almonds: any other nut or seed will work!
Hemp hearts: you can totally just leave these out, but that will reduce the protein count a bit!
And honestly, feel free to use any salad dressing that you'd like. I love this combo, but this is a fairly basic salad and really any flavor could be used. If you do end up trying another flavor, I'd love to know!
Otherwise, I think you've got everything you need to make this salad. I hope you love it as much as I do! It's honestly so easy and such a great base or side dish. It's a go-to for me and I think it will be for you too!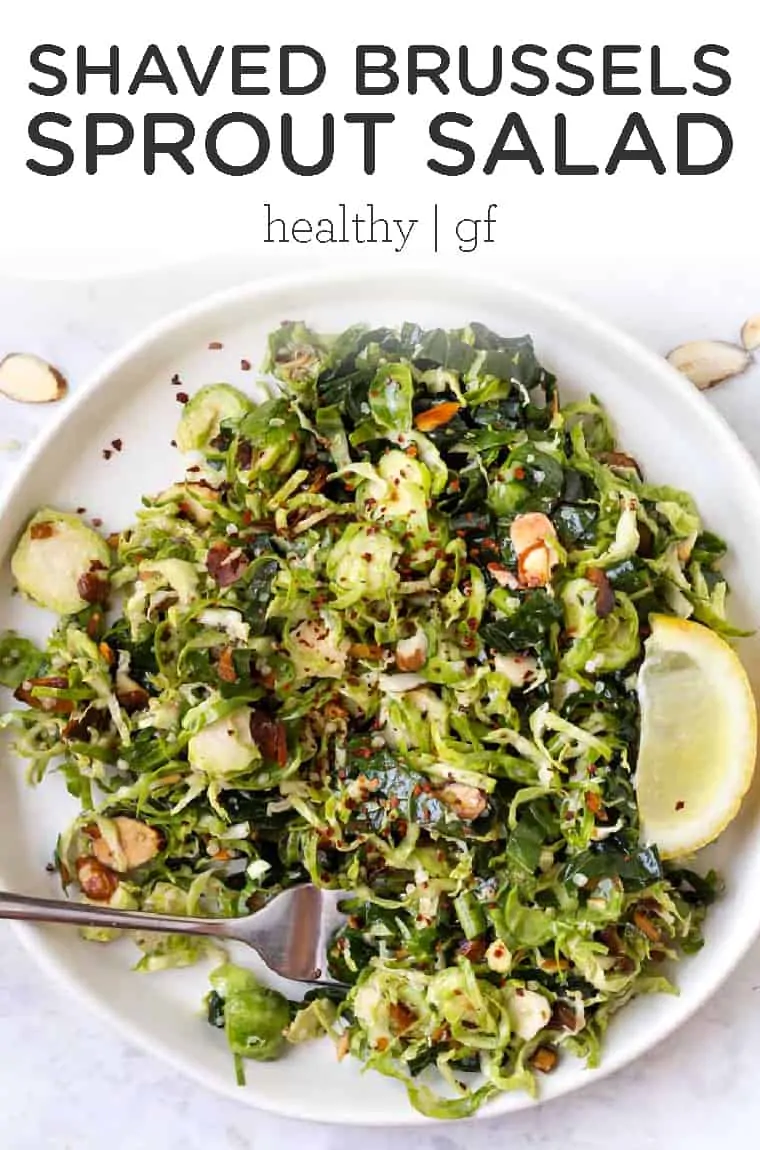 More Ways to Use Brussels Sprouts
Shaved Brussels Sprouts Salad
This shaved Brussels sprout salad is easy and tasty! A great side, but can also be topped with your favorite protein for a heartier meal.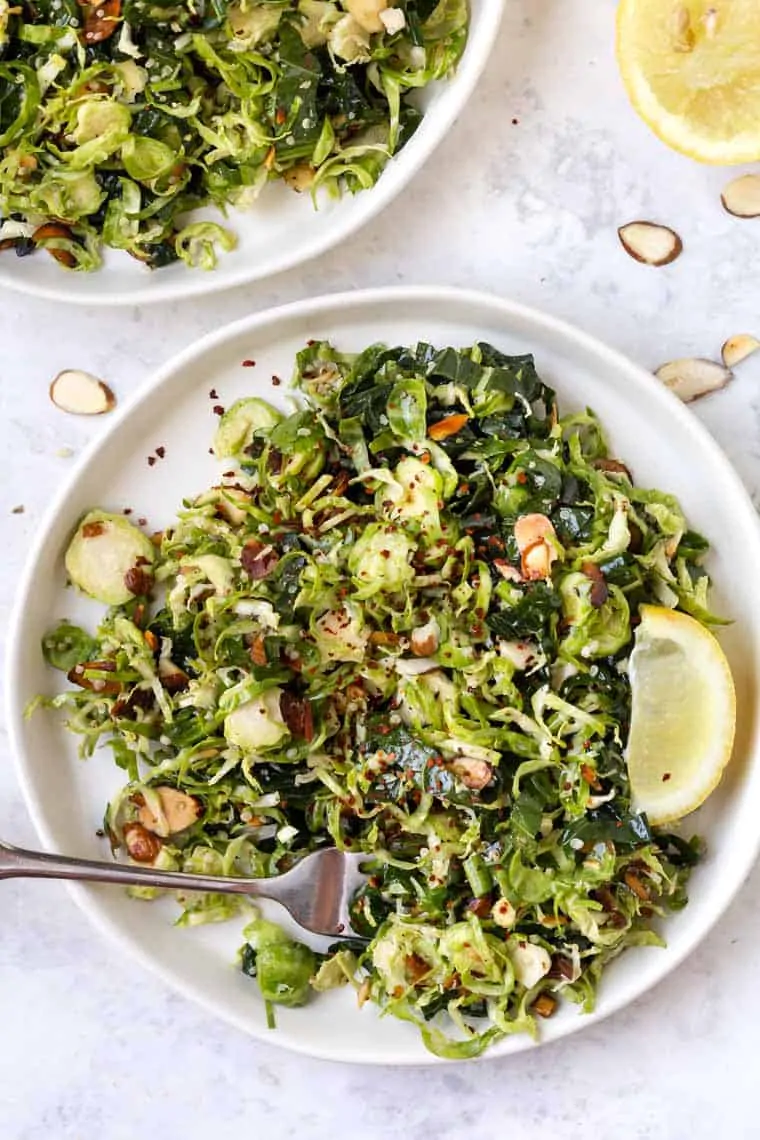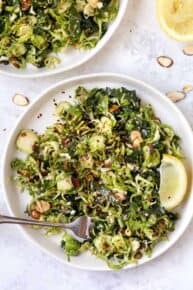 Instructions
Shave the Brussels sprouts either using a food processor, mandolin slicer, box grater or knife. I find it easiest and quickest to do this in the food processor. Add these to a large bowl.

Thinly slice the kale into fine ribbons. I like to roll the kale leaves together width-wise and then slice them from top to bottom. It's quick and easy! Add these to the bowl as well.

Place the almonds on a baking sheet or dry skillet. Toast them in the toaster oven or saute them until golden brown, about 2 minutes. Add those to the bowl, followed by the hemp hearts.

In a separate small bowl, combine the remaining ingredients. Whisk together to form the dressing. Pour the dressing over the ingredients in the bowl and massage together with your hands. (messy, but worth it). Taste and adjust seasoning as needed.

Serve immediately or top with your favorite protein and enjoy!
Nutrition
Serving:
1.5
cups
|
Calories:
323
kcal
|
Carbohydrates:
24
g
|
Protein:
14
g
|
Fat:
22
g
|
Saturated Fat:
2
g
|
Sodium:
480
mg
|
Potassium:
747
mg
|
Fiber:
7
g
|
Sugar:
8
g
|
Vitamin A:
4303
IU
|
Vitamin C:
142
mg
|
Calcium:
162
mg
|
Iron:
4
mg
Filed Under: