A burst of summer in every bite, this black raspberry ice cream is just as creamy and rich as traditional ice cream, but it's made without dairy and refined sugar!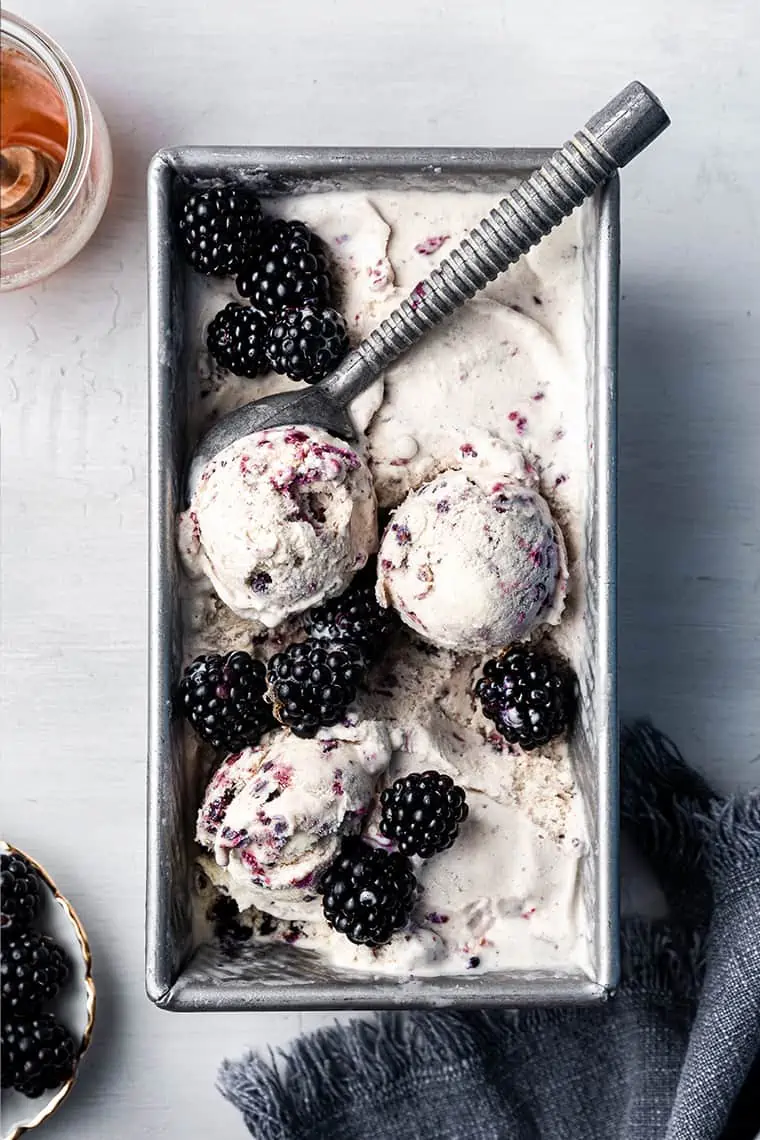 One of my favorite things about growing up in Vermont is being surrounded by wild berries. When I was a little girl, every summer around this time, you would find me deep in the pricker bushes in our backyard. I would emerge, sometimes hours later, with red scratches all over my body, a container of fresh berries in my hand, a triumphant smile on my face. And we'd enjoy them all day long.
Red raspberries would come first, followed quickly by the black raspberries and then in mid- to late-August, the big juicy blackberries would start to pop. If you haven't tried black raspberries, I wish I could send you some. They're a little more tart than red raspberries but have that dark, bold flavor that blackberries do. They're a genius blend of berry goodness.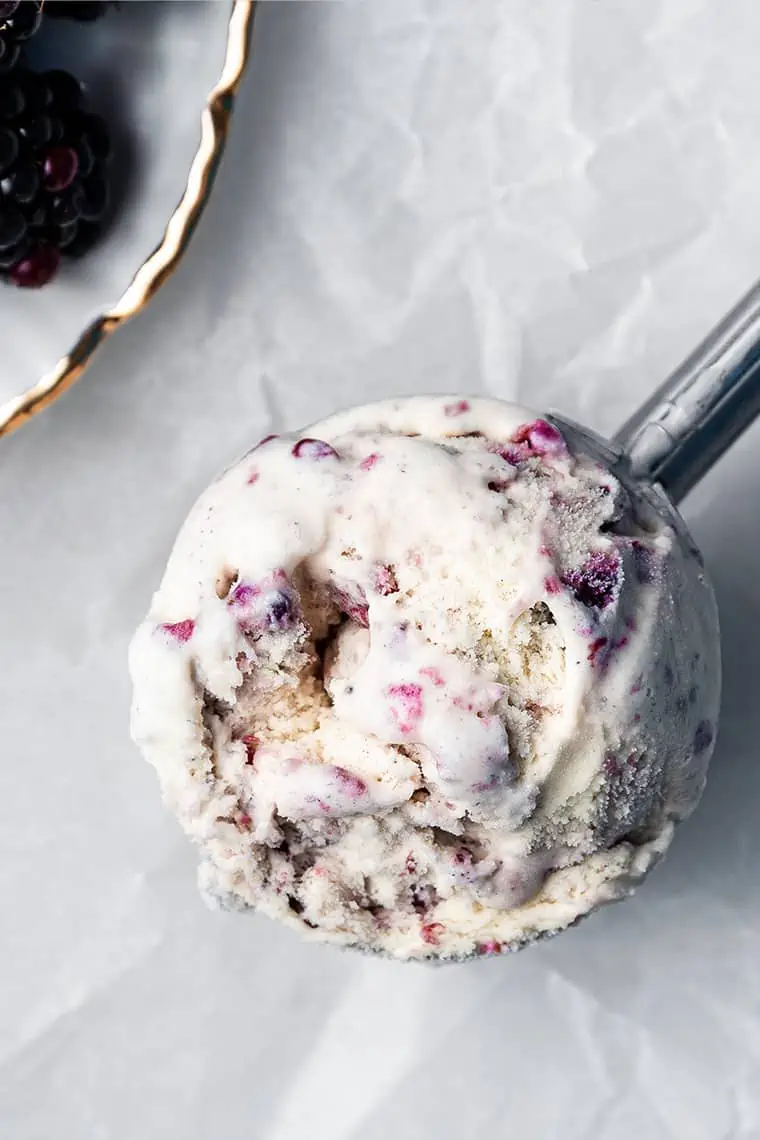 I was visiting my parents in Vermont a few weeks ago and the black raspberries were bursting off the bushes. I picked as many as humanly possible, scouring the hills behind their house until each bush was picked clean.
We ate some in our pancakes the next day, but I knew what I wanted to use the rest for black raspberry ice cream. I've used them in recipes before, like this Peach & Black Raspberry Tart or this Black Raspberry Cheesecake, but never in ice cream.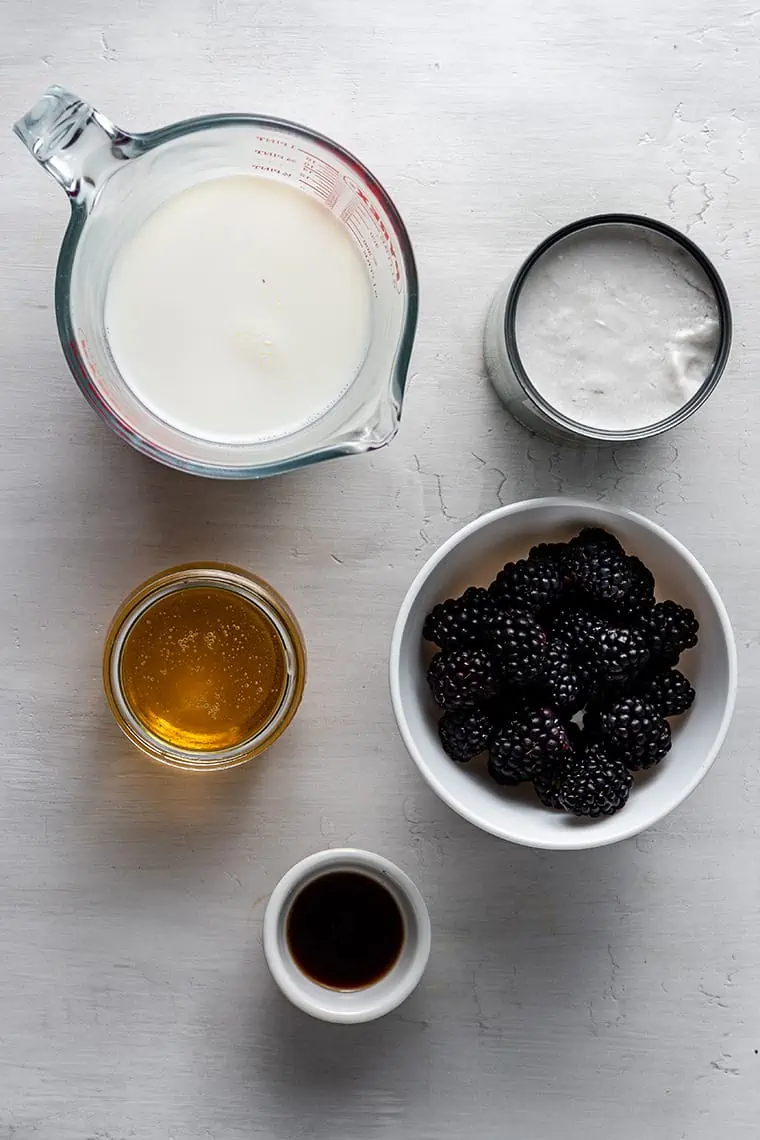 What You'll Need
Scroll down to the recipe card below this post for ingredient quantities and full instructions.
Full-fat coconut milk – Use the kind that comes in a can, not the refrigerated cartons.
Unsweetened almond milk
Honey – You can use agave to make this ice cream vegan.
Pure vanilla extract
Black raspberries – If you can't find black raspberries locally, red raspberries, blackberries, or a combination of the two would also be scrumptious.
Are Black Raspberries and Blackberries the Same Thing?
While they look similar, black raspberries really are raspberries! You can tell because they have that hollow core in the middle, just like red and yellow raspberries do. Black raspberries are also sometimes called blackcaps or thimbleberries.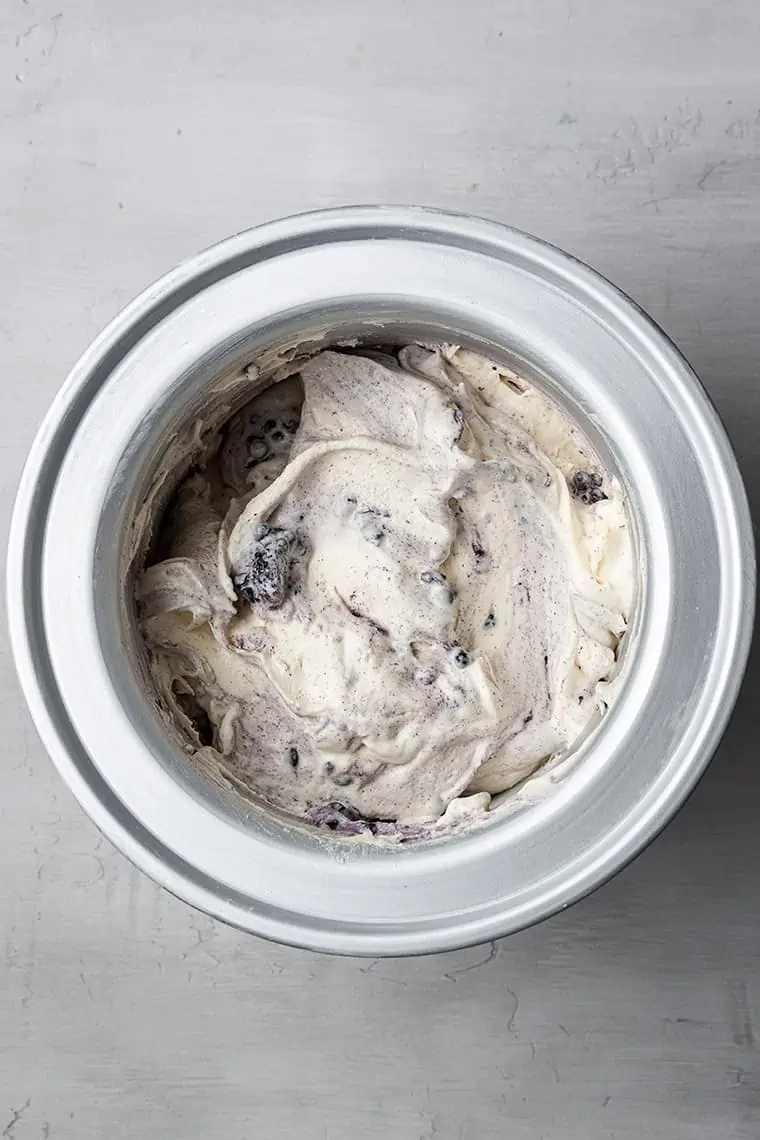 How to Make Black Raspberry Ice Cream
When planning this recipe, make sure you put the bowl of your ice cream maker in the freezer beforehand. It's always a bummer when you're ready to make ice cream, but your ice cream maker isn't!
Make the ice cream base. Blend the milks, honey, and vanilla in a high speed blender. Refrigerate this mixture for 1 to 2 hours.
Churn the ice cream. Follow the instructions for your ice cream maker and churn the base mixture. Add the black raspberries at the very end.
Chill. If you like your ice cream soft, you can eat it right away, but in most cases, it's best if you transfer the ice cream to a freezer-safe container and freeze it for 2 to 4 hours, or until it sets.
Serve. Take the ice cream out of the freezer and let it sit for 10 minutes, then scoop and serve!
Can I Make This If I Don't Have an Ice Cream Maker?
Yes, you can still make creamy Black Raspberry Ice Cream even if you don't have an ice cream maker!
Pour the base into a loaf pan place a sheet of plastic wrap over the top so it's touching the liquid. Freeze for an hour or two, stir, then return to the freezer, continuing to stir every hour or so.
Once the mixture is thick but not completely solidified, stir in the black raspberries, then return to the freezer until the mixture is scoopable.
Tips for Success
Here are some tips for making perfect dairy-free ice cream with coconut milk!
Make sure you use full-fat coconut milk. Don't substitute lite coconut milk! The texture of the ice cream won't turn out the same.
Chill your ingredients. This is important because it helps the coconut milk churn into ice cream more quickly.
Don't add the raspberries until the very end. Seriously! They only need to be churned in for about a minute before you turn off your machine.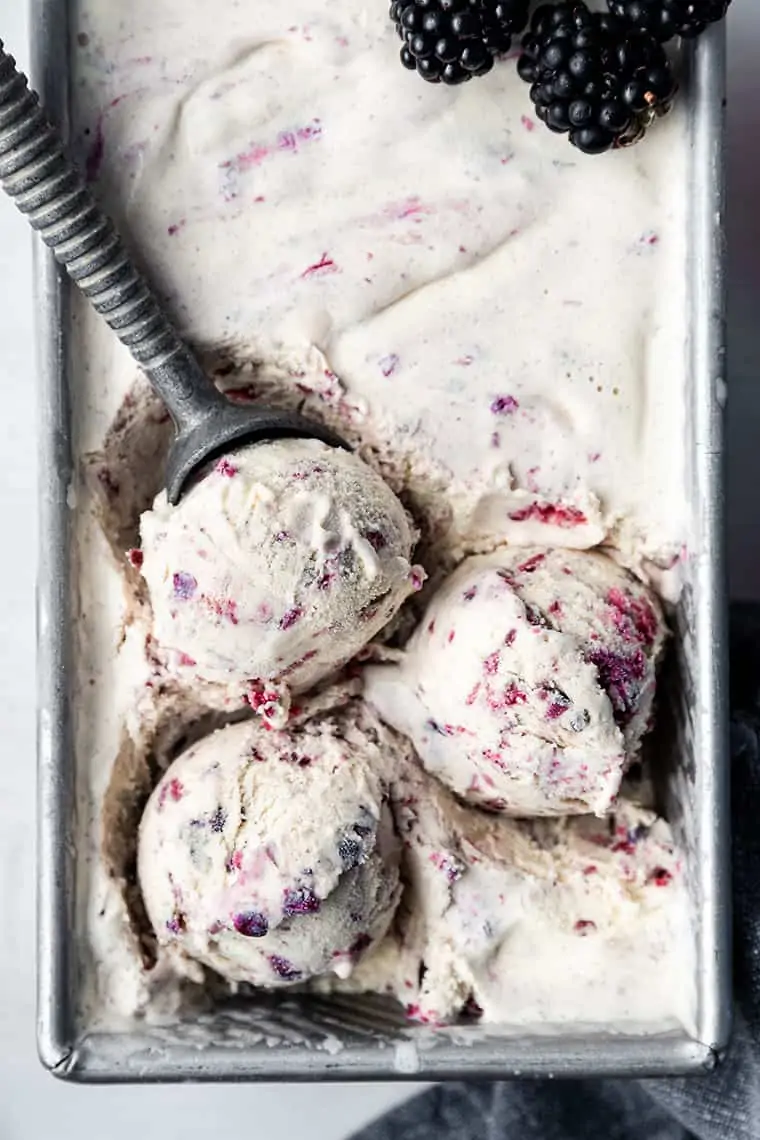 Variations
As long as you add any mix-ins at the end of the churning time, you can feel free to customize this recipe and make it your own! Here are some ideas:
Add a swirl of raspberry or chocolate sauce.
Mix in some chocolate shavings.
Double the fruit and add some diced peaches, too.
How to Store
Homemade ice cream is best eaten within a few days, but it will keep in the freezer for up to 2 weeks. Be sure to store it in an airtight container to keep it fresh!
More Ice Cream Recipes To Try
Black Raspberry Ice Cream
This Black Raspberry Ice Cream is rich and creamy, but it's made with coconut milk instead of dairy!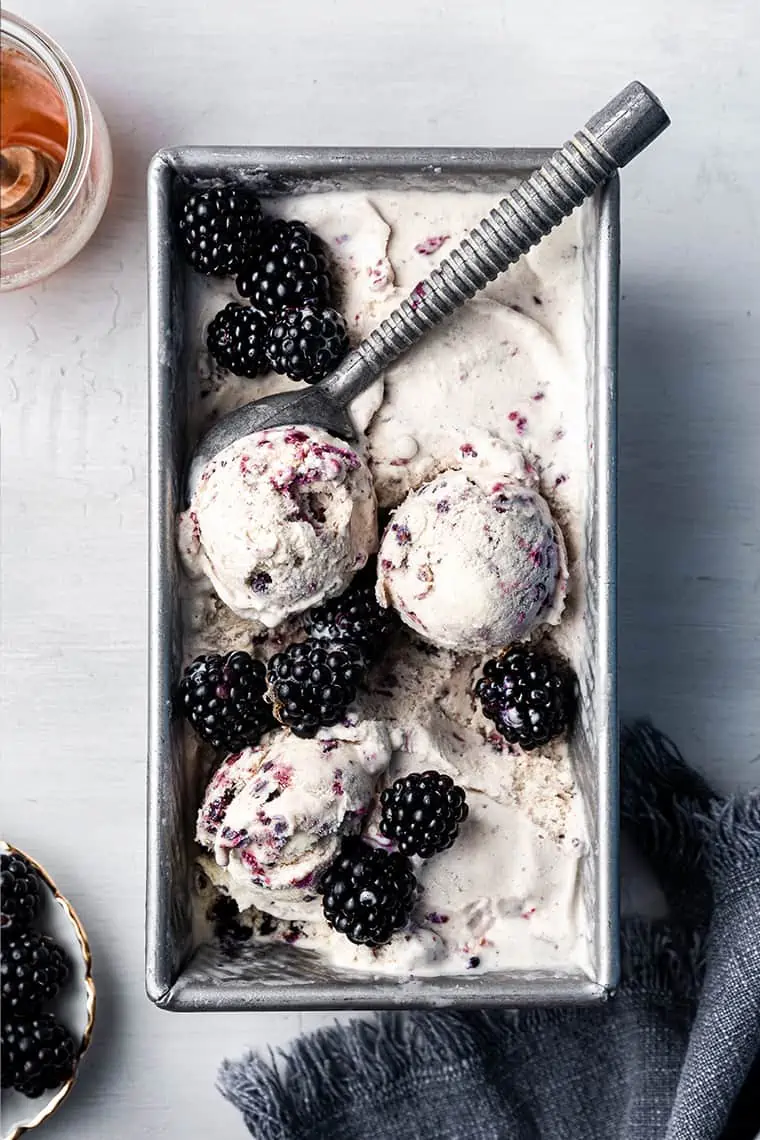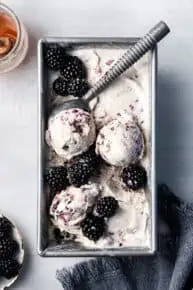 Ingredients
1

cup

unsweetened almond milk

1/3

cup

honey

or agave to make it vegan

1

tablespoon

pure vanilla extract

1

cup

black raspberries

red raspberries and blackberries would also be scrumptious
Instructions
Blend the milks, honey, and vanilla in a high speed blender. Chill in the fridge for 1 – 2 hours.

Prepare the ice cream according to your ice cream manufacturers instructions, adding the black raspberries at the very end.

If the ice cream is not quite the consistency you're looking for, transfer it to a freezer safe container and freeze for 2 – 4 hours.

To serve, let ice cream sit at room temperature for 10 minutes.

Enjoy!
Notes
This ice cream can be stored in an airtight container in the freezer for up to 2 weeks.
Nutrition
Serving:
1
g
|
Calories:
392
kcal
|
Carbohydrates:
40
g
|
Protein:
3
g
|
Fat:
31
g
|
Saturated Fat:
26
g
|
Sodium:
129
mg
|
Potassium:
391
mg
|
Fiber:
2
g
|
Sugar:
33
g
|
Vitamin C:
11.9
mg
|
Calcium:
135
mg
|
Iron:
5.1
mg
Filed Under: