This chicken pad thai recipe is bursting with fresh veggies, juicy chicken, and a spicy, tangy sauce. It only takes about 35 minutes to make, plus it's super healthy and gluten-free!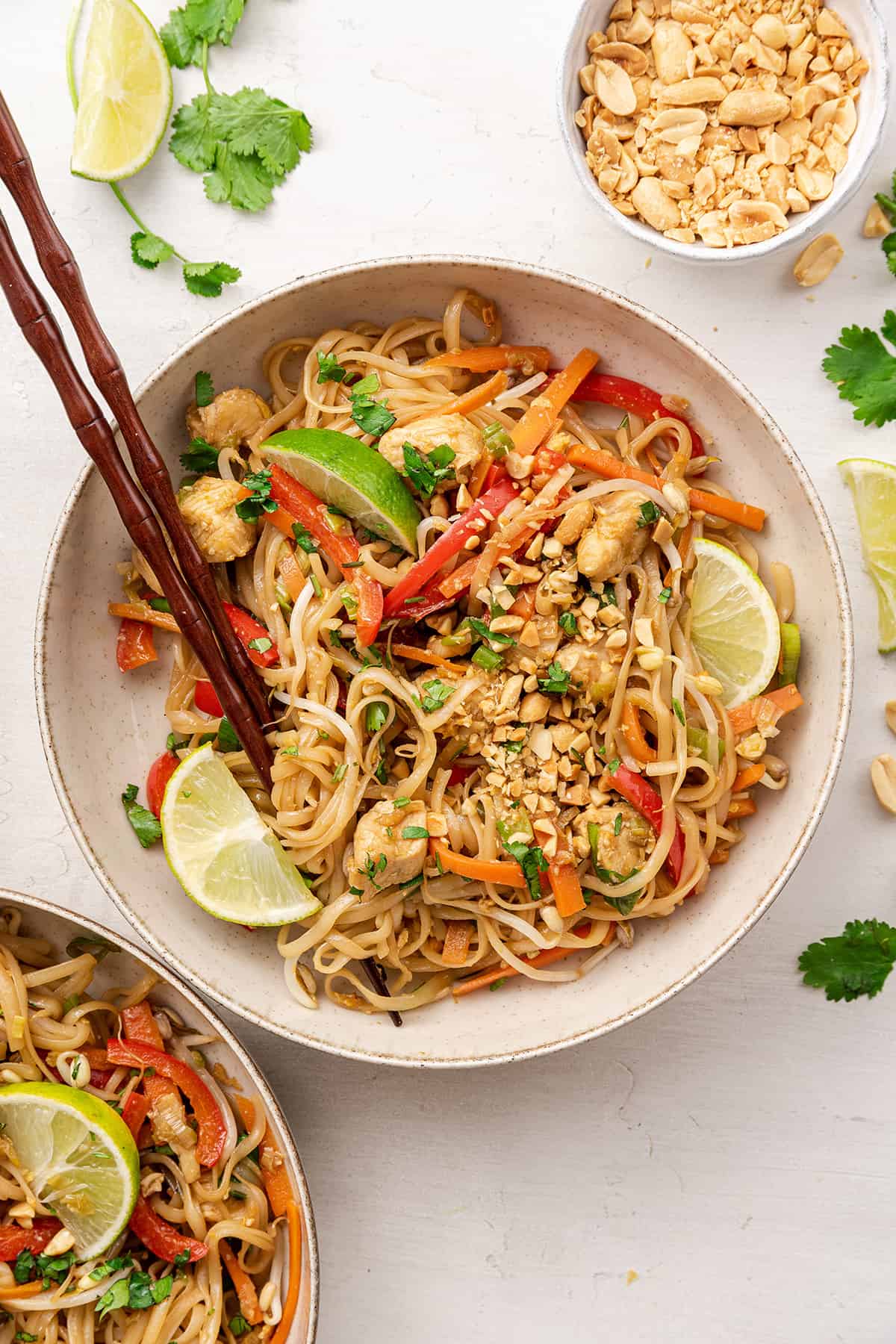 One of my all-time favorite foods is pad thai. A warm plate of pad thai, with its fresh, acidic, tart, and spicy flavors, always puts me in a good mood. My 30-minute tofu pad thai is one of my go-to dishes, but sometimes I'm in the mood for a little bit of meat. And that's when I break out this recipe for chicken pad thai.
It's hard to properly describe just how well these flavors go together. The chicken is so tender and juicy, and absorbs all the sauce. The sauce is full of umami from soy sauce and fish sauce, spiciness from sriracha and garlic, sweetness from coconut sugar, and acid from vinegar and lime juice. Add all that to some perfectly-cooked noodles, and a whole bunch of different fresh veggies, and you have a recipe that is as full of flavor as anything I've ever made. It's also a dish that will make you feel great, because it's packed full of healthy foods like lean meats, fresh veggies, probiotics, and nuts. And it's gluten-free!
Can you tell I'm a fan of this chicken pad thai recipe?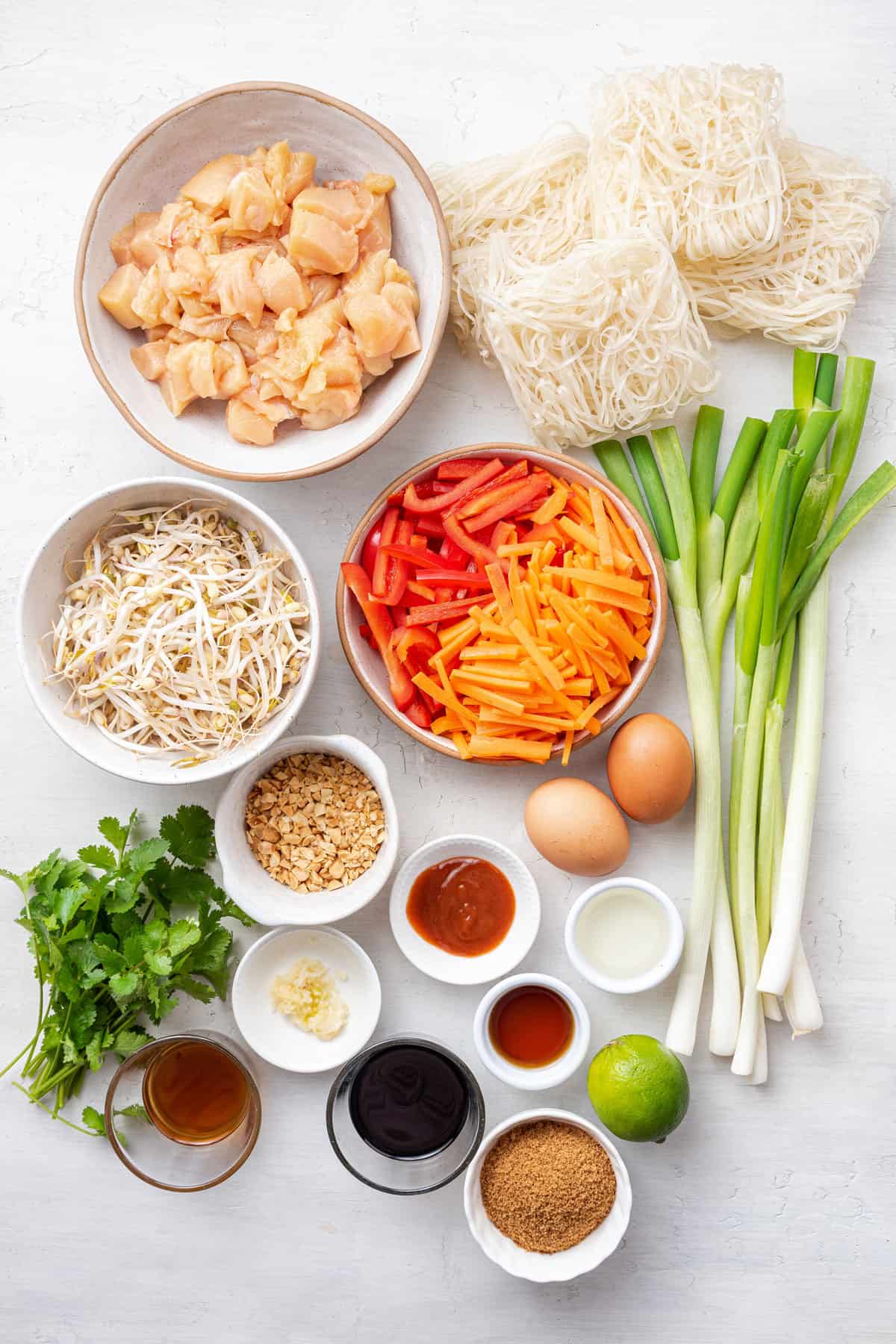 What You'll Need
Here are all the ingredients you need to make this restaurant quality chicken pad thai. Make sure to check out the recipe card at the bottom of the article so that you can see the exact amounts of each ingredient.
For the Pad Thai:
Pad thai rice noodles
Oil – You can use any high-heat neutral oil for this recipe.
Chicken – Breasts or thighs will both work for this recipe, just make sure that you're using boneless, skinless chicken.
Red bell pepper
Carrots
Green onions – You'll want to separate the white and light green parts of the scallions from the dark green part.
Large eggs
Bean sprouts
Cilantro
Peanuts – Use salted peanuts for this recipe.
Lime wedges
For the Sauce:
Garlic
Gluten-free soy sauce – You can use tamari instead of soy sauce if you prefer.
Fish sauce
Lime juice – Be sure to use freshly-squeezed lime juice.
Coconut sugar – You can replace this with honey if you'd like.
Sriracha
Rice vinegar
Toasted sesame oil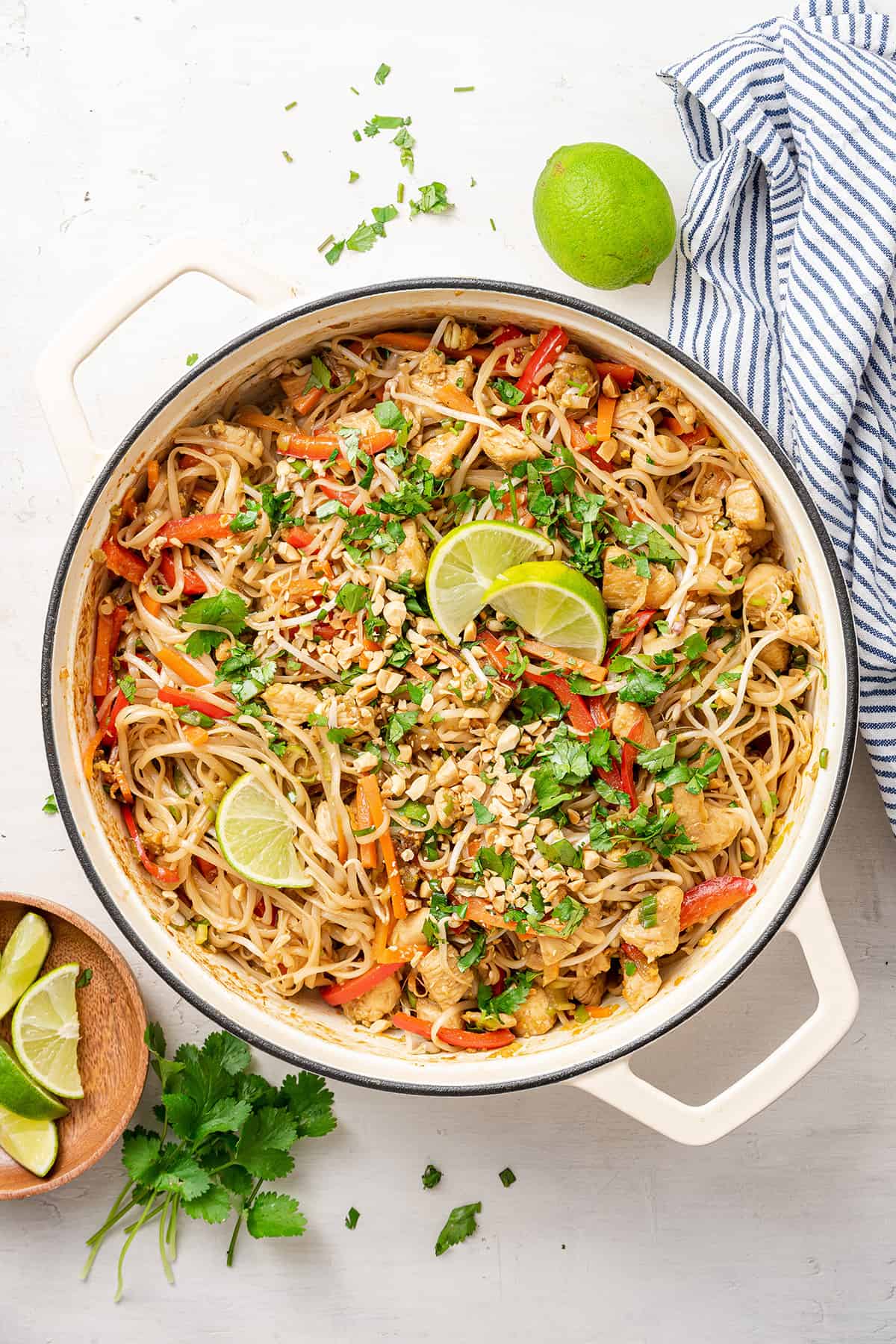 How to Make Chicken Pad Thai
Here's how to make this fun and easy 35-minute chicken pad thai.
Cook the noodles. Follow the directions on the package to boil the pad thai noodles. When they're done cooking, drain them and set aside.
Cook the chicken. Heat the oil in a skillet on medium-high heat. Add the chicken and cook until it is browned on each side, and just about cooked through, then remove it from the skillet. This should take about 5-6 minutes.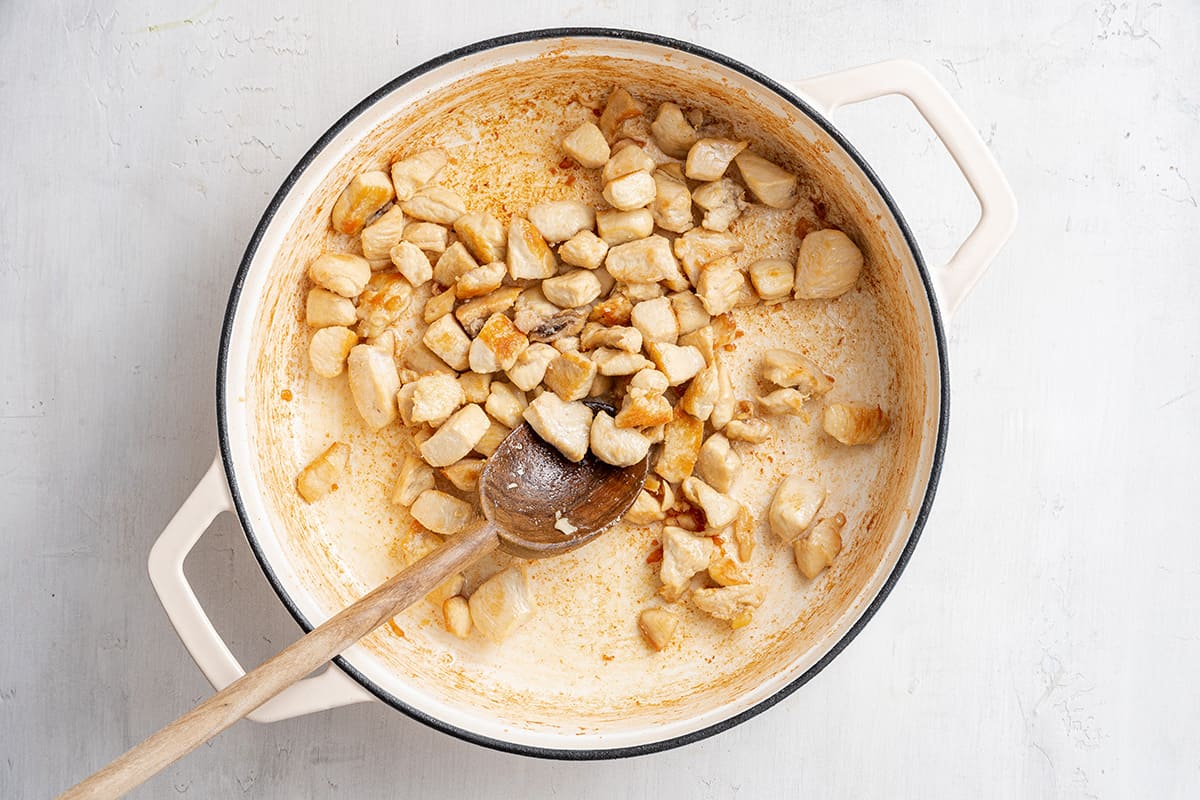 Cook the veggies. Put the carrots, bell pepper, and the white and light green parts of the green onions into the skillet. Cook until the vegetables are starting to soften, which should take about 3 minutes.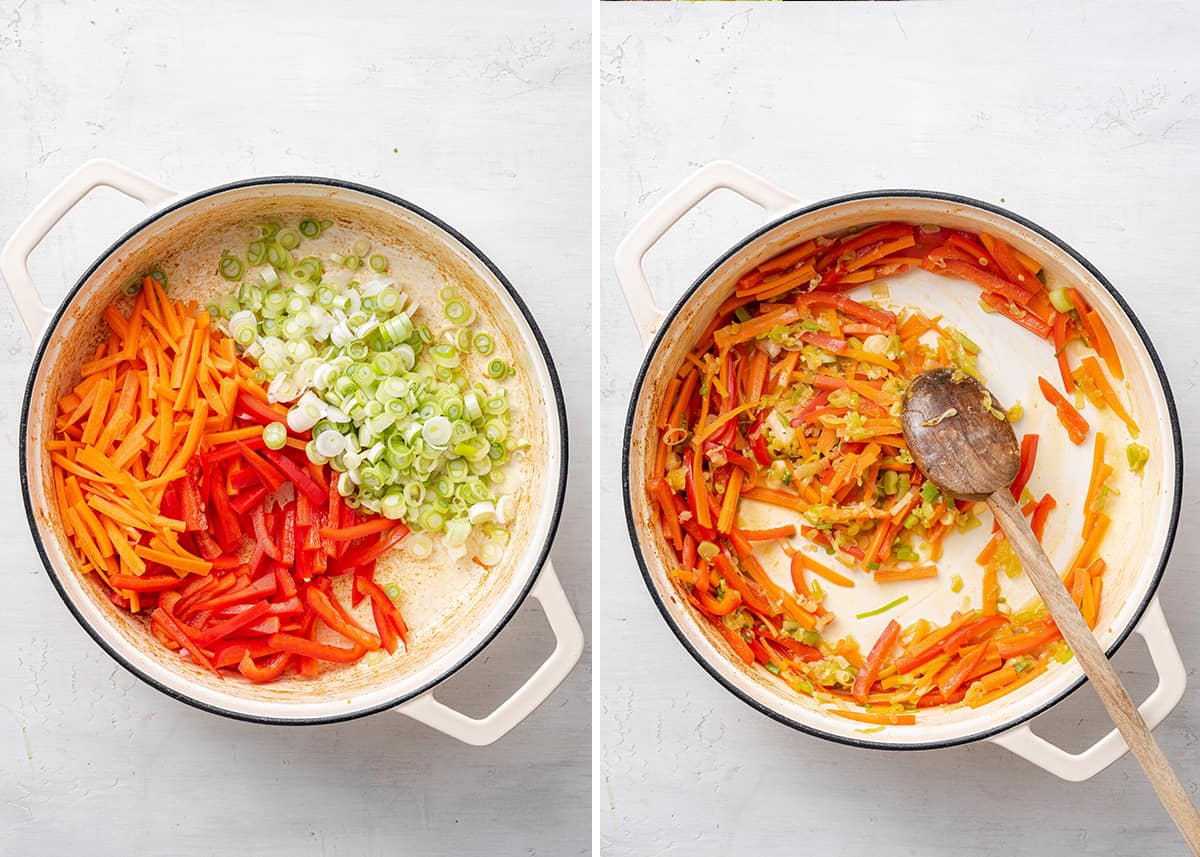 Make the sauce. Put all of the ingredients for the sauce in a bowl, and whisk until they're combined.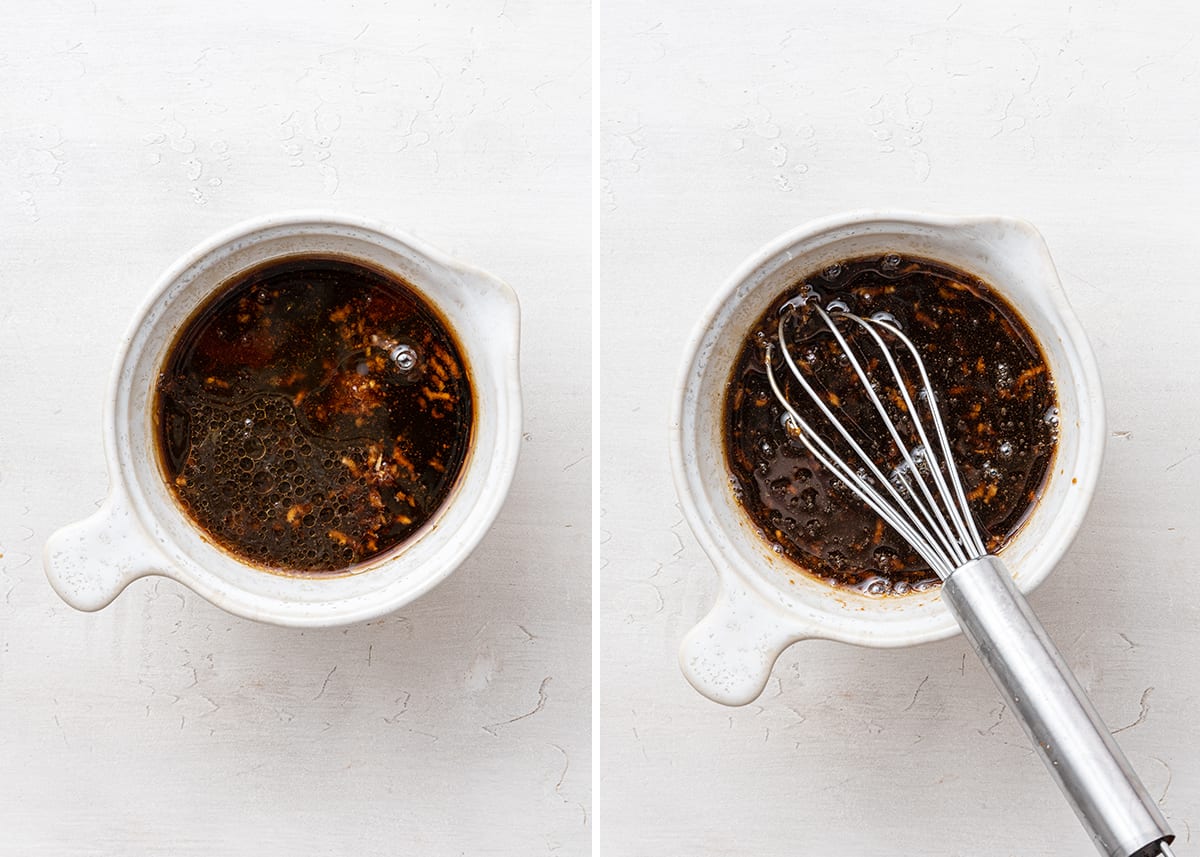 Scramble the eggs. Push the vegetables to one side of the skillet, and add the eggs to the empty side. Use a spatula, wooden spoon, or chopsticks to scramble the eggs. As soon as they've set, stir the veggies into the eggs.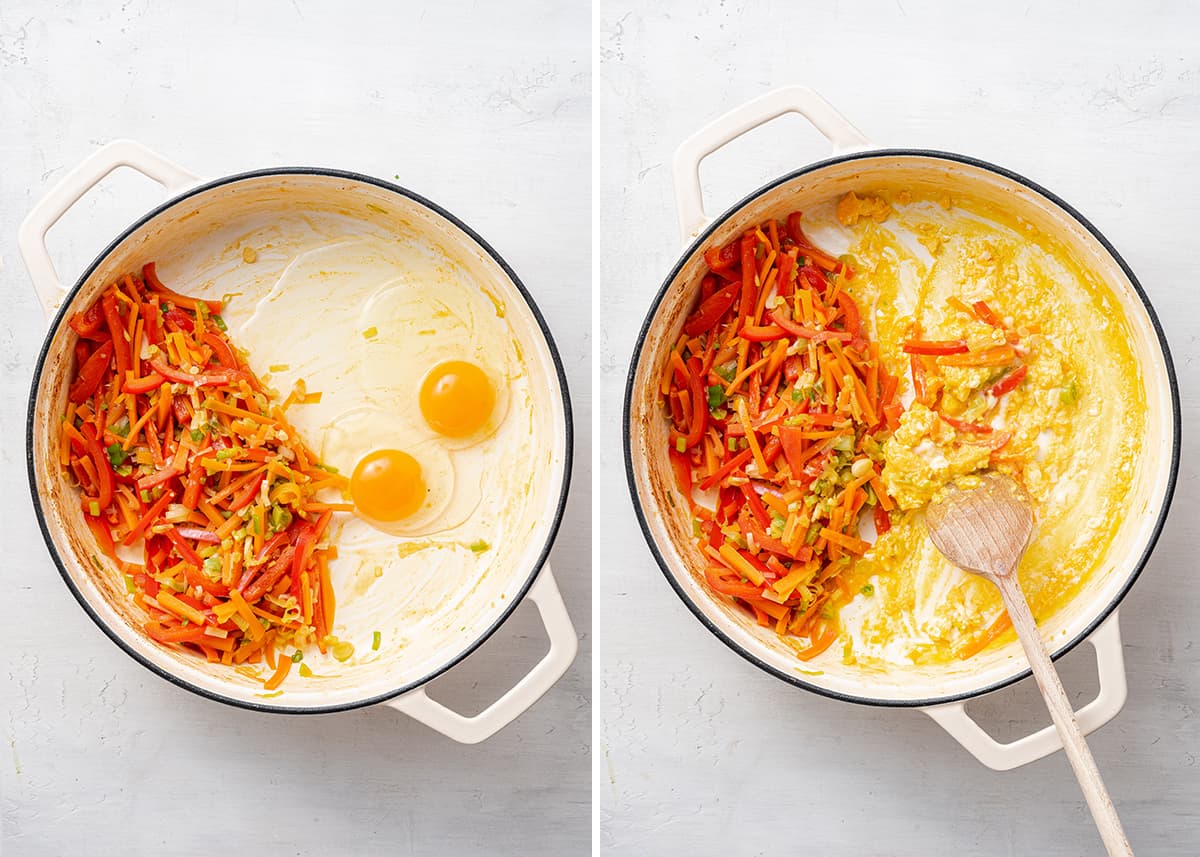 Add the rest of the ingredients. Put the pad thai noodles, chicken, bean sprouts, dark green parts of the scallions, and sauce in the skillet. Toss until all of the ingredients are well combined.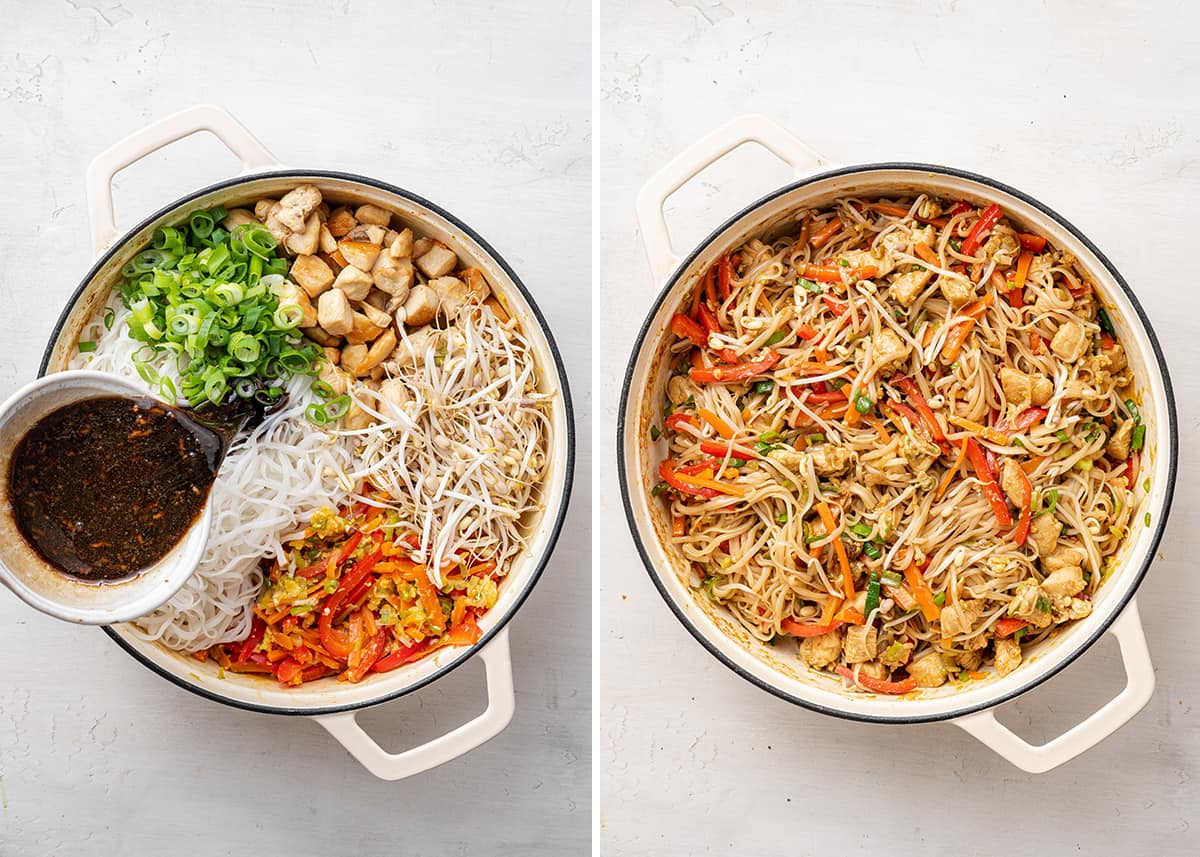 Serve. Put the cilantro and peanuts on top of the pad thai, and serve it with slices of lime.
Tips for Success
Here are some tricks and tips for making this chicken pad thai recipe.
Don't overcook the chicken. You can pull the chicken out of the skillet right as it's about to finish cooking. The residual heat will cook it the rest of the way while you finish the recipe. By removing the chicken from the heat on the earlier side, you keep it from drying out. The juiciness of the tender chicken is one of the keys to a perfect chicken pad thai.
Don't overcook the eggs. Similarly, don't scramble the eggs until they're fully cooked all the way through. As soon as they're starting to set, you can incorporate the rest of the veggies, and then the rest of the ingredients. The eggs will keep cooking as you finish the recipe, and you'll be left with silky, smooth eggs in your chicken pad thai, instead of hard, rubbery eggs.
Cook off any extra sauce. Pad thai is not a recipe that should be at all soupy. You don't want sauce piling at the bottom of the plate. When you add the sauce at the end, toss the ingredients and gauge how much sauce there is. If it's at all soupy, keep cooking the pad thai (while continuing to toss) for another minute or two while the sauce cooks off. You want the noodles, veggies, and chicken to be coated in the spicy, sweet sauce, but you don't want there to be any excess liquid.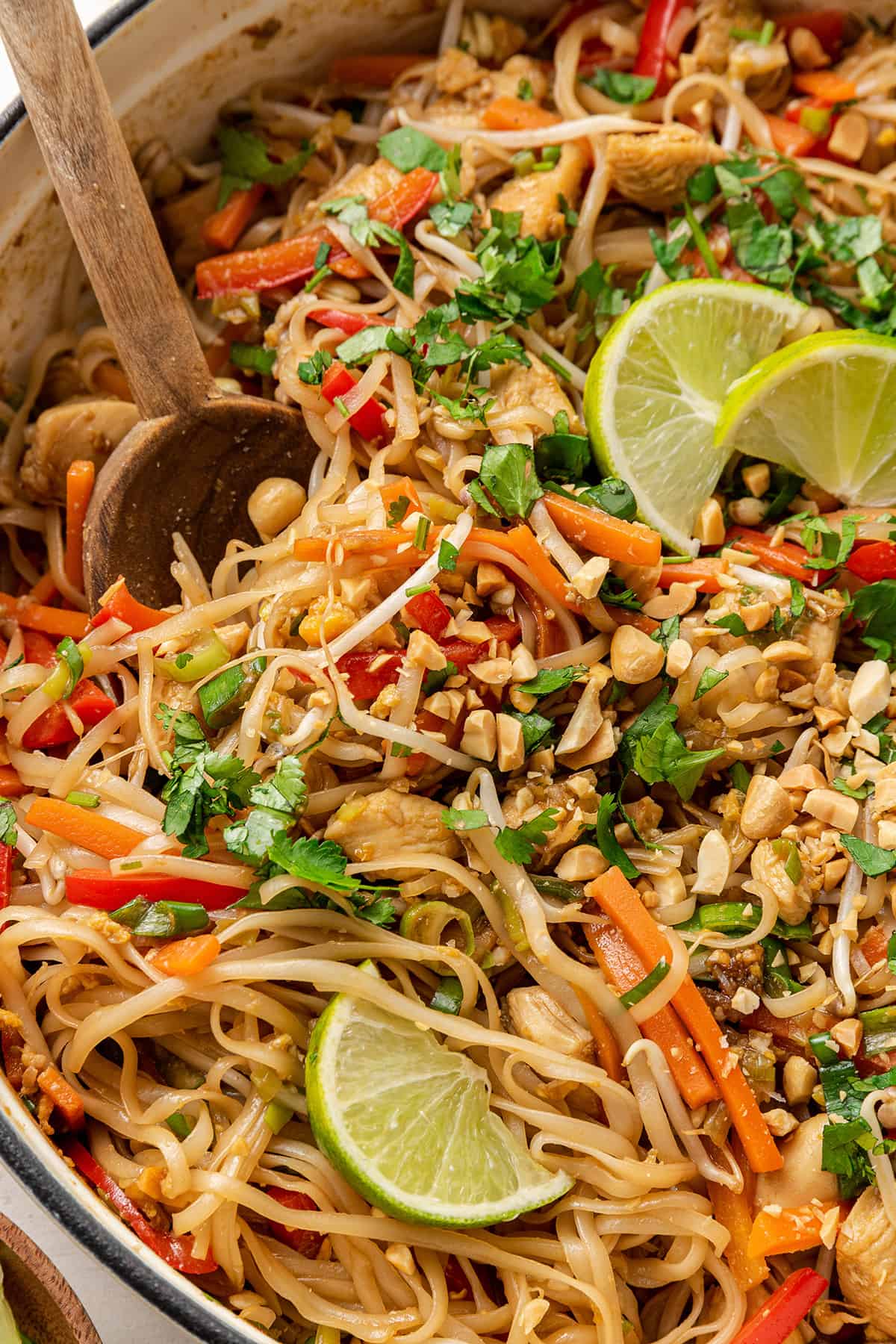 Serving Suggestions
This chicken pad thai is a complete meal, so you don't need to serve it with anything else. But I like to often serve it with a fun appetizer like vegan rice paper dumplings or summertime Asian quinoa slaw.
How to Store and Reheat Leftover Chicken Pad Thai
You can keep leftover chicken pad thai in an airtight container in your fridge for up to 3 days. Reheat in a pan over medium heat for 5 minutes, stirring constantly. You can also reheat in the microwave on 80% power in 30-second increments until the pad thai is heated all the way through.
Can This Recipe Be Frozen?
Yes! Freeze the chicken pad thai in an airtight container, and it will last for 3 months. Defrost or thaw completely before reheating.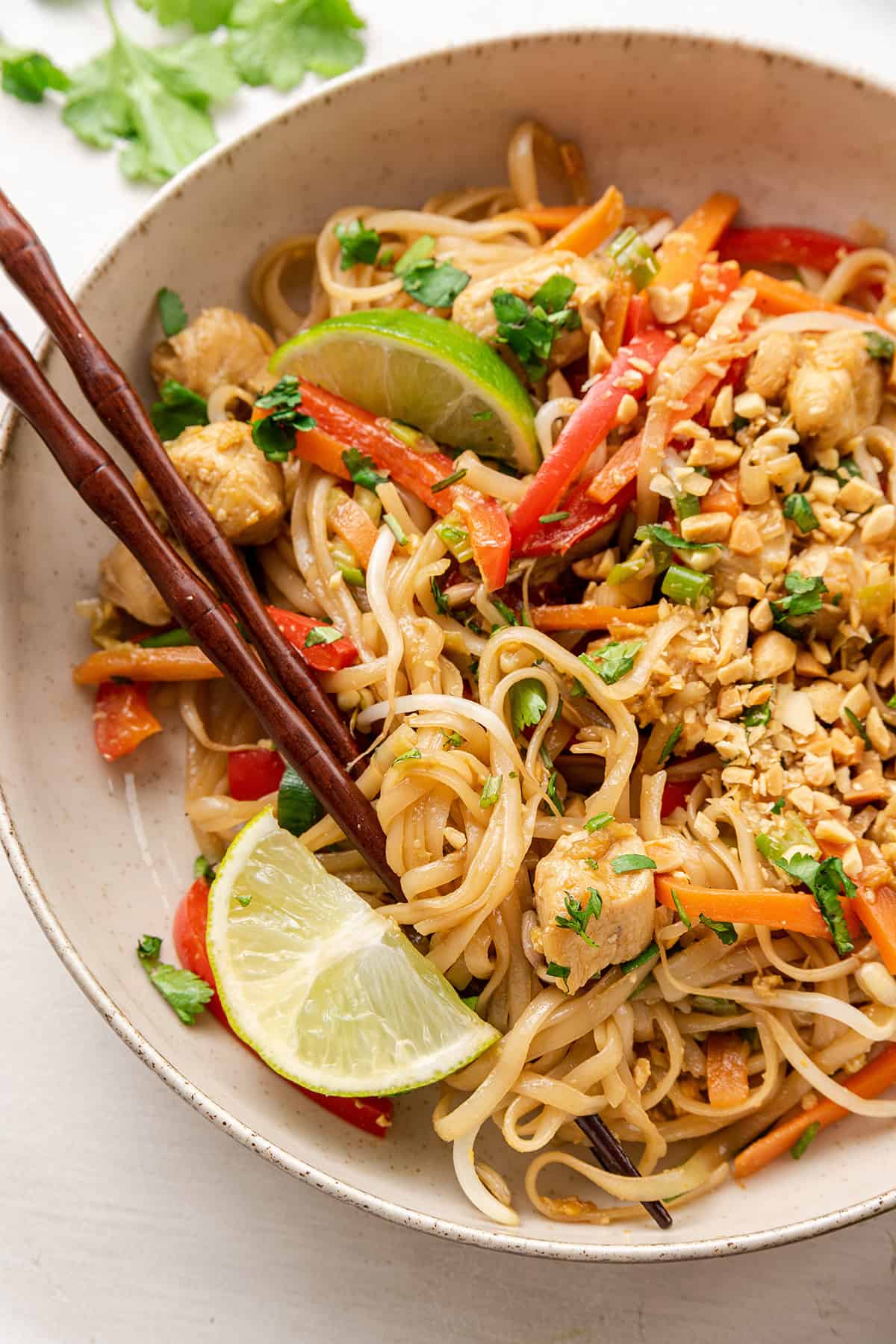 More Must-Make Asian Recipes
Here are a few more Asian recipes that I love to make. Try them out!
Chicken Pad Thai
This chicken pad thai is full of flavors, with fresh veggies, a spicy sauce, and juice chicken. It only takes 35 minutes to make, it's gluten-free, and it's super healthy!
Servings 6 servings
Calories 487kcal
Ingredients
For the Pad Thai:
14 oz pad Thai rice noodles
1 tablespoon neutral oil
1 pound boneless , skinless chicken breast or thighs, cut into 1 to 2-inch pieces
1 red bell pepper , sliced thinly
2 medium carrots , peeled and sliced thinly
1 bunch green onions , thinly sliced, white and green parts separated
2 large eggs , lightly whisked
2 cups bean sprouts
½ cup cilantro , chopped
¼ cup chopped salted peanuts
Lime wedges for serving
Instructions
Cook the noodles according to the package instructions. Drain, return to the pot, and cover.

Meanwhile, heat the oil in a large skillet over medium-high heat. Add the chicken and cook, stirring, until browned on all sides and mostly cooked through, 5-6 mintues. Transfer chicken to a plate.

Add the bell pepper, carrots, and white and light green parts of the green onions to the skillet and cook until just softened, about 3 minutes.

Meanwhile, whisk together all of the sauce ingredients in a small bowl.

Once the veggies are softened, push them to one side of the pan. Add the eggs and scramble them quickly with chopsticks or a spatula. When the eggs are just barely set, combine with the veggies.

Add the chicken, noodles, bean sprouts, remaining green onions, and sauce to the skillet. Toss with tongs to combine.

Top with the cilantro and peanuts. Serve with lime wedges.
Notes
Store in an airtight container in the fridge for 3 days, or in the freezer for 3 months. Reheat over medium heat for 5 minutes, or in a microwave on 80% power for 30-second increments. 
Nutrition
Serving: 1cup | Calories: 487kcal | Carbohydrates: 70g | Protein: 26g | Fat: 12g | Saturated Fat: 4g | Polyunsaturated Fat: 2g | Monounsaturated Fat: 4g | Trans Fat: 0.01g | Cholesterol: 102mg | Sodium: 1266mg | Potassium: 599mg | Fiber: 4g | Sugar: 10g | Vitamin A: 4224IU | Vitamin C: 37mg | Calcium: 56mg | Iron: 2mg
share what you make
Tag #simplyquinoa on Instagram with your creations! We love sharing what you make with the community. We can't wait to see!

follow on instagram