These vegan Rice Paper Dumplings are filled with tofu, colorful vegetables and flavored with soy sauce. They're a crunchy, savory and super easy meal that also happens to be gluten-free!
This dumpling recipe is a shortcut to the traditional recipe. They're still crispy, still have a soft interior, and are still totally flavor-packed. These dumplings are wrapped in rice paper, which is easy to find and makes a light, crisp (not to mention gluten-free) pocket for the vegan filling.
This recipe is for you if:
you love dumplings but want to skip the take-out
you're gluten-free and have been missing dumplings for years
you want to make something a little lighter and healthier for dinner
And even if you don't fall into any of the above, you're still going to adore this homemade dumpling recipe!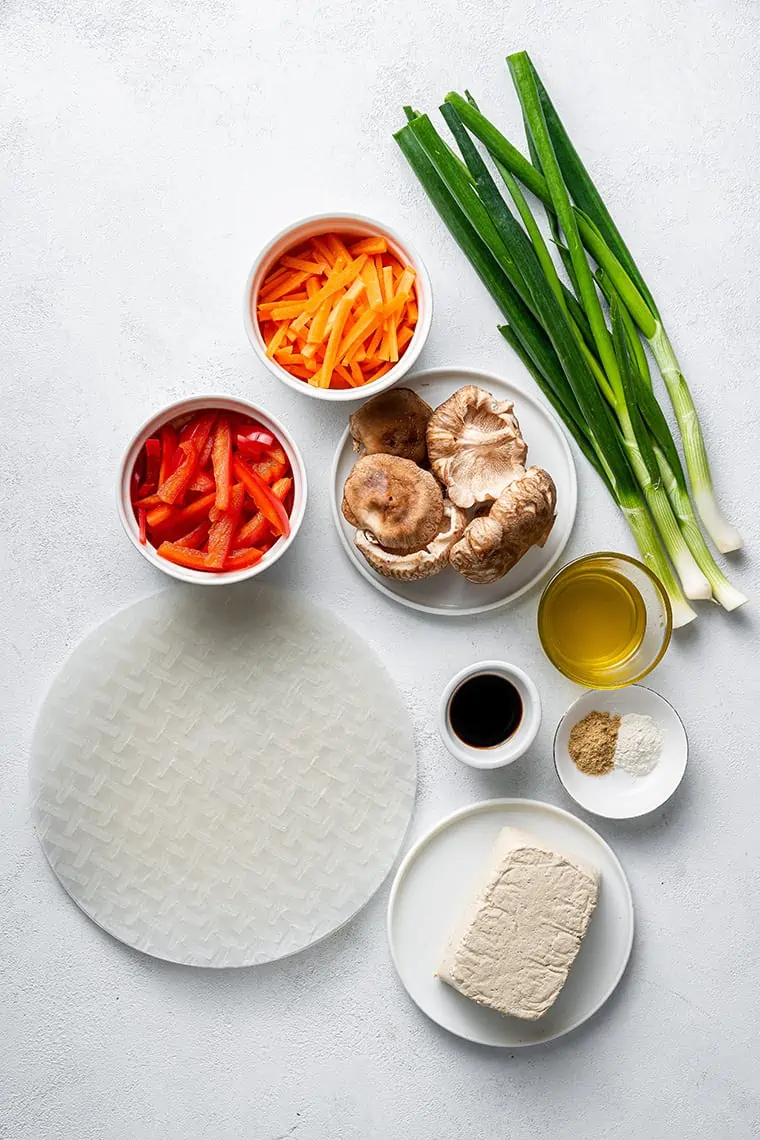 Ingredients
Here's what you need to make these vegan, high-protein dumplings:
Veggies. The filling for these rice paper dumplings is packed with colorful vegetables: mushrooms, carrots, bell pepper, and scallions.
Tofu. Add protein from diced extra-firm tofu.
Soy sauce. You can use tamari for gluten-free.
Seasonings. These dumplings are flavored with a bit of granulated garlic and ground ginger.
Rice paper rounds. You can find these at most well-stocked grocery stores, including Whole Foods.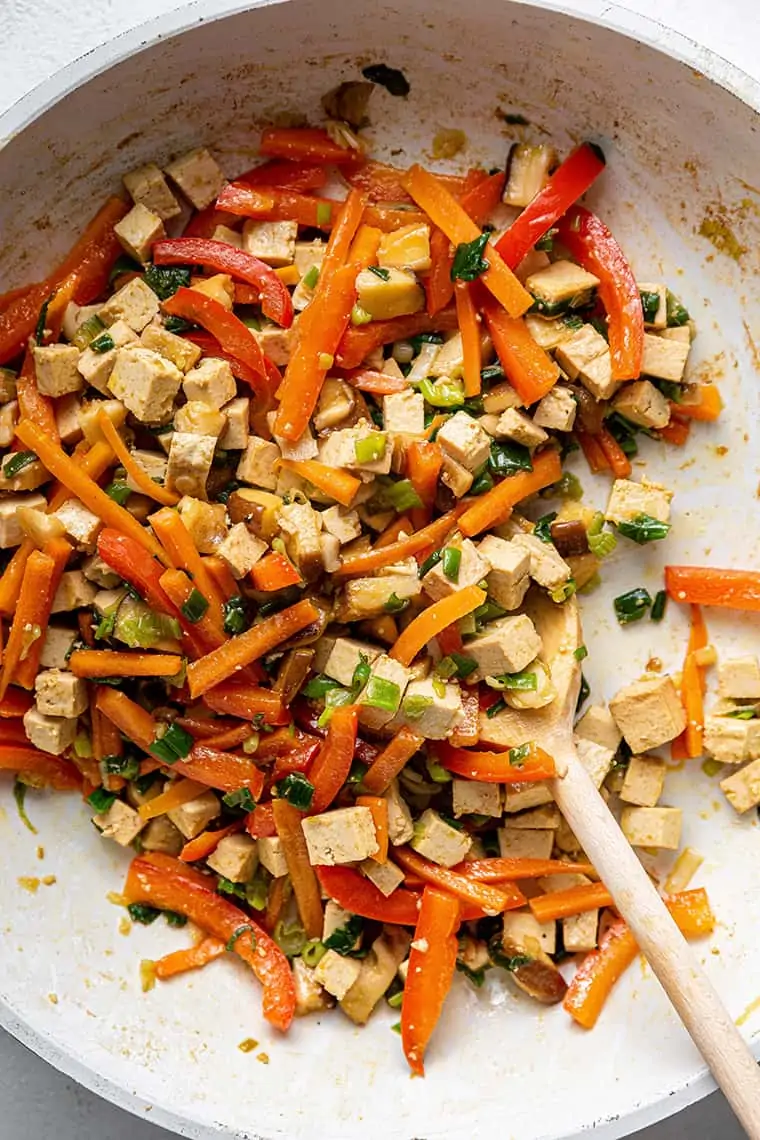 How to Make Rice Paper Dumplings
Make the filling. Simply toss together your veggies, tofu, and seasonings until everything is cooked through. All you need is a good frying pan!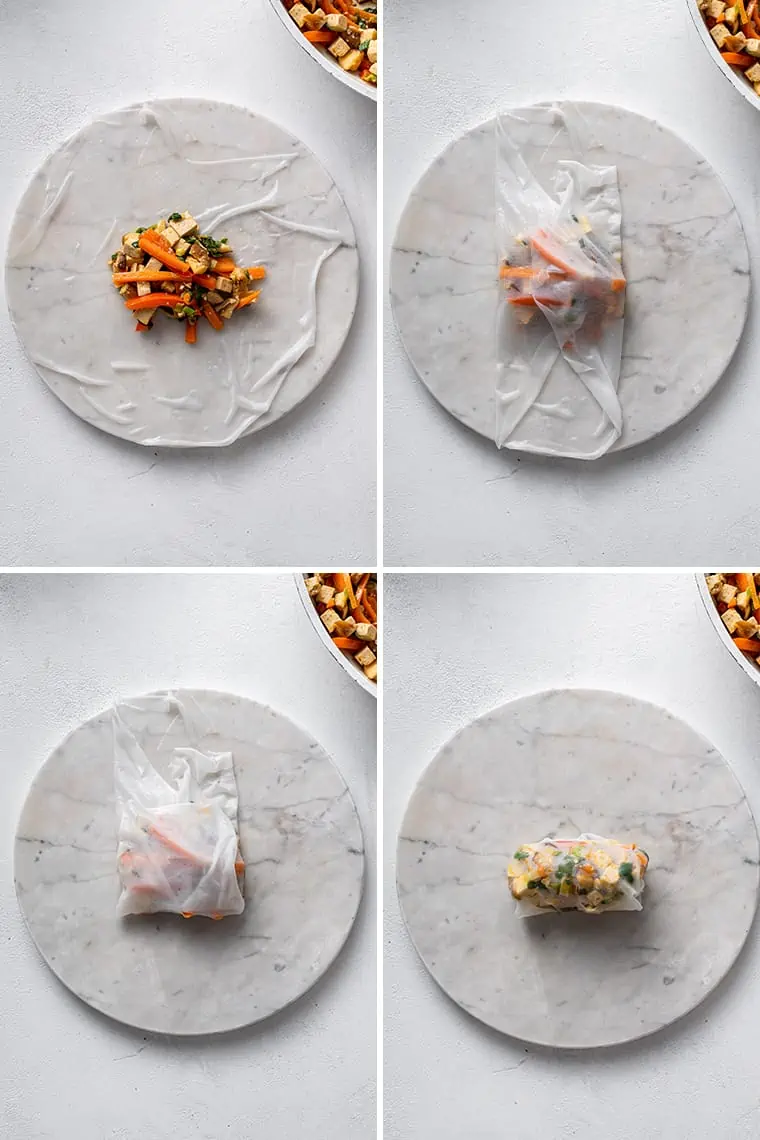 Assemble the dumplings. Fill a large bowl with warm water. As you work, dip one rice paper round into the water. It will immediately start to soften. it only needs to get wet for a few seconds. Then place it on your work surface. Add a few tablespoons of the cooked filling to the center of the dumpling wrapper. Then fold the two sides in, overlapping on top of the filling. Do the same with the top and bottom, making a neat little package.
quick tip!
Space the rolled dumplings apart from each other on a plate, as they will stick and the rice paper can tear easily.
Cook the dumplings. Once you've got everything together it's time to cook. Heat some oil in a skillet and once it's hot add half of your dumplings. Make sure they're seam-side down so they don't break open! Then simply cook them on all sides until they're golden brown and crispy.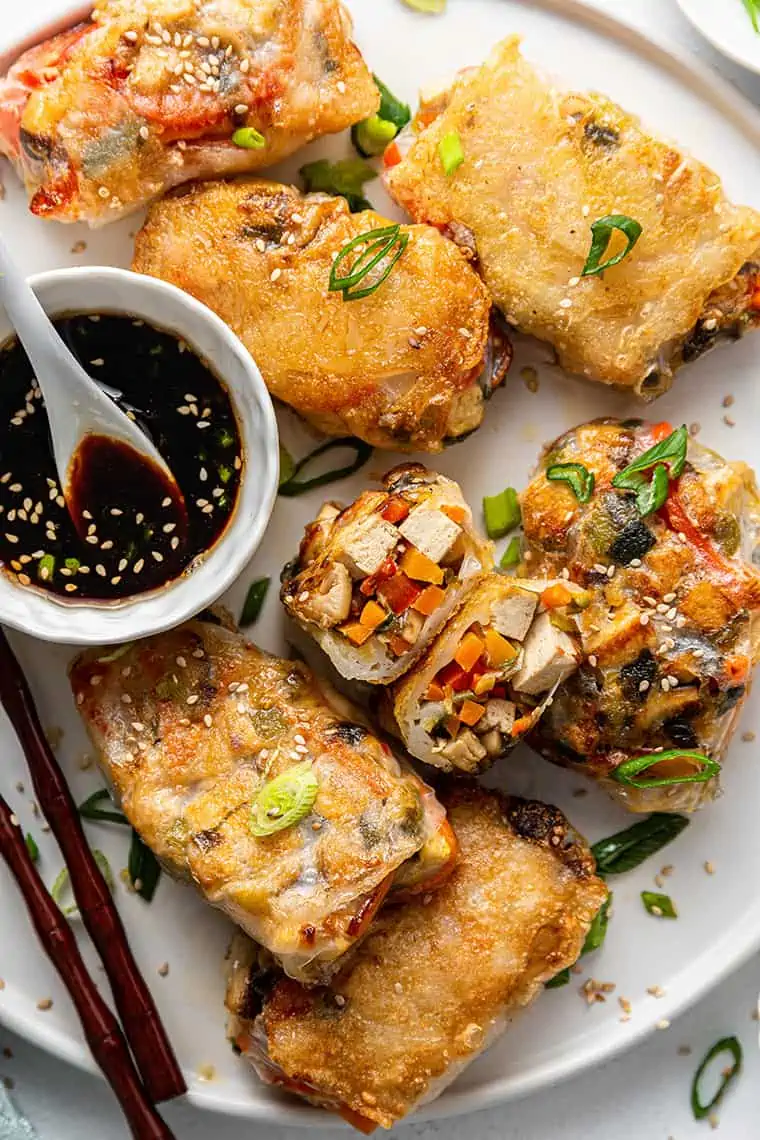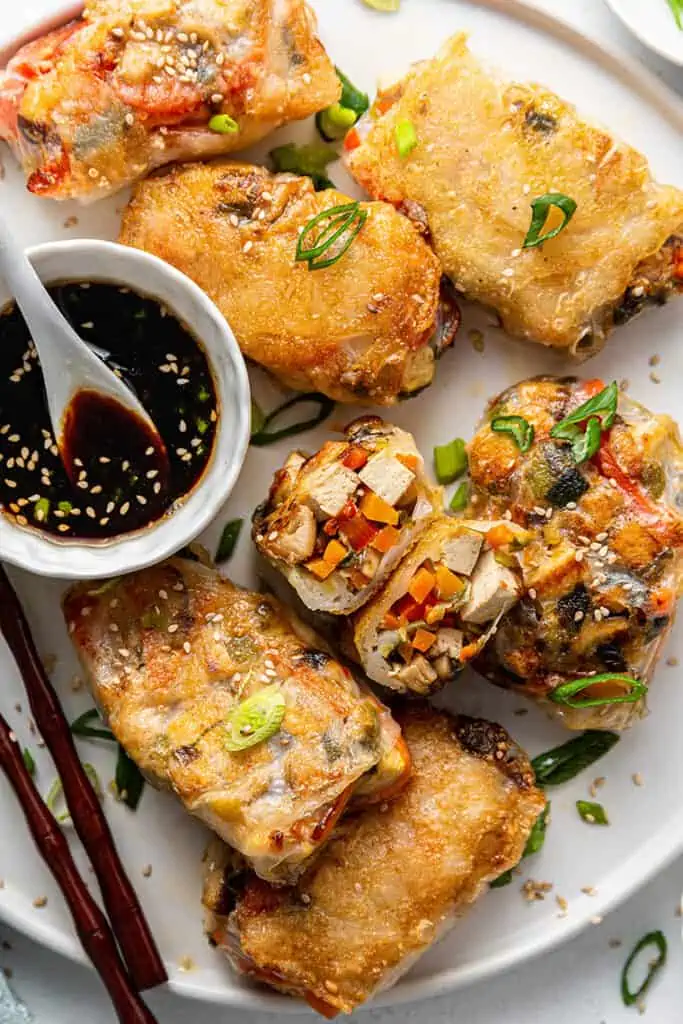 What to Serve with Rice Paper Dumplings
Serve these crispy pan-fried dumplings with soy sauce for dunking. If you like, you can add a sprinkle of sesame seeds and scallions too.
To make a quick dipping sauce with a bit more flavor, add sriracha, rice vinegar, and a drop of olive oil to your soy sauce.
To complete the meal, serve the dumplings with 10 Minute Quinoa Fried Rice with Vegetables or Asian Quinoa Power Salad.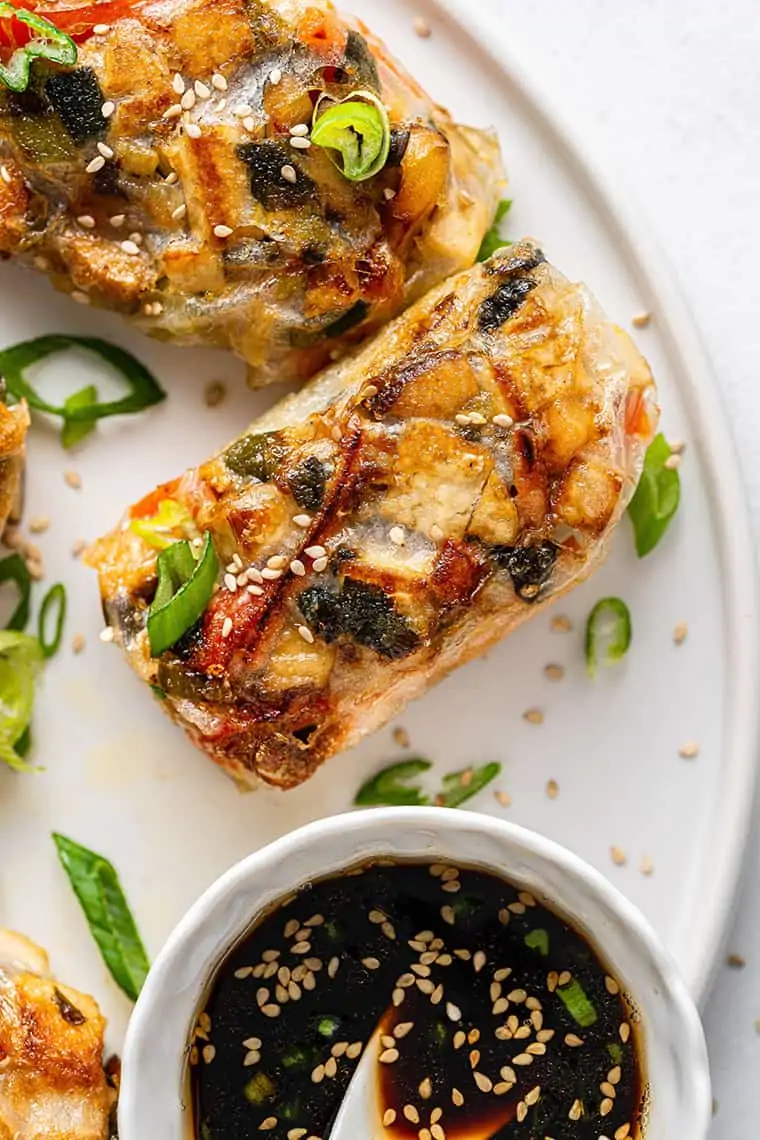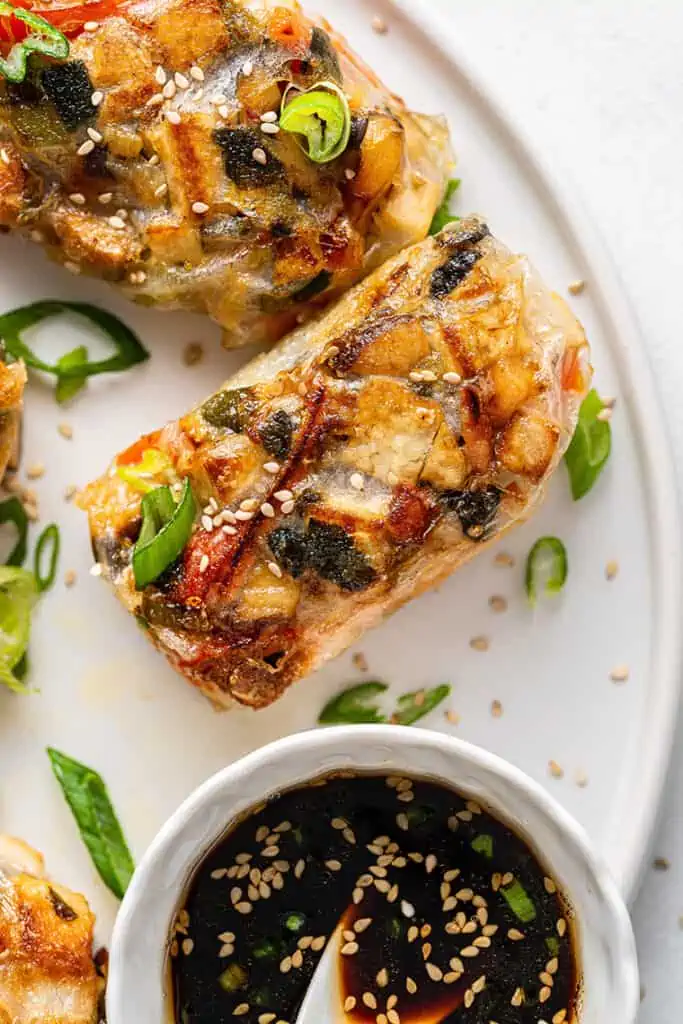 Storage Suggestions
These dumplings are the best right after they're cooked. However, you can store leftovers in an airtight container in the fridge for up to four days. Reheat them on the stove or in the microwave to enjoy.
Troubleshooting Tips
This recipe can be a bit finicky depending on the type of rice paper you use. Here are my tips for success:
Keep them separated. As noted above, as you're prepping your dumplings (before they're cooked), make sure you keep them apart. If the rice paper touches, it will stick together and could create holes when you pull them apart.
Cook them in batches. Even when cooking, you want to make sure you keep them apart. I recommend cooking them in two batches to ensure they don't break apart.
Seam side down. Rice paper can break really easily, so be sure to cook them with the seam down first. Once they're crispy, carefully flip them over either with a fork or tongs.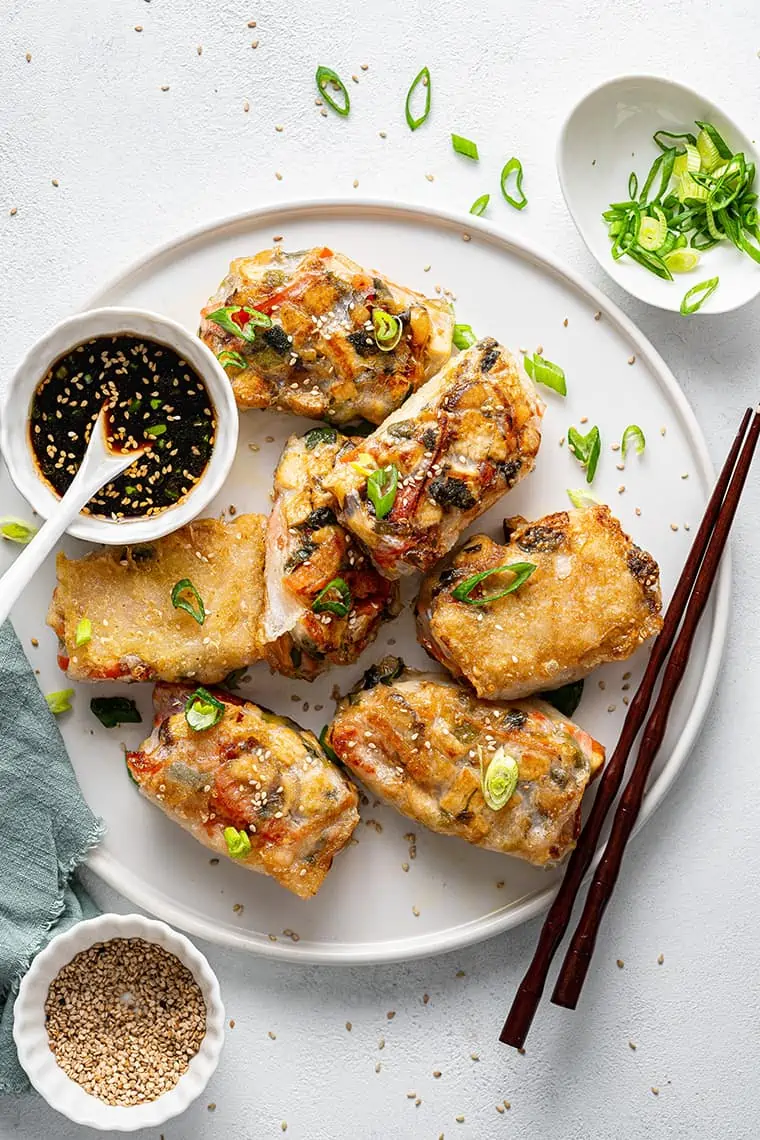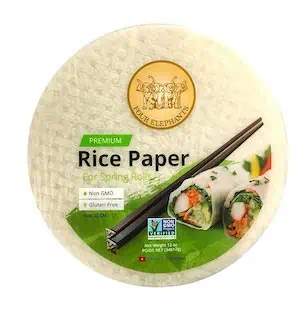 Recommended Rice Paper
These are my recommended rice paper wrappers. They're great for spring rolls and these dumplings!
If you make these crispy Rice Paper Dumplings, be sure to let me know with a comment below!
Rice Paper Dumplings
These crispy, savory rice paper dumplings are as fun to eat as they are to make! Filled with tofu, mushrooms, and scallions.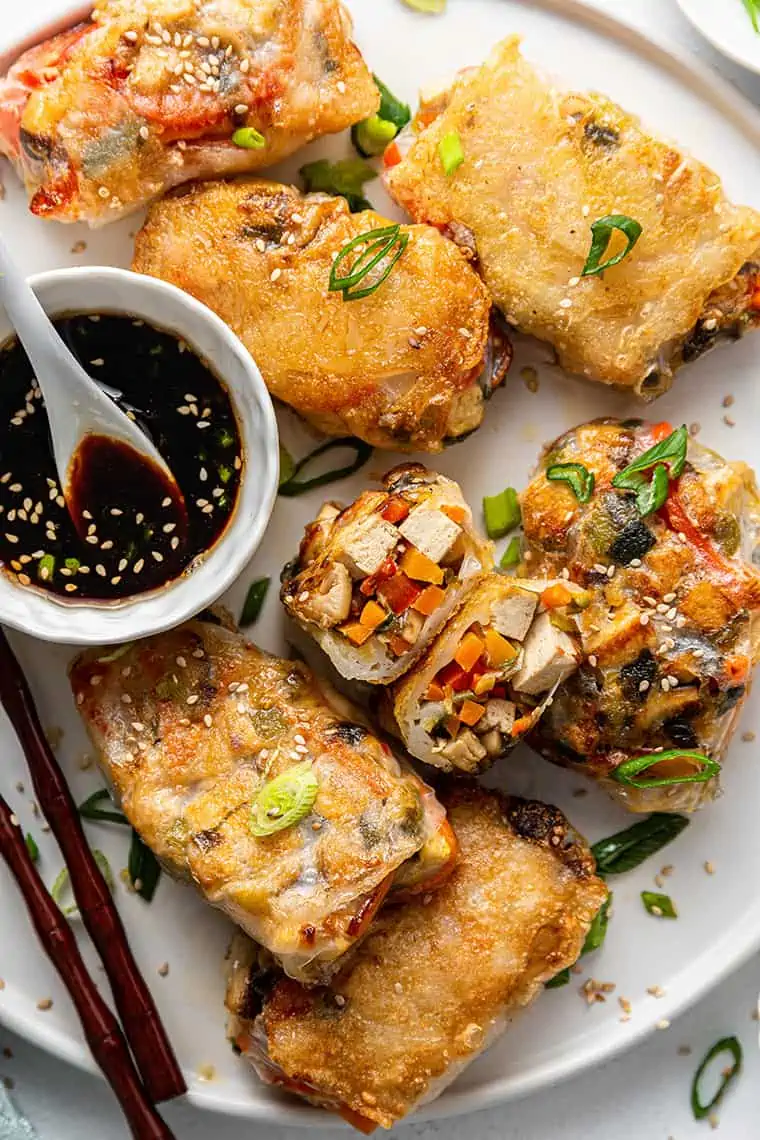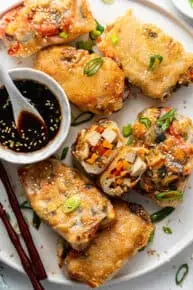 Ingredients
for the filling:

1

tablespoon

olive oil

1

carrot

1

bell pepper

1

cup

shiitake mushrooms

4

scallions

8

oz

tofu

1

tablespoon

soy sauce

1/2

teaspoon

garlic powder

1/2

teaspoon

ground ginger

for the dumplings:

8

rice paper rounds

Filling

3

tablespoons

olive or avocado oil
Instructions
Prepare the filling. Heat the olive oil over medium heat. Cut the carrots and pepper into thin strips. Chop the mushrooms and tofu into small cubes and thinly slice the scallions. Saute everything in the oil for 2 – 3 minutes until the veggies start to soften. Add the seasonings and cook 1 – 2 minutes longer. You don't want to cook the filling too long to avoid excess moisture.

Prepare the dumplings. Lay one rice paper round in a bowl of hot water until it softens. Transfer to a flat surface and add a few tablespoons of filling into the center. Fold in the sides, then the bottom and roll the paper away from you to form a small dumpling. Place on a plate and repeat with the remaining rounds.

Cook the dumplings. Heat the remaining oil in a skillet. Once hot, add the dumplings seam side DOWN and cook until crispy. Carefully flip and cook on the other side. Serve immediately with your choice of dipping sauce! (I like a mix of soy sauce, sriracha, rice vinegar and olive oil)
Nutrition
Serving:
1
dumpling
|
Calories:
233
kcal
|
Carbohydrates:
34
g
|
Protein:
9
g
|
Fat:
8
g
|
Saturated Fat:
1
g
|
Polyunsaturated Fat:
1
g
|
Monounsaturated Fat:
5
g
|
Cholesterol:
2
mg
|
Sodium:
244
mg
|
Potassium:
179
mg
|
Fiber:
3
g
|
Sugar:
4
g
|
Vitamin A:
1802
IU
|
Vitamin C:
26
mg
|
Calcium:
69
mg
|
Iron:
3
mg