These are the BEST Healthy Pumpkin Recipes to make this fall, including sweet desserts, savory lunches and dinners, and must-try snacks for back-to-school.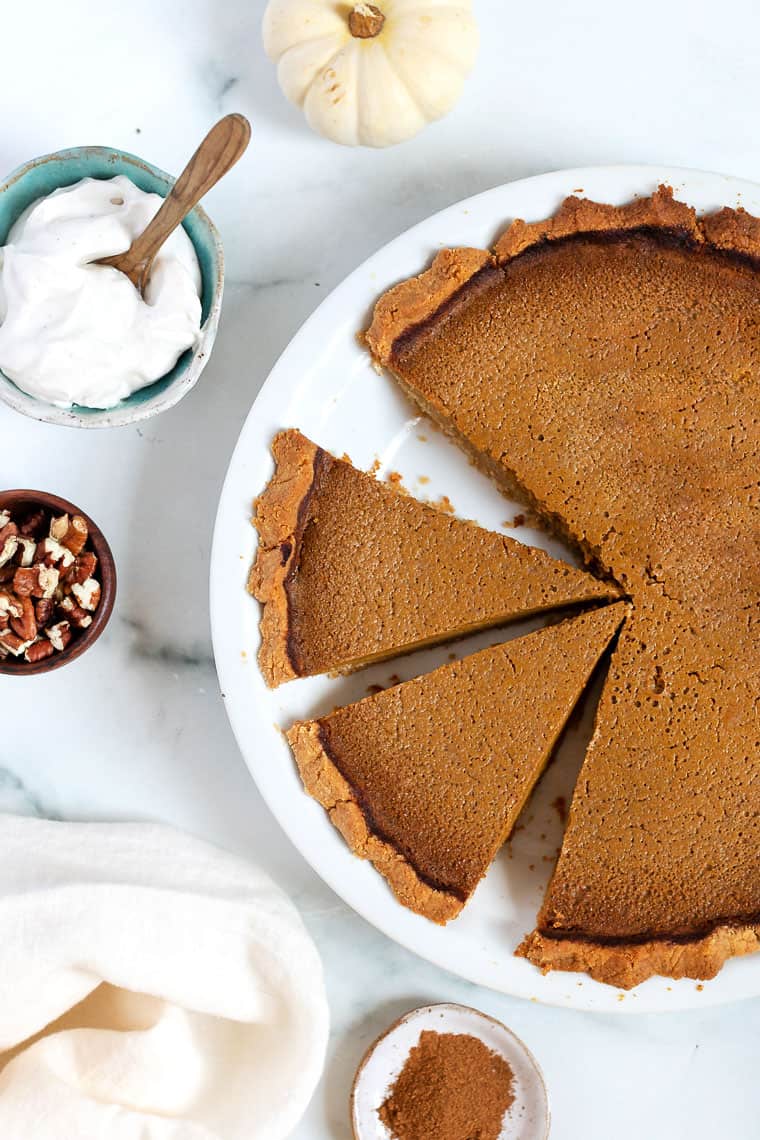 Fall is my favorite time of year for some many reasons. I love the cool, crisp mornings. The sweater, jeans and booties outfits. The soups and stews simmering on the stoves. And of course, the pumpkin. All things pumpkin!
To celebrate this magical time of year, I've rounded up the best, most delicious and healthy pumpkin recipes! There's sweet, there's savory and there's something for everyone! We're talking about everything from pumpkin muffins to pumpkin pasta. Including vegetarian, vegan, gluten-free, dairy-free and meat-based recipes for every palate.
Canned Pumpkin vs. Fresh Pumpkin for Cooking
When you're shopping for pumpkin for cooking, you have two choices: canned or fresh. For me, the most convenient thing is canned, but I have found that the two are slightly different. So you might want to keep that in mind when you're cooking/baking!
But for the most part, these two are interchangeable and can be used in any of the recipes you see here.
Pumpin Bread Recipes
I've got to start this list of healthy pumpkin recipes with my favorite: pumpkin bread! In my mind, there's nothing better than a slice of warm pumpkin bread with a pat of butter and a mug of tea.
Healthy Pumpkin Muffins
If you prefer muffins to bread, you can often use the pumpkin bread batter from any of the recipes above to make cute muffins for sharing.
Pumpkin Oatmeal + Granola Recipes
Pumpkin is a great addition to oatmeal and granola and is probably the way I use it most frequently at home. I love a good bowl of pumpkin oatmeal! And pumpkin granola is in constant rotation in my house all year long.
More Healthy Pumpkin Breakfast Recipes
Healthy Pumpkin Bars
For the sweet stuff, you'll love these gooey layered pumpkin bar recipes:
Pumpkin Cookie Recipes
Whether you're craving something soft and pillowy, maybe something peanut butter-y, or even just an old-fashioned oatmeal cookie, we've got some for you here!
More Pumpkin Desserts
Pumpkin is most classically known for desserts, so for those recipes that don't fall in our bar/cookie categories, we've put them here. We've got vegan pumpkin pie, truffles, ice cream, and more!
Pumpkin Soup Recipes
Now we're onto the savory part of our healthy pumpkin recipes list and we're kicking things off with soup. Pumpkin is an amazing addition to the soup – it helps make soups thick and creamy, while also bringing a really lovely subtle flavor.
Pumpkin Pasta Recipes
And lastly, we have pasta! Pumpkin can be used in pasta sauces and it's absolutely delicious. We've got a few fun ways to use pumpkin in pasta, including mac and cheese, alfredo, lasagna, and more!
If you make any of these healthy pumpkin recipes, be sure to let me know what you think with a comment below!
share what you make
Tag #simplyquinoa on Instagram with your creations! We love sharing what you make with the community. We can't wait to see!

follow on instagram