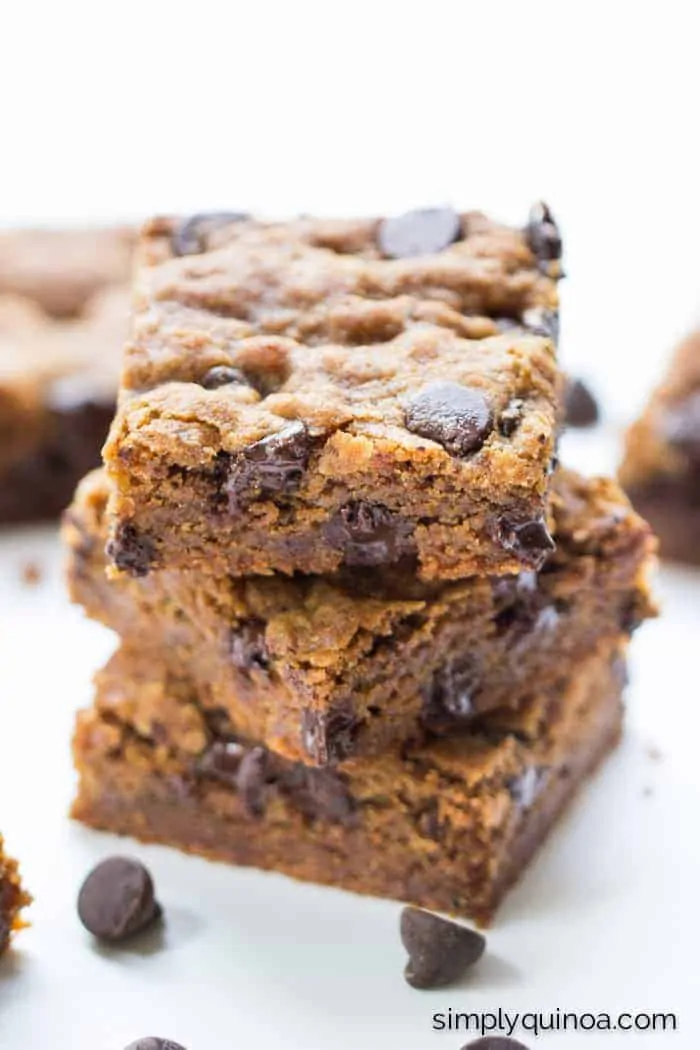 Today is all about chocolate chips my friends. But instead of classic cookies, we're putting them into bars.
These chocolate chip quinoa cookie bars are my latest dessert obsession. They're soft, chewy and taste like cookies, but totally act like brownies. It's a mash-up that I could certainly get used to having around. (and quite honestly it's kind of genius if you ask me)
Now I know I'm not the first person to ever invent cookie bars (whoever it was, thank you) but this is the first time I've ever made them. And umm… why haven't we done this sooner!?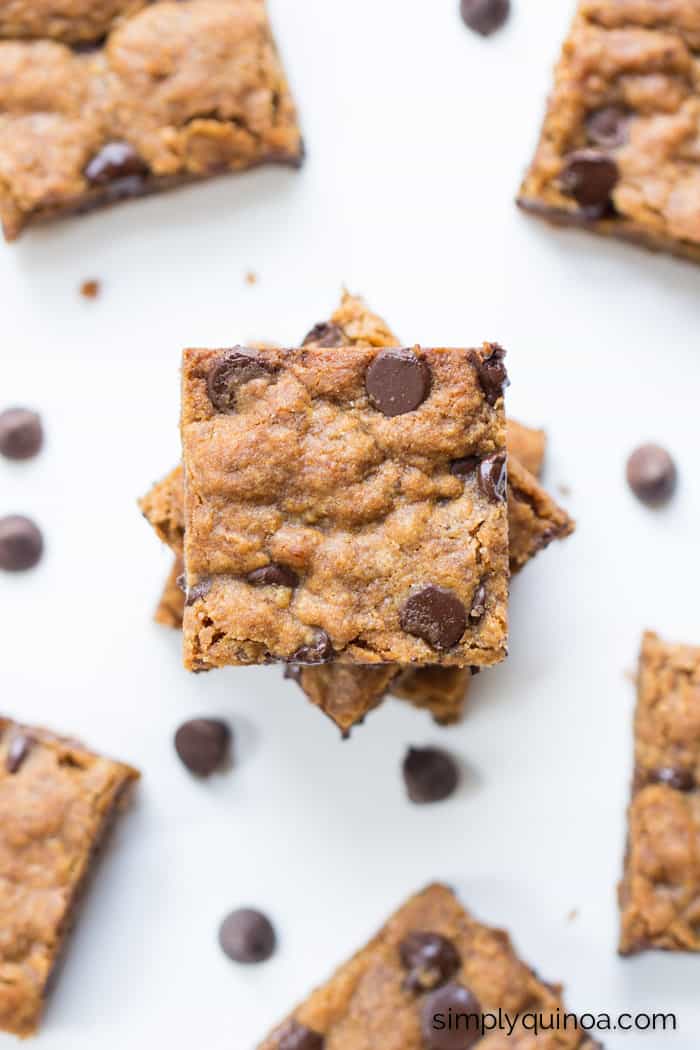 I'm not sure if I've told you this before, but most of my recipe inspiration actually comes from you.
From the comments you leave me, to the questions you email me to the tweets/Facebook posts you share, I try my best to listen to what you want and need. As much as I've created this website because I love cooking, the main reason I'm here is you.
It's my goal to make things easier for you in the kitchen. With simple, easy recipes, I want you to feel empowered to get into the kitchen and make healthy recipes that taste amazing.
Chocolate chip cookie bars included.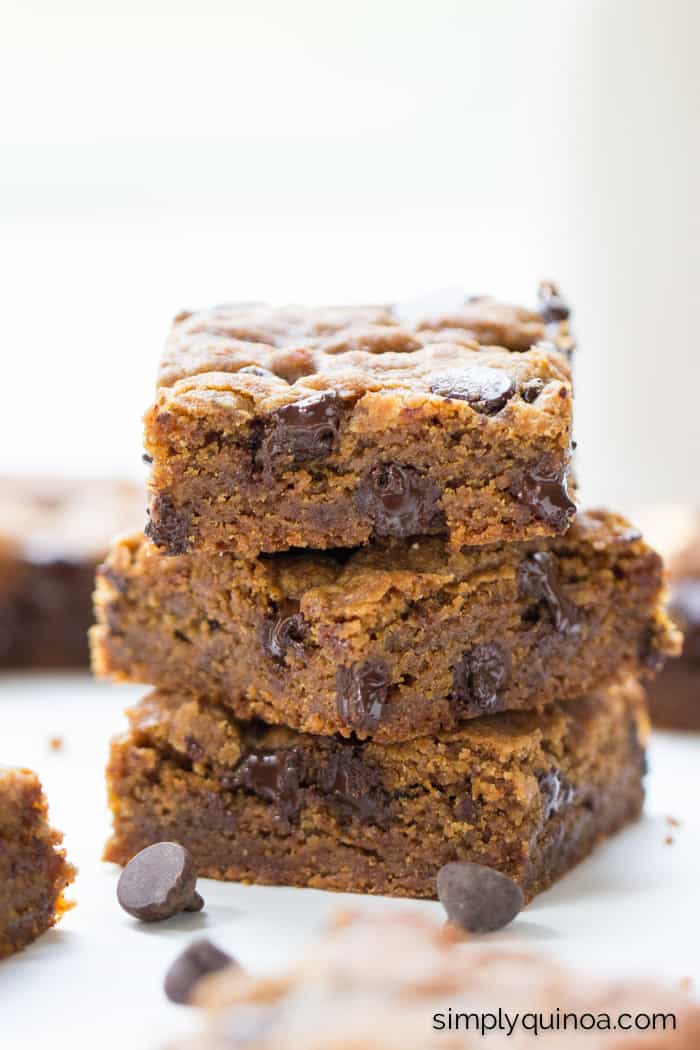 This actually reminds me of this experience I had at my yoga studio a little while ago. I belong to a studio here in NYC that is pretty amazing. It's gorgeous, the classes are incredible and the teachers are super inspiring. It's helped me fall back in love with yoga again.
So it was right before my Thursday morning hot yoga class and I went over to the water fountain to fill my water bottle. There was another woman standing there waiting to fill her bottle as well and we started complaining about how we wished they had one of those fountains that you could fit a water bottle under.
But what she did, instead of just talking to me and complaining about it, was walk right over to the desk and make the suggestion that they put one in. I didn't think anything of it, went into my class, sweat my butt off and went home.
The next day I went back for my Friday afternoon class (which is just a regular vinyasa flow class) and low and behold, the water fountain had a water bottle filler! I'm not kidding, not even 48 hours later and this place had taken action on the suggestion of one of its members. They probably had hundreds of people going in and out of there each day wishing the same thing as we were, but they just never said anything about it.
One woman made the suggestion and they made it happen. It was really inspiring.
They were listening to what their people wanted and gave it to them without a second thought. I wish all businesses were run like this!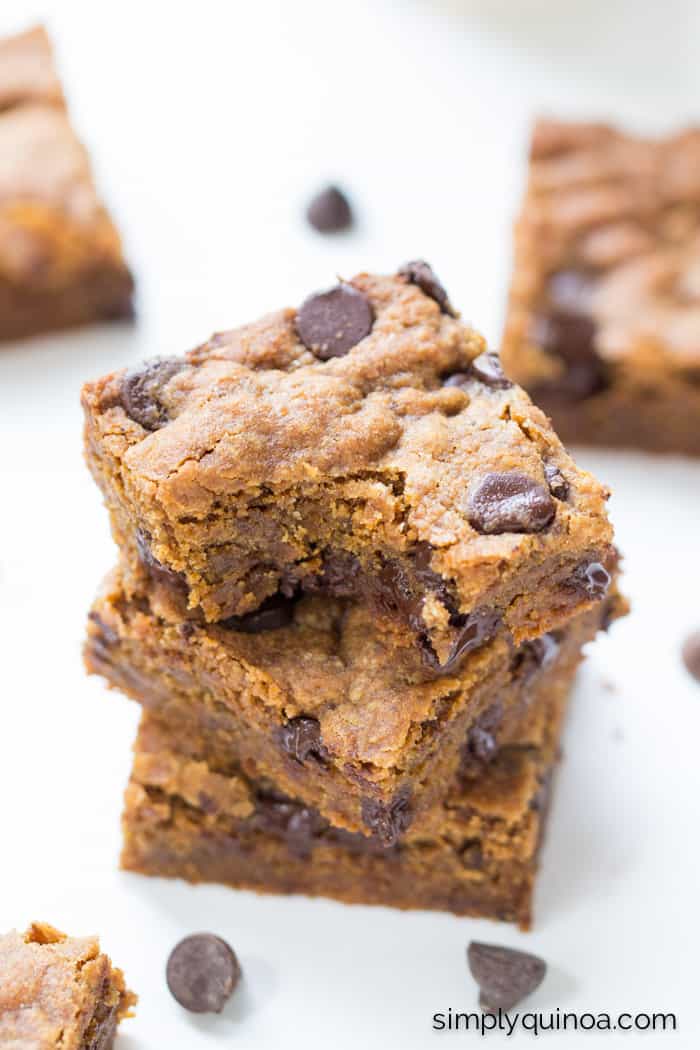 I'm sure you're thinking what the heck does this have to do with chocolate chip cookie bars anyway?
It's because these cookie bars are inspired by one of my Facebook fans who suggested that I try baking my coconut oil chocolate chip cookies in a square pan. She said she was a big fan of cookie bars, but wanted to know if this recipe would work that way.
Before reading that, I hadn't even thought to bake cookies in brownie form. But it sounded amazing and so I gave them a whirl. Any my goodness you guys, the bars were goooood.
Soft and chewy, without any inkling of being under-baked. And with the little specs of melted dark chocolate, the sweet undertones of coconut sugar and the slightly nutty flavor of quinoa flour, I think you'd be hard-pressed to find a tastier cookie bar.
Oh and the best part? They're gluten-free AND vegan! YES!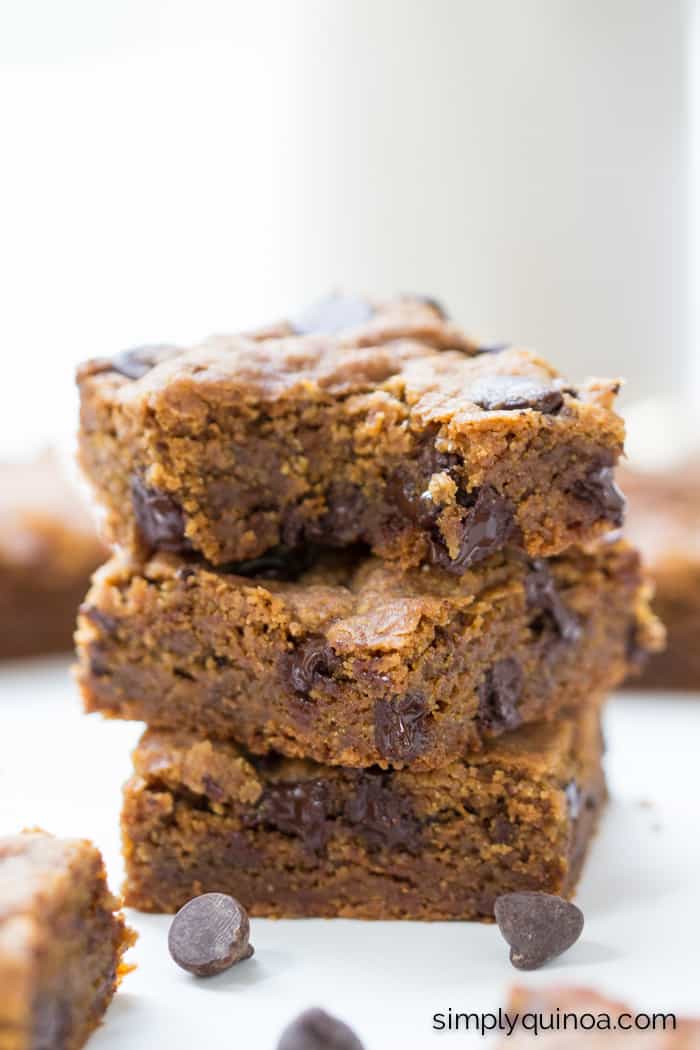 So I guess my whole point to today's post is that I want to keep hearing from you! I love hearing your suggestions. Your recipe ideas are genius. This is a place for you to find healthy inspiration just as it is for me to share my cooking adventures. We're in this together my friends and I want you to know that I read every single comment, email, tweet and post that you write me.
Thanks for being my inspiration!
xo Alyssa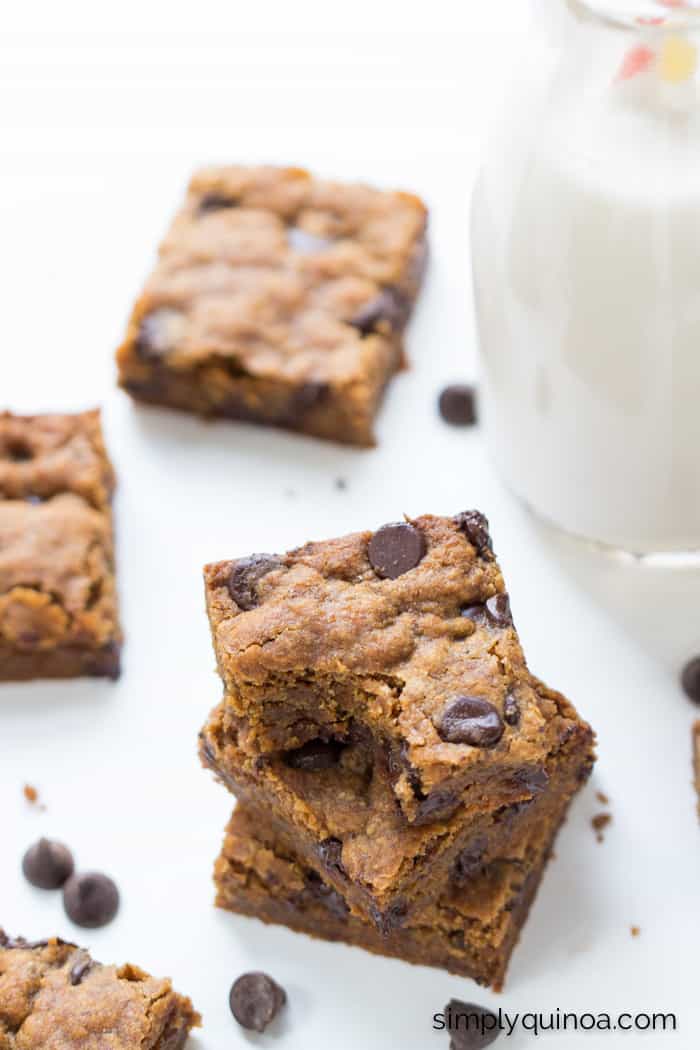 Chocolate Chip Quinoa Cookie Bars
Soft and chewy, without any inkling of being under-baked. And with the little specs of melted dark chocolate, the sweet undertones of coconut sugar and the slightly nutty flavor of quinoa flour, I think you'd be hard-pressed to find a tastier cookie bar.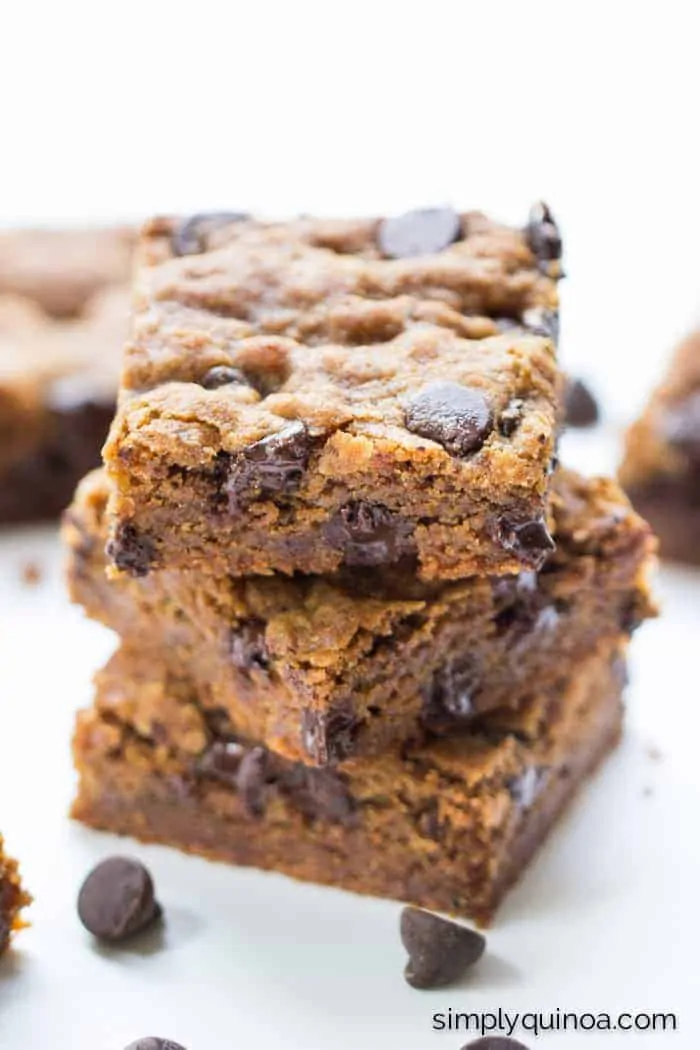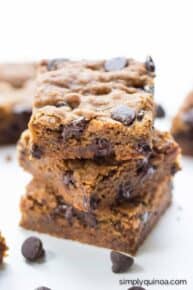 Instructions
In a small mixing bowl, whisk together all dry ingredients and set aside.

Beat together softened coconut oil and coconut sugar until creamy. Add flax egg and vanilla and beat until smooth.

Add flour mixture into wet ingredients in three additions, mixing fully between each. Fold in chocolate chips.

Cover bowl and chill dough for 1 - 2 hours.

With 30 minutes left in the chilling, preheat oven to 350 degrees F and line a 8x8 square baking pan with parchment paper.

Remove dough from fridge and let sit for 5 minutes. Transfer the dough to the pan, pressing it down until it reaches the edges. Smooth it over with a pasty roller (or your hands), so it's flat.

Bake bars for 20 – 25 minutes until edges are brown and the center still feels a little soft.

Remove from the oven and let cool on pan for at least 20 minutes, then transfer to a wire rack (without cutting them) and cool the bars completely. Cut into squares and enjoy!
Nutrition
Calories:
163
kcal
|
Carbohydrates:
19
g
|
Protein:
1
g
|
Fat:
9
g
|
Saturated Fat:
7
g
|
Sodium:
128
mg
|
Potassium:
31
mg
|
Fiber:
1
g
|
Sugar:
9
g
|
Calcium:
16
mg
|
Iron:
0.7
mg
Filed Under: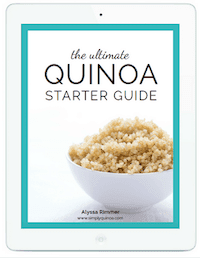 New to cooking quinoa? Grab your FREE Quinoa Starter Guide!
Become part of the Simply Quinoa community and receive weekly emails with exclusive content that I only share in email, as well as my in-depth guide to starting your quinoa journey.
Want more quinoa dessert recipes?
Follow my board on Pinterest!
This post was sponsored by Epicurious as part of the "Out of the Kitchen" series. Want to meet purveyors who are making a difference with their customers? Check out BonAppetit.com's "Out of the Kitchen", an ongoing exploration of the relationships that build and sustain the food industry. See how hyper-local food markets operate and how their focus on quality and service keep customers coming back for more.