This amazing chocolate zucchini bread is full of dark chocolate flavors, but doesn't use any refined sweeteners so it's the perfect way to start the day!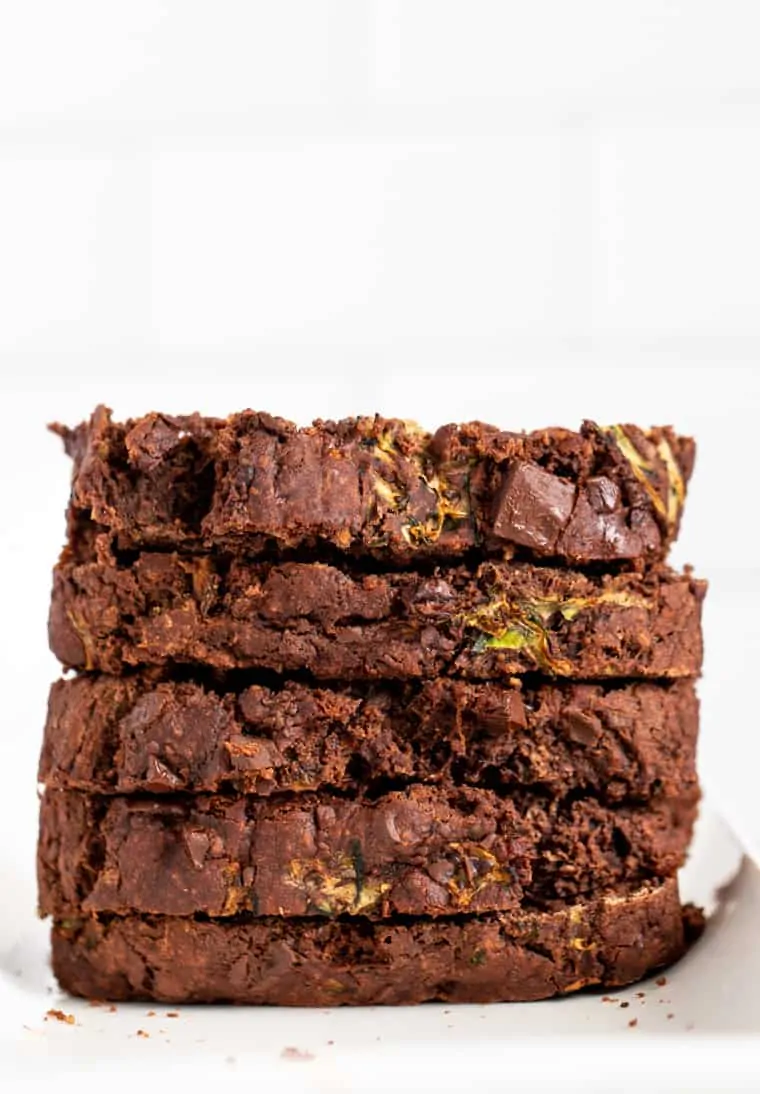 It's been quite the week here in the US and I'm still not totally sure that I'm ready to be posting "regular" content. I've spent countless hours and days unlearning and relearning about the injustices that BIPOC face in our country every single day and while my heart is heavy, I do feel optimistic. I feel like actually going to make a change. It feels like this civil rights movement – with the rise of social media which allows for the amplification of voices – is going to force change.
While I've spent the majority of time reading, listening, and learning, I've also spent some time unplugging and baking. Baking always brings happiness into our home and this chocolate zucchini bread is no different!
It's a simple recipe to make, it keeps really well, it can be enjoyed for breakfast or dessert, and it's a perfect recipe for this time of year. Uses up your bananas and your zucchini at once!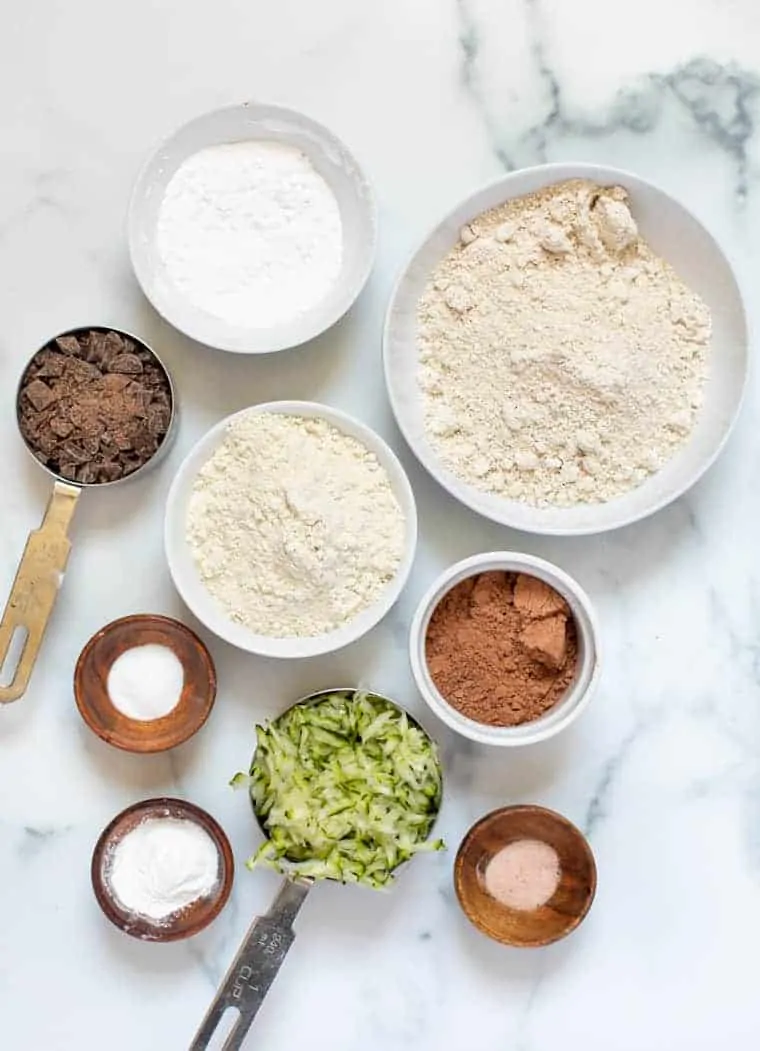 Ingredients for Chocolate Zucchini Bread
This recipe is actually a twist on a recipe I made years ago that was in desperate need of an update. I wanted to make sure that it was still vegan and gluten-free since so many people are looking for recipes that are both (and not many of my bread recipes are!), but I also wanted it to be naturally sweetened and have a really tender texture. It hits all those checkboxes and more!
Here's what you'll find inside:
Mashed banana (or applesauce)
Flax eggs (or regular eggs if you're not vegan)
Almond milk (or your milk of choice)
Apple cider vinegar (for a bit of extra lift & air)
Maple syrup & coconut sugar (for sweetness)
Oat flour
Quinoa flour
Arrowroot starch (or tapioca/potato/corn)
Cacao powder
Plus baking powder, baking soda and sea salt!
Once we've got all those ingredients together, the final thing is our zucchini and chocolate chips/chunks!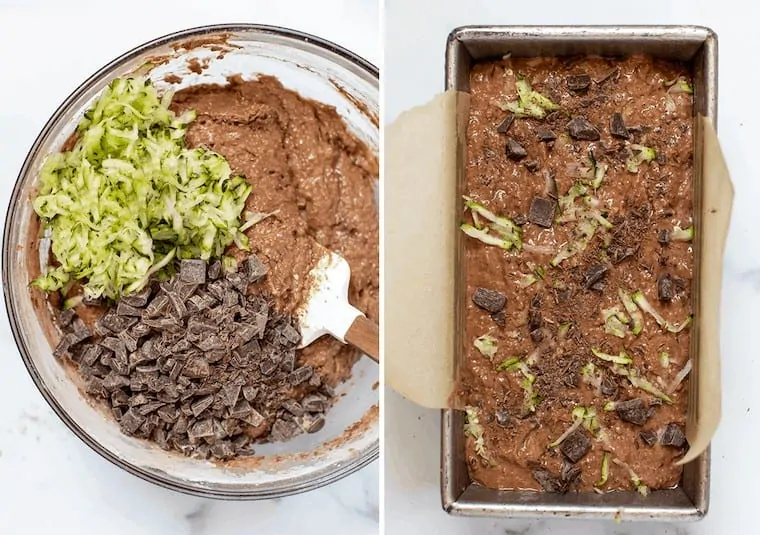 How to Make Healthy Zucchini Bread
For this chocolate zucchini bread, I like to actually start with the wet ingredients. I add the mashed banana, along with everything else into my mixing bowl, and beat it up until it's combined.
Next, I add in the dry ingredients. If I was a "proper" baker, I would whisk all those ingredients separately, but honestly? It always works fine just adding everything in. You'll mix that all together until a thick(ish) batter forms.
The final step is to fold in your zucchini and chocolate chips. Make sure that you grate your zucchini into a clean dish towel and then squeeze out all the water. The measurement down below is measured with the zucchini that has already been pressed. We're looking for 1 cup – and this will really help reduce the moisture.
Then you'll just add it into your loaf pan and bake it up!!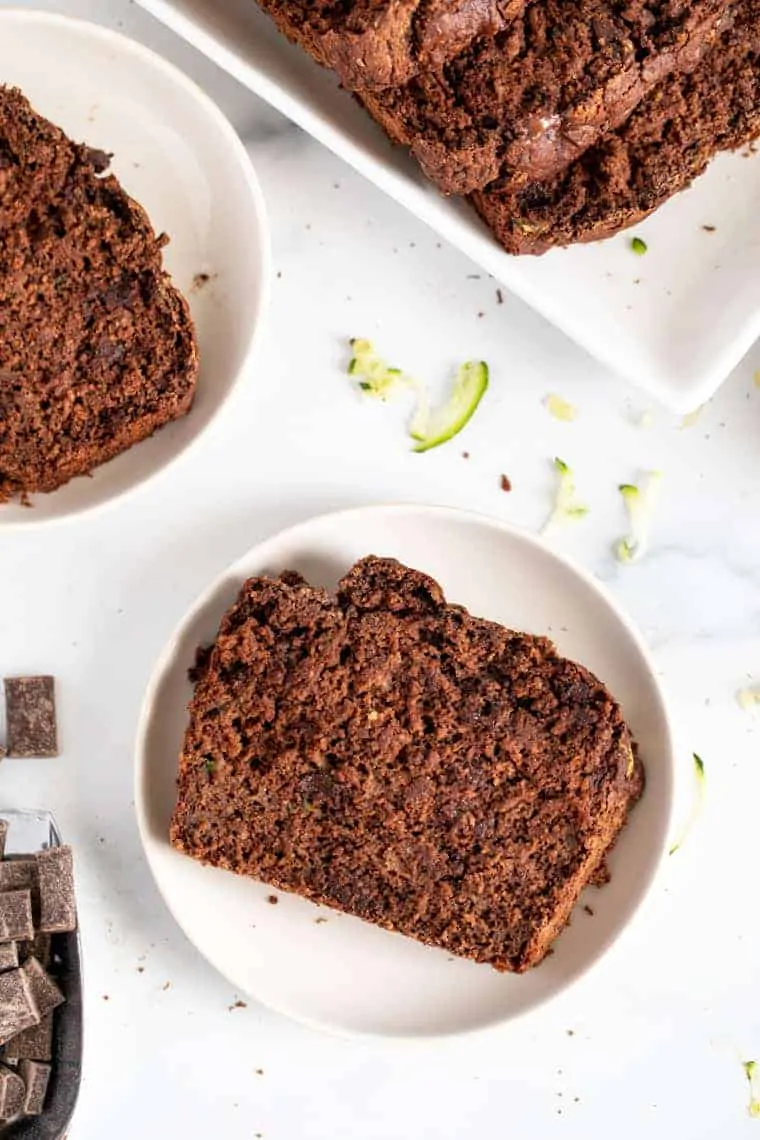 The Perfect Vegan & Gluten-Free Loaf
The banana bread recipes I've made in the past all use eggs. I think it's because of the flour blend that I use, but this time around, we didn't need it! The bread is moist and tender, but not raw in the center.
One thing to note though: you want to let it cool completely before you slice into it. If it's not cool, the center might still be a little warm and it will still be a little too soft. It won't really affect the flavor at all, but it will affect how it cuts!
The best thing you can do is actually let it sit overnight before slicing. I know that's super difficult, but if you can, let it rest for at least a few hours. I promise it will be worth it!!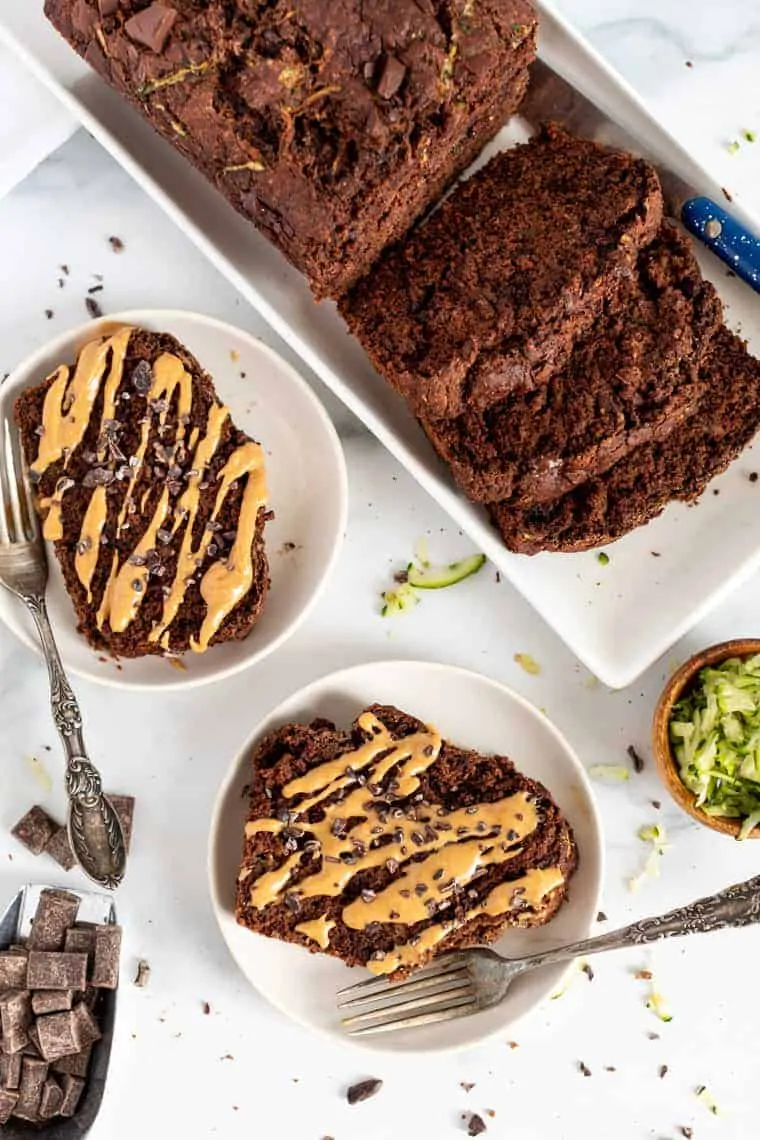 Can You Freeze Zucchini Bread?
One of the things I love about making quick bread like this is that it freezes really well. One of my favorite breakfasts is a slice (or two) of banana bread, toasted in my toaster oven and slathered with nut butter. It's SO good!
For this loaf, you can totally freeze it!
I recommend letting it cool completely, then once you slice it, I pop my slices onto a sheet pan and freeze them individually. Once froze, I'll pop them into a bag or container and keep them in there for at least 3 months!
What to Serve with Chocolate Zucchini Bread
If you're looking for ideas on what you can serve with your chocolate zucchini bread… the best answer is peanut butter! Chocolate and peanut butter have forever been a match made in heaven and this is no exception. It's delicious!
But if you're allergic to peanuts, you could also do another nut butter (my funfetti cashew butter would be fab!), or coconut yogurt!
A warm slice of chocolate bread, topped with creamy coconut yogurt and sprinkled with cacao nibs? Pure heaven! I hope you enjoy this bread as much I we did – it's for sure a keeper!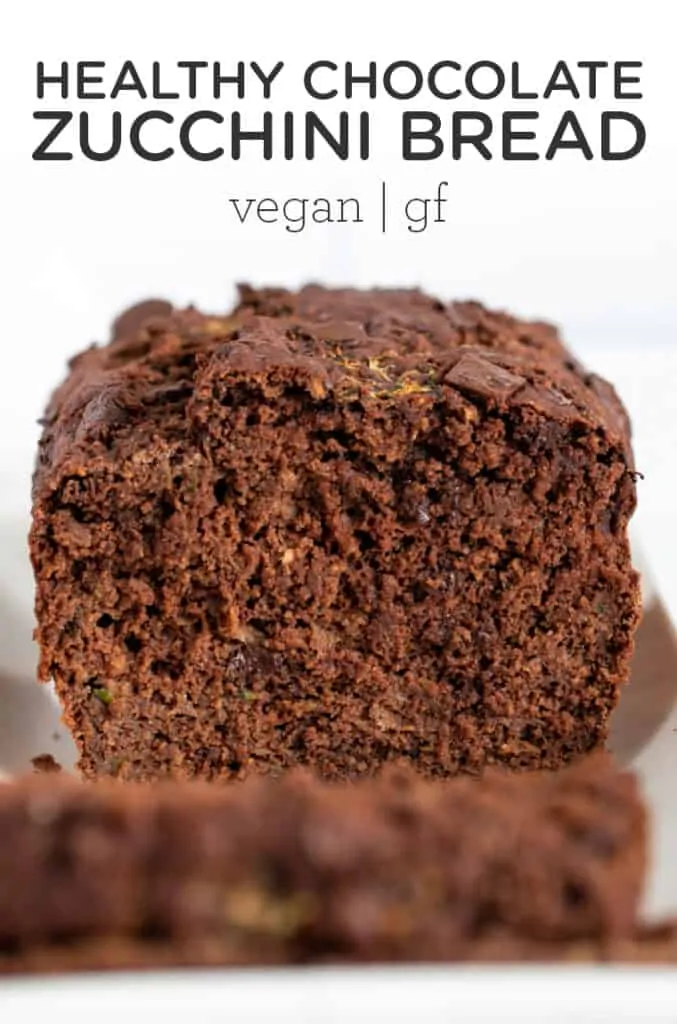 More Healthy Zucchini Bread Recipes
Healthy Chocolate Zucchini Bread
This amazing chocolate zucchini bread is full of dark chocolate flavors, but doesn't use any refined sweeteners so it's the perfect way to start the day!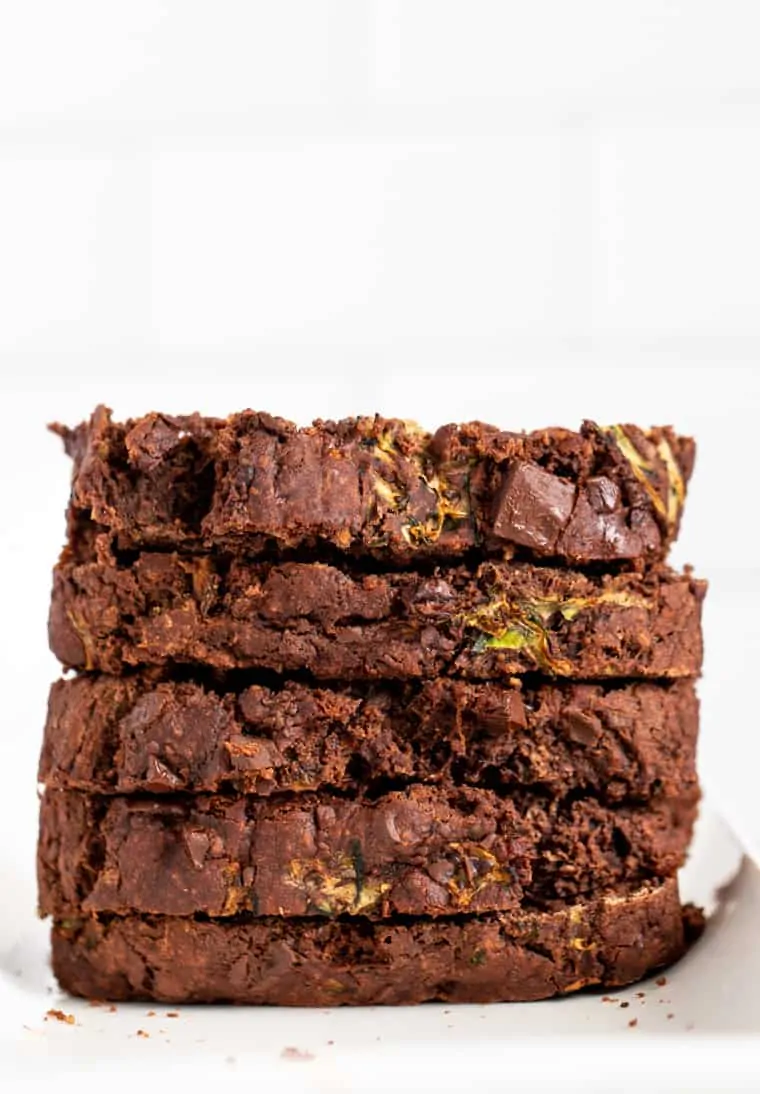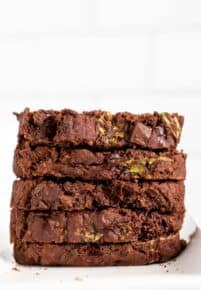 Instructions
Preheat the oven to 350ºF. Line a 9″ loaf pan with parchment paper and set aside.

Beat together the wet ingredients until smooth(ish). Add the dry ingredients (minus the zucchini and chcoolate chips) and stir to form a dough. Fold in the zucchini and chocolate chips.

Scoop the batter into the loaf pan and smooth the top with the back of a plastic spatula. Sprinkle with additional shredded zucchini and chocolate chips if desired.

Bake in the center of a warmed oven for 55 – 60 minutes, until a cake tester inserted into the middle comes out clean.

Let cool on a wire rack until fully cooled, 20 – 30 minutes. Slice and serve.
Notes
If not consuming in 2 days, slice the loaf and freeze. Reheat in the toaster oven or microwave!
Nutrition
Serving:
1
slice
|
Calories:
169
kcal
|
Carbohydrates:
30
g
|
Protein:
4
g
|
Fat:
4
g
|
Saturated Fat:
1
g
|
Cholesterol:
1
mg
|
Sodium:
175
mg
|
Potassium:
221
mg
|
Fiber:
3
g
|
Sugar:
12
g
|
Vitamin A:
43
IU
|
Vitamin C:
3
mg
|
Calcium:
75
mg
|
Iron:
1
mg
Filed Under: