This funfetti cashew butter recipe tastes just like cake batter! It's only 5 ingredients, is naturally sweet, gluten-free and vegan too. Delicious on toast!
Now that I've been stuck at home for 4+ weeks, I'm running low on some of my staples. Peanut butter, almond butter, cashew butter. Luckily I did stock up on all my matcha ingredients tho!
I'm sure many of us are in the same boat right now tough. We no longer have ready access to some of the things we're used to having all the time. And for us, that seems to be nut butters.
If nut butters are one of those things, today I've got you covered! I'm showing you how to make the absolute best cashew butter recipe (with sprinkles inside). This recipe tastes like dessert but can be used just as you would peanut butter. Only it tastes like cake. So…it's better! 😉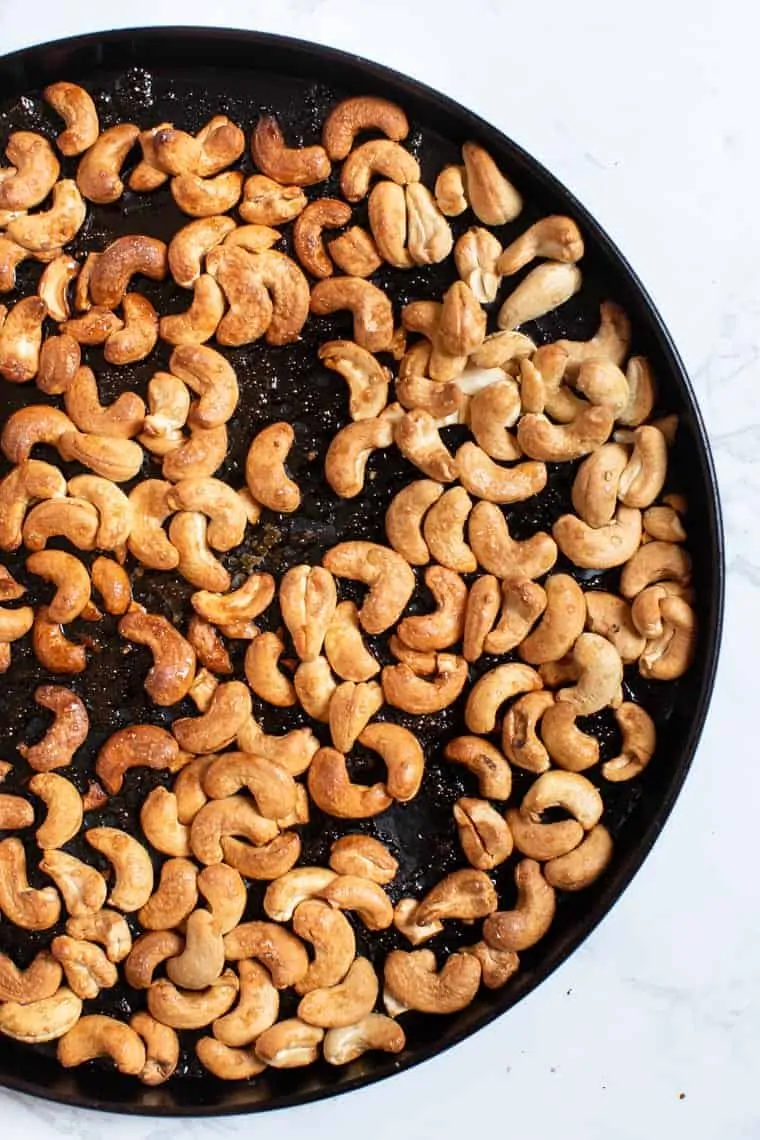 Ingredients for Funfetti Cashew Butter
Today's cashew butter recipe uses just 5 ingredients and takes about 15 minutes to make. It's one of those spreads that you try one and will keep coming back to!
Here's what you'll find inside:
Raw cashews
Maple syrup
Vanilla extract
Coconut oil
Sprinkles
And guess what? It's even easier to make!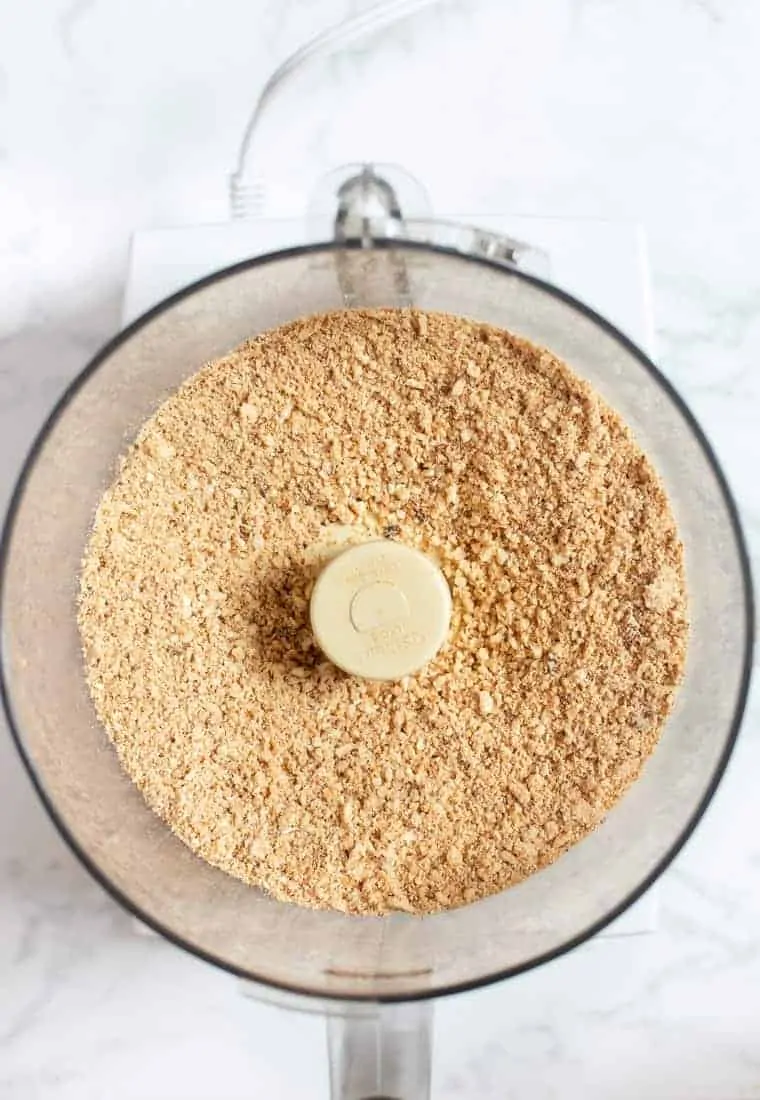 How to make Cashew Butter
So for today's recipe, I wanted it to taste like funfetti cake. To me, that means the cashew butter has to be slightly sweet and have sprinkles.
Similar to my honey roasted peanut butter recipe, I decided to roast the cashews with the maple syrup. This allowed both ingredients to get golden brown. And the flavor is SO much better!
From there, we add the cashews into the food processor. Then you just have to be patient. It takes a while for the cashew butter to turn into actual "butter" but once it does, you're ready for your flavors!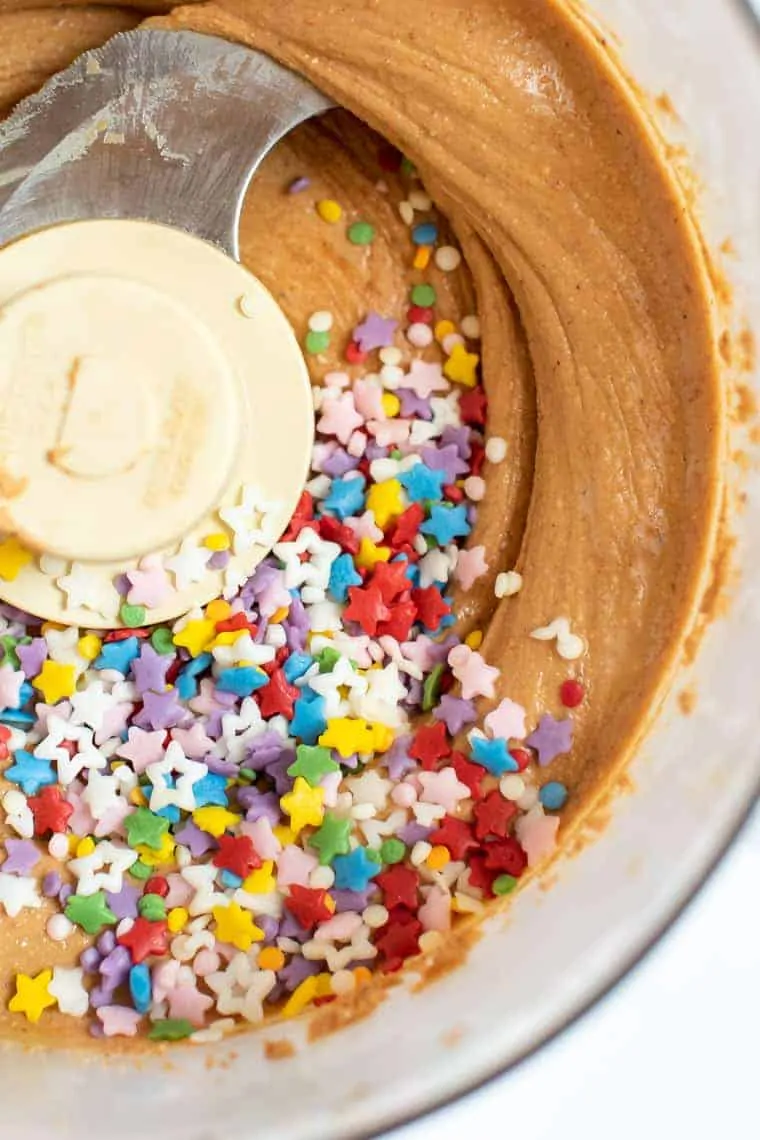 Homemade Nut Butter…Your Way!
Have you ever made your own nut butter at home? If not, it's super easy! You honestly only need two things: your nut of choice and a food processor (or blender). I've actually even got a whole guide on how to make nut butter at home if you want to check that out!
I've found a few tricks along the way that have really helped:
Roast your nuts: I find this makes them easier to blend and they become smooth more easily
Add non-liquid sweeteners before: liquid sweeteners like maple syrup and honey actually can create a fluffier texture to your nut butter. Instead, add the liquid sweeteners in the cooking process! And if you use a granulated sweetener, you can add that in with the flavorings.
Flavor with spices: last but not least, the flavors! I love using ground spices like cinnamon, ginger, and nutmeg, but you can also use extracts for your flavors! Just be sure to add them in towards the end – that's the best way to ensure their potency.
we used all thereof these tips in our cashew butter recipe and it honestly turned out SO well!!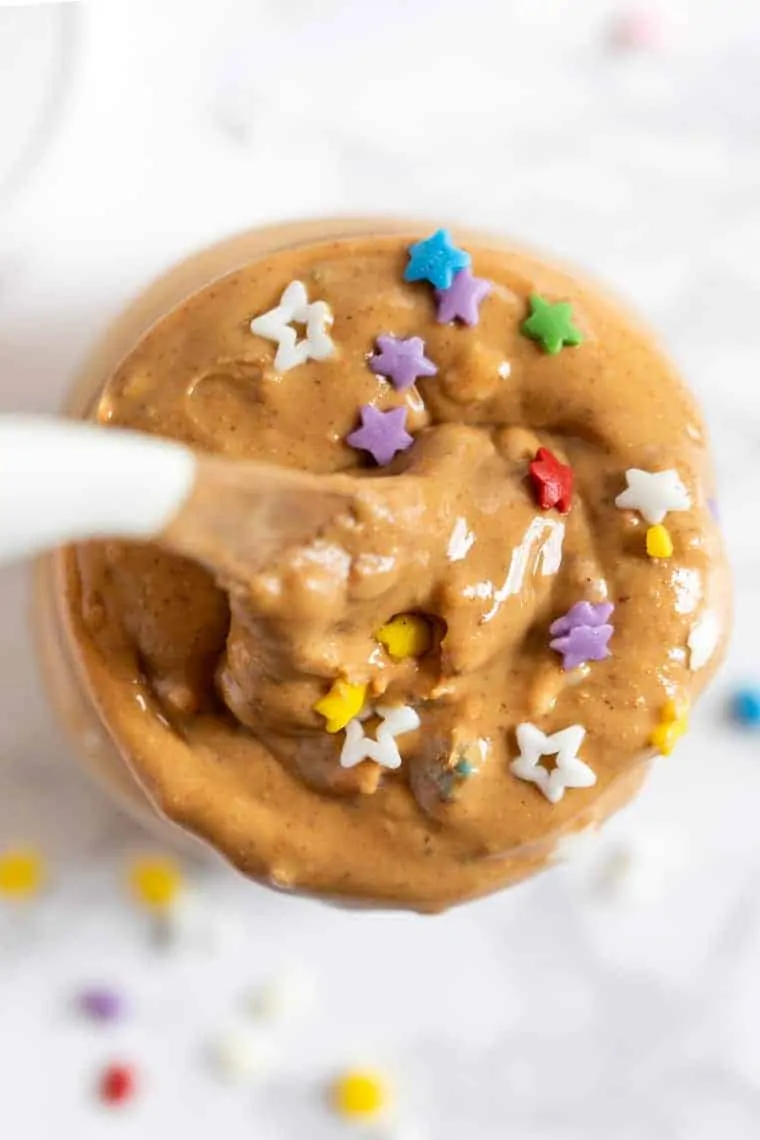 The Easiest Cashew Butter Recipe
This is honestly the easiest recipe ever. But because it uses sprinkles, it's also one of the most special. This recipe is just versatile. It's great as a breakfast, as a sweet treat or as a healthy snack. One of those ingredients you can use a bunch of different ways and once it fits, it FITS!
Our cashew butter uses a blend of sweetness – maple syrup – along with vanilla and sprinkles to give you that funfetti flavor. We hope you like it as much as we do!!
Plus how can you argue with…
one bowl
vegan
gluten-free
low sugar
full of healthy fats
delicious
… and more!?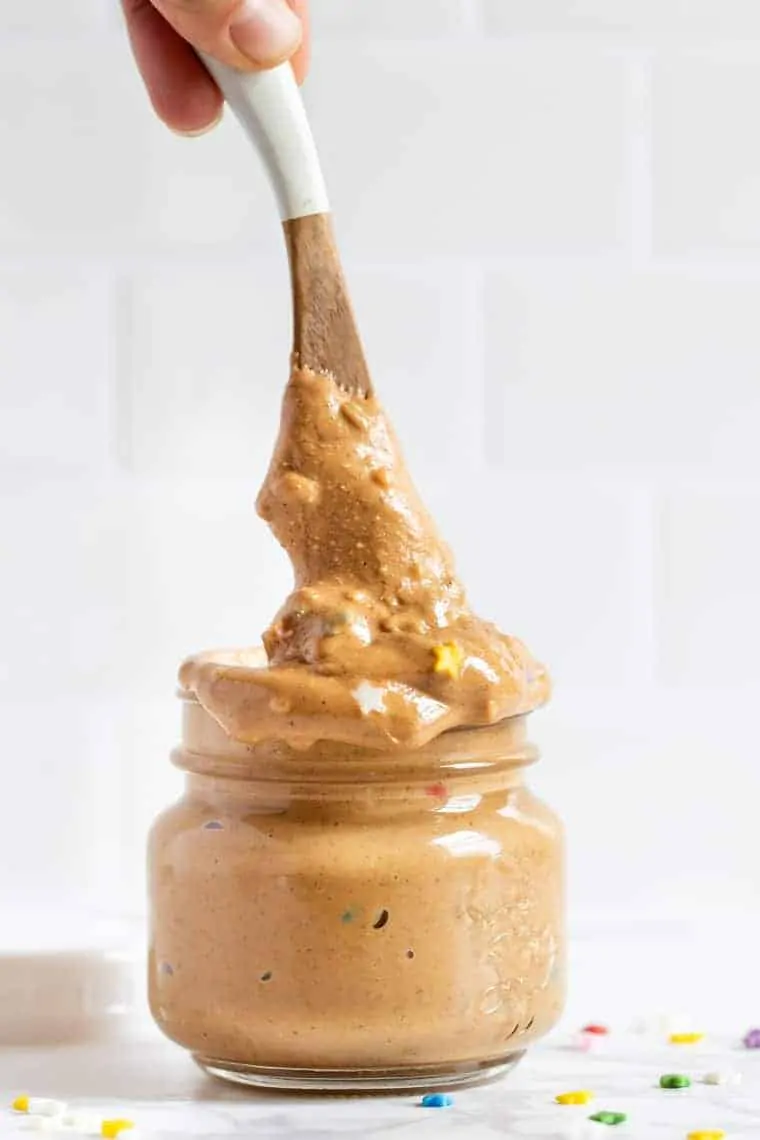 Ways to Use Cashew Butter
To me, cashew butter is one of the easiest nut butters to use up. Because it has this mild taste and almost natural sweetness, it pairs really well with sweet things. Oatmeal, energy balls, cookies, etc.
But it's the unexpected where people shine.
And that has never been more apparent now. So many of us are coming together. Celebrating. Cheering each other on. It's a special thing to watch and I feel honored to be apart of it!!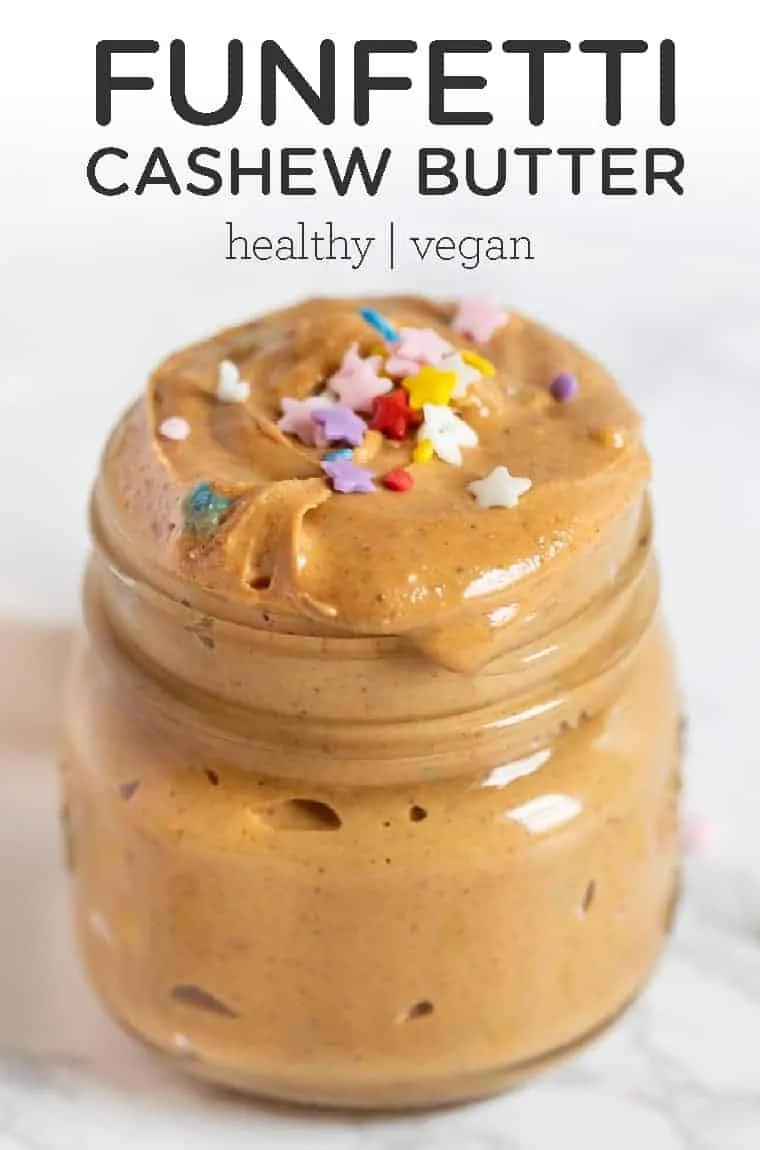 Other homemade nut butter recipes:
Funfetti Cashew Butter Recipe
This healthy funfetti cashew butter tastes like cake batter! It's only 5 ingredients, is naturally sweet, gluten-free and vegan too!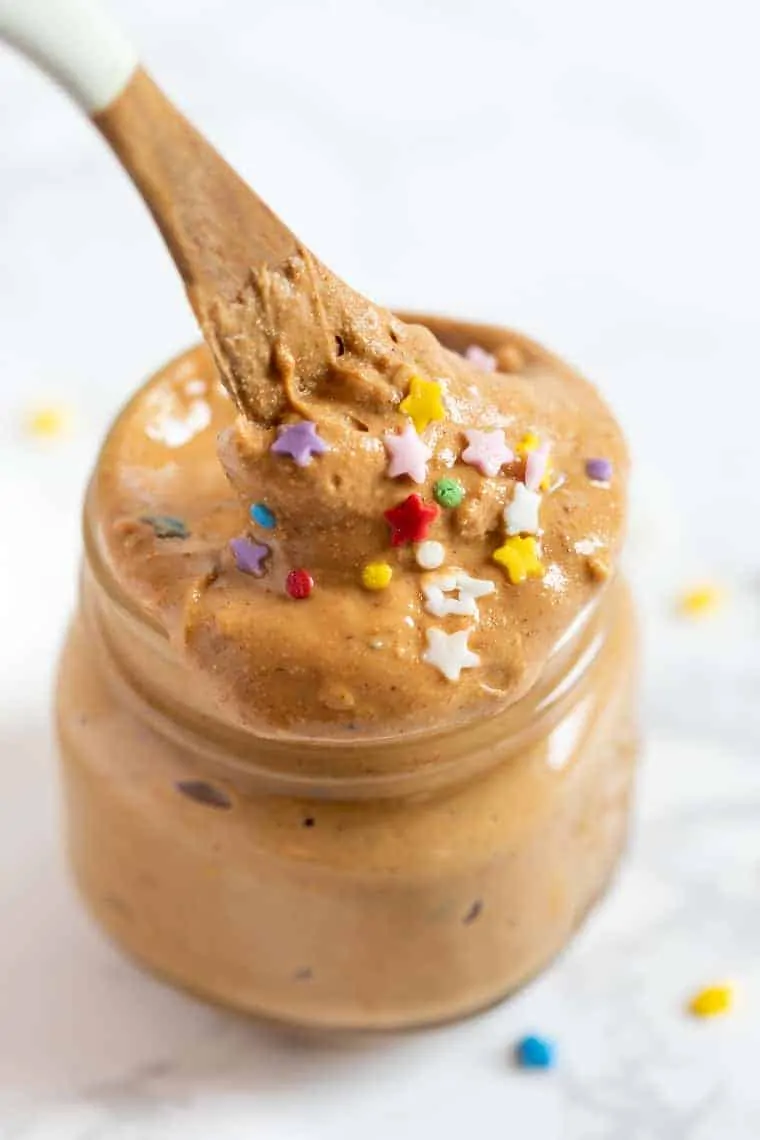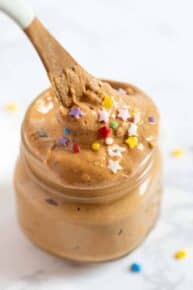 Instructions
Add the cashews onto a baking sheet and drizzle with maple syrup. Toast for 3 - 5 minutes until the cashews are golden brown.

Transfer the cashews to a food processor and process on high until smooth and creamy. Depending on your food processor, this could take anywhere from 10 - 20 minutes.

Once smooth, add the coconut oil and vanilla extract and process again until combined. The batter should now be almost pourable.

Transfer your homemade cashew butter into a sealed container. Store in a cool dry place for 2 - 3 weeks.
Nutrition
Serving:
2
tablespoons
|
Calories:
168
kcal
|
Carbohydrates:
12
g
|
Protein:
5
g
|
Fat:
12
g
|
Saturated Fat:
2
g
|
Sodium:
4
mg
|
Potassium:
185
mg
|
Fiber:
1
g
|
Sugar:
5
g
|
Vitamin C:
1
mg
|
Calcium:
14
mg
|
Iron:
2
mg
Filed Under: