The best gluten-free zucchini bread yet! This loaf is perfectly moist and tender, with a subtle sweetness, warm spices, grated zucchini, and perfect flavor!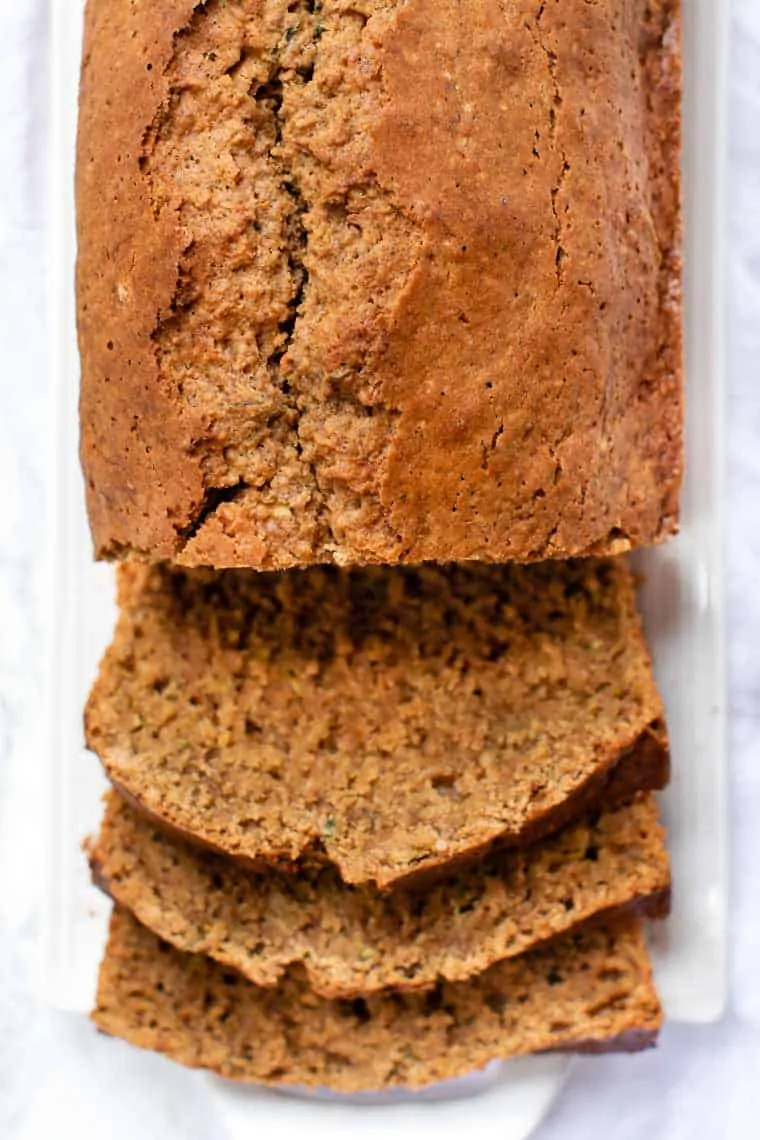 We're getting to the tail end of summer and I don't know about you, but I'm trying to squeeze in every ounce of this gorgeous season as possible. As much sunshine, as much outside time and as much fresh produce as I can possibly get my hands on.
One of my favorite seasonal items is zucchini. Hands down! I eat it a million different ways (check out our fave vegan zucchini recipes for some inspo), but one of my favorite favorite things to do is bake. And today's is a goodie…
This gluten-free zucchini bread is truly something special. The warm aroma of cinnamon wafts through the air as it bakes. The subtle sweetness from the coconut sugar is the just-right combination with the light and summery zucchini. But the texture of this bread makes it a home run. A perfectly moist, soft and tender bread, that melts in your mouth with every bite.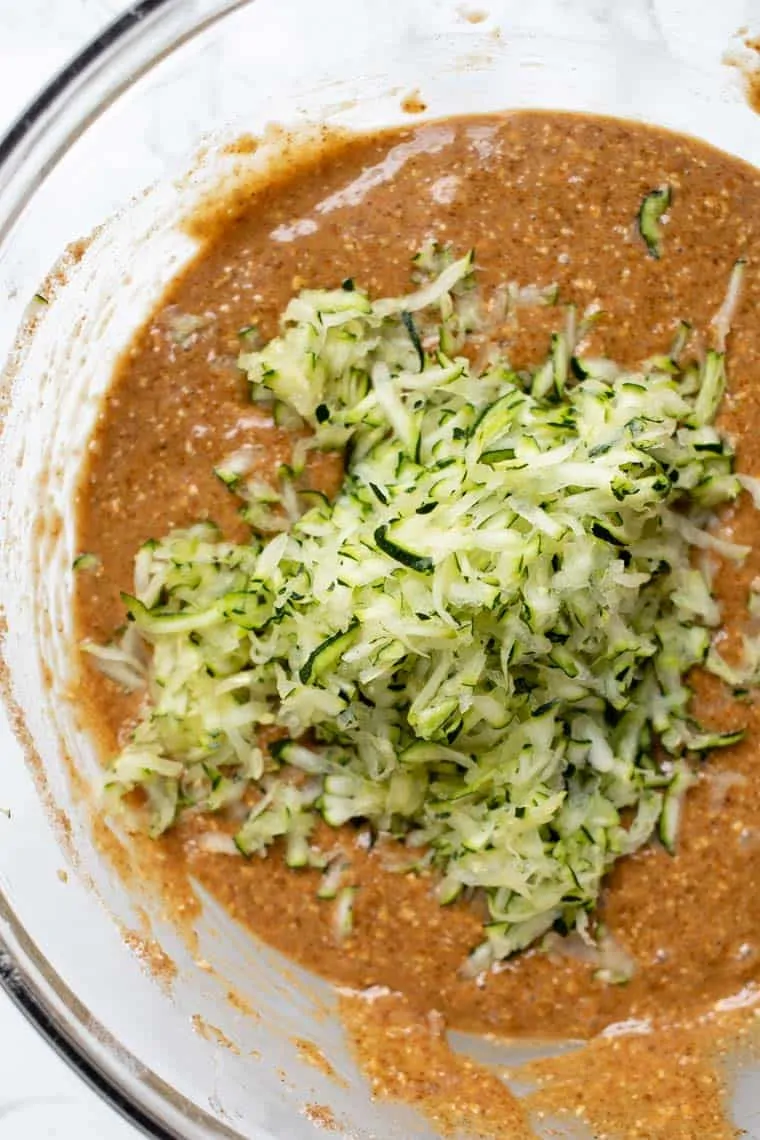 How Do You Get Water out of Zucchini?
Did you know that zucchini is 95% water? That means if you don't prep it properly (i.e. remove some of that water before baking), it can leave you with a big soggy mess.
The best way to get water our of zucchini is to press it in a clean dishtowel. To do this, simply grate your zucchini using whatever method you like best. Then transfer the grated zucchini to a clean dishtowel, fold the dishtowel around the zucchini and press out the water by wringing the towel out.
Does that make sense? If not, check out my Healthy Zucchini Recipes video on YouTube – I show you how to do it!

Ingredients for Gluten-Free Zucchini Bread
This particular gluten-free zucchini bread is actually an old recipe that I revamped. The previous one was measured in grams and used some strange(ish) ingredients. I decided to take that recipe and give it a little rejig!
So for the new and improved zucchini bread, here's what we're using:
Gluten-free flour blend: I'm using oat, chickpea, almond, and tapioca starch
Coconut sugar: my preferred (& low glycemic) granulated sugar
Warm spices: because it just tastes amazing
Eggs: for structure and lift
Coconut oil: for moisture and texture
Grated zucchini: which I used the squeeze method to make ready for baking!
Otherwise, this little beauty is a ONE BOWL recipe!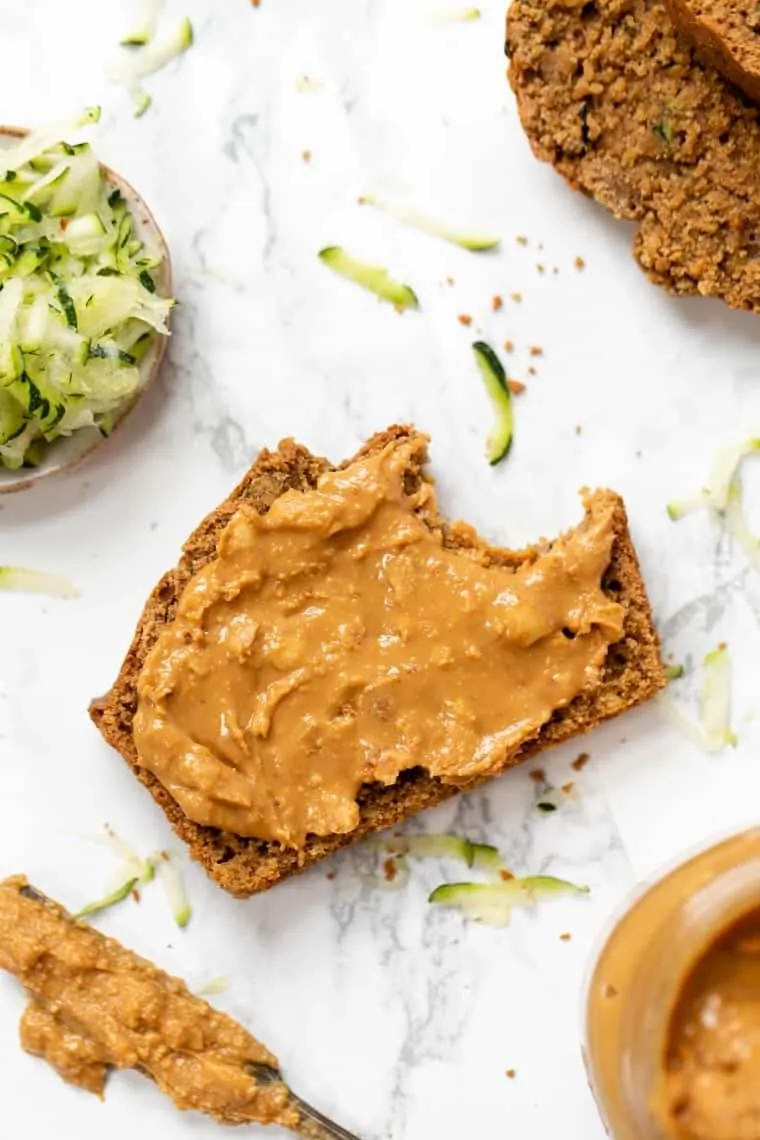 Ways to Enjoy Healthy Zucchini Bread
Okay so real talk for a minute… I actually don't love eating things like zucchini bread or pumpkin bread plain. Is that weird? I feel like most people could just eat a slice and by happy, but me? I've got to doctor it UP!
The best way to eat zucchini bread (*I think*) is…
toast a slice in the toaster until warm and crispy on the outside
slather with nut butter or coconut butter
top with cacao nibs & hemp seeds
It's honestly the BEST combo in the entire world and makes the bread a bit heftier (i.e. more breakfast-worthy). Afterall, if we're baking a delicious bread like this, don't we want it to double qualify as a healthy breakfast? I sure do!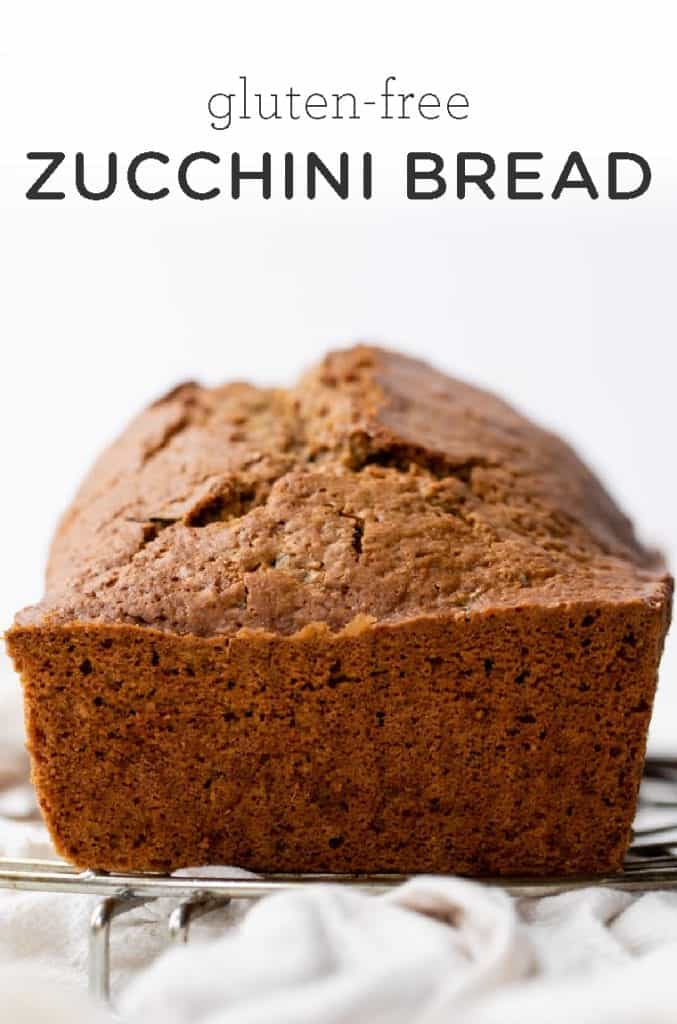 More Gluten-Free Bread Recipes to try:
Gluten-Free Zucchini Bread
The best gluten-free zucchini bread yet! This loaf is perfectly moist and tender, with a subtle sweetness, warm spices, and perfect flavor!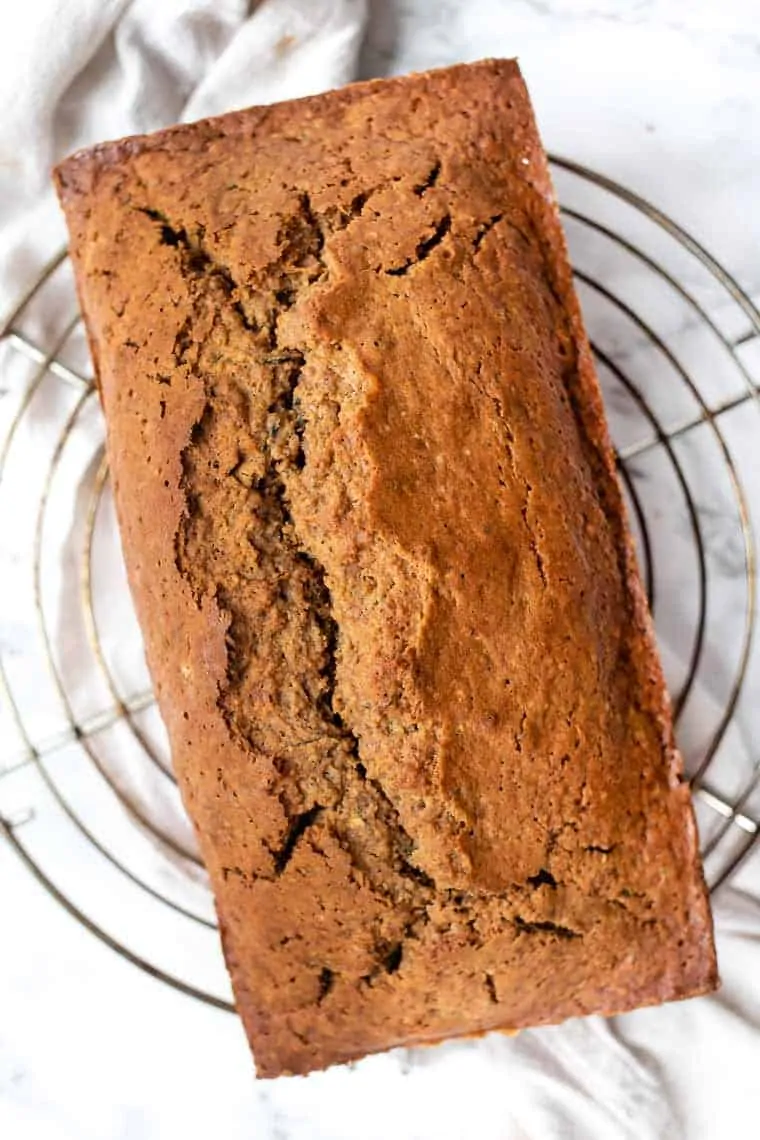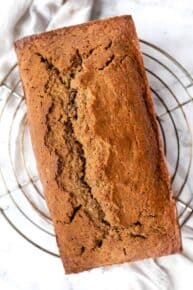 Instructions
Preheat the oven to 350 degrees F. Spray a 9" loaf pan with cooking spray and line with parchment paper.

Whisk together the dry ingredients in a bowl. Add the eggs, coconut oil and almond milk and stir together to form a thick(ish) batter. Fold in the zucchini and mix until combined.

Pour the batter into the prepared loaf tin and bake the center of a warmed oven for 45 - 60 minutes, until a cake tester inserted into the center comes off clean. Cool in the pan for 10 - 15 minutes, then transfer to a wire rack and cool completely before slicing.

To serve, slightly reheat in the toaster oven and slather with your favorite spread!

For storing, keep in a sealed container or bag for 1 - 2 days on the counter or slice the entire loaf and freeze for 3 - 6 months.
Notes
gluten-free | dairy-free | refined sugar-free | nut-free | yeast free
adapted from Gluten-Free Goddess
Nutrition
Serving:
1
slice
|
Calories:
201
kcal
|
Carbohydrates:
26
g
|
Protein:
4
g
|
Fat:
10
g
|
Saturated Fat:
6
g
|
Cholesterol:
27
mg
|
Sodium:
146
mg
|
Potassium:
132
mg
|
Fiber:
2
g
|
Sugar:
10
g
|
Vitamin A:
60
IU
|
Vitamin C:
2
mg
|
Calcium:
43
mg
|
Iron:
1
mg
Filed Under: