Blueberry Muffin Quinoa Breakfast Cookies
A fun way to enjoy quinoa, these healthy quinoa breakfast cookies are sweetened naturally with banana and maple syrup, then studded with blueberries.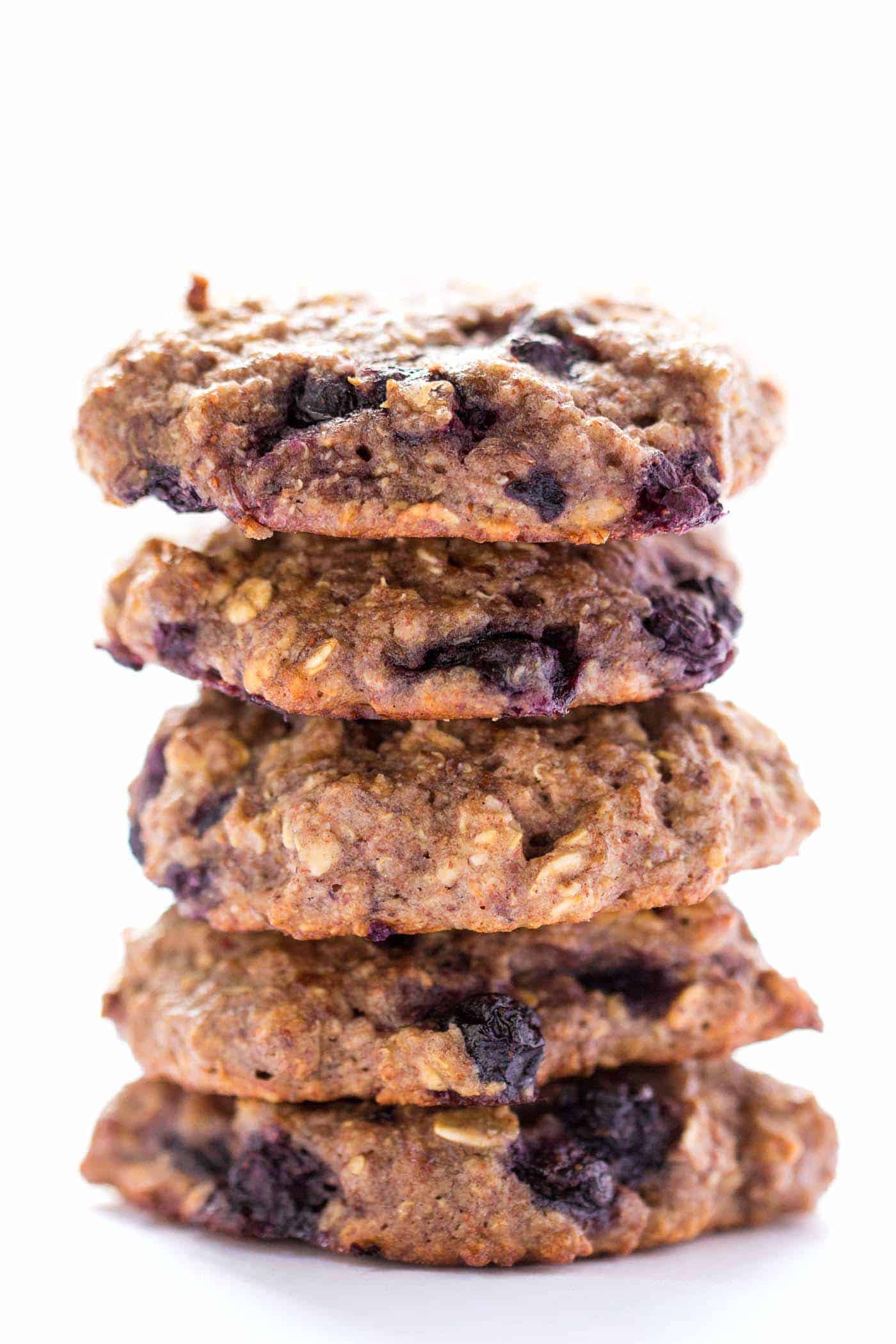 Last week I drove up to Vermont to visit my parents. I don't keep my car in the city during the winter so I had to rent a car, which is fine, except that the weather kept changing so I had to change my reservation three times and ended up paying way more than I should have. Whatevs.
When I finally arrived, it was a busy week of recipe testing (I needed this month's quinoa breakfast cookie flavor and of course, made a batch of my Carrot Cake Quinoa Breakfast Cookies while I was at it), shooting photos and hanging out with the fam. But this time around it was extra crazy because…my parents got a PUPPY!!!
I know, I'm dying of excitement too don't worry (total dog person right here), but holy moly I forgot how much work it is to raise a puppy! They're exhausting. But even though he's still whining at night and has a touch of separation anxiety (remember when Trevi had that too?!), he's really the sweetest little thing. And because of all his cuteness, I'm certainly not being as productive as I normally am while I'm here.
Oh and not to mention, this past weekend was literally the coldest weather we've had in decades. We have this teeny tiny 8-week old puppy, another dog who's bouncing off the walls and with the wind chill, it's -25ºF out. We pretty much just sat by the fire all weekend and chilled. And baked. Lots of cookies happened.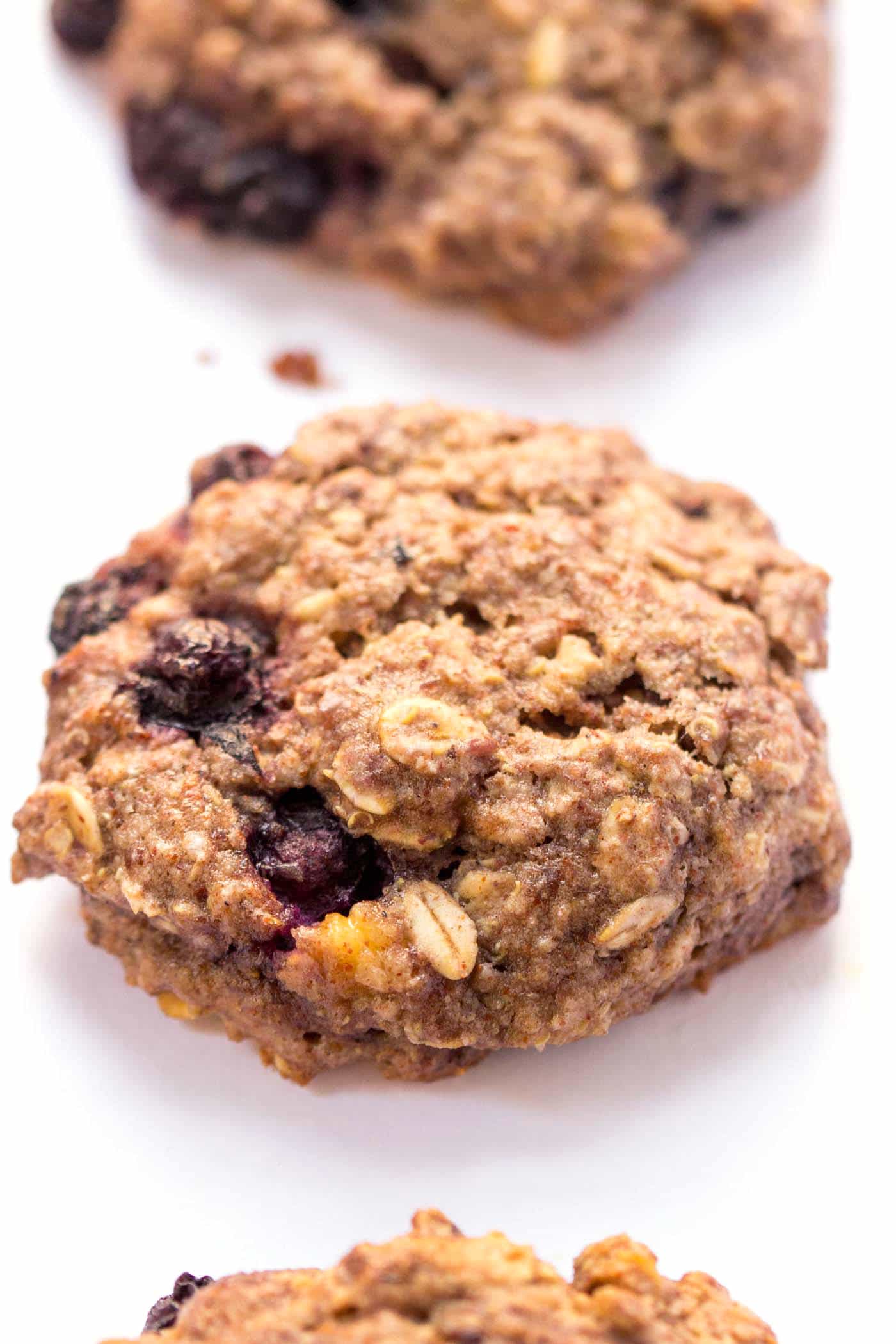 Whenever I start experimenting with cookies, quinoa breakfast cookies seem to just happen. I love them because they're really easy to make, use super basic ingredients and they're a healthy dessert option. Unlike a lot of gluten-free baking, you don't need a bunch of different flours to make these cookies. So far, we have FIVE flavors on the blog right now including Toasted Coconut Quinoa Breakfast Cookies, Pumpkin Pie Quinoa Breakfast Cookies AND Chunky Monkey Quinoa Breakfast Cookies (my personal fave because…CHOCOLATE!).
The base of these cookies is just quinoa flakes, oats, baking powder and spices for your dry ingredients. And then to hold them together, you use banana, cashew butter (or whatever nut/seed butter you'd like), a little syrup and a flax egg. It's so simple and the ingredient quality is on par with a bowl of oatmeal.
The beauty of these cookies though is that they're portable. You can grab a few and take them with you. So when you're mornings are crazy – like so many of ours are – you don't have to worry about breakfast at all. Plus you can whip up a batch and they'd last you pretty much all week long.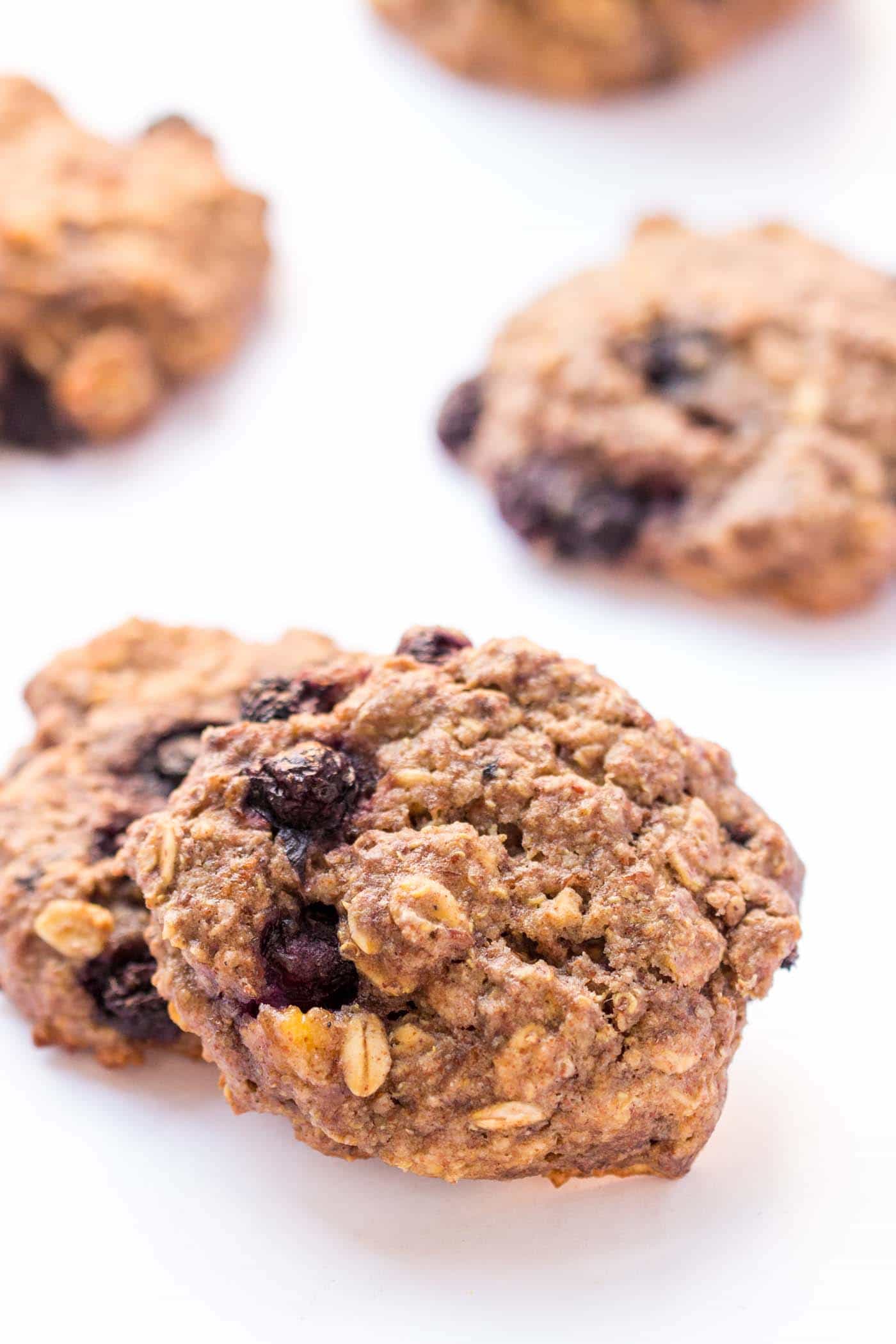 Today's new flavor of breakfast cookies is a cross between two of my fave breakfast eats blueberry muffins and oatmeal pancakes.
First, let me ask: how do you feel about berries in cookies? To be honest, I was kind of unsure. I actually don't even know if I've ever had a berry-flavored cookie before. But I loved it. Like a lot.
The blueberries burst in your mouth with every bite and help give the cookies an extra level of sweetness. And then there's the banana; the combination of the two makes them sweet like a dessert, but keeps them healthy enough for breakfast. We actually only have to use 1/4 cup of maple syrup in the entire recipe.
In addition to the natural sweetness, these cookies are also filled with fiber, complex carbohydrates, protein, and healthy fats. They basically have everything you'd want in a balanced breakfast.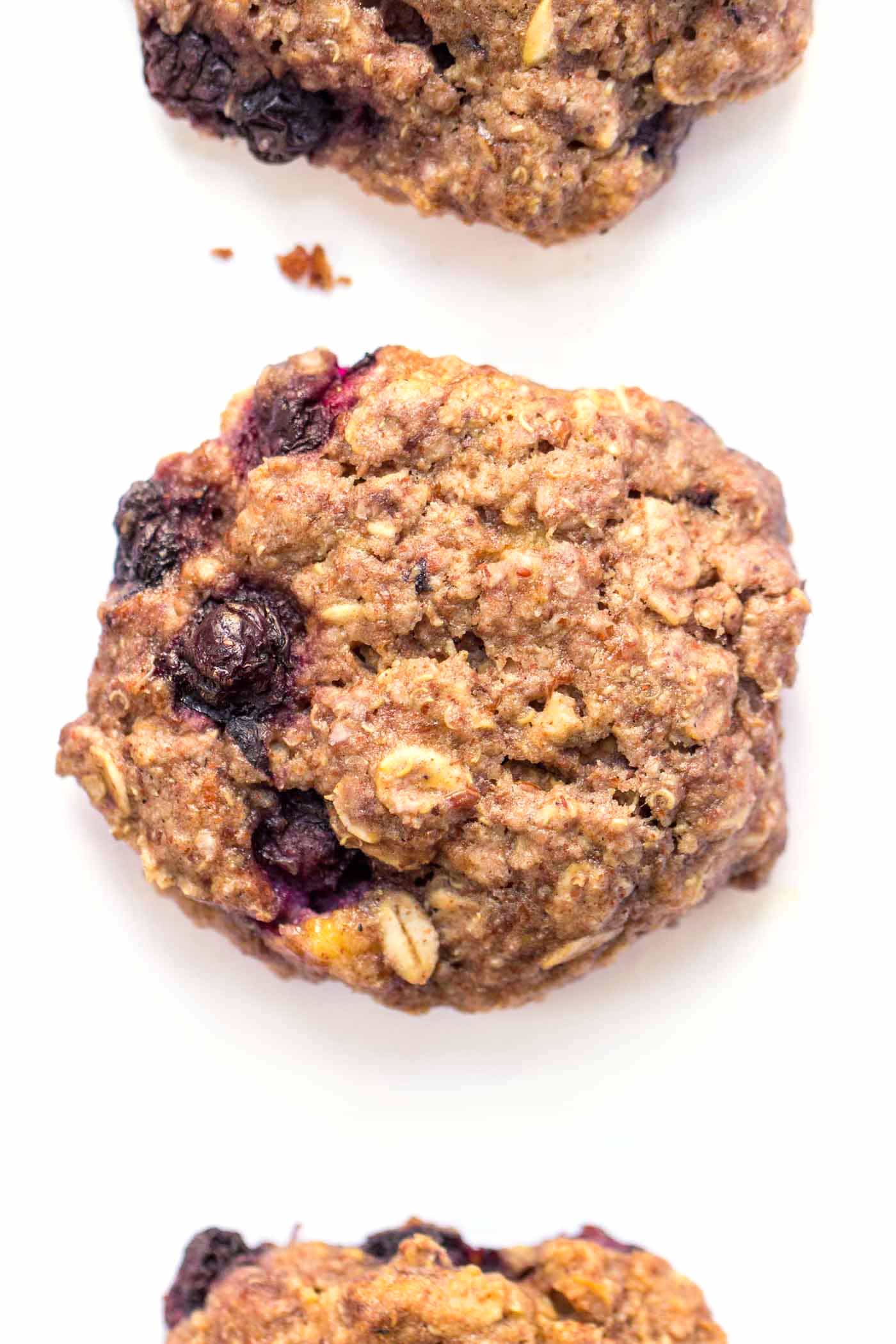 This is now the sixth flavor of breakfast cookies I've shared and I realized I have yet to show you how to actually make them! I know they're fairly straightforward, but rather than taking step-by-step photos, I made you a video 🙂
I've been having so much fun with these videos – they definitely take some time to put together, but it's so much fun being able to show you how to make recipes in a more dynamic and interesting way. Hope you enjoy them as well!
VIDEO: How To Make Blueberry Muffin Breakfast Cookies
More Breakfast Cookie Recipes to try:
Blueberry Muffin Quinoa Breakfast Cookies
The beauty of these cookies though is that they're portable. You can grab a few and take them with you. So when you're mornings are crazy - like so many of ours are - you don't have to worry about breakfast at all. Plus you can whip up a batch and they'd last you pretty much all week long.
Servings 16 Cookies
Calories 96kcal
Instructions
Preheat oven to 350 degrees F. Line a baking sheet with parchment paper and set aside.

Whisk together the flaxseed meal and water, and set aside.

Beat together cashew butter, syrup, banana and vanilla in a large bowl. Add flax egg and mix to combine.

Pour in oats, quinoa flakes, baking powder, spices and salt to the bowl and stir together. Fold in the blueberries.

Drop 2 tablespoons of dough onto the baking sheet and repeat until no dough remains.

Bake cookies on center rack for 15 - 18 minutes until edges are golden brown. Remove and let cool on the pan for 5 minutes then transfer to a wire rack and cool completely.

Enjoy at room temp or slightly reheated in a microwave.
Nutrition
Calories: 96kcal | Carbohydrates: 12g | Protein: 2g | Fat: 4g | Sodium: 38mg | Potassium: 124mg | Fiber: 1g | Sugar: 4g | Vitamin A: 5IU | Vitamin C: 1.1mg | Calcium: 24mg | Iron: 0.7mg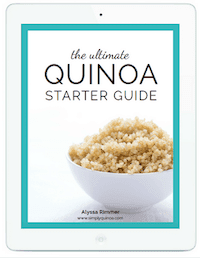 New to cooking quinoa? Grab your FREE Quinoa Starter Guide!
Become part of the Simply Quinoa community and receive weekly emails with exclusive content that I only share in email, as well as my in-depth guide to starting your quinoa journey.
Want more quinoa breakfast recipes?
Follow my board on Pinterest!
share what you make
Tag #simplyquinoa on Instagram with your creations! We love sharing what you make with the community. We can't wait to see!

follow on instagram