One of my most favorite treats in the world, pumpkin bread. But this isn't any old pumpkin bread, this is a Coconut Flour Pumpkin Bread. It's soft and moist with a sweet mapley finish and a hint of warm spices. This bread is comforting, easy to make and super delicious.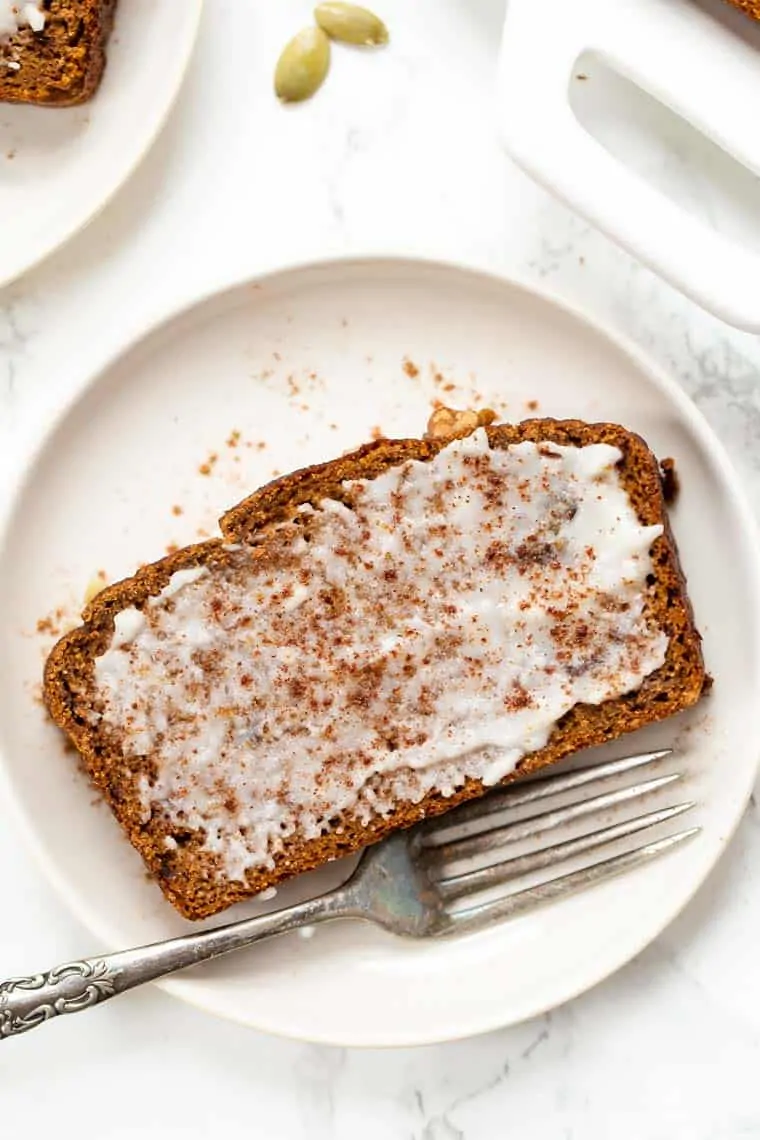 Almost nothing warms my heart more than a warm slice of pumpkin bread on a cold autumn morning. Topped with a layer of creamy coconut butter with a pumpkin spice matcha on the side? Breakfast heaven.
Today we're whipping up a healthy and delicious pumpkin bread recipe that uses coconut flour. Coconut flour is used a lot in paleo and keto baking but isn't something I use often. I created back in 2012 when I was just starting to learn how to bake with gluten-free flours and when I remade it a few months ago I realized it had to be updated because it was so dang good.
This coconut flour pumpkin bread uses just one bowl, is gluten-free, dairy-free and refined sugar-free AND it has the most amazingly perfect texture. I can't wait for you to try it!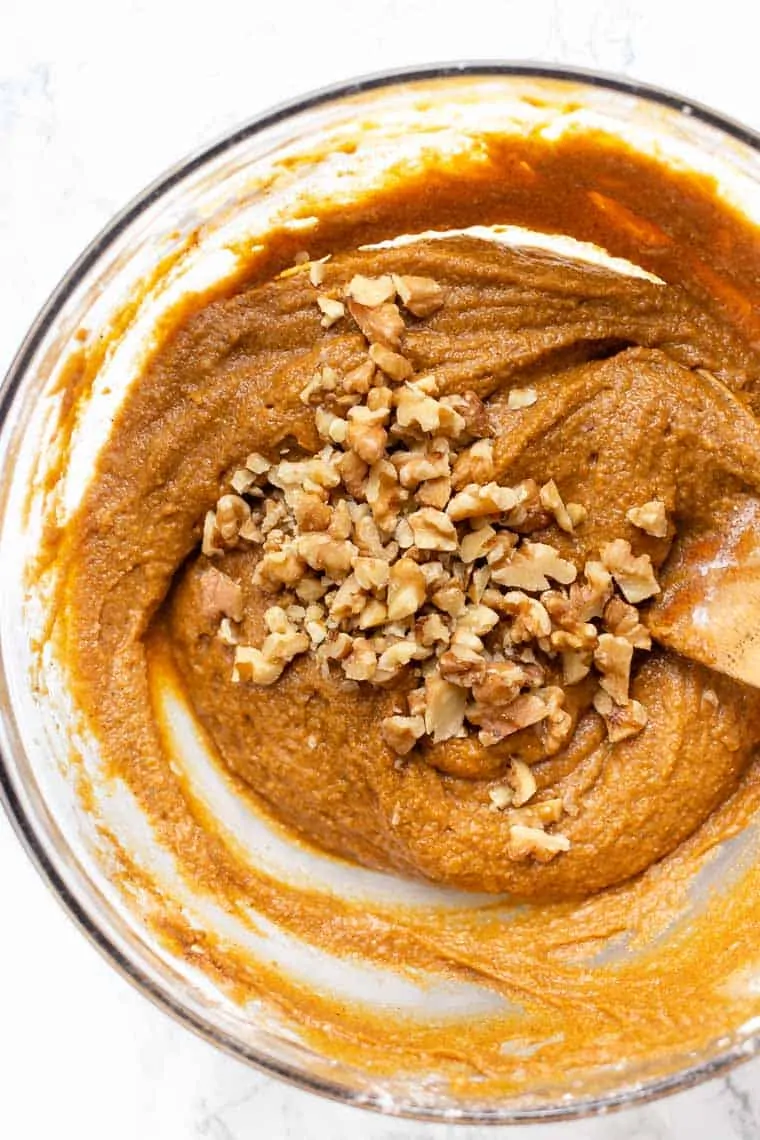 Ingredients for Coconut Flour Pumpkin Bread
I wanted to keep the ingredient list for this pumpkin bread as streamlined as possible. And I also wanted you to be able to make it in just one bowl.
Here's what we're using:
Canned pumpkin: I love the one from Thrive Market because it's organic, non GMO and super affordable.
Eggs: as you'll read in a second, coconut flour loves eggs and they're what give this bread it's spongy, soft texture.
Coconut sugar: my favorite granulated sugar because it's less refined, a little less sweet, but still has a lovely caramel flavor.
Coconut flour: it's the main flour in this bread and makes it taste slightly sweet, but also gives it that great texture!
Arrowroot starch: we're using this just to give it a little more lightness (substitution ideas are later in the post!)
Pumpkin pie spices: we're making our own blend for this one, but feel free to swap with the same amount of a pre-made blend.
And that's pretty much it (aside from baking soda, powder, and some mix-ins). This bread is super simple, healthy and I think you're going to L-O-V-E it!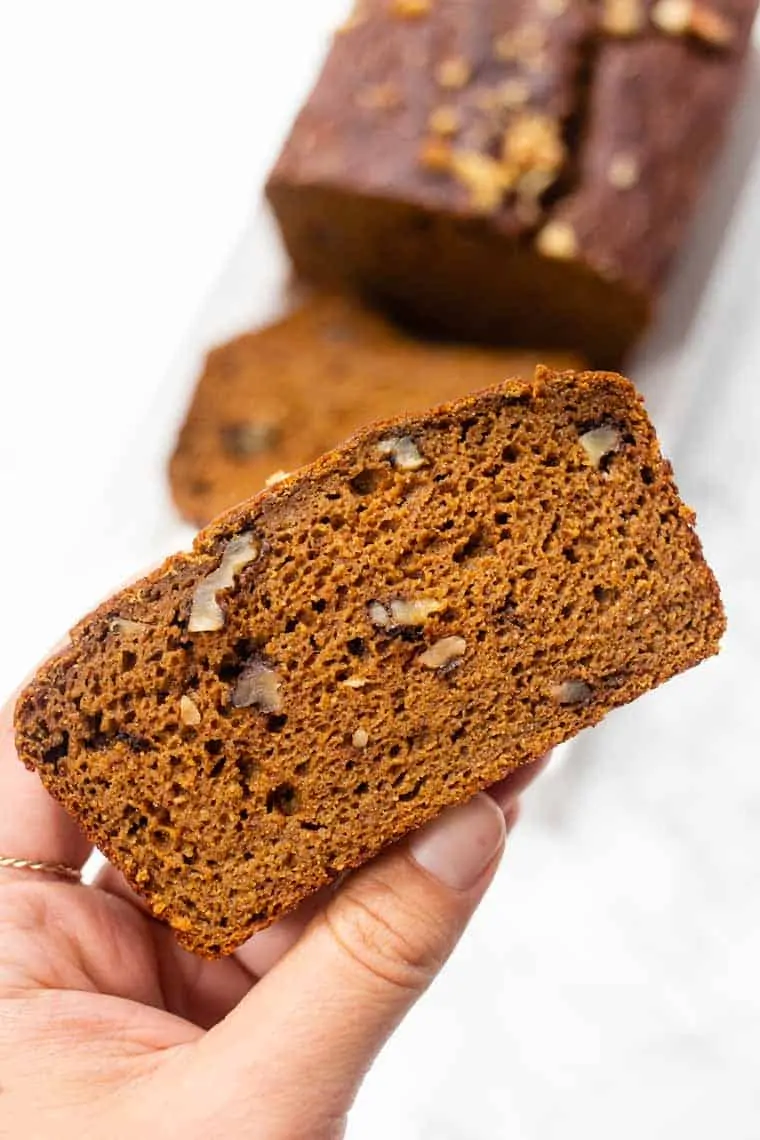 Tips for Baking with Coconut Flour
Coconut flour can be a tricky one to bake with if you've never tried before. For starters, it doesn't act like any other flour out there. It's incredibly absorbent, but at the same time as no binding power. So basically it absorbs all the liquid, but will then be pretty crumbly and dry.
That's why eggs are coconut flour's best friend. They have protein which helps things bind together, while also providing structure, but they also add moisture.
Here are some tips for baking with coconut flour:
Use at least 1 egg for 1/4 cup of coconut flour
Combine coconut flour with other flours (I like almond, quinoa and oat), to give it a lighter, less crumbly texture
You can't substitute coconut flour 1:1 with any other flours – I would suggest finding another recipe that doesn't rely on coconut flour
And if you need any more tips, I found this post that was super comprehensive with tips for baking with coconut flour.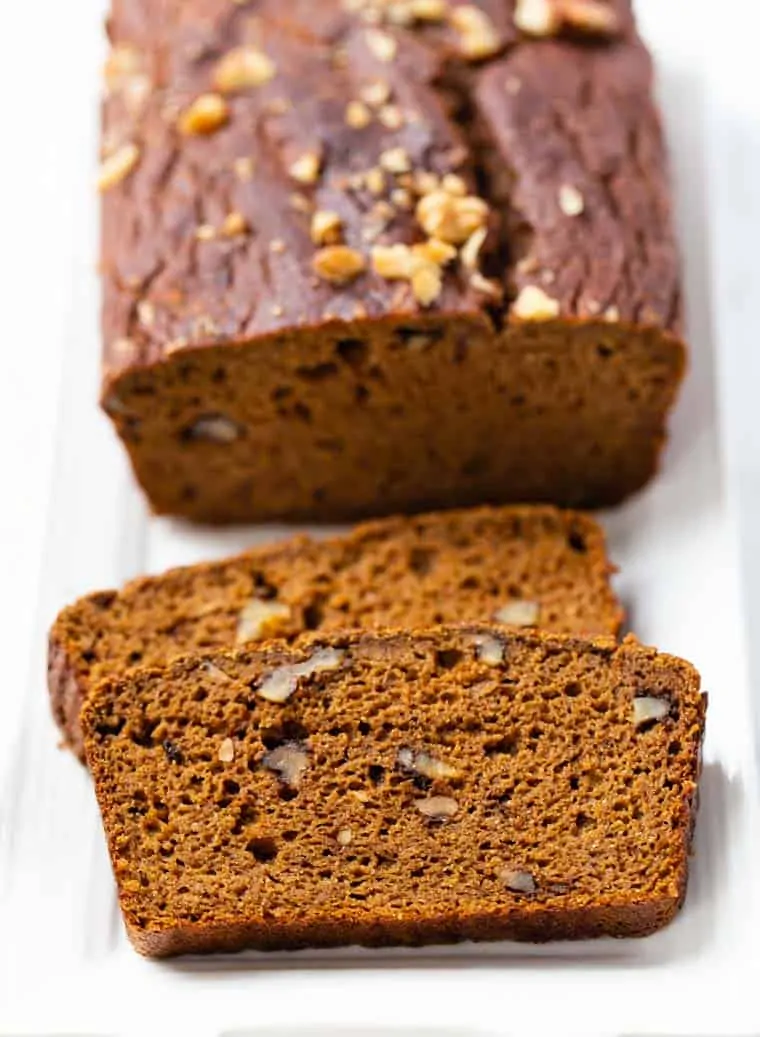 Substitution Ideas for Coconut Flour Pumpkin Bread
Now I know I'm probably going to get some substitution requests in the comments, so I wanted to write them out here so it was easier to follow.
Coconut flour: unfortunately as this is the main flour, it can't be substituted. If you can't do coconut (or can't find it), I'd suggest you try this recipe instead.
Arrowroot starch: you can replace that with any other starch you want (potato, tapioca or corn)
Eggs: again, not substitutable! If you can't do eggs, here's a recipe for vegan and gluten-free pumpkin bread you can try.
Oil: any other light oil will work here. If you want to go oil-free, I think you could get away with using almond milk for the oil, but I haven't tested.
Walnuts: feel free to just leave them our or swap with any other mix-in you'd like (chocolate chips, pecans, coconut flakes, etc.)
If you have any other substitution questions, drop a comment below!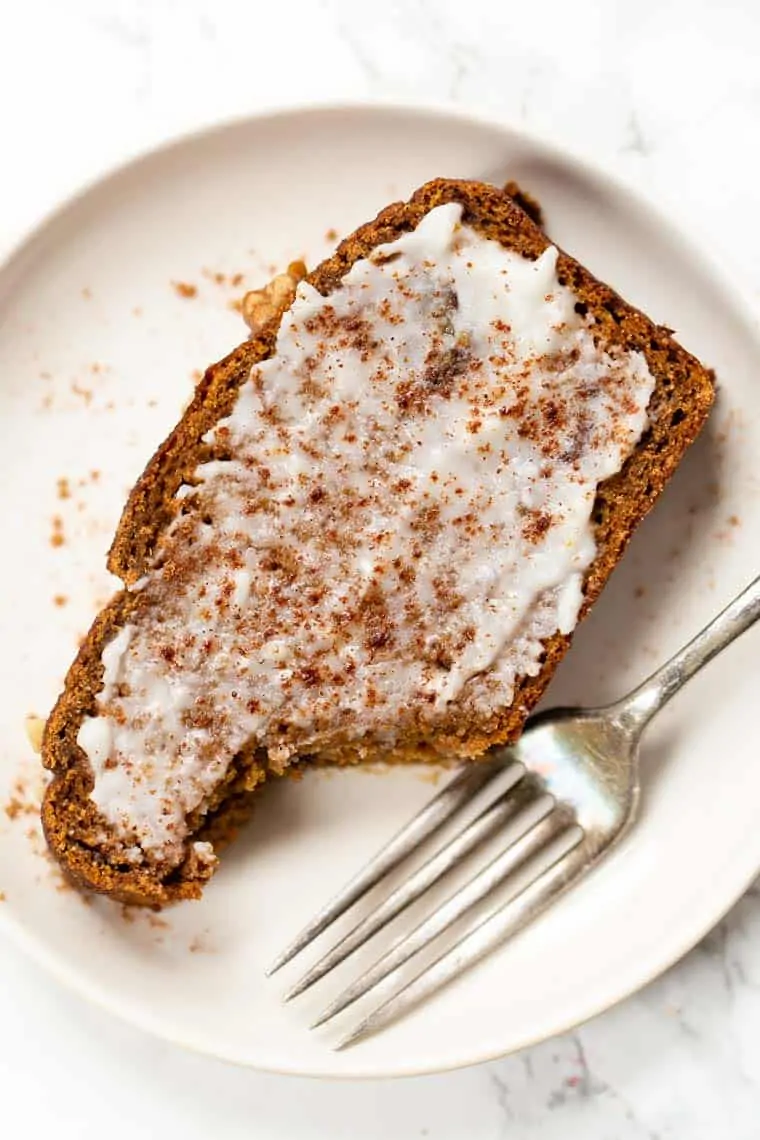 Can You Freeze Pumpkin Bread?
Short answer: YES! You can totally freeze pumpkin bread. And really most other quick breads or baked goods for that matter. Personally, I actually prefer to freeze my coconut flour pumpkin bread right away because it keeps it fresher.
What I suggest doing is once you've let your pumpkin bread cool, slice the whole loaf. Leave a slice or two (or three) out for that day and the next, and freeze the rest. I simply wrap the bread in aluminum foil, place it in a gallon-sized ziplock and place it in the freezer.
To reheat the pumpkin bread, I just add them into my toaster oven and toast them up!
Ways to Serve Pumpkin Bread
From there I have a perfectly toasted slice of pumpkin bread that is ready to enjoy! You could either eat it plain or you could do some toppings. Here are some of my favorite topping ideas:
coconut yogurt and granola
almond butter and sliced apple (or banana)
coconut butter and pumpkin pie spice
Or you could keep it classic and just go with some butter or ghee!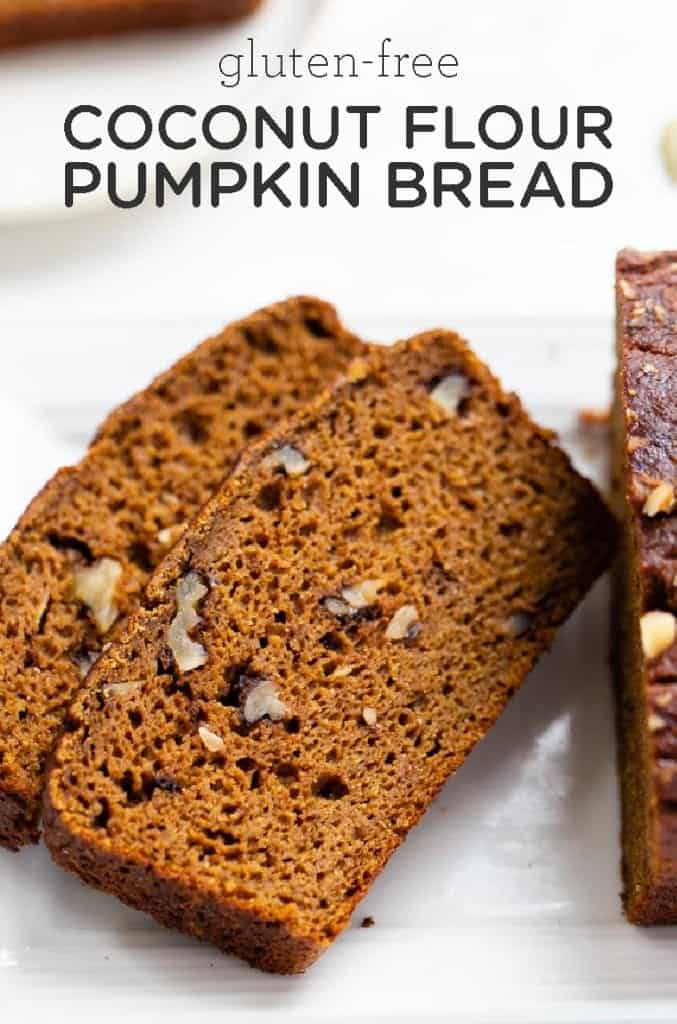 More Healthy Pumpkin Recipes to try:
Coconut Flour Pumpkin Bread
One of my most favorite treats in the world, pumpkin bread. But this isn't any old pumpkin bread, this is a Coconut Flour Pumpkin Bread. It's soft and moist with a sweet mapley finish and a hint of warm spices. This bread is comforting, easy to make and super delicious.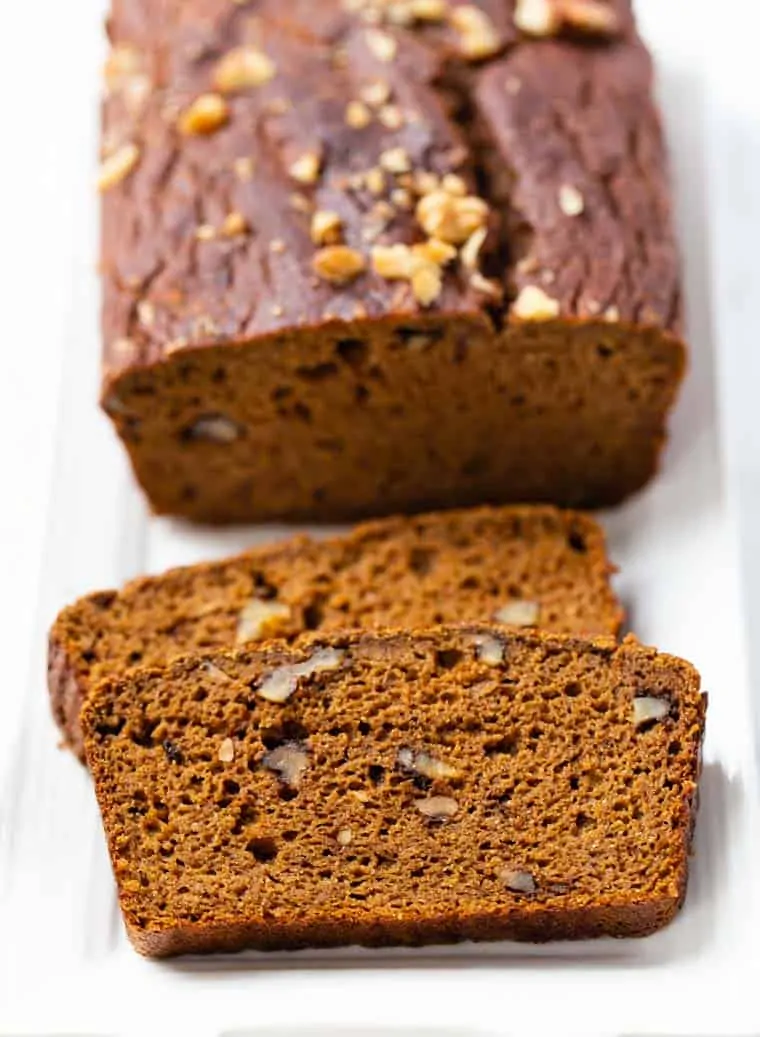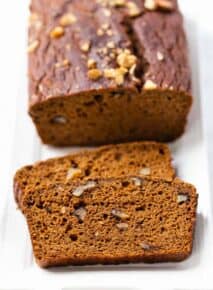 Instructions
Preheat the oven to 350 degrees and line a loaf pan with parchment paper. Spray the uncovered sides of the pan with non-stick cooking spray, or grease with oil.

In a mixing bowl, beat together the pumpkin, eggs, sugar, oil and vinegar. Beat until smooth.

Add the dry ingredients (minus the walnuts) and stir until a smooth batter forms. Fold in the walnuts. Allow batter to rest for 5 minutes.

Transfer the batter to the prepared pan and bake in the center of the oven for 45 - 50 minutes, until a cake tester inserted into the center comes out clean. Check at 40 minutes and cover with tinfoil if the top is browning too quickly.

Cool in the pan for 5 minutes, then transfer to a wire rack and cool completely before slicing.

Serve slightly reheated in the toaster oven with your favorite nut butter or buttery spread!
Nutrition
Serving:
1
slice
|
Calories:
135
kcal
|
Carbohydrates:
14
g
|
Protein:
4
g
|
Fat:
8
g
|
Saturated Fat:
2
g
|
Cholesterol:
55
mg
|
Sodium:
189
mg
|
Potassium:
134
mg
|
Fiber:
3
g
|
Sugar:
6
g
|
Vitamin A:
3257
IU
|
Vitamin C:
1
mg
|
Calcium:
44
mg
|
Iron:
1
mg
Filed Under: