These vegan pumpkin chocolate chip muffins use a blend of whole grain flours like oat, quinoa, and almond to wholesome, healthy and tasty breakfast treat. They're a cinch to make – just throw everything into the blender and fold in your chocolate chips. Simple, oil-free and packed with fiber!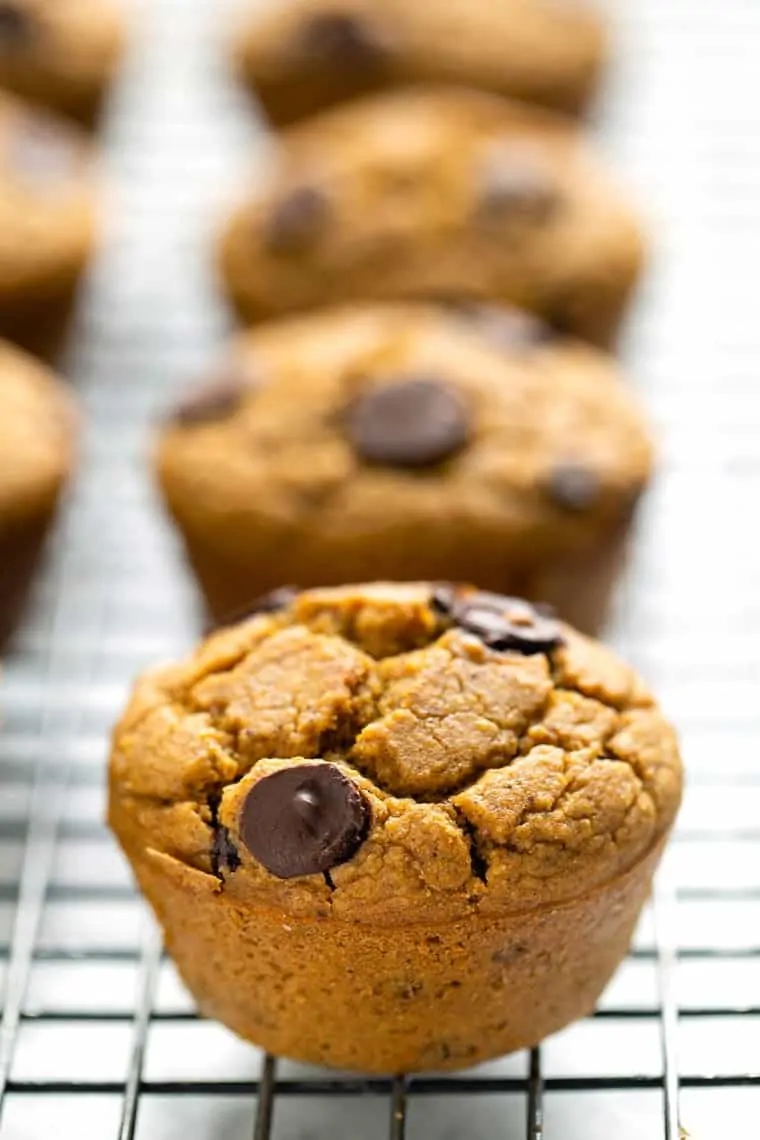 Soft, tender, fluffy muffins are the name of the game today. Ones that taste like fall with an extra punch of sweetness.
There's almost nothing more satisfying than pumpkin baked goods. I know that it's not technically the pumpkin flavor that I love and more than pumpkin spice blend, but still. It's just heavenly. So far this season we've been making a ton of pumpkin stuff! We've got pumpkin quinoa overnight oats, a pumpkin spinach smoothie, and some super tasty pumpkin peanut butter cookies, BUT…
It's these right here that I've been most excited to share. These vegan pumpkin chocolate chip muffins are the perfect texture, they're gluten-free, oil-free, refined sugar-free and also banana-free! Plus, they're made in the blender which is just the best!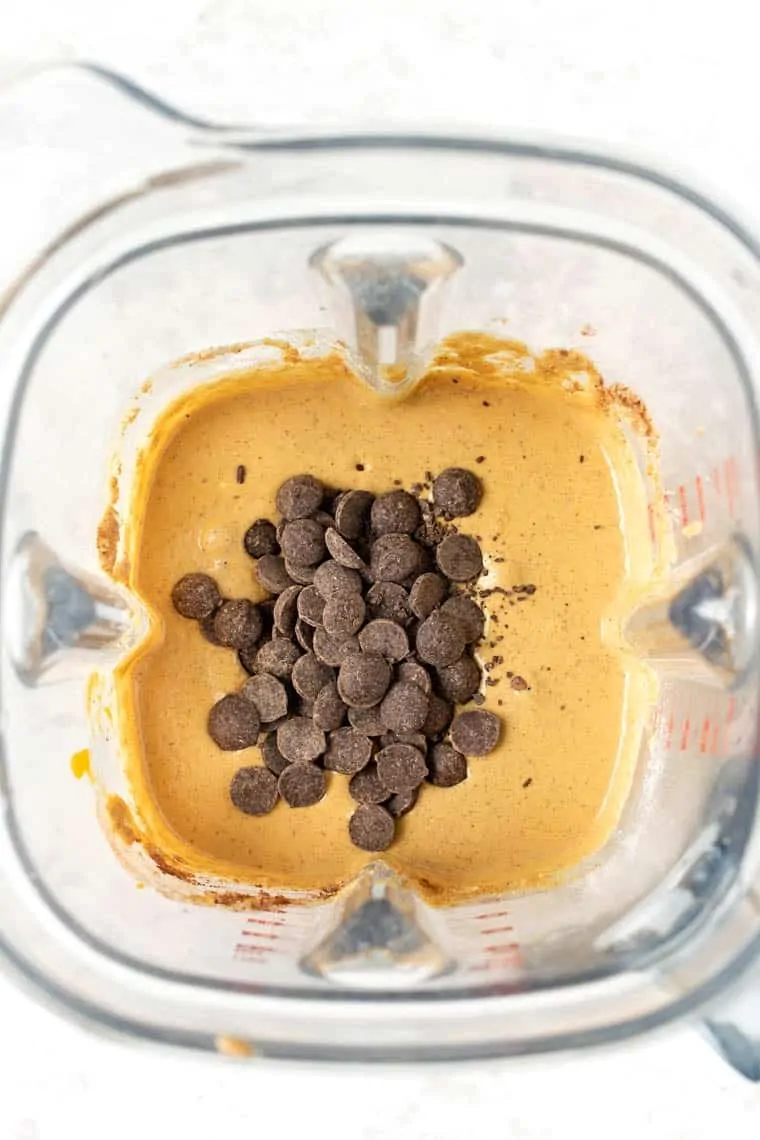 The BEST Pumpkin Blender Muffins
Have you ever made muffins in the blender before? It totally rocks!
Basically, you start by adding in your dry ingredients. If you're using oats (like we are here), it's perfect because you're going to have to blend those anyway. Once you've pulsed your dry ingredients together, you add your wet ingredients and blend it all together until a smooth batter forms. Then fold in your chocolate chips and you're ready to bake!
Only thing to note: I think this really will only work with gluten-free flours. Since mixing activates gluten, if you're using all-purpose flour, I think you'll end up with tough muffins. So just something to keep in mind!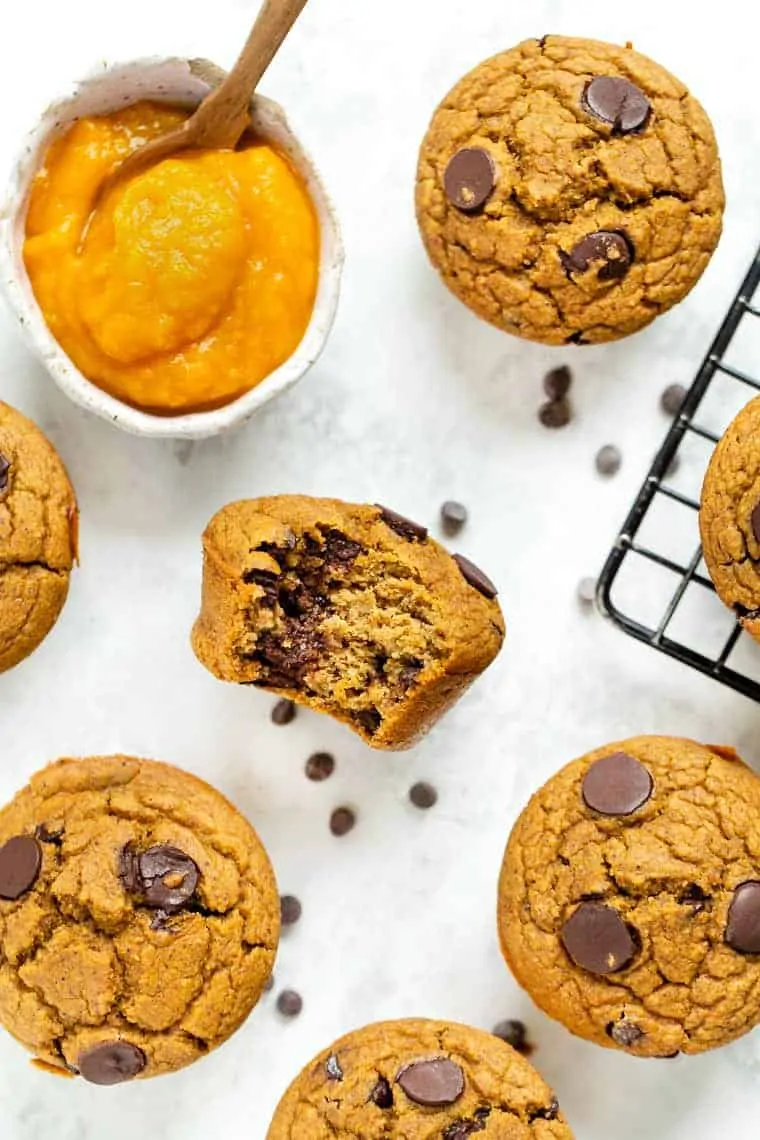 Ingredients for Vegan Pumpkin Chocolate Chip Muffins
Now that we've chatted method of making our vegan pumpkin muffins, let's chat ingredients!
For our wet ingredients we're using:
flax egg: here's how to make a flax egg if you don't already know! (you can also sub a chicken egg here)
pumpkin puree: just regular canned pumpkin works perfectly!
almond milk: since we need some liquid, but again this is replaceable with any other type of milk you want to use
maple syrup: my absolute favorite sweetener of ALL TIME! I use this is pretty much every single baked good I make because of its flavor. Rich, caramely and just so tasty!
And then for our dry ingredients we're using:
oat flour: you'll see oat flour in a lot of my muffin recipes. I love the chewy texture it has, I love the health benefits (hello, fiber!), and I think it has a really mellow flavor. You can either make your own oat flour or you can purchase it!
quinoa flour: you know how much I love quinoa flour – it's high in protein, it's full of minerals and it also has a really nice texture. If you find that your quinoa flour has a little bitterness, here's how to toast it!
almond flour: the perfect way to round out this flour blend! It's full of healthy fats and protein, but also adds a really nice texture to baked goods – kind of a mix between cakey and fluffy.
coconut sugar: another form of sweetness, but you could swap this with 2 TBSP of syrup if you wanted.
pumpkin pie spice: and you can't have a pumpkin recipe without some pumpkin pie spice! It's my favorite spice of all time (I even use it every day in my matcha) and it's what makes a pumpkin baked good so pumpkiny!
Of course, we've also got some baking powder, baking soda and a pinch of sea salt to finish everything off!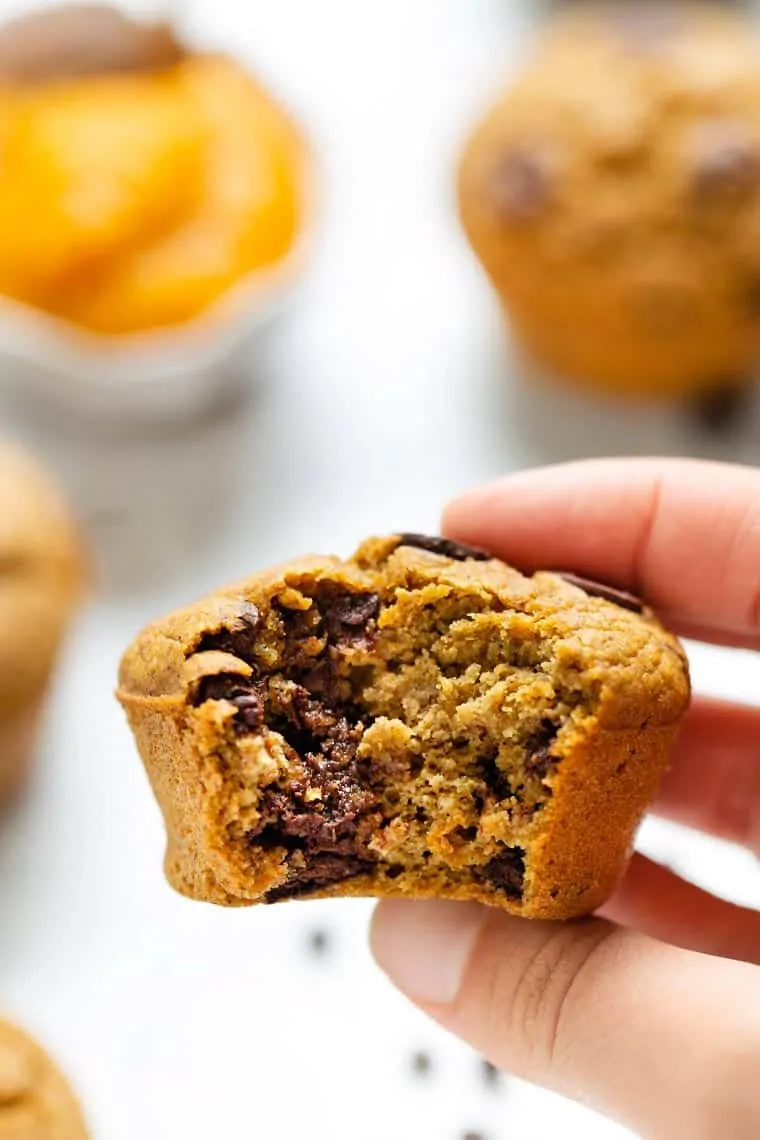 Ways to Serve Vegan Pumpkin Muffins
There are so many ways to enjoy your pumpkin chocolate chip muffins, but I wanted to share just two of my favorites. First, just make sure they're slightly warmed up so you can enjoy the melty goodness of the chocolate chips!
Drizzle of Nut Butter: just drizzle your favorite nut butter on top (I like almond and cashew)
Coconut Yogurt Sandwich: cut one in half, then fill it with some coconut yogurt!
And of course, nothing beats just plain and simple muffins!
Storing Your Vegan Pumpkin Muffins
Last but not least, let's talk storage! If you're wanting to keep prolong the shelf life of your muffins, there are a few options:
Freezer (3 – 6 months): simply wrap them up in some foil and pop them in a ziplock bag. I like to write the recipe name and date on the bag so I remember what they are and when I made them. Then to reheat, just pop them in the microwave!
Refrigerator (3 – 4 days): gluten-free baked goods can get a little dried out on the counter, so I like to pop them in the fridge to prolong their shelf life. You can keep them in a sealed container and just reheat them in the microwave!
And that pretty much does it, friends. It's time for you to get baking! I'd love to see a photo if you end up making these beauties – just tag me on Instagram (@simplyquinoa) either on your feed or in your stories so I can reshare!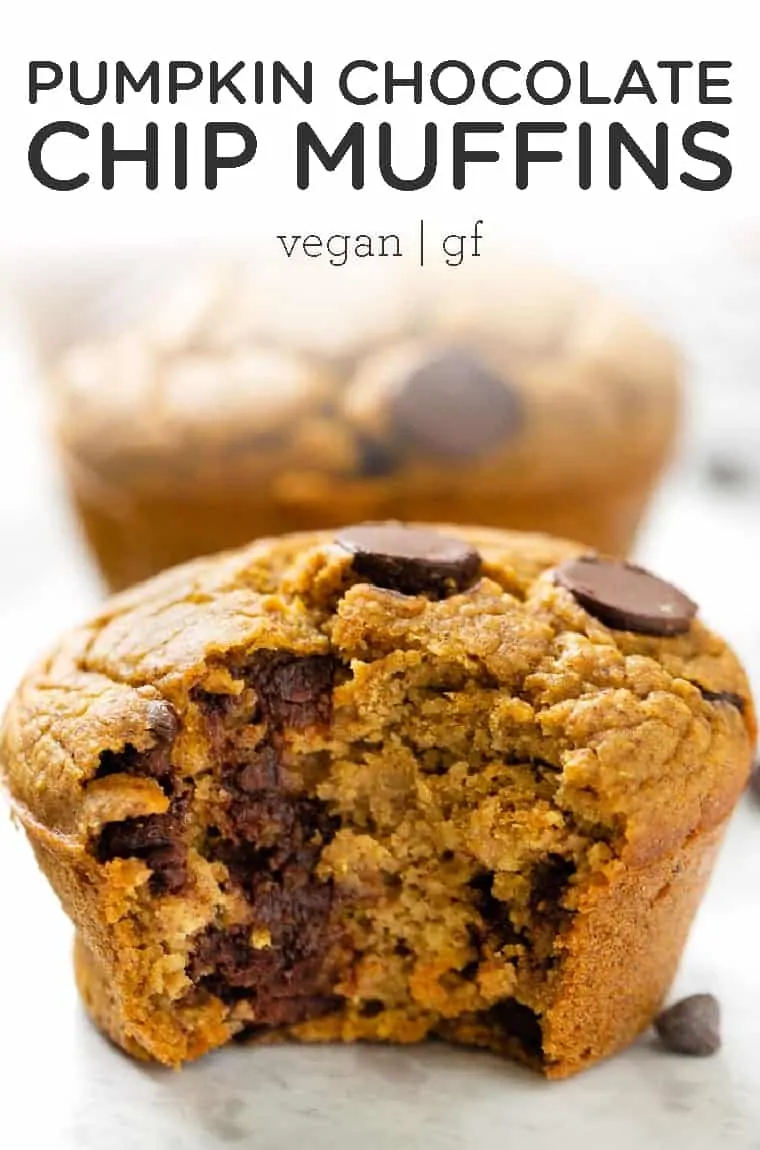 More Vegan Gluten-Free Muffins to try:
Pumpkin Chocolate Chip Muffins
These vegan pumpkin chocolate chip muffins use a blend of whole grain flours like oat, quinoa, and almond to wholesome and healthy breakfast treat.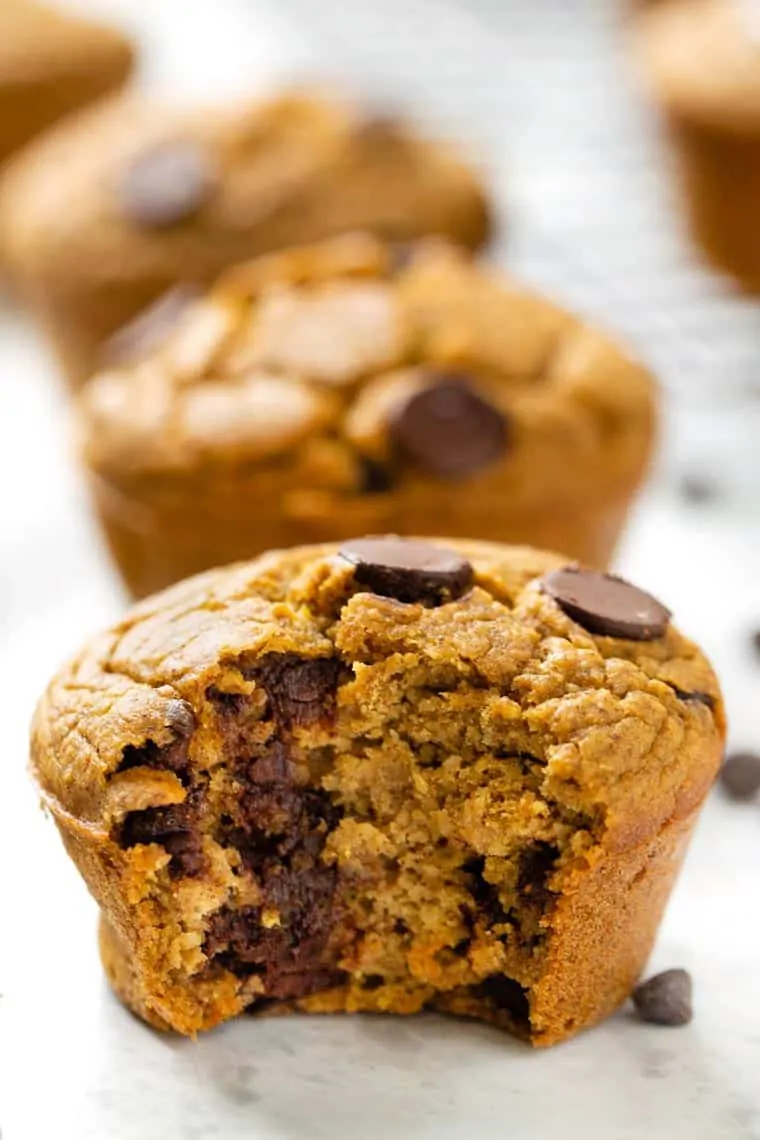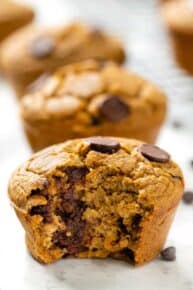 Instructions
Heat the oven to 350ºF. Grease a 12-cup muffin tin and set aside.

In a small bowl, beat together flax egg, pumpkin, milk, syrup, and vinegar.

Add the dry ingredients directly into the bowl with the wet and stir to thoroughly combine. Fold in the chocolate chips.

Fill each cup 3/4 of the way full and let rest for 5 minutes before baking.

Bake on the center rack for 24 - 26 minutes until a cake tester inserted into the center comes out clean.

Cool in the pan for 2 - 3 minutes, then transfer to a wire rack and cool completely. Resist the urge to not break into them; cooling them will allow everything to set properly. If desired, reheat in the toaster oven or in the microwave.
Nutrition
Serving:
1
muffin
|
Calories:
293
kcal
|
Carbohydrates:
39
g
|
Protein:
9
g
|
Fat:
12
g
|
Saturated Fat:
2
g
|
Cholesterol:
1
mg
|
Sodium:
187
mg
|
Potassium:
252
mg
|
Fiber:
5
g
|
Sugar:
9
g
|
Vitamin A:
617
IU
|
Vitamin C:
1
mg
|
Calcium:
133
mg
|
Iron:
2
mg
Filed Under: