These gluten-free pumpkin pie bars are easy to make and healthy! They use just a few simple ingredients, taste just like a slice of pumpkin pie, but bite-sized!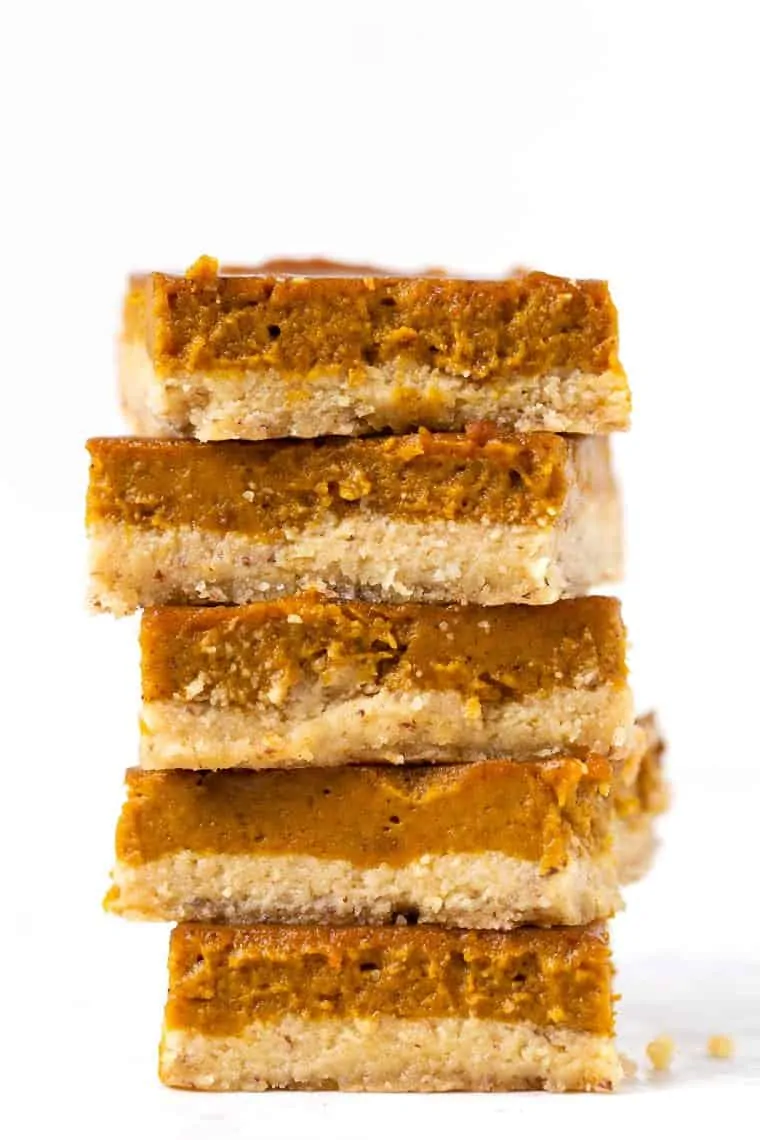 I've been a pumpkin pie lover my entire life. It's my mom's favorite pie and she would always get one for her birthday instead of cake. So we grew up loving it and it's something I look forward to every fall!
My mom has mastered the perfect pumpkin pie and now that she's also dairy-free she's mastered an awesome dairy-free one as well. The one thing she's amazing at that I just can't get down is the crust part.
So I came up with my own solution. Skip the pie pan, skip the crimping, skip the rolling and just make bars instead! It's so easy and still every bit as delicious. Today I'm going to show you my recipe for the ultimate Gluten-Free Pumpkin Pie bars that are simple, healthy and absolutely scrumptious. You're going to love them!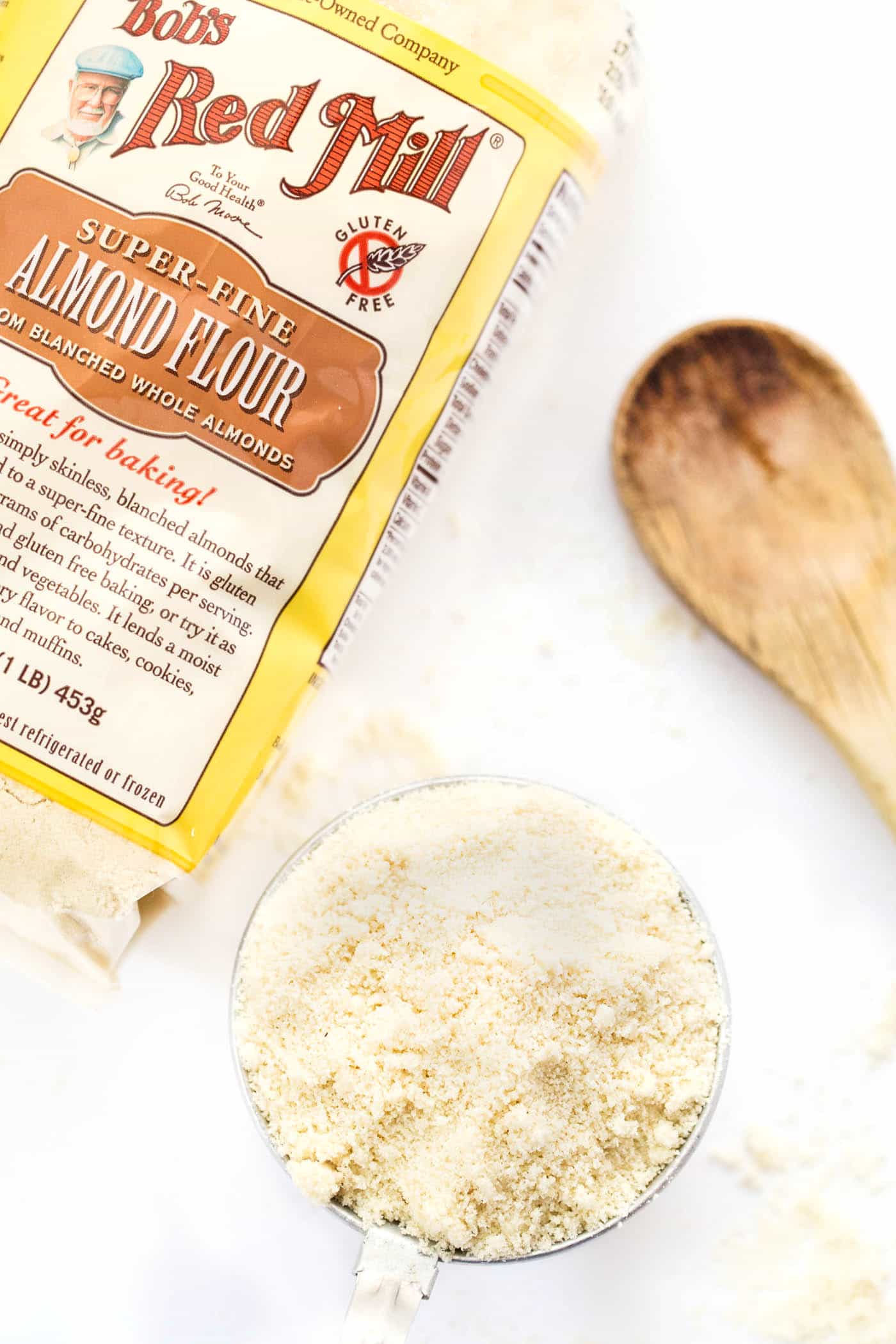 What is Super Fine Almond Flour?
You probably notice that I use a lot of almond flour in my baking. For one, almond flour is naturally gluten-free. Almond flour is also really healthy since it's made with just pure almonds. And third, almond flour adds a really lovely texture to baked goods.
But what exactly is almond flour? The kind of almond flour I buy is from Bob's Red Mill. I love Bob's Red Mill products and have ever since going gluten-free almost a decade ago. They're a lifesaver when it comes to gluten-free baking.
I like the almond flour from Bob's Red Mill because it's super fine and it's blanched. What does that mean? Super-fine almond flour is a flour made with ground almonds that have been put through a special grinder and turned into a fine, fluffy flour. It's an art to make this kind of flour – if you've ever tried making it at home then you know grinding your almonds can quickly turn into nut butter!
The blanched part means that Bob's Red Mill makes their almond flour using blanched almonds (the skins have been removed). This is great for baking because it helps keep a light and golden color to your recipes!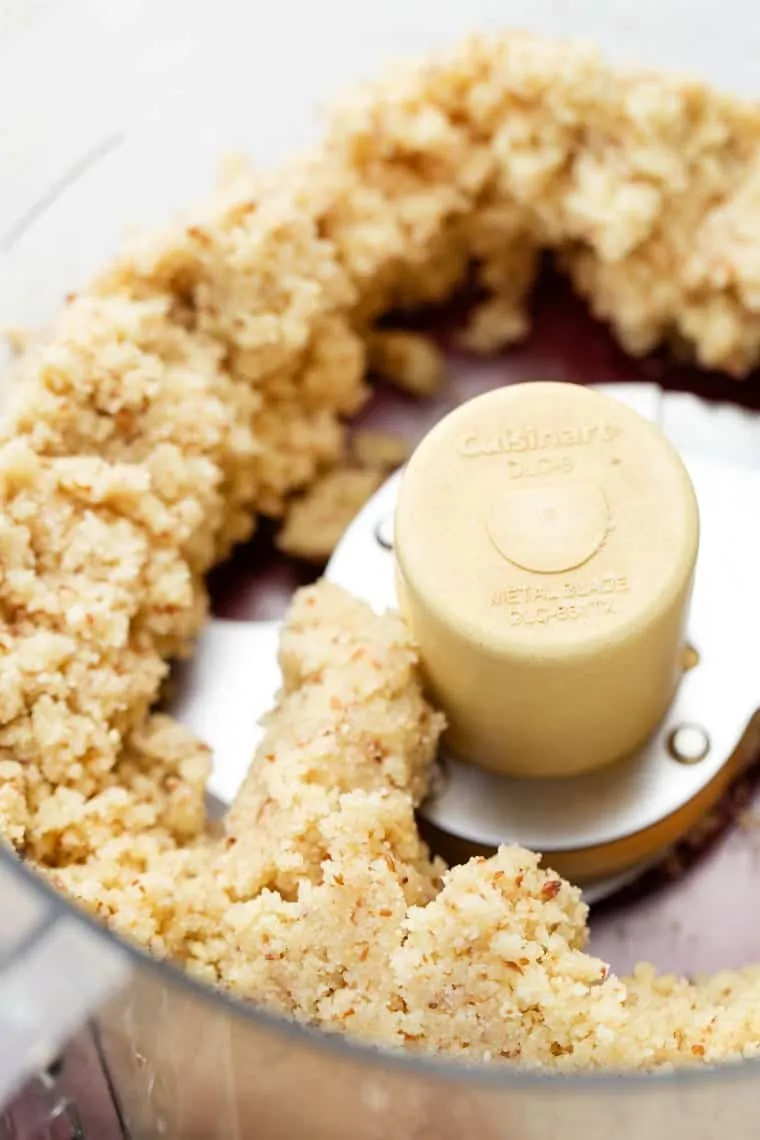 How to make Almond Flour Crust
I've made a very similar almond flour pie crust before in my Vegan Pumpkin Pie recipe and just like that one, we're making this crust in our food processor.
You could definitely make this in a bowl, I just personally like using the food processor because we're going to make the filling in there as well. So I figure why dirty two things when you can just dirty one?
We're only using 5 ingredients for this almond flour crust:
You blend all those things up in your food processor until it forms a dough, pop it into your pan, press it down with your fingers and your crust is done! Now onto the filling…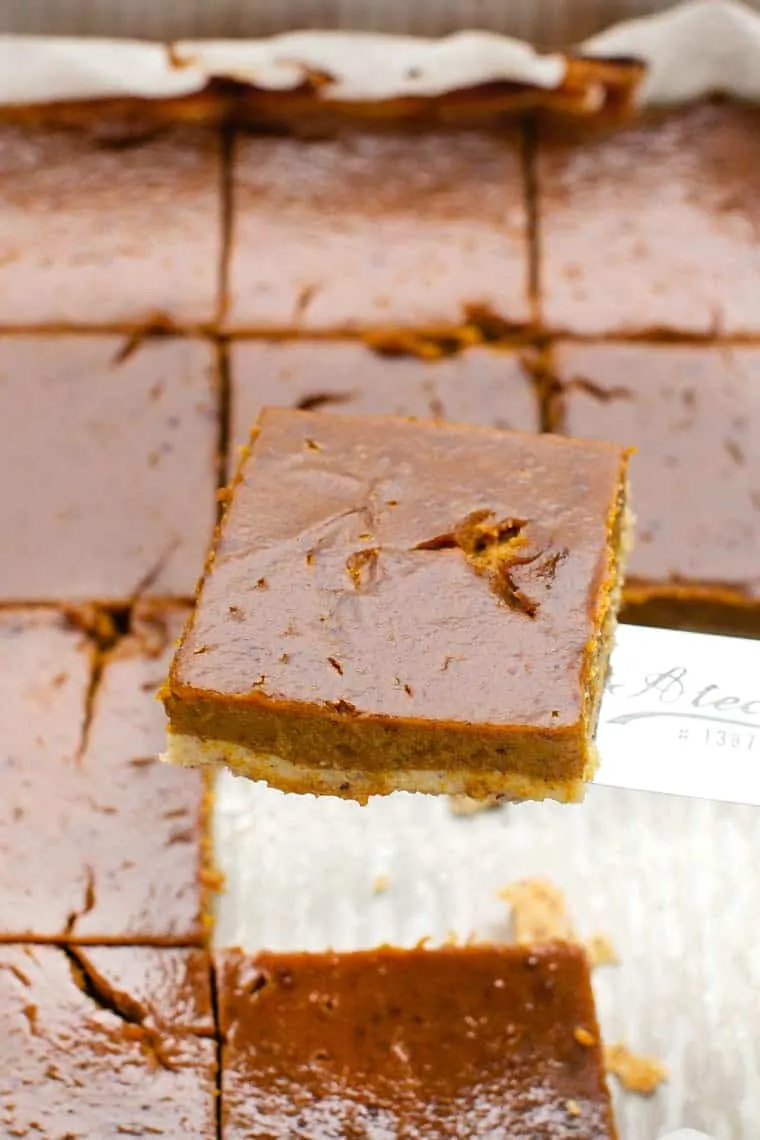 The Best Dairy-Free Pumpkin Pie Filling
Traditional pumpkin pie is made with evaporated milk. Evaporated milk is milk that has been cooked to make it thicker and creamier. Since we're making a dairy-free pumpkin pie filling, we need to use something that has a similar texture.
The solution to the perfect dairy-free pumpkin pie? COCONUT MILK!
Full-fat canned coconut milk has an awesome thick texture that is perfect in these healthy pumpkin pie bars. I don't personally find it too overpowering with the other flavors, and actually, really like the touch of sweetness that it adds.
In addition to the coconut milk, we're also using maple syrup, coconut sugar, pumpkin puree, an egg, and some spices. It's dairy-free perfection!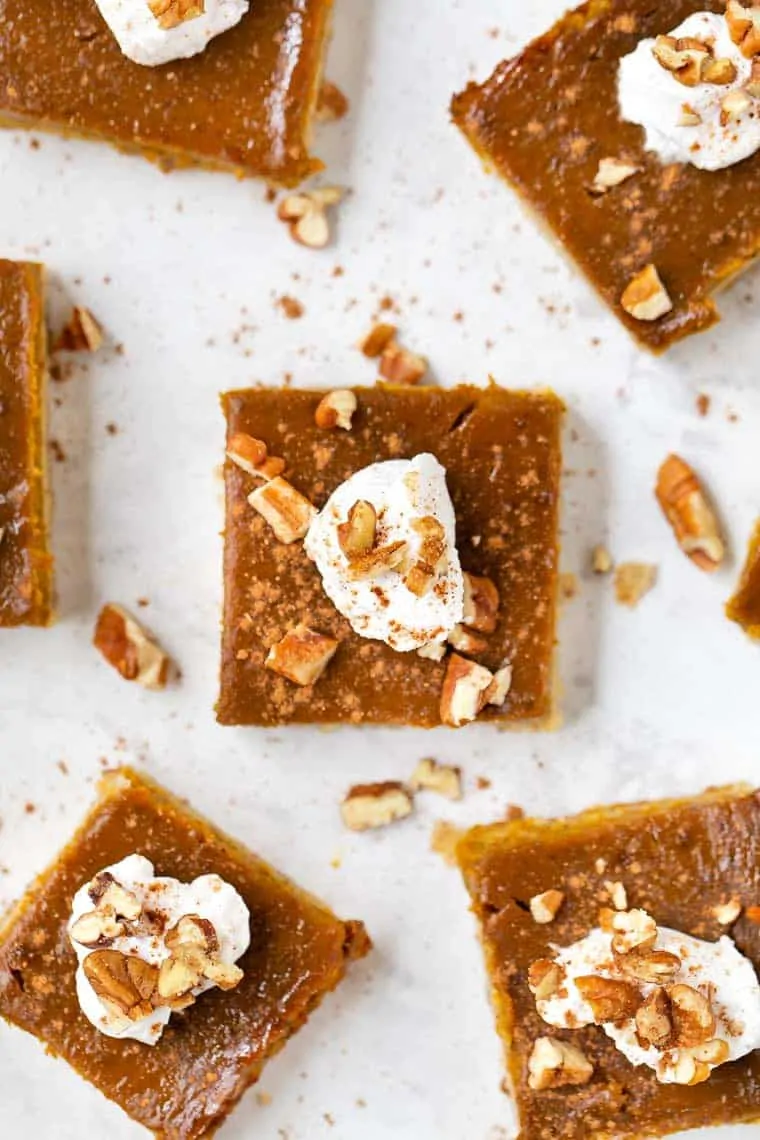 Maple Syrup Pumpkin Pie in Bar Form!
Since I was on a mission to make these healthy pumpkin pie bars not only gluten-free, but also dairy-free and refined sugar-free, we had to find alternative sweeteners. The two that I landed on are coconut sugar and maple syrup. Both add the perfect amount of sweetness, but they also each have an almost caramel-y flavor which pairs so well with the warm spices. I promise you won't miss the refined sugar one bit in this recipe.
Now for the fun part, the BARS themselves!
These gluten-free pumpkin pie bars are an absolute cinch to make. We start with the crust which we talked about. Once we have that pressed into the pan, we can pop the food processor back on the base and make the filling. The pumpkin pie filling is as easy as adding everything into the bowl and blending it up until smooth.
Pour that filling over the crust, bake everything up until semi-firm, let it cool, slice and ENJOY!!! It's as simple as that ????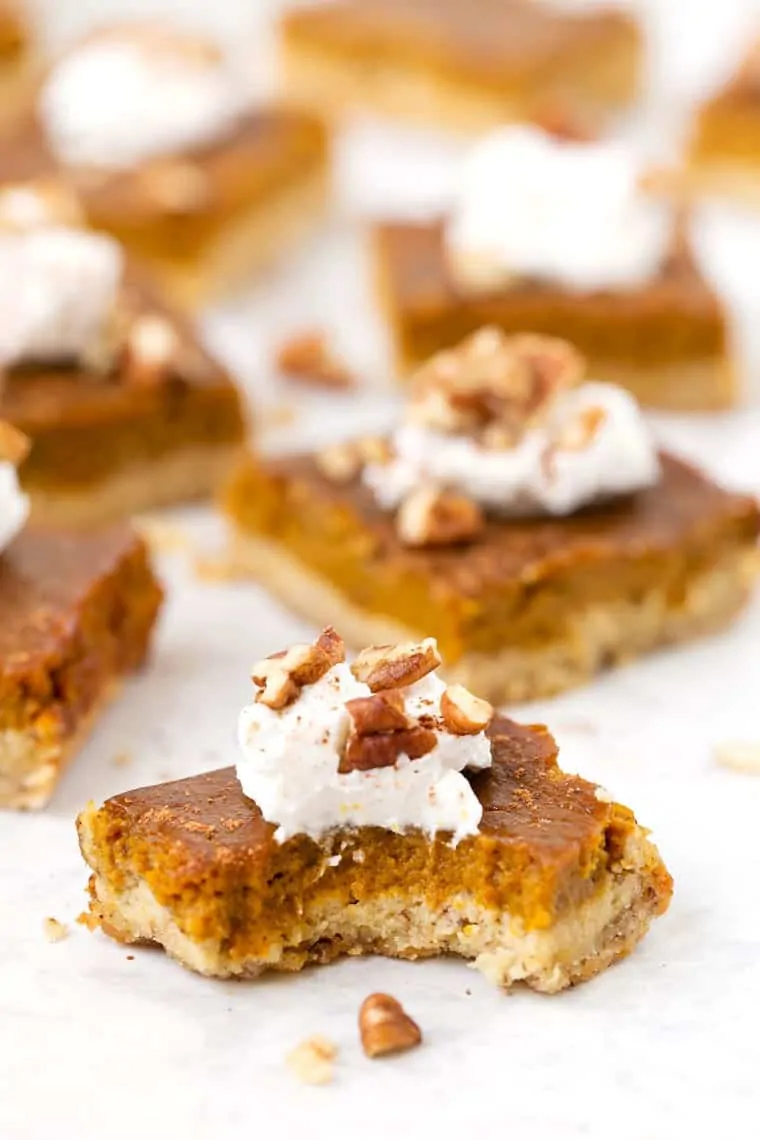 Gluten-Free Pumpkin Pie Bars: Your Fall Obsession
As if pumpkin pie is something I couldn't love more, I honestly think these gluten-free pumpkin pie bars are going to be your new fall obsession. For starters, they're healthy. You've already seen everything that goes into them, but just as a recap: they're grain-free, gluten-free, dairy-free, refined sugar-free and still…THEY'RE DELICIOUS!
These healthy pumpkin pie bars also aren't as "daunting" as a pie to make. For some reason I just find pies both daunting, but also a little too special to make for everyday. Bars are on the other hand? Recipes like my zucchini brownies and pumpkin quinoa breakfast bars are on constant rotation. And now we're adding something new to the list.
So basically, they're something you should be making all season long and enjoying for breakfast, snacks, and dessert!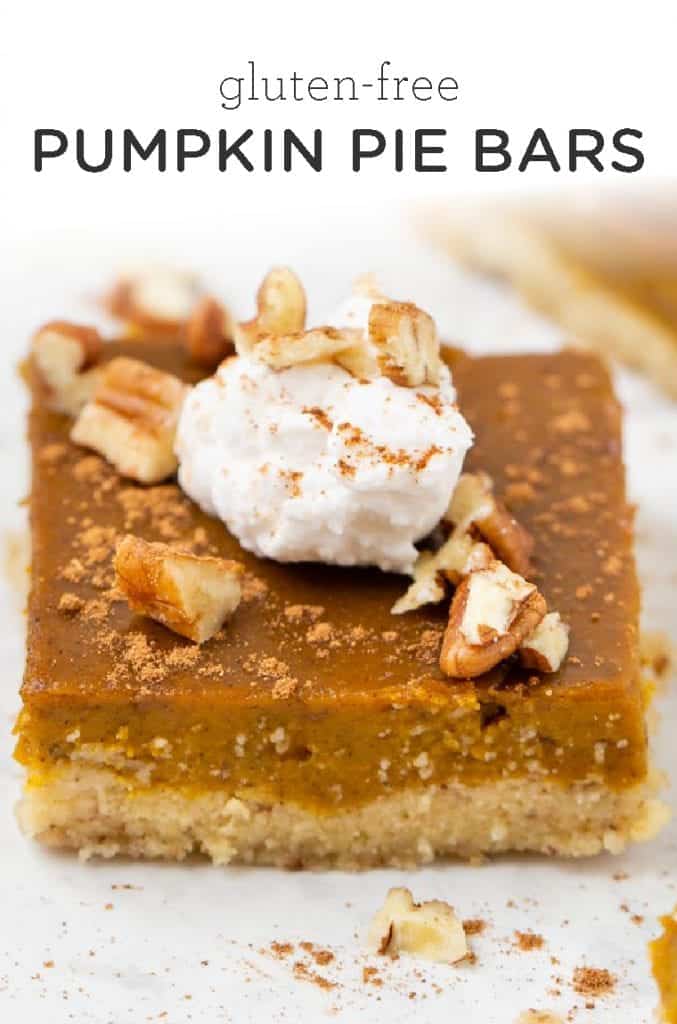 More Gluten-Free Pumpkin Recipes to try:
Easy Gluten-Free Pumpkin Pie Bars
These gluten-free pumpkin pie bars are easy to make and healthy! They use just a few simple ingredients, taste just like a slice of pumpkin pie, but bite-sized!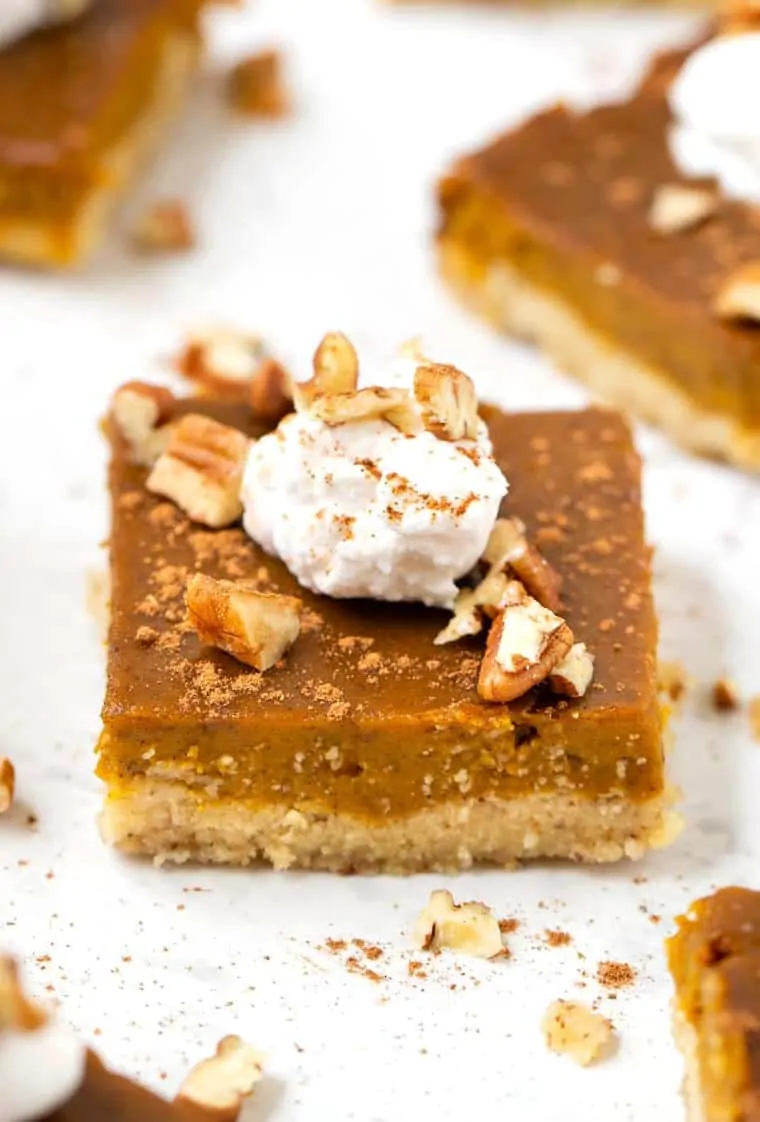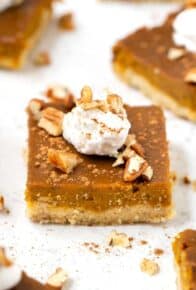 Ingredients
topping ideas
coconut yogurt or coconut whip

chopped pecans

sprinkle of pumpkin pie spice
Instructions
 Preheat the oven to 350ºF. Grease a 9 X 9 pie dish and set aside.

To the bowl of a food processor, add the crust ingredients. Process until a dough starts to come together. You should be able to squeeze it between your fingers and it will hold together.

Dump the crust into the pan and press it into the bottom. Press firmly and make an as even a layer as possible. Set the crust aside.

Rinse and dry the bowl of the food processor and put it back on the base. Add the filling ingredients and process until smooth. Pour the filling into the prepared crust and smooth over with a spatula or spoon.

Bake the pie for 60 - 65 minutes until the filling is just a little giggly.

Remove the pie and let cool for at least 1 hour, then transfer to the fridge and cool another 4 - 6. For best results, cool the pie overnight.

Slice and serve (with a garnish of coconut whip if you want)!
Nutrition
Calories:
143
kcal
|
Carbohydrates:
12
g
|
Protein:
4
g
|
Fat:
10
g
|
Saturated Fat:
2
g
|
Cholesterol:
10
mg
|
Sodium:
96
mg
|
Potassium:
112
mg
|
Fiber:
3
g
|
Sugar:
6
g
|
Vitamin A:
6040
IU
|
Vitamin C:
1.7
mg
|
Calcium:
51
mg
|
Iron:
1.4
mg
Filed Under: