A delicious bowl of creamy sweet potato oatmeal flavored with cinnamon, maple syrup, and topped with pecans. It's the ultimate fall breakfast bowl and couldn't be easier to make!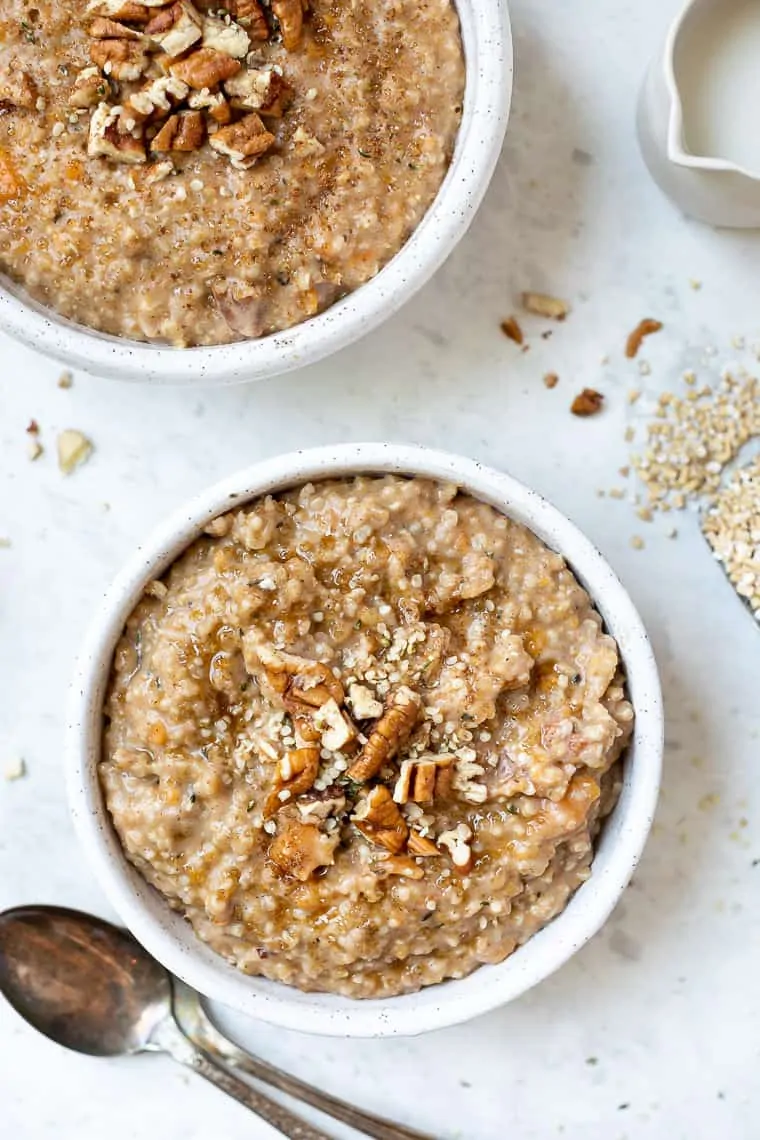 I've been on a major oatmeal kick lately. I have it almost every single morning and have really been enjoying it! Many of you know I'm typically a smoothie drinker, but when the weather starts to turn, I crave warm and cozy things for breakfast.
And today's new recipe has been my favorite this season!
We're making a creamy, comforting bowl of sweet potato oatmeal that's flavored with cinnamon, maple, and pecans. It's perfect on a chilly morning, is so easy to make, and keeps well for meal prep!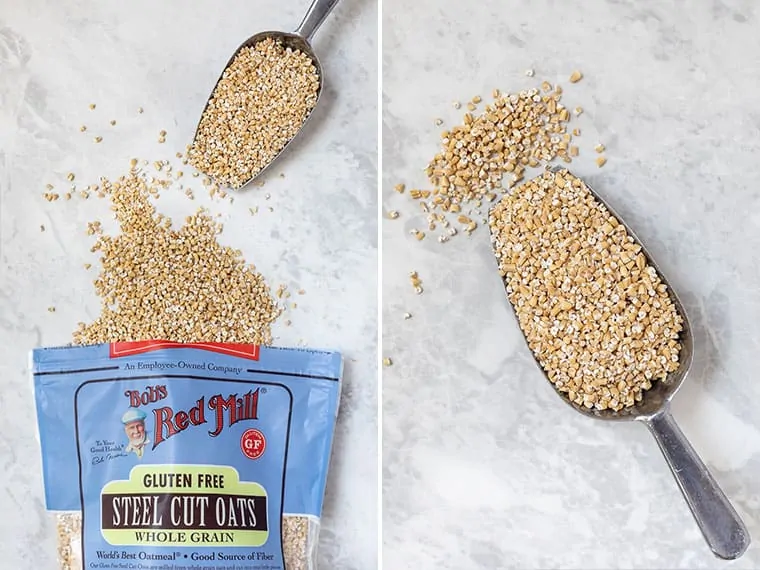 Health Benefits of Steel Cut Oats
I decided to use steel-cut oats in today's recipe because I love their texture and creaminess. Bob's Red Mill makes my favorite kind of steel cut oats – they cook up beautifully and have an amazing texture. They do take longer to make, but I love making a big batch of this oatmeal on a Sunday so I can enjoy it all week long.
Nutritionally speaking, steel-cut oats are fabulous – one serving has:
6 grams of protein
8 grams of dietary fiber (15%)
10% of daily iron needs
And for those of us with gluten sensitivities or celiac disease, Bob's Red Mill makes certified gluten-free steel-cut oats which is amazing!
Steel Cut Oats vs. Rolled Oats
The difference between steel cut oats and rolled oats are how they're cut. Steel cut oats are kind of like a rough "chop" of the oat groat, whereas rolled oats are the whole oat groat that has been rolled in a grain flaker.
From a nutrition standpoint, the two are pretty much the same. But steel cut oats are a bit higher in fiber and protein.
The other big difference is cooking time. Since steel cut oats are thicker, they take longer to cook. They'll take about 20 – 30 minutes to cook, whereas traditional rolled oats cook in about 3 – 5.
Both can be used in our sweet potato oatmeal recipe and luckily my friends at Bob's Red Mill sell a HUGE variety of oats!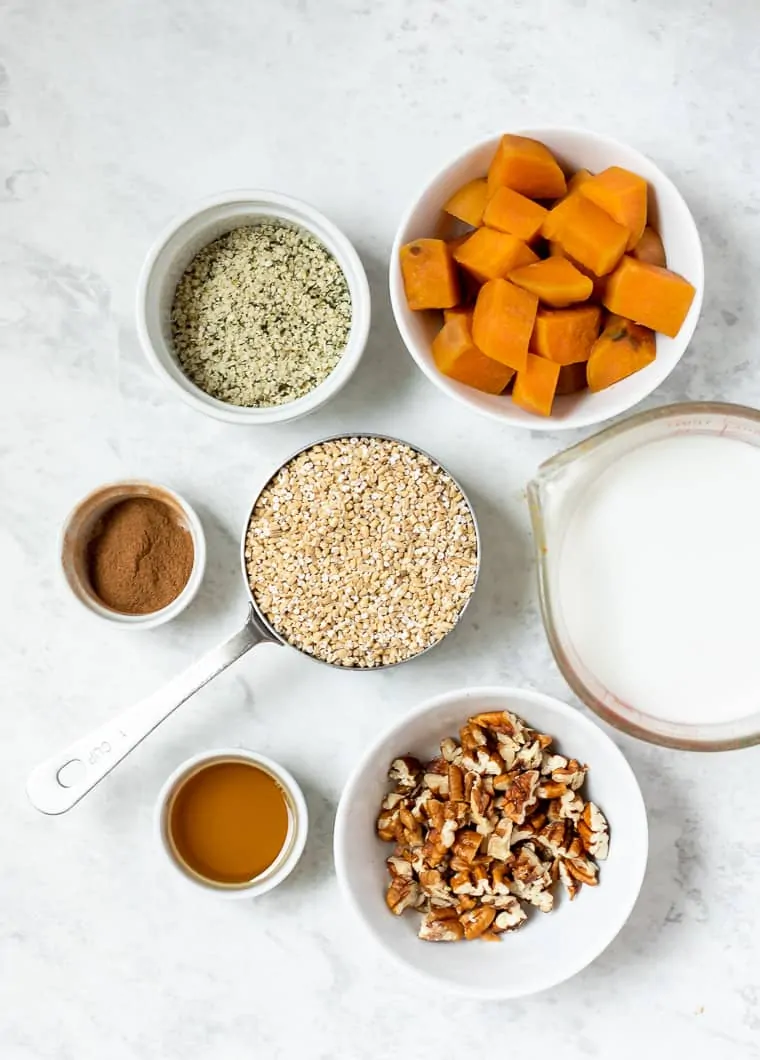 Ingredients for Sweet Potato Oatmeal
For today's recipe, I kind of riffed on the idea of pumpkin pie oatmeal, but swapped that out with sweet potato. We'll be using:
Bob's Red Mill steel cut oats: these can be swapped with old fashioned rolled oats or even quick cooking oats if you wanted
Steamed sweet potato: you can do this while the oats are cooking (takes about 5 minutes), or you can prep this ahead.
Hemp seeds: for an extra kick of protein and to make the oatmeal more filling
Maple syrup: the perfect complement to the other warm flavors in this recipe
Cinnamon: to give the sweet potato a sweeter flavor
Pecans: add a nice crunch to the oatmeal and a nutty flavor
Vegan butter: totally optional, but dang does it make these oats extra creamy and delicious!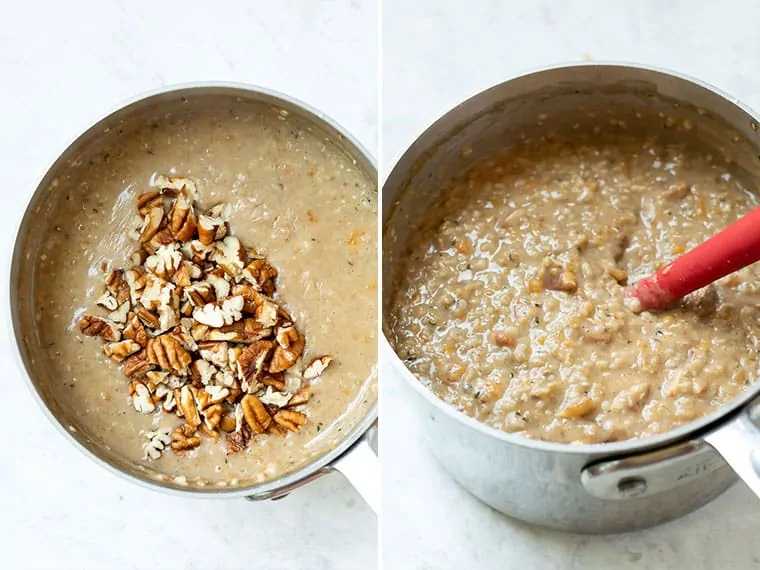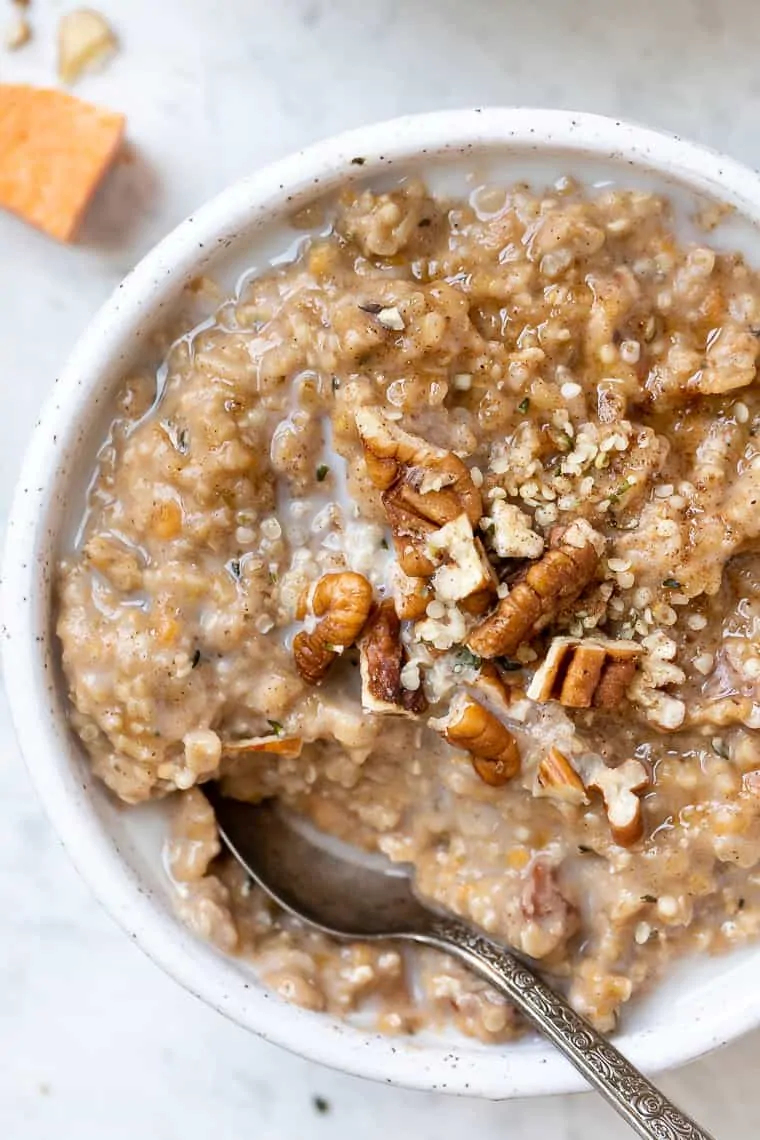 How to Make Steel Cut Oatmeal
Oatmeal is one of those things that we might not really need a recipe, but it deserves one because it's nice to be able to nail it every single time. Luckily, this sweet potato oatmeal couldn't be easier to make!
STEP ONE: Combine
The first order of business is to combine everything into your pot. The only things I don't add are the nuts and butter. I stir everything together and then bring it to a boil.
STEP TWO: Simmer
Once your oatmeal is boiling, you'll want to reduce it to a simmer. From there, it will simmer for about 20 minutes. You'll want to stir it every few minutes to avoid sticking on the bottom. Alternatively, if you want to skip the stove altogether, here how to make Instant Pot steel cut oats!
STEP THREE: Serve
And lastly, we get ready to serve! The final step is to fold in the pecans and vegan butter, then just transfer it into your bowls. Top with some additional pecans and a splash of almond milk and you're ready to enjoy!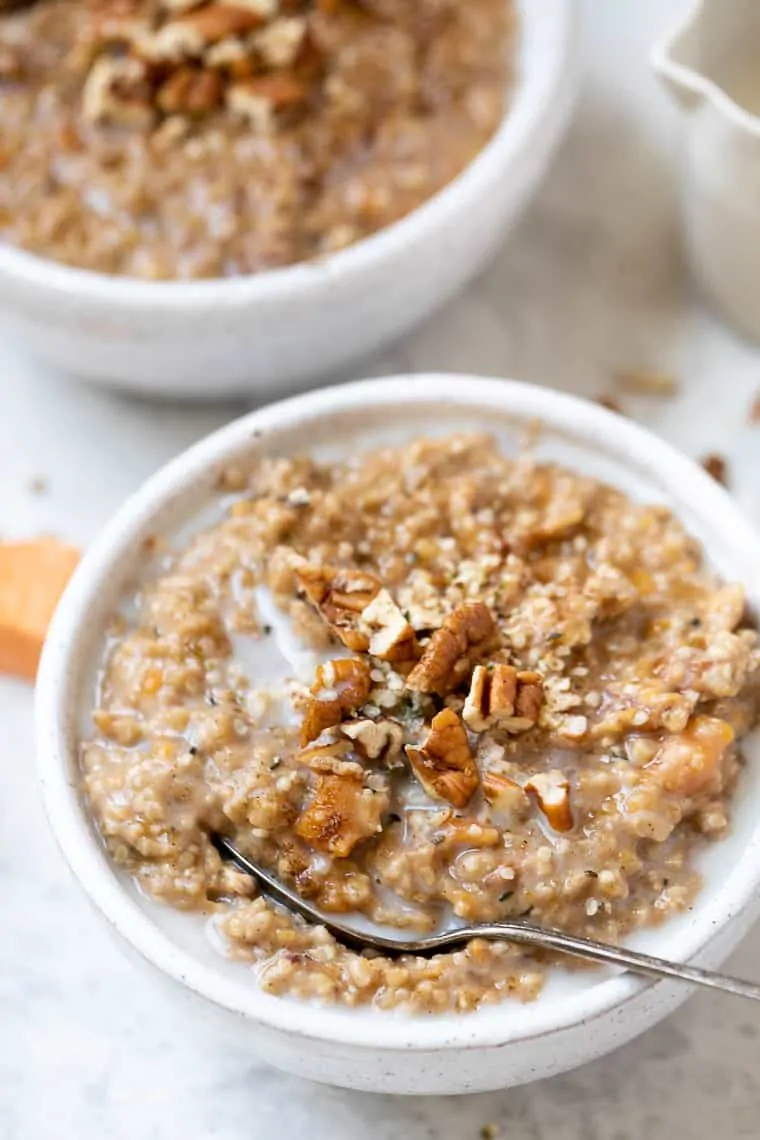 The Best Vegan Breakfast Bowl
I can honestly tell you: this bowl of oatmeal was one of the bests I've ever had! Not only was it full of cozy fall vibes, but it was also not too sweet. I like to keep things on the lower sugar side of things for breakfast and this was perfect.
It's also…
packed with fiber
super filling
great for meal prep
easy to make
vegan + gluten-free
If you've been wanting to change up your oatmeal routine, this sweet potato oatmeal is the perfect way to do it!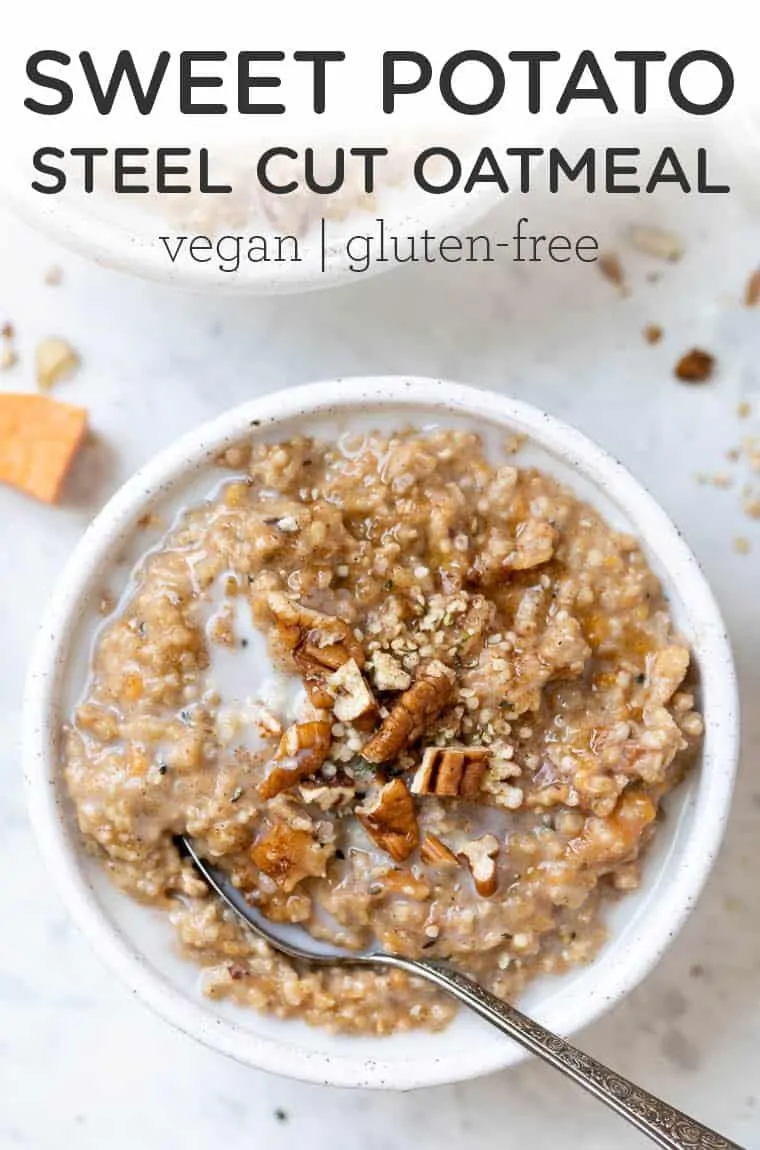 More Healthy Oatmeal Recipes to try:
Creamy Cinnamon + Sweet Potato Oatmeal
A delicious bowl of creamy sweet potato oatmeal flavored with cinnamon, maple syrup, and topped with pecans. It's the ultimate fall breakfast bowl and couldn't be easier to make!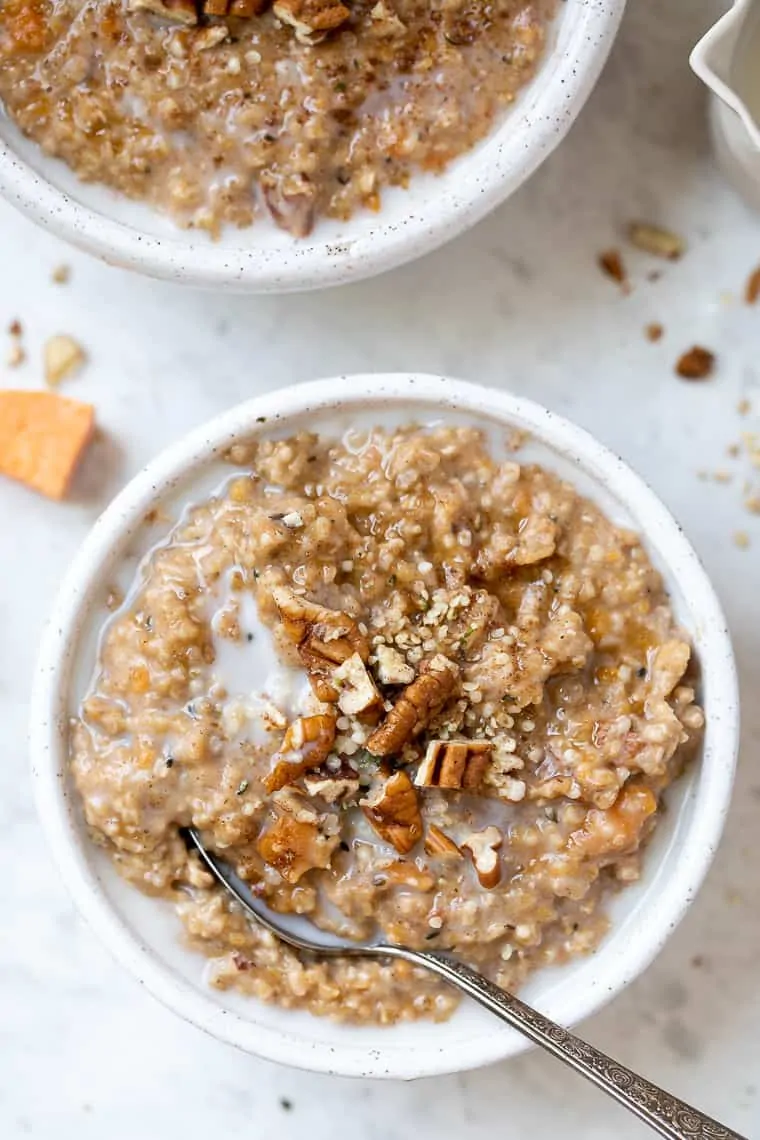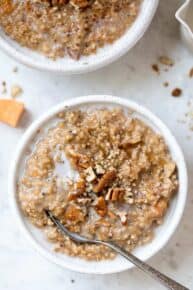 Instructions
Mash the sweet potato in a bowl until mostly smooth.

Add oats and almond milk to a small saucepan and bring to a boil. Stir in sweet potato, butter, maple syrup, hemp seeds, cinnamon, and a pinch of salt. Reduce to low and simmer for 25 - 30 minutes, stirring occasionally.

Once the oatmeal is cooked, stir in the vegan butter and 1/4 cup of chopped pecans.

Divide the oatmeal evenly between bowls. Top each bowl with the additional chopped pecans and a drizzle of almond milk and enjoy!
Notes
* you can also swap this with 1 cup sweet potato puree
Nutrition
Serving:
1
serving
|
Calories:
447
kcal
|
Carbohydrates:
47
g
|
Protein:
15
g
|
Fat:
23
g
|
Saturated Fat:
4
g
|
Cholesterol:
9
mg
|
Sodium:
81
mg
|
Potassium:
311
mg
|
Fiber:
7
g
|
Sugar:
13
g
|
Vitamin A:
5057
IU
|
Vitamin C:
1
mg
|
Calcium:
174
mg
|
Iron:
4
mg
Filed Under:
This recipe is brought to you in partnership with Bob's Red Mill. As always, all opinions are my own. I only share companies I love and trust, so thank you for continuing to support Simply Quinoa!