This creamy, pumpkin steel cut oatmeal is rich, 100% vegan, and bursting with flavor from caramelized pecans. It's an easy and healthy breakfast recipe that you can make in half an hour.
Want more ways to cook steel cut oats? Check out my Instant Pot steel cut oats, or this overnight steel cut oats recipe.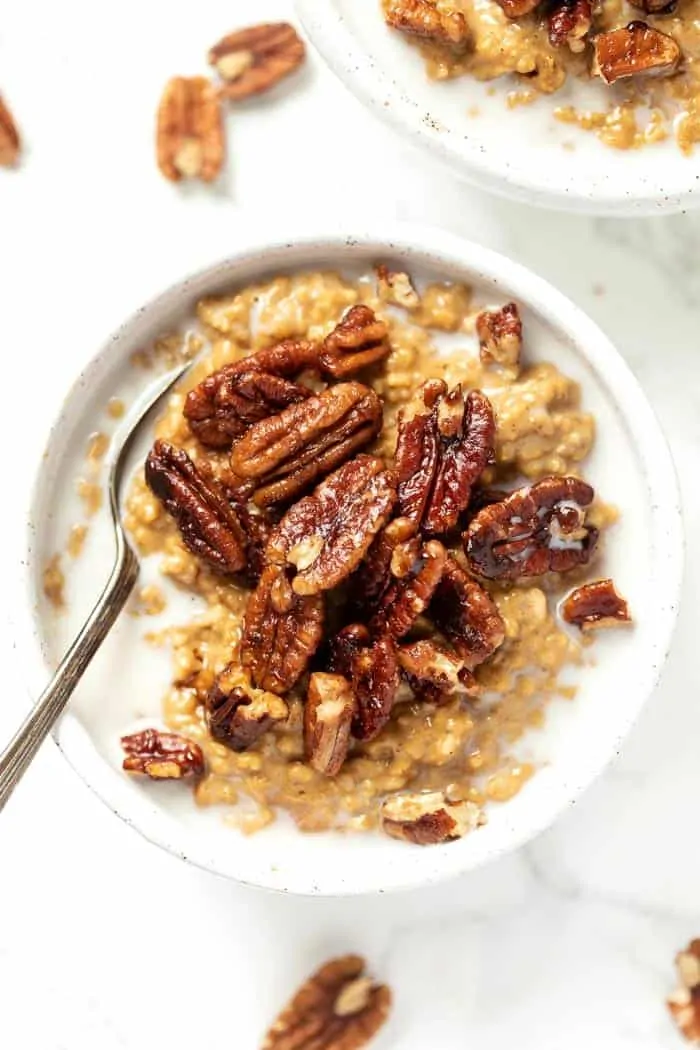 This pumpkin oatmeal is one of my favorite fall breakfast recipes. It's hearty and mouthwatering, and caramelized pecans give it the perfect burst of sweetness. Not only that, but it's an entirely plant-based breakfast!
Autumn is one of the best times to be in the kitchen. Winter squashes are popping up the shelves at the markets, and brussels sprouts, apples, and root veggies are making their way into my meals. And of course, one of my favorite ingredients: pumpkin!
Pumpkin is often synonymous with baked goods, but today we're turning it into the most glorious breakfast treat. This vegan oatmeal recipe might become your go-to for a weekend treat … or it might become a weekday breakfast staple in your kitchen!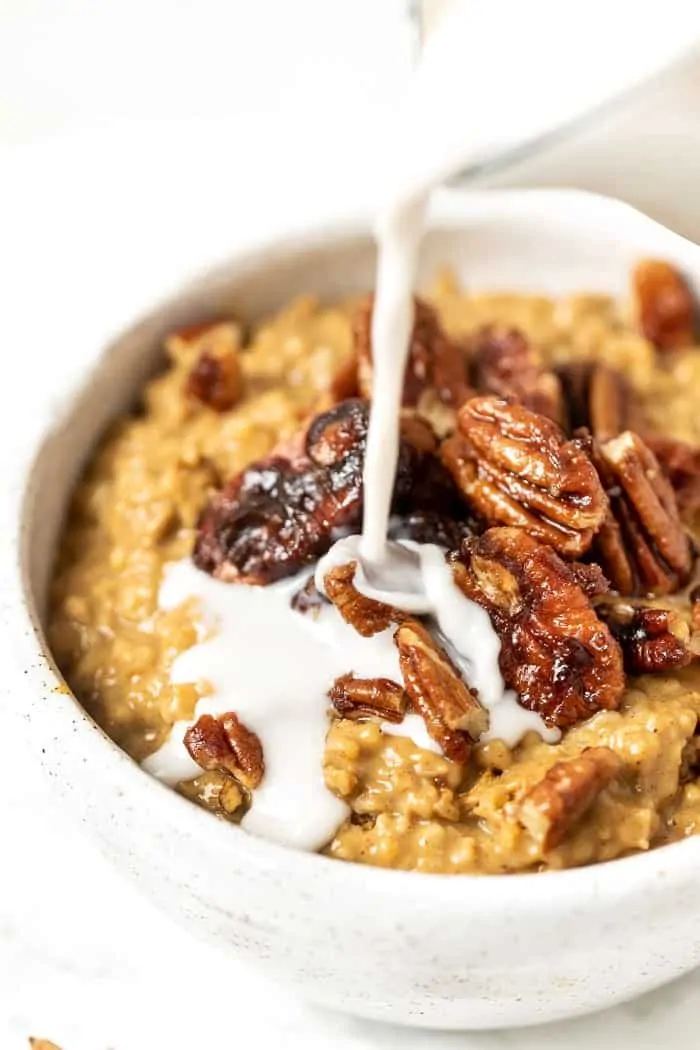 What You'll Need
Be sure to scroll to the bottom of the page to see the exact quantities for each ingredient.
Steel cut oats
Almond milk – You can use other milk substitutes if you don't like almond milk, or if you have an almond allergy.
Pumpkin puree
Vegan butter or coconut oil
Coconut sugar – Coconut sugar has a slight caramel flavor, almost like a very light brown sugar.
Pumpkin pie spice
Salt
Pecans – You can use other nuts in a pinch, but this recipe is best with pecans.
Coconut oil
What Are Steel Cut Oats?
Steel cut oats get their name because they were traditionally cut with steel blades. They're much smaller than rolled oats, and have a more chewy texture. Steel cut oats also have a more savory flavor than rolled oats, as they taste a little bit nutty. They take a bit longer to cook.
How to Make Plant-Based Pumpkin Steel Cut Oatmeal
This vegan pumpkin oatmeal recipe is remarkably easy. It only has a few steps, and it takes about 30 minutes.
Boil the oats. Put the steel cut oats and the almond milk in a saucepan, and bring it to a boil.
Season. Stir in the pumpkin, vegan butter, salt, pumpkin spice, and some of the coconut sugar.
Cook the oats. Simmer the oats on low for 25-30 minutes. Stir the oats occasionally.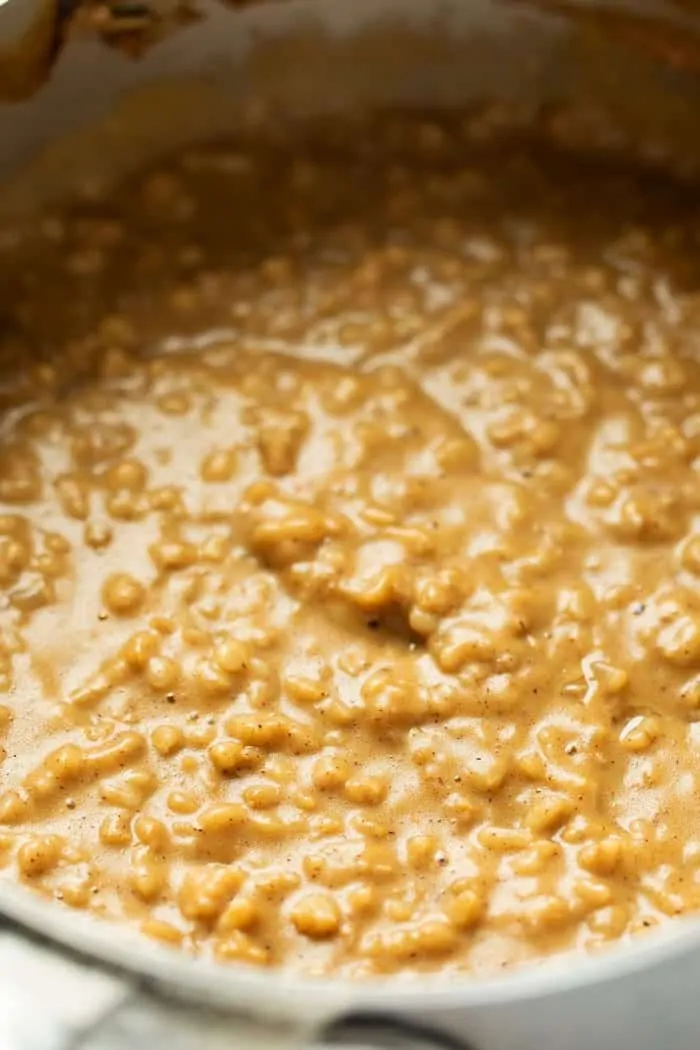 Caramelize the pecans. Put the rest of the coconut sugar and the coconut oil in a pan and heat. When the sugar is melted and shimmering, add the pecans. Cook until they're caramelized, which will take about 3 minutes.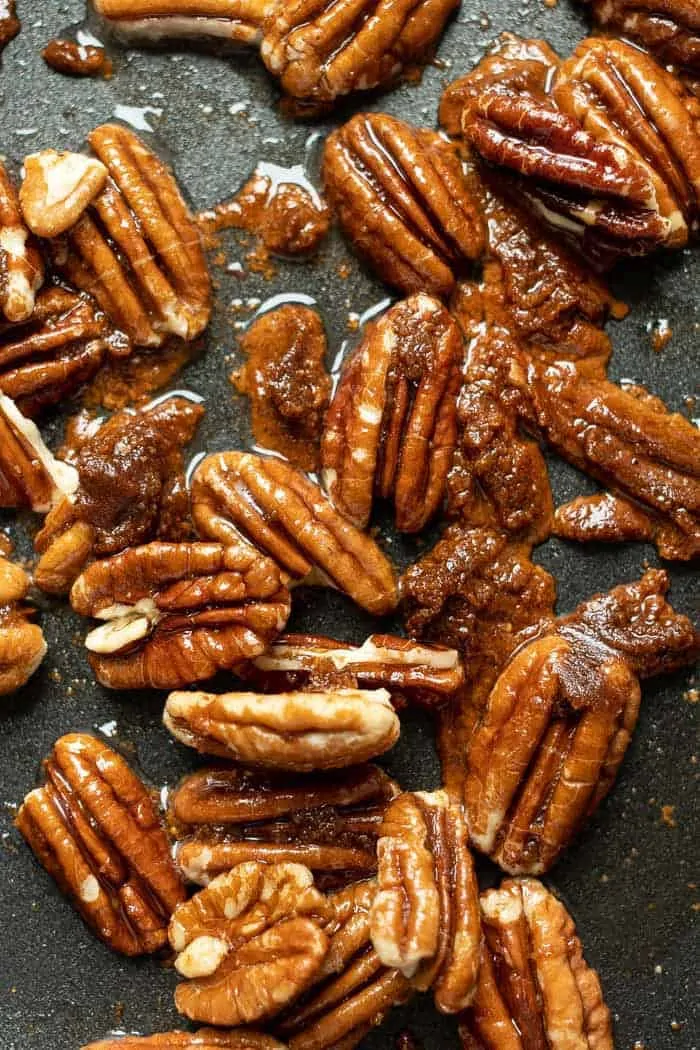 Serve. Serve up the pumpkin steel cut oatmeal while it's still hot, and top with the caramelized pecans.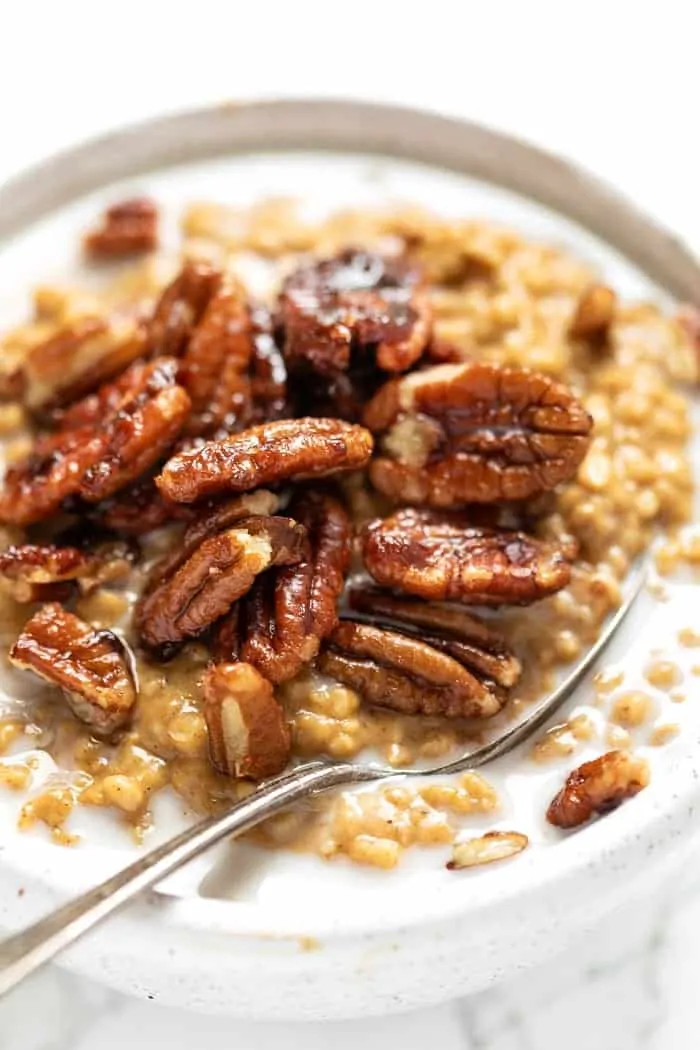 Tips for Success
Here are a few tricks to ensure that your vegan steel cut oatmeal is perfect every time.
Cook low and slow. Don't try to cook the oats too quickly. Cooking them for a longer time at a lower temperature will make for a creamier, softer texture.
Don't undercook the pecans. When caramelizing the pecans, make sure to cook them until the sugar becomes sticky. This topping takes the breakfast to another level!
Don't overcook the pecans. While you want to give the pecans enough time to caramelize, make sure you don't overcook them either. Sugar turns bitter if you cook it past the caramel stage. Keep the candied pecans at a low temperature to keep this from happening.
How to Store Pumpkin Steel Cut Oatmeal
One of the things I love about steel cut oats is that you can make them ahead of time and reheat them! Since they've got a heartier texture than rolled oats, they can be refrigerated and reheated without any issue. Keep this breakfast in an airtight container in the fridge for 3-4 days, and reheat on the stovetop or the microwave.
Store the caramelized pecans separately, in an airtight container. They'll last 3 weeks in the fridge, or 1 week on the counter. They don't need to be reheated.
Can This Recipe Be Frozen?
Absolutely! Store the steel cut oats and caramelized pecans separately, in airtight containers. They'll last for 6 months in the freezer, and can be reheated directly from the freezer.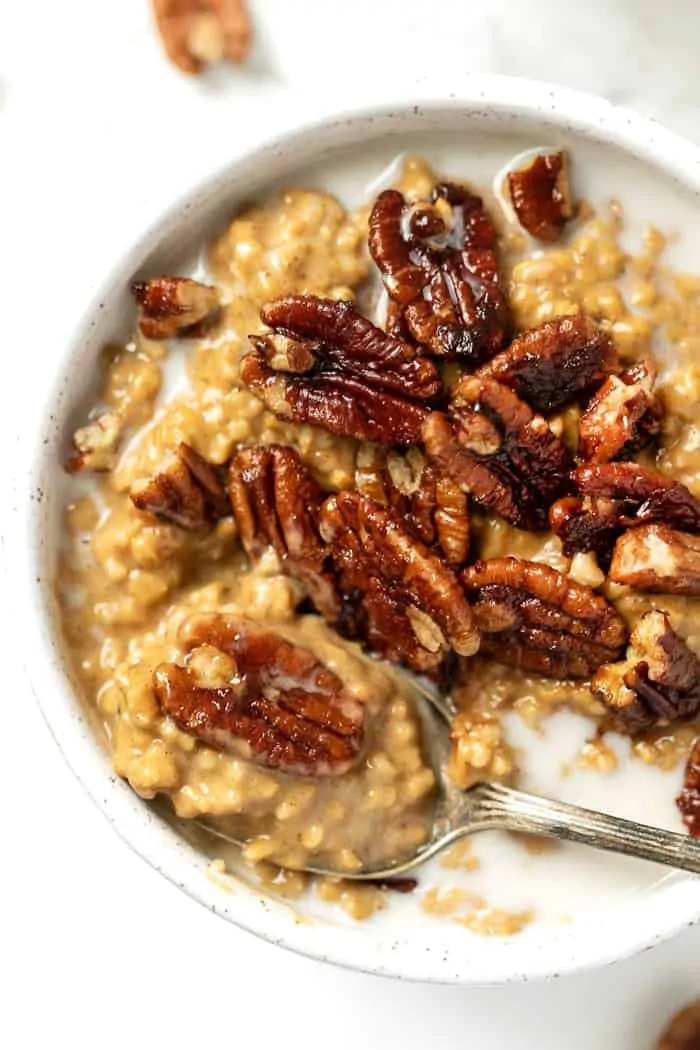 More Oatmeal Recipes To Try!
How to make Creamy Pumpkin Steel Cut Oats (video)
Creamy Pumpkin Steel Cut Oats
These healthy pumpkin steel cut oats are the perfect fall breakfast. They're creamy, taste like pumpkin pie and are such a great way to start your day!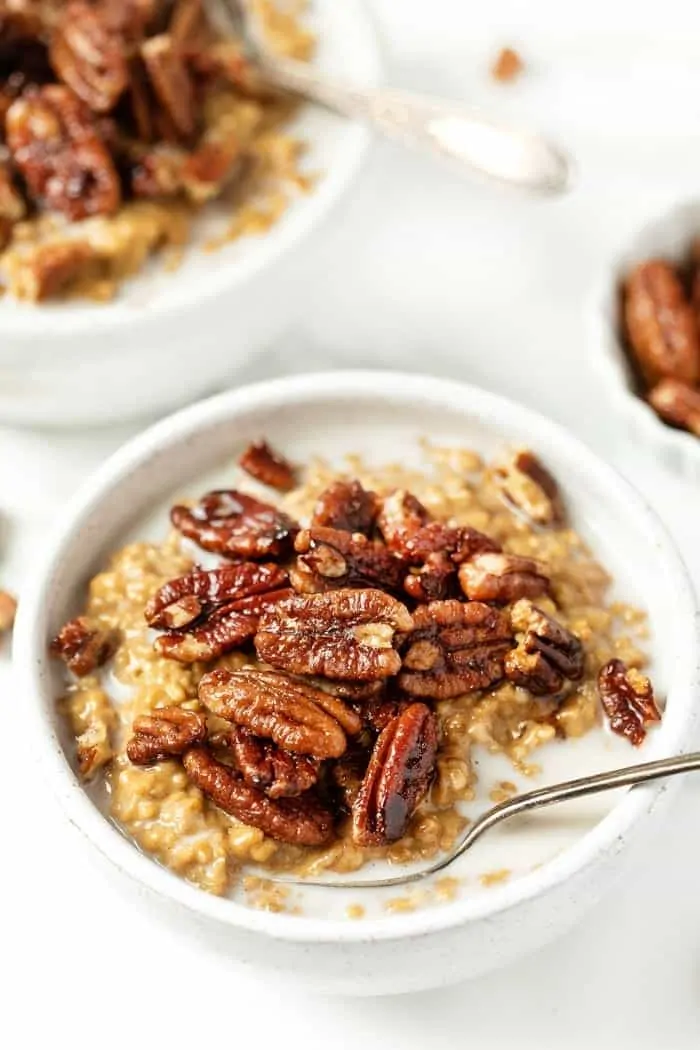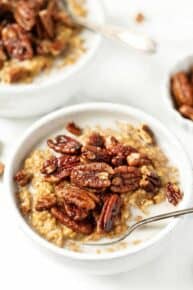 Instructions
Add oats and almond milk to a small saucepan and bring to a boil. Stir in pumpkin, butter, 2 tablespoons of sugar, pumpkin spice and salt. Reduce to low and simmer for 25 – 30 minutes, stirring occasionally.

For the pecans, add the coconut oil and remaining sugar to a large saute pan. Once melted and shimmering, add the pecans. Cook for 3 minutes until caramelized. Remove from heat and plate the oatmeal.

To serve, divide the oatmeal evenly between bowls. Top each bowl with some pecans and a drizzle of almond milk and enjoy!
Nutrition
Calories:
292
kcal
|
Carbohydrates:
33
g
|
Protein:
7
g
|
Fat:
15
g
|
Saturated Fat:
1
g
|
Sodium:
433
mg
|
Potassium:
113
mg
|
Fiber:
6
g
|
Sugar:
8
g
|
Vitamin A:
4900
IU
|
Vitamin C:
1.3
mg
|
Calcium:
260
mg
|
Iron:
2.1
mg