The recipe for creamy Mushroom Quinoa Risotto uses 3 types of mushrooms for a rich flavor and amazing texture! It's vegan, gluten-free & high in protein!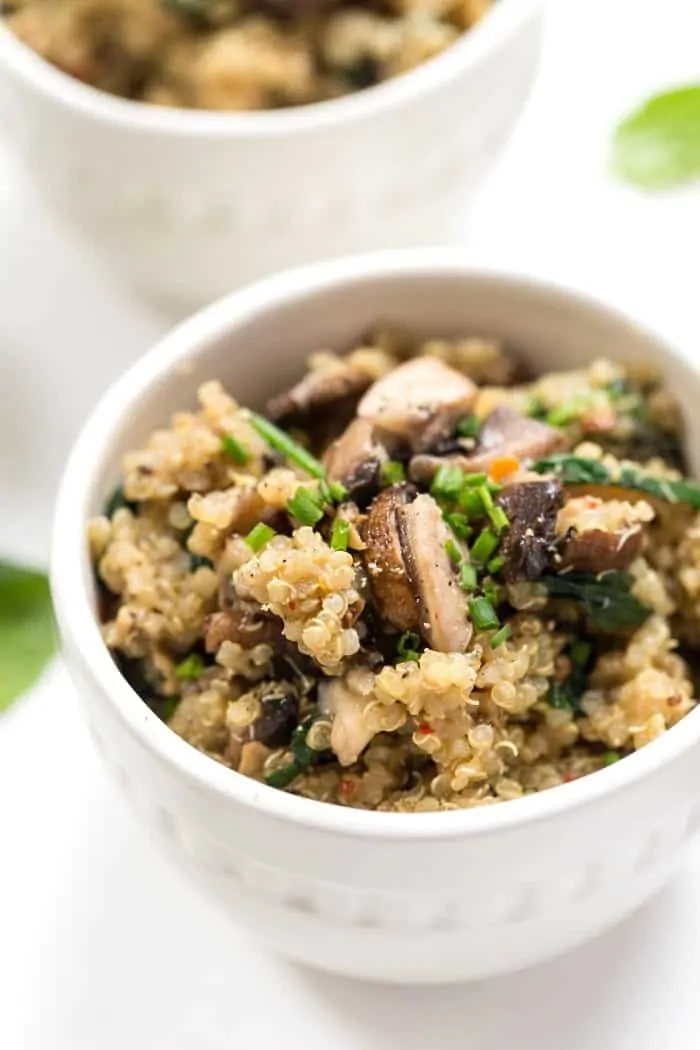 It's a gloomy, rainy Tuesday and I'm sitting here on the couch bundled up in blankets, matcha in hand and a snoring dog next to me. Kinda the perfect way to start the day if you ask me! It's days like this though, that I sometimes find it challenging to get the motivation to cook. Especially something as complicated as risotto…
But that's why I love today's recipe. We're making Mushroom Quinoa Risotto and it's essentially a simplified version of "traditional" risotto that cooks up way quicker. Perfect for lazy busy nights when you don't feel like cooking!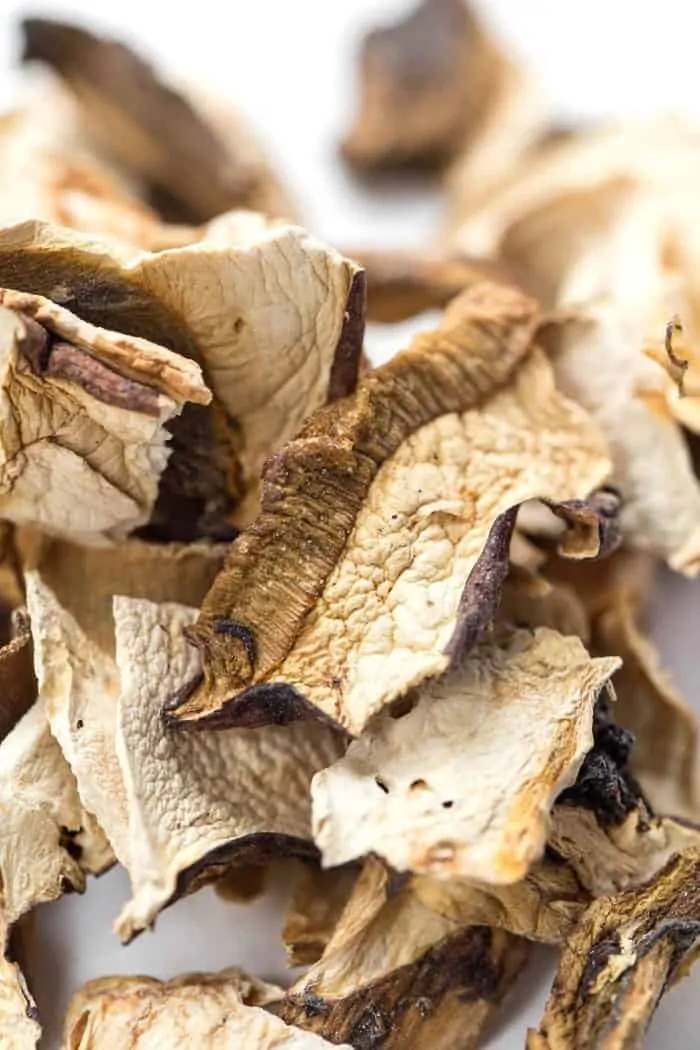 Okay, okay. I admit it. This quinoa risotto is a far cry from traditional risotto (which is loaded with dairy), but it has that same creamy texture, tons of amazing flavor and cooks like a risotto does, just much faster. So we're calling it risotto and we're just gonna roll with it.
Our key ingredient here? Dried porcini mushrooms.
Porcini mushrooms have been said to be the most flavorful and versatile of all mushrooms and I tend to agree. While you can't often find them fresh here in the States, the dried varieties are at most grocery stores and the flavor they impart into recipes is incredible. They're nutty, aromatic and add an almost meat-like flavor, which is perfect in our risotto.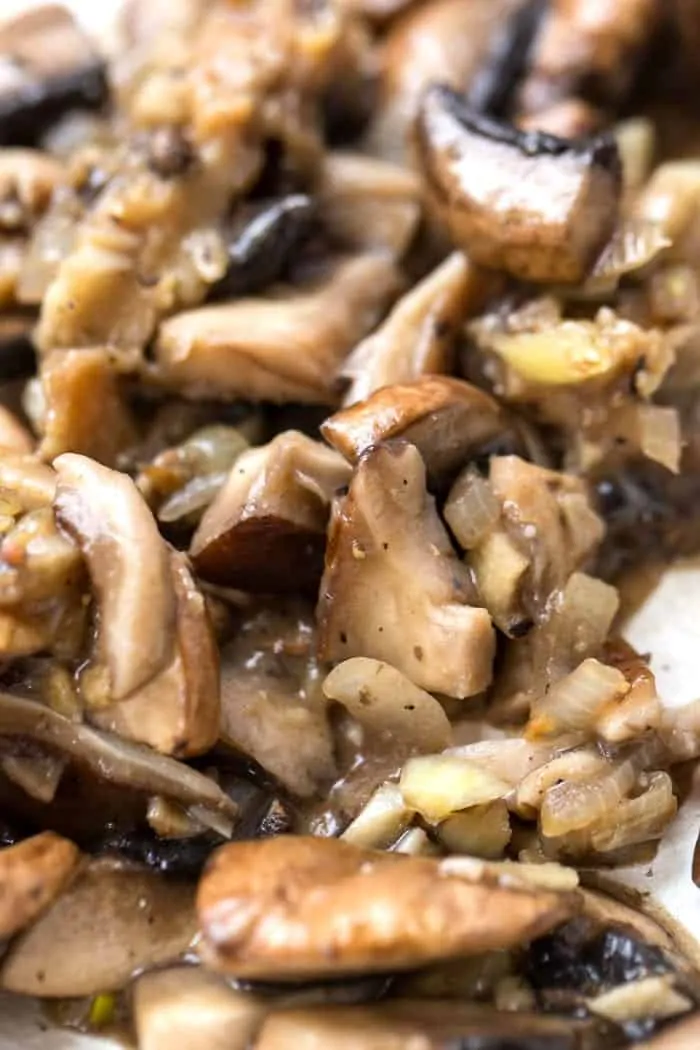 You'll need to soak your porcini mushrooms before using them, but our secret here is that we're actually cooking the quinoa in that porcini mushroom broth to bring out even more flavor.
Then we're combining the rehydrated porcini mushrooms with a blend of other fresh mushrooms, sauteeing them with some olive oil, shallots and garlic, and guys…it's INSANE!
So rich and so flavorful!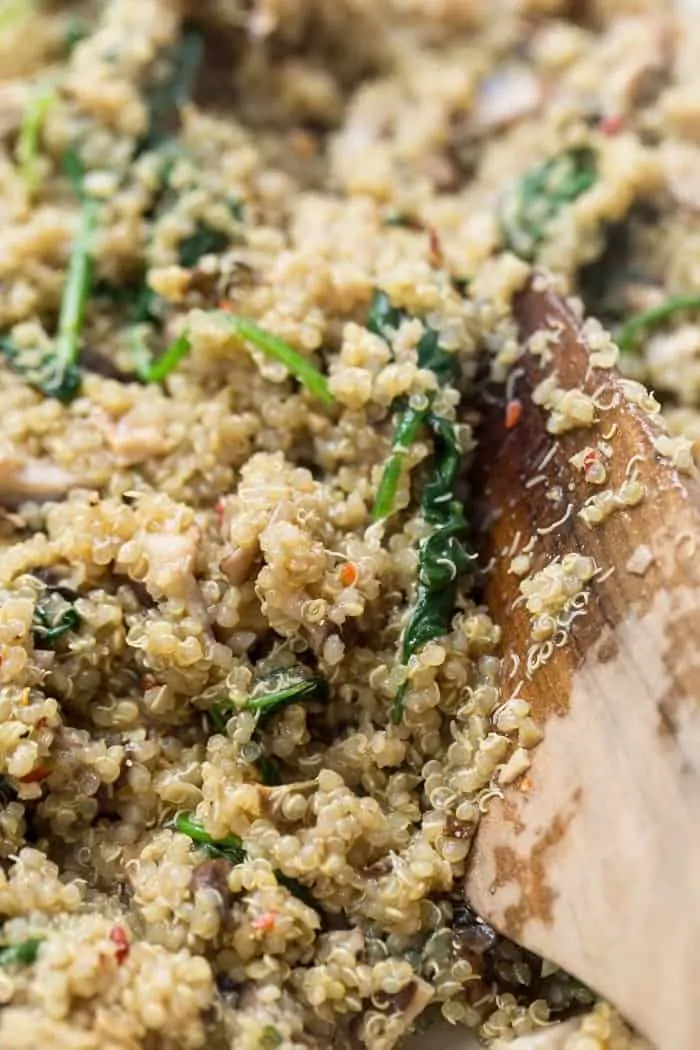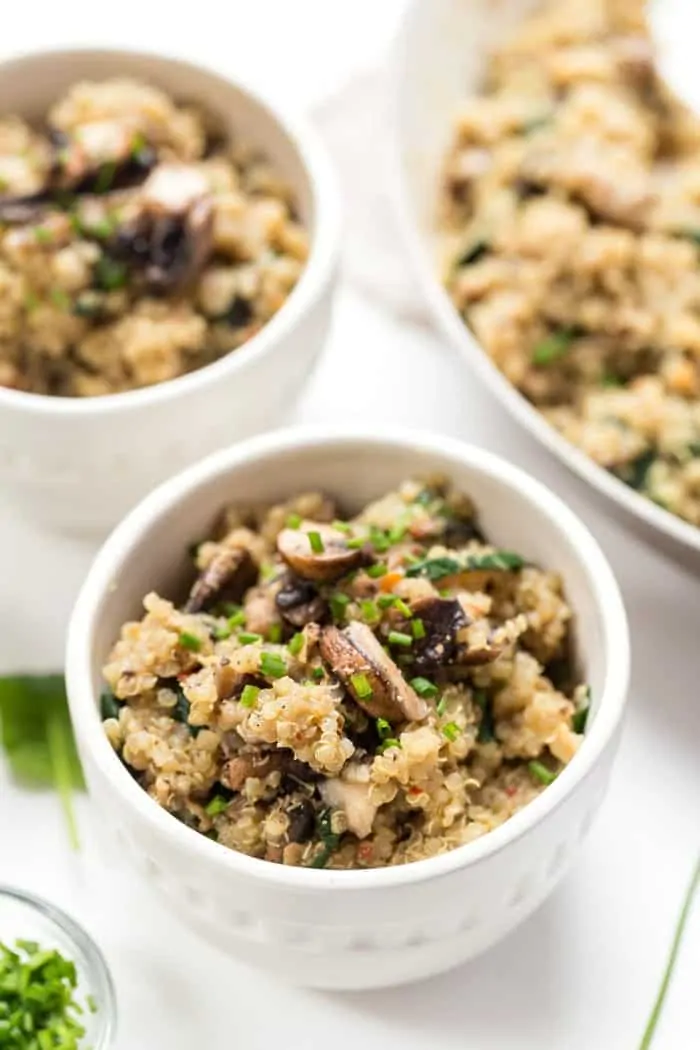 By now you probably know that I love sneaking in greens whenever possible, and spinach felt like the perfect complement to this mushroom quinoa risotto. It doesn't affect the flavor but adds a nice pop of color and amps up the nutrition of the entire meal. And who wouldn't love to sneak more spinach into their family's diet?!
You could also use chopped kale, swiss chard or any other green you'd like!
Or if you're just not feeling the greens at all? That's okay too! We don't judge around here ???? feel free to just leave them out completely. This dish will still be nutrient- and protein-packed!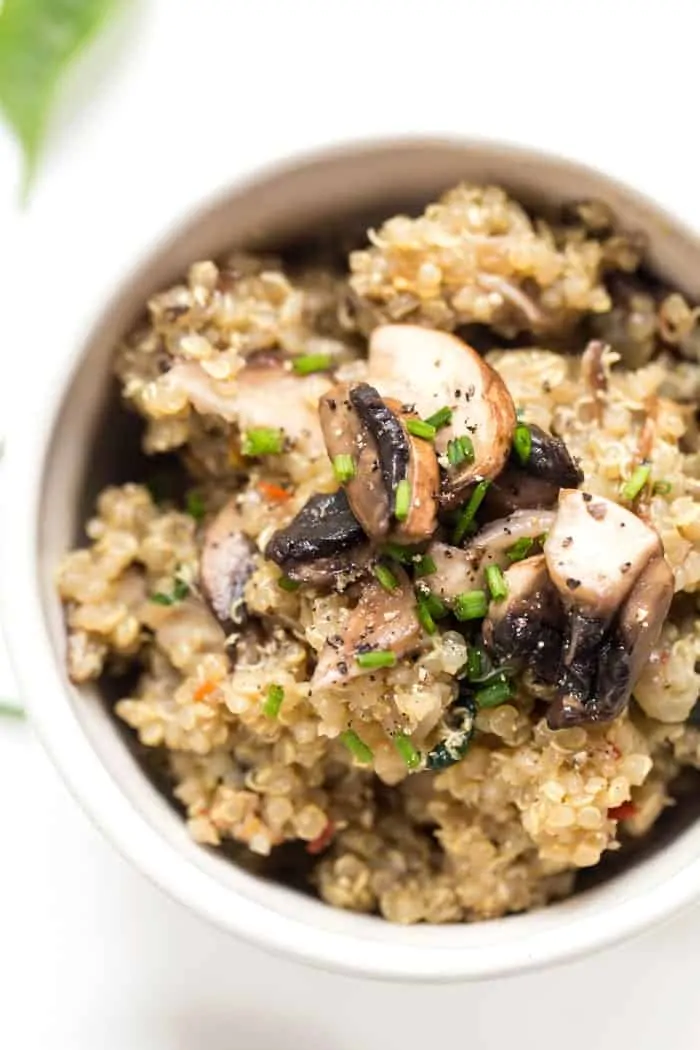 What you're going to really love about this mushroom quinoa risotto is that it's also great for meal prep!
It will keep in the fridge for at least 3 – 4 days, and can sometimes get even more flavorful as it sits. When you're ready to reheat it, either pop it in the microwave with a little water OR, if you have access to a stove, cook it over medium-low heat and stir in some extra vegetable broth.
I love serving mine with some fresh herbs (we're using chives here), a sprinkle of nutritional yeast and bit of fresh cracked pepper. I'm definitely feeling like this will become a new go-to weeknight meal for you and your fam!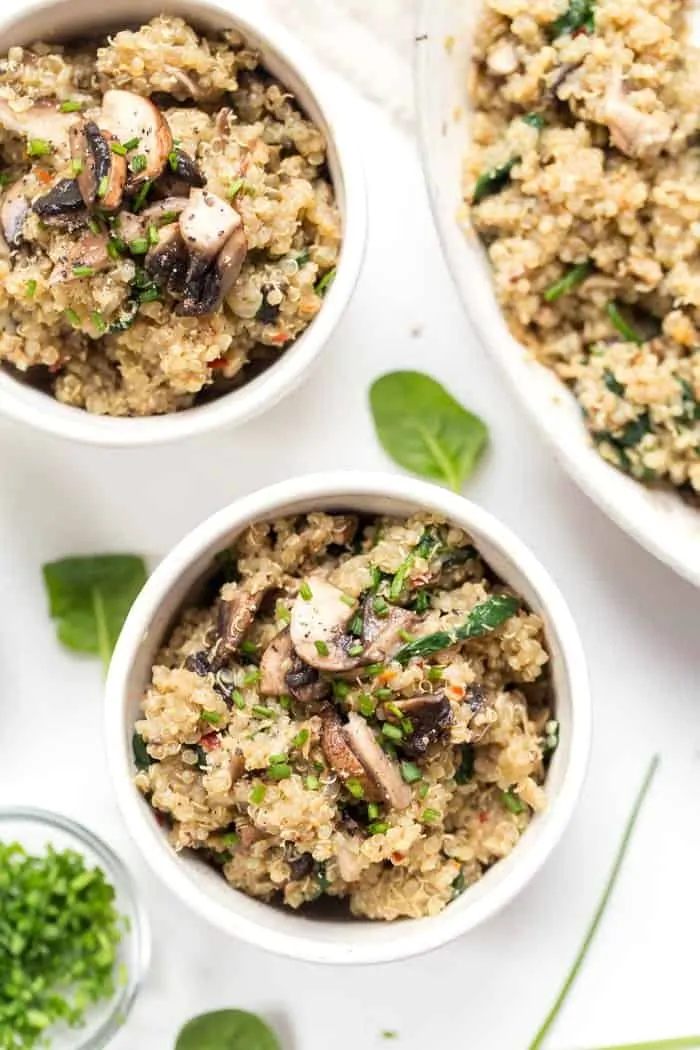 More Of My Favorite Easy Dinner Ideas:
Mushroom Quinoa Risotto
The recipe for creamy Mushroom Quinoa Risotto uses 3 types of mushrooms for a rich flavor and amazing texture! It's vegan, gluten-free & high in protein!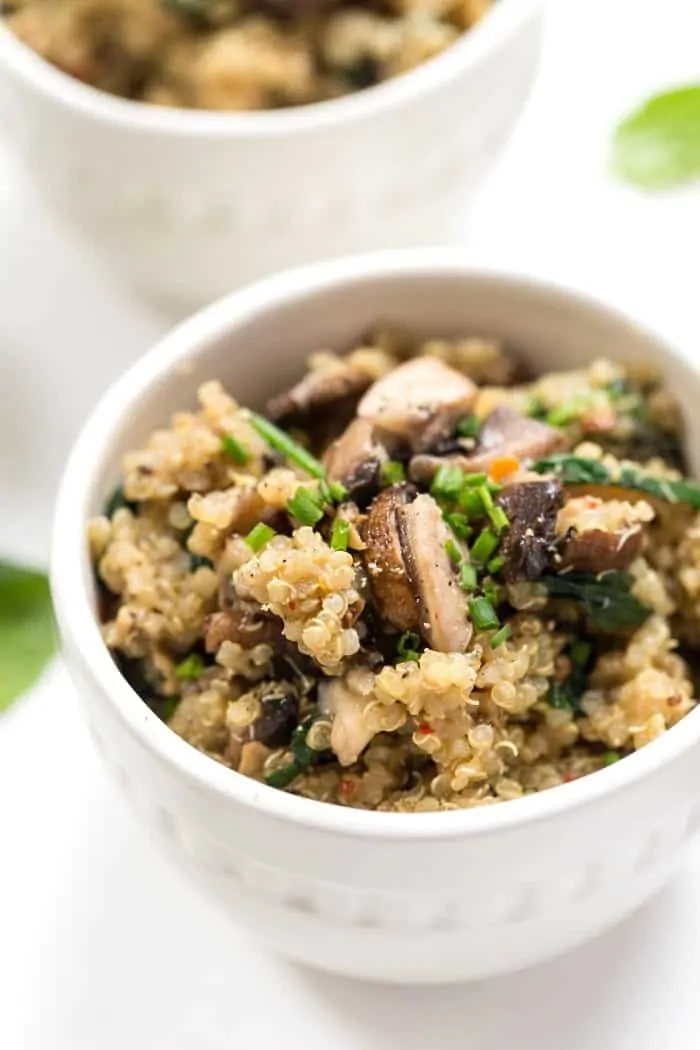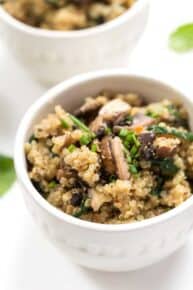 Instructions
Soak the porcini mushrooms in the boiling water for 20 minutes. Remove the mushrooms and strain the water into a small saucepan. Add the quinoa, bring it to a boil and reduce to simmer until all the water has been absorbed, about 15 minutes.

Meanwhile, heat a little olive oil in a pan over medium heat and add the garlic, shallots and saute until fragrant, 2 – 3 minutes. Add the mushrooms and saute until tender, another 5 minutes or so. Stir in miso paste and cracked pepper, until the miso has dissolved.

When the quinoa is done cooking, add it to the saute pan. Toss to combine the ingredients. Add the spinach and cook until it begins to wilt, 1 – 2 minutes. Add 1/2 cup of vegetable broth and nutritional yeast, and stir until you get a creamy texture. Add more vegetable broth as needed.

Remove from the heat, taste and add additional salt, pepper or pepper flakes if desired. Transfer to a serving dish and enjoy immediately. This is also delicious topped with some fresh herbs (I used chives), a touch more nutritional yeast or parmesan cheese. Enjoy!
Nutrition
Calories:
297
kcal
|
Carbohydrates:
52
g
|
Protein:
12
g
|
Fat:
7
g
|
Saturated Fat:
1
g
|
Sodium:
657
mg
|
Fiber:
8
g
|
Sugar:
3
g
Filed Under: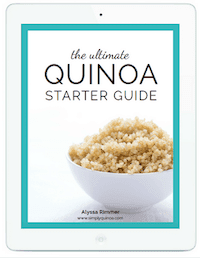 New to cooking quinoa? Grab your FREE Quinoa Starter Guide!
Become part of the Simply Quinoa community and receive weekly emails with exclusive content that I only share in email, as well as my in-depth guide to starting your quinoa journey.