A simple dairy-free chocolate mousse made with coconut milk and dark chocolate, this vegan dessert is decadent, yet healthy. And only 5 simple ingredients!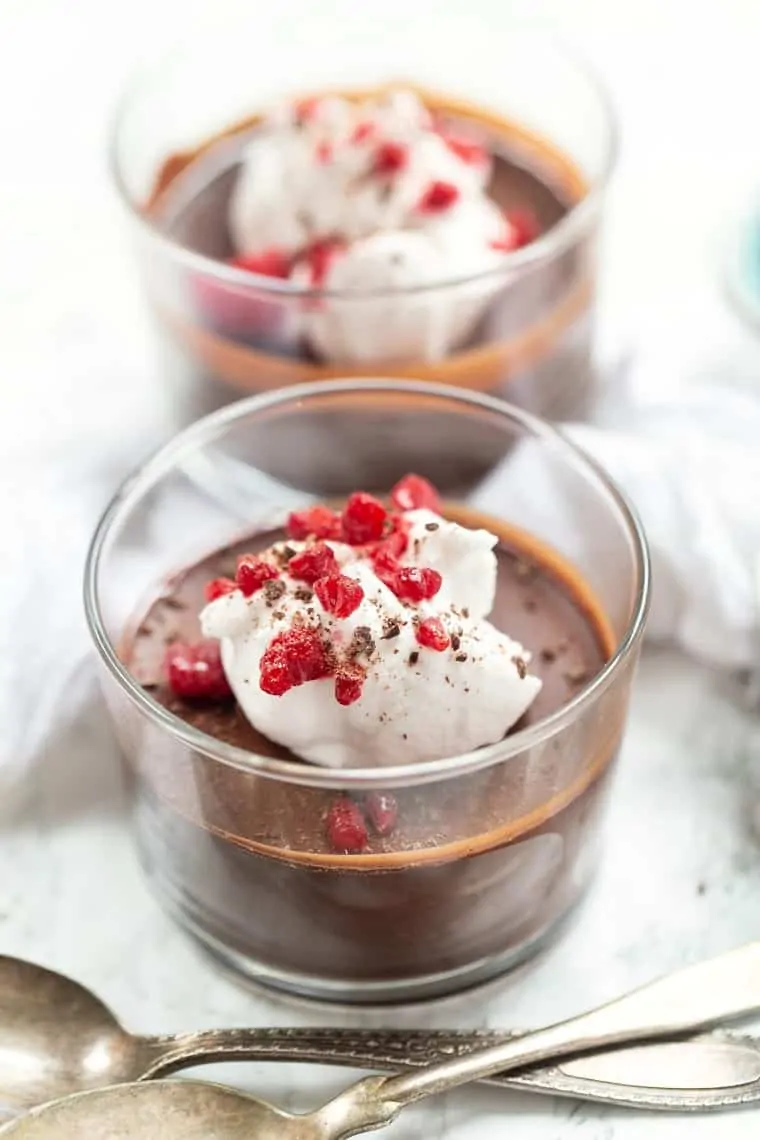 Valentine's day = chocolate. Right?! Right.
But chocolate is also the perfect sweet treat all year round. So while Valentine's Day is right around the corner, this decadent dairy-free mousse is something you can make any standard night of the week. It'll take you about 5 minutes to actually make (minus chilling time), and it uses just 5 ingredients.
Easy peasy and so rich and creamy!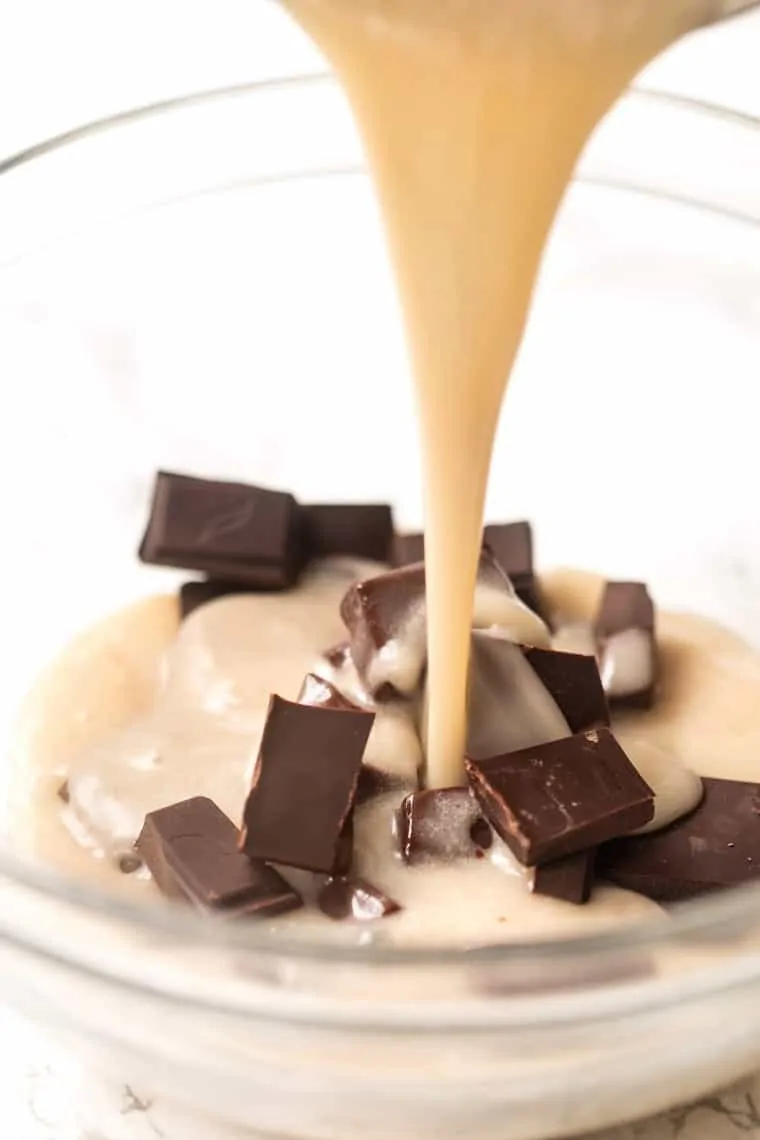 How to Make Chocolate Mousse
I'll be honest and tell you: I don't think this is traditional chocolate mousse. I haven't even ever made a chocolate mousse! BUT I did my homework before whipping up this recipe, so I had a sense of how to make chocolate mousse.
Traditional mousse involves melted chocolate, whipped heavy cream (which you whip over an ice bath), whipped egg whites and sugar. Which you then carefully fold together. Seems a little labor intensive to me, don't you think?
I feel like you probably could come up with a vegan version of that – which maybe I will soon – but I wanted to simplify the process, reduce the time and make it completely easy for you.
So all you need to do is melt together your liquid ingredients, pour it over your dark chocolate, then whip it until smooth. Simple and absolutely decadent!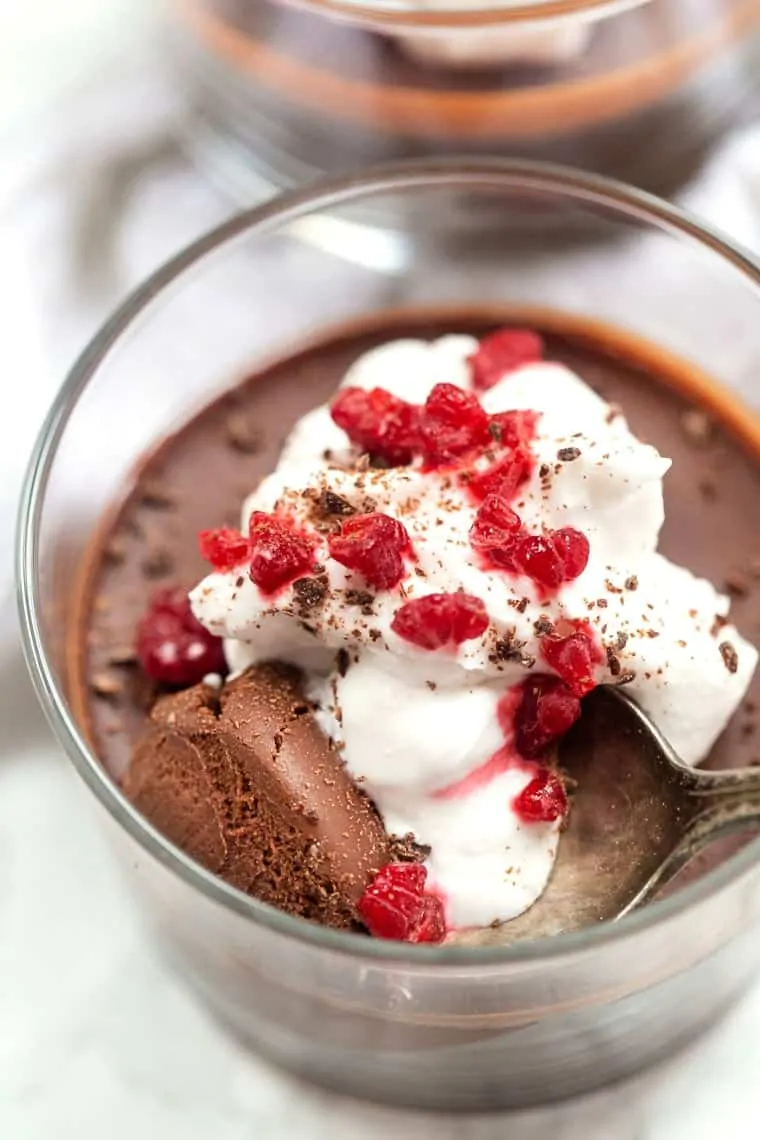 Dairy-Free Chocolate Mousse Ingredients
It has a base of dark chocolate, with heavy cream and a touch of sugar.
Of course, we're making this a little bit healthier and swapping some of the traditional ingredients with ones that are dairy-free and vegan.
Here's what we're we're using in this dairy-free chocolate mousse:
80% dark chocolate (I like anything from 70 – 90%)
Full fat coconut milk (you need the fat for it to be super creamy)
Coconut butter & oil (helps it keep the texture and decadent)
Maple syrup (for our natural sweetness – we don't need more than a few tablespoons)
The Perfect Valentine's Day Treat
And what would a perfect Valentine's meal be without a little chocolate at the end? I think a silky-smooth, dairy-free chocolate mousse is in order, don't you?
If you're a chocolate fan, you're going to freak over this treat. It's so delicious, so rich, so creamy, and so dairy-free. Plus, easy to make!
Texture wise, it's a dense mousse – not light and fluffy – without being too rich. It's perfect for your elegant Valentine's celebration, but really it's suitable for any night of the week because after all, the truly perfect post-dinner treat always involves chocolate. Ready to delight your tastebuds? Let's dive in!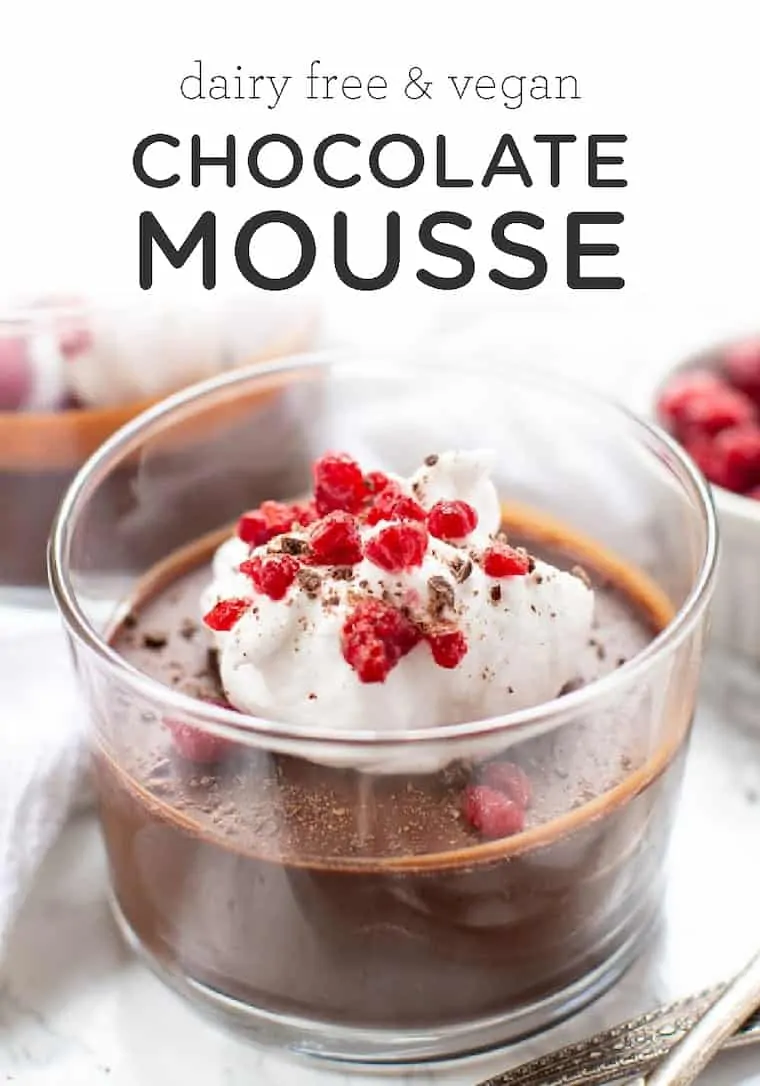 More Healthy Chocolate Recipes to Try:
Dairy-Free Chocolate Mousse
The best dairy-free mousse recipe! It's also very easy to make, has a rich dark chocolate flavor and can be served for a special occasion or any other day of the year!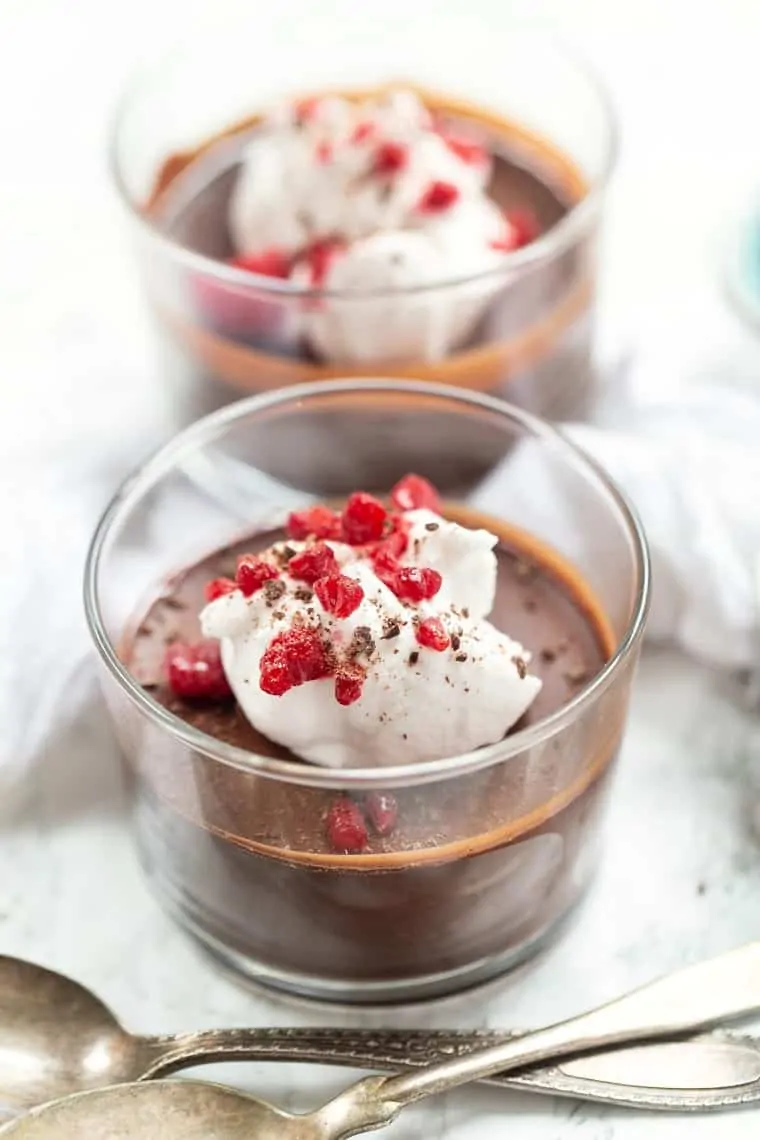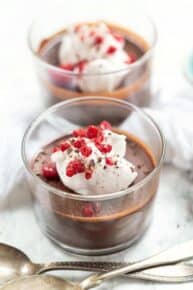 Ingredients
for toppings:
coconut yogurt

(or whipped cream)

shaved chocolate

fresh berries

(I love raspberries!)
Instructions
Bring coconut oil, butter, milk, salt and syrup to a boil. Simmer for 1 minute.

Break up the chocolate and add to a glass mixing bowl. Pour over chocolate, let sit for two minutes, then whisk until chocolate is fully melted.

Transfer to four small ramekins and refrigerate for at least two hours.

When ready to serve, remove ramekins from fridge and top with your desired toppings!
Notes
* nutrition facts are calculated on the mousse without toppings.
Nutrition
Calories:
340
kcal
|
Carbohydrates:
20
g
|
Protein:
3
g
|
Fat:
28
g
|
Saturated Fat:
20
g
|
Sodium:
14
mg
|
Potassium:
324
mg
|
Fiber:
3
g
|
Sugar:
12
g
|
Vitamin C:
0.6
mg
|
Calcium:
39
mg
|
Iron:
4.9
mg
Filed Under: