This dark chocolate quinoa pudding is rich and decadent with the use of coconut whipped cream. It's also naturally sweetened with dates and is vegan too!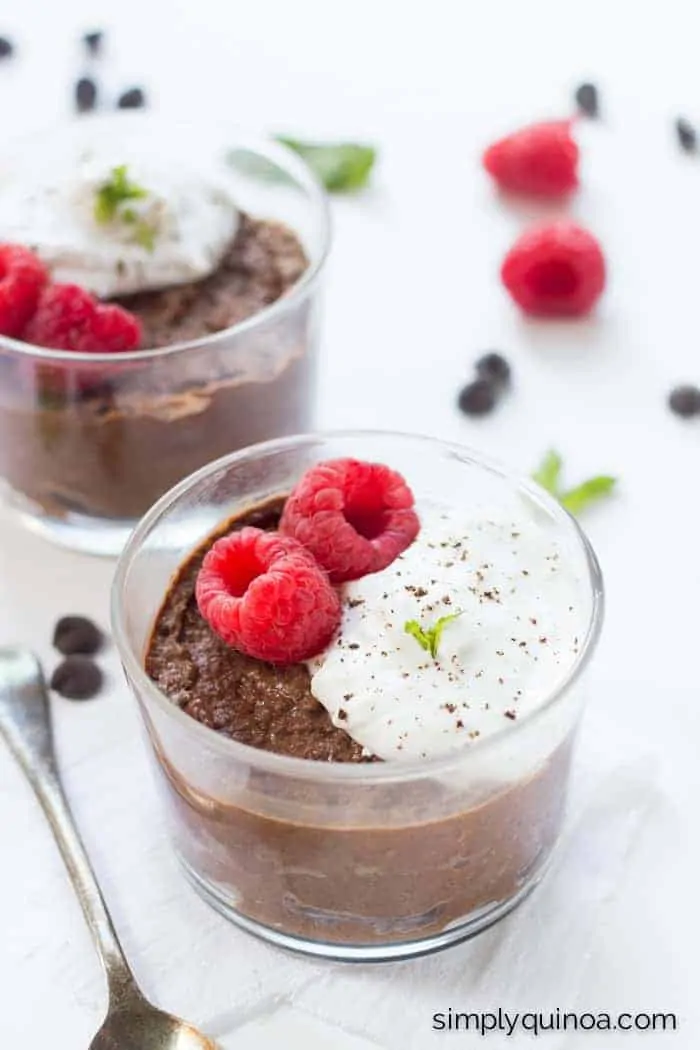 I know that they say you're not supposed to use the weekends to indulge, but this weekend I threw rules out the window and indulged in wine, chocolate, and sunshine.
Yesterday we celebrated a friend's birthday by going on a wine tasting tour on Long Island. First, I had no idea that Long Island even had wineries. Second, it was my first time ever being on a party bus – so fun! And third, we got to drink yummy wine and hang out with friends in the sunshine all day.
And then we came home, ordered some sushi, finished Orange is the New Black, snuggled with Trevi and ate chocolate quinoa pudding. My belly was full and my heart was happy. It was pretty much a perfect day.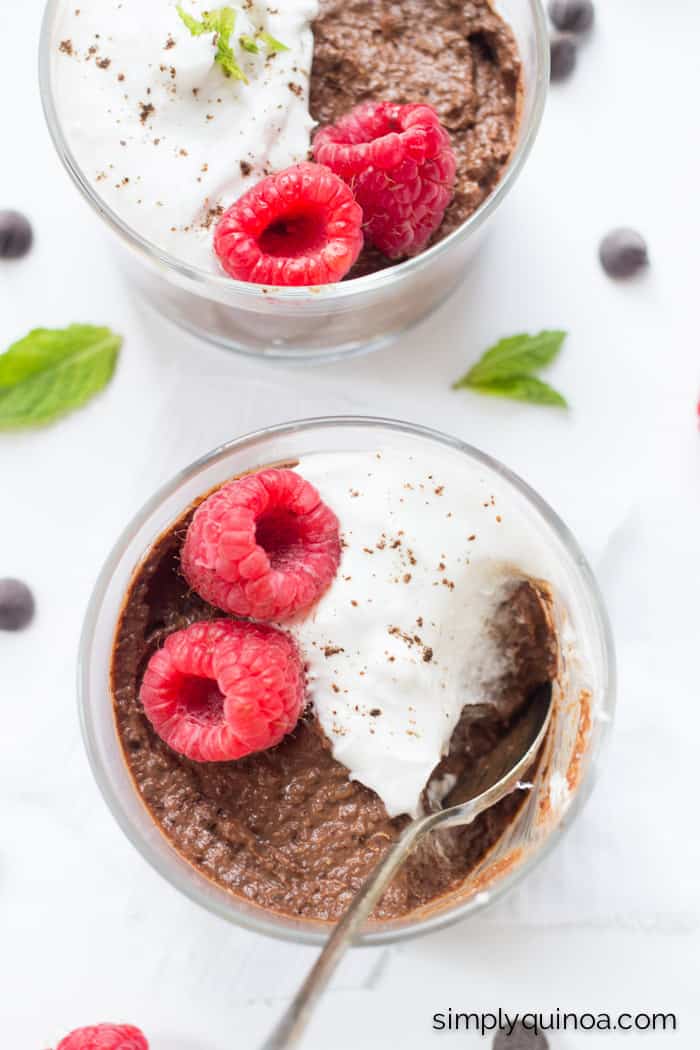 But in all fairness, even if our day had been rainy or we had stayed in cleaning or hung around our neighborhood doing errands, and it still ended with this chocolate pudding, it would have been a great day. Chocolate cures all, my friends. We just need to face the facts.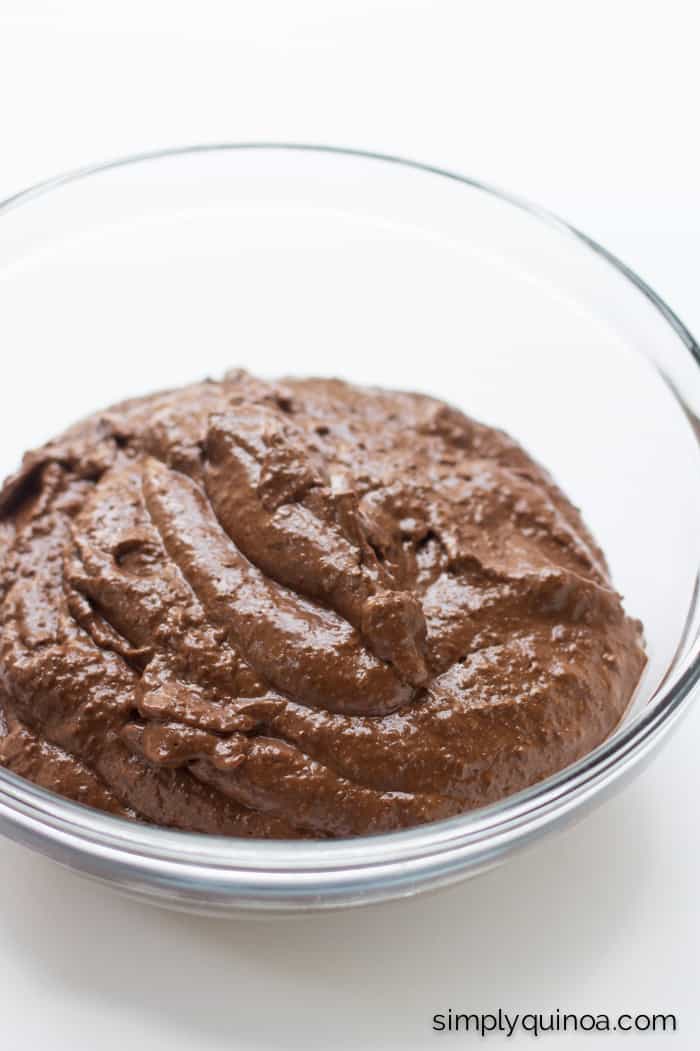 Please tell me you've heard of or tried avocado pudding. Yes? Then you know it's amazing. If not, you've got to check it out asap. Especially if you're like me and are a huge fan of chocolate + avocado, this latest food trend will have you smiling from ear to ear.
I adore that people have found a way to enjoy chocolate in a totally healthy way. A pudding that's packed with healthy fats, fiber, protein, and vitamins? I'll take it!
And now that I've hyped up avocado pudding, I'm sorry to let you down and say there's no avocado in today's recipe. BUT I'll do you one better. This pudding is chocolate, quinoa, and coconuts!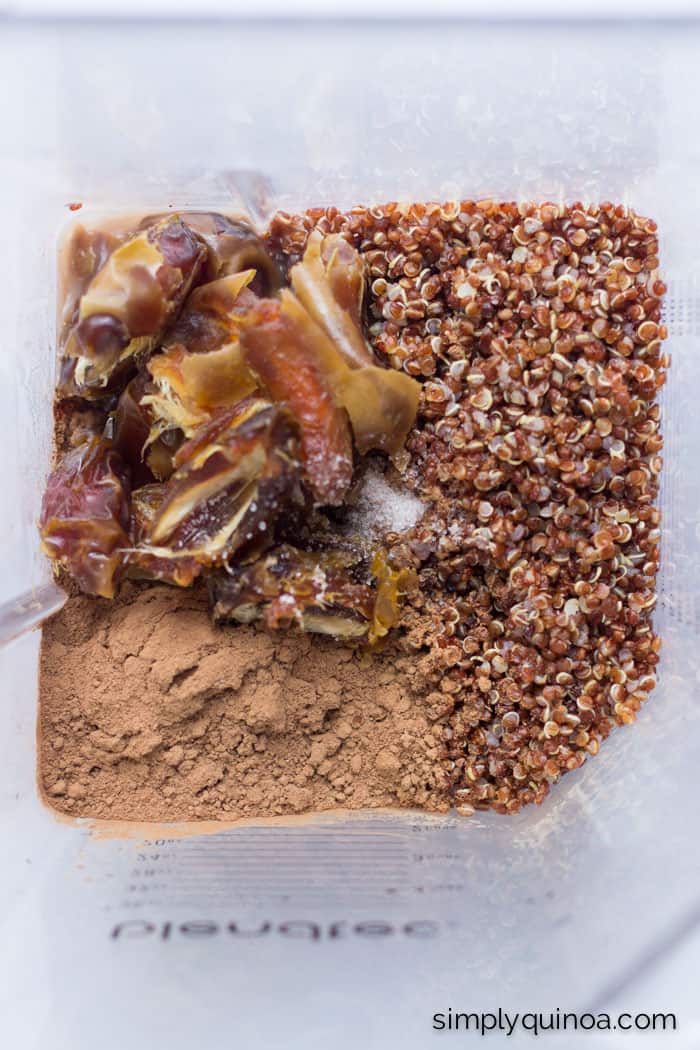 Rather than giving you another avocado pudding recipe – I mean how many different versions do we need? – I wanted to make my own version of healthy chocolate pudding that still had a few of the same characteristics as avocado pudding, but with a simple quinoa twist.
It's rich, creamy, smooth, totally satisfying, sweetened naturally, laced with good-for-you fats, and makes for one epic dessert.
The key, aside from the cooked quinoa, dates and raw cacao powder, is coconut whipped cream. I folded it in after I blended the initial ingredients and it became almost like a mousse. At first, it might seem a little runny, but since the coconut cream hardens in the fridge after you let it set, it has the most velvety smooth, pudding-like texture.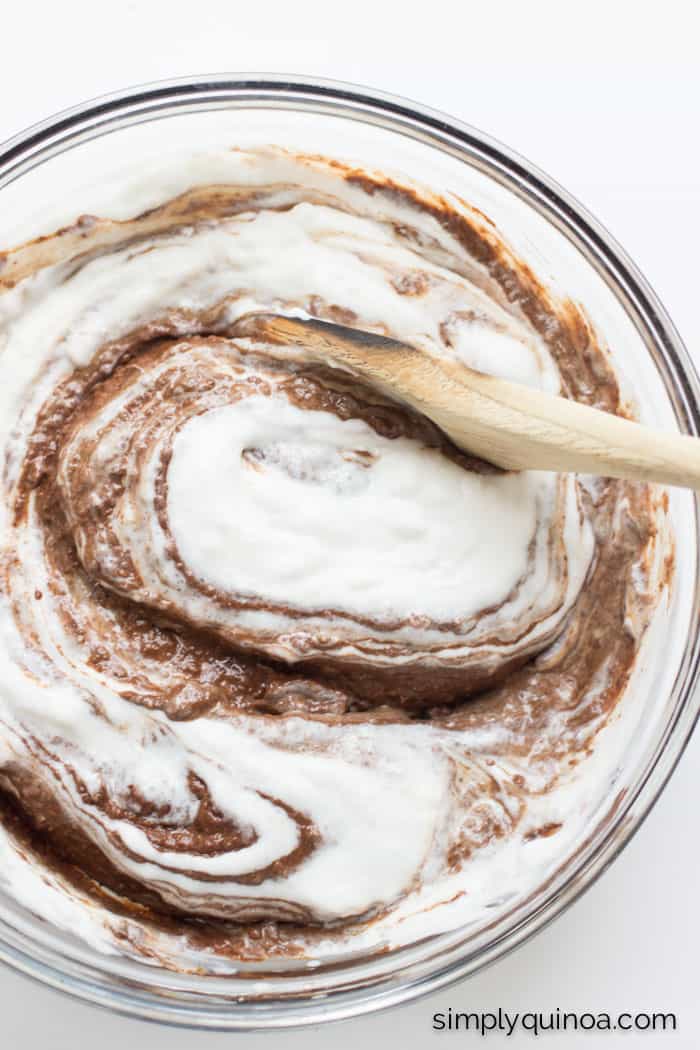 And you guys? It's freaking awesome. I haven't been able to stop eating it. I'm not kidding when I tell you that every time I walk by the fridge – which obviously is all the time – I sneak a spoon in the bowl. I've now resorted to just leaving the spoon in the bowl so I don't have to get a new spoon every time.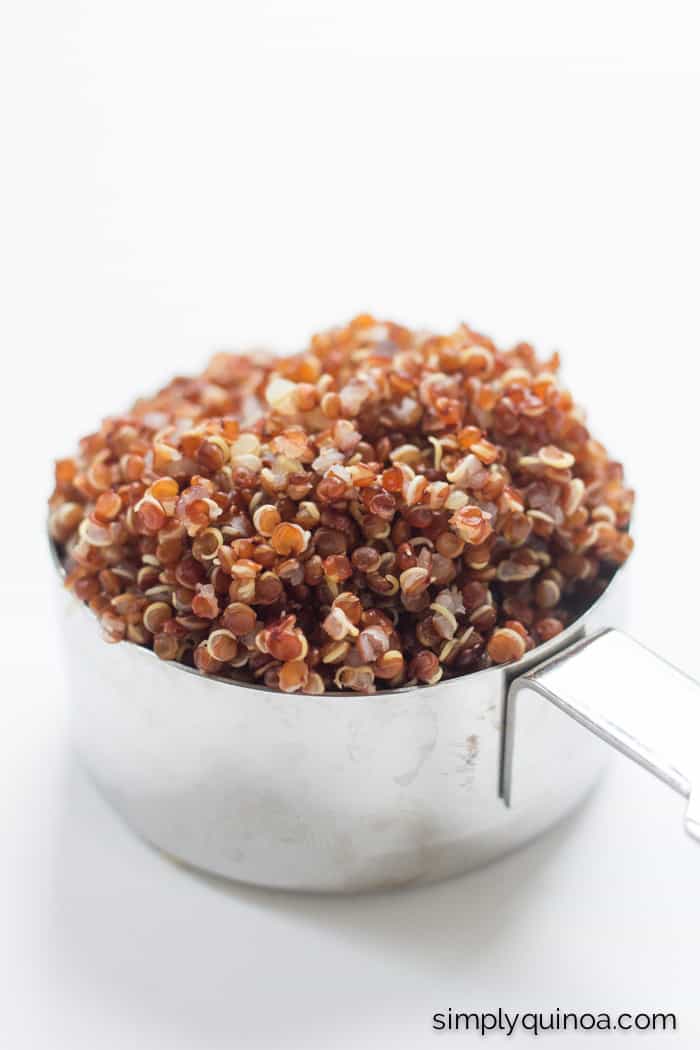 For this recipe, I decided to use red quinoa. What I like about red quinoa is that it has a slightly nuttier flavor than white quinoa, it's got a bit more texture and because it's darker in color, it would help make the chocolate super dark and tempting.
My favorite red quinoa is the kind from Ancient Harvest. You already know about my love affair with this brand, but each time I try a new product I'm hooked. Their red quinoa is one of those amazing products – it's got a great flavor, a bit of crunch to it and it cooks up beautifully. A perfect addition to this pudding.
Not only are we getting the health benefits of the quinoa, but when the quinoa is blended with the coconut water, dates and chocolate, it acts as a thickener and helps give the pudding that smooth and decadent finish.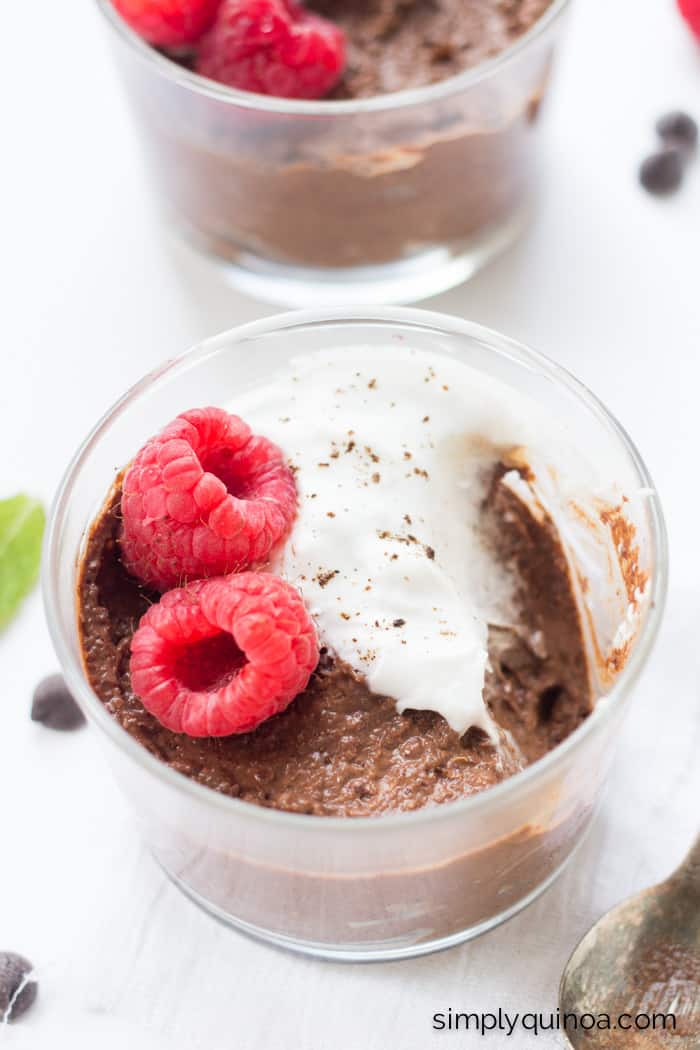 Ready to grab your spoon? It's time to get our chocolate pudding on!

If you make this recipe, make sure to snap a pic and share it on Instagram using #SIMPLYQUINOA – I want to see your own quinoa creations!
Other Healthy Quinoa Desserts:
Dark Chocolate Quinoa Pudding
It's rich, creamy, smooth, totally satisfying, sweetened naturally, laced with good-for-you fats, and makes for one epic dessert.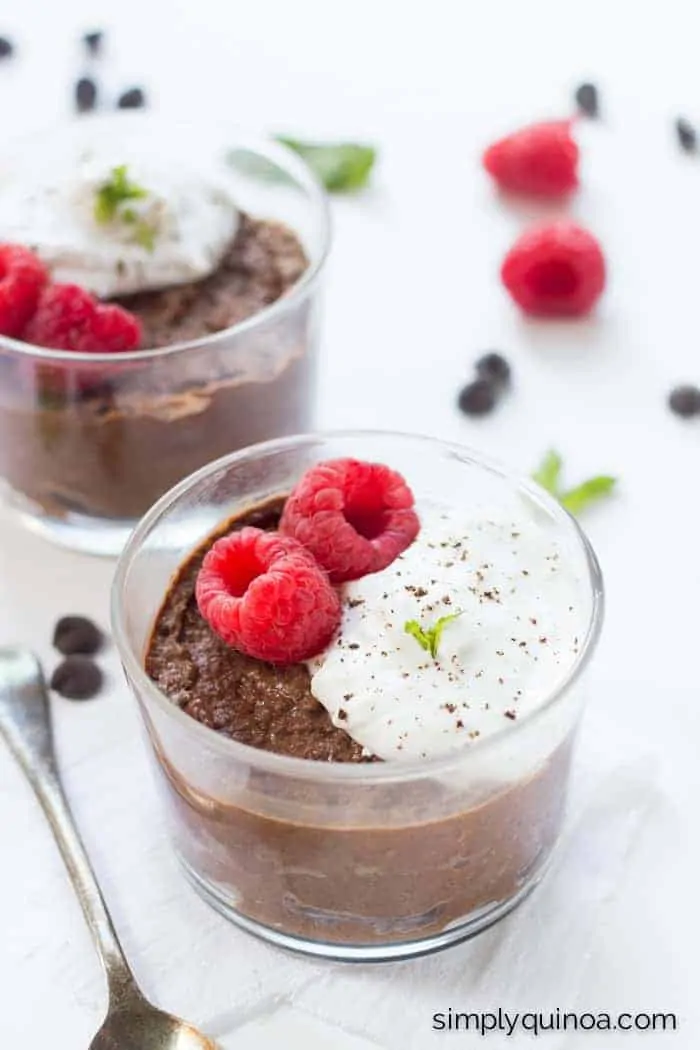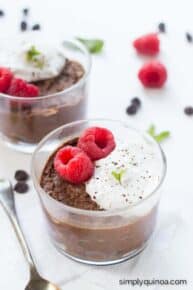 Instructions
Place two cans of full-fat coconut milk in the fridge for at least 8 hours or overnight. When ready to assemble the pudding, scoop out the hard coconut cream from the top of each can and add it to a mixing bowl. Whip the cream until soft and pillowy. Place bowl back in the fridge while you assemble the rest of the pudding.

Add the 3/4 cup of coconut water (what's leftover in the can) or regular water into the bottom of a blender. Add quinoa, dates, cacao powder, sea salt and stevia and blend on high until smooth and creamy. The pudding will be quite thick at this point, but don't worry!

Transfer the pudding to a large mixing bowl. Fold in coconut cream, starting with 3/4 of a cup. Place the bowl back in the fridge for at least 30 minutes to let the pudding firm up. If it's too firm when you want to eat it, stir in another 1/4 cup of cream.

Serve cold with additional whipped coconut cream, fresh berries and a sprinkle of cacao powder.
Nutrition
Calories:
337
kcal
|
Carbohydrates:
35
g
|
Protein:
6
g
|
Fat:
23
g
|
Saturated Fat:
19
g
|
Sodium:
128
mg
|
Potassium:
678
mg
|
Fiber:
7
g
|
Sugar:
13
g
|
Vitamin A:
25
IU
|
Vitamin C:
2.7
mg
|
Calcium:
51
mg
|
Iron:
3.9
mg
Filed Under:
This post was sponsored by Ancient Harvest, but all opinions are my own. I only share brands that I am passionate about, so thank you so much for supporting them! Learn more about Ancient Harvest on Twitter, Instagram, Pinterest, and Facebook.