These fudgy quinoa brownies are healthy and delicious. With a decadent texture and a rich flavor, you'd never know these brownies were gluten-free + vegan!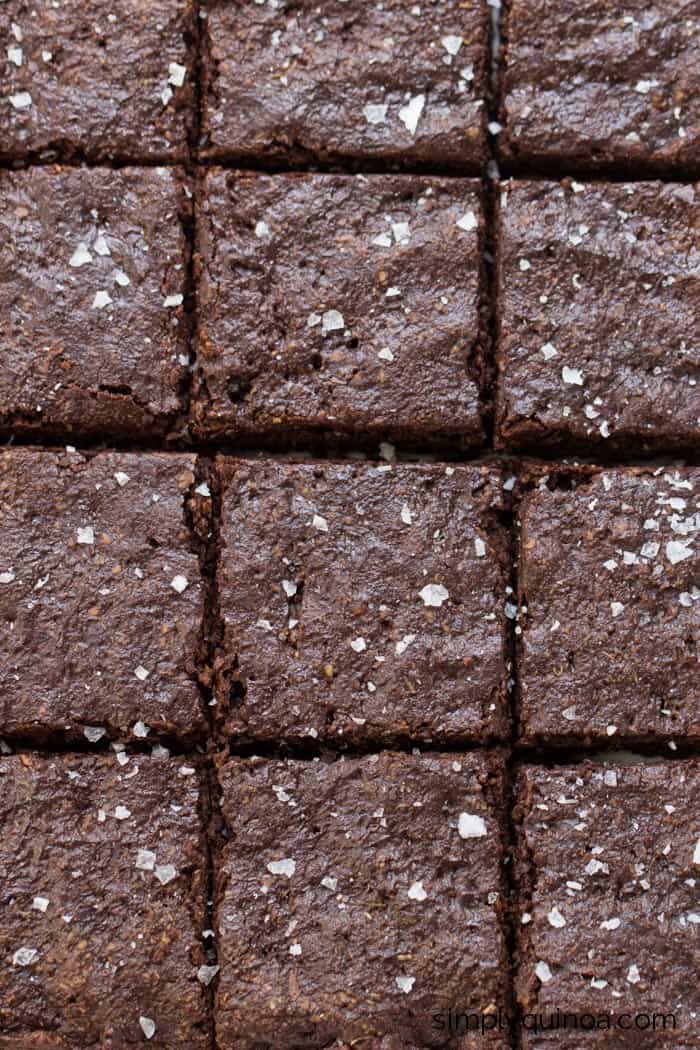 Not only is today Sunday, which in my world is the perfect day to bake, but today is also Father's Day which means baking is a must.
It might seem strange to some, but in my household, my dad is the baker, my mom is the cook. He's not like an actual baker, he just really enjoys it and growing up we always had fresh, homemade goodies around to satisfying our sweet tooth.
His go-to has always been chocolate chip cookies and still to this day he whips them up whenever we're going somewhere, but I think my favorite one of his creations is from scratch brownies. They're ooey, gooey and filled with rich, dark chocolate flavors and they're one of those treats that always remind me of Dad.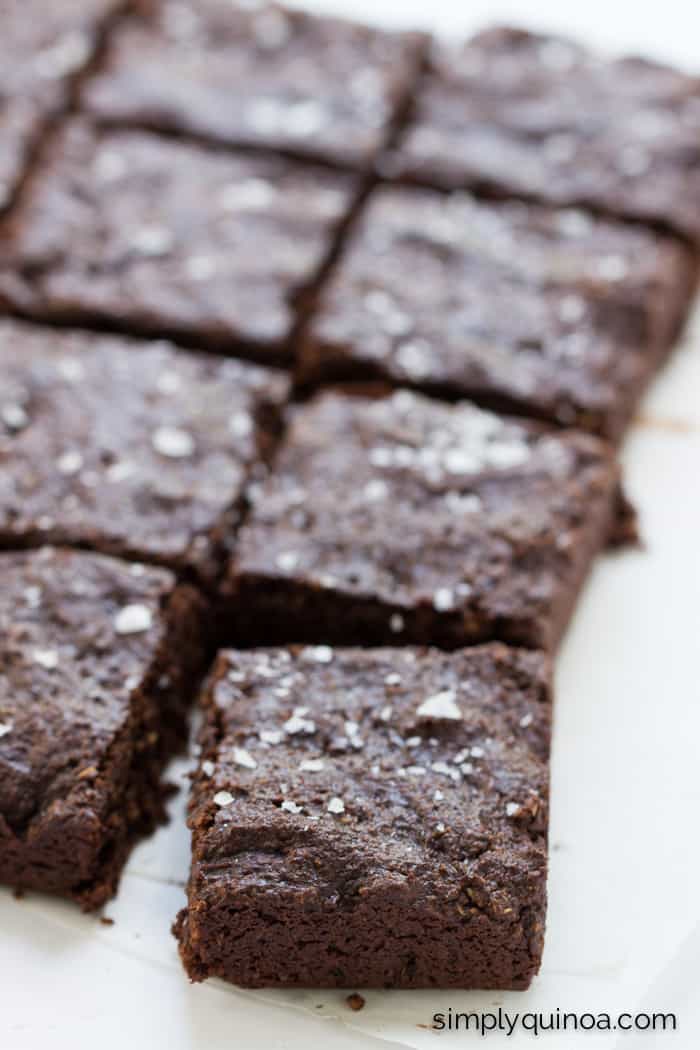 In honor of my handsome, brownie-baking dad, I thought I'd whip you up my own version.
While not quite as decadent, and certainly without all the dairy and gluten, these brownies are still the perfect treat for whenever you find yourself needing a little chocolate fix.
I mean…how can you go wrong with salt, chocolate + quinoa?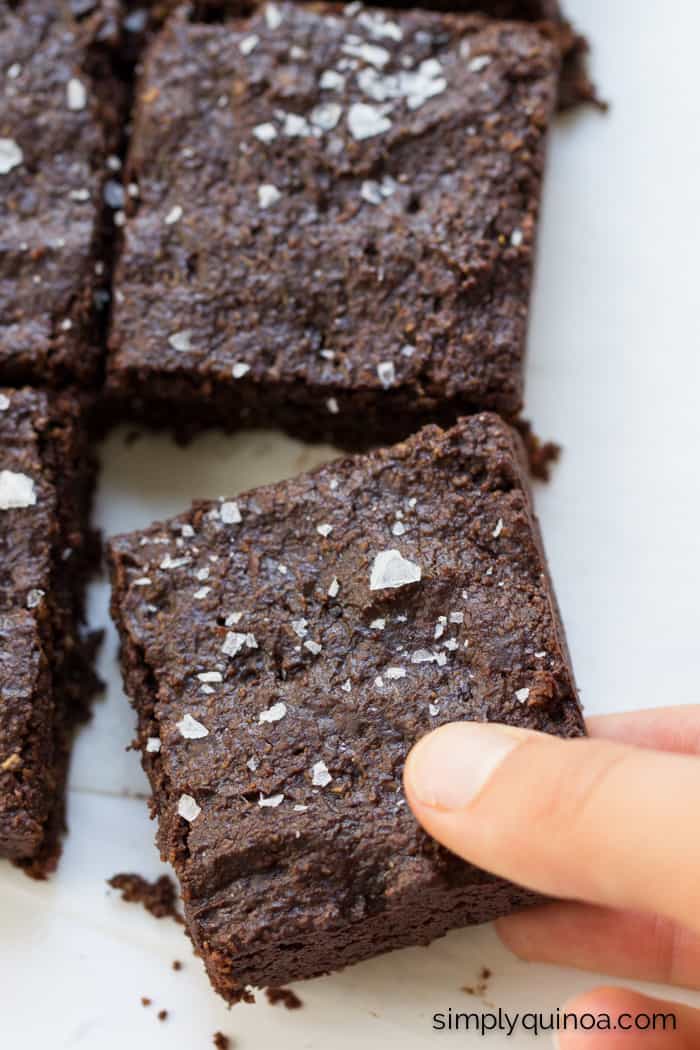 The base of these brownies is oat flour, almond flour, quinoa and raw cacao powder. Then there's the melted dark chocolate chips, a touch of coconut oil, coconut sugar and….avocado!
I know I'm insane, but I swear
1) you can't taste it
2) it makes them super moist
3) it makes them healthier
Which means we can have two, right? Right.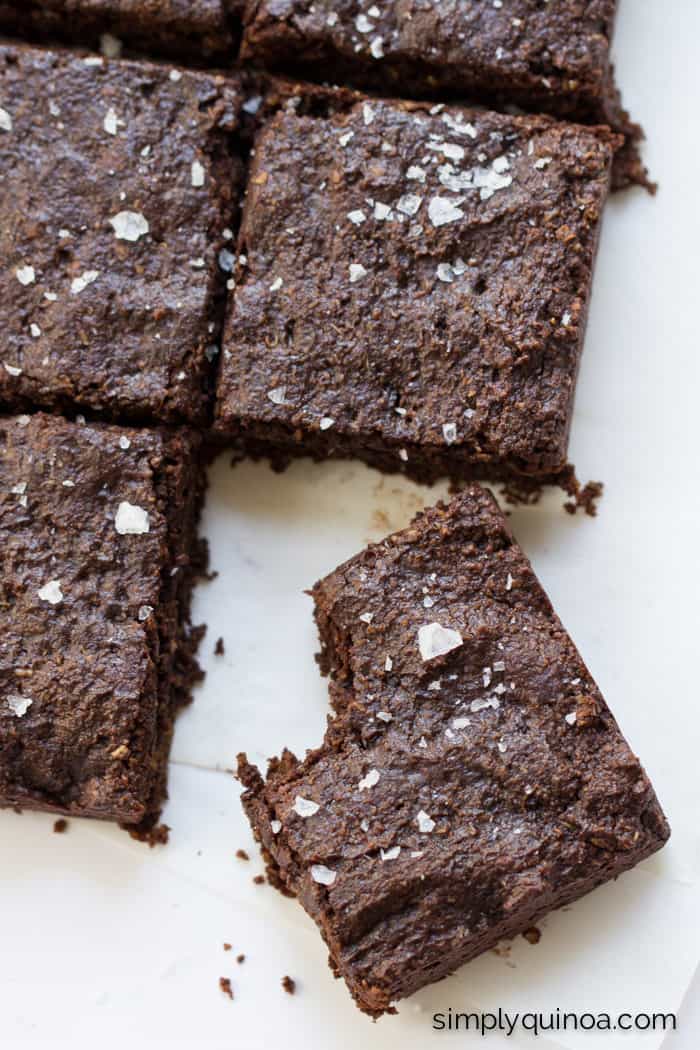 Making the ultimate quinoa brownie took a bit of work. I made one batch and they were too dry. Made another batch and they were again too dry. Made another batch and this happened….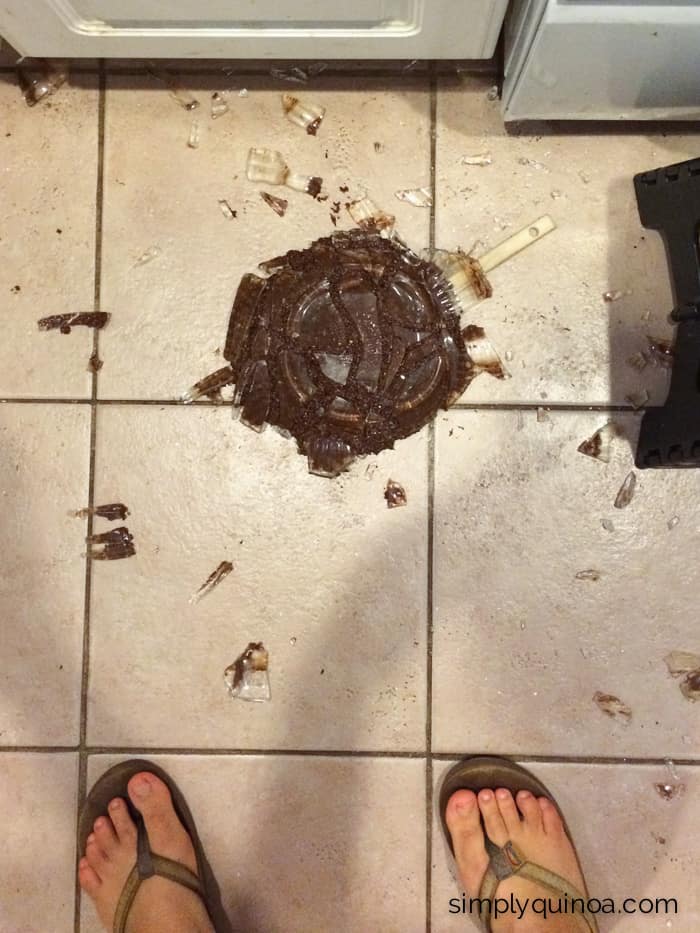 (note to self: don't press tofu using your tea kettle while making brownies. the tea kettle will fall over and your brownies will end up on the floor. love, alyssa)
But I ended up with these wonderfully moist, and perfectly salted brownies, so it was all worth it. Fudgy quinoa brownies here I come!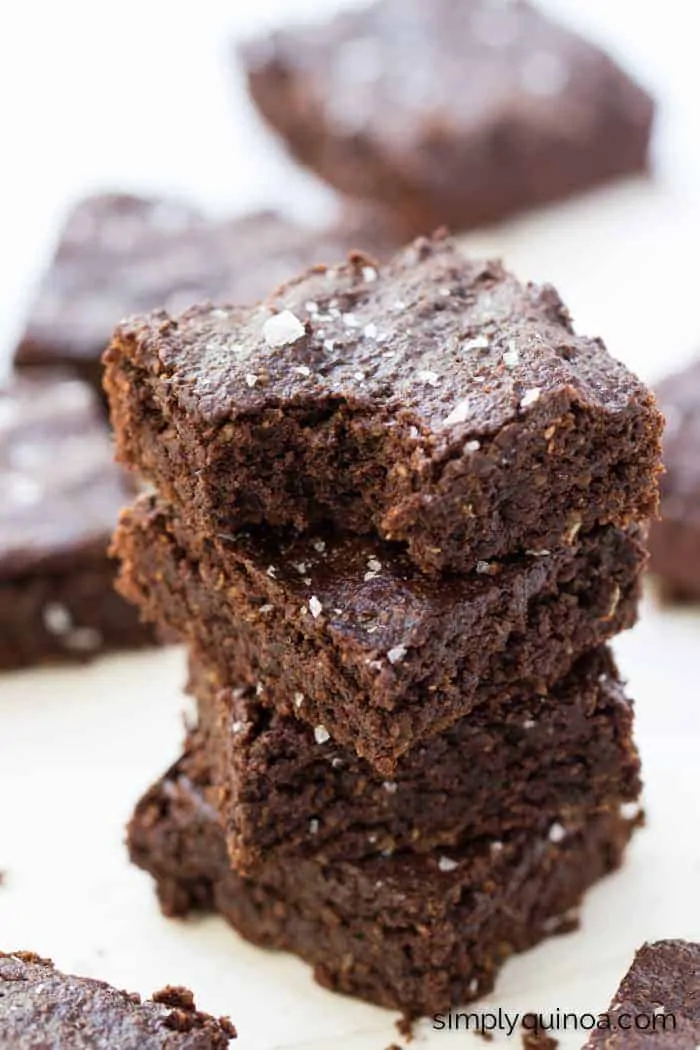 And if you're celebrating your dad today, whip him up a batch of these awesome brownies. I promise, they'll be a total hit. Happy Father's Day!
xo Alyssa
More Brownie Recipes To Try:
Share this recipe!
Fudgy Salted Quinoa Brownies
While not quite as decadent, and certainly without all the dairy and gluten, these brownies are still the perfect treat for whenever you find yourself needing a little chocolate fix.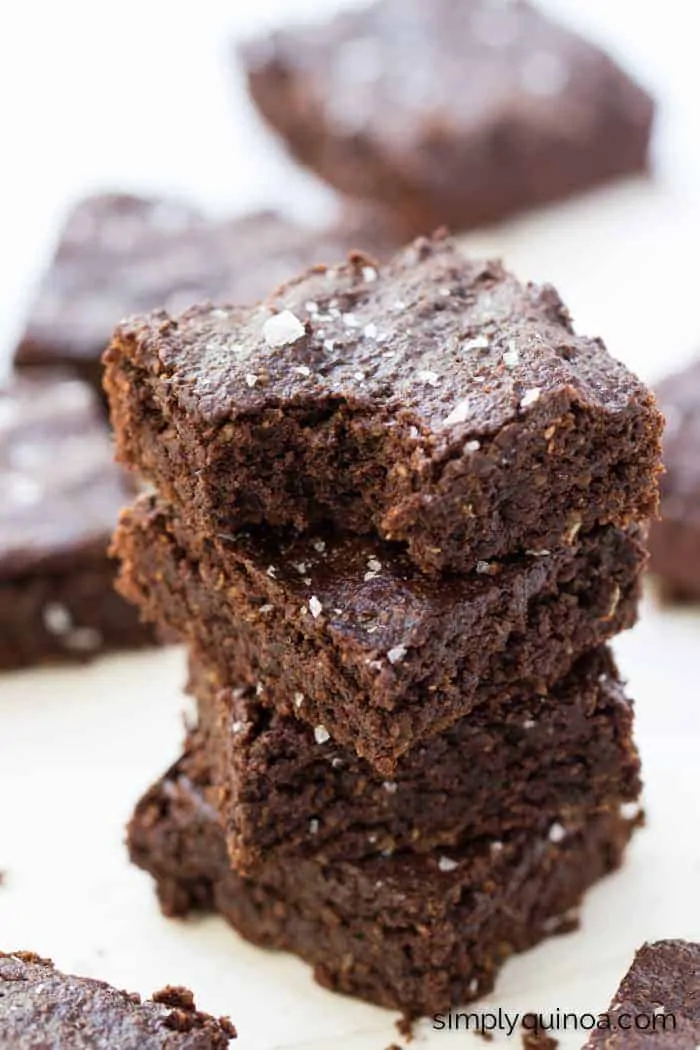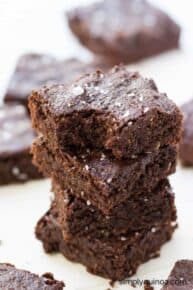 Instructions
Preheat the oven to 350 degrees F. Line a 9X9 baking pan with parchment paper and set aside.

In a small bowl, whisk together the flaxseed meal and water. Set aside while you prepare the remaining ingredients.

In a large mixing bowl, whisk together the flours, quinoa, cacao powder, arrowroot, salt, baking soda and espresso powder. Set bowl aside.

In a double boiler, add chocolate chips and coconut oil. Heat until chocolate has melted and is smooth. Remove from heat and allow to cool for 2 minutes. Once cooled, whisk in the avocado, milk, vanilla and flax egg.

Add coconut sugar to a high powdered blender and blend on high until powdery. Add sugar to the chocolate mixture and stir to combine.

Pour chocolate into dry ingredients. Stir together until a thick dough forms. The dough will be thick, so don't be tempted to add more liquid.

Transfer dough to the prepared pan and press into the pan with wet hands. Smooth the top as best as you can.

Bake on the center rack for 26 - 28 minutes. Remove and sprinkle with salt. Allow to cool for at least 1 hour in the pan before transferring to a wire rack and cooling completely. DO NOT slice the brownies before they are totally cooled down or they will be crumbly.

Store in an airtight container for up to three days.
Nutrition
Calories:
180
kcal
|
Carbohydrates:
23
g
|
Protein:
4
g
|
Fat:
8
g
|
Saturated Fat:
3
g
|
Sodium:
141
mg
|
Potassium:
140
mg
|
Fiber:
3
g
|
Sugar:
8
g
|
Vitamin A:
5
IU
|
Vitamin C:
0.2
mg
|
Calcium:
48
mg
|
Iron:
1.2
mg
Filed Under:

If you make this recipe, make sure to snap a pic and share it on Instagram using #SIMPLYQUINOA – I want to see your own quinoa creations!