We spent a weekend at Deer Valley Ski Resort in Park City, UT and it was amazing! Sharing everything we did, where we ate, the accommodations and so much more!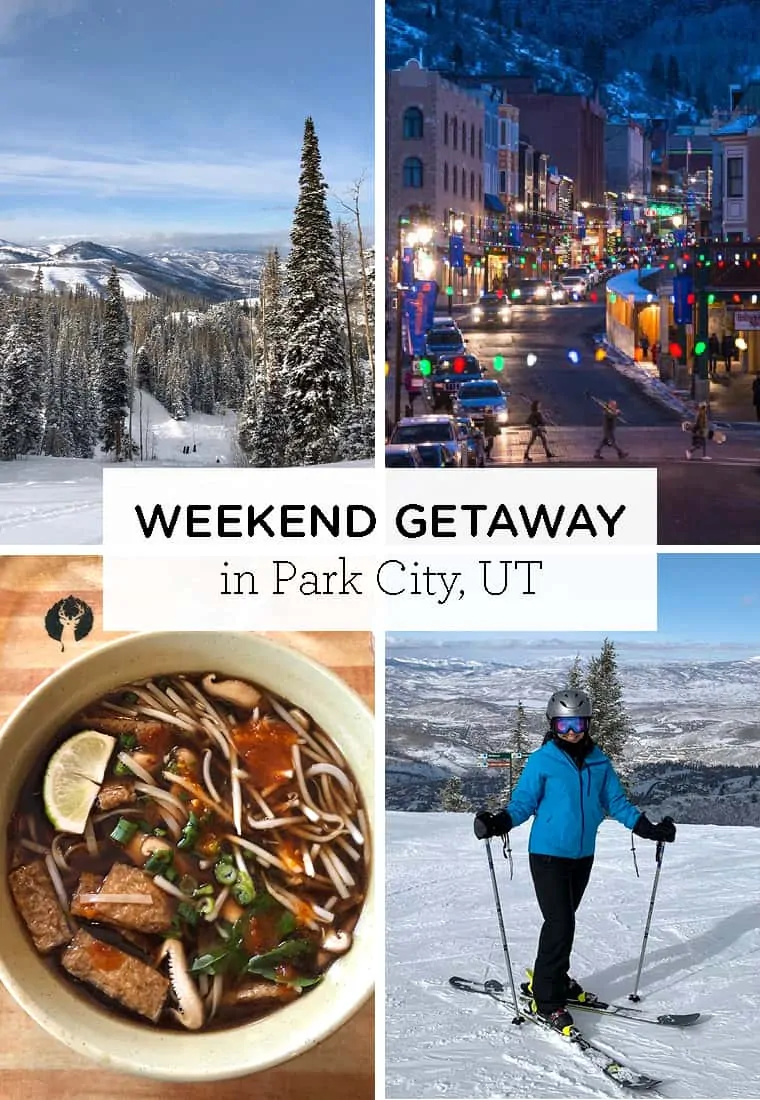 Two weeks ago I had the pleasure of skiing out west for the first time! We stayed at the Deer Valley Ski Resort and it was an absolute dream. Now, I've grown up skiing on east coast mountains, so to say this was a treat is an understatement. Our second day out there? We got a foot of powder.
Now if skiing is totally foreign to you, or you've never skied out east, you probably don't quite get what I mean. So let me explain. The east coast mountains are known for a few things:
cold, cold, COLD
windy peaks
lots of ice
crowded lift lines
The west coast on the other hand? Way bigger mountains, lots of open space, much milder temperatures, and powder. Lots and LOTS of powder!
Which, little did I know, makes skiing so much more enjoyable!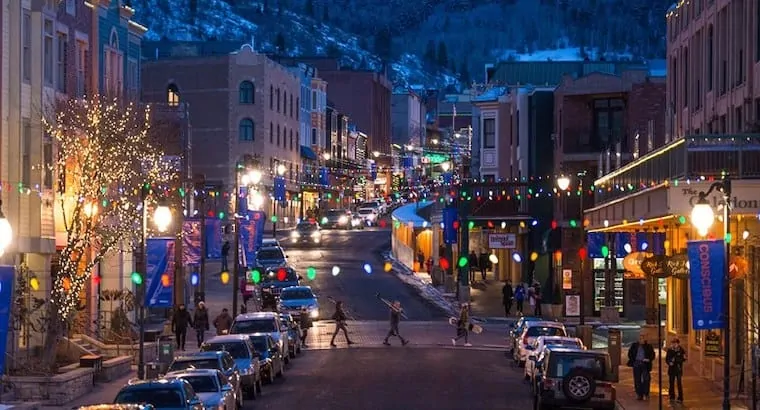 Getting to Park City
We – my cousin and I – were invited to ski at Deer Valley for the weekend and it was an absolute blast. I'd never been to Utah before and I was surprised how easy it was to get to Park City!
Park City is about a 45-minute drive from Salt Lake City, so you can fly into Salt Lake and either:
Pick up a rental car
Take an uber
Take a bus (I think it would be two)
Hire a shuttle
If you're staying at Deer Valley, they have transportation they can help arrange (which is what we did) and it was an absolute dream.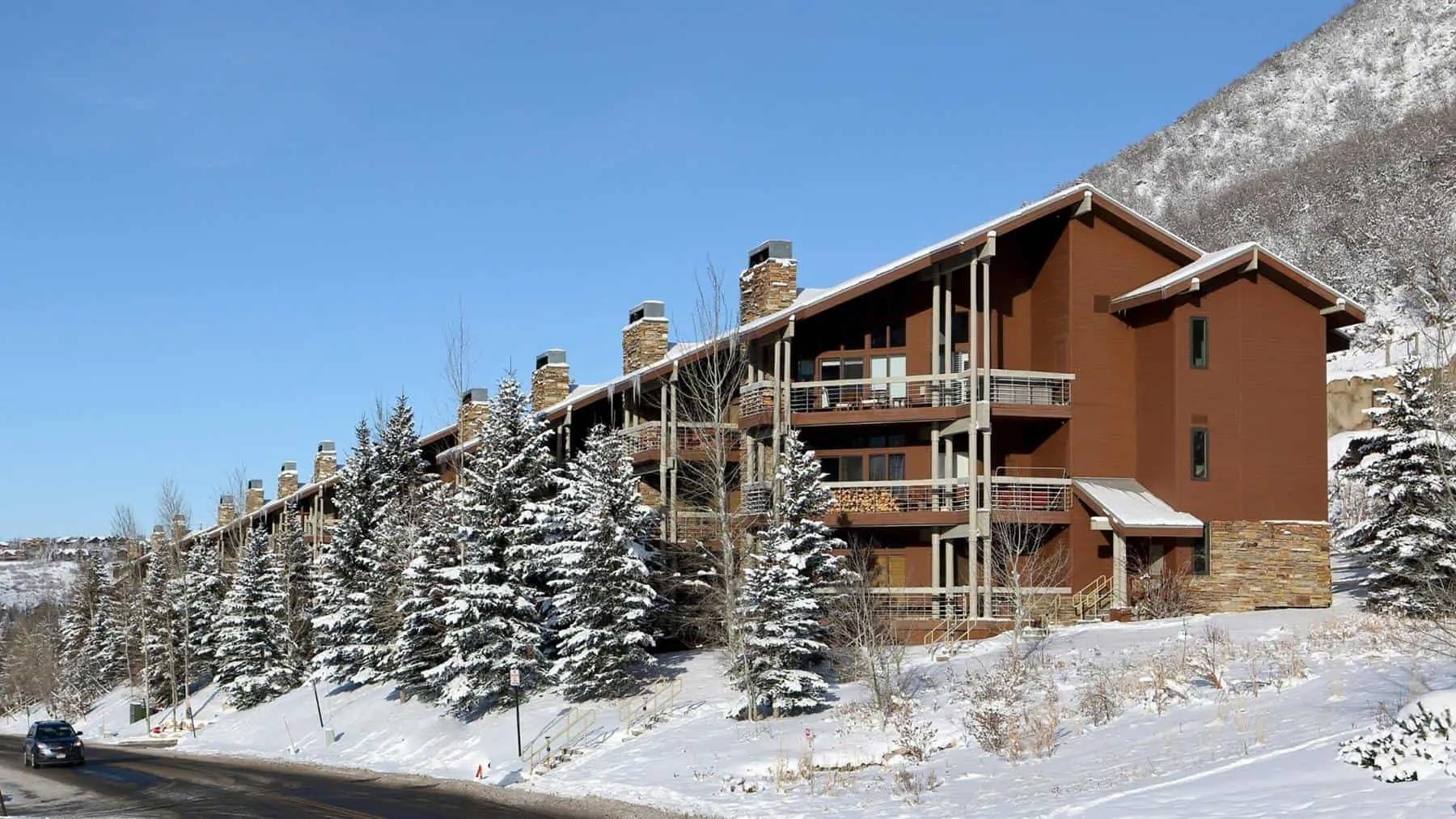 Accommodations at Deer Valley Ski Resort
One of the things I was most impressed with about Deer Valley was the accommodation options! There's everything from a high-end hotel – there's a St Regis on the property – as well as lodges, bungalows, ski-in/ski-out, and condos.
We stayed at the Powder Run Condos and it was perfect. You could walk 3 minutes to the base of the mountain, we had two bedrooms, 2.5 bathrooms, a hot tub, a giant comfy couch, and a big kitchen. It was everything we needed and more. So cozy, so comfortable and we felt like we were at home!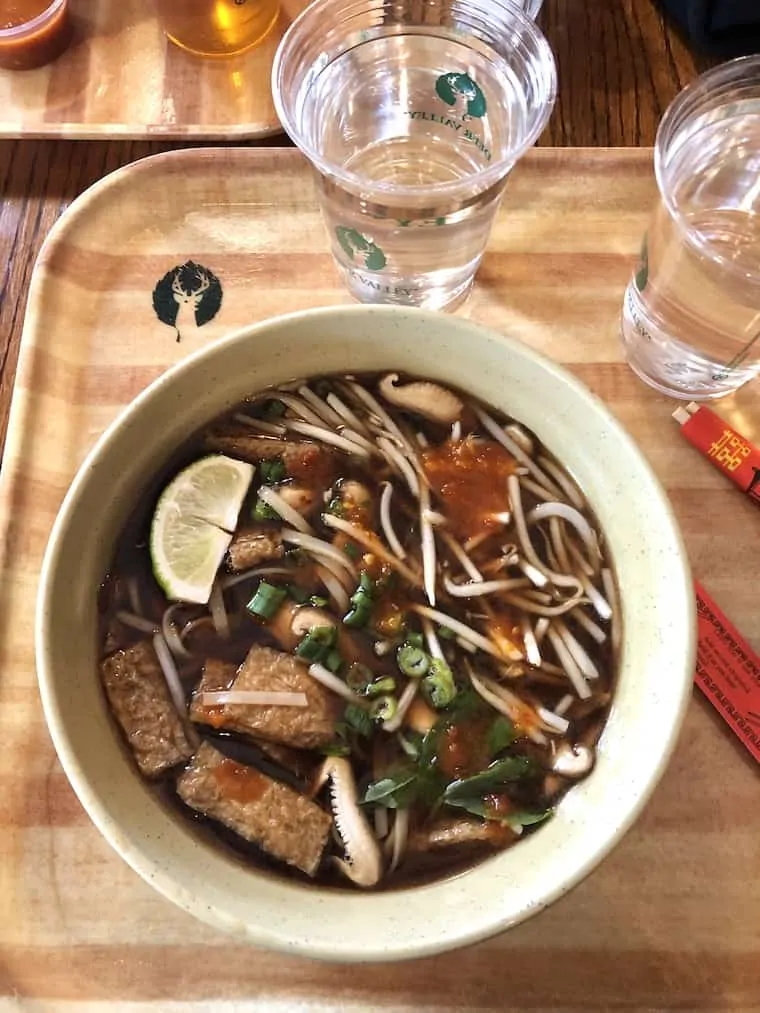 Food Options at Deer Valley Resort
Another thing that was super impressive about Deer Valley was the food options. There was good food at pretty much every lodge and we had so many options! I think they have a total of like 20 places to eat! We had absolutely zero trouble finding gluten-free and vegan options. It was fantastic!
What We Did for Breakfast
For breakfast each morning, we went up to the Snow Park Lodge and grabbed some coffee and something light. Then we'd ski for a few hours and head in for lunch.
What We Did for Lunch
The first day we had lunch at the Royal Street Cafe and it was DELISH! We each got a salad, split some chips and guac and also got the vegan main – a bbq pulled jack fruit sandwich. Pure heaven!
The second day for lunch we ate at the Silverlake lodge and since we were both chilly, so we opted for the pho station. They had a vegan mushroom pho with a ginger miso broth and WOW. So, so, SO good! Exactly what we wanted after a long morning of skiing.
And our final day we had to check out around 2, so we just went to the little grocery cafe and picked up some salads for the road.
What We Did for Dinner
We only ended up having two dinners, so the first night we went downtown and the second night we ate on property. The restaurant went to in downtown Park City was called Twisted Fern and it was great. Farm to table style, lots of plant-based options and great flavor.
The second night we ate at The Mariposa which is Deer Valley's fine dining option. The service was impeccable, the food was delicious and we got an awesome bottle of wine. Definitely worth a splurge if you want something a little special.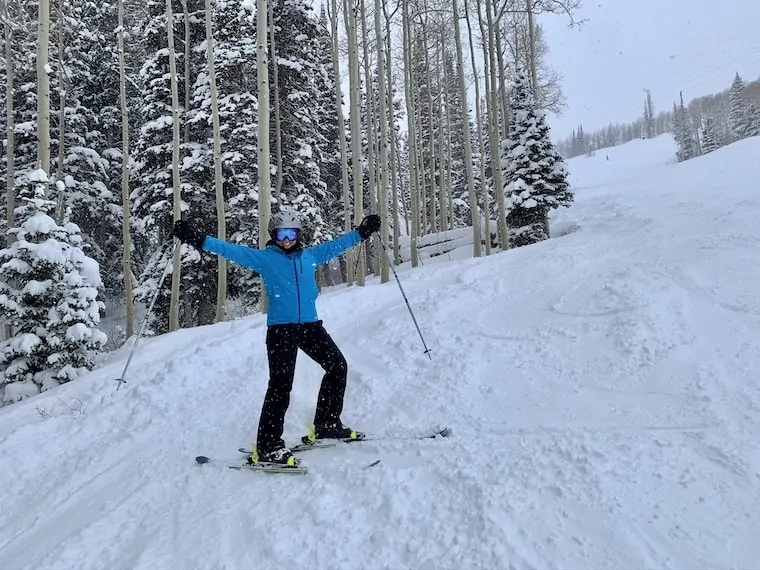 Skiing at Deer Valley Resort
And lastly, let's talk skiing. I felt like Deer Valley had everything for everyone. It was a great family mountain, but there was also some difficult terrain as well. I believe they have over 20 lifts, 100+ trails, and all difficulty levels.
Deer Valley is also only for skiers and they cap their ticket sales each day so there are no lines, the trails aren't crowded and you almost feel like you have the mountain to yourselves!
And the snow…ah, the snow! You really can't go wrong out west because there's always a least a little powder on the trails. We didn't experience any ice (although it does get skied off by the end of the day) and we had the best time. We would start our days with a nice groomer and then we'd hit the ungroomed trails, skiing through the trees, falling in the deep powder and skiing out little hearts out.
It was one of the most fun ski experiences I've ever had! If you're looking for a fun weekend ski away in Park City, I think Deer Valley Ski Resort is the perfect place. There's something for everyone and the skiing is fabulous! Thanks to the amazing team there for hosting us – I can't wait to come back!