This delicious gallo pinto, a traditional dish from Costa Rica, is made a bit healthier with the use of quinoa instead of white rice.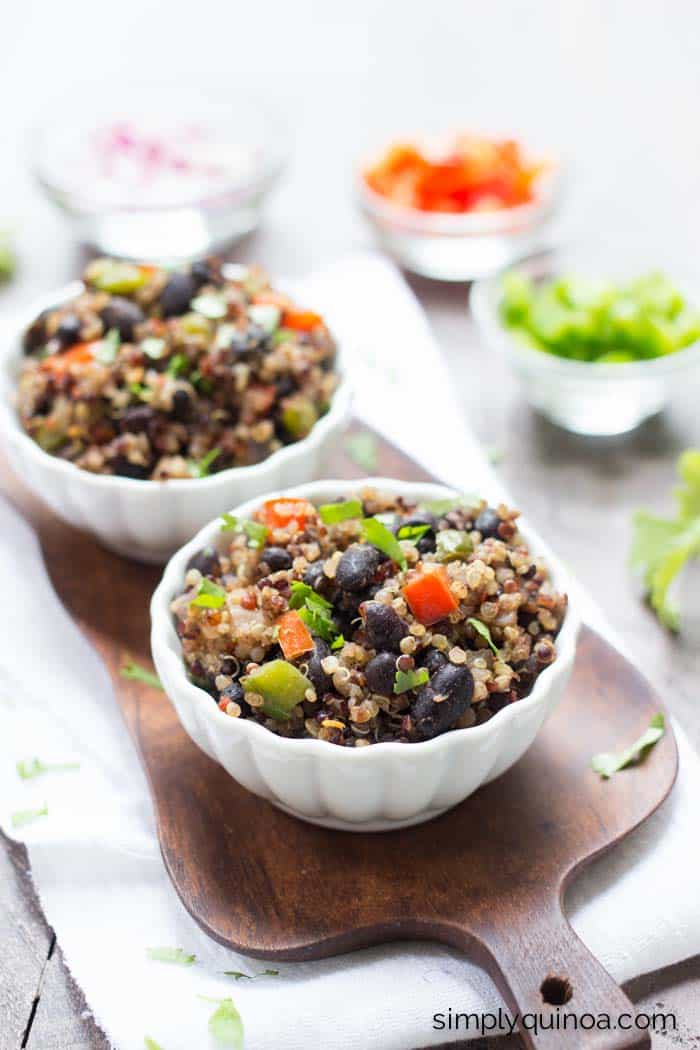 Okay, friends, today is all about VACATION PICTURES! And the food of course. (how can it not be about food?)
You might have read that Matt and I just took a two week trip to Costa Rica. It's one of my favorite countries in the world – I've been there four times (who am I?) – mainly because the people are so welcoming and friendly, the weather is perfect, the landscape and scenery is stunning and the food is amazing.
The traditional dish is Casado which is essentially just a plate of a bunch of different local dishes – some type of meat, sweet plantains, a small salad, sometimes there are some fried cheese balls involved, and Gallo pinto.
Gallo pinto my friends is where it's at. Basically, it's just rice and black beans, but by throwing in some onions, peppers, garlic, spices, hot sauce, this rice, and beans dish becomes something full of flavor. It's outstanding.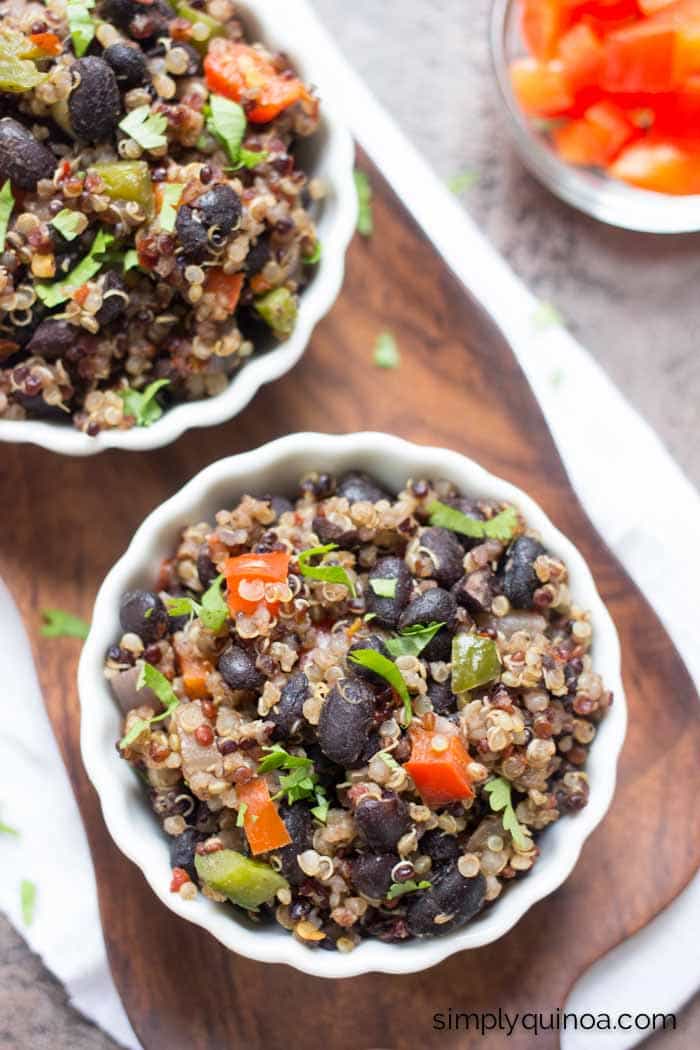 As I was thinking about sharing about our time in Costa Rica, I wanted to give you more than just pictures of the food we ate and the places we saw. So in true Simply Quinoa fashion, I'm recreating this fabulous rice-based dish using quinoa!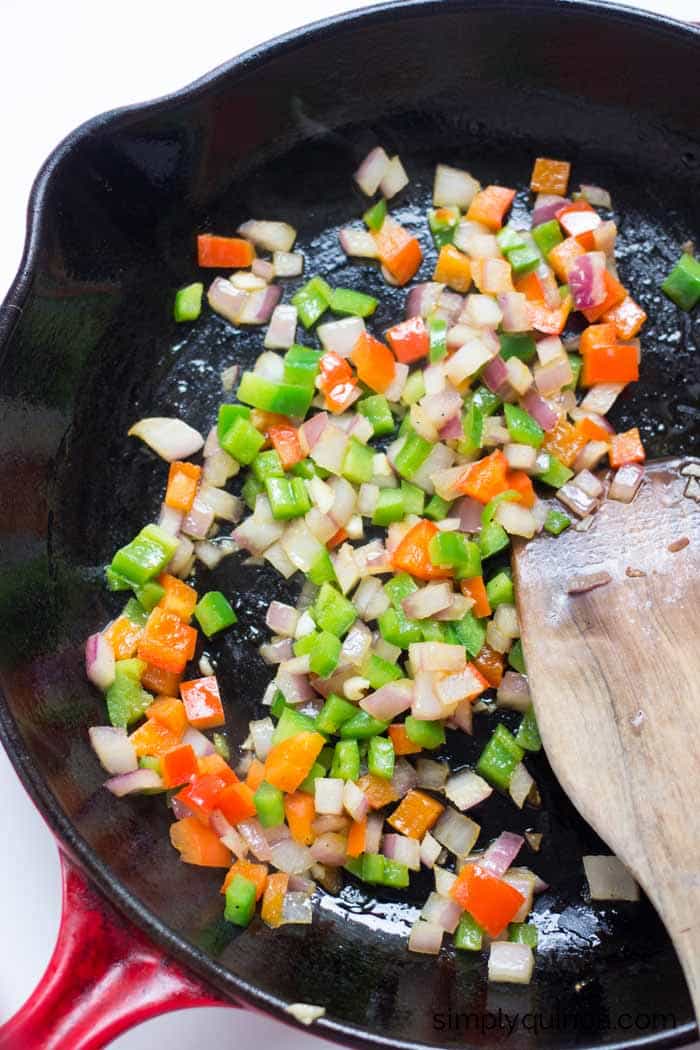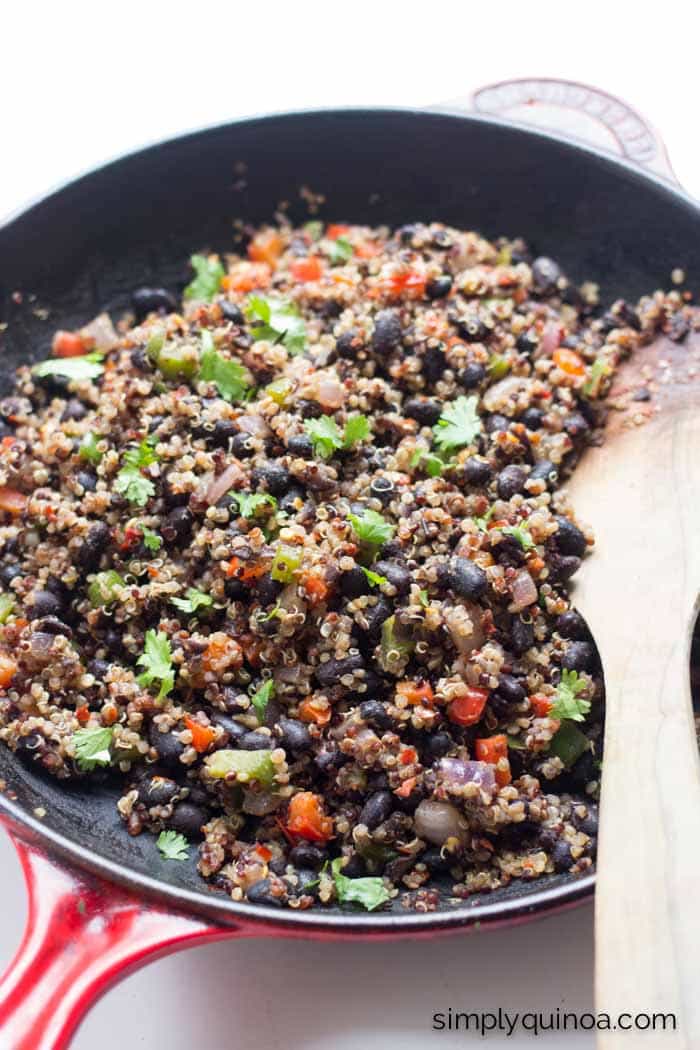 My version of gallo pinto uses quinoa as the base, homemade black beans (which I have to say are SOO much better than the canned variety…why have I never made them before!?), a combo of red and green peppers, red onion, garlic, cumin, and hot sauce.
It almost reminds me of quinoa fried rice but with a distinctly Latin flare. SO GOOD!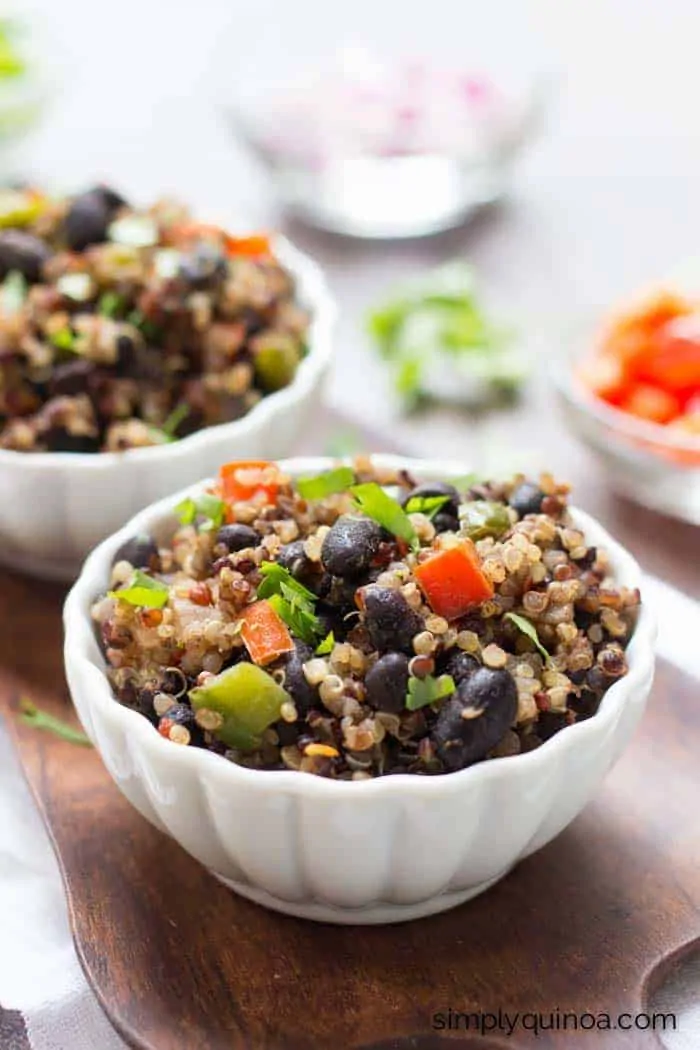 Gallo pinto was a dish that we ate with almost every meal. It's delicious served with eggs or topped with some avocado for breakfast, wonderful next to piece of grilled fish or roasted veggies for lunch and dinner.
But as much as I loved the traditional version, I have to say, I'll take my quinoa gallo pinto over it any day of the week!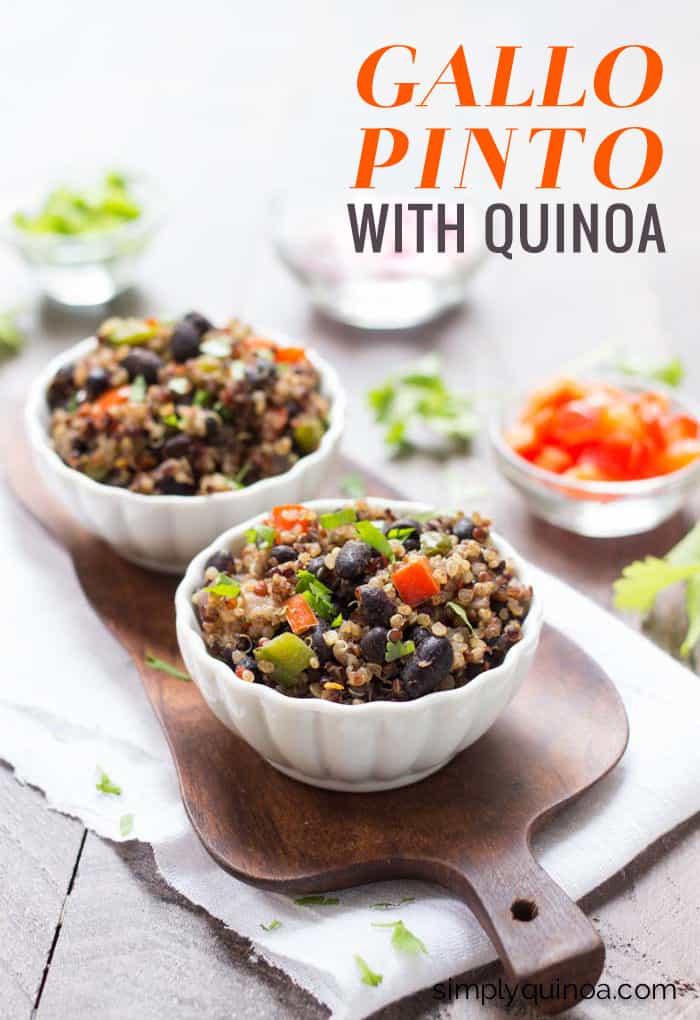 Okay…now it's time for some pictures 🙂 Full disclosure, I had every intention of using my DSLR camera while we were down there, but I didn't take it out once. Not once! Instead, all of the pictures are either taken with our iPhones or with the GoPro that we brought (totally LOVE this little camera and will plan to share our vacation video soon!!).
Monteverde
Our first stop on the trip was to the cloud forest. Since we visited on our last trip, we were only here for one day. Why? Because Matt went bungee jumping (!!). I was a nervous wreck, but he came out unscathed and on an adrenaline high. Before we left we grabbed a quick meal in the center of town – I ordered this amazing tropical salad (which I'll definitely be bringing to the blog) and we shared a passion fruit smoothie. They were both delicious!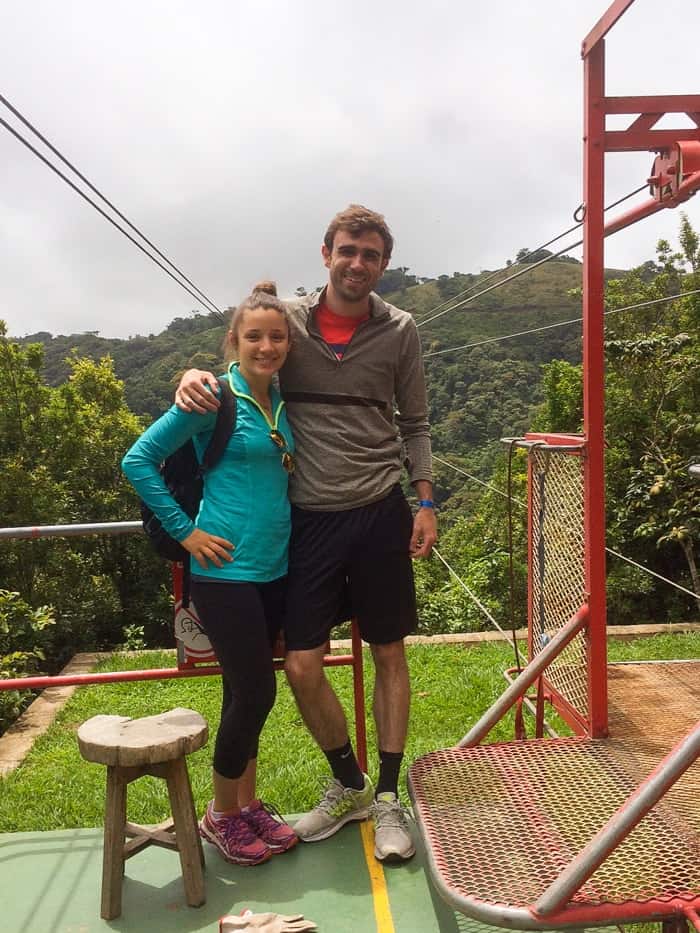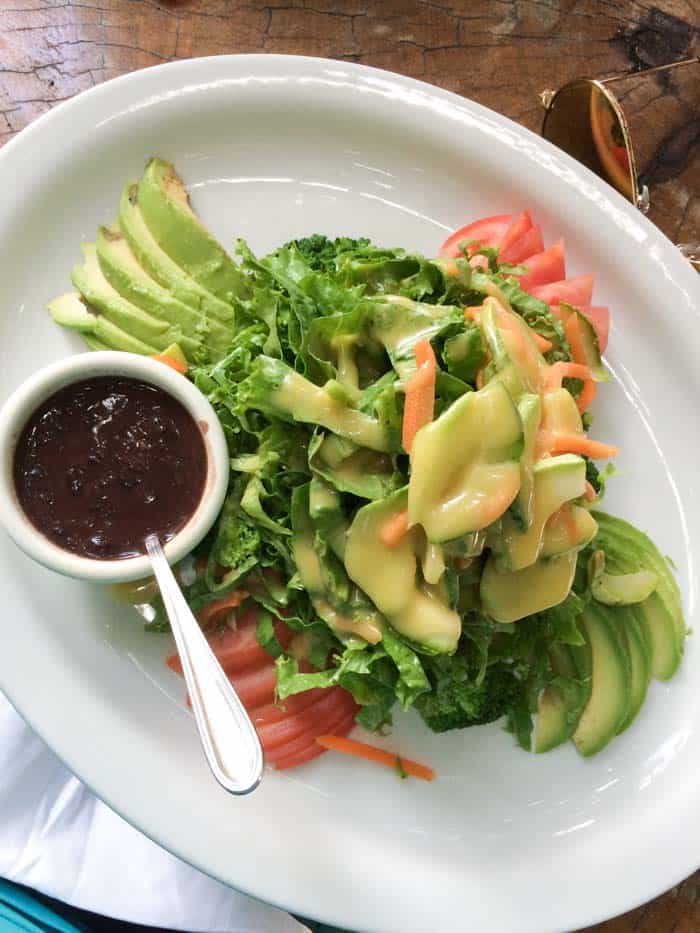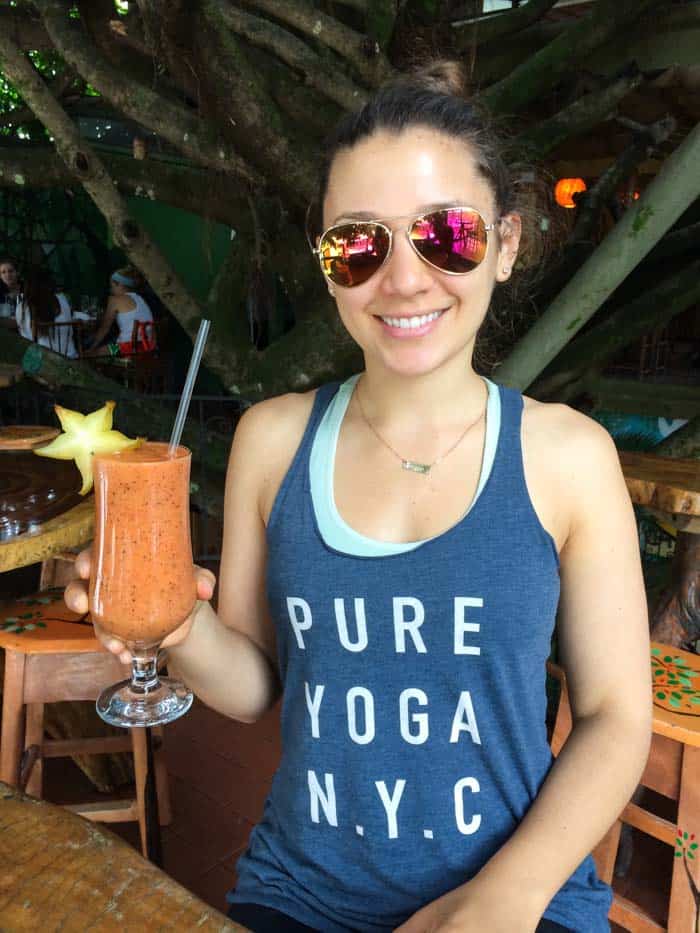 Tamarindo
After leaving Monteverde, we went to the coast. More specifically the beach. Tamarindo, which is a touristy town on the Pacific side of the country, was just what we were hoping it would be. Relaxing, sunny, and perfect beach weather.
We stayed here for 7 nights and couldn't have been happier. With a view of the beach from our room, we watched the sunset, drank water from coconuts and totally chilled out. It was wonderful!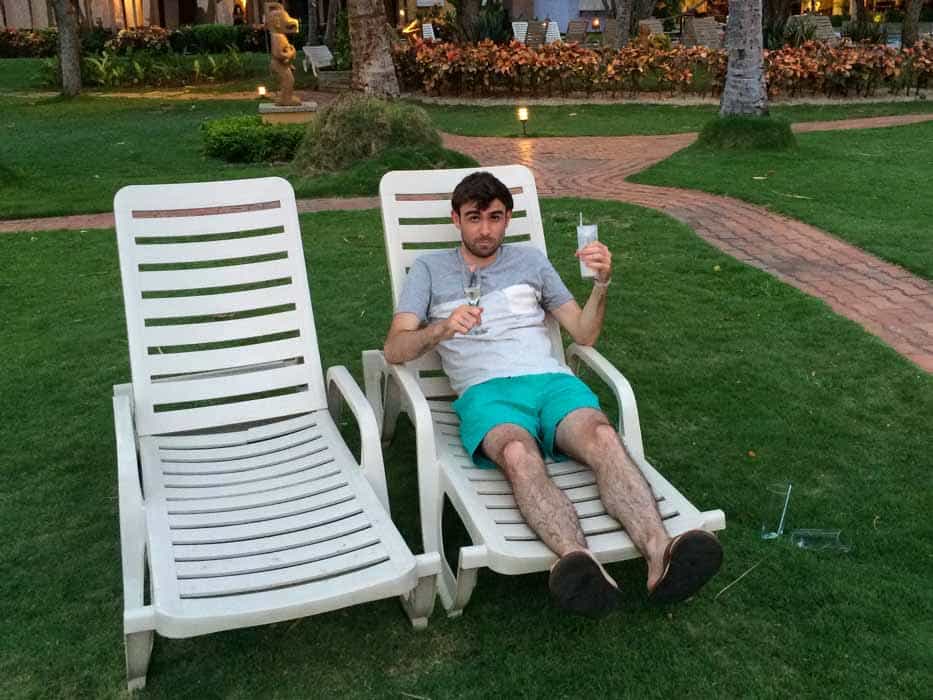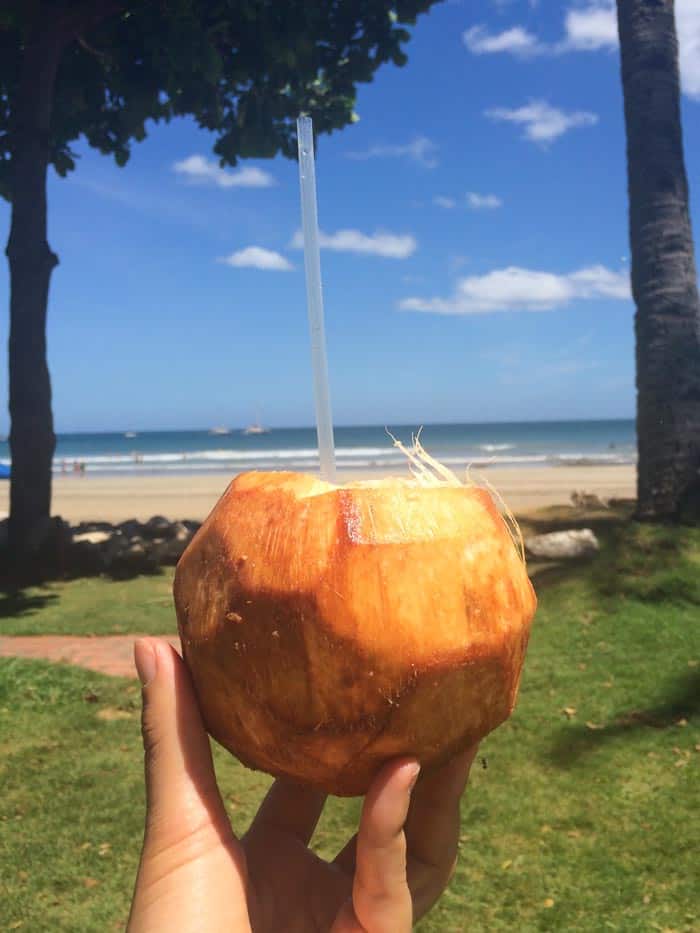 One of our favorite places to eat in Tamarindo was Green Papaya. It had amazing tacos and salads and had tons of GF + vegetarian options. We ate here four times in three days. It was THAT good.
And my favorite part? They had swings outside instead of barstools. So fun!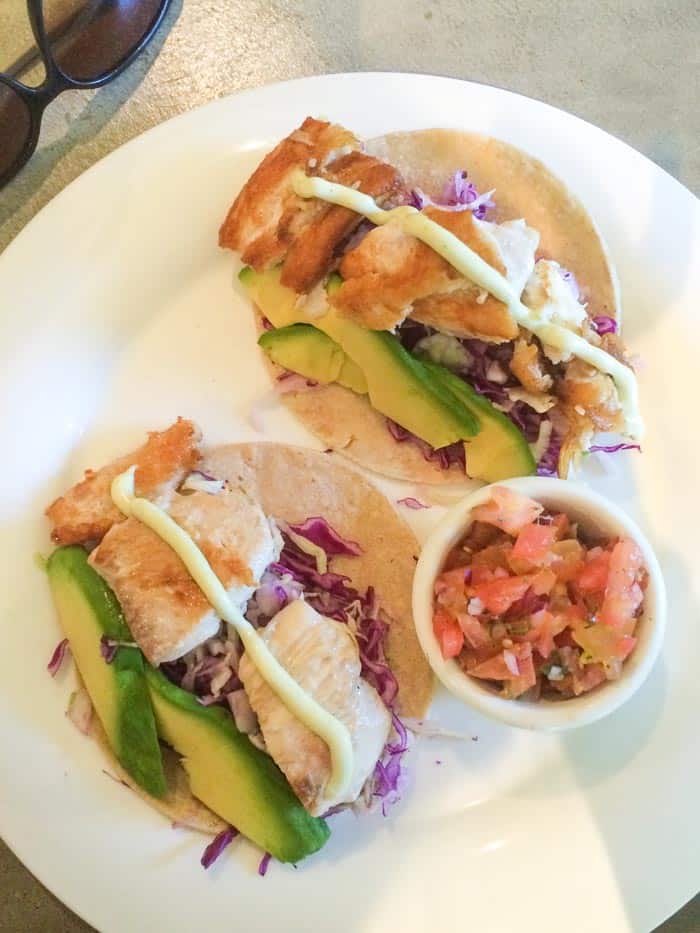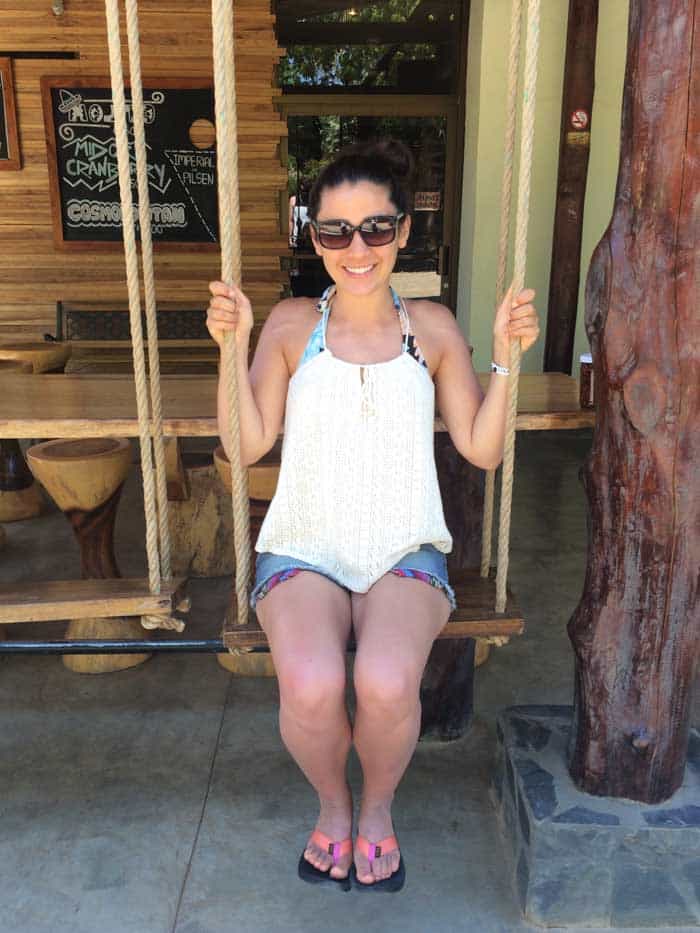 One of our favorite activities that we did during our stay in Tamarindo was a snorkeling trip! We took a boat out to these islands which, if the sea hadn't been as rough, would have been filled with tropical fish.
We didn't see that much because visibility was pretty bad, but Matt and I had fun nonetheless – especially with the GoPro!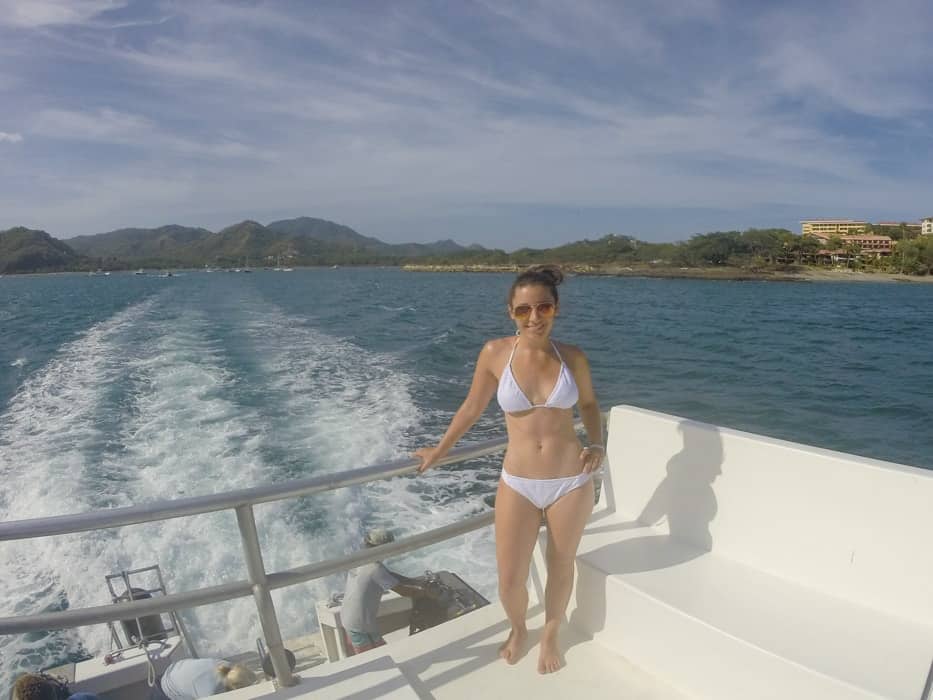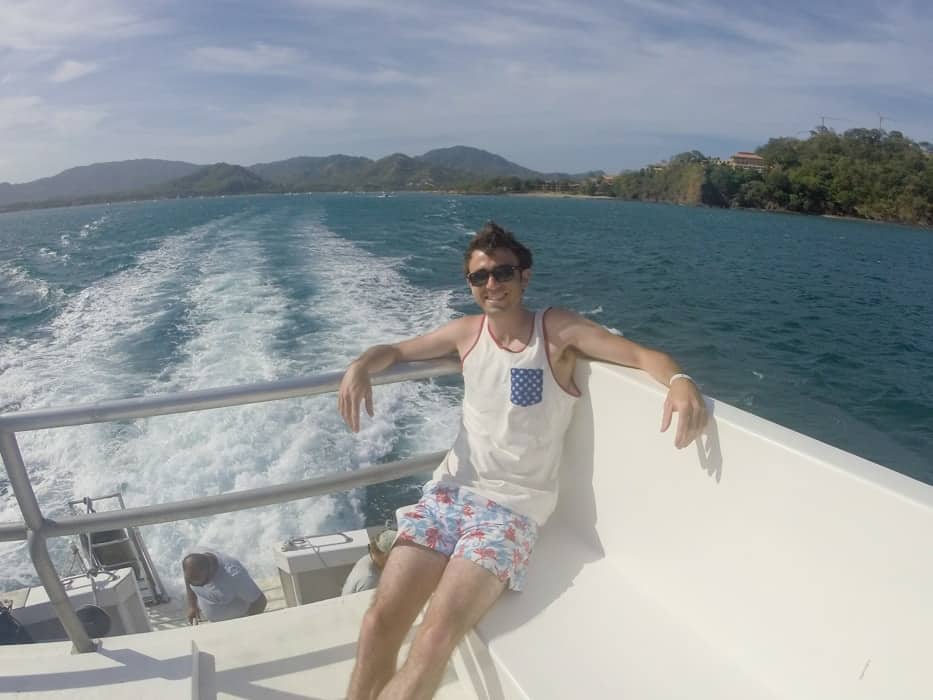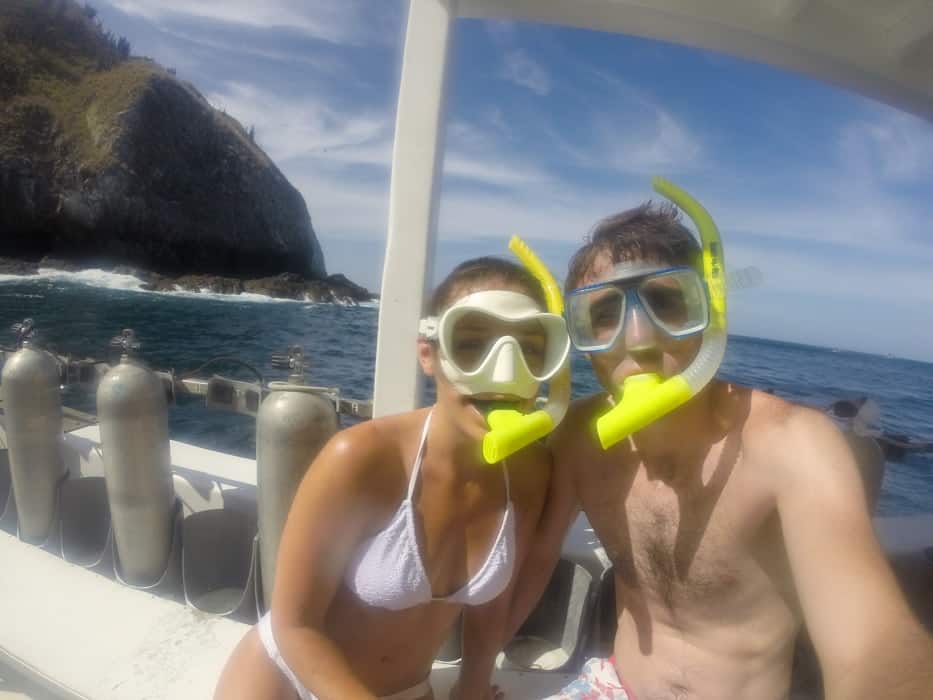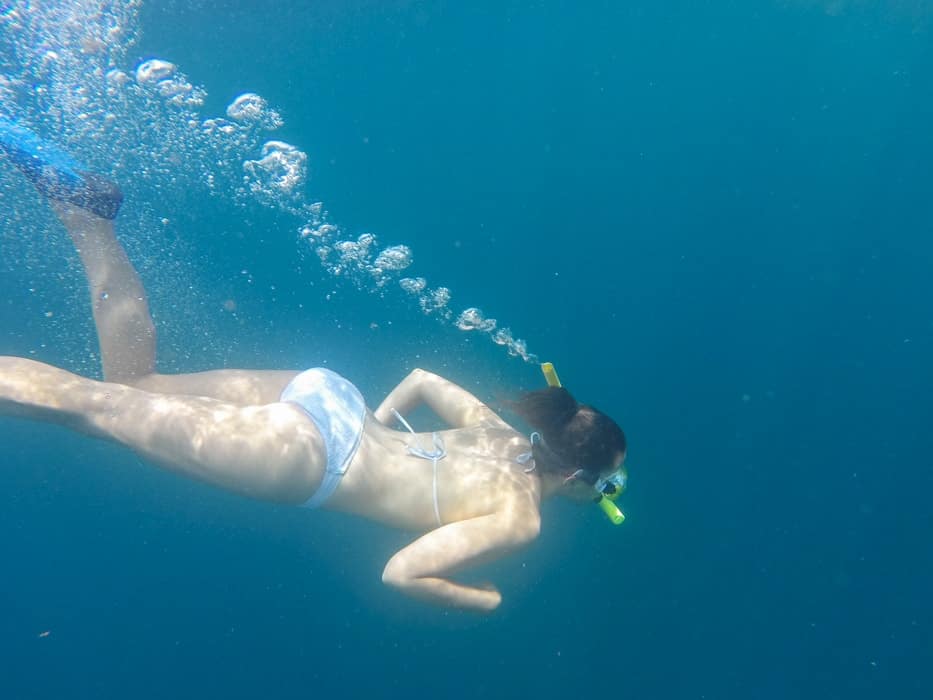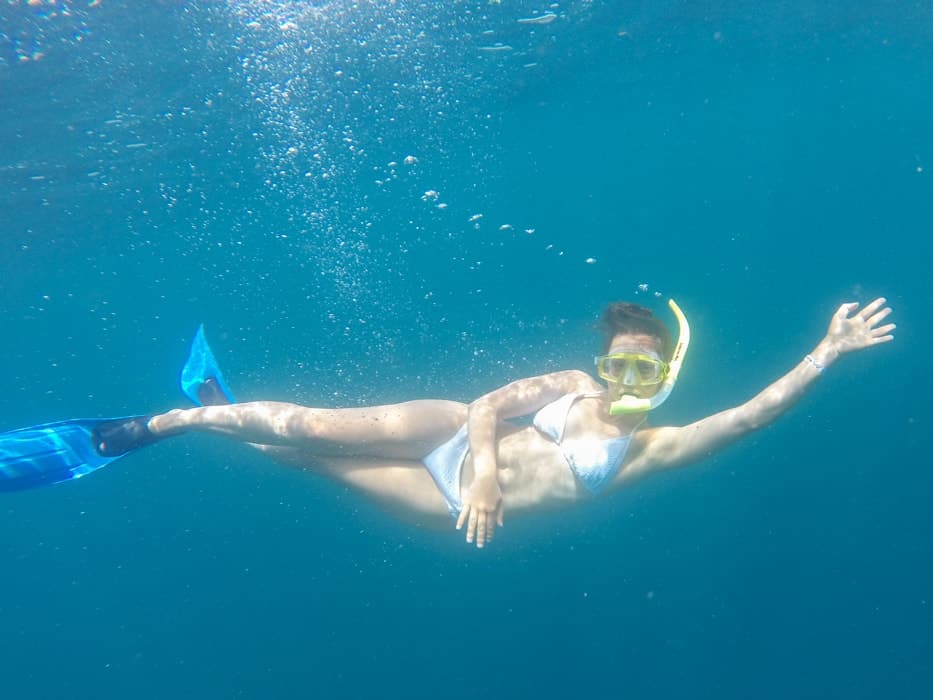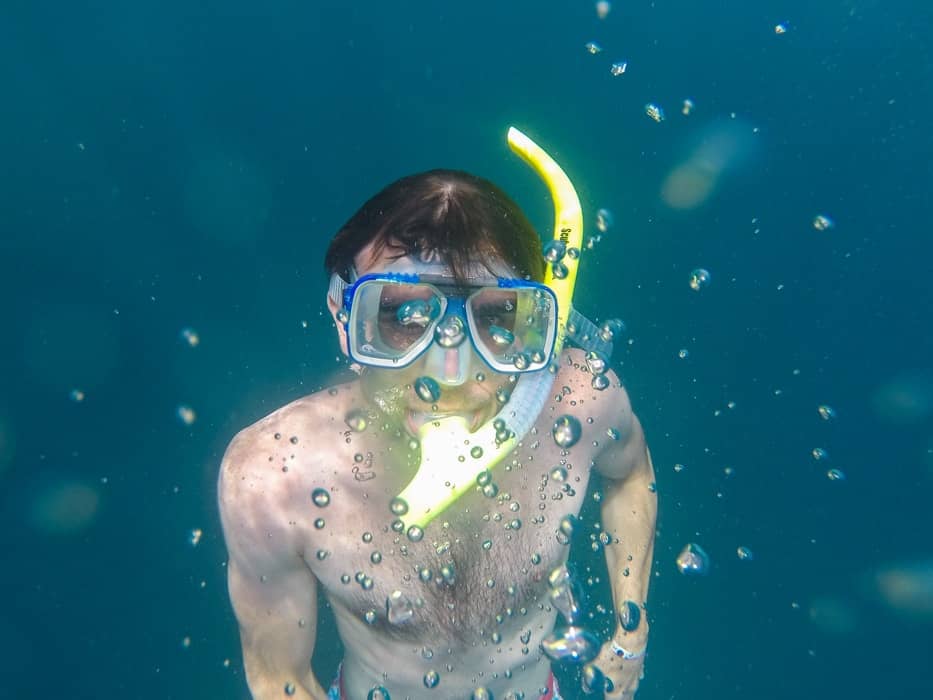 And how could I resist the morning walks on the beach? They were simply the most perfect way to start the day!
Santa Teresa
Our final stop, for another 6 nights was Santa Teresa. This was a total departure from Tamarindo, kind of rustic, with a very laid back vibe. I t's a surfer community (some of the best waves in Costa Rica) which has also turned into a yoga community. Lots of cute hotels and restaurants and everyone pretty much lives in their bathing suits.
We stayed at an awesome hotel called Nautilus which is a few different guesthouses and then has an amazing vegetarian restaurant and yoga studio.  It was full of lush vegetation, tons of greenery and tropical flowers. Kind of like its own little oasis.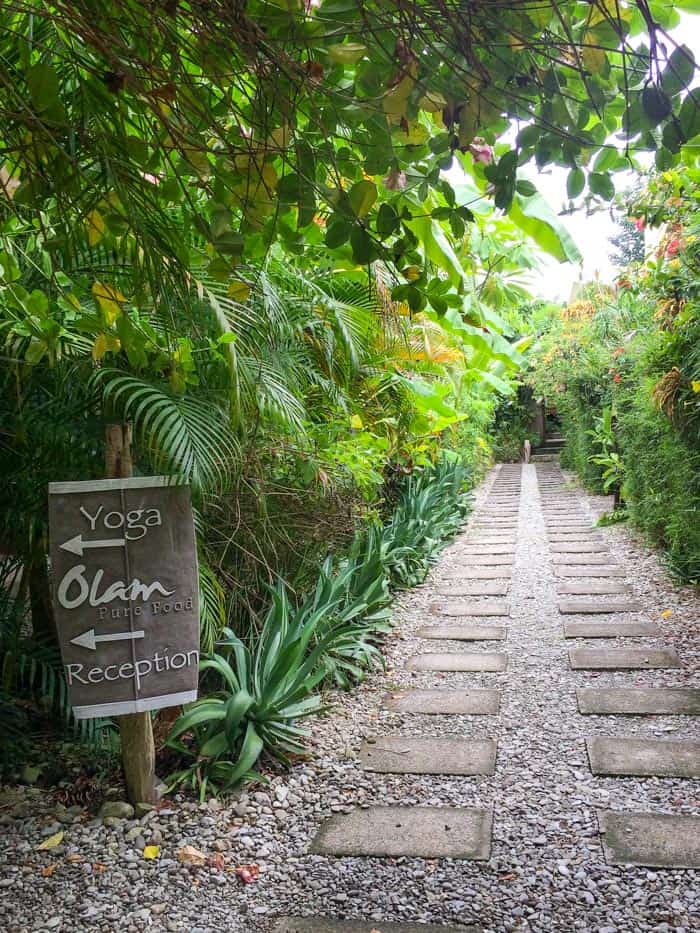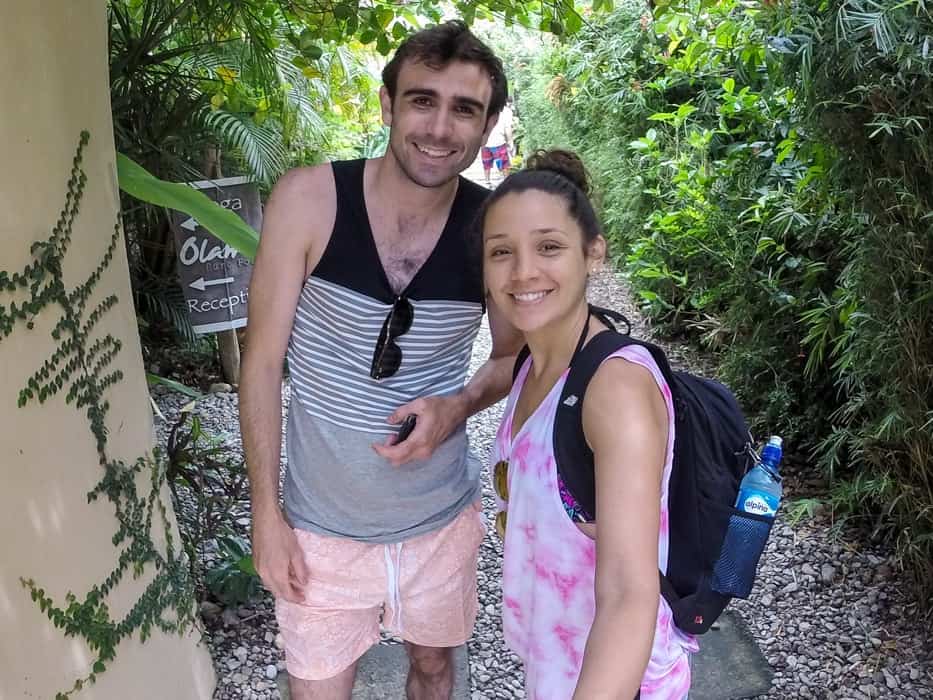 The food was so good you guys.
We ate breakfast here daily – they served HUGE smoothies (like the size of my face), homemade almond milk lattes, big bowls of granola, gallo pinto and eggs AND they had gluten-free pancakes.
Everything tasted delicious!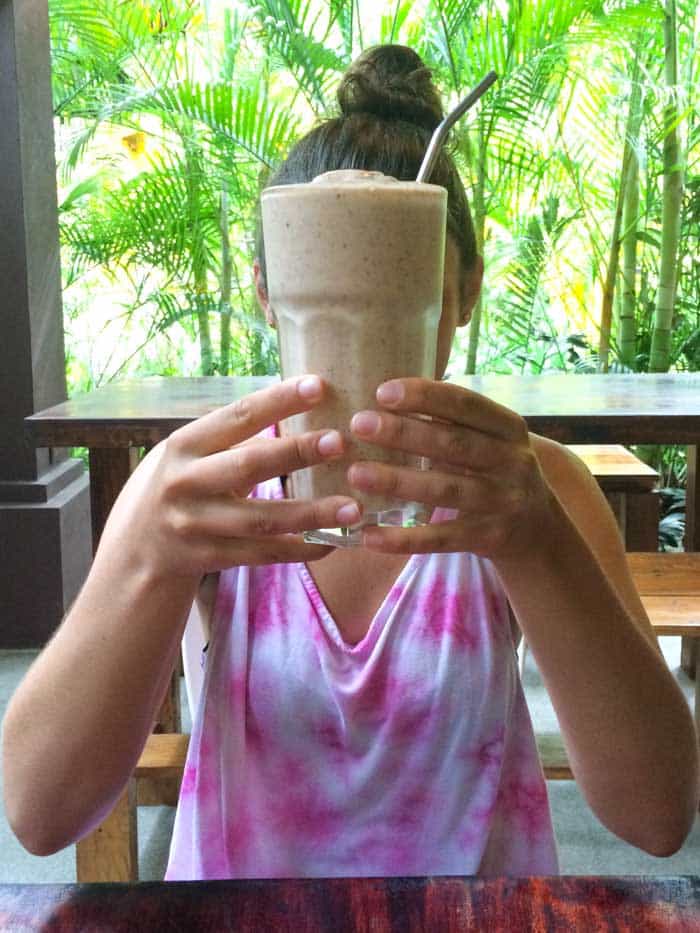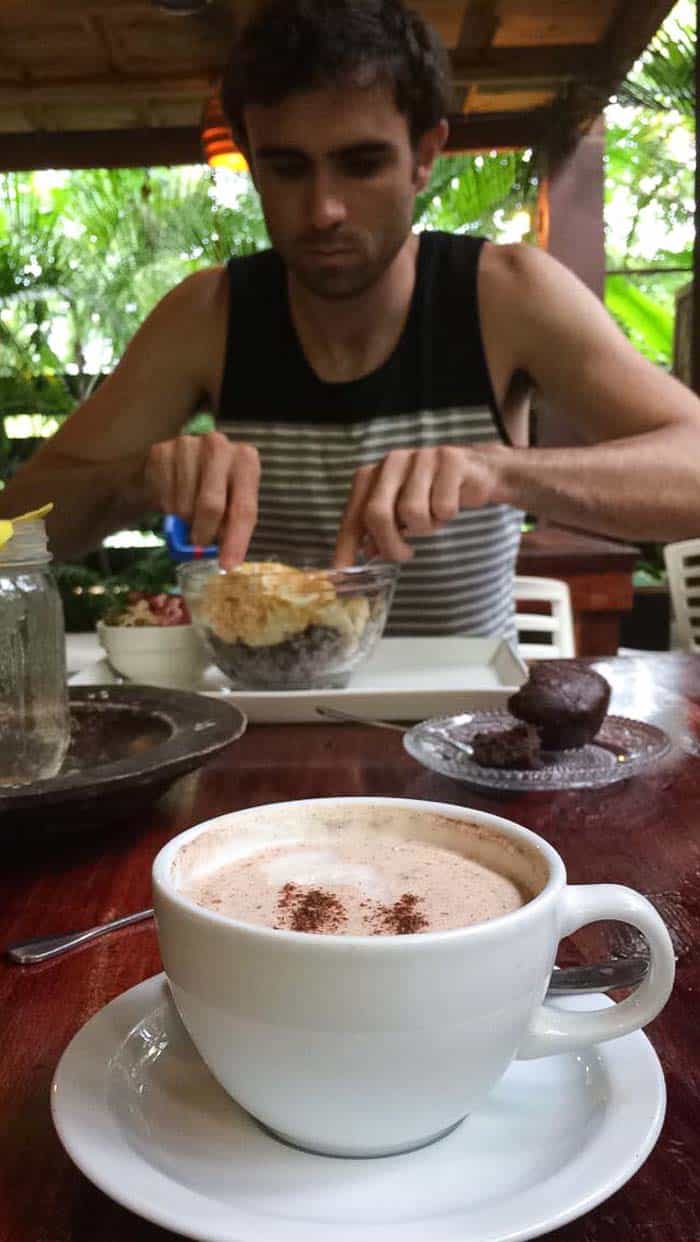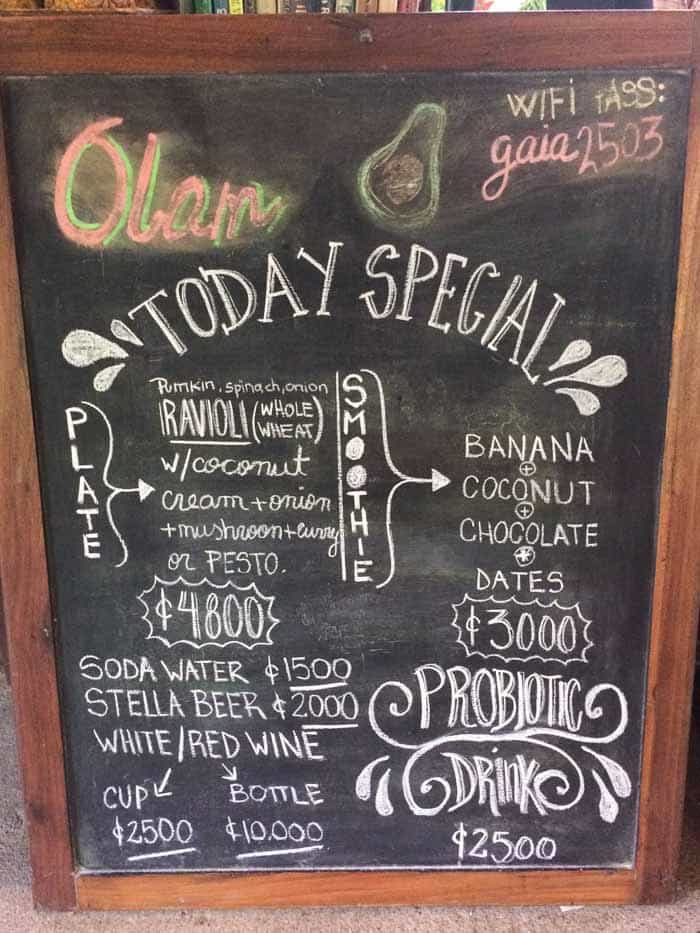 For lunch, it was big old salads, wraps, and sandwiches. Matt loved ordering their veggie sandwiches or quinoa bowls, and I almost always got a salad. This one was with roasted eggplant, tomatoes, hard-boiled egg, quinoa, and a tahini sauce. Just amazing!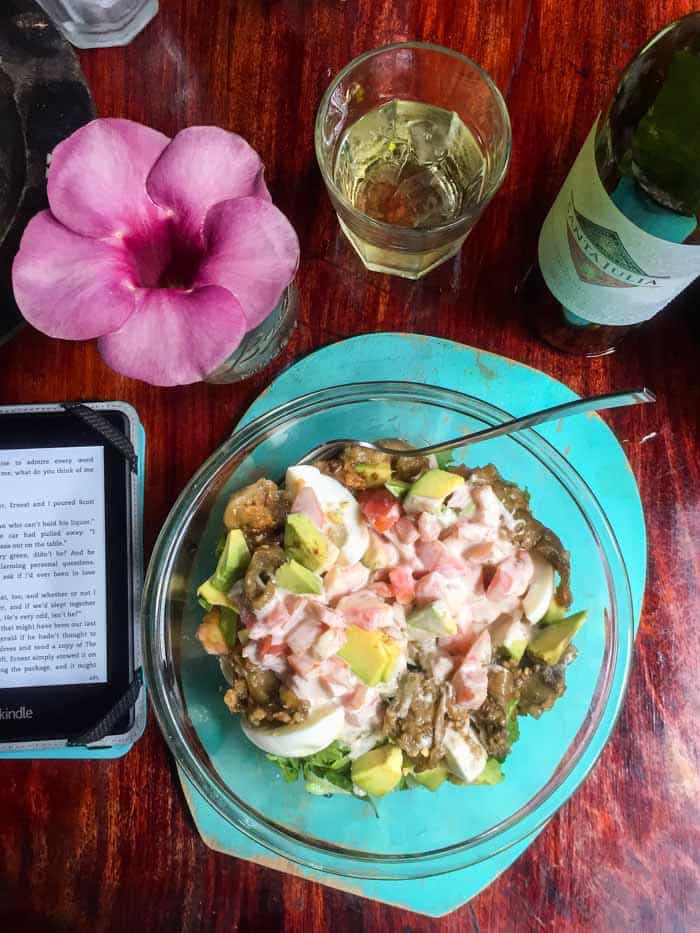 Part of the allure of Santa Teresa is how "rustic" feeling it is. There's only one dirt road leading through town and it often is so bumpy that I can't imagine having a car.
Instead, we rented an ATV and cruised around all over the place. Matt was the designated driver because operating stuff like that is just not my jam. He only scared me a few times 🙂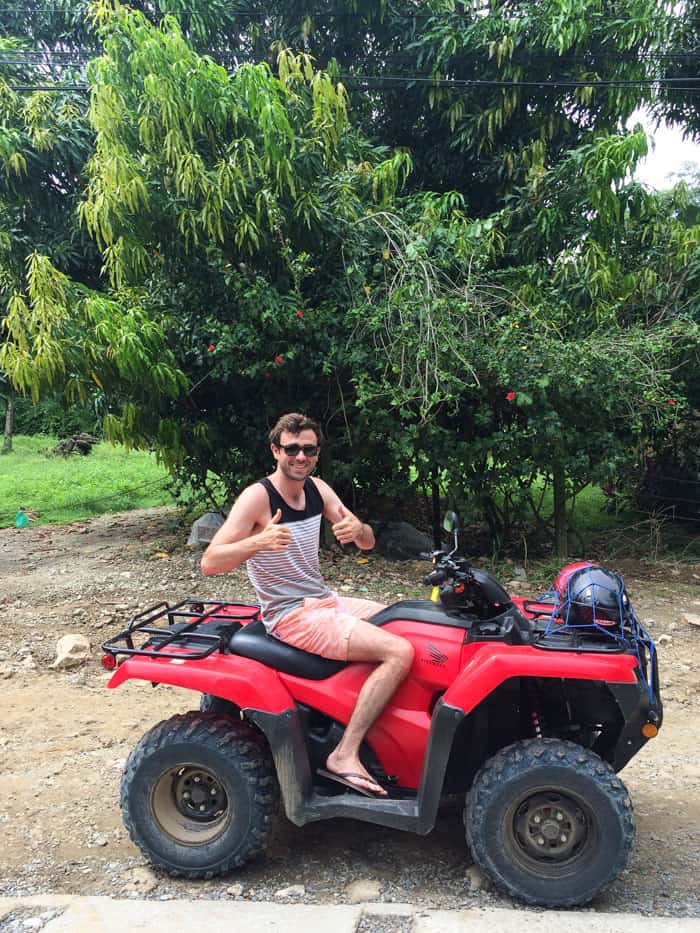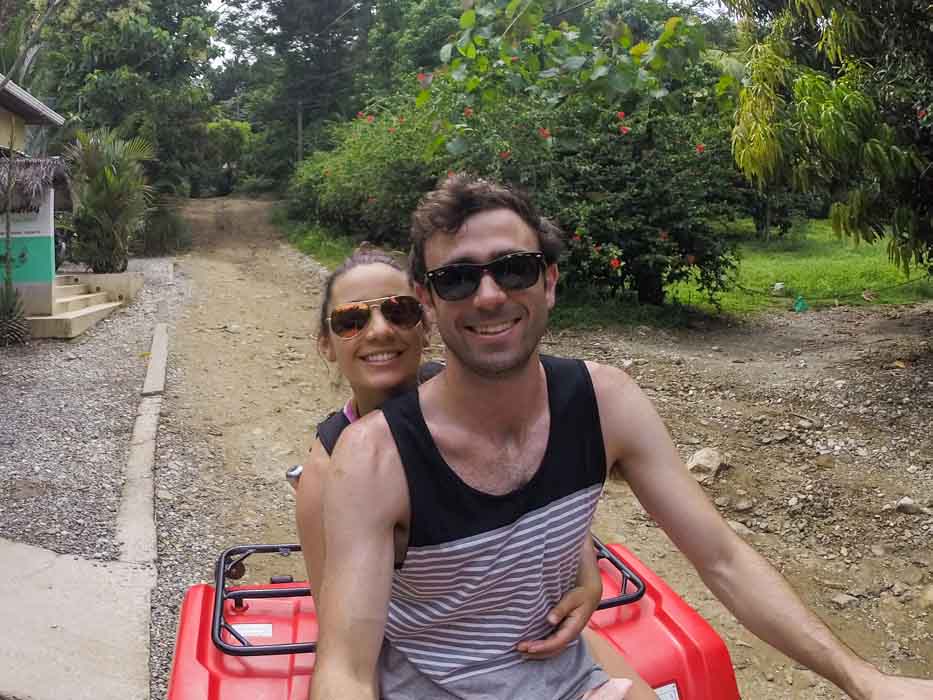 We ended up staying in two different hotels in this area. The second one was a treat to ourselves. Hotel Moana felt like you were in the jungle. It's a gorgeous hotel that site up in the hills and has a nice view of the ocean. Our suite even had an outdoor shower!
The pool was also stunning, surrounded by palm trees and even a starfruit tree. I was in heaven!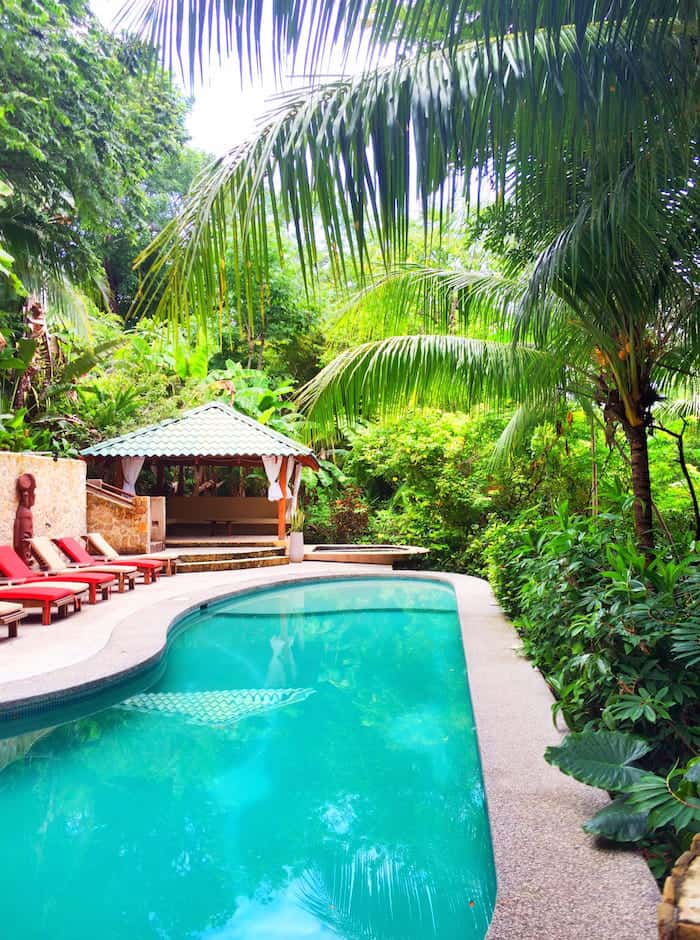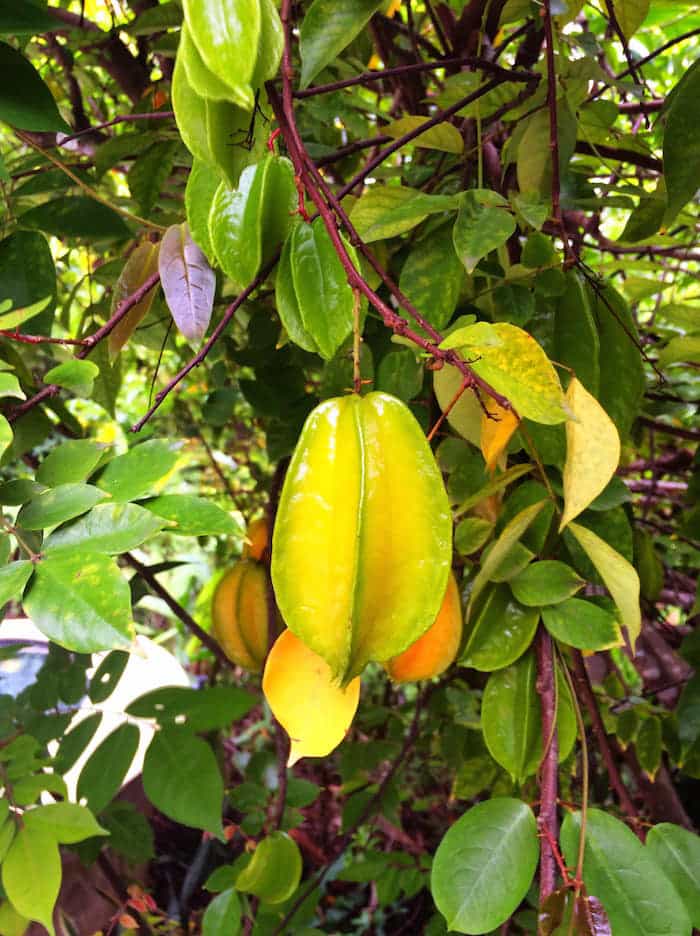 One of our final days we drove out to a very secluded beach and got fresh coconuts.
I still can't believe you can drink raw coconut water for only $2!
Admittedly, this was probably one of my favorite parts of the trip.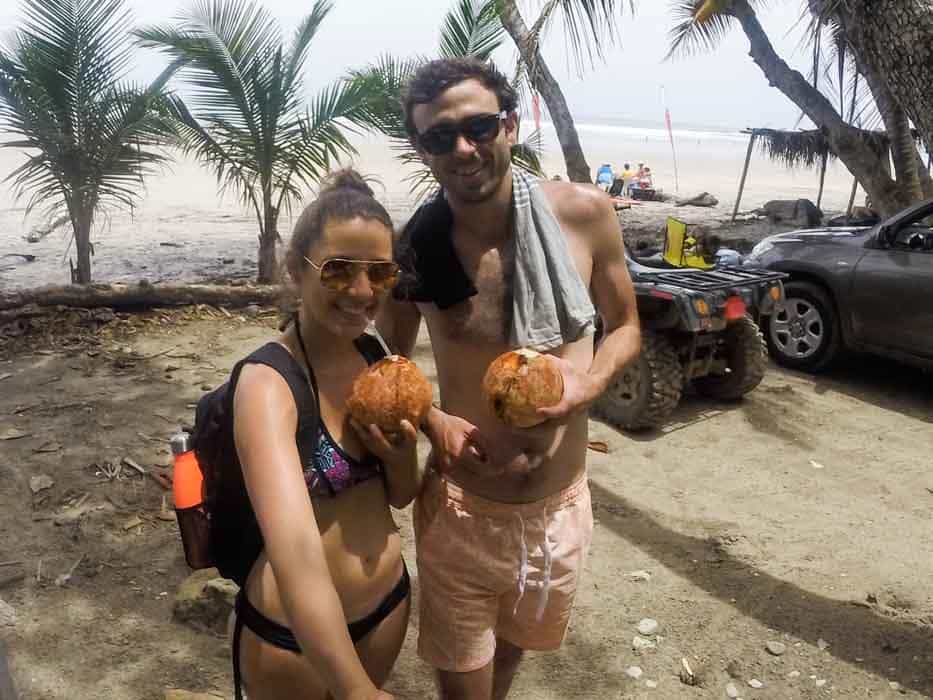 All in all, the trip was absolutely amazing! I can't wait to go back again.
If you've ever wanted to go to Costa Rica, and want recommendations, definitely hit me up. I am crazy about this place!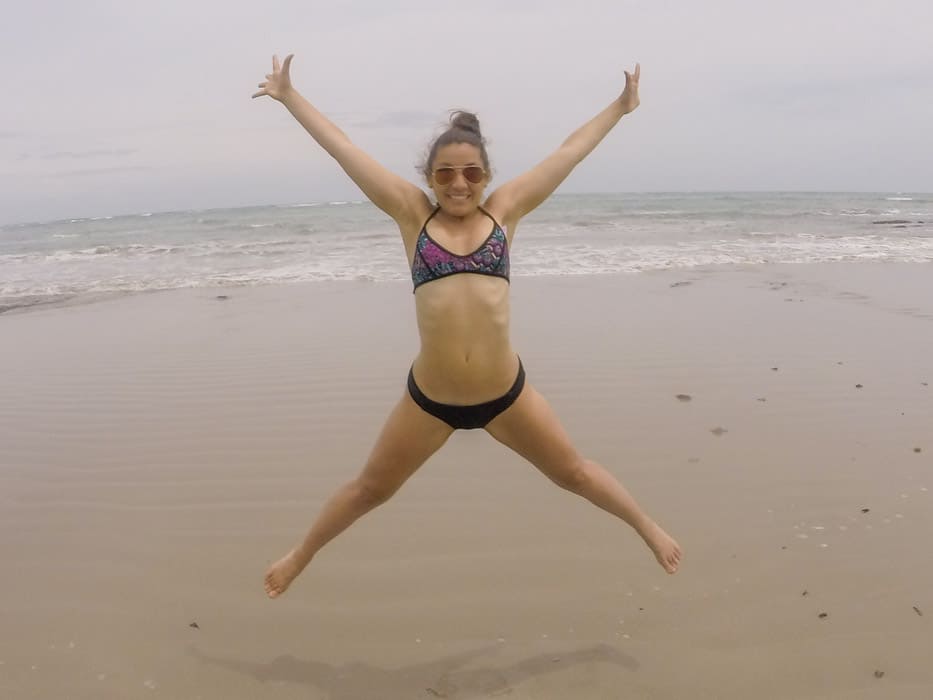 And now for the Gallo Pinto!
Share this recipe!
More Tropical Quinoa Recipes:
Gallo Pinto with Quinoa
Gallo pinto my friends is where it's at. Basically, it's just rice and black beans, but by throwing in some onions, peppers, garlic, spices, hot sauce, this rice and beans dish becomes something full of flavor. It's outstanding.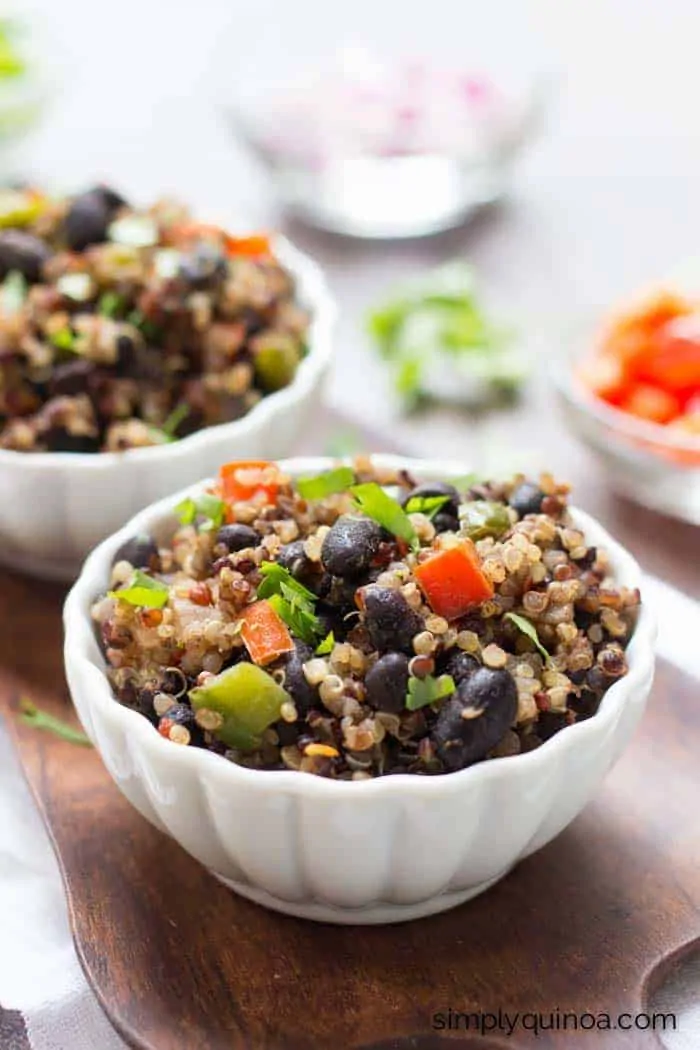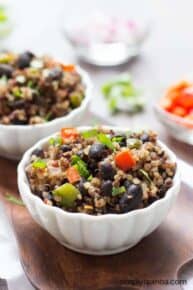 Ingredients
2

tablespoons

olive oil

1

cup

diced red onion

about 1 med

1/2

cup

diced red bell pepper

1/2

cup

diced green bell pepper

2

garlic cloves

finely chopped

3

cups

cooked + cooled quinoa

2

cup

black beans

either from scratch or in a can

1

teaspoon

ground cumin

1

teaspoon

sea salt

1 - 2

tablespoons

hot sauce

optional

Pinch

of cayenne pepper for more heat

optional

Water for cooking

optional

Cilantro for garnish.
Instructions
Heat oil in a large skillet over medium heat. Add onion and pepper and saute until onion is translucent, 2 - 3 minutes. Add garlic and saute until fragrant, 1 - 2 minutes.

Add beans and quinoa and toss to combine. If the mixture feels dry, add a splash of water to loosen it up.

Add seasonings and hot sauce if using and cook for another 1 - 2 minutes, untiled hot.

Serve immediately and garnish with chopped cilantro.
Nutrition
Calories:
247
kcal
|
Carbohydrates:
37
g
|
Protein:
9
g
|
Fat:
6
g
|
Sodium:
397
mg
|
Potassium:
455
mg
|
Fiber:
8
g
|
Sugar:
2
g
|
Vitamin A:
435
IU
|
Vitamin C:
28.1
mg
|
Calcium:
42
mg
|
Iron:
3
mg
Filed Under:

If you make this recipe, make sure to snap a pic and share it on Instagram using #SIMPLYQUINOA – I want to see your own quinoa creations!