Mango Coconut Energy Balls
These mango coconut energy balls make for the perfect snack! They're portable, easy to make, naturally gluten-free and vegan, and taste delicious too!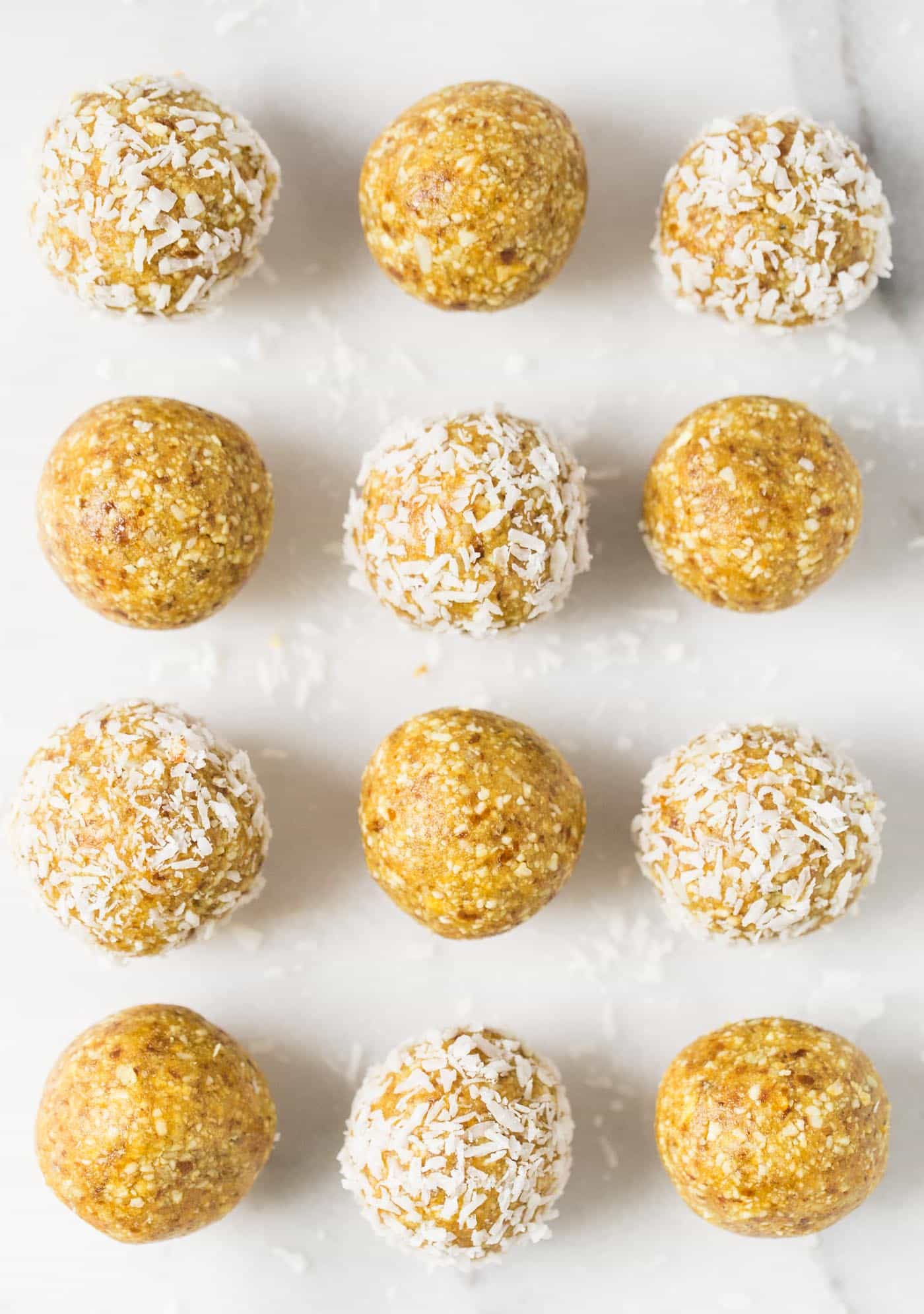 Remember how excited I got about those freeze-dried raspberries from my No-Bake Raspberry Quinoa Cookies? Well, you guys are in for a treat because…they make freeze-dried mango too!
Don't get me wrong, I love raspberries, but give me mango-flavored anything and I'm a happy girl. I'm a big fan of tropical fruit (secretly, I think I belong on a Caribbean island somewhere) and mango takes the cake for me. I love the vibrant color, the sweet, juicy flesh and it is hands down one of my favorite smoothie ingredients.
Mango also makes a fantastic snack. Since it's higher in sugar than some other fruits, it gives you a nice little boost of energy without the crazy sugar crashes as a cookie could. Unfortunately, fresh mango isn't the easiest thing to snack on when you're on the go; it's slippery, slimy and a little messy. Which brings me back to our freeze-dried mango…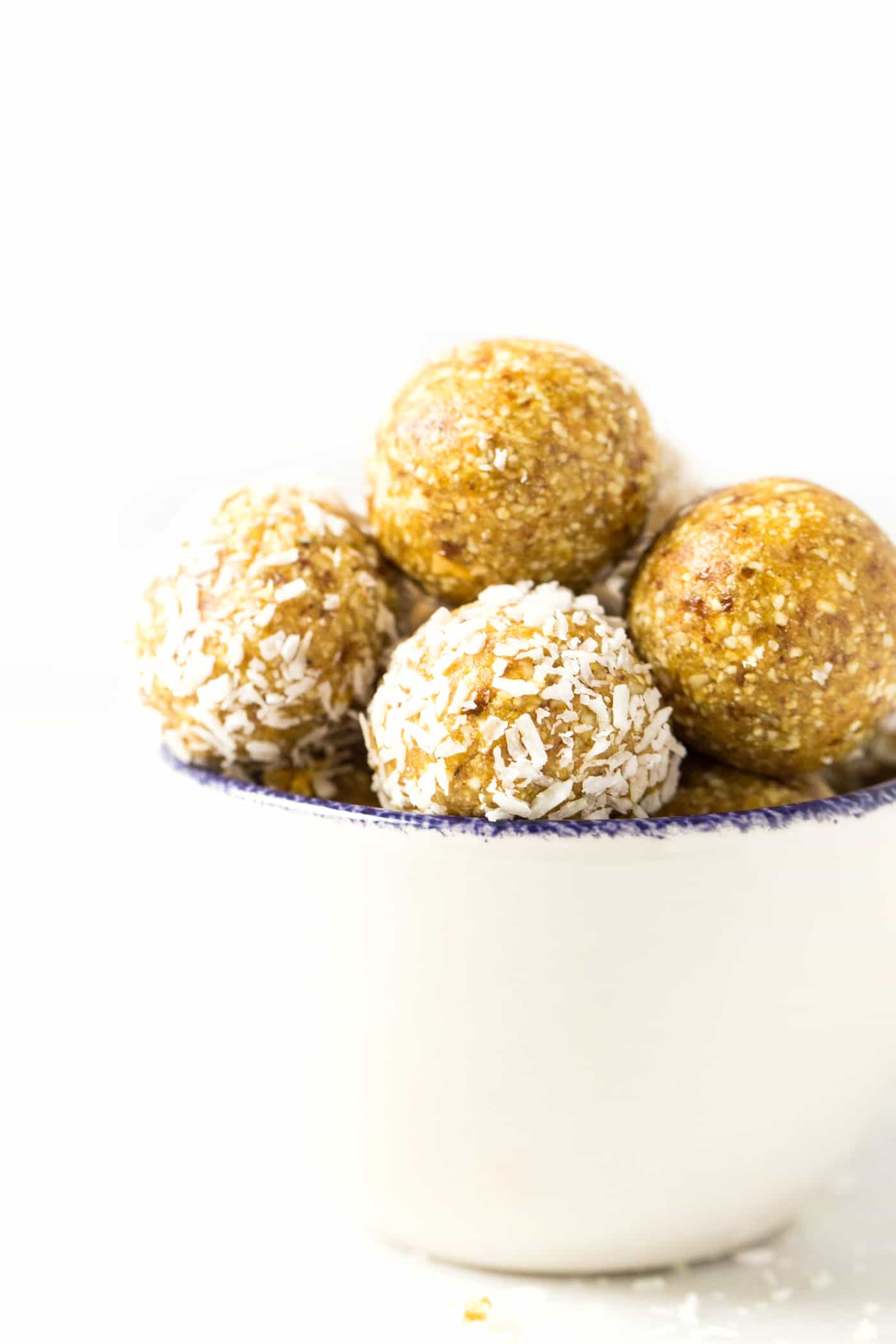 Just as it is, it makes a great snack. But the texture threw me off a tiny bit because it kind of disintegrates in your mouth and gets stuck to the roof of your mouth. I mean it tastes great, but I would say those two points make it not quite as enjoyable to eat as I would have hoped.
But what about grinding it up into a powder-like we did with the raspberry quinoa cookies? I gave it a shot and it works like a charm!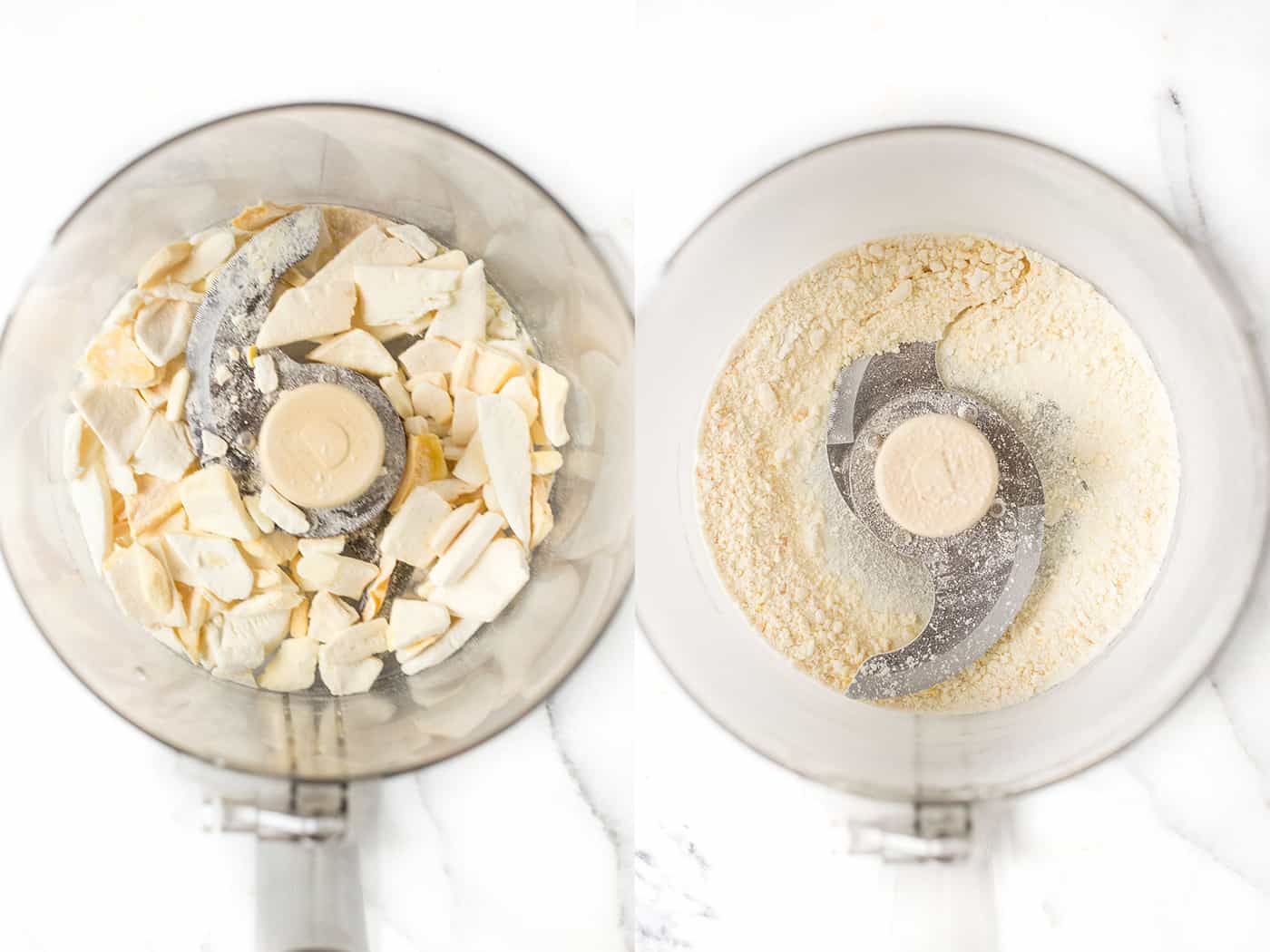 Since energy balls are one of my go-to snacks (my Dark Chocolate Quinoa Energy Balls and the Banana Peanut Butter Energy Bites are at the top of my list), the mango powder was the perfect place to start to create little balls of tropical bliss.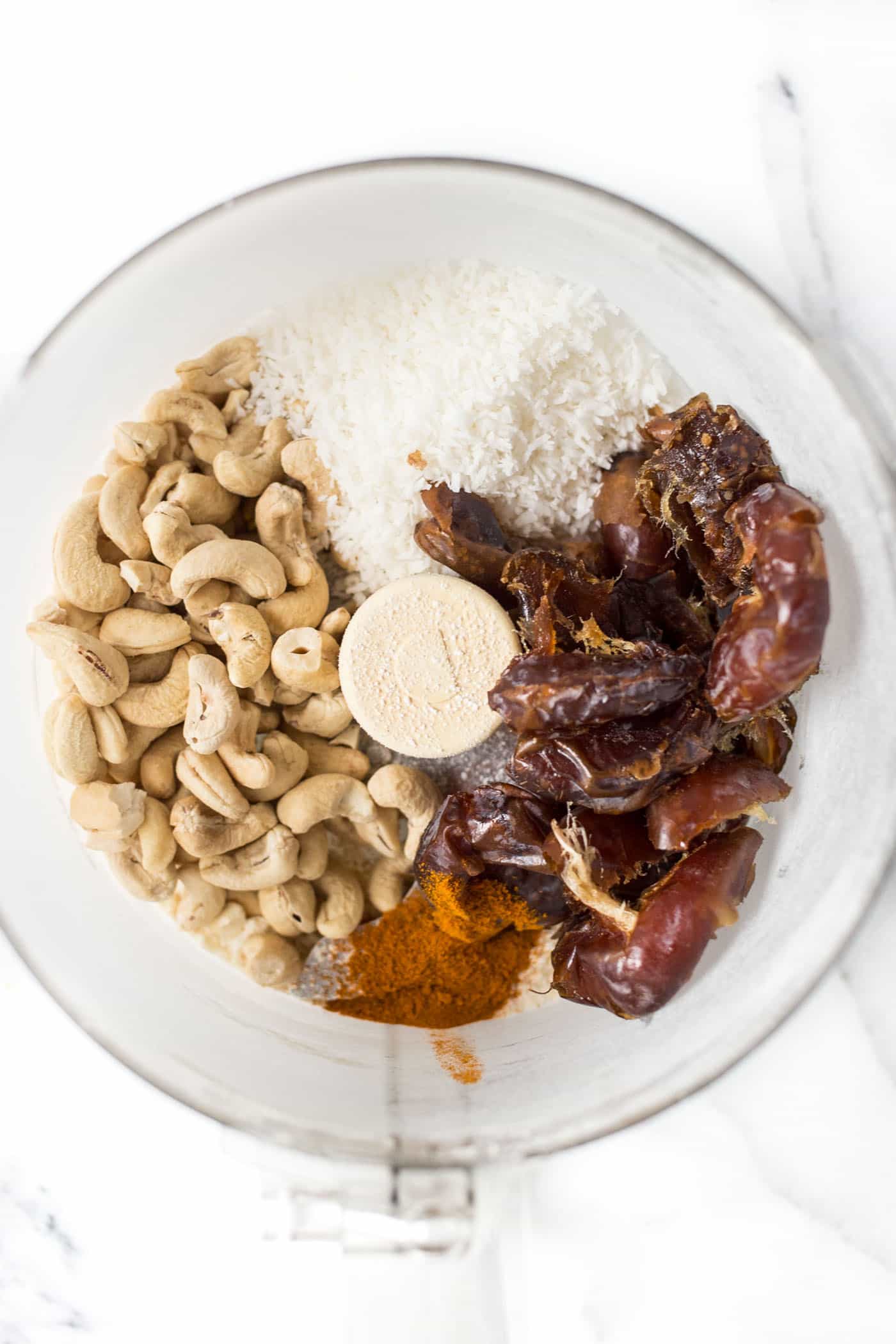 The great thing about energy balls is that they're fairly forgiving and you can really use whatever ingredients you have on hand. You basically just need something sticky (dates, nut butter, honey, etc.), something dry (nuts, oats, mango powder) and a little liquid (water, coconut oil, syrup). From there you can create tons and tons of different combinations.
For these Mango Coconut Energy Balls, I started with the mango powder, then added in some raw cashews, shredded coconut, Medjool dates and a touch of turmeric for that bright mango color.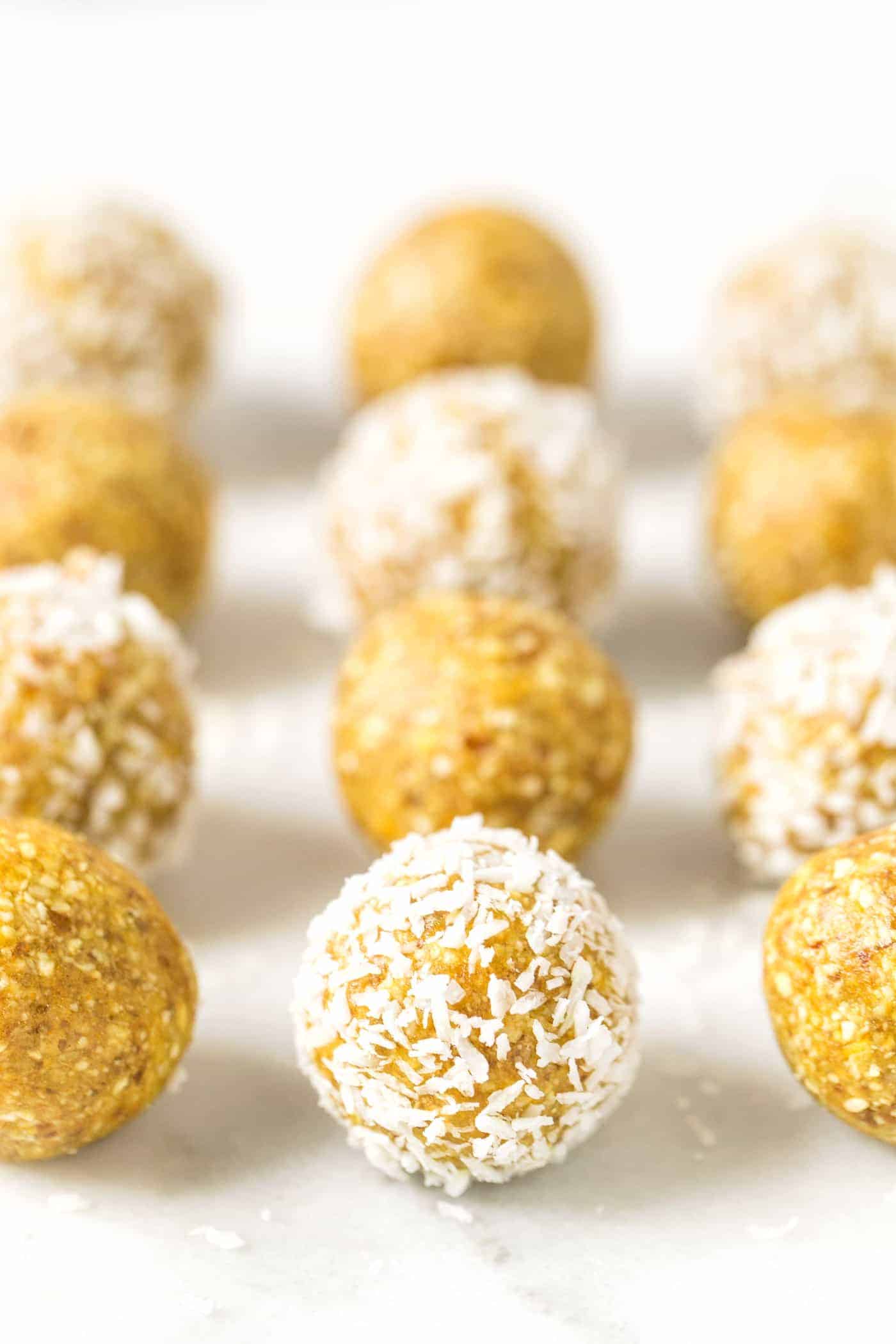 Then you just grind it up in the food processor until it starts to come together (a little water or syrup can help), roll the dough into balls and you're done. They're quick, easy, portable and totally delicious!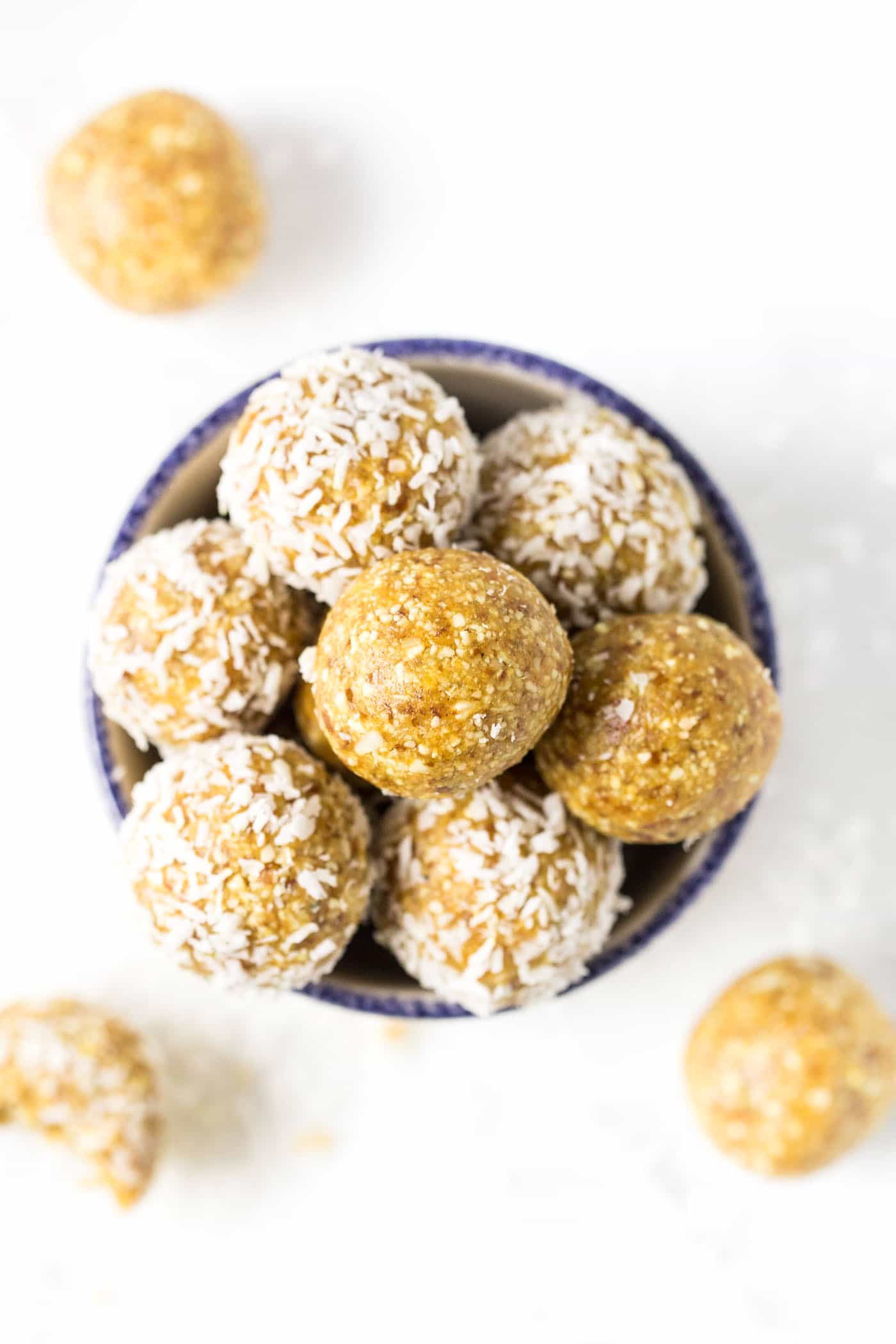 If you're not a fan of mangos, or can't find freeze-dried mangos anywhere (I buy all my freeze-dried fruit on Amazon), you could swap it out with more coconut. Or you could also totally swap it for any other freeze-dried fruit. Raspberry, strawberry and pineapple would be so yum!
Your turn…
Have you ever tried energy balls before? What's your favorite flavor combination? In looking at the option freeze-dried fruit options they have, I'm thinking of making Banana Chocolate and an Apple Pie version. I would love to hear what you think int the comments below!
xo Alyssa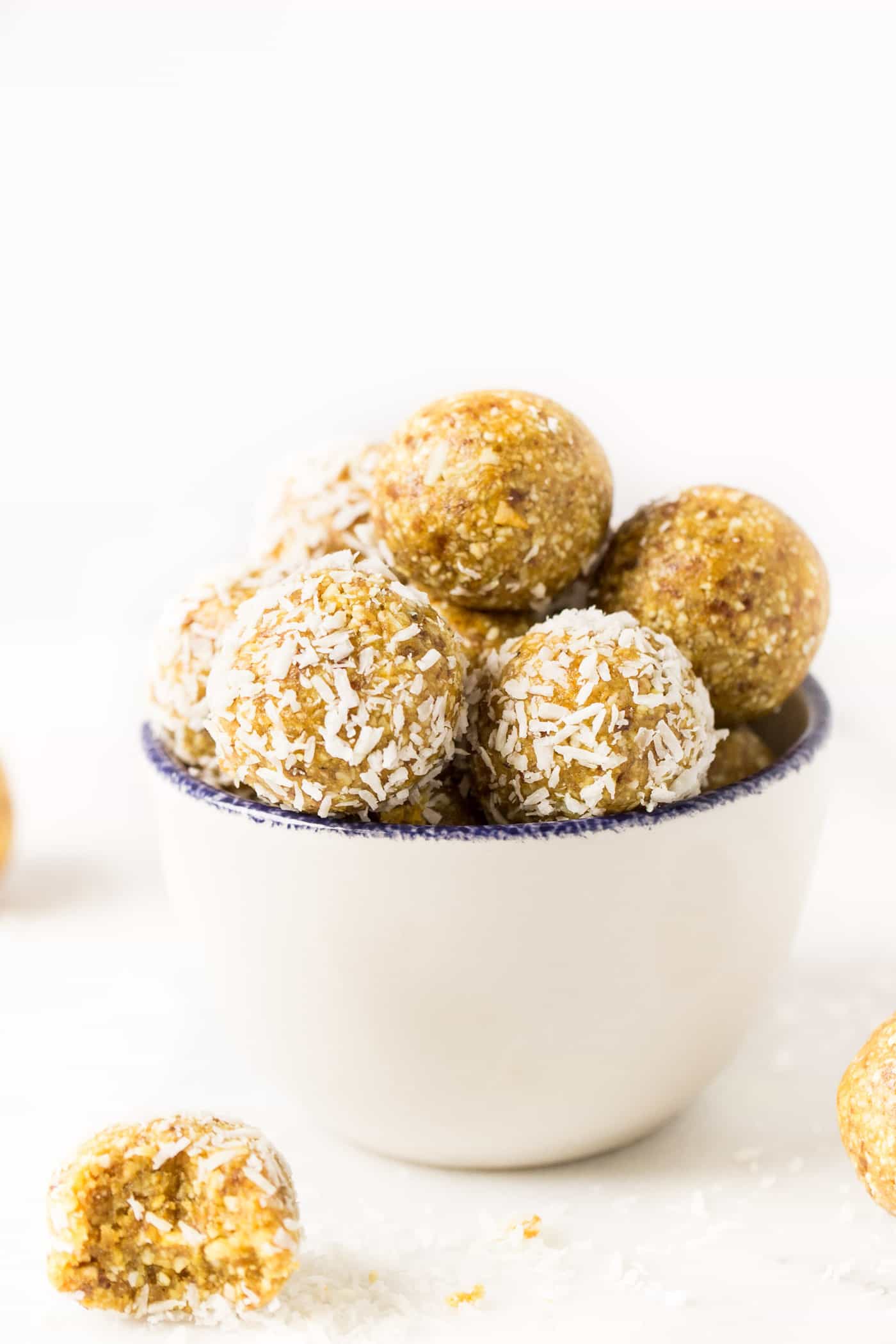 More Energy Ball Recipes to try:
Mango Coconut Energy Balls
For these Mango Coconut Energy Balls, I started with the mango powder, then added in some raw cashews, shredded coconut, Medjool dates and a touch of turmeric for that bright mango color.
Servings 16 Balls
Calories 84kcal
Instructions
Add the mango to a food processor and grind until a fine powder forms.

Add remaining ingredients (minus water) and blend again until completely combined and starting to form a dough.

If needed, add 1 tablespoon of water and continue to blend until the dough forms a ball.

Form dough into little balls, rolling in shredded coconut if desired.

Store the balls in an airtight container in the fridge or freezer.
Nutrition
Calories: 84kcal | Carbohydrates: 10g | Protein: 1g | Fat: 4g | Saturated Fat: 1g | Sodium: 8mg | Potassium: 126mg | Fiber: 1g | Sugar: 7g | Vitamin A: 20IU | Calcium: 9mg | Iron: 0.7mg
share what you make
Tag #simplyquinoa on Instagram with your creations! We love sharing what you make with the community. We can't wait to see!

follow on instagram