This green tea latte is a healthy and delicious drink, perfect for a chilly day. This recipe uses bagged green tea, foamy almond milk, and spices for flavor!
Matcha has become all the rage. I'm obsessed, I've gotten many of you obsessed and now it's on practically every single coffee shop menu out there! Even the giant chains like Starbucks have gotten on board.
But matcha isn't for everyone. For starters, it's got a super bitter taste. It's also pretty darn pricey. And the quality of the tea makes all the difference. There are lots of crappy matcha powders out there that can completely ruin your latte!
So I wanted to share a green tea latte recipe that doesn't use matcha at all! It uses simple bagged green tea so it's affordable and accessible, but still totally delicious. This soothing latte is easy to make, uses just 6 ingredients, tastes amazing and is still super energizing!
Ingredients for This Soothing Latte
To make our soothing latte we're using a simple list of ingredients, most of which I bet you already have on hand. Here's what you'll need to make this recipe:
Bagged green tea: any variety will do! It can be plain green tea, jasmine green tea or even a flavored green tea. It's up to you!
Plant-based milk: I like to use almond or coconut milk as they get nice and creamy, but it's up to you. Rice, oat, soy, and cashew will also work well.
Raw honey: since green tea has a naturally bitter taste, adding a touch of sweetness can really help. I love using raw honey, but you can also use maple syrup, coconut sugar or even a zero-calorie sweetener like monk fruit extract or stevia.
Ground ginger: for a little kick and zing!
Ground cinnamon: for a warming and cozy taste!
Boiling water: to steep the tea in and make this latte extra hot.
What Is a Green Tea Latte?
A green tea latte is simply a latte made with green tea instead of espresso. Traditional lattes are a blend of steamed milk and espresso, but in a green tea latte, we remove the coffee and use tea in its place. You can use any type of green tea to make a latte, but the most common one these days is definitely a matcha latte.
Are Green Tea Lattes Healthy?
Green tea is a very healthy drink and it's easy to make a healthy green tea latte! The thing you need to watch out for are green tea lattes that are made with a pre-made green tea mix. Those mixes (like the ones used by Starbucks) are usually filled with sugar and other additives that you don't want. This one is 6 simple ingredients and you still get all the amazing health benefits of green tea!
How to Make a Green Tea Latte
Making this latte is a complete breeze. It's just three simple steps and in a matter of minutes, you'll have a frothy latte on your hands! Here's how to make it:
Brew your tea: add the tea bag into your mug then top it with the boiling water. Let the tea steep for 3 – 5 minutes so that it gets nice and strong.
Add everything to the blender: remove the tea bag from the mug and pour the tea into a blender. Add in the rest of the ingredients.
Blend it up!
And that's it. Pour your creamy and delicious green tea latte into your mug and you're ready to go!
Changing Up the Flavors!
What's great about this latte is you can totally change the flavors based on the spices you enjoy! Here are some other fun flavors to try with your latte:
Pumpkin Pie: instead of ginger and cinnamon, use pumpkin pie spice!
French Vanilla: swap the spices for vanilla extract for vanilla bean paste.
Rose: pick up some rose nectar and add 2 tablespoons of that instead of the spices.
Lemon Ginger: add two tablespoons of lemon juice and remove the cinnamon
And really the list goes on! I hope you enjoy making this soothing latte – it's an awesome alternative if you don't have matcha on hand and still gives you that antioxidant and energizing boost!
More Easy Latte Recipes to try:
Green Tea Latte
Enjoy the amazing health benefits of green tea in this delicious Green Tea Latte! Topped with foamy almond milk and sprinkled with ground ginger, it's the perfect winter beverage.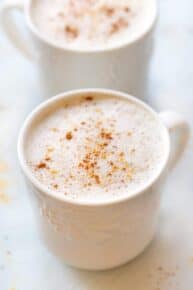 Instructions
Fill a mug ⅔ of the way full with boiling water. Add the tea bag and steep for 5 minutes.

Remove the tea bag and pour the hot tea, milk, honey, and spices in a blender. Blend on high until creamy. Pour into your mug and enjoy!
Nutrition
Serving:
1
latte
|
Calories:
63
kcal
|
Carbohydrates:
13
g
|
Protein:
1
g
|
Fat:
2
g
|
Saturated Fat:
1
g
|
Sodium:
163
mg
|
Fiber:
1
g
|
Sugar:
12
g
|
Calcium:
150
mg
Filed Under: